Best Live Music Venues in Melbourne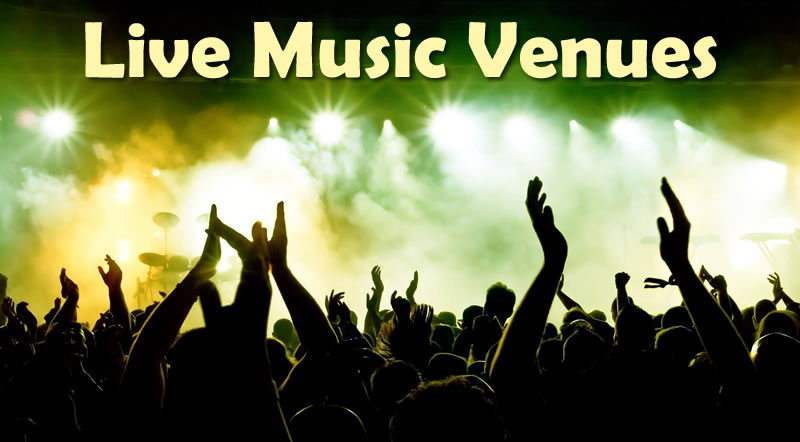 Where to catch live music in the best venues in Melbourne.
Based on the "Best"lists, the top Live Music Venues in Melbourne are:
Top Live Music Venues

Cherry Bar
- 103 Flinders Lane, Melbourne 9639 8122

Corner Hotel
- 57 Swan St, Richmond 9427 9198

Esplanade Hotel
- 11 The Esplanade, St Kilda 9534 0211

Howler Bar
- 7-11 Dawson Street, Brunswick 9077 5572

Northcote Social Club
- 301 High St, Northcote 9489 3917

Prince Bandroom
- 29 Fitzroy Street, St Kilda 9536 1168

The Tote
- 71 Johnston Street, Collingwood 9419 5320

Workers Club
- 51 Brunswick Street, Fitzroy, 9415 6558

Yah Yah's
- 99 Smith St, Fitzroy 9419 4920
Honourable Mentions

Bennetts Lane Jazz Club
- Melbourne

Bird's Basement
- Melbourne

Paris Cat Jazz Club
- Melbourne
Best Live Music Venue Reviews
The Age Music Victoria Awards 2016
At The Age Music Victoria Awards each year, awards are presented for best venue (big/small), best country and best festival.

Best regional venue: The Bridge Hotel, Castlemaine


Best venue (over 500 capacity): Corner Hotel


Best venue (under 500 capacity): The Tote


Best festival: Meredith Music Festival
The Best Spots for Live Music in Melbourne
By Kathryn Kernohan - 11 Jul 2014 |
theurbanlist.com
Melbourne prides itself on being the live music capital of Australia and despite the high-profile recent closure of Bourke Street's Palace Theatre, we're still home to dozens of superb venues where punters can catch anything from local indie bands to international hip-hop stars seven nights a week. From stadiums to basement bars, here's our guide to the best venues for live music in Melbourne.

CORNER HOTEL


THE WORKERS CLUB


THE GRACE DARLING HOTEL


NORTHCOTE SOCIAL CLUB


HOWLER


THE ESPLANADE HOTEL


THE TOFF IN TOWN
The best live music pubs in Melbourne
By Fred Siggins - June 29 2015 |
timeout.com
Melbourne is truly blessed in the live music stakes. Here are a few of our favourites
While there's suggestion of the live music scene in other cities dying, Melbourne's continues to flourish. And let's face it, who doesn't like a beer with their favourite local band?
If you're in the mind to further explore some pubs, maybe have a gander at our guide to Melbourne's best al fresco libation or our guide to our town's best pub grub.

The Curtin


Prince of Wales Hotel


Retreat Hotel


The Reverence Hotel

Yarra Hotel
10 of the Best Live Music Venues
melbournebars.com.au
Looking for Live Music in Melbourne? Discover Melbourne's best live music venues. Our guide gives you a selection of cocktail, lounge, wine, karaoke, jazz, and chic city venues perfect for listening to cover bands, original music and DJ's whether you are looking for today for for Friday night! Many of the Bars in our guide are perfect to celebrate New Year's Eve or a night out with friends. Many of our listed spaces offer function facilities to help celebrate your next event, birthday or celebration.

Campari House - Melbourne CBD


Royal Oak Hotel - Fitzroy North


29th Apartment - St Kilda


The Elephant & Wheelbarrow - St Kilda


Hoo Haa Bar and Lounge - Windsor


Syracuse Restaurant & Wine Bar Melbourne CBD


Cherry Bar - Melbourne CBD


Golden Monkey - Melbourne CBD


BearBrass Eating & Drinking - Southbank


Hidden Alley - South Melbourne


Burger Buzz - Brunswick


Waterslide Bar - Southbank
5 OF THE BEST LIVE MUSIC VENUES IN MELBOURNE
SEPTEMBER 12, 2014 |
wheretotonight.com
Melbourne has a decorated history when it comes to live music venues, with venues coming and going on a regular basis, not without controversy! But regardless of what laws, restrictions, complaints or general interferences occur, Melbourne's live music scene carries on strong with a huge selection of venues to choose from. But if you want to experience the best of Melbourne currently, these are 5 of the best that we recommend!

The Corner Hotel, Richmond


The Espy Hotel, St Kilda


The Workers Club, Fitzroy


Prince Band Room, St Kilda


Howler, Brunswick
Live music
visitvictoria.com
Melbourne crowds and venues have a long and celebrated tradition of nurturing live music, making Melbourne the nation's music capital.
The city's vibrant independent music scene comes alive every night of the week in pubs, clubs, warehouses and basements. From skinny-jeaned indie kids thrashing it out in a sweaty club to moustached gentleman pecking away on an old country number, the city caters for all tastes with only one prerequisite - a heartfelt love of music. Choose a style and check out some of the best local musicians performing across the city.

Cherry Bar - Melbourne CBD


Ding Dong Lounge - Melbourne CBD


The Tote -


The Old Bar -


Yah Yah's -


Workers Club -


Esplanade Hotel (Espy) - St Kilda


Revolver - Chapel Street
MELBOURNE ENTERTAINMENT
19 LISTINGS |
hiddencitysecrets.com.au
Not a reviewed list so we picked out the best "Live Music"venues.

Bird's Basement - Melbourne


Toff in Town Band Room - Melbourne


The Grace Darling Hotel - Collingwood


Brunswick Hotel - Brunswick


Veludo - St Kilda


Bennetts Lane Jazz Club - Melbourne
The Best Live Music Venues in Melbourne
Laura Walkley | 12 December 2015 |
theculturetrip.com
Melbourne is famous for it's fantastic cultural scene, and music is at the top of the list of things the city does best. While rock is Melbourne's speciality, newer and more alternative sounds are beginning to soak the city. There is a little something for all tastes somewhere amongst the concrete jungle. Have a look at six of the best spots for gigs and concerts in Melbourne.

The Esplanade Hotel - St Kilda


Howler - Brunswick


The Workers Club - Fitzroy


The Corner Hotel - Richmond


Yah Yah's - Fitzroy


The Prince Bandroom - St Kilda
beat.com.au
The beat.com.au do not present a "best"list but do publish an excellent list that can be filtered based on a criteria and location.
beat.com.au
Other Mentions

Caravan Music Club - 95-97 Drummond Street, Oakleigh



Yarraville Club - 135 Stephen St, Yarraville



Memo Music Hall - 88 Acland Street, St Kilda
Sidney Myer Music Bowl
Arts Centre Melbourne closes venues to the public Arts Centre Melbourne has today announced the cancellation of all scheduled performances and events and temporary closure of it ..
Rod Laver Arena
Rod Laver Arena is a 15,000 seat stadium in Melbourne Park located 5 minutes walk from Melbourne's CBD. Variously known as 'Flinders Park', the 'National Tennis Centre' or 'Cent ..
Festival Hall
One of Melbourne's original entertainment venues, Festival Hall hosts a variety of events, from amateur boxing to top-name band performances with an extremely versatile and adaptab ..
Palais Theatre
The Palais Theatre is one of Melbourne's most loved live performance venues presenting local and international acts. The building, which retains all its original features is con ..
Northcote Social Club
The Northcote Social Club has established itself as one of the musical highlights of Melbourne's North Eastern suburbs. Featuring local bands and also International performers, ..
Corner Hotel
Live Music, Rooftop Beer Garden, Special Events, Dining and Functions. Visit our website for up coming local and international acts and for venue bookings! Featuring well-known ..
Max Watt's | House of Music
Max Watt's delivers the biggest headline artists at the best venue in Melbourne. Buried below street level, Max Watt's Ballroom is located in the heart of the city, opposite Mel ..
The Toff in Town
A rich multi-layered venue, The Toff boasts a premier boutique performance space and a dedicated club/bar area with late night dining. Located on the second floor of historic Curti ..
Paris Cat Jazz Club
The Paris Cat is one of Melbourne's premier jazz clubs and performing arts venues. The Paris Cat is an intimate and unique venue that hosts a vibrant underground Jazz scene and ..
MeMo Music Hall | St Kilda
St Kilda MeMo Theatre is St Kilda's hidden treasure. Memo Music Hall Opened in 1924 and originally known only as the 'theatre', St Kilda MeMo Theatre is the hidden treasure wh ..
The Palms at Crown
A spectacular show certainly deserves a spectacular venue and The Palms at Crown delivers just that. This amazing theatre venue is showcased through the multi-layered auditorium ..
Melbourne Arena
A world class entertainment venue, Melbourne Arena holds an eclectic range of music concerts, family orientated performances and dance parties. Venue features include; - Fu ..
Caravan Music Club
The Caravan Music Club is a live music venue presenting music at South Oakleigh Club in East Bentleigh. Most shows are pre sold through the Caravan Music Club website. Tickets c ..
Forum Theatre
Situated in the heart of Melbourne's CBD on Flinders Street, the Forum Theatre with its unique Gothic-Romanesque architecture, is the place-to-be for live performances of various a ..
The Tote Hotel
The Tote Hotel in Collingwood is one of Melbourne's favourite venues for live Rock and Roll - Loud and Proud. The Home of Rock (and punk-metal-pop-indie-shoegaze-post-dole-syn ..
Margaret Court Arena
Margaret Court Arena (MCA) is the third retractable-roof stadium at Melbourne Park. 'Show Court One' was built in 1988, the year the Australian Open Grand Slam tournament moved ..
Eddies Bandroom
Eddies Bandroom EBR Moorabbin Fully licenced Pool and Snooker Bar with a dedicated Bandroom offering live music. The venue is available for celebrations, functions and events. ..
Live At London Eleven
Live At London Eleven in Bayswater is Melbourne's newest live music venue offering live music and a fully licensed bar. BAYSWATER'S PREMIER LIVE MUSIC VENUE Located in Melbo ..
Bird's Basement
THE ULTIMATE JAZZ ENTERTAINMENT EXPERIENCE Bird's Basement is a live music venue, the home of Melbourne JAZZ. Since it opening its doors, Bird's has been the host of music le ..
Satellite Lounge
Satellite Lounge - beaming live entertainment into your suburb Once upon a time, every Melbourne suburb had a hotel with live music. It was a way of life: you watched Countdow ..
→
Best Live Music Venues in Melbourne
---
Update Page