Newsletter | #286 | What's On this Week
Welcome to this week's Melbourne events, exhibitions, sports and community guide for Tuesday to Monday, June 26 to July 2, 2012.
This week... The chilly willies get the nod with the return of Melbourne Winter Festival offering fun, music, food and an outdoor ice rink for those tired of boring old pirouettes by way of socks and linoleum... I know I certainly am and most times it's not even intentional. Rather hazardous, too, while making coffee.
Also on the festival front, there's ExUrban Screens in Frankston with a showcase of digital projections that will transform many a venue. There's also the return of Liquid Architecture with its celebration of experimental sound performances.
Break the two down to a simpler affair of an increase in noise and stuff on the walls and what you have is School Holidays.
With the end of school term this week there's a swag of entertainment for the kids with the Fun4Kids Children's Festival in Warrnambool and the Melbourne Magic Festival in Northcote. You'll also find many other great attractions in our School Holiday Guide with workshops, theatre and more.
OnlyMelbourne Welcomes
High Tea at Park Hyatt Melbourne
is the perfect chance to escape the hustle and bustle of the busy city centre. Boasting art deco furniture and incredible art to set the mood as you enter the foyer, their delightful Tea Lounge overlooks a scenic garden courtyard with fountain.
When:
Daily from 2.30pm - 5.00pm
|
Read Full Review by Lynda
Giveaways
Accidently Ugly | WIN a Family Pass!!
Accidently Ugly
, presented by St Martins Youth Arts Centre in South Yarra, is a touching performance created by its youngest members. Directed by Melinda Hetzel, the junk-yard theatre production evokes the profoundly beautiful things that children see in ugliness.
When:
Friday July 6 - 7pm & Saturday July 7 - 11am
Win a Family Pass!!!
OnlyMelbourne has a
Family Pass for 2 Adults & 2 Children
to see Accidently Ugly. Winners will be able to attend the Opening Night held on Friday July 6 at 7pm.
To go into the draw, simply email your name, address and contact details with "OnlyMelbourne Accidently Ugly Giveaway" as the subject line.
To email your entry
--->
Click Here to Enter Competition
Note:
Only Winners will be notified.
School Holiday Guide
Check out our
School Holiday Guide
for ideas on what to do with the kids during Winter Holidays running from June 29 to July 15. The guide offers some of the best things to do over the holiday period for the young and young at heart, with events, workshops, holiday programs and more.. all in marvellous Melbourne!
View School Holiday Guide
Giants at Melbourne Aquarium
offers big fun during holidays with the chance to learn all about the biggest fish in Australia's oceans and come face to face with reef fish bigger than sharks. There'll also be special presentations along with dive feeds and kids art and craft activities.
When:
Opens June 30
|
Book Online
The Comedy Magic Show
, appearing at Northcote Town Hall, is a fun and engaging performance by Luke Hocking, one of Melbourne's leading professional magicians. Packed with amazing magic and illusions, the show even features a talented mind reading raccoon puppet!
When:
Saturday & Sunday, July 7 & 8
Major Events
Melbourne Winter Festival
, held outside St Kilda Sea Baths, offers the joys of an authentic European winter with spectacular live music performances along with kids' activities, a showcase of foods and drinks, a huge outdoor ice skating rink and many more attractions.
When:
June 29 to July 15
Kilmore Celtic Festival
, held 60km from Melbourne on Victoria's oldest inland settled town celebrates its early settlers from Ireland, Scotland and Cornwall, paying tribute to their heritage in Kilmore today with a celebration of music, dancing, markets, workshops and more.
When:
Friday to Sunday, June 29 to July 1
Fun4Kids Children's Festival
, held in Warrnambool in a magical 2.5 acre fully indoor 'village', is an extravaganza of fun with each day's program offering stage shows with hours of non-stop performances, roving entertainers and creative hands-on activities and inventive workshops kids will love.
When:
July 1 to 8
Melbourne Magic Festival
, held at Northcote Town Hall, is the biggest gathering of magicians in Australia with a program that this year boasts over 100 performances of shows tailored for kids, families and adults along with magic classes and workshops for children.
When:
July 2 to 14
Glen Eira Storytelling Festival
, held at various venues, celebrates the art of storytelling with a program of events that include poetry readings, performances, workshops, open mic sessions in local cafes, a literary lunch, film screenings, children's story time sessions and more.
When:
June 18 to July 1
The Light in Winter
, Federation Square's celebration of enlightenment, brings together artists, designers and the community with this year's program focusing on the importance and joy of reading with workshops, talks, light displays, performances and more.
When:
June 1 to July 1
Art Exhibitions
Liquid Architecture
, Australia's premier festival of sound and arts, showcases performances and exhibitions by some of Australia's most experimental and imaginative musicians. The Victorian program features special concerts and sound installations held in Melbourne and Bendigo.
When:
June 27 to July 14
ExUrban Screens
, an inaugural festival of digital art, will transform Frankston's CBD into a winter scene of light, anticipation and wonder. Digital artists from every corner of the world will showcase works with projections held at Frankston Arts Centre and many other venues.
When:
Until July 7 - Dusk til Late
Post-Modem
, held at Chapman & Bailey in Abbotsford, is an exhibition of works by Geoff Trochard, an artist whose practice encompasses painting, digital media, drawing and music. His works address ideas of migration, identity, place and the concept of 'The Global Village'.
When:
June 25 to July 14
Opening Night:
Tuesday June 26 - 6pm to 8pm
More Exhibitions
Expos, Launches, Open Days & Lectures
Natural Dye Symposium
, the first international event of its kind in Australia, brings together artisans skilled in the use of natural dyes in their work with fibre, fabric, paint and paper. Held in Fitzroy, the program features classes, experimental workshops, lectures, tours, displays and more.
When:
June 27 to July 11
Oz Comic-Con
, Australia's own version of the world's top pop culture event, takes place at Melbourne Convention & Exhibition Centre. With Star Trek's Patrick Stewart and Marvel Comics legend Stan Lee heading a stellar line-up, there's also gaming demonstrations, cosplay and more.
When:
Saturday & Sunday, June 30 & July 1
Community Events
Maribyrnong's Flag Raising Ceremony
, held in Footscray for NAIDOC Week, celebrates the contribution of Aboriginal and Torres Strait Islanders with guest speakers, dancing and a workshop from local elders and artists with boomerang making and basket weaving.
When:
Monday July 2 - 10.30am to 2pm
Melbourne Tours
Colonial Tramcar Restaurant
lets you sit back and enjoy Melbourne as you dine aboard the iconic 1927 tram. With the very best of Australian wines and cuisine on offer whilst travelling through Melbourne, it's a great way to enjoy some fine food and a wonderful sightseeing tour.
More on Colonial Tramcar Restaurant
Melbourne Tours & Activities
are a great way to get out during holidays with the kids to discover some of the hidden treasures in your own city. With guided tours, ferry rides, sports events and more, there's no end of great attractions throughout Melbourne and Victoria.
Find Great Melbourne Tours & Activities Today
More Expos & Launches
|
More Open Days
|
More Tours
Performances & Theatre
Next To Normal
, performed by Fab Nobs Theatre in Bayswater, is a 'feel everything' musical about a suburban middle class family trying to deal with their mother's mental illness. Witty and poignant, the award winning drama features a captivating, contemporary score.
When:
Until June 30 - Wednesday to Saturday
Still Life
, held at Beaumaris Theatre, is Noel Coward's story of Laura and Alec, a pair whose chance encounters in a railway stations refreshment room lead to them having an affair. It's held as a double bill with a live radio play of Tony Hancock's comedy, The Bowmans.
When:
Until July 7 - Fridays & Saturdays
Theatre Slam
, held at the Order of Melbourne, invites you to watch some of Melbourne's finest actors slam down with 1, 2 and 3 minute monologues and performances seeing the actors battle to win over audience and industry professionals to become the monthly champions.
When:
Monday July 2 - 8pm
Annie
, the classic family musical, will be brought to life at Melbourne's Regent Theatre with Anthony Warlow returning in the role of Daddy Warbucks. The inspiring musical follows the fun-filled adventures of an orphan whose efforts to find her parents leads to more than hoped for.
When:
June 1 to July 8
|
Book Now
Classical, Choral & Recitals
Both Sides Now
brings together the talents of Low Rez and Melbourne Singers of Gospel. Held at St Kilda Town Hall, the concert presents songs ranging from Gospel to Soul and Funk to Pop with up to 120 voices on stage and a band featuring legends of Australia's jazz and blues scene.
When:
Saturday June 30 - 3pm & 8pm
Takacs Quartet
, one of the most remarkable quartets and regarded by many as arguably the best in the world, will perform at Melbourne Recital Centre. Founded in Budapest and steeped in the Hungarian tradition, they'll perform works from Janacek, Britten, Debussy and Ravel.
When:
Saturday June 30 - 8pm
Harp in the Melbourne Observatory
is a series of inspiring and uplifting concerts presented by Michael Johnson. Proudly performing as The Royal Botanic Gardens resident harpist for over decade, Johnson's compositions are regularly aired on national radio and television.
When:
Sundays Until August 19 - Bookings Required
Burlesque, Cabaret & Dance
Raise The Roof
is an evening of entertainment showcasing The Substation in Newport as the fantastic arts asset for the local community that it is. Hosted by Rusty Berther from Scared Weird Little Guys, the night features cabaret, music, comedy, circus acts and other surprises.
When:
Friday June 29 - 7:30pm
Terrain
, held at Melbourne's Arts Centre, is a powerful fusion of contemporary dance and storytelling. Performed by the internationally acclaimed Bangarra Dance Theatre, the production is described as a hymn to country that transports audiences to Lake Eyre, Australia's inland sea.
When:
June 29 to July 7
Don Quixote
is a presentation by St Kilda's National Theatre Ballet School with the condensed production revealing the fire and excitement of the classic tale at an exhilarating pace. Director, Beverly Jane Fry, will also premier her New Work entitled 'The Greeting Card'.
When:
Saturday & Sunday, June 30 & July 1
More Performances & Theatre
|
More Dance & Ballet
Entertainment & Nightlife
Northcote Theatre's 100th Anniversary
celebrates the historic milestone that The Regal Ballroom reaches this year with a return to its former name and a series of events that include live music, Blow-Up Cinema screenings, burlesque and also front bar pop up shows.
When:
June 27 to July 27
Lil Band O'Gold
, performing at The Substation in Newport for one show only, deliver a sweet, soulful journey of energetic Cajun romps and soulful ballads. A musical tour de force, the band features some of America's most influential artists to emerge from Louisiana.
When:
Saturday June 30 - 7:30pm
House of Rock
, is a premier regular event dedicated to rock. Held at its new home of Melbourne's Inflation Nightclub, punters can expect a full rock experience with live music each week along with classic tunes by legends like Iron Maiden to modern rock gods.
When:
Saturdays - 10pm to Late
Comedy & Magic
Comicus Erectus
, appearing at various venues for a limited time, is the latest show from the producers of Il Dago. With an all-star line-up of the best local and international ethnic comedy superstars ever assembled on one stage, it features George Kapiniaris, Joe Avati, Basile and Tahir.
When:
June 28 to July 5
Super Comedy Crazy Show
, held at Bar 303 in Northcote, boasts a stupidly cheap entry, dodgy prizes and some of Australia's best headline acts. With punters warned not to wear clothes they'd hate getting food on, it also boasts the 'Tiny Straw Milk Dance' competition.
When:
Sunday July 1 - Doors Open 7pm
Comedy at Spleen
presents an eclectic mix of comedy with some of the best of Melbourne's comedy scene taking to the stage each week. With free entry, the ever changing line-up features established personalities and legends along with the hottest new performers.
When:
Monday July 2 - 8:30pm
Cinema
Melbourne Cinemathèque
, dedicated to rare, significant films from the history of international cinema, hold regular screenings at ACMI Cinema with admission by membership on a monthly or yearly basis. Their next screening is Seijun Suzuki's 1963 film, Kanto Wanderer.
When:
Wednesday June 27 - 7pm
Operation 8
, the compelling documentary about the Urewera Four, Maori activists who were arrested in 2007 under terrorism, will be screened at Brunswick's Solidarity Salon. There is no charge for the film, but there will be a collection to help support their campaign.
When:
Thursday June 28 - 7pm to 9pm
Brunsdog Cartoon Connection
, held at Brunswick's Noise Bar, screens the best indie cartoons from Melbourne and beyond. Their next film night features 'Mutt' by Glen Hunwick, creator of Cadbury's claymations, along with shorts from local studios, RMIT student films and more.
When:
Sunday July 1 - 6pm to 9pm
More Live Gigs
|
More Comedy & Magic
|
More Cinema
Melbourne For Kids
Barbie - The Dream Closet
comes to Melbourne following a global launch at New York Fashion Week and capacity crowds in Sydney with the interactive exhibit appearing at Westfield Doncaster where fashionistas can literally get doll'd up in iconic outfits from the past five decades.
When:
Thursday to Sunday, June 28 to July 1
Game Masters
, showing at ACMI Cinema, celebrates video games gaming with a showcase of over 125 playable games. Featuring some of the most groundbreaking games made across arcades, consoles, PC and mobile platforms, there's also artwork, interactive displays and more.
When:
June 28 to October 28
Circus
Circus Oz - From The Ground Up
is the new ridiculous debacle that features power-packed aerialists, knockabout jugglers and live wire musicians, all acrobatically suspended in disbelief. Irreverent, beautiful and spectacular, it's held Under the Big Top at Birrarung Marr.
When:
Until July 15
Silvers Grand Magic Circus
will be appearing under the Big Top at Caulfield Racecourse. Established in 1976, the circus offers a great show for people of all ages with performers including everything from jugglers and clowns to acrobats, international performers and more.
Caulfield Racecourse:
Until July 15 - Various Dates & Times
Lennon Bros Circus
, appearing in Dingley Village, is Australia's oldest touring circus, having started as a Buckjump show. With big cats and other animals, audiences are captivated by the antics of the clowns and enthralled by jugglers, aerialists and the daring wheel of death.
Dingley Village:
Until July 15 - Various Dates & Times
Circus Latino
, appearing in Sunshine, is a dynamic and exciting show which aims to thrill and captivate audiences of all ages. Featuring talented performers from Argentina and Australia, you will be amazed at daring aerial acts, fire tricks, hoops performances and their hilarious clown.
Sunshine:
June 29 to July 1 - Various Dates & Times
More Children's Events
|
More Circus
Markets, Fetes and Fairs
Melbourne Market Guide
View MARKETS calendar
to make the most of the rare sunny days (it's a coin toss, isn't it!) and head to one of Melbourne's many excellent markets for a bargain!

A growing number of food, produce and even wine markets are springing up around the suburbs.
Fetes Fairs & Shows
Art & Craft Markets
Food & Produce Markets
Swap Meets
Garage Sales
Wining & Dining
The Roast Collection
presents a month-long program that celebrates Victoria's bountiful produce. With over 80 special events held at various venues and restaurants across the state, you'll find warming lunches, delicious dinners, tastings and even workshops to create the perfect roast.
When:
Until June 30
bookarestaurant.com
bookarestaurant.com
is the easiest way to book a restaurant online. With the choice to search by cuisine and location, you can find great dining offers with some of Melbourne's finest restaurants. Bookings are free and can be made online at any time of the day.
Book a Restaurant Today
Sporting Events
IASbet
, Australia's premier online betting agency, offers better odds for Horse Racing and Sports Betting both here and overseas. An easy way to take a punt on any of the many races over the long weekend, you can even receive $100 in FREE bets when you join IASbet online.
Join IASbet for $100 in FREE Bets - Learn More
Australian Rules Football
AFL Premiership | Round 14
Carlton V Hawthorn
Friday June 29, 7:50pm - MCG
Collingwood V Freemantle
Saturday June 30, 1:45pm - MCG
Essendon V Western Bulldogs
Saturday June 30, 7:40pm - Etihad Stadium
Geelong Vs Port Adelaide
Sunday July 1, 1:10pm - Simonds Stadium
St Kilda V North Melbourne
Sunday July 1, 4:40pm - Etihad Stadium
Rugby
Super Rugby Season - Round 19
Melbourne Rebels vs Reds
Friday June 29 - 7:40pm
AAMI Park, Melbourne
Golf
Boys' Victorian Amateur
, taking place at Yarra Yarra Golf Club and also at Northern Golf Club, is an Australian Boys' Ranking Event. Conducted by Golf Victoria, the event is held for players under the age of 18 years and is played over 72-holes stroke play.
When:
Monday & Tuesday, July 2 & 3
Wrestling
Live Pro Wrestling
comes to the Dragonfly Function Centre in Tullamarine when Melbourne City Wrestling presents a night of drama and head-to-head action on the mat as their own wrestlers go up against members of South Australia's Riot City Wrestling.
When:
Friday June 29 - Doors Open 6pm
More Sports Events
|
More Motor Sports & Auto Events
Let Melbourne Know...
Advertise Your School Fete, Fair or Carnival FREE!
Everyone wants to support their local school by going to their annual fundraiser. Last year we promoted a whopping 1,200 school events. So, make sure you let your school organizers know they can list their fete, fair or carnival for
FREE @ OnlyMelbourne!
Add Your Event for FREE Today!!
Trivia & Humour
Shaggy Dog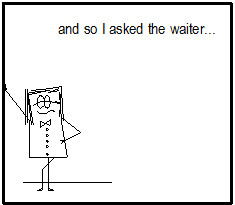 Shaggy Dog by Deej
-
Click Here to find what happens!
I'd Swear Someone Lunched Over My Grave!
Many people assume the first cemetery in Melbourne was the
Old Melbourne Cemetery
, whereas in fact it was
Burial Hill
, known today as Flagstaff Gardens.
These days, the park is the most highly used garden in Melbourne (per square metre) and a popular lunchtime oasis for workers in the city's northwest.
Willie, the child of James Goodman was the first person to buried in Melbourne, Port Phillip District. He was buried on 13th May 1836 at
Burial Hill
. This site was only used for about 6 burials.
Read more about Melbourne Cemeteries
|
Read Melbourne Trivia...
WHAT'S ON CALENDAR
OnlyMelbourne's Calendar
allows you to select any day of the year to view everything (everything!!!) on that day in an easy to read, printable display.
-:- View
What's On Calendar
-:- View
Markets Only Calendar
WHAT'S ON RSS FEEDS
We have a range of
RSS Feeds
.
NEWSLETTER
What's On this Week
is an email overview and reminder of the (too many to mention) events happening this week in Melbourne.
Get your copy
of What's On this Week!
FREE ADVERTISING
Advertising
your EVENT at OnlyMelbourne is not only easy, it's
FREE!!
-
Apply Online..
for inclusion in the What's On calendar and newsletter!
❊ Web Links ❊
→
Newsletter | #286 | What's On this Week
→
Subscribe to OnlyMelbourne - Get your copy of What's On this Week!
→
List Your Business or Event - It's FREE!
→
Events Calendar - Find out What's On any day of the week!
→
Mobile OnlyMelbourne
→
Melbourne for Children | Kids
→
Newsletter | #285 | What's On this Week [Last Week]
Trending HOT

Things to see, hear & do this Easter weekend
Easter long weekend kicks off with Good Friday (20th April), Saturday, Sunday and Monday making a fabulous long weekend. The 4 day break includes annual favourites ..
---
Update Page Request