Best Teppanyaki in Melbourne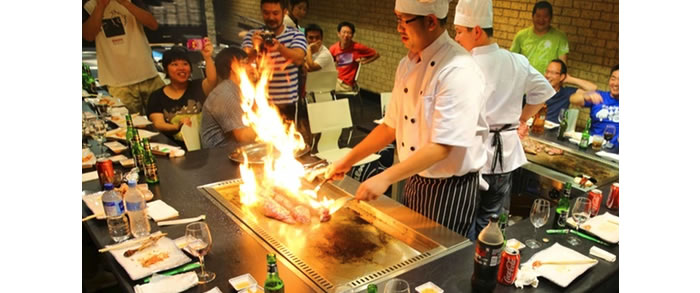 We love teppanyaki! There, we said it.
What's not to like.. good food, cooked in front of you, some say "open kitchens", entertaining, an enjoyable night out.
Teppanyaki (鉄板焼き teppan-yaki) is a style of Japanese cuisine that uses an iron griddle to cook food. We associate it with a chef performing a show as they prepare and cook the dishes.
The word teppanyaki is derived from teppan (鉄板), which means iron plate, and yaki (焼き), which means grilled, broiled, or pan-fried. In Japan, teppanyaki refers to dishes cooked using an iron plate, including steak, shrimp, okonomiyaki, yakisoba, and monjayaki.
Teppanyaki

Good food

Entertaining

Fun with friends
Best Teppanyaki in Melbourne
When egg on your face is part of the fun!
Ginza Teppanyaki
The art of Teppanyaki orginates in Osaka 200 years ago and has become extremely popular with gourmets around the world Teppanyaki, which is Japanese barbeque style seafoods, qualit ..
Kobe Jones | Riverside Teppanyaki
Japanese like you've never had it before RIVERSIDE TEPPANYAKI Australia's largest teppanyaki table is at Melbourne's WTC Wharf. Featuring 19 cooking stations and seating f ..
Aya Japanese Restaurant
If you're after a quintessential Japanese dining experience in a specially crafted Tatami Room, then Aya Japanese Restaurant is for you. But be prepared to take off your shoes and ..
Japanese Teppanyaki Inn
The Japanese Teppanyaki Inn (or simply The Teppanyaki, as many know it) was established in 1975 in Collins Street in Melbourne's CBD and was the first Teppanyaki style restaurant i ..
Koko at Crown Melbourne
Experience the serene ambience created by internationally renowned designer, Tony Chi amidst the tranquil surrounds of a Japanese water garden at Crown's signature teppanyaki resta ..
Tokyo Teppanyaki
Located in the heart of South Yarra, Melbourne, Tokyo Teppanyaki is more than just a dining experience - it is a complete night of entertainment! Enjoy high quality Japanese-s ..
Miyako Japanese Cuisine & Teppanyaki
Opened in 1997, MIYAKO JAPANESE CUISINE has courteously served many gourmet Japanese dishes, receiving much praise and support from our valued diners. Our premises feature a re ..
→
Best Teppanyaki in Melbourne
❊ Also See... ❊
→
Chinatown | Melbourne C.B.D.
---
Update Page