Tarax Soft Drinks

Tarax was the brand-name of an independent Melbourne soft drink bottler and a market innovator including sponsorship of the Tarax Happy Show and the development of new packaging, such as the steel can.
Producing a wide range of flavours including lemonade, orange, lime ("Limelite"), cola, lemon, pineapple, raspberry ("Crimson"), root beer, bitter lemon, "Solo", and "Panda", and the American "Dixi-Cola". The 1970s saw the brand re-invent itself with the dropping of several flavours, and the introduction of "Black Label"in lemonade and orange.
PETHARD, GEORGE ALBERT (1885-1961)
George Pethard (Snr), an English-born storeman established a soft drink factory in Numurkah producing the brand name of Taraxale. George (junior) entered his father's soft drink business in 1898 and moved with the firm to Bendigo in 1909. In June 1958 he became chairman of Tarax Drinks Holdings Ltd.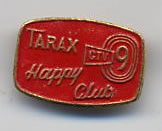 Tarax listed as a public company in 1959, as the Taraxale Brewing Company, and in 1961 bought out the Consolidated Beverage Company, followed by Ecks Holdings in 1962. In 1972, Taraxale Brewing Company was taken over by Cadbury-Schweppes.
Tarax Sponsorship Deal
Shortly after GTV9 began broadcasting in 1957, it launched a daily childrens' programme originally titled 'The Happy Show', hosted by entertainer Happy Hammond and featuring ventriloquist Ron Blaskett with Gerry Gee. The Happy Show was sponsored by the Tarax soft drink company. Denzil is credited as the creator of the Happy Show, which was later renamed the 'Tarax Show' when Happy Hammond moved to rival station HSV7.
In this photo
Denzil and Happy Hammond are toasting each other with Tarax bottles while executives from Tarax and GTV9 sign the deal.
tarax black label lemonade
What has happened to Tarax Black label lemonade?
Lets help
Greg Collie
get to the bottom of.. who knows, maybe someday someone who knows someone who worked on the launch of the product will send me an enlightening email! Tantalising clues arrive from time to time. Giselle P., who claims to be the great-grand-daughter of the man who founded Tarax in 1913 wrote me mid September 2005, but so far I haven't heard more from her. Earlier, in Oct 2004, I heard from another P., David, who claimed to be the last man standing ... director prior to Cadbury Schweppes takeover. I replied, somewhat tardily, and alas have heard no more from he! So close and yet so far from the unravelling of that black label's magic spell...
Tarax Pty Ltd (c. 1950 - 1972)
Function: Food or Beverage Industry
Location: Melbourne, Victoria, Australia
Tarax Pty Ltd were Australian producers of soft drinks. In the 1950s they won an Australian Institute of Food Science and Technology Award for their co-production of a flame spin sterilizer. In 1972 Tarax was taken over by Cadbury-Schweppes Australia Limited.
Source: Australian Science at Work (link below)
Taraxale Brewing Company
Taraxale Brewing Company - 190 Union Street, West Brunswick
Tarax Drinks
Soft Drink Mfrs &/or Distributors
Address: Beverage Drv, Tullamarine, VIC, 3043
Contact Details: Ph:(03) 9339 6339
Whats in a name
Tab Cola (became diet coke)
Tarino (sunkist)
Leed (sprite)
Mellow Yellow (Lift)
Sunny Boys
Snips
Razz
Glug
Hi C orange juice
Mr Whippy
Slades
2006 - Tarax never went away, they just changed the receipe, it's not as crisp as it used to be. Sunshine Pine, Black Label Lemonade and Sno Top ( Creamy Soda for you in the uncivilised States :D ) in Melbourne when I left in 2003. You can buy Tarax Pineapple and Tarax Rasberry still (without the cool word in front), not sure about Lime.
❊ Web Links ❊
→
Tarax Soft Drinks
→
History of Tarax
→
www.burkesbackyard.com.au
→
The Tarax Happy Show and Olivia Newton Johns Egregious Error!
→
www.memorabletv.com
→
History of Numurkah
→
Australian Science at Work
→
Milk bars, Malvern Stars and empty Tarax bottles
→
Tarax delivery trucks leaving loading bay
→
wapedia.mobi/en/Tarax
→
Pethard, George Albert (1885 - 1961)
❊ Also See... ❊
→
Soft Drinks & Ice Blocks
Trending HOT

Things to see, hear & do this weekend
Make the most of your weekend in Melbourne with these fabulous events. No city does it better than Melbourne, so get out and discover the very best shows, festivals, ..

Australia Day 2020
Australia Day is on Sunday 26th January 2020 | Public Holiday: Monday 27 January 2020 On the 26th of January each year we celebrate our National Day as the Victorian ..
---
Update Page Request