Newsletter | #062 | What's On this Week

Welcome to this week's Melbourne events, exhibitions, sports and community guide for March 10 - March 16, 2008.
This week, kick up your kilts with the Geelong Highland Gathering! Celebrate United Nations Elimination of Racism Day with Fairfield's Black Harmony Gathering. There's also festivals aplenty with Apokries Day, Casey Kids Carnival and the Sunbury Community Festival! There's also music, wining and dining to be had with the Melba Festival and Mordialloc on the Bay! While Flemington's Festival of Racing, Melbourne Queer Film Festival and Brunswick Music Festival continue, the Long Weekend also winds down with the Birdman Rally at Melbourne's Moomba Waterfest!
There are sport details, special dining offers and info on upcoming events and highlights in beautiful Melbourne, so read on and enjoy!
Not receiving our newsletter?
Get your copy
of What's On this Week!
Major Events Guide
Black Harmony Gathering
, held on Sunday at the Fairfield Amphitheatre, is a free event that will celebrate Melbourne's cultural diversity and
"SAY NO TO RACISM"
. Hosted by the Aboriginal community, the afternoon of performances marks the United Nations Elimination of Racism day and will showcase Melbourne's premium aboriginal artists, finest African, and emerging culturally diverse musicians.
Sunbury Community Festival
takes place this weekend at Sunbury's Village Green. Celebrating the unique identity of Sunbury, the festival focuses on its beautiful bush and mountain ranges as well as the local area's vibrant community. The festival includes a Grand Street Parade, evening Torch Light Parade, live entertainment and carnival rides. There will also be car exhibitions, market stalls and much more!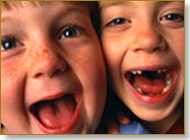 Apokries Day, held on Labour Day, is a free family fun day, held at the Northcote Day Centre. The 20 first families arriving will receive a kite! There will also be food, drinks, music and competitions with cash awards!
Casey Kids Carnival, held this Saturday, turns Berwick's Old Cheese Factory into a vibrant spectacle of colour and excitement with lots of entertainment and activities for the whole family to enjoy!
Geelong Highland Gathering
is Victoria's biggest and most diverse celebration of Scottish culture, attracting over 6000 people each year. Held this weekend, the festival includes the popular Scottish Heavy Games, which features caber tossing. Held on Sunday, the Gathering also features Scottish historic military re-enactment groups, pipe bands, Highland Dancing, a Celtic Market, archery, children's activities and more!
Melba Festival
, held between March 14th and 16th, offers a carefree Autumn weekend in the Yarra Valley. The festival's program provides a unique range of performances and experiences, with the Yarra Valley's natural beauty providing the backdrop. With the opening night featuring pianist James Brawn, other festival highlights include The Flinders Quartet, Leonard and Slava Grigoryan performing.
Melbourne Moomba Waterfest
, the heart of Melbourne's event calendar, celebrates its 6th decade when it continues on Monday, ending the long weekend. With all the favourite events that Moomba's known for, Labour Day sees the much loved Birdman Rally, along with free entertainment, food, music and much more that Moomba's known for!
Ends this Monday, Labour Day
Melbourne Queer Film Festival
, running until March 16th, is the largest and longest-running queer film festival in Australia, and also the second largest film festival in Victoria! Screening the best films from the gay and lesbian community both in Australia and around the world, the festival is held at ACMI Cinemas and ACMI Screen Pit, with several gala events taking place at other venues in Melbourne.
Brunswick Music Festival
continues this week, celebrating its 20th year with three weeks of music and entertainment featuring some of the finest performers from around the world. One of Victoria's most celebrated multicultural events, the Brunswick Music Festival highlights the diversity of the City of Moreland, one of the most culturally rich communities in Australia with 35% of its residents born overseas.
The Melbourne International Motor Show
ends Monday, showcasing the latest in design and technology, futuristic prototypes, concept vehicles and more auto attractions than you could shake a dipstick at! Held at the Melbourne Exhibition Centre, the Motor Show runs until March 10th with exciting entertainment and displays for the whole family.
Ends this Monday, Labour Day
WIN a Double-Pass!!!
Brick Lane | Opening March 20
Brick Lane
, opening March 20th, is a contemporary story of love, cultural difference, and ultimately, the strength of the human spirit.
*COMPETITION NOW CLOSED*
To win one of ten double-passes to
Brick Lane
, courtesy of Madman Cinema, simply email your name, address and contact details with
'OnlyMelbourne Tickets Giveaway'
as the subject line.
*COMPETITION NOW CLOSED*
School Holiday Guide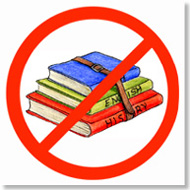 Check out our
School Holiday Guide
for a head start on things to do with the kids during the school holidays Easter and Autumn, between March 21 and April 6.
Updated Weekly with all the Latest Events!!
The guide is updated weekly to highlight the best things to do over the holiday period for the young and young at heart, to help you find perfect ways to enjoy the holidays with events, tours and holiday care programs.. all in marvellous Melbourne!
Exhibitions - Art | Festival | Show
Passaggi Scritti
is an exhibition of work by Angela Cavalieri, who explores the art of both writing and storytelling visually with a series of hand-rolled linocuts on canvas. This Saturday she will be giving a free artist's talk as part of the show - Bookings Essential.
Ugly Cuddles
, an exhibition Ange Leech's work at North Fitzroy's Red Gallery, plays on childhood fears by using the gallery space to create a distorted environment. The gallery is inhabited with plush, cuddly creatures with faces inspired by human anatomy.
Justice & Hope
is a photographic exhibition of Jenn Dobson's visual documentation of children throughout India and South East Asia. Profits from photograph sales will go to
Jacob's Well
, providing fresh water wells and other assistance for impoverished villages.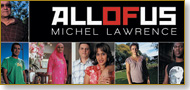 All of Us
is Australia's largest ever photographic portrait show, displayed across the outer walls of Federation Square's Crossbar Building. The photos by Michel Lawrence, celebrate Australia's diverse culture with over 200 residents from different backgrounds.
ChillOut Festival
, the largest gay and lesbian festival in regional and rural Australia, runs till Monday, ending fours days of fun, music and entertainment to the town of Daylesford. With art, sports, shows and exhibitions the festival has something for everyone!
Ends this Monday, Labour Day
Ballarat Begonia Festival
offers an incredible range of attractions for all, ending on Labour Day. With the begonia exhibition as a highlight, the festival also features free kids' activities, music and art in Ballarat 's Botanical Gardens and Lake Wendouree's foreshore.
Ends this Monday, Labour Day
Arts & Theatre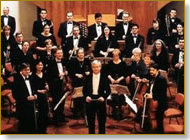 The Melbourne Sinfonia
, one of Melbourne's best non-professional symphony orchestras and the resident orchestra of the Royal Children's Hospital, will be performing this Friday at Melba Hall. The orchestra will be performing Chabrier Espagne, Canteloube Chants d'Auvergne and Gounod Ballet Music from Faust. By booking tickets for the concert you will be supporting the
Royal Children's Hospital
.
Balanced Perspectives
is a celebration of Melbourne in dance, embracing an eclectic fusion of movement, sound and vision. Presented by Melbourne Ballet Company between March 13th and 15th, the program also features artworks by artist, Daniel Kaplon.
Music of the Masters
- The Melbourne Musicians open their 34th Concert Season on Thursday with a performance of Haydn's Symphony No.1 by award-winning violinist, Natsuko Yoshimoto and Anne Gilby, one of Australia's foremost oboists.
Entertainment & Nightlife
High Tide at CERES
- This Friday, CERES will host a night of music, food, dancing and also a special film screening to raise funds for the Bougainville and Cateret Islands Youth Project - a program that supports the islanders affected by rising sea levels.
Ghost Mountain
will be performing between Thursday and Sunday this week at various venues in Melbourne. Featuring Christian Pyle - former frontman of alt-rock legends
ACRE
- and Sal Yates, Ghost Mountain will be performing songs from their debut EP.
The Idan Raichel Project
- Using traditional instruments, guitars and electronica, Idan Raichel puts a modern slant on the cultural sounds of Ethiopian songs, Arabic poetry and Yemenite chants. He will be performing on Tuesday night only at Chapel Off Chapel.
Frank & Barbra | The Concert That Never Was
Featuring Sharon Owens and Sebastian Anzaldo, this show offers all the magic of what could have been had legendary singers Barbra Streisand and Frank Sinatra ever shared the stage. Sunday only at The Palms.
Inverloch Jazz Festival
celebrates its 15th year with a weekend of top class jazz from as many as 80 bands! Set in the beauty of South Gippsland, the festival continues on Monday, winding down the long weekend with Labour Day's
'Picnic in the Park'
.
Ends this Monday, Labour Day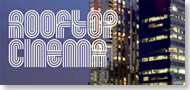 The Rooftop Cinema
at Curtin House flickers into action all Summer, with films screening Tuesday to Sunday. Enjoy the night lights, classic cinema and the rooftop bar! This Thursday... Punk History 101 with the Sex Pistols documentary,
The Filth and The Fury
.
For Rooftop Cinema's Full Program
Visit Here
Live Music Guide Melbourne Venues and Gig guide.
Competitions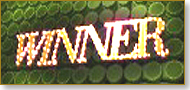 $12,000 Cash Bonanza!
Here's your chance to share in a $12,000 CASH BONANZA, courtesy of Financial Services Online! Apply free online for any comparative quote & you automatically qualify for free entry into their monthly prize draw of $1,000!
For More Competitions Visit Here
Dining & Drink
Mordialloc by the Bay
will see Port Phillip Bay come to life this weekend with the 2008 Fine Food, Wine & Music Festival taking place on Mordialloc's foreshore. Offering a weekend of fun, sun, and food, the festival highlights include three stages with performances by some of Australia's finest jazz and blues artists such as Joe Camilleri and the Black Sorrows, and many more.
Entry only $2 gold coin donation!
Wining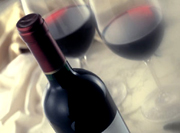 Cleanskins.com
sell premium Australian wines direct to the public at up to 50% off retail prices, offering Free Home Delivery and a 100% Money Back Guarantee.
Perfect for all lovers of wine, their impressive range of wines and service were recommended on Channel 7's
Today Tonight
and Channel 9's
A Current Affair
.
Dining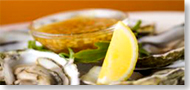 Bistro 1
is one of Melbourne's most desirable dining destinations. With superb French and Italian cuisine and a national award winning wine list, the warm lamp lighting and attentive service create a special feeling for couples in the mood for romance.
Special Dining Offer
Melbourne offers a splendid range of food styles to enjoy. Here are just a few classic food styles to choose from..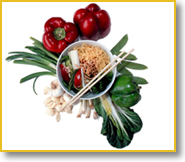 For more restaurants...
Check out
onlyMelbourne's Restaurant Directory
Or you can
View & Book a Table @ MenuLog
Dining In
Menulog Home Delivery
is a great chance to eat fine cuisine at home! With over 300 of the best restaurants on offer, you're sure to find something to suit any taste or occasion. To find fast and easy delivery in your area,
Visit Here
.
Sporting Events
Motor Sport
FORMULA 1 Australian Grand Prix
- Running from March 13th to 16th, Australia's most prestigious motor sport event will be staged at Melbourne's Albert Park. This year's only bigger and better with the return of V8 Supercars, and a performance by rock icons KISS!
Cycling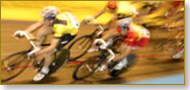 Cycling Revolution
has sent a buzz within Melbourne's track cycling aficionados because
Track really is Back!
Vodafone Arena continues
Revolution 2
, a series of cycling events that includes the
77th Melbourne Cup on Wheels
this Wednesday!
Horse Racing
Flemington Festival of Racing
returns in 2008, with and added boost this year, incorporating official events in both the L'Oreal Melbourne Fashion Festival and the Melbourne Food and Wine Festival.
Held at Flemington Racecourse and running until March 15th, the festival's highlights include group racing, a family day, and special dinner events with guest chefs.
Markets, Fetes and Fairs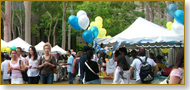 The Bulla Hill Country Market
, held this Sunday, has everything for the whole family! For the Mums, Dads and Grandparents there are craft stalls, homemade foods and more, while there's plenty for the kids including the Miniature Railway, Pony Rides, and more!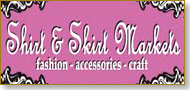 The Shirt and Skirt Markets
, held on Sunday at
Abbotsford Convent
, is the perfect place for emerging fashion designers to showcase their talents and sell beautiful creations to the general public, with men's, women's and children's fashion, jewellery and more!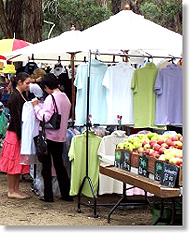 Melbourne Market Guide
2nd Week & 3rd Weekend of Month
(Still Confused?)
Make the most of the sunny days and head to one of Melbourne's many excellent markets, fetes and fairs for a bargain! An increasing number of food and produce markets including wine are always popping up around the suburbs. And don't forget garage sales!
Fetes & Fairs This Week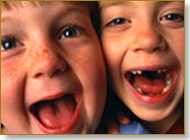 -::-
Rangeview Primary School Fair
Saturday, March 15 - Mitcham.
-::-
St Leonard's College Community Day Fair
Saturday, March 15 - Brighton East
-::-
Market Day at Camelot Rise Primary
Saturday, March 15 - Glen Waverly
-::-
Ashburton Primary School Amazing Grand Fair
Sunday, March 16 - Ashburton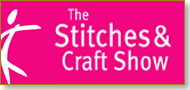 The Melbourne Stitches & Craft Show
begins Wednesday at Caulfield Racecourse, celebrating 21 years over 5 days with more than 50 demonstrations and workshops on traditional crafts such as embroidery, knitting, quilting and contemporary crafts.
Melbourne For Kids
RSPCA All Creatures Open Day
, held this Sunday in Burwood East, is a great day out for the family and also a way to help raise funds for Animal Welfare Programs. Entry is by gold coin donation, and the day features animal displays, celebrity guests and more!
Game On
, a special exhibition held at ACMI, almost literally features the A-Z of video and computer gaming history with an extensive collection of artwork, playable games, footage and more! With gaming consoles on display from the earliest era of arcade games through to modern consoles like the Playstation 3 and WII, the exhibition also shows the future of games and where the next adrenaline rush lies!
Cadbury Easter Egg Hunt & Family Picnic
- With the Easter weekend fast approaching, annual Cadbury Easter Egg hunt will take place at Werribee Park on Good Friday, March 21st. With the Cadbury Great Bunny leading the hunt, the day is enormous fun for the whole family! All ticket profits and proceeds from the day are donated to Melbourne's Royal Children's Hospital Good Friday Appeal.
For Tickets phone 132 849, or
Visit Ticketek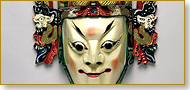 Masks of China
at the Immigration Museum features handmade masks from China, some which are over 200 years old. With free entry for children the exhibition includes fun kids activity trail with the chance to sketch and colour-in their own mask!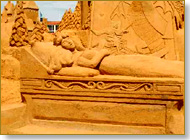 Sand Sculpting Australia
- In 2008, after seven years on the Rye foreshore, Sand Sculpting Australia will be relocating to an exciting new venue - the 'Frankston Waterfront'! The area will be transformed as 3,500 tonnes of sand are meticulously carved into scenes from your favourite childhood 'Fairytales and Fables'. Integrated with the sand sculptures will be regular activities to keep the whole family entertained!
Melbourne Tours
Smartvisit Card
is the best way to see the sights of Melbourne, whether you're visiting Melbourne for business, a vacation, or even if you're a local wanting to find Melbourne's hidden treasures!
The Smartvisit Card includes entry to attractions such as Melbourne Zoo, Melbourne Aquarium, Old Melbourne Gaol, Telstra Dome, Cook's Cottage, Melbourne River Cruises, and many more of Melbourne's TOP venues!
Free entry to over 60 top attractions..
Visit great venues like Zoos, museums & more across Melbourne & Victoria!
Over $800 of entry fees for ONE low price..
Plus special offers & discounts!
Visit just 2 Attractions a day & you'll save!
FREE 128 page guidebook..
Tailored to local knowledge on what to see & do!
Cash free entry..
Show your card & you're in, no need for cash!
All year-round Attractions..
Whatever time of year you visit - rain or shine!
Learn more about Smartvisit Card
Puffing Billy Tour
- take a tour the whole family can enjoy with a ride on Puffing Billy, Australia's best-loved steam train! Winding its way through lush ferns and towering timbers, this fantastic tour offers may treats, including wine tasting for the adults and also a trip to Healesville Sanctuary that kids will love!
What's On for March
Community
Rose Garden Open Days
- The Peaceful Land of Joy rose gardens at the Tibetan Buddhist Society will be open to the public on Saturday and Sunday for the Rose Garden Open Weekend. Set amidst the gardens of the Tibetan Buddhist Society, the weekend offers free garden tours where you can learn the history of the roses the gardens are famous for along with pruning and organic cultivation methods.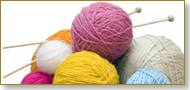 Learn to Knit at Prahran Library
- Every Wednesday at Prahran Library there is a free one-hour knitting class for people of all ages and experience. A great way to make friends and be creative, the classes begin at 1:30pm - needles and wool can be provided.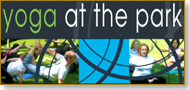 Yoga at the Park
is an initiative of The Health and Yoga Council of Australia, presenting Yoga classes in some of Victoria's most beautiful parks and gardens. Set in a relaxed environment, classes are designed to suit many age groups and levels of experience.
You Can Help
There are many social causes that are relevant to people from all walks of life, many of which rely on public support to better the community or assist those who are less fortunate. This week we ask you to consider the following..
World's Greatest Shave - Be Brave and Shave!
The Leukaemia Foundation's World's Greatest Shave takes place between March 13th and 15th, raising much-needed funds for the many Australians living with leukaemias, lymphomas, myeloma and related blood disorders. Go it alone or get together with friends, workmates or club members to form a group with public shave events soon to be held across Australia!
OnlyMelbourne Welcomes..
Advertising
your Business or Event at OnlyMelbourne is not only easy, but best of all it's
FREE!!
-
Get Listed..
- don't forget to tell your friends!
Each week we highlight five of the latest additions to OnlyMelbourne's ever growing guide to services, businesses and information sites for your community.
This week we suggest the following:
View More of the Latest Listings at OnlyMelbourne!
To find out how
you
can join Melbourne's largest online community
Visit Here!
Puzzles
Anagram-orama!
We've rearranged the letters of three of the attractions featured in this week's newsletter.. See if you can figure them out!
A Slack Scary Divine


Greg Held Helga In A Gin Thong


Pardon Nosey Deer Gas
Answers in
Next Week's Newsletter...
Spot The Difference
There are 5 Differences between these two pictures of the Seawinds Gardens at Arthur's Seat... See if you can spot them!
Read More about Arthur's Seat
|
Learn More about Melbourne!
Answers in
Next Week's Newsletter
Last Week's Answers
Anagram-orama!
Mates Mourn Free Below A Tomb - Melbourne Moomba Waterfest
Emu Fights A Wrong Girly Perm - Emerging Playwright Forums
Coffin Nail Elves Tag Mint Frog - Flemington Festival of Racing
Spot The Difference
Here are the 5 Differences in last week's picture of the
Heide Museum of Modern Art
...
Newsletter | #061 | What's On this Week [Last Week]
Melbourne Trivia
Glass of Water, Glen?
Ogaki, a city in Japan is the sister city of Glen Eira. Ogaki, situated in the central part of Honshu, is the largest of the four main islands of Japan.
Known as the
City of Water
, it is also the final resting place of one of Japan's most revered haiku poets, Matsuo Basho. Every November the city holds a festival in his honour.
More about Victoria's Sister Cities..
|
Read Melbourne Trivia...
World FIRSTS for Melbourne
The world's first female detective thriller writer was
Mrs Fortune
and she was published during 1871 in Melbourne under her nom-de-plume 'W.W'.
Her book was called,
The Detective's Album: Recollections of an Australian Police Officer.
Hardly surprising, as Melbourne has
more
than its fair-share of
World Firsts...
❊ Address & Contact ❊
⊜ Newsletter | #062 | What's On this Week Melbourne |
Map
❊ Web Links ❊
→
Newsletter | #062 | What's On this Week
→
Subscribe to OnlyMelbourne - Get your copy of What's On this Week!
→
List Your Business or Event - It's FREE!
→
What's On In Melbourne in March
→
Easter & Autumn School Holiday Guide 2008
→
Melbourne Guide | Accommodation, Travel & Tours
→
Melbourne for Children | Kids
→
Competitions | Fun & Games
→
onlyMelbourne Newsletters Archive
→
Newsletter | #061 | What's On this Week
❊ COVID-19 Notice ❊
Many locations have gone into lockdown as the state takes action to stop the spread of the deadly coronavirus (COVID-19).
→
Disclaimer
: Check with the operator before making plans
...
Trending HOT

Things to see, hear & do this weekend
Make the most of your weekend in Melbourne with these fabulous events. No city does it better than Melbourne, so get out and discover the very best shows, festivals, ..
---
Update Page