Newsletter | #313 | What's On this Week
Welcome to this week's Melbourne events, exhibitions, sports and community guide for Tuesday to Monday, January 1 to 7, 2013.
This week... Welcome to the first day of the first week of the rest of your year!!
With the seasonal lull due to subside (along with many a seasonal hangover, I assume) the first festival to warily pop up its head is Lavandula Swiss Italian Farm's celebration of their Lavender Harvest - perfect for Pagans who may have stubbornly refrained from embracing the Christmas Spirit.
If any such Pagan naysayers are also sticklers about New Year's, feel free to also celebrate with a present thrown my way. Long before the Gregorian calendar with all its historical trickery, the New Year's Day of old once fell upon my birthday in March.
The way I see it, it gives me a second stab and three months leeway with that resolution malarkey. And a good thing it is, too.
Not even 20 minutes into 2013 and I discovered a forgotten four-day old vanilla slice in the fridge. Needless to say, one of my usual yearly resolutions of being more sensible about what I eat quickly went by the wayside.
It was a risky move, I'll admit, but I figured I'd at least get a second round of fireworks if things went awry.
OnlyMelbourne Welcomes
Acting Singing & Dancing Holiday Workshops
, presented by Limelight Drama, offer engaging and creative activities for children aged 5 to 13. With workshops held in 3 locations, kids can re-enact songs, dances and scenes from musicals and movies like Harry Potter and more.
Williamstown:
January 7 to 9
Thornbury:
January 14 to 16
Hawthorn East:
January 21 to 23
Major Events
Lavender Harvest Festival
, held at Lavandula Swiss Italian Farm in Shepherds Flat, celebrates the crop harvest and the history of the scenic farm with special days of music with special guest performances, along with food, wine and tours of their 1860's stone farmhouse.
When:
Sundays, January 6 & 13
Peninsula Summer Music Festival
, held at venues found in Mornington, Red Hill, Rosebud and other picturesque locales, presents a family-friendly program of musical adventures from international and local guests with cantatas by candlelight, jazz, chamber music and more.
When:
December 29 to January 6
School Holiday Guide
Check out our
School Holiday Guide
for the latest on what to do with the kids during Summer Holidays. The holiday guide offers a great range of activities for the young and young at heart, with events, tours, workshops, concerts and holiday programs.. all in marvellous Melbourne!
School Holiday Guide - Dec 21 to Jan 29
Art Exhibitions
Two of a Kind
, showing at the Long Gallery of Montsalvat in Eltham, is a joint exhibition by Norma Neil, whose paintings were inspired by her poolside studio residency there, and sculptor, Maree Castles, with her contemporary works of the female form in Sandstone.
When:
Until January 13
EPIC! 100 years of film & the Bible
, held at the Jewish Museum of Australia in St Kilda, explores the fascination that filmmakers from all over the world have had with the Bible by showcasing rare vintage movie posters along with movie stills, lobby cards and costumes.
When:
Until February 3
TEES: Exposing Melbourne's T-shirt culture
, held at NGV Studio, celebrates the T-shirt with a collaborative exhibition between creative agency Just Another and the world's only T-shirt journal T-world, showcasing some of Melbourne's most influential artists and brands.
When:
Until February 17
More Exhibitions
Expos, Launches, Open Days & Lectures
Docklands Bridal Expo
, taking place at Marvel Stadium, features over 100 wedding industry professionals to advise couples on the dos and don'ts of the wedding industry. With great giveaways on offer throughout the day, entry is free for those who register online.
When:
Sunday January 6 - 9am to 4pm
New Age Healing & Psychic Expo
, appearing in in South Gippsland's Wonthaggi Town Hall, showcases jewellery, incense, salt lamps, crystals and more. Visitors to the expo can also have a personal psychic reading with experienced mediums, clairvoyants and tarot readers.
When:
Sunday January 6 - 10am to 5pm
Melbourne Tours
Melbourne Tours & Activities
are a great way to take Dad out on the town to discover some of the hidden treasures in your own city. With guided tours, winery excursions, sports events and more, there's no end of great attractions throughout Melbourne and Victoria.
Find Melbourne Tours & Activities
You Can Help
There are many social causes that are relevant to people from all walks of life, many of which rely on public support to better the community or assist those who are less fortunate or to benefit others. This week we ask you to consider the following...
No Tan Jan
, an initiative of The Warwick Foundation, Australia's only organisation focused on supporting 18 to 40 year olds with cancer, is all about ditching the solarium and sunbaking to embrace a fake tan in January and also raise funds to assist young adults with cancer.
When:
Held Throughout January
More Expos & Launches
|
More Open Days
|
More Tours
Performances & Theatre
Songs for Nobodies
returns to Melbourne's Arts Centre with the hit show featuring songstress, Bernadette Robinson as she portrays five anonymous women whose brushes with fame had a profound effect on their lives, interleaved with the songs that gave them heart.
When:
January 2 to 13
Romeo & Juliet
, performed at Melbourne's Royal Botanic Gardens by The Australian Shakespeare Company, features a cast of some of Australia's most talented rising stars in a production that explores the rhythms of Shakespeare's much-loved poetic text vocally and musically.
When:
Until March 9 - Various Times & Dates
A Funny Thing Happened On The Way To The Forum
, held at Her Majesty's Theatre, stars the talented Geoffrey Rush as the scheming slave Pseudolus whose attempts to win freedom from the henpecked Senex and his overbearing wife lead to epic comical confusion.
When:
Until January 6
Highly Recommended!!
We're giving this 5 Stars!
Burlesque, Cabaret & Dance
Moulin Beige
, held at Burlesque Bar in Fitzroy, presents outstanding comedy cabaret with comic accordionist Liz Skitch on stage as your hostess with the mostess as she presents a fabulous collection of some of Melbourne's finest comedians and vaudeville performers.
When:
Thursdays Until January 17
Bohemia Cabaret Club
, located in South Melbourne, caters to every taste with weekly cabaret and burlesque shows presenting everything from the sublime to the ridiculous and the base to the refined with shows that celebrate laughter, horror, joy and tears, sin and sensuality.
When:
Wednesdays to Sundays
More Performances & Theatre
|
More Dance & Ballet
Entertainment & Nightlife
Jimi Hocking's Blues Machine
will play at the Rainbow Hotel in Fitzroy. Also known as Jimi the human, Hocking has a strong musical pedigree which has seen him forge a unique musical path since the early 1980's and perform with The Screaming Jets and the Angels.
When:
Saturday January 5 - 9pm
Connie Lansberg Quartet
will perform at Melbourne's Regent Club, a new venue devoted to dedicated to good food and romantic jazz each Friday night. Joined by Norwegian pianist Tom Hanssen, Connie Lansberg will bring to life the wonderful stories told by The American Songbook.
When:
Fridays - Bookings Required
The Hives
, the Swedish quintet who have gained a glowing reputation as one of the best live rock groups today with their lively performances at festivals around the world, will be performing in Melbourne for one night only at the Forum Theatre. Opening for them will be Dune Rats.
When:
Sunday January 6
Cinema
The Shadow Electric
, a large scale independent open-air cinema, is held within the beautiful grounds of the Abbotsford Convent. Along with screenings of quality films, current hits, cult favourites and Australian cinema, there's also a licensed bar and food available.
When:
Until March 30 - Thursday to Sunday
Beg, Scream & Shout Film Festival:
January 27
Rooftop Cinema
flickers into action with film screenings of everything from cult favourites to new releases and documentaries, literally offering the height of entertainment with screenings held on the rooftop of Swanston Street's Curtin House along with the rooftop bar.
When:
Until January 30 - Various Dates
Ford Focus Moonlight Cinema
, held at Melbourne's Royal Botanic Gardens, offers a program of new releases, classics, contemporary and children's films. A great way to spend a night out with friends and family, you can bring your own picnic or purchase food while there.
When:
Until March 31 - Various Dates
Ben & Jerry's Openair Cinema
offers an eclectic mix of live music and entertainment provided by local and national artists. Held at St Kilda's South Beach Reserve, the cinema features a diverse program of films with classics, family films, current blockbusters and more.
When:
Until January 6
Comedy & Magic
Comedy Night @ The Felix Bar
in St Kilda presents the hottest comic talent from both Melbourne and afar. This week, the headline act will be special guest MC Dave O'Neil who'll be joined by Danny McGinlay, Charles Barrington, Simon Keck and Timothy Clark.
When:
Wednesday January 2 - 8:30pm
Magical Wednesday
, held once a month at The Alchemist Bar in Fitzroy, presents an evening of entertainment with some of the most amazing, mind blowing close up magic you could ever experience, performed by some of Melbourne's best comedy sleight of hand magicians.
When:
Wednesday January 2 - 8pm to 10pm
More Live Gigs
|
More Comedy & Magic
|
More Cinema
Melbourne For Kids
Alice in Wonderland
, an outdoor performance at Rippon Lea Gardens in Elsternwick, invites children and adults alike to follow Alice down the rabbit hole and into Wonderland to join her on her magical adventures with the White Rabbit, Queen of Hearts, Cheshire Cat and Mad Hatter.
When:
January 2 to 26 - Various Dates & Times
The Chronicles of Narnia: The Exhibition
, on show at The Pavilion at Docklands, invites you to step through the wardrobe and into the world of Narnia where you'll get to see creatures, set dressings, props and over 150 stunning and original costumes from the blockbuster films.
When:
Until February 2
The Wind in the Willows
brings Melbourne's favourite family entertainment to the Royal Botanic Gardens. Pack a picnic, pack the kids and join Rat, Mole, Badger and Mr Toad, as they present the magical adventure of Kenneth Grahame's classic tale.
When:
December 28 to January 26 - Tues to Sat
Circus
Silvers Grand Magic Circus
will be holding performances in Rosebud. Established in 1976, Silvers Grand Magic Circus offers a great show for people of all ages with performers including everything from jugglers and clowns to acrobats, international performers and more.
Rosebud:
January 2 to 31
More Children's Events
|
Festive Fun
Markets, Fetes and Fairs
Suzuki Night Market
, held at Queen Victoria Market, has become a summer tradition that offers a great mix of unique products along with a fantastic atmosphere with a stunning mix of world food, eclectic wares, bars and even live music stages showcasing Melbourne's best music.
When:
Until February 27 - Wednesdays, 5pm to 10pm
Melbourne Market Guide
View MARKETS calendar
to make the most of the rare sunny days (it's a coin toss, isn't it!) and head to one of Melbourne's many excellent markets for a bargain!

A growing number of food, produce and even wine markets are springing up around the suburbs.
Fetes Fairs & Shows
Art & Craft Markets
Food & Produce Markets
Swap Meets
Garage Sales
Wining & Dining
Garden of EDEN
, presented by Johnnie Walker Gold Label Reserve, is a pop up bar appearing at the West End at Crown Entertainment Complex in Southbank. Overlooking the Melbourne City skyline, there'll be cleverly crafted cocktail creations along with a live DJ set.
When:
Until January 5 - Fridays & Saturdays
bookarestaurant.com
bookarestaurant.com
is the easiest way to book a restaurant online. With the choice to search by cuisine and location, you can find great dining offers with some of Melbourne's finest restaurants. Bookings are free and can be made online at any time of the day.
Book a Restaurant Today
Sporting Events
IASbet
, Australia's premier online betting agency, offers better odds for Horse Racing and Sports Betting both here and overseas. An easy way to take a punt on any of the many races over the long weekend, you can even receive $100 in FREE bets when you join IASbet online.
Join IASbet for $100 in FREE Bets - Learn More
Soccer
Hyundai A-League | Round 15
Melbourne Victory v Wellington Phoenix
Saturday January 5 - 7:45pm - AAMI Park, Melbourne
Melbourne Heart v Brisbane Roar
Sunday January 6 - 4pm - AAMI Park, Melbourne
Basketball
WNBL | Round 13
Bendigo v Bulleen
Saturday January 5 - 7:30pm
Bendigo Stadium
Horse Racing
Kids Day Out at Kilmore
presents a day of excitement for the family with Kilmore Racing Club offering a great day of fun and entertainment, especially for the kids. Along with free rides and activities available, there'll also be all the usual excitement of horses on the track.
When:
Sunday January 6
Community Sports
Sorrento Bay Swim
is a chance to join one of Victoria's best bay swims along the picturesque coastline of the Mornington Peninsula. Offering a great day out, competitors of all ages can get involved with proceeds raised going towards the Sorrento Surf Life Saving Club.
When:
Saturday January 5 - Registrations 8:30am
More Sports Events
|
More Motor Sports & Auto Events
Let Melbourne Know...
Advertise Your School Fete, Fair or Carnival FREE!
Everyone wants to support their local school by going to their annual fundraiser. Last year we promoted a whopping 1,200 school events. So, make sure you let your school organizers know they can list their fete, fair or carnival for
FREE @ OnlyMelbourne!
Add Your Event for FREE Today!!
Trivia & Humour
Shaggy Dog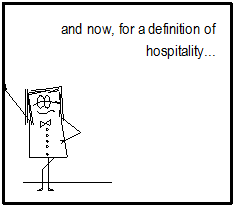 Shaggy Dog by Deej
-
Click Here to find what happens!
Let There Be Latte...
The Victoria Hotel in Little Collins Street was the first in Melbourne to have electric lights in its rooms - a press notice at the time said,
'with the object of having bedrooms cool in the summer, the electric light is fitted in each room with taps to turn on and off the light as in gas jets'
.
The Victoria Hotel was also originally known as the
Victoria Coffee Palace
, founded by a Temperance League as an alternative to the rowdy, bawdy pub accommodation on offer during the late 19th century.
Read more about Melbourne's Oldest Hotels
|
Read Melbourne Trivia...
WHAT'S ON CALENDAR
OnlyMelbourne's Calendar
allows you to select any day of the year to view everything (everything!!!) on that day in an easy to read, printable display.
-:- View
What's On Calendar
-:- View
Markets Only Calendar
WHAT'S ON RSS FEEDS
We have a range of
RSS Feeds
.
NEWSLETTER
What's On this Week
is an email overview and reminder of the (too many to mention) events happening this week in Melbourne.
Get your copy
of What's On this Week!
FREE ADVERTISING
Advertising
your EVENT at OnlyMelbourne is not only easy, it's
FREE!!
-
Apply Online..
for inclusion in the What's On calendar and newsletter!
❊ Web Links ❊
→
Newsletter | #313 | What's On this Week
→
Subscribe to OnlyMelbourne - Get your copy of What's On this Week!
→
List Your Business or Event - It's FREE!
→
Events Calendar - Find out What's On any day of the week!
→
Mobile OnlyMelbourne
→
Melbourne for Children | Kids
→
Newsletter | #312 | What's On this Week
❊ COVID-19 Notice ❊
Many locations have gone into lockdown as the state takes action to stop the spread of the deadly coronavirus (COVID-19).
→
Disclaimer
: Check with the operator before making plans
...
Trending HOT

Drive-In Movie Club
Drive-In Immersive Cinema Nights Are Coming to Melbourne Put together by our friends at Hot Tub Cinema, a string of family-friendly, social distancing-safe, drive-in ..

Things to see, hear & do this weekend
Make the most of your weekend in Melbourne with these fabulous events. No city does it better than Melbourne, so get out and discover the very best shows, festivals, ..
---
Update Page