Newsletter | #310 | What's On this Week
Welcome to this week's Melbourne events, exhibitions, sports and community guide for Tuesday to Monday, December 11 to 17, 2012.
This week... It was the fortnight before Christmas and all through the town, not a festival was stirring, aside from the RISE Music and Arts Festival, that is. And The Spirit of the Square, of course. Waxing poetic (or carol-ish) aside, there are actually two other events to tickle your fancy.
Celebrating the recent birthday of a certain iconic landmark, there's Luna Park's Back to 1912 Weekend, where you'll find special guests that include Frank Sinatra, John Lennon and Fairlie Arrow... ;)
Our local film industry also gets a nod with the Made In Melbourne Film Festival, but you'll want to get in on that quick as it takes place early in the week, so bums on seats, people, and down in front.
Aside from those major shindigs, things are looking a little Grinchy at the moment and there's a definitive hush about Melbourne, broken only by the rustling of tumbleweeds and Christmas wreaths.
Christmas Guides
Melbourne's BEST Christmas Lights
, our guide to the best Christmas Lights in town has now been running for 11 years. With our popular site, Christmas Lights Melbourne, you can also list your own lights or any others you know of in your area for FREE!!
Visit Christmas Lights Melbourne
Christmas Carols Guide
- With Christmas approaching, you'll find many events across Victoria that include not only the traditional Carols by Candlelight, but also plenty of fun and attractions for the children before the big sing-a-long, with most Carol events free to attend.
View OnlyMelbourne's Christmas Carols Guide
Kmart Wishing Tree Appeal
supports some of the largest welfare organisations in Australia and has given more than 5.9 million gifts over the past 24 years. Trees can be found nationally in Kmart stores, with gifts or cash donations collected up until Christmas Eve.
When:
Until December 24
School Holiday Guide
Check out our
School Holiday Guide
for the latest on what to do with the kids during Summer Holidays. The holiday guide offers a great range of activities for the young and young at heart, with events, tours, workshops, concerts and holiday programs.. all in marvellous Melbourne!
School Holiday Guide - Dec 21 to Jan 29
New Year's Eve Hot Spots
New Year's Eve
is already looming large, so to help plan ahead, check out just some of the many and varied New Year's events that we have listed. With music events, themed parties, concerts and more, New Year's Eve is set to be a big one when we show those uppity Aztecs what for!
New Year's Eve Hot Spots
Major Events
RISE Music and Arts Festival
celebrates the creative talent of refugees and asylum seekers with free live entertainment on the main stage of Federation Square featuring a great line-up of gifted performers and special guests, along with a short film screening at ACMI Cinema.
When:
Saturday December 15 - 1pm to 7pm
Short Film Screening:
Friday December 14, 6:30pm
Luna Park's Back to 1912 Weekend
celebrates the 100th birthday of the famous St Kilda icon with Luna Park recreated in the style of its origins. Capturing the time when the magic first began, there'll be The Tea Terrace, Dixieland Jazz, vintage treats and roving entertainment.
When:
Saturday & Sunday, December 15 & 16
Spirit of the Square
presents fabulous Christmas activities for the whole family at Federation Square with songs from the Salvos, community choirs and the playful festivities of In The Pines, an installation of over recycled plastic Christmas trees by local urban artists, The Projects.
When:
December 1 to 30
Art Exhibitions
Tough Love
, held at The Old Bar in Fitzroy, is a photographic series of bars, pubs and clubs by Hola Holga. Capturing the architecture of Melbourne's live music scene, the series also features bands with their favourite haunts including The Tote, Cherry Bar and other iconic venues.
When:
December 11 to 17
Opening Night:
Tuesday December 11 - 7pm
Hispanoamerican Dispora in Australia
, held at Footscray Community Arts Centre, is a reflection on those who have migrated from Hispano-America to establish themselves in Australia. The exhibition features works by artists that include Walter Acosta, Rosa Chiri and many others.
When:
December 13 to March 17
ArtAbility
showcases artworks created by artists who are living with a disability, drawing on the talents of people from a wide range of ages and cultures. Now in its 8th year, this year's exhibition at the Atrium of Federation Square features diverse works with the theme of Dreams.
When:
Until Monday December 17
More Exhibitions
Expos, Launches, Open Days & Lectures
Free Christmas Wrap In Style Workshops
, presented by the ever-stylish queen of paper Cristina Re at her store 'Where A Girl Goes' in Collingwood, invites you to be inspired to create this Christmas with craft workshops that can teach you how to create Gift Tags and Wrapping.
When:
Sunday December 16 - Bookings Essential
Auto Euphoria
, held at Melbourne Showgrounds, is Melbourne's newest, premiere Modifying Car Show and Expo. Open to modified cars of any make or model, the event will showcase Melbourne's biggest line up of premiere cars along with a host of stalls offering merchandise.
When:
Saturday & Sunday, December 15 & 16
Melbourne Tours
Melbourne Tours & Activities
are a great way to take Dad out on the town to discover some of the hidden treasures in your own city. With guided tours, winery excursions, sports events and more, there's no end of great attractions throughout Melbourne and Victoria.
Find Melbourne Tours & Activities
More Expos & Launches
|
More Open Days
|
More Tours
Performances & Theatre
NOEXIT
, performed in the former underground public toilets at Melbourne's Victoria Square, is a unique live performance installation. Exposing the intricacies of our interrelation with others, four outstanding artists will present their durational solo works in neighbouring cubicles.
When:
Wednesday to Saturday, December 12 to 15
Midsummer
, presented by Red Stitch Theatre in St Kilda, is a charmingly quirky musical and romantic comedy about two mismatched lovers who meet at a classy wine bar and soon find themselves on a wild weekend, burning a hole through someone else's fifteen thousand pounds.
When:
Until December 15 - Wednesdays to Sundays
A Funny Thing Happened On The Way To The Forum
, held at Her Majesty's Theatre, stars the talented Geoffrey Rush as the scheming slave Pseudolus whose attempts to win freedom from the henpecked Senex and his overbearing wife lead to epic comical confusion. We've giving this 5 Stars!
When:
Until January 6
Classical, Choral & Recitals
Christmas Fireworks!
is a special concert at Melbourne Recital Centre with Christmas performances of Bach, Torelli, Haydn and Handel, including the popular Music for the Royal Fireworks as Michael Woods directs the Chamber Orchestra at St Paul's in a stellar performance.
When:
December 12, 14 & 15
Joy to the World
, held at Melbourne's St Michael's Uniting Church, is the Christmas fundraising concert for the School of Hard Knocks Institute. Presented by Music For the People, Jonathon Welch AM will be joined by the Choir of Hope and Inspiration and other guests.
When:
Wednesday December 12 - 7:30pm
Madama Butterfly
, presented by Opera Australia at the Arts Centre, is Puccini's moving tale of love and loss in the city of Nagasaki. Performed in Italian with subtitles, this production blends exquisite costumes and stylish sets with some of the most moving music written.
When:
Until December 14
Burlesque, Cabaret & Dance
Christmas On Ice Spectacular
, held at the Olympic Ice Skating Centre in Oakleigh South, is an annual presentation by the Olympic Figure Skating Club. Victorian and Australian champions, along with the newest "tiny tots"skaters, will perform to music from around the world.
When:
Saturday December 15 - 5pm to 7pm
Bohemia Cabaret Club
, located in South Melbourne, caters to every taste with weekly cabaret and burlesque shows presenting everything from the sublime to the ridiculous and the base to the refined with shows that celebrate laughter, horror, joy and tears, sin and sensuality.
When:
Wednesdays to Sundays
More Performances & Theatre
|
More Dance & Ballet
Entertainment & Nightlife
Martin Cilia
, Australia's premier surf guitarist and also a member of legendary Australian surf band, The Atlantics, will be performing at Revolver Upstairs in Prahran. He'll be supported on the night by The Stu Thomas Paradox along with The Black Molls and The Reprobettes.
When:
Friday December 14 - 8:30pm
That Gold Street Sound
, Melbourne's own Motown Funk, Rock and Soul band, will be performing at The Evelyn in Fitzroy in celebration of the release of their second single, Continents Collide. They'll be joined by The Seven Ups, The Charlies and Sydney band, BrotherFunk.
When:
Friday December 14 - 8:30pm
Leigh Barker & The New Sheiks
, who won the Bell Award for Best Traditional Jazz Album last year, will perform at the Flying Saucer Club in Elsternwick. Featuring Heather Stewart, they'll be joined by Geoff Bull & The Finer Cuts for a great afternoon of swinging Summer jazz.
When:
Sunday December 16 - 3pm
Comedy & Magic
Checkpoint Charlie Comedy
, one of Melbourne's best comedy rooms held at Eurotrash Bar, presents some of Melbourne's boldest and most exciting new up-and-comers before testing your continence with some of Australia's best known established comedians.
When:
Wednesday December 12 - 7:30pm
Comedy Night @ The Felix Bar
in St Kilda presents the hottest comic talent from both Melbourne and afar. This week, the headline act will be special guest Tom Ballard who'll be joined by Adam Rozenbachs, Luke McGregor, Tommy Dassalo, Rob Hunter and Sonia Di Iorio.
When:
Wednesday December 12 - 8:30pm
A Show For Gavin
, held at the Bella Union in Carlton, is a comedy extravaganza held in memory of Gavin Keep, a much loved friend of the Melbourne comedy scene. Hosted by Dave Thornton and featuring a talented line up of guests, proceeds go to Road Trauma Support Services Victoria.
When:
Friday December 14 - 7pm to 9pm
Cinema
Made In Melbourne Film Festival
, held at St Kilda's Astor Theatre and The Order of Melbourne, is the only film festival exclusively for Melbourne filmmakers. Now in its fourth year with Q&A sessions and special events, the festival screens award winning films, shorts and more.
When:
Tuesday & Wednesday, December 11 & 12
Summer Time Cinema
, presented by the City of Boroondara, offers outdoor screenings at various parks and gardens. Free to attend, bring along a blanket, pack a basket, and settle in for some great entertainment with their next screening of Baz Luhrman's hit, Romeo and Juliet.
Camberwell:
Saturday December 15 - 8:30pm
Rooftop Cinema
flickers into action with film screenings of everything from cult favourites to new releases and documentaries, literally offering the height of entertainment with screenings held on the rooftop of Swanston Street's Curtin House along with the rooftop bar.
When:
Until January 30 - Various Dates
More Live Gigs
|
More Comedy & Magic
|
More Cinema
Melbourne For Kids
Harry's Hotter at Twilight
, held at The Theatre Husk in Northcote, is a fun comedy suitable for all ages where the characters from Harry Potter and Twilight meet. With something for all the family, the play's performed by young students from Drama With A Difference.
When:
Until December 16 - Fridays to Sundays
Justine Clarke's Pop Up Tour
brings Australia's foremost female children's entertainer when she'll be appearing at Dallas Brooks Centre in East Melbourne. Joined by her three-piece band, Justine will bring to life a pop-up book theme through live music and the magic of storytelling.
When:
Saturday December 15 - 10am, 12pm & 2pm
Gingerbread Village
, returning to Melbourne Town Hall, is a special attraction by Epicure's award-winning pastry chefs, who'll construct a village made entirely of gingerbread. With kids' activities and plenty of treats, entry is by gold coin donation to Starlight Children's Foundation.
When:
Until December 24
More Children's Events
|
Festive Fun
Markets, Fetes and Fairs
Blender Lane Artists' Market
, held in one of Melbourne's most iconic street-art covered lane ways, offers artworks, hand crafts and locally made items. A unique space for creative souls to sell their works, the market draws painters, photographers, fashion designers and much more.
When:
Wednesday December 12 - 5pm to 9:30pm
Suzuki Night Market
, held at Queen Victoria Market, has become a summer tradition that offers a great mix of unique products along with a fantastic atmosphere with a stunning mix of world food, eclectic wares, bars and even live music stages showcasing Melbourne's best music.
When:
Until February 27 - Wednesdays, 5pm to 10pm
Kris Kringle Night Market
, held at Northcote Town Hall, offers over 50 stall holders selling locally hand crafted items such as designer fashion, accessories, giftware, jewellery, ceramics, woodcrafts, homewares, plants, and much more along with food and free live entertainment.
When:
Thursdays Until December 20
Melbourne Market Guide
View MARKETS calendar
to make the most of the rare sunny days (it's a coin toss, isn't it!) and head to one of Melbourne's many excellent markets for a bargain!

A growing number of food, produce and even wine markets are springing up around the suburbs.
Fetes Fairs & Shows
Art & Craft Markets
Food & Produce Markets
Swap Meets
Garage Sales
Wining & Dining
Madame Clicquot's Birthday
, celebrated at the Melbourne restaurant, Mr Mason, presents a special menu of Parisian Afternoon Tea that includes a platter of sweet and savoury French pastries with a complimentary glass of Veuve Clicquot in honour of the 'Great Dame of Champagne'.
When:
Saturday & Sunday, December 15 & 16
Viva Espania-Spanish Feast & Soiree
, held at Veraison Restaurant in Merricks North, presents a 3 course Spanish meal that's complimented by live entertainment from Lucy Nicolson of Vic Opera and Pete Smitheram of CLOC who'll perform highlights from Man Of La Mancha.
When:
Sunday December 16
bookarestaurant.com
bookarestaurant.com
is the easiest way to book a restaurant online. With the choice to search by cuisine and location, you can find great dining offers with some of Melbourne's finest restaurants. Bookings are free and can be made online at any time of the day.
Book a Restaurant Today
Sporting Events
IASbet
, Australia's premier online betting agency, offers better odds for Horse Racing and Sports Betting both here and overseas. An easy way to take a punt on any of the many races over the long weekend, you can even receive $100 in FREE bets when you join IASbet online.
Join IASbet for $100 in FREE Bets - Learn More
Cricket
KFC Twenty20 Big Bash
Melbourne Stars v Hobart Hurricanes
Saturday December 15 - 7pm
MCG, Melbourne
Soccer
Hyundai A-League | Round 11
Melbourne Victory v Brisbane Roar
Saturday December 15 - 5:30pm
AAMI Park, Melbourne
Basketball
WNBL | Round 11
Bulleen v SYD
Friday December 14 - 7:30pm - Veneto Club
Dandenong v SYD
Saturday December 15 - 7pm - Dandenong Stadium
More Sports Events
|
More Motor Sports & Auto Events
Let Melbourne Know...
Advertise Your School Fete, Fair or Carnival FREE!
Everyone wants to support their local school by going to their annual fundraiser. Last year we promoted a whopping 1,200 school events. So, make sure you let your school organizers know they can list their fete, fair or carnival for
FREE @ OnlyMelbourne!
Add Your Event for FREE Today!!
Trivia & Humour
Shaggy Dog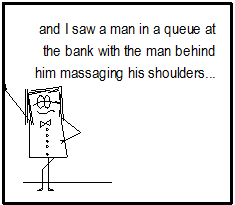 Shaggy Dog by Deej
-
Click Here to find what happens!
Have A Squizzy At This..
Fitzroy was Melbourne's first suburb, created when the area between Melbourne and Alexandra Parade (originally named Newtown) was subdivided into vacant lots and offered for sale.
Newtown was later renamed Collingwood, and the area now called Fitzroy (west of Smith Street) was made a ward of the Melbourne City Council. On 10 September 1858, Fitzroy became a municipality in its own right, separate from the City of Melbourne.
Fitzroy is also infamous for being home to the 1920's gangster figure, Squizzy Taylor, who frequented the area around the junction of Napier Street and Gertrude Street.
Read more about Melbourne's Suburbs
|
Read Melbourne Trivia...
WHAT'S ON CALENDAR
OnlyMelbourne's Calendar
allows you to select any day of the year to view everything (everything!!!) on that day in an easy to read, printable display.
-:- View
What's On Calendar
-:- View
Markets Only Calendar
WHAT'S ON RSS FEEDS
We have a range of
RSS Feeds
.
NEWSLETTER
What's On this Week
is an email overview and reminder of the (too many to mention) events happening this week in Melbourne.
Get your copy
of What's On this Week!
FREE ADVERTISING
Advertising
your EVENT at OnlyMelbourne is not only easy, it's
FREE!!
-
Apply Online..
for inclusion in the What's On calendar and newsletter!
❊ Web Links ❊
→
Newsletter | #310 | What's On this Week
→
Subscribe to OnlyMelbourne - Get your copy of What's On this Week!
→
List Your Business or Event - It's FREE!
→
Events Calendar - Find out What's On any day of the week!
→
Mobile OnlyMelbourne
→
Melbourne for Children | Kids
→
Newsletter | #309 | What's On this Week [Last Week]
Trending HOT

Things to see, hear & do this weekend
Weekends are precious. Two days to do what we please. No city does it better than Melbourne. Get out and discover the very best of Melbourne shows, festivals, ..
---
Update Page Request