Newsletter | #294 | What's On this Week
Welcome to this week's Melbourne events, exhibitions, sports and community guide for Tuesday to Monday, August 21 to 27, 2012.
This week... Melbourne Writers Festival sharpens its pen for a program of literary treats that include a weekend of children's author talks at ArtPlay. EID Festival celebrates the end of Ramadan with an evening of attractions in Burwood, while Hurstbridge Wattle Festival offers a great day out for the family celebrating 100 years of rail.
For foodies, there's the Sunbury Region Wine Festival matched perfectly to the Melbourne Specialist Cheese Show. Musos can get their rhythm sticks out for the Australia's Ultimate Drummers Weekend in Preston and for film buffs, there's the return of the bad boy of film festivals, complete with dubious acronym, the Melbourne Underground Film Festival.
Some readers might remember my bemoaning a broken washing machine several weeks ago, which I'm happy to say is now working perfectly fine, even if it does sound like an asthmatic Dalek.
After much tinkering it seems that what was required was, as the professionals might put it, 'kicking the living spin cycle out of it' having reached my wits' end.
Now, what with my son's laptop screen suddenly playing up also, any attempted repairs will be kept to the wee hours of the night. The last thing I need is to have him catch me searching Youtube for instructional videos - especially since they'll involve Chuck Norris.
Father's Day
Father's Day Gift Guide
- Father's Day is almost here, so don't be late and be sure to get a great gift for Dad! If you haven't bought a gift or planned something special yet then why not try some of our ideas to make it a perfect Father's Day this year to show how great he is.
Father's Day:
Sunday September 2
123 InkJets
- How about a new ink cartridge for Dad's printer since it's always running out! 123 InkJets offer printer cartridges at the cheapest price with a huge range of printer consumables including ink cartridges for brands like Canon, Hp, Epson, Lexmark and many more.
Find Great Deals with 123 InkJets
SPECIAL OFFER - 15% OFF!!
For a limited time only,
123 InkJets
are offering you 15% off their entire range of compatible/remanufactured inks and toner cartridges.
More on 15% OFF Offer with 123 InkJets
PictureStore
is Australia's largest online poster, print and framing retailer with over 150,000 art and photographic prints and posters, many of which aren't available anywhere else in Australia, making it easy to find the perfect gift for anyone no matter what their tastes.
Find Great Gifts at PictureStore
SALE NOW ON - Up to 70% OFF!!
PictureStore
have hundreds of selected posters, prints, canvases and framed prints on sale for a limited time at up to 70% off.
More on PictureStore
Melbourne's Underbelly Crime Tour
lets you discover the darker side of Melbourne as you walk in the footsteps of notorious criminals, exploring the scenes of some of the city's most infamous criminal events. The tour also includes 50% discount on entry to the Old Melbourne Gaol.
More on Melbourne's Underbelly Crime Tour
Major Events
Melbourne Writers Festival
, one of Australia's key literary events, offers a broad range of literary ideas and events with over 300 writers from around the world featured in a program of talks, debates, literary banquets, readings and concerts held at venues throughout Melbourne.
When:
August 23 to September 2
EID Festival
, held at Deakin University in Burwood, is a celebration of the end of the fasting month of Ramadan. Also held to promote a greater understanding of Muslim culture, activities include traditional performances along with a showcase of art and food.
When:
Thursday August 23 - 4pm to 6pm
Hurstbridge Wattle Festival
, celebrating the unique heritage of the historic Hurstbridge township, features a wide range of activities with a Tongan Feast, local wines and artworks, market stalls, free activities for children, roving performers and much more.
When:
Sunday August 26 - 10am to 4pm
Craft Cubed
, presented by Craft Victoria, celebrates skilled and idea-based experimental craft and design with a great program that offers events that include Open Studio Days, seminars, workshops, exhibitions and the Craft Hatch market held at Melbourne's 1000 £ Bend.
When:
Until September 1
Victoria's Small Business Festival
, held to encourage and support anyone looking to start or grow a business, offers events highlighting practical knowledge and skills with seminars, workshops, exhibitions and more held at various venues in Victoria and Melbourne.
When:
Held throughout August
Words in Winter
, held in the Shire of Hepburn with events in Clunes, Creswick and Trentham, presents a huge program of book launches, workshops, and poetry readings along with special guests in Author Talks, theatre, oral history discussions and much more.
When:
Until August 31
Art Exhibitions
Auguste Clown Gallery
, a Brunswick underground gallery dedicated to pop surrealism art, will celebrate their Grand Opening with their art exhibition, Runaway Circus, presenting a showcase of the bizarre and unusual with works challenging the boundaries of common perception.
When:
Friday August 24 - 6pm to 10:30pm
CCP Declares: On the Nature of Things
, held at Fitzroy's Centre for Contemporary Photography, is a major exhibition featuring works at the forefront of contemporary Australian photography and video by artists that include Jane Brown, Ross Coulter, Yavuz Erkan and others.
When:
Until September 16 - Wednesdays to Sundays
Moon Lantern Festival
, China's Mid-Autumn Festival which dates back to China's Song Dynasty over 1000 years ago, will be celebrated at Melbourne's Chinese Museum with their exhibition, Under One Moon, showcasing lanterns, photos and posters from past festivals.
When:
Until October 7
More Exhibitions
Expos, Launches, Open Days & Lectures
Home Lifestyle Show
offers the attractions of five shows in one, showcasing lifestyle, food and wine, garden, outdoor adventures and vehicles. Appearing at Shepparton Exhibition Centre, the show features a wide range of product displays, demonstrations and much more.
When:
Friday to Sunday, August 24 to 26
NCAT Community Open Day
at Preston's Northern College of the Arts & Technology presents activities for people of all ages with campus tours, live band performances, an electric car display and fun trades, technology and arts activities to explore turning your passion into a career.
When:
Saturday August 25 - 10am to 3pm
Cruden Farm Open Garden Day
sees Dame Elisabeth Murdoch once again open the gates and invite the public to picnic on the grounds of possibly the most famous garden in Australia with its thousands of lakeside daffodils and one of the most famous picturesque avenues today.
When:
Sunday August 26 - Free Entry for Kids
Melbourne Tours
Melbourne Tours & Activities
are a great way to take Dad out on the town to discover some of the hidden treasures in your own city. With guided tours, winery excursions, sports events and more, there's no end of great attractions throughout Melbourne and Victoria.
Find Melbourne Tours & Activities
50% OFF SALE
Book by August 23 to save 50% on recommended retail prices for selected Day Trips from Melbourne. This exclusive offer applies to all scheduled departure times and dates through March 31, 2013.
Note:
Sale price does not apply to tours on December 25, 26 and 31, 2012. Offer available for new transactions only and cannot be applied to any existing booking.
Puffing Billy, Yarra Valley & Healesville Sanctuary Tour
Enjoy a day tour in the Victorian countryside with an adventure that begins on the Puffing Billy Steam Train before you experience the beautiful Yarra Valley and see the wildlife of Healesville Sanctuary.
50% OFF - SAVE $75.50!!
Offer Ends August 23
Great Ocean Road Day Trip Adventure from Melbourne
Take a day trip and experience one of the world's great coastal drives where you'll see wild coastal scenery, pristine beaches the majestic rainforest and the beautiful rugged Shipwreck Coast.
50% OFF - SAVE $80!!
Offer Ends August 23
Phillip Island Wildlife Day Tour
lets you get up close to Australia's famous wildlife to see penguins, koalas, wallabies, kangaroos and seals on a full day tour from Melbourne that includes the famous Penguin Parade and a visit to Warrook Cattle Farm, the Koala Conservation Center.
50% OFF - SAVE $73!!
Offer Ends August 23
More Expos & Launches
|
More Open Days
|
More Tours
Performances & Theatre
Voice & This That Nothing
will be performed as a double-bill at Northcote Town Hall. Both provocative and original works from Brisbane, Voice follows an otherwise insignificant night with a very important speech, while This That Nothing is an examination of youthful apathy.
When:
Until Saturday August 25
Top Girls
, presented by Melbourne Theatre Company, features an all-female cast as it follows the life of Marlene, a career minded woman who celebrates her success by opening her imagination to a remarkable dinner party with significant historical female figures.
When:
August 25 to September 29
The Marvelous Wonderettes
, performed at Melbourne's fortyfivedownstairs, is the successful Off-Broadway hit musical that takes place during a 1958 high school prom where four girls with hopes and dreams share their lives and loves amidst a score of classic songs.
When:
August 22 to September 1 - Tuesday to Sunday
Classical, Choral & Recitals
A Garden of Money
, held at the Lithuanian Club in North Melbourne, is a new musical, written by Melbourne composer Noel Fidge. Combining the glory of the Lieder tradition with a biting and witty play, the performance is presented by beautiful voices and virtuoso piano.
When:
August 23 to 29 - Various Dates
A Cantabile Collection
, a small a capella choral ensemble, will be holding their main performance for the year and to celebrate their new home of Northcote's Santa Maria College where they'll presents an afternoon of fine choral music served with a fine range of refreshments.
When:
Sunday August 26 - 2:30pm to 4pm
Burlesque, Cabaret & Dance
Sleeping Beauty
, presented by The Imperial Russian Ballet Company, brings to Her Majesty's Theatre the classic masterpiece performed in three acts. Sleeping Beauty follows the story of Princess Aurora, who is awakened 100 years later after being cursed on her 16th birthday.
When:
Friday to Sunday, August 24 to 26
Bohemia Cabaret Club
, located in South Melbourne, caters to every taste with weekly cabaret and burlesque shows presenting everything from the sublime to the ridiculous and the base to the refined with shows that celebrate laughter, horror, joy and tears, sin and sensuality.
When:
Wednesdays to Sundays
Miss Pole Dance Victoria
, presented at Melbourne's Forum Theatre for one night only, recognises pole dancing as an art form and a sport all of its own with Victoria's Professional Pole Dancing Championship attracting elite level performers from Victoria and Tasmania.
When:
Saturday August 25
More Performances & Theatre
|
More Dance & Ballet
Entertainment & Nightlife
Australia's Ultimate Drummers Weekend
, presented by Drumtek, is a drum and percussion enthusiast's Heaven with workshops, performances and s special guests, drumming competitions and a drumming expo. It's held at Darebin Arts & Entertainment Centre in Preston.
When:
Friday to Sunday, August 24 to 26
Haunting August
will perform at Melbourne's Cherry Bar to launch their Debut EP along with their Oscar's Song Single, which will be on sale for one dollar with all proceeds going to Oscar's Law, a movement to ban puppy factories. They'll be supported by Arcane Saints and Falconio.
When:
Friday August 24 - 9pm
Obits
, performing at Northcote Social Club, are a Brooklyn-based garage, punk-rock four piece. Relatively new as a band, individually they have an outstanding pedigree, fronted by singer/writer/guitarist Rick Froberg, formerly of bands that include Hot Snakes and Pitchfork
When:
Friday August 24 - 8pm
Comedy & Magic
A Hip Hikers Guide to The Galaxy
raises the question of what aliens would think if they landed in Melbourne today. Performed by Vincent Milesi of 'Keep it Positive' and Michelle Brasier of 'The Divine Miss Bette', the intergalactic comedy is held at South Melbourne's Butterfly Club.
When:
Until Sunday August 26
The Big HOO-HAA!
is one of Melbourne's most successful improvised comedy shows held at Melbourne's Portland Hotel where each week two teams, the Hearts and the Bones, battle it out against each other armed with only the suggestions that the audience gives them.
When:
Thursday August 23 - Doors Open 7:30pm
Dave Hughes
, perhaps one of the most significant talents to have emerged from the Australian comedy scene in the last 10 years with his laid back and laconic delivery belying one of the sharpest wits, will be performing at the Wonderland Spiegeltent in Docklands.
When:
Friday August 24 - 7:30pm to 11pm
Cinema
Melbourne Underground Film Festival
, a festival proudly far from the norm, presents screenings at Revolt ArtSpace in Kensington. Celebrating uncompromising genre films, the program includes guest speakers, awards and a selection of shorts drawn from over 500 submissions.
When:
August 24 to September 1
Comfortable Shorts
, held each month at Melbourne's Loop Bar, presents an evening of laidback fun with screenings of short films. The film nights are also the perfect chance to meet passionate, fellow cinephiles, enjoy Q&A sessions with filmmakers and do a bit of friendly networking.
When:
Tuesday August 21 - 7pm
Croydon Film Society
hold regular screenings at Chirnside Park's Reading Cinema, showcasing quality films with annual membership including all screenings and attendance of their end of year party. The next film screening will be the Australian film by Kriv Stenders, Red Dog.
When:
Monday August 27 - 7:15pm
More Live Gigs
|
More Comedy & Magic
|
More Cinema
Melbourne For Kids
ArtPlay
will be presenting a great program of author talks and workshops for children as part of the Melbourne Writers Festival with special guests that include Anna Walker, Elizabeth Honey and Asphyxia, the puppeteer and performer who created the very popular Grimstones.
When:
Saturday & Sunday, August 25 & 26
Knight at the Museum
, this year's Whitehorse Showtime, is a theatrical experience presented by the Scouts and Guides of the Mt Dandenong Region, which includes Whitehorse, Maroondah, Doncaster and Yarra Ranges. It's held at the Whitehorse Centre in Nunawading.
When:
Until September 1 - Various Dates
Premier Model Train Exhibition
offers enthusiasts the chance to showcase their talents at one of Victoria's largest model railway events. Held at Caulfield Racecourse, the event will showcase 30 impressive model layouts along with over 30 retail stands and 7 displays.
When:
Saturday & Sunday, August 25 & 26
Circus
Lennon Bros Circus
, appearing in Cranbourne, is Australia's oldest touring circus, having started as a Buckjump show. With big cats and other animals, audiences are captivated by the antics of the clowns and enthralled by jugglers, aerialists and the daring wheel of death.
Cranbourne:
Until August 26 - Various Dates & Times
More Children's Events
|
More Circus
Markets, Fetes and Fairs
Polish Marian Shrine Fete
, an annual event that's been held in Essendon for over 30 years, offers traditional Polish food and cakes along with a great range of entertainment and attractions for the whole family with a sausage sizzle, various market stalls, a jumping castle and more.
When:
Saturday & Sunday, August 25 & 26
Melbourne Orchid Spectacular & OSCOV Show
, held in Keysborough, is Australia's largest orchid show with stands from many Victorian and Interstate Societies of orchid growing, along with leading commercial growers catering to orchid enthusiasts and professional sellers.
When:
Friday to Sunday, August 24 to 26
Great Collectors Heaven Fair
, held at Malvern Town Hall, is a chance for collectors of many different passions to pick up a bargain or find rare items with traders from Melbourne, country Victoria and other states at the fair offering Comics, Memorabilia, Records, Stamps and more.
When:
Sunday August 26 - 9am to 3pm
Melbourne Market Guide
View MARKETS calendar
to make the most of the rare sunny days (it's a coin toss, isn't it!) and head to one of Melbourne's many excellent markets for a bargain!

A growing number of food, produce and even wine markets are springing up around the suburbs.
Fetes Fairs & Shows
Art & Craft Markets
Food & Produce Markets
Swap Meets
Garage Sales
Wining & Dining
Melbourne Specialist Cheese Show
, held at St Kilda's Ormond Hall, is a chance for cheese lovers to tantalise and finesse their cheese tasting skills with Australia's greatest cheeses and cheesemakers at hand, mozzarella stretching demonstrations and more.
When:
Saturday August 25 - 11am to 4pm
Sunbury Region Wine Festival
is a chance to taste the best of Sunbury's wineries with delicious food, wine and entertainment on offer at Craiglee Winery where you can also sample the wines of Longview Creek Estate, Galli Estate, Rose Creek Estate and other wineries.
When:
Saturday & Sunday, August 25 & 26
bookarestaurant.com
bookarestaurant.com
is the easiest way to book a restaurant online. With the choice to search by cuisine and location, you can find great dining offers with some of Melbourne's finest restaurants. Bookings are free and can be made online at any time of the day.
Book a Restaurant Today
Sporting Events
IASbet
, Australia's premier online betting agency, offers better odds for Horse Racing and Sports Betting both here and overseas. An easy way to take a punt on any of the many races over the long weekend, you can even receive $100 in FREE bets when you join IASbet online.
Join IASbet for $100 in FREE Bets - Learn More
Australian Rules Football
AFL Premiership | Round 22
Richmond V Essendon
Friday August 24, 7:50pm - MCG
St Kilda V Greater Western Sydney
Saturday August 25, 1:45pm - Marvel Stadium
Carlton V Western Bulldogs
Sunday August 26, 1:10pm - Simonds Stadium
North Melbourne V Freemantle
Sunday August 26, 3:15pm - Marvel Stadium
Melbourne V Adelaide
Sunday August 26, 4:40pm - MCG
Snow Sports
Kangaroo Hoppet
, hosted by Falls Creek, draws over 1,000 competitors from over 20 countries in Australia's premier long distance cross country ski race with the event holding the elite 42km Kangaroo Hoppet, a shorter 21km course and the 'fun run' course , the 7km Joey Hoppet.
When:
Saturday & Sunday, August 25 & 26
Horse Racing
Mildura Cup Carnival
is a perfect chance to unwind on the Murray River and enjoy great racing action on the track of Mildura Racecourse along with the stunning fashions on the field, fun activities for children and a selection of gourmet foods and wines on offer.
When:
Sunday August 26
More Sports Events
|
More Motor Sports & Auto Events
Let Melbourne Know...
Advertise Your School Fete, Fair or Carnival FREE!
Everyone wants to support their local school by going to their annual fundraiser. Last year we promoted a whopping 1,200 school events. So, make sure you let your school organizers know they can list their fete, fair or carnival for
FREE @ OnlyMelbourne!
Add Your Event for FREE Today!!
Trivia & Humour
Shaggy Dog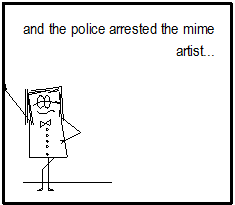 Shaggy Dog by Deej
-
Click Here to find what happens!
A Great Stage in History
John Hennings, an immigrant from Bremmen in Germany, established a succesful career over 40 years as one of the finest theatrical artists, painting scenic stage sets for opera, drama and pantomime. It was this remarkable talent that made him the obvious choice for enlarging a panoramic sketch by Samuel Jackson, which shows a 360-degree view of Melbourne in the 1840s.
Commissioned in 1892 by the Victorian colonial government, Hennings painting took five months to complete and he was paid 500 guineas for the work. Measuring 100 feet, the panorama is one of the earliest known views of Melbourne, depicting the people, buildings and streets of the fledgling colony.
Hennings's cyclorama was displayed in the eastern annexe of the Exhibition Building for almost 30 years, but in 1918 the cyclorama was rolled up, stored and forgotten until March 1953 when it was damaged in a fire that destroyed a section of the Exhibition Building. Three years later, the Exhibition Trustees donated the painting to the State Library of Victoria where it remains today.
Read more about Melbourne's Early Cyclorama
|
Read Melbourne Trivia...
WHAT'S ON CALENDAR
OnlyMelbourne's Calendar
allows you to select any day of the year to view everything (everything!!!) on that day in an easy to read, printable display.
-:- View
What's On Calendar
-:- View
Markets Only Calendar
WHAT'S ON RSS FEEDS
We have a range of
RSS Feeds
.
NEWSLETTER
What's On this Week
is an email overview and reminder of the (too many to mention) events happening this week in Melbourne.
Get your copy
of What's On this Week!
FREE ADVERTISING
Advertising
your EVENT at OnlyMelbourne is not only easy, it's
FREE!!
-
Apply Online..
for inclusion in the What's On calendar and newsletter!
❊ Web Links ❊
→
Newsletter | #294 | What's On this Week
→
Subscribe to OnlyMelbourne - Get your copy of What's On this Week!
→
List Your Business or Event - It's FREE!
→
Events Calendar - Find out What's On any day of the week!
→
Mobile OnlyMelbourne
→
Melbourne for Children | Kids
→
Newsletter | #293 | What's On this Week [Last Week]
❊ COVID-19 Notice ❊
Many locations have gone into lockdown as the state takes action to stop the spread of the deadly coronavirus (COVID-19).
→
Disclaimer
: Check with the operator before making plans
...
Trending HOT

Things to see, hear & do this weekend
Make the most of your weekend in Melbourne with these fabulous events. No city does it better than Melbourne, so get out and discover the very best shows, festivals, ..
---
Update Page