Newsletter | #490 | What's On this Week
Tuesday 24th May 2016 to Monday 30th May 2016
As Melbourne shivers its way towards the end of May, we are reminded how marvellous Melbourne is.
Go Melbourne
MelB
Circus Oz
TWENTYSIXTEEN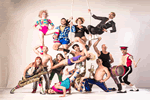 Circus Oz at Birrarung Marr - Under The Big Top
TWENTYSIXTEEN is a refreshing cocktail of new and old, innovation and tradition. The turbo-charged acrobats bring amazing new skill and wizardry to the flying trapeze, the Chinese pole and unicycle adagio.
When:
Wednesday 15th of June 2016 To Sunday 10th of July 2016
Where:
Birrarung Marr
Links:
ticketmaster.com.au
|
circusoz.com
|
Desktop PC
|
Smart Phone
Winterfall Theatre Company
Who's Afraid of Virginia Woolf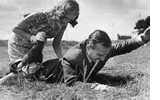 One of Melbourne's most respected independent, professional theatre companies presents Edward Albee's Who's Afraid of Virginia Woolf, considered to be one of the greatest masterpieces of the English speaking world.
When:
14th June 2016 To 10th July 2016
Where:
Blackbox Theatre
, Kew
Links:
Book Tix
|
Desktop
|
Smart Phone
Italians do it better
Italian Wine & Food Festival
Everything that's good about eating and drinking in Italy comes together under one roof with the first ever Melbourne edition of the Italian Wine + Food Festival.
When:
Sunday 29th May 2016, 11am-9pm
Where:
Royal Exhibition Building
Links:
Book Tix
|
Desktop
|
Smart Phone
Melbourne City Mission
Sleep at the 'G 2016
Sleep at the 'G is your opportunity to do something about young Victorians who are homeless, living without shelter or a place to call home.
When:
Thursday 26th of May 2016
Where:
Melbourne Cricket Ground
Links:
Register
|
Desktop
|
Smart Phone
Highlights This Week
Exhibitions

3 - Chris Mars, Naoto Hattori and Matt Dangler
| beinARt Gallery Brunswick

Jurassic World: The Exhibition
| Melbourne Museum

PhotoMarathon Melbourne

Scorsese
| ACMI
Fair

Antiques, Retro & Collectables Fair 2016
| Mont Albert both days
Family

Disney's Frozen High Tea
| Saturday @ Sofitel | Melbourne On Collins

Nitro Circus Live
| Friday 27 & Saturday 28 May @ Rod Laver

View Family
|
View Family Calendar
Film

St Kilda Film Festival 2016

View Film Home
|
View What's Showing
Food & Drink

Latin Fiesta Weekend
| Preston Food Truck Park

High Tea
| Afternoon tea in Melbourne

View Food & Drink Home
|
View Foodie Events
Fundraiser

Gala For Gilbo
| Fundraiser for comedian Russell Gilbert
Markets

A Plus Market | Queen Victoria Market

Cheeky Monkey Market
| Doncaster

Computer Markets

Market on the Green
| Sunbury

Melbourne Frock Swap Fashion Market
@ Williamstown

Olympic Village Makers Market

Yarn and Craft Market 2016
| Coburg

View Markets Calendar
Music

Babba | Live
| Chadstone, Nunwading, Noble Park

Certified Gold Show
| Milanos Tavern Brighton on Saturday
Sport

The Long Walk 2016
|
Essendon
v
Richmond

View Sport & Recreation
|
View Sport Today
Theatre

The Sound of Music

View All Shows
Trending

Australia's Biggest Morning Tea 2016

Eat Street 2016
for Variety - the Children's Charity

Festival of Steve 2016
- fashion, food & frippery for gents

Historic Winton 2016

International TAP Dancing Day 2016

National Sorry Day
| Thursday 26th May 2016

Red Shield Appeal 2016

Sleep at the 'G 2016

55 Garage Sales
Featured Business

Smart Tablet | Hotel Guest Concierge
| leading edge technology of Smart Tablet provides hotel guests with an enhanced experience during their stay

Harmor Services
| quality waste removal services for commercial, residential, industrial and governmental businesses
Quick Links

SmartPhone Newsletter

Last Week's Newsletter

Next Week's Newsletter

Subscribe
|
UnSubscribe

Melbourne Calendar

Garage Sales

Advertising

Short Link | goo.gl/Mq6RBM
Web Links
→
Newsletter | #490 | What's On this Week
→
Newsletter | #488 | What's On this Week
→
Newsletter | #491 | What's On this Week
→
Disclaimer
: Advertising details can change at any time. Check with the advertiser (contact information above) before making plans, booking or proceeding.
→
Viagogo
: is NOT an official Australian ticket reseller.
Trending HOT..
---
Advertising
Page Editor
Upgrade Advertising