Newsletter | #379 | What's On this Week
Tuesday 8th April to Monday 14th April 2014
We have to start by thanking Melbourne for turning on fabulous weather last weekend.
We've got 3 quite different exhibitions on this weekend, each at a different venue, each aimed at a different market. The home show is an annual favourite as is the quilt convention with my mother while the rest are heading off to celebrity gazing at Supernova.
If you are interested in art, then take a butchers hook at a fabulous new work by Rhone. Being touted as the largest street art in Australia, it resides at 330 Collins St, Melbourne.
View
Enjoy Melbourne!
MelB
expo
HIA Home Show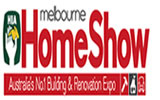 Building, renovating or making home improvements? Then visit Melbourne's largest, most popular Home Show for all the latest products, services and innovations in home renovation and new home building.
You'll see hundreds of new products, discover industry trends, get free expert advice and be able to take advantage of great show specials. Don't miss the Melbourne HIA Home Show. It's the only home show you should visit if you are renovating or building a new home.
When:
April 10-13
Where:
Melbourne Convention & Exhibition Centre
Event Listing:
More..
Australasian Quilt Convention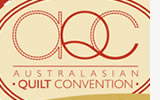 Australia's biggest dedicated quilt event, Australasian Quilt Convention returns to Melbourne from April 10 - 13 at the Royal Exhibition Building.
The annual Australasian Quilt Convention (AQC) is set to celebrate its 10th birthday as the biggest, most celebrated quilting event in the southern hemisphere!
Australasian Quilt Convention provides a spectacular array of international tutors leading seminars and workshops for every skill level, together with stunning displays of the unrivalled talent of quilters from both Australia and around the world. The event also presents a unique shopping opportunity with an exceptional array of quilting products including many at bargain prices.
When:
April 10-13
Where:
Royal Exhibition Building
Event Listing:
More..
Supanova | Pop Culture Expo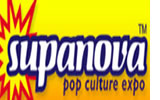 Supanova Pop Culture Expo is where the adoring public comes face to face with Supa-Star celebrities and the creative talent that inspire their imaginary worlds under one big roof.
Gathered from and surrounded by the wonderful worlds of science-fiction, pulp TV/movies, toys, console gaming, trading cards, animation/cartoons, fantasy, comic books, entertainment technology, books, internet sites and fan-clubs, the result is an amazing atmosphere tailor made for expessing your inner geek and where getting into cosplay (cos-tume role-play) is the obvious thing to do!
Amongst the names coming out are Lindsay Wagner, the original Bionic Woman and Verne Troyer ..yes Mini-Me from Austin Powers.
So whether you're seven or seventy, Supanova.. It's a blast!!!
When:
April 11-13
Where:
Melbourne Showgrounds
Event Listing:
More..
dreamin'
Bridge Road Film Festival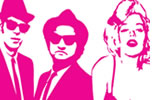 The Bridge Road Film Festival is showing the big screen classics commencing with The Castle on Saturday 12th April 2014.
The Kerrigan family are a typical Aussie "battler"family and living right next to the airport never seemed to be a problem for them until the airport wants to expand - on to their land. Their initial reaction is to reject the plans and turn down the money, but it soon becomes obvious that the airport and Government authorities are going to get their way - one way or another. This is Dale Kerrigan's story of their battle with the airport to keep their beloved house, and defend an ordinary person's rights against wealthy organisations.
Afterwards eat at Romulus & Remus with a special $20 pizza & a drink!
Mention this post
to get the special.
When:
April 12 |
Tickets
Where:
Richmond Town Hall
Event Listing:
More..
win win win
Get Framed to Win at Eastland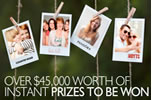 Eastland Shopping Centre have thousands of prizes to win including Gift Cards Movie Tickets Country Road Tote Bags Celebrity Cook Books Pandora Charms and loads more!
Step up to the Sanctuary Photo Booth for your chance to win.
Thousands of instant prizes up for grabs including $20 Gift Cards Hoyts Movie Tickets Country Road Tote Bags Celebrity Cook Books Pandora Charms and loads more!
Simply step up to the photo booth and submit your photo. Your photo will then be automatically uploaded to the 'Get Framed To Win' album on Eastland's Facebook page. Check to see if your photo has a frame - if so you're a lucky winner!
When:
18 March - 14 April 2014
Where:
Eastland Shopping Centre
Event Listing:
More..
School Holiday Guide
Check out our School Holiday Guide
for some of the latest highlights on what to do with the kids during school holidays. The guide offers a huge range of activities, with events workshops, concerts, holiday programs and much more.. all in marvellous Melbourne! Some are free!
-->
School Holiday Guide | April 5 to 21
laughter
Melbourne Comedy Festival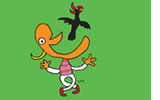 Week 3 of the Melbourne International Comedy Festival.
Check Out
the huge program of performances from every corner of Australia and from overseas featuring top comedians and shows.
A laugh for absolutely everyone!
When:
Wednesday 26th March to Sunday 20 April 2014
Where:
Multiple Venues
Event Listing:
More..
Gentlemen of Deceit
Comedy & Illusion Show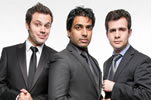 A Modern Deception's Vyom Sharma Alex de la Rambelje and Luke Hocking present their most unbelievable show yet.
Showcasing a brand new array of digital dexterity and psychological chicanery the gentlemen of deceit invite you to be bamboozled again. Using their signature blend of classy magic and disarming humour Vyom Alex and Luke will have you giggling while they mess with your mind.
This is a great show for both big and little kids, just check you have your wallet on the way out.
When:
April 3rd - 5th 10th - 12th and 19th
Where:
Spring Street Conference Centre
Event Listing:
More..
fairs fair
Drouin Lions Antique & Collectables Fair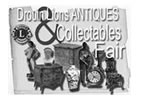 The 8th Annual Antique & Collectables Fair is Sunday 13th at Drouin Secondary College.
Antiques, fine china, decorative arts, glass, Australian pottery ceramics, linen & lace and interesting collectables.
The antique fair is one of the region's largest and there will be a large number of stall holders once again this year. Presented by The Drouin Lions Club,
The Drouin Lions are N F P Group and all profits from all our events are placed directly back into our local community.
When:
April 13
Event Listing:
More..
sport
A.F.L. Football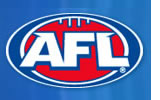 Round 4 Melbourne games of the A.F.L. Premiership the 2014 season.
Another weekend of footy off on Friday night at the G with a blockbuster clash between arch-rivals Richmond* and Collingwood.
* Fingers X - go Tigers
Friday, April 11
Richmond vs. Collingwood (MCG) (N)
Saturday, April 12
Carlton vs. Melbourne (MCG)
Geelong v West Coast
(SS) (N)
Sunday, April 13
St Kilda vs. Adelaide Crows (ES)
Event Listing:
More..
-->
See More Sport
potshot of the month
Each month we take a potshot at something..
USING A MOBILE WHILE DRIVING
Yes idiots who think its ok to use a mobile phone while driving. If you make calls receive calls text or do anything else with your mobile phone while driving you are a bloody idiot and breaking the law not forgetting:
--> Risking your own life
--> Risking the lives of your passengers
--> Risking everyone around you
Its dumb stupid selfish and ridiculous behaviour that is breaking the law. Penalties include the loss of 4 demerit points and a $433 fine.
Gauging by the number of drivers flouting the law the message is not getting through. As John Faine on 774 Radio put it we need a visual message from one driver to another that it is unacceptable. Well here it is..
Mobile Salute
Let Melbourne be the first city in the world to stamp out illegal handset use in cars.
Drivers if you see another driver with a handset give them the salute.
Ask your friends and family if they do it and if they do give them the salute... embarrass them.
Web Link:
Mobile Handset Salute
We have to say.. thank you, thank you, thank you. The response has been fabulous. So many readers supporting the cause.
Come on Melbourne!
Good for What Ails Ya!
❊ Web Links ❊
→
Newsletter | #379 | What's On this Week
→
Text URL
❊ COVID-19 Notice ❊
Many locations have gone into lockdown as the state takes action to stop the spread of the deadly coronavirus (COVID-19).
→
Disclaimer
: Check with the operator before making plans
...
Trending HOT

Drive-In Movie Club
Drive-In Immersive Cinema Nights Are Coming to Melbourne Put together by our friends at Hot Tub Cinema, a string of family-friendly, social distancing-safe, drive-in ..

Things to see, hear & do this weekend
Make the most of your weekend in Melbourne with these fabulous events. No city does it better than Melbourne, so get out and discover the very best shows, festivals, ..
---
Update Page