Victorian Place Names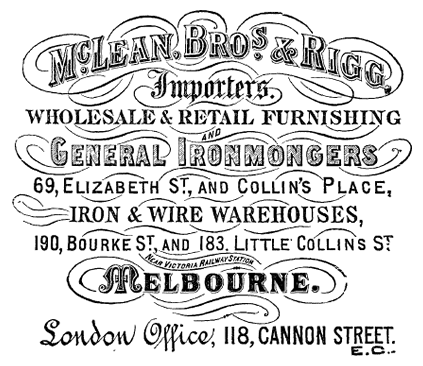 Modern Melburnians treat the names of streets and suburbs as a means of navigating their way around a large city. Historians look at the names more closely, as do a small but passionate group of toponymists - self-confessed "place name nerds".
Northcote's Separation Street stands today as a memorial to the amicable divorce between Port Phillip Colony and New South Wales in 1851. Nearby Westgarth station remembers William Westgarth, whose efforts to encourage German immigration to colonial Australia led to a company that would become one of the world's shipping empires, Hapag-Lloyd.
Liverpool and Crossley Lanes in Chinatown are dull shadows of their former selves. Historian Weston Bates says that in the days when they were called Romeo and Juliet Lanes they housed brothels and dens of thieves.
The working class area of Irishtown was officially named Preston.
The German settlement in what is now Northcote was once called Cawdortown, after Cawdor in Scotland and according to Preston Library's local history expert Paul Michell, for Shakespeare's Macbeth, who was the Thane of Cawdor.
Nearby St George's Road once held the practical moniker of Pipe Track, named for the road's prominent role in constructing a fresh water pipeline from the new Yan Yean Reservoir to thirsty Melbourne in the 1850's.
Suburb and street names were once centrally decided, but a change to the law in 1998 decentralised the naming and gave the power to councils, which can approve or reject names proposed by estate developers.
The State Government's Registrar of Geographic Names oversees the process and checks to ensure no two streets in an area have the same name, to avoid confusion and dangerous delays to emergency services.
Councils are also discouraged from suggesting street names that honour living people, to avoid remembering high flyers who later fall.
But for those for whom infamy is the same as fame - musicians and entertainers - there are exceptions to posthumous recognition. Melbourne's ACDC Lane superseded the bland Corporation Lane in 2004, while Dame Edna Place this year rubbed out Brown's Alley.
Locality Names and Boundaries (Maps by Municipality)
nomenclature place melbourne
Localities can be bounded suburbs, towns and rural districts (that is have an official boundary), or unbounded neighbourhoods (that is have no official boundary). Local councils determine the locality names and boundaries within their municipalities in accordance with the procedures set out in the Guidelines for Geographic Names (October 2004).
VICNAMES is Victoria's repository for the current maps of locality names and boundaries.
In recognition of people's attachment to geographic place names, the Geographic Place Names Act 1998 - the legislation that makes provision for the naming of places and features - encourages greater community involvement in the place naming process through the Guidelines for Geographic Names.
New names and changes to existing names of geographic places and features are generally made by naming authorities such as local councils, but the names of significant places, for example The Twelve Apostles, are determined centrally by specially convened Geographic Place Names Advisory Committees.
The Register of Geographic Names, VICNAMES, holds more than 190,000 road and place names including landscape features such as mountains and rivers, bounded localities such as suburbs, towns, cities and regions, and physical infrastructure such as roads, reserves and schools. You are invited to search VICNAMES for all registered place names in Victoria or track the progress of proposed names that have been submitted to the Registrar of Geographic Names for approval.
Home Search: Places Roads Proposals Municipalities Authorities Place Data Download View: Notices Role of the Registrar Guidelines Locality Maps Brochure Indigenous Place Names Legislation Related Naming Sites Vicnames User Guide
Further information about VICNAMES and geographic place names may be obtained from: The Registrar of Geographic Names
VICTORIA has towns named after cattle, sly grog merchants and even Chinese tea brands.
Here's how some of our quirkiest place names came about.
Eldorado is a little old gold town near Wangaratta, so you might think it was named after the fabled city filled with treasures. But settler William Baker renamed his run, Barambogie, as Eldorado in 1840 or 1841 because of the riches of the land. The town was established when gold was discovered there in 1854.
Napoleons, near Ballarat, was the name given to a local quartz lead mined by a man with a resemblance to the French dictator, right down to his bicorne hat.
Durham Ox, a small farming community northwest of Bendigo, was named after a famously large ox born in northeast England in the late 1790s. No bull.
Poowong in South Gippsland is a lovely town, even if the name sounds a trifle unpleasant. Trouble is, the Bunurong meaning of the word is not flash, either. Poowong means "carrion" - that is, the flesh of dead animals that scavenging animals feast upon.
Mt Disappointment, north of Melbourne, was named by explorers Hume and Hovell, who hoped to get a glimpse of Port Phillip Bay so they could get their bearings when they climbed it in 1824. To their great disappointment, they could not.
A1 Mine Settlement is a near ghost town in the Shire of Mansfield that was named for the A1 quality of the gold mined there.
Howqua, near A1 Mine Settlement, is thought to have been named after a brand of Chinese tea that was popular with Chinese miners in the area.
Indigo is the name of a shire, a small town, a creek and a gold lead in northeast Victoria. Indigo refers not to the colour, but to the indigofera shrubs that grow in the area.
Pretty Sally, near Wallan, was named after an 1840s sly grog merchant known locally as Pretty Sally, who died when she fell from her horse-drawn cart and went under the wheels. A not-so-pretty ending.
Yabba North and Yabba South, near Shepparton, were named after a pastoral run called Yabba Yabba, which is thought to be a local Aboriginal expression meaning "talk" - a great example of onomatopoeia, words that sound like their meanings.
VICTORIA has towns named after cattle, sly grog merchants and even Chinese tea brands.
JAMIE DUNCAN
This article is from the February 25, 2020 issue of The Herald Sun Digital Edition.
To subscribe, visit https://www.heraldsun.com.au/.
❊ Web Links ❊
→
Victorian Place Names
→
VICNAMES
→
www.land.vic.gov.au
→
Australia and NZ placenames websites
→
The Australian Council of Professional Historians Associations Inc
→
Placenames on the Coast of Victoria
→
Dictionary of Aboriginal Placenames of Victoria, compiled by Ian D. Clark and Toby Heydon
→
Map of Victoria with place names
❊ COVID-19 Notice ❊
Many locations have gone into lockdown as the state takes action to stop the spread of the deadly coronavirus (COVID-19).
→
Disclaimer
: Check with the operator before making plans
...
Trending HOT

Drive-In Movie Club
Drive-In Immersive Cinema Nights Are Coming to Melbourne Put together by our friends at Hot Tub Cinema, a string of family-friendly, social distancing-safe, drive-in ..

Things to see, hear & do this weekend
Make the most of your weekend in Melbourne with these fabulous events. No city does it better than Melbourne, so get out and discover the very best shows, festivals, ..
---
Update Page