Sunbury Music Festival | 1972 to 1975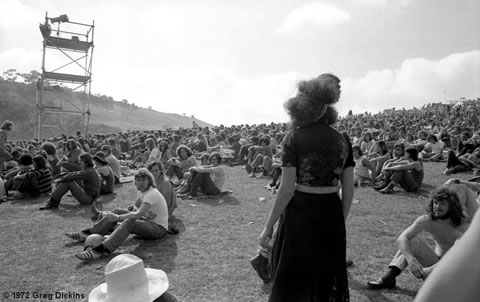 The Sunbury Pop Festival
, which ran from 1972 to '75, is often regarded as a milestone in Australian music for many reasons. Although it wasn't the first major music festival that Australia saw, it was the first successful music event which actually turned a profit, enough for it to run consecutively for four years.
Depending on which end of its four-year era you preferred, it's also known to some as the Sunbury Rock Festival. For the sake of simplicity, however, we'll take centre-stage (along with the
middle
of the fence) and just call it the Sunbury Music Festival.
In the early '70s there had already been several large music festivals that had come and gone over the years, including the 1970 festival 'Pilgrimage for Pop' held in Ourimbah, NSW, and the Meadows Technicolour Fair held in South Australia in the same year of Sunbury's first festival in '72.
Although likened to America's Woodstock, the Sunbury Music Festival was more of a forerunner to the
Big Day Out
festivals of today. Held over the Australia Day long weekend in each of the four years it ran, the festival site was located on farmland on the outskirts of Sunbury between there and Digger's Rest.
Owned by George Duncan, he generously offered the use of his property at no cost to the organisers, even going so far as allowing toilet facilities and rubbish bins to be installed on the property in later years of the festival. Which really makes sense, considering he'd have had as many as 40,000 people in his 'backyard'. You don't have to be a mathematician to know a crowd like that plus three days of food and booze equals a mess that would make even Keith Moon blush.
With the Duncans' farmland providing a natural amphitheatre, the scene of the Sunbury festivals has since become an isolated area, far from the bustling hub it was during one of music history's most famed events. Residential subdivision in the area has since limited public access to the site and redeveloped the landscape.
According to a document on the website of Hume City Council, little remains there now but there are still the remnants of the toilet facilities and bins, along with echoes of the event that linger to this day with 'small artefacts such as items of footwear and drink can pull-rings' scattered over the area.
It makes you wonder whether it'd be worth getting out there with a metal detector to scour for vintage badges - given more thought, though, you'd probably have more luck with a sniffer dog!
Who Put The Bomp In The Bomp-a-bomp-a-bomp
The Sunbury Music Festivals were organised by a group named Odessa Promotions, said to be members of the Melbourne TV Industry. The principal of the company was John Fowler, and it's said that the company included people who had previously worked on shows such as Uptight, a pop TV show of the late '60s. Don't bother trying to contact Odessa for help with your fundraiser, though... all you'll find is a company of the same name that operates from the Netherlands. The company went into liquidation after the final concert of '75, which was a financial disaster compared to the previous festivals.
Odessa Promotions organised the Sunbury festival in late '71, at a time when there had already been as many as five other major festivals held elsewhere in Australia, although Sunbury proved to be the most successful, allowing it to run for four years. Undeterred by the financial failure of other festivals, Odessa promoted their major rock festival as featuring an all-Australasian line-up.
It's debated however whether this was intentional to showcase Aussie talent or whether it was due to limited finances. Later festivals at Sunbury would feature performers from overseas, including the highly priced Deep Purple for the final festival, which proved to be part of the company's collapse.
Struggling to find a suitable setting for the festival, they had nearly given up hope of finding a property whose owners would allow them to use, but thankfully George Duncan was more than happy to oblige, having a great deal of faith in the youth of that day.
Others in the Sunbury and Diggers Rest area didn't share the same view, however, and were worried about drugs, vandalism, fire, and more. They lobbied the Bulla Shire Council (now the council of Hume City) to stop the event, but the council didn't have the power to do so and the festival went ahead. This was obviously back in the days before you needed a permit just to sneeze.
From Little Things, Mushrooms Grow...
What truly set the Sunbury Music Festival apart from these other events, and also cemented its place in music history, was the fact that it was the first major music festival to be extensively documented both in film and multi-track recordings, with the British label EMI releasing a double album of live music from that year's event. While a milestone in its own right, the EMI's '72 effort isn't the recording that Sunbury's infamous for.
Having been involved in managing bands for the inaugural festival in '72, a young Michael Gudinski was already proving himself to be quite the entrepreneur, making a tidy profit on selling watermelons to the hot punters during the summer festival.
Disenchanted with the existing record companies of the day, in the festival's second year Gudinski created one of Sunbury's most notable legacies, the first ever release of a 3 album set, featuring music recorded live at that year's festival. The recording was also the first release of his fledgling company, Mushroom Records, which went on to be the most widely recognised label in Australian music.
There was also a limited edition six-track EP that was released that year, which can allegedly fetch a neat little sum on the collector's market, so keep an eye out for that next time you're rifling through those daggy LP's at the Salvos - you just might find it tucked between Jim Nabors and Max Bygraves.
The Music, The Mood, The Vibe...
Touted as one of the best years in the festival's history, '73s festival, hosted by Paul Hogan, saw Australia's own rock'n'roll legend Johnny O'Keefe prove a surprising hit with the predominantly hippie audience. One of the most successful of the Sunbury festivals, there are often conflicting reports about that year's event concerning ticket prices and the number of people that actually attended.
There's just as much mythology about the spirit of the Sunbury Music Festival, with some regarding it as Australia's Woodstock, a keypoint in more innocent times that embraced peace and a laidback life, while others saw the Sunbury festivals as an event that mirrored the decline of that flowery period with some suggesting that the festivals steadily became a beer-soaked yob fest.
Regardless of the crowd's temperament, the Sunbury Music Festivals greatly marked a large shift in Australia's popular music scene, ending an era influenced by '60s psychedelia and folk music and echoing a shift towards a more uniquely Australian genre of louder, stomping pub rock attracting performers such as Billy Thorpe and the Aztecs, Skyhooks and
AC/DC
who infamously turned up to the '75 festival however left without performing.
While the Sunbury Music Festivals did much for the Aussie music scene, featuring an all-Australian line-up in '72's first festival, it also attracted well-known acts from overseas in the later festivals with British bands Queen appearing in '74 and Deep Purple taking the stage in the festival of '75.
Both of these bands weren't without some controversy when they appeared at the festivals. When Queen took to the stage, the band was largely unknown at that time on Australian shores and they were unfortunately heckled from the stage following their performance, allegedly after the announcer of that year's festival asked the audience,
'D'you want anymore from these pommie bastards or do ya want an Aussie rock band?'
Before leaving the stage to jeers that labelled them 'pooftahs' who should go back to Pommyland, Freddy Mercury, Queen's iconic front man (who was nonetheless fond of bottoms) boldly and bravely fired a parting shot back at the audience. He declared that when his band Queen would next visit Australia, they would be the biggest band in the world. And true to his word when they returned to our shores in '76, QUEEN were indeed one of the most globally acclaimed bands. Also see 'urban legend' below.
Deep Purple caused their own share of grief when they visited Australia to perform at the final festival of '75. While
AC/DC
were listed as part of the performance line up, they never performed due to a scuffle with Deep Purple. With Deep Purple's performance having come to an end, AC/DC were meant to follow them but Deep Purple refused to let AC/DC do so.
During this time George Young - formerly of The Easybeats, another band renowned for pulling no punches in their day - had been filling in for AC/DC playing bass, and he along with our own Acca Dacca got into a fist fight with Deep Purple on the stage. With roadies of either side involved in the stoush, AC/DC eventually left the stage, refusing to play at all.
Another problem that came about from the booking of Deep Purple as that year's headline act was the amount that they were paid for their appearance. Given a whopping AU$60,000 (a large fee for those times) the steep price paid to these pipers and poor ticket sales meant that all other bands who appeared that year were unable to be paid for their time and performances. The only other performer who was paid for Sunbury's final festival was Jim Keays, of The Masters Apprentices, who had arranged for sponsorship from independent sources.
The Sunbury Music Festivals came to an end that year with a poor turnout of an estimated 14,000 people, a bit of fisticuffs on the stage, and the following liquidation of the event organisers, Odessa Promotions, who it's alleged were made up of TV industry professionals. A string of lawsuits against Odessa Promotions were lodged by unpaid staff and performers, and eventually Deep Purple were actually forced to return a share of their earnings.
While it was deemed by the equity court that the Australian artists weren't entitled to Odessa's assets, said to be self-employed individuals rather than employees of Odessa Promotions, there was a legal rule within the Musicians Union that won a small victory for our local heroes.
As part of the conditions for Deep Purple touring Australia, the band had paid a portion of their fee to the union due to concerns that their presence might cause industrial unrest. Not surprisingly, given the events that arose at Sunbury, this was said to be the very case and the deposit was paid out to Musicians Union members, giving them the minimum rate of that time.
Sunbury Trivia
In lieu of singing you some tunes from the festival's hey-day (the licensing fees would be way too expensive, and we didn't even dare ask Deep Purple!) here are some facts about the Sunbury Music Festival that are quite interesting..
The 1974 Sunbury Festival essentially gave us the band Skyhooks as we know them today. Their original members that performed that year included Steve Hill who was lead singer of the band. Booed off the stage at that year's festival, Hill later watched a recording of their performance and was so morose about the event that he quit the band, paving the way for Graham "Shirley"Strachan, he lead the band when they returned to '75's festival where they were a huge success as the highlight of the final festival.



During some of the festivals, communes as far north as Nimbin were completely vacated as large groups of hippies converged on Sunbury for what was the closest thing to Woodstock in Australia.

As the festivals continued, however, most notably during the last event held, the crowd was becoming very two-sided, with just as many attendees who were on a less greener side of the fence and opted for booze, including Sharps, also known as Sharpies, who were the Skinheads of the day.



While the inaugural concert of 1972 is widely touted as being an all-Australian event, many of the performers actually hailed from New Zealand. But as we do, we'll turn a blind eye to that and claim them as our own, especially Thorpie.



The site of Sunbury Music Festival was so much closer to Diggers Rest that many patrons who travelled by train to the festivals would get off at Diggers Rest station. Assumedly, the "Diggers Rest Pop Festival"just didn't have the same zing to it.



Among the tributes that have since been made to Sunbury Music Festival, the Fauves recorded a song in 1998 called "Sunbury 97"on their LP Lazy Highways. The lyrics include the lines, 'There's the tree where mum & dad conceived me.. Do you believe that I'm a child of Sunbury '73?' Chris Wilson also recorded a track Sunbury '73 on his 1998 album The Long Weekend, that reminisces about a road trip south from Sydney to attend the concert.



The theme of Sunbury Music Festival played a large part of the TV series, Altogether Now, which featured Jon English as a former rock star who clung to his glory days as one of the performers at Sunbury.



Australia Post issued a stamp that commemorated the Sunbury festival as part of their series, Australian Rock Posters - The Stamps. A 50c stamp, it featured the poster artwork of the first festival in 1972. The advance publicity for the Victorian festival was so great that only one word - Sunbury - was necessary for the poster. The design by John Retska was influenced by mod art of the mid-sixties.



Along with the last festival being rained out and causing such a low attendance that future festivals never followed, there was also a steady decline by that time from the initial nature of the festivals. In an interview with The Age in 2003, Phil Manning, the guitarist of Australian Blues band Chain, was rather bitter in his recollections of Sunbury, saying that, 'It was a time when the hippie thing was declining and the drunken afternoons of too much beer, sun and basic rock developed. The music went from being experimental to being just moronic entertainment for yobbos.'

This seems quite evident given some accounts that by the festival's end in '75 the communal spirit of Sunbury had digressed into a boozy camaraderie with unfortunate displays of yobbish behaviour. It's said that during Sunbury's final year that there was a drunken youth suffering from alcohol poisoning being carried to the St. John's Ambulance tent every five minutes.



Long before you'd front up to a festival or gig and find burly men looking like lottery balls with numbers pinned to their chests, the security at Sunbury Music Festival was apparently provided by members of a local martial arts society, who welcomed people as they entered the gates.

Using unconventional security measures at concerts wasn't an uncommon thing during the late '60s and early '70s. The Rolling Stones famously made the grave mistake of hiring the infamous Hell's Angels to provide security during their free concert of 1969 in Altamont (US) with disastrous results. With the bikers drinking heavily and using drugs on the day, they were said to have used sawed-off pool cues to control the crowd. Things truly got out of hand when the Hell's Angels became so unruly that four audience members were killed that day, with the hippie era allegedly dying that day also.


Festival Details
Sunbury Music Festival 1972
Ticket Cost:

$6.00 (3 days), $5.00 (2 days), $1.00 (1 day)

Attendance:

Estimated as 35,000 - 40,000

MC:
Gerry Humphreys
1972 Festival Line Up:
Blackfeather
The Bushwackers and Bullockys Bush Band
The Captain Matchbox Whoopee Band
Glenn Cardier
Carson
Chain
Company Caine
Country Radio
Friends
Healing Force
The La De Das
Mackenzie Theory
Phil Manning
Max Merritt and the Meteors
Barry McCaskill & The Levi Smith Clefs
Pilgrimage
Pirana
Wendy Saddington * see comments
SCRA
Spectrum
Tamam Shud
Billy Thorpe & The Aztecs
Total Fire Band
The Wild Cherries
Sunbury Music Festival 1973
Ticket Cost:

Unknown

Attendance:

Unknown

MC:
Paul Hogan - "That's not a festival... Now
this
is a festival!"
1973 Festival Line Up:
Bakery
Band Of Light
Glenn Cardier
Carson
Coloured Balls
Country Radio
Flying Circus
Friends
Healing Force
MacKenzie Theory
Madder Lake
Max Merritt & The Meteors
Johnny O'Keefe
Sid Rumpo
Matt Taylor
The 69'ers
Dutch Tilders
Billy Thorpe & The Aztecs
Sunbury Music Festival 1974
Ticket Cost:

$12.00 (3 days); $10.00 (2 days); $5.00 (1 day)

Attendance:

Estimated at 30,000

MC:
Jim Keays
1974 Festival Line Up:
Blackfeather
Francis Butler's 69-ers
Skyhooks
The Dingoes
Kush
Buster Brown
Chain
Madder Lake
MacKenzie Theory
Ayers Rock
Sid Rumpo
Ross Ryan
Daddy Cool
Queen (UK)
Sunbury Music Festival 1975
Ticket Cost:

$20

Attendance:

Estimated at 14,000 to 16,000

MC:
Unknown
1975 Festival Line Up:
Deep Purple (UK)
AC/DC
Ariel
Ayers Rock
Captain Matchbox Whoopee Band
Daddy Cool
The Dingoes
Renee Geyer & Sanctuary
The Keystone Angels
The La De Das
Kush
Madder Lake
Ross Ryan
Sherbet
Skyhooks
urban legend
A fight between the road crews and management of Madder Lake and Queen may have been behind the urban legend. "The issue revolved around Queen refusing to go on at their allotted time because the light wasn't right - I remember it was sundown, so whoever went on stage wouldn't get the full benefit of their light show. It came down to a battle between management, which then spilled into a fracas between the roadies of our respective bands, as each crew jostled to set gear up. The MC (or some other promoter) goaded the crowd into an us and them vibe, with the local band in favour over the unknown "pommie bastards". It ended with us going on stage first, and Queen redeeming themselves to the crowd and showing a hint of what they were to become. And that is how I remember it."
- Kerry McKenna, Bass Player Madder Lake.
❊ Web Links ❊
→
Sunbury Music Festival | 1972 to 1975
→
en.wikipedia.org/wiki/Sunbury_Pop_Festival
→
www.milesago.com/festivals/sunbury72.htm
→
www.milesago.com/festivals/sunbury73.htm
→
www.milesago.com/festivals/sunbury74.htm
→
www.milesago.com/festivals/sunbury75.htm
→
www.theage.com.au
→
www.hume.vic.gov.au
→
www.backroadfestival.com.au
→
Sunbury Music Festival Photos | www.redbubble.com
→
Live Sunbury Rock Festival 1972 | YouTube
→
Sunbury Music Festival Photos | www.immigg.com
❊ COVID-19 Notice ❊
Many locations have gone into lockdown as the state takes action to stop the spread of the deadly coronavirus (COVID-19).
→
Disclaimer
: Check with the operator before making plans
...
Trending HOT

Drive-In Movie Club
Drive-In Immersive Cinema Nights Are Coming to Melbourne Put together by our friends at Hot Tub Cinema, a string of family-friendly, social distancing-safe, drive-in ..

Things to see, hear & do this weekend
Make the most of your weekend in Melbourne with these fabulous events. No city does it better than Melbourne, so get out and discover the very best shows, festivals, ..
---
Update Page