Newsletter | #279 | What's On this Week
Welcome to this week's Melbourne events, exhibitions, sports and community guide for Tuesday to Monday, May 8 to 13, 2012.
This week... the Fair Trade Festival rolls ethically back into town, bringing with it an assortment of guilt-free goodies with markets, exhibitions and more held throughout Melbourne. Those who fancy a drop of beer can make merry with a wide range of events just a hops, sip and a clumsy jump away with Good Beer Week showcasing the finest brews from around the world throughout Melbourne and Victoria.
Also this week, with Mother's Day almost here, we have two great giveaways on offer with tickets to the V8 Supercars for those with mothers who like a bit of rev, along with tickets to a dance extravaganza.
I'd also like to wish a very happy Mother's Day to all you deserving mothers out there, it truly is the most underrated, underappreciated and selfless role one could take. And I'd personally like to thank my own mother for putting up with possibly the most awkwardly eccentric teenager one could be lumped with - something I understand fully now, being lumped with my own.
Likewise the same kudos goes to my wonderful partner who puts up with my awkwardly eccentric teenager and the awkwardly eccentric man that I am, myself.
Happy Mother's Day all you wonderful mums and thank you so very much! :)
OnlyMelbourne Welcomes
Tease
, held at South Yarra's Red Bennies, is a night of saucy fun with the House of Burlesque Troupe joined by a bevy of 30 stunning starlets. Along with the grand dame of Burlesque, Minsky Malone, there's also great live jazz entertainment from The Jelly Tub Rollers.
When:
Friday May 18 - Bookings Advised
Giveaways
V8 Supercars | WIN a Family Pass!!
V8 Supercars Phillip Island 300
brings no end of excitement to the distinctive Philip Island circuit with the action of both V8 Supercars and the Australian Superbikes on track joined by the chance for Disney's CARS fans to get up close to the life-size ack and Lightning McQueen.
When:
May 18 to 20 - Bookings Recommended
Win a Family Pass!!!
OnlyMelbourne has a
Family Pass for 4 People
to give away to attend the Phillip Island 300 and also meet Mack and Lightning McQueen from Disney's hit series, Cars.
To go into the draw to win a chance to see all the action at Phillip Island, email your name, address and contact details with "Phillip Island 300 Giveaway"as the subject line.
To email your entry
--->
Click Here to Enter Competition
Note:
Only Winners will be notified.
Rock the Ballet | WIN a Double Pass!!
Rock the Ballet
, held at the Arts Centre, is a fusion of classic Ballet technique blended with the excitement of musical theatre, hip hop, ballet, tap, contemporary and gymnastics, all set to a stellar soundtrack with hits from U2, Michael Jackson, Prince, Queen and others.
When:
May 30 to June 3 - Bookings Recommended
Win a Double Pass!!!
OnlyMelbourne has
5 Double Passes
to give away for the Opening Night of the spectacular dance extravaganza, Rock the Ballet.
To go into the draw to win a chance to see the impressive production, email your name, address and contact details with "Rock the Ballet Giveaway"as the subject line.
To email your entry
--->
Click Here to Enter Competition
Note:
Only Winners will be notified.
Mother's Day
Mother's Day Gift Guide | May 13th
- Mother's Day is almost here, so be sure to get a great gift for Mum! If you haven't bought a gift or planned something special for your mother yet then why not try some of our ideas for a perfect Mother's Day this year to show her you care.
Sunday May 13 | Visit Here For Mother's Day Gift Ideas
Major Events
Fair Trade Festival
highlights the plight of disadvantaged workers throughout the world with events that include fair trade markets showcasing ethically produced goods such as chocolate, coffee and clothing along with exhibitions, seminars and the Big Fair Trade Morning Break.
When:
May 11 to 18
St Kilda Busking Festival
celebrates and showcases colourful entertainment from Melbourne's best hidden artists. With fun performances held on Sundays from 1pm to 4pm, the free entertainment offers a colourful, bizarre and often hilarious afternoon for the whole family.
St Kilda Village:
Sundays May 13 & May 20
Art Exhibitions
Linda Shuhin
, one of several artists exhibiting at Red gallery in Fitzroy North, explores ideas on the human condition, the complexity of our lives and indeed our very state of being through works of figurative imagery, gestural mark making and the use of recurrent symbolism.
When:
May 9 to 26 - Wednesdays to Saturdays
Opening Night:
Wednesday May 9 - 6pm to 8pm
Taiji, Japan
, presented at Obscura Gallery in St Kilda East, is an exhibition of photography by Melbourne based artist Georgia Laughton. Her body of work documents the capture and slaughter of dolphins that occurs annually in Japan's small fishing village of Taiji.
When:
May 8 to June 17 - Tuesdays to Saturdays
Opening Night:
Thursday May 10 - 6:30pm to 8:30pm
Wye River and Coastline
, is the latest series of landscape paintings by Allan Wolf-Tasker, an artist who draws inspiration from the scenic views along the Otway Coast. Held at Melbourne's fortyfivedownstairs, his aerial works present an almost 'out of body' view of the world.
When:
May 8 to 19 - Tuesdays to Saturdays
More Exhibitions
Expos, Launches, Open Days & Lectures
Art of Elegance Fair
, held at Maryborough Town Hall, showcases past elegance with boutique stalls of vintage clothing, porcelain, handmade accessories and fine wine. The fair also features vintage movie memorabilia, Mini Mad Hatter High Tea, door prizes and much more.
When:
Sunday May 13 - 11am to 4pm
More Expos & Launches
|
More Open Days
|
More Tours
Performances & Theatre
The Heretic
, presented by Melbourne Theatre Company with performances held at the Arts Centre, is British playwright Richard Bean's fleet-footed black comedy that steps without a care through the climate change minefield as Noni Hazlehurst returns to MTC to play a fearless scientist.
When:
May 12 to June 23
An Inspector Calls
, held at Heidelberg Theatre Company in Rosanna, is a classic mystery written by J. B. Priestley. A gripping drama with lessons learned and one never forgotten, the production directed by John Jenkins follows a family celebration that's interrupted by the police.
When:
Until May 19
Jane Austen is Dead
, presented by BRAVE Theatre, questions romance in the modern age of a world of RSVP, facebook and drunken sex in disabled toilets, and whether it's possible to meet a man on a white horse in well- tailored regency attire. Performances are held in Richmond.
When:
May 8 to 20
Classical, Choral & Recitals
Patrick Roberts
, the acclaimed Violinist who transforms some of the much loved classics into contemporary masterpieces, will be performing at Thornbury Theatre in a concert featuring support from Alana Conway from Australia's Got Talent and special guest compere Athol Guy.
When:
Saturday May 12 - 7:30pm
Melbourne Piano Trio's Pink Lady Concert
celebrates Mother's Day with a special concert held in support of Breast Cancer Network Australia. Performing at Melbourne Recital Centre, the chamber group features three of Australia's most talented leading emerging musicians.
When:
Sunday May 13 - 4pm
Burlesque, Cabaret & Dance
Bring Back the ShowGirl
, appearing at Thornbury Theatre, presents a living fantasy of Showgirl style and Burlesque beauty all rolled into one fabulous show that features award winning Australian performers, stunning back?up dancers, big props and bold costumed glamour.
When:
Friday May 11 - 7pm to 11:30pm
Red Hot & Cole
, performed by Williamstown Musical Theatre Company, celebrates the life of one of this century's greatest songwriting masters, Cole Porter. The show combines song, dance and biography to trace Cole's career, his marriage, his friendships and highs and lows of his life.
When:
Until May 19 Various Dates
Sky High! and other obsessions
, held at the Butterfly Club in South Melbourne, explores Josh Stent's passion for flying with the help of Helga and Bridget, two 'quirky' flight attendants, played by Holly Meegan and Sophie Wright, in a colourful night of mid-flight entertainment.
When:
Thursday to Sunday, May 10 to 13
More Performances & Theatre
|
More Dance & Ballet
Entertainment & Nightlife
Kimbra
, making her mark both here and overseas with her unique brand of Jazz infected Pop, will be performing for one night only at St Kilda's Palais Theatre. Also known for her duet with Gotye for 'Somebody That I Used To Know', she'll be supported by Daniel Merriweather.
When:
Wednesday May 9 - 7:30pm
Josh Pyke
will perform with his band at Melbourne's Forum Theatre for one night only as part of his series of intimate theatre shows across Australia. The exclusive shows are the last chance for fans to see Josh live this year before he heads off to write and record new material.
When:
Friday May 11
Acoustic Review at The Chandelier Room
offers a hip hide-away for the slick and sassy, with bluesy rootsy sounds and seductive sparkle. This week features Jamie MacDowell with his quirky style and thoughtful lyrics, followed by the soulful pop of Mr and Mrs McLaren and others.
When:
Saturday May 12 - Doors Open 8pm
Comedy & Magic
Annual Green Left Weekly Comedy Debate
, with this year's them of 'Australia needs an Abbott-proof fence!' presents a sparkling night of progressive comedy hosted by Melbourne legend Rod Quantock as comedians debate the vexed issue. It's held at Coburg Town Hall.
When:
Friday May 11 - Doors Open 7pm
Seven Stories
, held at Prahran's Chapel Off Chapel, is a show that discards the common understanding of cheesy-smiling, top-hatted magicians wearing flash jackets as Vyom Sharma embraces a seamless blend of magic and theatre to present tales of love, fear and nostalgia.
When:
Wednesday to Saturday, May 9 to 12
Theatresports
, Melbourne's longest running improvisation comedy show, returns with performances held at The Space in Prahran where comedians and actors will go head to head in the lead-up to the epic Grand Final staged at Federation Square's iconic BMW Edge.
When:
Sundays Until June 24
Cinema
Gasland
, a documentary examining the largest natural gas drilling boom in history, will be screened by Melbourne's Resistance RMIT Club. A desperate plea by US film-maker Josh Fox for scrutiny of a powerful industry that has turned its eyes on Australia, entry is by donation.
When:
Wednesday May 9 - 12:30pm
Croydon Film Society
hold regular screenings at Chirnside Park's Reading Cinema. Showcasing quality films, annual membership includes all screenings and attendance of their end of year party. The next film they'll be screening is Alexei Popogrebsky's film, How I Ended This Summer.
When:
Monday May 14 - 7:15pm
Art Day South
, held at ACMI Cinema, showcases a collection of short films by artists with a disability drawn from the Art Day South collective. The collection covers a diverse range of media, from hand drawn animation to digital works using custom software and motion tracking technology.
When:
Until May 27
More Live Gigs
|
More Comedy & Magic
|
More Cinema
Melbourne For Kids
Mia Mia Aboriginal Art Gallery
, located in Templestowe, offer a free afternoon of entertainment when you can hear musician Gnarnayarrahe Waitairie play the didgeridoo and tell dreamtime stories and also watch Mia Mia founder Colin McKinnon showcase the art of boomerang throwing.
When:
Every Saturday - 3pm to 5pm
Best of the Independent Games Festival
, presented at ACMI Cinema in Federation Square, gives kids the chance to play brilliant new games by indie designers for free with a showcase of favourites from the Independent Games Festival, dubbed the 'Sundance of the game world'.
When:
Until July 8
Enchanted Maze Garden
in Arthurs Seat, is a chance to discover exciting mazes, set amidst a beautiful sculpture park. With three formal Mazes include the traditional hedge maze, an ancient turf labyrinth and circular roomed maze for children, there's even a scary 3D indoor maze!
When:
Open Daily Except Wednesdays
Markets, Fetes and Fairs
Melbourne Market Guide
View MARKETS calendar
to make the most of the rare sunny days (it's a coin toss, isn't it!) and head to one of Melbourne's many excellent markets for a bargain!

A growing number of food, produce and even wine markets are springing up around the suburbs.
Fetes Fairs & Shows
Art & Craft Markets
Food & Produce Markets
Swap Meets
Garage Sales
Wining & Dining
Heston Blumenthal Live
brings the culinary talents of one of today's most creative chefs to the stage of Melbourne's Regent Theatre. No ordinary cooking show, Heston will conduct live experiments to demonstrate how the human body and the mind register taste and flavour.
When:
Wednesday May 9 - 8pm
Great Australasian Beer Spectapular
, held at Carlton's Royal Exhibition Building, features over 60 of the best Australian and New Zealand brewers, with many brewing a unique beer just for the event. More than an expo, the event presents a gigantic European-style festival hall.
When:
Friday to Sunday, May 11 to 13
Good Beer Week
, held at various venues and breweries across Victoria, presents a wide range of events that celebrate quality beer and the people that brew and drink it. With dinners, masterclasses, showcases and tours, the festival features brewers from all over the world.
When:
May 12 to 19
bookarestaurant.com
bookarestaurant.com
is the easiest way to book a restaurant online. With the choice to search by cuisine and location, you can find great dining offers with some of Melbourne's finest restaurants. Bookings are free and can be made online at any time of the day.
Book a Restaurant Today
Sporting Events
IASbet
, Australia's premier online betting agency, offers better odds for Horse Racing and Sports Betting both here and overseas. An easy way to take a punt on any of the many races over the long weekend, you can even receive $100 in FREE bets when you join IASbet online.
Join IASbet for $100 in FREE Bets - Learn More
Australian Rules Football
AFL Premiership | Round 7
Melbourne V Hawthorn
Friday May 11, 7:50pm - MCG
Richmond V Sydney
Saturday May 12, 4:40pm - MCG
Essendon V West Coast
Saturday May 12, 7:40pm - Marvel Stadium
North Melbourne V Western Bulldogs
Sunday May 13, 1:10pm - Marvel Stadium
St Kilda V Carlton
Monday May 14, 7:40pm - Marvel Stadium
Rugby
Super Rugby Season - Round 12
Melbourne Rebels vs Crusaders
Saturday May 12 - 7:40pm
AAMI Park, Melbourne
Community Sports & Fitness Events
Mother's Day Classic
, held at the Tan, is Australia's largest national fun run. Held every Mother's Day to raise funds for breast cancer research, the event is a great day out for young and old whether walking, running or just enjoying a fun, healthy morning with entertainment for all ages.
When:
Sunday May 13 - 7am to Midday
More Sports Events
|
More Motor Sports & Auto Events
Let Melbourne Know...
Advertise Your School Fete, Fair or Carnival FREE!
Everyone wants to support their local school by going to their annual fundraiser. Last year we promoted a whopping 1,200 school events. So, make sure you let your school organizers know they can list their fete, fair or carnival for
FREE @ OnlyMelbourne!
Add Your Event for FREE Today!!
Trivia & Humour
Shaggy Dog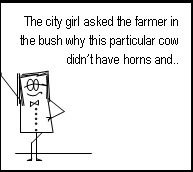 Shaggy Dog by Deej
-
Click Here to find what happens!
A Mephistopheles Or Two..
A ghost walks Melbourne's splendid Princess Theatre. Singer,
Federici
, died as he descended from the stage through the trap in March 1888 after playing Mephistopheles in the opera Faust
The night after, the cast claimed that two Mephistopheles stepped forward to take their bows. Federici's replacement, Ernest St Clair swore that every time he stepped forward to take his bow invisible hands pushed him backwards.
Since then there have been many sightings and it is regarded as good luck to have seen the ghost. It's said that the Princess leaves a seat for Federici in the balcony on opening nights.
More about Haunted Melbourne..
|
Read Melbourne Trivia...
WHAT'S ON CALENDAR
OnlyMelbourne's Calendar
allows you to select any day of the year to view everything (everything!!!) on that day in an easy to read, printable display.
-:- View
What's On Calendar
-:- View
Markets Only Calendar
WHAT'S ON RSS FEEDS
We have a range of
RSS Feeds
.
NEWSLETTER
What's On this Week
is an email overview and reminder of the (too many to mention) events happening this week in Melbourne.
Get your copy
of What's On this Week!
FREE ADVERTISING
Advertising
your EVENT at OnlyMelbourne is not only easy, it's
FREE!!
-
Apply Online..
for inclusion in the What's On calendar and newsletter!
❊ Web Links ❊
→
Newsletter | #279 | What's On this Week
→
Subscribe to OnlyMelbourne - Get your copy of What's On this Week!
→
List Your Business or Event - It's FREE!
→
Events Calendar - Find out What's On any day of the week!
→
Mobile OnlyMelbourne
→
Melbourne for Children | Kids
→
Newsletter | #278 | What's On this Week [Last Week]
❊ COVID-19 Notice ❊
Many locations have gone into lockdown as the state takes action to stop the spread of the deadly coronavirus (COVID-19).
→
Disclaimer
: Check with the operator before making plans
...
Trending HOT

Drive-In Movie Club
Drive-In Immersive Cinema Nights Are Coming to Melbourne Put together by our friends at Hot Tub Cinema, a string of family-friendly, social distancing-safe, drive-in ..

Things to see, hear & do this weekend
Make the most of your weekend in Melbourne with these fabulous events. No city does it better than Melbourne, so get out and discover the very best shows, festivals, ..
---
Update Page