Newsletter | #248 | What's On this Week
Welcome to this week's Melbourne events, exhibitions, sports and community guide for Tuesday to Monday, October 4 to 10.
This week... for those unshackled by the many tribulations that come with School Holidays, the proverbial cup surely runneth over with quite a few festivals for those who fancy a drop. Along with Bendigo Heritage Uncorked and Shedfest, the steins are nearing the brim too with the return of Oktoberfest celebrations in Melbourne and Beechworth.
The Festival of Russian Ballet also kicks its way into town with performances in St Kilda, while those unshackled by the many tribulations of hayfever can enjoy the Wildflower Festival at Cranbourne's Royal Botanic Gardens.
As far as tribulations go, I'm plagued by both of the aforementioned blights with kids and hay fever akimbo. The hay fever's only complicated by a bout of conjunctivitis that's left me with a swollen bung-eye that makes Thom Yorke of Radiohead fame look like me.
I feel I can boldly liken him to me, rather than vice versa, because the scoundrel stole my trademark disaffected warble. He stayed over as a guest one night and heard me stub my toe while half asleep. And the rest as they say is history.
OnlyMelbourne Welcomes
Each week we highlight some of the new business and event listings in the OnlyMelbourne Events Calendar and Business and Services directory.
An Evening with the Mystic
is a public talk by Yogi and Visionary Humanitarian, Sadhguru, known for his wit and healthy distaste for piety and cliches. Appearing at Melbourne Convention Centre, the inspirational talk will cover topics such as love, relationships, work, health and more.
When:
Saturday October 8 - 5pm to 8pm
Enterprize - Sailing for History Week
will see the replica of Melbourne's founding tall ship operating evening and limited day sails in her new home port of Docklands. An exciting experience for all ages, the sailing trips offer a rare glimpse of life on the seas 176 years ago.
When:
October 25 to 31
Major Events
Melbourne Festival
, held at various venues, exclusively debuts and premiering some of the finest national and international artists and companies. With a program rich in dance, theatre, music, visual arts, multimedia and more, the festival offers a diverse range of entertainment.
When:
October 6 to 22
TVK Rover Crew's Children's Festival
, held at Keeley Park in Clayton South, celebrates the achievements of youth and promotes the benefits of a healthy, active and a sustainable lifestyle. With competitions throughout the day, there'll also be showbags, live music, food and more.
When:
Saturday October 8 - 11am to 3pm
EV Multicultural Spring Festival
, held at Ringwood Lake by Eastern Volunteers, will be a family fun day with rides, sideshow games, performances from various multicultural groups and stalls with crafts, community information and a great range of food. The event is free.
When:
Sunday October 9
Wildflower Festival
, held at Cranbourne's Royal Botanic Gardens, celebrates Spring when the bush land is carpeted with beautiful flowers. With tours to explore the bushland, workshops on how to create a native garden and more, the festival includes other great activities on the day.
When:
Sunday October 9
Victorian Seniors Festival Week
hosts free and low-cost events across Victoria and at the festival hub of Melbourne Town Hall. Celebrating the golden years and how to make the most of them, the festival includes exhibitions, musical performances, workshops, special displays and more.
When:
October 2 to 9
Melbourne Fringe Festival
is a celebration of Melbourne's vibrant and quirky arts culture with an extensive program of music, theatre, exhibitions and much more. Showcasing the talents of independent artists and performers at various venues, the festival includes performances for kids.
When:
September 21 to October 9
Northcote Kids Festival
, held across the Spring School Holidays at Northcote Town Hall, offers a great program of over 60 events with theatre, magic and music performances along with special workshops that include illustration, cup-cake decorating, kids theatre and much more.
When:
September 25 to October 9
Tesselaar Tulip Festival
is a vibrant festival celebrating Spring with fields that feature more than half a million beautiful flowers. Held in Silvan just an hour away from Melbourne, themed weekends throughout the festival offer include concerts, special kids' days and more.
When:
September 15 to October 12
Music & Arts Festivals
Festival of Russian Ballet
, held at St Kilda's Palais Theatre, features the acclaimed Imperial Russian Ballet Company with a diverse and stunning programme offered in three awe-inspiring acts as they perform Don Quixote, Bolero and highlights from some of the world's great ballets.
When:
Friday to Sunday, October 7 to 9
Mildura Country Music Festival
, one of Australia's major country music events, is the biggest gathering and showcase of Independent entertainers who aren't signed to major record label deals. With more than 100 performers, guests include Golden Guitar finalists and Star Maker winners.
When:
September 30 to October 9
Film Festivals
Lavazza Italian Film Festival
, held at selected Palace Cinemas, features new films selected from the recent Venice, Rome and Cannes International Film Festivals. This year the program includes a special retrospective of lassic films from Rome's famous Cinecitta Studios.
When:
September 14 to October 5
Food & Wine Festivals
Heathcote Wine & Food Festival
is a foodie's feast of events and attractions with over 50 wineries showcased at Heathcote Showgrounds. Along with food and produce exhibitors, highlights include Tasting Seminars, live music and interactive entertainment for kids with Fusion.
When:
Saturday & Sunday, October 8 & 9
Shedfest
is a very special Open Winery Weekend that will see wineries along Warburton Highway opening their doors to the public for two days with live music performances, entertainment for kids, wine tastings, local produce and much more, all set amidst the Yarra Valley.
When:
Saturday & Sunday, October 8 & 9
Bendigo Heritage Uncorked
is a moveable feast event showcasing the best on offer from the regions winemakers along with sumptuous food and entertainment by local musicians. With gourmet food from local chefs, the foodie tour visits heritage venues normally closed to the public.
When:
Saturday & Sunday, October 8 & 9
Beechworth Oktoberfest
, held at Bridge Road Brewers, celebrates the German festival with a weekend of music featuring a traditional ohm pah band, fantastic food and great food that compliments the brewery's beers. Festivities include a special family day with free children's activities.
When:
Saturday & Sunday, October 8 & 9
Oktoberfest
returns to Melbourne's European Bier Cafe in Exhibition Street with a celebration of beer, food and music. Embracing the traditional German Beer festival, the special nights include a live Oompah band, the best in German cuisine, Bretzels and plenty of bier specials by the stein.
When:
Fridays, October 7 & 14 - 5pm to 10pm
School Holiday Guide
Check out our
School Holiday Guide
for all the latest on what to do with the kids during Spring Holidays running from September 24 to October 9. The holiday guide offers some of the best things to do over the holidays for the young and young at heart, with events, tours and holiday care programs..
View School Holiday Guide
Exhibitions - Art | Festival | Show
Australian Modern Masterpieces
, appearing exclusively in Victoria at the Art Gallery of Ballarat, features over 60 art treasures from the 20th century. Lending a rare insight into the history of Australian modern art, works include those by Margaret Olley, Arthur Boyd and John Olsen.
When:
October 4 to November 27
Frisches Fleisch : Fresh Meat
, showing at Melbourne's Pieces of Eight Gallery, is an exhibition of new work by renowned goldsmith Robert Baines, whose works display what he views as the endangerment of the original idea and the practice of plagiarism in contemporary jewellery.
When:
October 4 to November 13
IMPACT7: Intersections & Counterpoints
is an exhibition of works that reflect the issues explored by a printmaking conference that was hosted by Caulfield East's Monash University. The five artists featured in the exhibition use printmaking to facilitate and give form their ideas.
When:
Until October 15 - Closed Sundays
Veiled Treasure Within
is an exhibition of photographic prints and oils on canvas, created by Abraham Hagdu. Presented by HD Visual Direct International, who promote artists from developing countries, the series of unique images are being shown at Steps Gallery in Carlton.
When:
October 5 to 16
Fine Impressions
, held at the State Library of Victoria, showcases beautiful limited-edition books by 20 Melbourne artists and printmakers. With works that are unique in their use of design, typography, paper and binding, artists featured include Angela Cavalieri and Daniel Moynihan.
When:
Until February 16
Rod Gray
, one of several artists exhibiting at Fitzroy North's red gallery, explores the mysterious suggestiveness of water with his collection of works for the exhibition, Tidemarker. Other artists exhibiting are Gerladine Berkemeier and Gary Shinfield, along with Eloise Linklater.
When:
Until October 15 - Wednesdays to Saturdays
Tate Adams
, one of Australia's most acclaimed printmakers now in his 80s, has adopted gouache as his favoured medium, leaving behind the intricacies of the woodblock. Exhibiting at Melbourne's RMIT Gallery, the Townsville-based printmaker will showcase a broad spectrum of work.
When:
Until November 5 - Mondays to Saturdays
OOO
, held at Melbourne's Daine Singer Gallery, explores artistic practices that engage with objects and materials on their own terms. With the title drawn from the philosophy of object-oriented ontology, featured artists are Sanne Mestrom, Brooke Babington, Renee Jaeger and Hedwig Houben.
When:
Until October 8 - Wednesdays to Saturdays
trace
, held at North Melbourne 's Langford120, is Jan Davis's exploration of an encounter between explorer Angus McMillan and a white woman in an Aboriginal camp in Gippsland in 1840. It coincides with Bush Garden, a selection of etchings by Frank Werther, reflecting the Australian landscape.
When:
Until October 29 - Wednesdays to Sundays
View More Exhibitions
Expos, Launches, Open Days & Lectures
SheKilda
, presented by Sisters in Crime Australia to celebrate its 20th anniversary, is an Australian Women Crime Writers' Convention held at Rydges in Carlton. Featuring over 50 Australian women crime writers and three international authors, speakers include Tara Moss and Nicole Watson.
When:
Friday to Sunday, October 7 to 9
Mazar Literary Evening & Fundraiser
, presented by Wild Dingo Press, features Arnold Zable, author of Cafe Scheherazade, Najaf Mazari, Robert Hillman author of The Honey Thief, and Ali Alizadeh in a special event at Malvern Town Hall to raise money for the Mazar Development Fund.
When:
Thursday October 6 - 6:30pm
Brisbane Ranges Wildflower Show
, held at Anakie Staughton Vale Hall, is presented by the Friends of Brisbane Ranges with a showcase that includes wildflower displays, plant and book sales, information stands and even plant identification and macro photography workshops.
When:
Sunday October 9
Home Buyer & Property Investor Show
, taking place at Melbourne Exhibition Centre, makes buying your next home or investment property easier with advice and free seminars on simplifying the buying process so that you can save yourself time, money and unnecessary worry.
When:
Friday to Sunday, October 7 to 9
Trading and Investing Seminars Expo
, held at Melbourne Exhibition Centre, is Australia's largest and independent gathering of investing and trading experts. The expo features a wide range of free financial seminars and showcases the latest products, software, services and more.
When:
Friday & Saturday, October 7 & 8
Melbourne Leisurefest
, held at Sandown Racecourse, is an enormous expo show of RV, Camping, Boating and Off Road vehicles. Along with the popular Off Road and vehicle testing tracks, the expo's also a great chance to find the latest in outdoor adventure accessories.
When:
Thursday to Sunday, October 6 to 9
Melbourne Tours
Melbourne's Underbelly Crime Tour
lets you discover the darker side of Melbourne as you walk in the footsteps of notorious criminals, exploring the scenes of some of the city's most infamous criminal events. The tour also includes 50% discount on entry to the Old Melbourne Gaol.
More on Melbourne's Underbelly Crime Tour
More Expos & Launches
|
More Open Days
|
More Tours
Performances & Theatre
Mandaddy: Songs of Love and Love
brings together Yon of Tripod and musicians Naomune Anzai from Toys of Noise and SJ of Princess One Point Five. A performance about fading beauty, rejection, physical attraction and self-loathing, it's held at The Butterfly Club in South Melbourne.
When:
Tuesday to Sunday, October 4 to 9
Mystic Bubblegum
, presented by Toxic Lipstick, is a hilarious double feature musical about the adventures of two best friends on a kaleidoscopic journey through hyperspace and parallel worlds. With an original electronic soundtrack by notable musos, it's held at Fitzroy Workers Club.
When:
Tuesday to Saturday, October 4 to 8
Scenes from an Everyday Affair & Soliliques
, presented as part of Melbourne Fringe and held at Burlesque Bar in Fitzroy, is a double bill performance written by play Verity Danbold. The series of short plays challenges views of adultery, blurring the divide between audience and actor.
When:
Until October 5 - 9pm
Orphans
, presented by Red Stitch Theatre in St Kilda, premieres one of UK's most electrifying writers, Dennis Kelly with his multi-award winning psychological thriller that tests the boundaries of family, love and the impulse to band against the other amidst a moral dilemma.
When:
October 5 to November 5 - Except Mon & Tues
Life Is Something
, presented by Nice Productions, is written in a style of Theatre of Absurd, yet deals with real life problems of relationships, politics and society. Held at Gasworks in Albert Park, the play centres on a couple who feel constrained by the boundaries of their relationship.
When:
Thursday to Saturday, October 6 to 8
Guys and Dolls
, performed by Oxagen Productions, brings to the stage the much-loved musical that weaves tales of gangsters, show-girls and others in 1920's New York. Held at Kew's Xavier College, the production features a talented cast made of Old Xaverians and Genazzano Alumnae.
When:
Wednesday to Saturday, October 5 to 8
The American Astronaut
, presented by New Holland Theatre Company, adapts Cory McAbee's 2001 cult-classic film and brings it to the stage as part of Melbourne Fringe Festival. Held at The Workers Club in Fitzroy, the sci-fi musical follows a space-cowboy on his adventurous quest.
When:
Wednesday to Saturday, October 5 to 8
Spring Awakening
, held at Monash, Clayton, is the smash hit Broadway musical adapted from Franz Wedekind's tragic German story of teenagers who discover the inner and outer tumult of sexuality, confronting the audience with contemporary youth issues in a 19th century setting.
When:
September 30 to October 8 - Various Dates
No Matter Where You Go, There You Are
is an exciting mix of live and video performance directed by Yvonne Coughlan. A conversation between two performers, worlds apart, about migration, travel and belonging, the heart-breakingly uplifting performance is held in Richmond.
When:
Until October 9
Half-Real
, held in Southbank, is a unique production that uses real-time movement tracking, 3D video mapping and projected imagery to allow onlookers to rewind events, replay them from different perspectives and explore narrative pathways penned by playwright Duncan Graham.
When:
September 28 to October 8
Rhinoceros
, held at The Owl and the Pussycat in Richmond, is 5pound Theatre's production of Eugčne Ionesco's 1959 play about rhinoceroses that appear on the peaceful streets of a small village, leaving townspeople horrified - until they themselves begin to turn into the clumsy animals.
When:
September 28 to October 8
Ganesh Vs The Third Reich
, performed at Southbank's Malthouse Theatre, is Back to Back Theatre's bold production that sees the elephant-headed deity Ganesh take on Hitler himself in a quest to regain the swastika, an ancient icon of Hindu culture, and restore its former glory.
When:
September 29 to October 9
Fourplay
, performed at fortyfivedownstairs in Flinders Lane, is Sergi Belbel's postmodernist bedroom farce. With scenes played out twice, although slightly altered in meaning, it follows a married couple who ask two friends who have never met to inaugurate their new marriage bed.
When:
September 30 to October 9
Aspects of Love
, presented by CLOC Musical Theatre, tells a tale of passion, love and loss over three generations of one family. With music by Andrew Lloyd Webber, the musical spans twenty years across post war France and Italy. Performances are held at St Kilda's National Theatre.
When:
September 23 to October 8
Clybourne Park
, presented by Melbourne Theatre Company in Southbank, is the Australian Premiere of Bruce Norris' wry social comedy that examines the underlying tensions of America's issues with race, centred around the same house and its different owners fifty years apart.
When:
September 17 to October 22
Love Never Dies
brings the phenomenal musical hit to Melbourne with performances at the Regent Theatre. Continuing Andrew Lloyd Webber's greatest love story, The Phantom of the Opera, the musical extravaganza follows on ten years after the Phantom's disappearance and his new life in New York.
When:
May 29 to November 17
|
Book Now
ROCK OF AGES
, held at Melbourne's Comedy Theatre, is a hilarious, feel-good love story set in 1987 when a small-town girl meets a big-city dreamer in L.A.'s most legendary rock club. Told through music of the era, the comedy includes hits such as 'Don't Stop Believin', 'The Final Countdown' and other classics.
When:
Until November 6
|
Book Now
Classical, Choral & Recitals
The Visionary
, presented by Seraphim Trio for their final concert of the year. Held at Melbourne Recital Centre, the concert features Beethoven's early clarinet trio, Messiaen's Quartet for the End of Time and a new work by clarinettist and composer Paul Dean, who'll join them on the night.
When:
Monday October 10 - 7pm
Burlesque, Cabaret & Dance
Assembly
, presented by Chunky Move and Victorian Opera, investigates the enigmatic motion of crowds by merging dance with theatrical and operatic performance. Held at Melbourne Recital Centre, the production features over sixty performers choreographed through movement and voice.
When:
Thursday to Saturday, October 6 to 8
View More Performances & Concerts
Entertainment & Nightlife
Blackburn Big Band
, featuring some of Melbourne's best up and coming musicians, will be appearing at Melbourne venue, The Apartment. On the night they'll perform all of the twelve amazing tracks from Bob Curnow's L.A. Big Band album, "The Music of Pat Metheny & Lyle Mays".
When:
Tuesday October 4 - 7:30pm to 10:30pm
Legends of New Orleans
, held at Melbourne's Palace Theatre, celebrates the birthplace of jazz with a concert that embraces its unique rhythm, jazz and blues. With some of New Orleans most influential and revered musical figures of all time, performers include the talented Allen Toussaint.
When:
Wednesday October 5 - 8pm
The Little Stevies
will be appearing at Northcote Social Club, where the group will celebrate their return from a Canadian tour. With a swag of stories to tell and new songs to test out, they'll be joined by Tassie groups, Ben Wells & The Middle Names and the Adam Cousens Band.
When:
Saturday October 8 - Doors Open 8pm
A Bill Evans Tribute Jam Session
will be held at Dizzy's Jazz Club in Richmond. An American jazz pianist who passed away in 1980, his inventive interpretation of traditional jazz influenced a generation of pianists including Herbie Hancock, Don Friedman, Keith Jarrett and other greats.
When:
Saturday October 8 - 4pm to 7pm
Grand Wazoo
, the Legendary Kings of Soul, will be performing at Queen Street's Blue Diamond Club. With four lead singers, six horns and four rhythm players, the band offers vibrant arrangements of Black Soul and R&B Classics, playing greats from the 50's through to the 60's.
When:
Sunday October 9
Mikelangelo's Gospel Shakedown Party
, held at The Gem Bar in Collingwood, sees the performer preaching fire, brimstone and salvation with the backing of his four man gospal combo and guests as they present the Gospel according to Cash, Cave, Waits, Coehn, Dylan and others.
When:
Sundays in October
View More Live Gigs
Cinema
Melbourne Filmoteca
, a program of Latin American and Spanish cinema at ACMI, will present a screening of Mauchos, a documentary on last year's earthquake and tsunami, which struck Chile's Central Valley and how Constitucion, a small lumber town by the ocean, was changed forever.
When:
Tuesday October 4 - 7:30pm
Site UnSeen
, appearing in St Kilda, is a multimedia experience that offers a glimpse of what life is like for the homeless. Presented with mirth, satire, beauty and grim reality, the interactive theatre project has been co-created by people who have experienced homelessness firsthand.
When:
October 7 to 21
Comedy & Magic
Barry Morgans World of Organs
, held at Kensington's Revolt ArtSpace, will delight you with the Golden Syrup sounds on the performer's 1981 Hammond Aurora Classic. With his safari suit style and blow waved locks, Barry is a tribute to the organ's rich history of colourful characters.
When:
Tuesday to Sunday, October 4 to 9
The Unexpected Variety Show
, held at Revolt Artspace in Kensington, is a performance by Jenny Wynter that offers a unique fusion of stand-up, musical, improvisational and character comedy as she shares a deeply personal narrative about the unexpected twists life can bring.
When:
Until Sunday October 9
The Un-enchanted Princess
, performed in Caulfield North by Linda Beatty, combines Celtic harp, heavenly songs and twisted fairy tales as a failed fairy tale princess explores the lies adults tell themselves. Enchantingly funny, the cabaret blends her sharp wit with breathtaking music.
When:
Thursday & Friday, October 6 & 7
Theatresports
, Melbourne's longest running improvisation comedy show, continues its 26th season with Round Two at The Space in Prahran where teams of quick-witted and fleet-footed improvisers will battle it out each week in an exhilarating and hilarious display of improvised theatre
When:
Sundays in October - 7:30pm
View More Comedy & Magic
|
View More Cinema Events
Melbourne For Kids
The Magical Oak Tree
, performed at Gasworks Arts Park, features a huge cast of colourful characters to entertain young and old as children are invited to join Brad, Jeremy and Lucy on a musical adventure as they travel into the forest of The Magical Oak Tree to face a powerful dragon.
When:
September 29 to October 8 - Various Dates
My Son Pinocchio - Geppetto's Musical Tale
is Panorama Theatre Company's light-hearted spin on the classic story, adapted from the original book by David Stern. Held at Frankston Arts Centre, the family musical is an exciting and enchanting blend of fairytale and adventure.
When:
September 30 to October 8 - Various Dates
Club Penguin Month at Melbourne Aquarium
invites children to dive into the fun of Club Penguin with puffle treasure hunts, giveaways and exciting activities that include Gary's Lab with interactive games, illustrator workshops and Melbourne Aquarium's very own penguin displays.
When:
September 16 to October 16
Circus
Silvers Grand Magic Circus
will be holding performances in Noble Park. Established in 1976, Silvers Grand Magic Circus offers a great show for people of all ages with performers including everything from jugglers and clowns to acrobats, international performers and more.
When:
Until October 16 - Noble Park - Daily During Holidays
Markets, Fetes and Fairs
Mornington Peninsula Orchid Society
will be holding an orchid show at Centro Karingal Shopping Centre where members of the society will be selling orchids at good prices. There will also be culture and potting demonstrations held by local orchid experts regularly during the event.
When:
October 9 to 15
Melbourne Market Guide
View MARKETS calendar
to make the most of the rare sunny days (it's a coin toss, isn't it!) and head to one of Melbourne's many excellent markets for a bargain!

A growing number of food, produce and even wine markets are springing up around the suburbs.
Wining & Dining
Spring Seasonal Stars
, held at Queen Victoria Market, is a chance to join renowned chefs Adam D'Sylva, Pierre Khodja and Ian Curley as they take you on a culinary journey using the best Spring seasonal produce from the Market with free cooking demonstrations and recipe cards at each event.
When:
October 4, 6 & 7 - 11am to 12:30pm
Victorian Wine Showcase
, held at Federation Square's Atrium, allows you to taste wines from regional Victorian Wineries and meet with winemakers. With wines available to buy at each event, this month will showcase wines from Geelong, Henty, West Victoria, Grampians and Pyrenees.
When:
Wednesday & Thursday, October 5 & 6
Creswick's Longest Picnic
, held at Federation Square, showcases Springtime in Creswick and the Daylesford region with Baby Animals, Regional Providors, activities for the kids and live music before the entertaining celebrations continue at Creswick Woollen Mills with 3AW's Bruce and Phil.
When:
Thursday & Saturday, October 6 & 8
bookarestaurant.com
bookarestaurant.com
is the easiest way to book a restaurant online. With the choice to search by cuisine and location, you can find great dining offers with some of Melbourne's finest restaurants. Bookings are free and can be made online at any time of the day.
Book a Restaurant Today
Sporting Events
Soccer | Hyundai A-League
Hyundai A-League - Week 1
Melbourne Victory vs Sydney
Saturday October 8 - 6:30pm
Marvel Stadium - Docklands
Motor Sports
Off-Street Drag Racing at Calder Park
offers a safe way for competitive drivers to show their skills on the quarter mile with Street Cars and Comp Cars allowed on the track.
Next Street Drag Event:
Friday July 15
Gates Open 10am - Registration Required
Horse Racing
Caulfield Spring Racing Carnival
offers some of the best highlights of horse racing during the action packed calendar of Spring Racing Carnival with exciting race days that lead up to the climax of the BMW Caulfield Cup Day, an event that showcases Caulfield at its absolute finest.
When:
Age Caulfield Guineas Day - Saturday October 8
Friday Night Racing
sees the nights come alive at Moonee Valley in a world-class season, where the world's best thoroughbreds, trainers and jockeys compete.
Next Race
Friday October 7
Gates Open - 5:15pm
IASbet
is Australia's premier online betting agency, offering better odds than TAB for Horse Racing and Sports Betting both in Australia and overseas. An easy way to take a punt on any one of the many races held over the long weekend, you can even receive $100 in FREE bets when you join IASbet online.
Join IASbet for $100 in FREE Bets - Learn More
Spring Racing Carnival Flowers
represent each major Race Day throughout Victoria's hottest race season with a flower dedicated to the day. With the yellow rose of the Emirates Melbourne Cup familiar to many people, other days invite race patrons to don lavender, cornflowers and more.
Spring Racing Carnival | What to Wear & When
Greyhound Racing
Greyhound Racing @ The Meadows
hosts a range of raceday and non-raceday events throughout the year with the venue renowned worldwide for high class racing.
Next Race Dates:
Wednesday & Saturday, October 5 & 8
View More Sports Events
Let Melbourne Know...
Advertise Your School Fete, Fair or Carnival FREE!
Everyone wants to support their local school by going to their annual fundraiser. Last year we promoted a whopping 1,200 school events. So, make sure you let your school organizers know they can list their fete, fair or carnival for
FREE @ OnlyMelbourne!
Add Your Event for FREE Today!!
Trivia & Humour
Shaggy Dog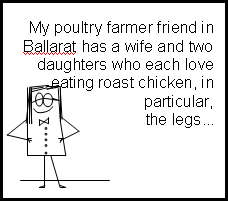 Shaggy Dog by Deej
-
Click Here to find what happens!
Alas, Poor Yorick Club.. Too Many Knew You Well
The very first literary club to be formed in Australia began in Melbourne in 1868. Formed by a group of journalists, some of which wrote for The Age and The Argus - a major paper back at this time - the group called themselves the
Yorick Club
, named after the famed character from Shakespeare's Hamlet.
The club began as an informal gathering at a cafe, but due to the stolid nature of the regular patrons there, the founders of the club, which was considered rather avant-garde and bohemian at the time, decided to rent a room next door to the Argus office.
Originally intended as an exclusive club for members of the press, the group had to broaden their criteria for membership as there were not in fact enough people who qualified to make up sufficient numbers for the club's success.
More Melbourne Firsts..
|
Read Melbourne Trivia...
WHAT'S ON CALENDAR
OnlyMelbourne's Calendar
allows you to select any day of the year to view everything (everything!!!) on that day in an easy to read, printable display.
-:- View
What's On Calendar
-:- View
Markets Only Calendar
WHAT'S ON RSS FEEDS
We have a range of
RSS Feeds
.
NEWSLETTER
What's On this Week
is an email overview and reminder of the (too many to mention) events happening this week in Melbourne.
Get your copy
of What's On this Week!
FREE ADVERTISING
Advertising
your EVENT at OnlyMelbourne is not only easy, it's
FREE!!
-
Apply Online..
for inclusion in the What's On calendar and newsletter!
❊ Web Links ❊
→
Newsletter | #248 | What's On this Week
→
Subscribe to OnlyMelbourne - Get your copy of What's On this Week!
→
List Your Business or Event - It's FREE!
→
Events Calendar - Find out What's On any day of the week!
→
Mobile OnlyMelbourne
→
Melbourne for Children | Kids
→
Newsletter | #247 | What's On this Week [Last Week]
Trending HOT

Things to see, hear & do this weekend
Make the most of your weekend in Melbourne with these fabulous events. No city does it better than Melbourne, so get out and discover the very best shows, festivals, ..
---
Update Page