Newsletter | #230 | What's On this Week
Welcome to this week's Melbourne events, exhibitions, sports and community guide for Tuesday to Monday, May 31 to June 6.
This week... there's a tumbleweed or two on the horizon as things draw to a lull and Melbourne conserves its energy for the long weekend that lies ahead. Indeed, several festivals have gone as far as to shuffle their dates this year to fall in line with the Queen's grand shindig. You'll find such treacherous events in the Long Weekend Guide included in this week's newsletter.
It's not all bad, however. Amidst the rasp of pens and rustle of paper of the ongoing Emerging Writers' Festival, two more festivals have been kind enough to grace us with their presence. The Melbourne International Jazz Festival makes its bold and literally brassy return, and The Light in Winter kicks off for another year's program of events to warm your cockles now that the chilly season's upon us.
Bigger than Ben Hur
The Light in Winter
, Federation Square's annual celebration of light and enlightenment, offers a free program of events that brings together local and international artists, designers and multicultural communities with a series of light-based artworks, community events and forums and a mid-winter Solstice Celebration.
When:
June 2 to July 3
Bop 'til you drop
Melbourne International Jazz Festival
returns with an impressive program that features a line-up of around 100 acts performing across Melbourne's unique jazz venues such as Bennetts Lane Jazz Club and the CUB Malthouse. The program includes free concerts at Federation Square, Jazz concerts for children and more.
When:
June 4 to 13
Emerging Writers' Festival
, held in various venues across Melbourne, offers a program of panels, performances, readings and workshops. Featuring special events that include forums that explore the art, craft and business elements of being a writer, the festival has program of events for people of many ages.
When:
May 26 to June 5
Public Awareness Events
National Reconciliation Week
, held across Australia, carries the theme of 'Reconciliation: Let's see it through!' for its 15th anniversary this year. With events held across Victoria, Australians are invited to consider what can be done to achieve reconciliation between Indigenous and non-Indigenous Australians.
When:
Until June 3
Also See:
Mabo Day - June 3
World Environment Day
, celebrating its 11th Anniversary, is an invitation by the UNAA to focus world attention on the environment, and in particular, on positive programs that work towards protecting or restoring the world's natural heritage. Events highlighting the day are held in various locations.
When:
Sunday June 5
GENI Foundation UN World Environment Day
celebrates the recognition of the importance of global environmental issues and topics with an afternoon of special guests that include Charles Kovess, Jerry Speiser and Judith Durham from The Seekers, who will perform her latest environmental song 'Stop and Care'.
When:
Saturday June 4 - 2pm to 4pm
Greenfleet Community Planting Day
, held in Berwick as part of World Environment Day, is a free day filled with fun outdoor activities and a chance to get your hands dirty for the environment. With tree planting and nature walks, the day also features bird watching with Birds Australia and activities for children.
When:
Sunday June 5 - Registration Required
Long Weekend Guide
Our Queen's Birthday Long Weekend Guide
, for those who want to cut to the chase and see what's happening on Lizzie's big day, has suggestions for what to do about town with special events held across the long weekend, tours of Melbourne you can take advantage, children's events over the weekend and more.
Our Queen's Birthday Long Weekend Guide
Upcoming Events
Hell Ain't a Bad Place to Be
, performed at Melbourne's Athenaeum Theatre for a limited season, tells the story of rock icon and AC/DC frontman Bon Scott. Nick Barker, known for his raw and intimately connected performances, will tell the story of Scott and his rise to fame with AC/DC, interspersed with Scott's hit songs.
When:
Opens July 12
Exhibitions - Art | Festival | Show
Lost Light
, held at Carbon Black Gallery in Prahran, is an exhibition of new prints by Lucille Nolan. Using photographs of bridges and power stations taken while in Japan, Lucille's images capture architecture that has been reworked in print, creating works that examine the staid anonymity of functionality over design.
When:
June 1 to 19 - Wednesdays to Sundays
Opening Night:
Wednesday June 1 - 5:30pm to 7:30pm
Above and Below the Horizon
is an exciting exhibition by Artist Colin Palethorpe, an artist whose works feature in private collections held in Australia, USA, Germany, UK and Canada. With his impressive series of watercolours, prints and oil paintings, the exhibition is held at The Firestation Print Studio in Armadale.
When:
June 1 to 11 - Wednesdays to Saturdays
Opening Night:
Wednesday June 1 - 6pm to 8pm
Back and Forth
, featured at Brunswick Arts Space, is an exhibition of paintings by Jason Beale. With past paintings and recent works, Beale's works are inspired by local street scenes, simple figures, faces and gestures, realistically painted for the most part, while also drawing on photographic imagery.
When:
June 4 to 19 Thursdays to Sundays
Opening Night:
Friday June 3 - 6pm to 9pm
Pieces of Fate
, presented by Melbourne's Pieces of Eight Gallery, is a group exhibition of exquisite handcrafted pendants. With works from 37 of the gallery's represented artists who have broadly explored the idea of an objects fate and how the pendant can tell a story, possess magical powers or even protect an individual.
When:
Until July 2
Artists' Workshop:
June 25 - Bookings Essential
Fusion
, held at Obscura Gallery in St Kilda, features the works of Anna Minardo, Jurgen Loos and Mauro Palmieri, whose work reflects a skilful and passionate quality of lighting and attention to detail inspired by the early to mid-renaissance styles of the Italian Masters and mid-20th century photographers.
When:
Until June 20 - Tuesdays to Saturdays
Asia-Pacific in Contrast
, showing at the gallery of Michaels in Elizabeth Street, is an exhibition of photographs from award-winning photojournalist Trung Nghia's collection, taken during the first decade of the 21st century. The charity exhibition will help support disadvantaged children in Australia and Vietnam.
When:
June 3 to 27
Crepuscular: the wild animals of Melbourne
, held at Melbourne Town Hall, reveals the secret world of Melbourne's wild animals. Offering a glimpse into the twilight hours of the species with which we share the city, Crepuscular examines mammals, birds, eels and insects through specimens, illustrations, artworks, literature and ephemera.
When:
Until July 6
The Kenneth Jack Memorial Award
, Australia's premier Watercolour Arts Event presented by the Watercolour society of Australia, is a special exhibition of works that show the interest and appreciation of the Art of Watercolour painting in Australia and worldwide. It's held at the Long Barn Gallery of Montsalvat in Eltham.
When:
May 28 to June 14
Appearances
, featured at the Australian Centre for Contemporary Art in Southbank, is an exhibition by Turner prize exhibiting artist Nathan Coley. The major commission transforms ACCA's large exhibition hall into a civic plaza, defined by a series of cast concrete platforms in situ, , inspired by designs of Oscar Niemeyer.
When:
May 28 to July 24
Experimenta Utopia Now
showcases interactive works with the International Biennial of Media Art tour featuring interactive and screen-based media artworks from countries including Australia, Japan, India, Germany and the UK, with works poking fun at social and physical boundaries of the human race.
When:
Until June 19 - Mornington
Viewfinder
, held at Arts Project Gallery in Northcote, is an exhibition by Alan Constable, an artist who is legally blind with very limited vision, something obliquely referenced within his works. The exhibition showcases more than 60 works selected from Constable's body of work spanning more than 20 years.
When:
Until June 1 - Closed Sundays
Current 10: DUEL
, held at the Roslyn Smorgon Gallery of Footscray Community Arts Centre, examines the duel nature of the gap found between objects, situations and their representation. The works by six emerging artists explore innovative practice in photography, video, drawing, sculptural installation and other media.
When:
May 6 to June 26
Tutankhamun
, presented by Melbourne Museum, will for the first time in Australia's history see this record-breaking exhibition visit Melbourne for its only Australian stop before the Egyptian treasures, which include Tutankhamun's golden canopic coffinette, are returned to their home in Cairo.
When:
Until November 6
|
Book Tickets
View More Exhibitions
Expos, Launches, Open Days & Lectures
Manufacturing Resource Efficiency
, presented by VECCI and Enterprise Connect, is a forum for small and medium manufacturers to learn how using resources more efficiently can lead to long term success. Headlined by efficiency expert Alan Pears, the forum is held at Dandenong's Chifley Doveton Hotel is free to attend.
When:
Wednesday June 8 - Registration Required
Good Food and Wine Show
, held at Melbourne Convention & Exhibition Centre, offers the chance to discover a world of exciting tastes, flavours, cooking products and techniques. With live demonstrations from celebrity chefs such as Matt Moran, you can also try hands-on activities and sample the best produces and wines.
When:
Friday to Sunday, June 3 to 5
Bendigo Home Lifestyle Show
offers all the attractions of five shows in one with the event showcasing lifestyle, food and wine, garden, outdoor adventures, vehicles and more. Held at the Exhibition Centre of Bendigo's Prince of Wales Showgrounds, the show features displays, demonstrations and more.
When:
Friday to Sunday, June 3 to 5
Pet Shows
Bark in the Park
, presented by Beneful, is a free day of activities for dog owners and their furry friends, held at Elwood Park. The day, hosted by Steve Jacobs of Channel 9's TODAY show, includes free dog washing, pet samples (just be careful not to step in those) and live music, giveaways and more.
When:
Saturday June 4 - 10am to 2pm
Dogs Victoria
present Championship and Breed Shows, offering a great way to look at various dog breeds up close and speak to breeders and fanciers about the pros and con of owning a particular breed of dog. Held in various locations, events include agility competitions and entertaining parades.
When:
Saturday & Sunday, June 4 & 5
Melbourne Tours
Melbourne Art Deco Architecture Tour
is a great chance to take a tour with a difference and discover the gorgeous architecture of Melbourne. The tour covers a variety of building types in the centre of the city, exploring design influences and even the history of past occupants of Melbourne's interwar buildings.
Next Tour:
Sunday June 12
Melbourne's Underbelly Crime Tour
lets you discover the darker side of Melbourne as you walk in the footsteps of notorious criminals, exploring the scenes of some of the city's most infamous criminal events. The tour also includes 50% discount on entry to the Old Melbourne Gaol.
More on Melbourne's Underbelly Crime Tour
View More Expos & Launches
|
View More Open Days
Performances & Theatre
22 Short Plays
, presented by MKA in Prahran, is the work of David Finnigan whose production sees him effortlessly subvert the everyday and the banal, combining philosophy, poetry and pop-culture into a devastating, hysterical night of entertainment that's rhythmic, provocative, hilarious... and also short.
When:
June 2 to 18 - Tuesdays to Saturdays
Previews:
Tuesday & Wednesday, May 31 & June 1
Lowell
, presented by Ultra_F Theatre, tells the story of three women living through the industrial revolution and how the actions of women against those in power provide a moment of reflection towards today's strong consumer culture. Written and directed by Brett Ludeman, performances are held in Richmond.
When:
June 2 to 12 - Wednesdays to Sundays
The Critic & No More Mr. Nice Guy
is a double bill presented by Pop Culture, held at The Theatre Husk in Northcote. Starring Goff Ripoli and Andrew Brown, Alex Broun's The Critic is a provocative, funny expose of theatre, while No More Mr. Nice Guy by Peter D. Flaherty explores the perils of being too nice.
When:
Thursday to Sunday, June 2 to 5
Tenterfield Saddler
, presented by Gippsland Regional Arts, celebrates the life and great music of one of this country's greatest stars, Peter Allen. Held at Wellington Entertainment Centre in Sale, the sensational production is packed with memorable songs by Allen, including I Go To Rio and I Still Call Australia Home.
When:
Friday June 3 - 1:30pm
West Side Story
, presented by Babirra Muscial Theatre at The Whitehorse Centre in Nunawading, is one of the most memorable musicals and greatest love stories of all time. Timely as ever, the score by Leonard Bernstein and Stephen Sondheim includes memorable songs such as Tonight, America and I Feel Pretty.
When:
Until June 11 - Thursdays to Sundays
The Gift
, presented by Melbourne Theatre Company in Southbank, tells the story of Sadie and Ed , a couple who meet Martin and ChloŽ at a holiday resort and instantly hit it off, despite coming from completely different worlds. When Martin saves Ed's life, an offer to repay him leads to moral confusions.
When:
May 28 to July 9
Hysteria
, performed by STAG Theatre, is a play by Tony Award-winning dramatist Terry Johnson. Held at Strathmore Community Hall, the play imagines the circumstances of a chance meeting in London 1938, between one of the most controversial doctors of all time and one of the most recognizable surrealists.
When:
May 26 to June 4
Love Never Dies
brings the phenomenal musical hit to Melbourne with performances at the Regent Theatre. Continuing Andrew Lloyd Webber's greatest love story, The Phantom of the Opera, the musical extravaganza follows on ten years after the Phantom's disappearance and his new life in New York.
When:
May 29 to November 17
|
Book Now
The Haunting of Daniel Gartrell
, held at Melbourne venue, fortyfivedownstairs, features John Wood in the title role of a bush poet whose best known work remains unpublished with its final verse. The meaning of the final verse, and the poet himself, is questioned by an actor set to portray Gartrell in an upcoming film.
When:
May 20 to June 12 - Tuesdays to Sundays
Fiddler on the Roof
, performed at St Kilda's National Theatre, tells the colourful stories of the townspeople of the Russian village of Anatevka. Based on the folk stories of Sholom Aleichem, the iconic musical features well-known show tunes that include Tradition, Matchmaker Matchmaker and the classic If I Were a Rich Man.
When:
May 20 to June 4
Macbeth
, playing for a limited season in the stunning surrounds of Shed 4 at the Docklands, is the latest production by the Australian Shakespeare Company. The epic production is held on a series of installations, drawing audiences deeper in as they follow Macbeth's macabre journey toward self-destruction.
When:
May 11 to June 4
Doctor Zhivago
, the classic masterpiece which has become an outstanding musical, will be appearing at performed at Her Majesty's Theatre. With a story that's at once epic and personal, funny and heartbreaking, impetuously romantic and bitingly political, it stars the internationally renowned Anthony Warlow.
When:
Until June 26
|
Book Now
ROCK OF AGES
, held at Melbourne's Comedy Theatre, is a hilarious, feel-good love story set in 1987 when a small-town girl meets a big-city dreamer in L.A.'s most legendary rock club. Told through music of the era, the comedy includes hits such as 'Don't Stop Believin', 'The Final Countdown' and other classics.
When:
March 22 to June 30
|
Book Now
Classical, Choral & Recitals
Brentano String Quartet
, acknowledged as masterful interpreters of the great classics, will be performing at Melbourne Recital Centre as part of their concert tour featuring traditional choices of Haydn, Mozart and Beethoven, as well as the first string quartet written by Australian Featured Composer, Ian Munro.
When:
Tuesday May 31
Cypresses
, presented by Australian String Quartet at Melbourne Recital Centre in Southbank, is a concert program of works by Schubert, Dvořak with a performance of Cypresses, and a piece by Western Australian composer James Ledger, which explores the experience of immigrants and their new lives.
When:
Friday June 3 - 7pm
Adi Sappir
, a cellist and vocalist who received classical training and studied ethno Musicology in her home country of Israel, will be performing at North Melbourne Library as part of the Acoustica concert series, showcasing her work exploring the possibilities of the cello and voice since coming to Australia.
When:
Sunday June 5 - 3pm to 4pm
La Verbena de la Paloma & Bohemios
, staged as a double bill at Prahran's Chapel off Chapel, showcases some of this city's most talented performers in these rarely staged operatic gems. Raucous and sweet tales of love, the entirely new production is performed in English by Lyric Opera of Melbourne.
When:
June 3, 5, 7, 9 & 11
Burlesque, Cabaret & Dance
Slave to the Rhythm
, performed at The Space Dance & Arts Centre in Prahran, is the latest production by Industry Dance Company. Combining contemporary and commercial dance with thought-provoking entertainment, the performance features an amazing cast, incredible music and spectacular costumes.
When:
Tuesday to Saturday, May 31 to June 4
The Dream Machine
, presented by Collaboration The Project's youth division, Project Y, is a contemporary dance story about lucid dreaming and the opportunities it brings to blend rational abilities with the infinite possibilities of dreams. With choreography by Rain Francis, performances are held at Theatre Works in St Kilda.
When:
Wednesday to Saturday, June 1 to 4
Cabaret Live!
is a monthly open-mic night hosted by hosted by Nikki Aitken at The Butterfly Club in South Melbourne. An opportunity for emerging and established artists to perform to a discerning cabaret audience in a sophisticated and intimate setting, Melbourne's leading pianists accompany aspiring singers.
When:
Wednesday June 1 - 8pm
La Lucha Glamourosa
, held at Red Bennies in South Yarra, is the return of the popular all-girl, all-grit all-Mexican freestyle wrestling event. With performers that include Ms Nic and Betty Blood, burlesque queens will compete against one another to battle it out in a real-live wrestling ring to see who'll be demasked.
When:
Friday June 3 - Doors Open 8pm
View More Performances & Concerts
Entertainment & Nightlife
Joy FM Radiothon Launch Party
takes place at Red Bennies in South Yarra, celebrating Australia's only Gay and Lesbian Radio Station and Melbourne's very own queer community broadcaster. The event features live music, JOY personalities and performers that include Illusionist Ben Murphy and other special guests.
When:
Friday June 3 - 7pm
Lucy's Crown
will be appearing at The Prague in Thornbury to launch their debut release, Under Your Skinn. Heavily influenced by 90's alternative rock and with Lucy's powerful, yet sweetly coarse vocals drawing comparisons with Courtney Love and Patti Smith, they'll also debut their new music video.
When:
Friday June 3 - Doors Open 8pm
The Bar at Buena Vista
- The Grandfathers of Cuban Music is a stunning show held at the Arts Centre. A festive cocktail of music and dance, the show pays homage to the Buena Vista neighbourhood, the famous quarter of Havana and Cuba's music legends, such as the late Compay Segundo and Ruben Gonzalez.
When:
Friday & Saturday, June 3 & 4
|
Book Now
The King City Seven
, a seven piece outfit that fuse hard-hitting rock with a diabolical horn section, will be performing at the Esplanade Hotel in St Kilda to launch their first full length album, Scarlet Flame. Support on the night includes None The Wiser, The Resignators, Demi Louise and burlesque with the Bad Ladies.
When:
Saturday June 4 - Doors Open 7:30pm
Australian Motown & Disco Show
, held at the Italian Sports Club in Werribee, is a 2 hour show of legendary hits from the Motown era followed by a one hour show featuring the greatest Disco anthems of the 70's and 80's with three sensational divas, Laura Armstrong, Megan Kelleher and Sera Hill.
When:
Saturday June 4 - Doors Open 6:45pm
Chris Botti
, five‐time Grammy nominee and America's highest selling smooth jazz instrumentalist, will be performing at Melbourne Recital Centre in Southbank. One of the jazz world's most popular talents, Botti has performed and recorded with the likes of Frank Sinatra, Aretha Franklin and other greats.
When:
Sunday & Monday, June 5 & 6
View More Live Gigs
Comedy & Magic
Wrongtown
, appearing with special guest Cookie Baker, will be performing at South Melbourne's Butterfly Club for two night only before for 2 nights before the award-winning comedians head to Adelaide Cabaret Festival. Their show is a sexy explosion of brass, lipstick, hot vocals, high heels and headlights.
When:
Friday & Saturday, June 3 & 4
Last Laugh Comedy Club
, Melbourne's original comedy club, which has hosted some of the world's finest comedians, offers great entertainment with some of the best upcoming comedians along with established local talent appearing in an ever-changing line-up with many international stars appearing exclusively.
When:
Fridays & Saturdays
The Impro Cave
, presented by Impro Melbourne and held at The Space in Prahran, features some of Melbourne's best comic and theatrical talent in an exciting, hilarious show that's a unique experience each week with performances improvised from audience suggestions to truly put the performers through their paces.
When:
Sundays, 7:30pm - Rookie Show held at 6pm
Cinema
Outside-in Cinema
, held at Experimedia in the State Library of Victoria, is a special season of free cinema this winter, showcasing films donated to the Library's collection. Offering a great night in, the program features animated films from around the world and contemporary documentaries along with prizes on offer.
When:
Wednesdays Until August 24 - 6:30pm
Croydon Film Society
holds regular screenings of quality films at the Reading Cinemas in Chirnside Park. Showcasing a great range of cinema, annual membership gives you access to all screenings and attendance of their end of year party. They'll next screen The Garden of the Finzi Continis by Italian director Vittorio de Sica.
When:
Monday June 6 - 7:15pm
Egypt 3D: Secrets of the Mummies
, screening at IMAX Cinema, explores the mysterious world of ancient Egypt. Offering a taste of the wonders held in the upcoming exhibition, Tutankhamun and the Golden Age of the Pharaohs, the film re-enacts the discovery of a cache of forty mummies.
When:
Various Dates & Times
Tutankhamun Exhibition
-
Until November 6
-
Book Tickets
View More Cinema Events
Melbourne For Kids
The Art of the Brick
is a one-of-a-kind LEGO brick art exhibition, held at Federation Square. The work of Nathan Sawaya, his incredible large-scale LEGO sculptures have broken gallery records around the world, amazing not only fans of LEGO but also millions of art lovers, both young and old.
When:
June 2 to July 31 - Bookings Advised
Pocketfool
, presented at Melbourne's Artplay, invites children to join Jen and Heidi plus a special guest artist in sessions that allow pre-schoolers to workshop dramatic play with a sprinkling of music, dance or visual arts. Bookings are essential and all children must be accompanied by an adult.
When:
Friday June 3
Family Day at Collingwood Children's Farm
is a special children's event held each month with each family day featuring a particular theme that matches activities provided for kids. Activities include hayrides, a BBQ and much more to make it a great day out for the kids and family.
When:
Sunday June 5
The Giant Sky Wheel
, the largest travelling Ferris Wheel in the southern hemisphere, is currently situated in Birrarung Marr, located behind Federation Square . Offering stunning views across Melbourne's gardens, the Yarra River and beyond, the Giant Sky Wheel is even more impressive at night when brightly lit.
When:
Until September 25
Wild Things: Animals on Stage
, an exciting new exhibition especially for kids and families at the Arts Centre, brings together an unruly menagerie of animals drawn from the wild and woolly world of our most famous animal 'actors', from Alice's mock turtle to Ossie Ostrich, Gulliver's Eagle and Sir Lancelot's horse.
When:
Until June 5
Grab a Bargain
Head to one of Melbourne's many excellent markets for a bargain!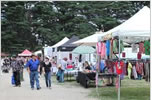 A growing number of food, produce and even wine markets are springing up in the
Market Calendar
.
-:-
Fetes Fairs & Shows
-:-
Art & Craft Markets
-:-
Food & Produce Markets
Foodies Beware!
Victorian Wine Showcase
, held monthly at the Atrium of Federation Square, allows visitors to taste wines from regional Victorian Wineries and meet with winemakers. With many wines also available to buy at each event, this month will showcase wines from the Murray Darling and Swan Hill regions.
When:
Wednesday & Thursday, June 1 & 2
Gathering of the Golden Gypsies
, held at Alfred's Homestead in Warrandyte, is a special dinner presented by Medium, Kerry Alexander. Featuring special guest presenters, mediums, crystal balls, tarot and palm readers, music and gypsy dancers, the event will raise funds for St Vincent's Caritas Christi Hospice.
When:
Sunday June 5 - Bookings Required
Cool for Cats
, presented by Madame Brussels, brings glamorous snacks and fashionable pink bubbles from Jansz to the Verandah Como House in South Yarra. With Champers and Martinis also available in the Rat Pack Bar, tickets include entry to Como House's Mannequin exhibition, a fashion expose of the 50's and 60's.
When:
Until July 3 - Sundays
bookarestaurant.com
bookarestaurant.com
is the easiest way to book a restaurant online. With the choice to search by cuisine and location, you can find great dining offers with some of Melbourne's finest restaurants. Bookings are free and can be made online at any time of the day.
Book a Restaurant Today
Sporting Events
AFL Premiership
AFL Premiership | Round 11
Essendon vs Melbourne
- Fri June 3 - MCG
Geelong vs Bulldogs
- Sat June 4 - Skilled Stadium
Collingwood vs St Kilda
- Sat June 4 - MCG
Hawthorn vs Fremantle
- Sun June 5 - MCG
Nth Melbe vs Adelaide
- Sun June 5 - Marvel Stadium
Rugby
Super Rugby Season - Round 16
Melbourne Rebels vs Stormers
Friday June 3 - 7:40pm
AAMI Park, Melbourne
Roller Derby
Victorian Roller Derby League
Bout 3 - Saturday June 4
Royal Melbourne Showgrounds
Dolls Au-Go-Go vs Dead Ringer Rosies
Toxic Avengers vs Geelong Roller Derby League
Horse Racing
Kilmore Racing Club
Harness Racing - Day:
Wednesday June 1
Thoroughbred Racing:
Saturday June 4
Betfair Park Race Days
Midweek Meeting (Lakeside)
Saturday June 4
Betfair Park, Sandown
Country Racing Victoria
represents racing clubs in outer metropolitan areas and small clubs in rural areas with race programs that include special days with kids' entertainment.
Highlights
Sunday June 5 - Sale Turf Club - Heyfield Day
Race Dates:
May 31 to June 6
Greyhound Racing
Greyhound Racing @ The Meadows
hosts a range of race day and non-race day events throughout the year with the Broadmeadows venue renowned worldwide for high class racing.
Next Race Dates
Wednesday & Saturday, June 1 & 4
Community Sports
Victorian Road Runners
, formed in 1982 as a club so people can participate in fun runs without being members of a competitive athletic club, hold time trials each month on The Tan Track in South Yarra offering a friendly atmosphere with 4 km and 8 km time-trials for all people of all ages and abilities.
When:
Saturday June 4
Big V 10
, round three of the XCR'11 Series presented by Athletics Victoria, is a chance to absorb the atmosphere of fabulous Flemington Racecourse, and enjoy a Sunday morning run with family and friends across the ten kilometre course. XCR'11 season ticket holders will receive automatic event entry.
When:
Sunday June 5 - Starts 10am
Come & Try Rowing
- The Y Rowing Centre, located in Albert Park Lake, invites you to try your hand at rowing. Held on the first Sunday of each month, the Come & Try Rowing sessions are open to participants of all ages. Just turn up and have fun!
Sunday June 5 - 10am to 11:30am
Cost: $10 - Bookings only required for groups.
View More Sports Events
Let Your Friends Know...
Advertise Your School Fete, Fair or Carnival FREE!
Everyone wants to support their local school by going to their annual fundraiser. Last year we promoted a whopping 1,200 school events. So, make sure you let your school organizers know they can list their fete, fair or carnival for
FREE @ OnlyMelbourne!
Add Your Event for Free
Gobsmacked: Showbiz and Dating
is a musical showcase of Split personalities Spirit fingers, Spoilt Divas and Spilt Chocolate cake. Held at South Melbourne's Butterfly Club, a duo, who are more than friends but less than lovers, tackle the funny, sometimes sad but never boring life of a single girl.
When:
Until February 3 - Except Mondays
Good Stuff!
❊ Web Links ❊
→
Newsletter | #230 | What's On this Week
→
Disclaimer
: Check with the venue before making plans
...
Trending HOT

Drive-In Movie Club
Drive-In Immersive Cinema Nights Are Coming to Melbourne Put together by our friends at Hot Tub Cinema, a string of family-friendly, social distancing-safe, drive-in ..

Things to see, hear & do this weekend
Make the most of your weekend in Melbourne with these fabulous events. No city does it better than Melbourne, so get out and discover the very best shows, festivals, ..
---
Update Page