Newsletter | #204 | What's On this Week
Welcome to this week's Melbourne events, exhibitions, sports and community guide for Tuesday to Monday November 30 to December 6, 2010.
This week... Christmas is clearly on the way with the jingling of bells already thick in the air as Federation Square kicks off the celebrations with a range of free attractions and some very unique art displays. There's also another taste of Christmas, albeit a Scandinavian one, with weekend long festivities held at Toorak's Swedish Church with their Scandinavian Christmas Bazaar.
Meanwhile, outside of Melbourne, there's the Torquay High Tide Festival, celebrating the history and culture of one of Australia's most popular coastal towns. Technically, they hold the festival as a means of kicking up their heels before the flood of summer tourists arrives, but I won't tell them you're from the big smoke if you don't. Grab some spray-on tan, some thongs, scowl at anyone who's pasty and adorned in sensible footwear, and I'm sure you'll fit in just fine.
Major Events
Spirit of the Square
presents a range of fabulous Christmas activities for the whole family at Federation Square. Mixing much-loved Christmas traditions with contemporary and often cheeky surprises, attractions include over 100 animal stencils, celebrations and a giant wishing penguin.
When:
December 1 to 30
Scandinavian Christmas Bazaar
, held at the Swedish Church in Toorak, celebrates Christmas in a very uniquely Scandinavian style. The free event features gift stalls with items from Sweden, Denmark and Norway, craft displays, Scandinavian foods, children's activities, music and more.
When:
Saturday & Sunday, December 4 & 5
Hampton Park Community Festival
offers a fun day for the whole family with the special day held at Hampton Park's Arthur Wren Hall offering attractions that include a visit from Santa Claus along with an animal farm, live entertainment, market stalls, food, rockwall climbing and much more.
When:
Saturday December 4 - 10am to 4pm
High Tide Festival
, held in Torquay, is a cultural and arts event that celebrates the environment and diverse community of the popular coastal town. With a theme selected each year, this year the festival theme is Hidden Depths, exploring Torquay's past, present and possibilities.
When:
Friday to Sunday, December 3 to 5
Music & Arts Festivals
Stereosonic
, now in its 4th year, returns to Melbourne Showgrounds with an enormous line up that showcases the best of electronic music with performances held across two main stages. Headline acts this year include Calvin Harris, Wiley, Infected Mushroom, Jeff Mills and Afrojack.
When:
Saturday December 4 - Gates open 11:45am
Film Festivals
Made In Melbourne Film Festival
, with screenings held at BMW Edge and Melbourne's Loop Bar, showcases the best short films by local filmmakers as they compete to win fantastic prizes and accolades decided by the audience. Free to attend, donations gathered will go to Secondbite.
When:
Wednesday & Thursday, December 1 & 2
Japanese Film Festival
, held at Melbourne's ACMI Cinema in Federation Square, marks its 14th year with exciting new elements added to its program, including an Anime Matsuri along with special guests, fantastic prizes and screenings of films such as About Her Brother by director Yoji Yamada.
When:
December 2 to 7
Festival of Jewish Cinema
showcases feature films and documentaries, many children-friendly, with nearly all films coming directly from the Berlin, Cannes, Toronto and Venice Film Festivals. Screenings are held at ACMI Cinemas in Federation Square and Elsternwick's Classic Cinema.
When:
Ends Tuesday November 30
Upcoming Events
Minsky's Big Bang Burlesque
celebrates New Year's Eve with a special presentation by House of Burlesque and the Royal Melbourne Hotel where you can come and live it up with guaranteed good times in a party featuring Miss Burlesque Australia Entertainer of the year Strawberry Siren.
When:
New Year's Eve - Friday December 31
Casino Royale NYE
, held at Port Melbourne's 3 Station Pier, is an invitation by Her Majesty's secret service to celebrate NYE in true Bond style with a martini that's shaken, not stirred, as you party the night away along the waters' edge while enjoying live jazz entertainment.
When:
New Year's Eve - Friday December 31

NEW LIVE CALENDAR
To find out about future events in Melbourne, have a look at our new calendar, with details about many more events that lie ahead so you can jot them down on the to-do list , including Exhibitions, Live Gigs, Theatre, Markets, Expos and more..
View Future Events on any day of the week
WIN WIN WIN
Win a $2,000 Red Balloon Voucher
Carbon Compass
are offering the chance to win a thrilling start to the New Year with a $2,000 Red Balloon voucher. Carbon Compass love to support the businesses that support us. To enter the prize draw, simply become a Carbon Compass member, and ensure your business profile is complete with logo and a little information about yourself!
Click Here to Enter
Special Ticket Giveaway
Mulan Acrobatic Show
, the internationally acclaimed production from China, will be performed at the Arts Centre. The swift and entertaining fusion of famous myths, music and movement features thirty five performers, incredible displays of Shadow Puppet Play, Silk Trapeze and more.
Win a Double-Pass!!!
OnlyMelbourne has
Five Double Passes
to give away for performances of Mulan Acrobatic Show. To go into the draw to win a chance to see the impressive production, email your name, address and contact details with
"Mulan Tickets Giveaway"
as the subject line.
To email your entry
--->
Click Here to Enter Competition
Note:
Double Passes are only valid for the opening night of February 3, 2011.
Only Winners will be notified.
When:
February 3 to 5, 2011
Typically Topical Melbourne
Why Oprah Should Come to Melbourne...
Now we understand its not Oprah who would have personally made the decision to do her Australian show in Sydney, but her production company needs to know a few things about Melbourne before they get here...
Find Out Why Oprah Should Come to Melbourne...
Shaggy Dog
Shaggy Dog by Deej
-
Click Here to find what happens!
Exhibitions - Art | Festival | Show
Lighthouse Annual Art Auction
, held at the Australian Centre for Contemporary Art, is your chance to buy some extraordinary art from very accomplished artists and creative directors. All proceeds go to the Lighthouse Foundation to help them provide support for homeless young people.
When:
Thursday December 2 - 6:30pm to 9:30pm
ADEC Artability
features work by 93 ethnic artists of all ages with origins from nations that include Africa, Poland, Russia, Armenia and more, which will be shown at a special art exhibition staged at that Atrium of Federation Square, showcasing over 150 artworks that celebrate Summer.
When:
December 6 to 14
Beaumaris Art Group Exhibition
, held at the group's studios, showcases the works of members with many of the featured artworks available for sale. A vibrant and industrious group, they were formed in 1953 by a small band of friends when Beaumaris was still developing its character.
When:
December 4 to 12
Bodyworks
, held at Steps Gallery in Carlton South, is an exhibition of sculptures, paintings and drawings by Peter Sanders. The body of work explores the human form over a range of male and female figures, utilising the importance of drawing in Peter's professional life as an architect.
When:
Until December 5
Essence
, showing at fortyfivedownstairs in Flinders Lane, is an exhibition by Aloma Treister. With imagery of trees exploring the themes of renewal and change, Treister's works have been carefully and painstakingly created by using incense sticks to burns small holes into rice paper.
When:
Until December 4
Resist
, presented at Red Gallery in Fitzroy North, is this year's RMIT Printmaking Graduate Exhibition. Playing with the notions of process, materiality and politics, the works display a wide range of concepts and mediums that explore themes of gender, globalisation, identity and sustainability.
When:
Until December 11 - Wednesday to Saturday
Symphony of Light and Flowers
, held at Kinross house in Toorak, is an exhibition by artists in residence, Lilia and Valentin Varetsa. Internationally acclaimed artists, the pair have trained in Europe and have established solid reputations as portrait painters, and children's book illustrators.
When:
Until December 5
Siemens RMIT Fine Art Scholarship Awards
will be exhibiting works by this year's entrants at Swanston Street's RMIT Gallery. Celebrating its 10th year, the exhibition will feature works by 46 short listed artists with ceramics, drawing, fine art, photography, jewellery and other media.
When:
November 26 to January 8
A3 Small Art Show
, held at the For Walls Gallery of Melbourne's Miss Libertine, features the work of 50 artists including Miso, Ghetto Kitty and Kirpy. With all works created in a compact A3 size, a portion of proceeds from sales will go to Room to Read, a charity that develops literacy skills.
When:
Until December 10
Upper Yarra Artisans Wrap Up
, held at Warburton's Upper Yarra Arts Centre, is an end of year group exhibition of creations by local artisans offering a unique selection of original artworks and handcrafts for that special Christmas gift with jewellery, sculpture, wool craft, painting and more.
When:
November 27 to December 22
Mulana: Spirit
, presented as part of the Bunjilaka Community Exhibition Program at Melbourne Museum, is a series of artworks by Victorian Koorie artist Megan Cadd who uses installations, sculpture, paintings and prints to explore key events and discoveries in her life over the last few years.
When:
November 19 to April 10
Chris Samuel
, a wonderful photographer whose phots of people, places and even objects displays his unique view of the world, will be holding his first solo exhibition with a series that features new works taken this year being displayed at the friendly, funky Have Ya Bean Cafe in Upwey.
When:
Until December 1
Dreams Come True
, held at ACMI in Federation Square, showcases over 70 years of Disney animation with an exhibition that features over 600 original artworks, maquettes and animation cells from films such as Cinderella and the upcoming film Tangled, based on Rapunzel.
When:
November 18 to April 26
Crime Scene
, showing at the Victorian Archives Centre in North Melbourne, is a special exhibition presented by Victoria Police Historical Services. A collection of photographs taken at Victorian crime scenes during the 1920s to 1950s, it features criminal prosecution documents of Squizzy Taylor.
When:
Until January 30 - Weekdays
The Amazing Bodies Exhibition
, held at Waterfront City in Docklands, is a chance to explore nature in a unique way with amazing displays of natural anatomical wonders. Using real body specimens, perfectly preserved, the exhibition shows muscular and bone structure in a captivating display.
When:
Until January 31
Family Guy and Futurama
are the focus of the latest exhibition of prints showing at Silver K Gallery in Armadale. The largest exhibition of its type in Australia, it features over 140 pieces displaying images from the shows, including unique artist interpretations of Family Guy characters.
When:
Until December 4
Ashes to Ashes: Cricket's Cracking Rivalry
, a new exhibition held at the National Sports Museum at the Melbourne Cricket Ground, traces the history of cricket's greatest rivalry, The Ashes. Highlights include the bat used by Don Bradman to score a century on the MCG in 1929.
When:
November 12 to March 20
ROCK CHICKS
, presented at Melbourne's Arts Centre, is an exhibition that celebrates women in Australian music with many of the items on loan from the artists themselves. The exhibition covers a wide range of genres, showcasing the likes of Chrissy Amphlett , Deborah Conway and others.
When:
November 6 to February 27
Mirror
, held at Melbourne Museum, is an exhibition of selected works by renowned children's author and artist Jeannie Baker. Exploring the connections of two boys from two very different countries, her collages use rich textures and brilliant colours to create three-dimensional scenes.
When:
November 5 to February 13
Phar Lap
will be the focus of a special exhibition held at the Melbourne Museum. Marking the 150th running of the Melbourne Cup and the 80th anniversary of Phar Lap's historic win, his impressive skeleton will be on display, on loan from Wellington's Te Papa Tongarewa Museum.
When:
Until January 30, 2011
Expos, Launches & Open Days
Restoration of the B-24 Liberator Bomber
, Australia's last B-24 Liberator long range heavy bomber and one of only eight remaining in the world, is available for public viewing with people invited to watch the restoration taking place in a World War II hangars on the old Werribee airfield.
When:
Tuesdays, Thursdays & Sundays
You Can Help
There are many social causes that are relevant to people from all walks of life, many of which rely on public support to better the community or assist those who are less fortunate or to benefit others. This week we ask you to consider the following..
The Kmart Wishing Tree Appeal
, Australia's largest Christmas gift appeal, supports some of the largest welfare organisations and has given more than 4.9 million gifts over the past 22 years. Trees can be found nationally in Kmart stores, with gifts collected up until Christmas Eve.
When:
Until December 24
Performances & Theatre
The World is Winning
, starring Mike McLeish, best known for playing Paul Keating in the successful Keating! The Musical, tells of the highs and lows of theatre as he shares musical memoirs of how he ended up working at a theatre restaurant. It's held at South Melbourne's Butterfly Club.
When:
Wednesday to Sunday, December 1 to 5
Windmills
, presented by Misfit Theatre, is a dark tale about Leo Grey, a young man who appears to be your average straight laced high school student. Appearances aren't what they seem, however, when Leo makes a terrible mistake. It plays at the Upper Yarra Arts Centre in Warburton.
When:
Saturday December 4 - 1pm & 7.30pm
The Nightwatchman
, presented by If Theatre at St Kilda's Theatre Works, tells the story of Bill, a man who has lived a life amongst the rambling beauty of his old family home. Now blind, when his children returned to move him away, all three discover tender memories of the past they've shared.
When:
Until December 12 - Wednesdays to Sundays
Creditors
, presented by Red Stitch Actors Theatre in St Kilda, is a darkly comic tale of vengeance, jealousy and psychological warfare as a young husband, awaiting the return of his new wife, falls under the sway of a confidant in this savagely witty version of Strinberg's battle of the sexes.
When:
Until December 18 - Wednesdays to Sundays
'Allo 'Allo
, performed at Geelong Performing Arts Centre, is the stage adaptation of the hugely popular British TV series. Presented by Geelong Repertory Theatre Company, the production features Rene, Michelle and other memorable characters from the quirky series set in war-torn France.
When:
November 19 to December 4 - Various Dates
I Love You, You're Perfect, Now Change
, Off-Broadway's phenomenal longest-running musical revue, will be performed by Beaumaris Theatre Inc. Presented in a series of vignettes with the central theme of love and relationships, the play examines dating, romance, marriage and more.
When:
November 19 to December 3 - Various Dates
Songs for Nobodies
is a performance portraying five anonymous women whose brushes with fame had a profound effect on their lives, interleaved with the songs that gave them heart. Held at Melbourne's Arts Centre, the show features the songstress, Bernadette Robinson.
When:
November 5 to December 18
Hairspray
, the ultimate feel good musical based on the cult movie by John Waters, will hit the stage in Melbourne at the Princess Theatre. Set in the USA town of 1960s Baltimore, the production follows the life of Tracy Turnblad, a big girl with big hair and an even bigger passion to dance.
When:
Until January 30
|
Book Now
Mary Poppins The Musical
, held at Melbourne's Her Majesty's Theatre, brings the classic books and beloved Disney film to the stage with a spectacular production that includes all of the best loved songs from the film including Chim Chim Cheer-ee and Supercalifragilisticexpialidocious.
When:
Until February 13
|
Book Now
Classical, Choral & Recitals
Our Christmas Gift Concert
, presented by the Salvation Army with a performance held at Melbourne Convention Centre, invites Melbourne families to welcome the festive season at a free concert that includes performances from Silvie Paladino and Rod Davies from Dancing with the Stars.
When:
Saturday December 4 - 7pm
Carols in Canterbury Gardens
, presented by Canterbury Council of Churches, offers a great evening of entertainment for the whole family with a fun picnic atmosphere. Featuring fabulous local talent with performances of carols, the concert is preceded by animal displays, face painting and more.
When:
Sunday December 5 - Starts 6.30pm
Preston Symphony Orchestra
, founded in 1950, will be holding a performance at Preston Town Hall where they'll present a special concert that includes Tchaikovsky's Symphony No 1 and Dvorak's Cello Concerto with guest soloist, Rebecca Proietto and Conductor, Michael Dahlenburg.
When:
Sunday December 5 - 2:30pm
Saints
, presented by the 40-voice ensemble, Choristry, is a performance of contemporary a cappella works including Martin Mass for Double Choir and pieces by Lauridsen, Whitacre and Thompson. Filled with serenity, beauty and awe, their concert is held at South Yarra's Christ Church.
When:
Sunday December 5 - 2:30pm
Christmas Carol Twilight
, held in Elsternwick, is a chance to spend a relaxing evening at Rippon Lea Gardens with a picnic tea as Rippon Lea Primary School and Elwood Primary School celebrate Christmas with a performance by The Melbourne Chorus and a visit from Santa.
When:
Monday December 6
Burlesque, Cabaret & Dance
Choreotopography
, held at the Arts Centre, changes the face of dance with a premiere work that integrates live motion capture and 3D stereoprojection. Staged by Deakin University and Melbourne Ballet Company, the performances place dancers in a virtual, interactive, 3D world.
When:
Friday & Saturday, December 3 & 4
Dance of the Whirling Darvish
is a free public performance of the sacred 700 year old dance. Held at Serenity Cultural Function Centre in Craigieburn, the performance by the Sufi Path Group is held in honour of a visit by Mawlana Sheikh Hisham Kabbani, a notable Naqshbandi Sufi.
When:
Friday December 3
Santa-esque at Shimmy Shake
, taking place at Red Bennies in South Yarra, celebrates Christmas with a touch of naughtiness and tease. The entertaining evening features sassy and glamorous Santa's helpers performing burlesque, special guests and resident band 'The Shuffle Club'.
When:
Friday December 3 - 8pm
Salty Clams
, presented by Kaye Sera, an award winning drag identity best known for her quirky cabaret shows and media work on Channel 31, is an intelligently naughty examination of the porn industry. Regular performances are held at the Lobster Lounge in St Kilda.
When:
Fridays Until December 24
Entertainment & Nightlife
Kylie Auldist and Deep Street Soul
will be perform on the main stage of Federation Square as part of Fed Square Live, a series of free performances. A vocal powerhouse, Kylie Auldist's soulful sounds have seen her perform with funk and hip hop outfits Polyester, Mega Bias and The Bamboos.
When:
Thursday December 2 - 6.30pm to 8pm
Jeudi Jazzy
, held at the cellar of Alliance Franšaise in St Kilda, will present a live performance by Sarah McKenzie, a musical marvel who sings with the kind of phrasing only a true jazz player can come up with, making her one of Australia's brightest up-and-coming Jazz musicians.
When:
Thursday December 2 - 8pm
Hoodoo Gurus
, one of Australia's most iconic bands with their unique sound, will be performing at the Shoppingtown Hotel in Doncaster. Performing many of the songs earned their place in Australian music history, they'll be supported on the night by special guests, The Break and local artists.
When:
Friday December 3
Visible Sessions
, presented by Multicultural Arts Victoria, is a series of free concerts held at the Curve Bar Garden of the Arts Centre. Providing exposure for emerging local artists of culturally diverse backgrounds, featured musicians work with an established mentor prior to each performance.
When:
Until December 11 - Fridays & Saturdays
Melbourne For Kids
Harbour Town's Christmas on Ice
sees the Medibank Icehouse transformed into the North Pole of Melbourne this Christmas with General Skating under the gleaming lights of the North Pole, a brand new Christmas Spectacular ice show and plenty of FREE kids activities in December.
When:
December 2 to 24
Family Day at Collingwood Children's Farm
is a special children's event held each month with each family day featuring a theme that matches activities provided for kids. Activities include hayrides, a BBQ and much more to make it a great day out for the kids and family.
When:
Sunday December 5
The Kids Garden Project
, held at Como House in South Yarra, is a monthly event that lets little gardeners and aspiring conservationists learn how to make a difference to their lives and the environment with kids learning the importance of good eating habits and sustainability.
When:
Sunday December 5 - 2:30pm
Santa's Breakfast at Knox Shopping Centre
invites parents and children to a special event where they'll enjoy face painting, roving characters, balloon sculpting and music along with a yummy breakfast with Santa and Mrs Claus. All proceeds from ticket sales will go to the CREATE Foundation
When:
Sunday December 5 - $10 Entry
Storytime at Rippon Lea Gardens
gives families the chance to sit down in Elsternwick's beautiful Rippon Lea Gardens, relax on the sweeping lawns and immerse yourself in a delightful selection of enchanting and imaginative tales, narrated by veteran storyteller Debbie Stein-Fooks.
When:
Thursdays Until April - Entry Applies
Crown's Christmas Spectacular
transforms the grand Atrium into a magical Christmas carnival. Presented each year to entertain children, a cavalcade of Christmas characters perform regularly, with this year's display also including a new 'Big Top' animatronic feature.
When:
November 21 to January 2
Myer Christmas Windows
are an iconic part of Melbourne Christmas with each year offering a specially selected theme - chosen from a story book, nursery rhyme, a film or even the theatre - brought to life in an animation spectacular that ignites the imagination and Christmas spirit in all.
When:
On Display Until January
Circus

Silvers Grand Magic Circus
will be holding performances in Burnley. Established in 1976, Silvers Grand Magic Circus offers a great show for people of all ages with performers including everything from jugglers and clowns to acrobats, international performers and more.
When:
Until December 3 - Burnley
Markets, Fetes and Fairs
Magnolia Square
is a boutique fair showcasing women's and children's attire, homewares, jewellery and more. They'll be holding their popular fair at St Kilda Town Hall where you'll find the work of some of Melbourne's best and most talented designers with a wide variety of quality crafts.
When:
Thursday to Sunday, December 2 to 5
Beaumaris Playgroup Christmas Market Fete
, raising funds for Beaumaris Uniting Church, offers a fun day to satisfy the whole family. With over 30 stalls showcasing new, unique gift items, books and second hand goods, there'll also be a visit from Santa, face painting, food and more.
When:
Saturday December 4
Mini Christmas Fair Exhibition
, presented by the Handweavers & Spinners Guild of Victoria at their guild rooms in Carlton North, offers many great gift ideas in one location. The exhibition features a wide range of items including Christmas ornaments, cards, stockings and toys.
When:
Until December 17 - Tuesdays to Saturdays
Melbourne Market Guide
View MARKETS calendar
to make the most of the rare sunny days (it's a coin toss, isn't it!) and head to one of Melbourne's many excellent markets, fetes and fairs for a bargain!

A growing number of food, produce and even wine markets are always popping up around the suburbs. And don't forget garage sales!
Fetes Fairs & Shows
Art & Craft Markets
Food & Produce Markets
Swap Meets
Garage Sales This Weekend
Let Melbourne Know...
Advertise Your School Fete, Fair or Carnival FREE!
Everyone wants to support their local school by going to their annual fundraiser. Last year we promoted a whopping 1,200 school events. So, make sure you let your school organizers know they can list their fete, fair or carnival for
FREE @ OnlyMelbourne!
Add Your Event for FREE Today!!
Dining & Drink
The Victorian Wine Showcase
, held at the Atrium of Federation Square, allows visitors to taste wines from regional Victorian Wineries and even meet with winemakers. This month's event will showcase a range of wines from makers located in the Mornington Peninsula region.
When:
Wednesday & Thursday, December 1 & 2
OnlyMelbourne Welcomes..
Each week we highlight some of the new business listings in the OnlyMelbourne Business and Services directory.
This week we suggest the following:
Kookai 2010 Clearance Sale
- Chic Designs at Bargain Prices...
Runs, Rallies and Rebounds
- Holiday fun at National Sports Museum...
Burnet Oration
- Celebrating Sir Frank Macfarlane Burnet's Nobel Prize Award...
Blooms Bridal Expo
- January Wedding Showcase in Yarraville...
View More of the Latest Listings at OnlyMelbourne!
Sporting Events
Soccer
Hyundai A-League - Week 17
Melbourne Victory v Brisbane Roar
Friday December 3 - 8pm
AAMI Park, Melbourne
Freestyle Football Pro Title Championships
, held at Federation Square, is a chance to watch as Australia's best freestyle footballers juggle a football aiming to get the Power Balance Pro Title. The event includes a Come & Try session where footballers can play against Panna Cage.
When:
Saturday December 4 - Starts 11am
Motor Sports
Off-Street Drag Racing at Calder Park
offers a safe way for competitive drivers to show their skills on the quater mile with Street Cars and Comp Cars allowed on the track.
Next Street Drag Event
Friday December 3
Gates Open 3pm - Registration Required
Beta Racing Moto-Trials Extravaganza
, taking place at the Melbourne Moto-Trials Centre in Clayton South offers a fantastic day of action. With entry by gold coin donation, the day features 2009 World Junior Trials Champion and 2010 Scottish Six-Day Trials winner, Alexz Wigg.
When:
Sunday December 5
V8 Superboat Jet Sprint Championships
, held at MacPerson Park in Melton, offer non stop action with thrills and spills as Superboats navigate around a purpose built track, reaching speeds of 0 - 120km/hr in just 2.5 seconds with teams race against the clock to fight it out for 1st place.
When:
Sunday December 5 - Gates open 11am
The Trots
Pakenham Racing Club
, founded in 1875 and an hour's drive from Melbourne, provides a country atmosphere within reach of the city, without the metropolitan price tag.
December Race Dates
Christmas Raceday
Friday December 3
Cycling
UCI Track Cycling World Cup
, held at Hisense Arena, will see the world's best cyclists returning to Melbourne for 3 days of action as more than 35 nations will be represented in 12 events full of thrills, spills and pure adrenalin as Melbourne plays host to the first of four rounds.
When:
Thursday to Saturday, December 2 to 4
RACV Great Victorian Bike Ride
features a diverse combination of lakes, rivers, scenic roads and stunning mountain ranges. Organised by Bicycle Victoria, the 590 kilometre cycling adventure from Yarrawonga to Marysville includes a closing day concert with Shannon Noll.
When:
November 27 to December 5
Community Sports
XOSIZE Tri Series
is one of Victoria's premier triathlon series with five exciting sporting events for all ages and abilities held in stunning bay side locations.
Race 2 - Held in Mordialloc
Sunday December 5
The Y Rowing Centre
, located in Albert Park Lake, invites you to try your hand at rowing. Held on the first Sunday of each month, the Come & Try Rowing sessions are open to participants of all ages. Just turn up and have fun!
Sunday December 5
Cost: $10 - Bookings only required for groups.
Melbourne Tours
Smartvisit Card
is the best way to see the sights of Melbourne, whether you're visiting Melbourne for business, a vacation, or even if you're a local wanting to find Melbourne's hidden treasures!
The Smartvisit Card includes entry to attractions such as Melbourne Zoo, Melbourne Aquarium, Old Melbourne Gaol, Telstra Dome, Cook's Cottage, Melbourne River Cruises, and many more of Melbourne's TOP venues!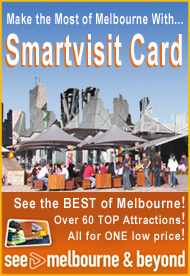 Free entry to over 60 top attractions..
Visit great venues like Zoos, museums & more across Melbourne & Victoria!
Over $800 of entry fees for ONE low price..
Plus special offers & discounts!
Visit just 2 Attractions a day & you'll save!
FREE 128 page guidebook..
Tailored to local knowledge on what to see & do!
Cash free entry..
Show your card & you're in, no need for cash!
All year-round Attractions..
Whatever time of year you visit - rain or shine!
Learn more about Smartvisit Card
Trivia
By Hook or by Crook
In Melbourne, the hook turn is known as an automotive scourge to both locals and tourists alike, with many punters salivating at the thought of reverse parking with an irate monkey in their lap as a much easier alternative.
Although the Hook Turn is common in many other cities, such as Adelaide in Australia and overseas cities that include Northeastern Illinois, Beijing and Germany, Melbourne has its own special affinity (for good or bad) with the Hook Turn due to the abundance of trams we have, which make Hook Turns a much slighted necessity.
Read more about the Hook Turn
|
Read Melbourne Trivia...
WHAT'S ON CALENDAR
Speaking of what's on, our
new calendar
allows you to select any day of the year to view everything (everything!!!) on that day in an easy to read, printable display.
-:- View
What's On Calendar
-:- View
Markets Only Calendar
OnlyMelbourne On The Phone

OnlyMelbourne
is now
mobile phone
compatible. Yes, our pages are formatted to be viewed on the small screen. To view our mobile phone website, go directly to our
Mobile Home Page
with your web compatible mobile phone at
www.melbournemobile.com.au
!
OnlyMelbourne is already iPad friendly, we know, we have one (chuckle) says he with bragging rights!
The Age iPad App
WHAT'S ON RSS FEEDS
We have a range of
RSS Feeds
.
NEWSLETTER
What's On this Week
is an email overview and reminder of the (too many to mention) events happening this week in Melbourne.
Get your copy
of What's On this Week!
FREE ADVERTISING
Advertising
your EVENT at OnlyMelbourne is not only easy, it's
FREE!!
-
Apply Online..
for inclusion in the What's On calendar and newsletter!
❊ Address & Contact ❊
⊜ Newsletter | #204 | What's On this Week Melbourne |
Map
❊ Web Links ❊
→
Newsletter | #204 | What's On this Week
→
Subscribe to OnlyMelbourne - Get your copy of What's On this Week!
→
List Your Business or Event - It's FREE!
→
Events Calendar - Find out What's On any day of the week!
→
Mobile OnlyMelbourne
→
Melbourne for Children | Kids
→
Newsletter | #203 | What's On this Week [Last Week]
❊ COVID-19 Notice ❊
Many locations have gone into lockdown as the state takes action to stop the spread of the deadly coronavirus (COVID-19).
→
Disclaimer
: Check with the operator before making plans
...
Trending HOT

Drive-In Movie Club
Drive-In Immersive Cinema Nights Are Coming to Melbourne Put together by our friends at Hot Tub Cinema, a string of family-friendly, social distancing-safe, drive-in ..

Things to see, hear & do this weekend
Make the most of your weekend in Melbourne with these fabulous events. No city does it better than Melbourne, so get out and discover the very best shows, festivals, ..
---
Update Page