Newsletter | #200 | What's On this Week
Welcome to this week's Melbourne events, exhibitions, sports and community guide for Tuesday to Monday November 2 to 8, 2010.
This week... Melbourne celebrates its community spirit with several festivals embracing the best their community has to offer with Melton's Djerriwarrh Festival and the Maroondah Festival holding family fun days. The Village Festival makes a welcome return to North Fitzroy with four days of music, food and all-round artiness (think Brunswick Street, but in tents) while lead-foots who are up for a drive can take the family further afield to the Whittlesea Show and the Buddhist Spring Festival held in Yuroke.
Those who just can't get enough of the recent horseplay what with the Melbourne Cup can meet halfway with those who've had a feedbag full at the Out of Africa Festival, a festive day for the family held at Cranbourne Racing Centre where, yes, there will also be horse racing.
There's also a return to the good old days of classic cinema with the Halls Gap Film Festival offering a program of movies selected simply because they're good as opposed to the growing trend of screening films tying in with a theme simply because a theme sells (technicolor me cynical, but we all know it's true).
Happy 200th Newsletter!
This Week's Newsletter
hits the
BIG 200
and to celebrate we're giving one lucky reader a Christmas Hamper of goodies that include OnlyMelbourne merchandise, books, and other fine goodies they'll receive just in time for Christmas...
Not on Santa's "Good List"? Then..
Sign Up Today!
Win an OnlyChristmas Melbourne Hamper!!
For your chance to win a Yule Time swag, simply email your name, address and contact details with
'OnlyMelbourne 200th Giveaway'
as part of the message.
To email your entry
--->
Visit Our Contact Page!
Note:
Only Winners will be notified.
Major Events
The Village Festival
, held at North Fitzroy's Edinburgh Gardens, offers a fabulous smorgasbord of performances and a truly unique atmosphere with a village space that includes with a line-up of hot short shows, great bands, arts, games, children's entertainers, workshops and more.
When:
Thursday to Sunday, November 4 to 7
Djerriwarrh Festival
, Melton Township's biggest community festival, offers a day of fun for the whole family with a carnival atmosphere. With events held across the Shire, attractions include a Grand Street Parade, live entertainment, market stalls, and even a lifestyle expo.
When:
Saturday 6 November - 11am to 9.15pm
Maroondah Festival
, held at Croydon's Town Park, brings local groups together to present hold a festive day with musical performances, food stalls and roving entertainers. One of Melbourne's biggest community events, it includes the Kids Kingdom area, markets, an expo and much more.
When:
Sunday November 7
Whittlesea Show
, now in its 151st year, offers a weekend of fun for young and old. With live entertainment, Show Girl Competitions, Tai Kwon Do demonstrations, carnival rides and roving performers for children, the show also features vintage displays, exhibitions, market stalls and much more.
When:
Saturday & Sunday, November 6 & 7
Buddhist Spring Festival
, held at Yuroke's beautiful centre for the Tibetan Buddhist Society, celebrates their faith with a blessing ceremony, free tours of the stunning gardens, market stalls of Tibetan handicrafts, a photo exhibition and much more with proceeds supporting the temple.
When:
Saturday & Sunday, November 6 & 7
Out of Africa Festival
, an integral part of our Cultural Exchange Program between Australia, New Zealand, and South Africa, is an entertaining day for the whole family. Held at Cranbourne Racing Centre, highlights include live music, drumming workshops, children's performers, dies and more.
When:
Saturday & Sunday, November 6 & 7
OzKinkFest
is a festival that celebrates the kinkier side of life, bringing excitement from the boudoir to various venues and nightclubs throughout Melbourne. With a program that caters to both the curious and experienced, the festival features special club nights, workshops and more.
When:
October 29 to November 7
Castlemaine & District Festival of Gardens
invites the public to come and see eight established and diverse gardens, renowned for their roses and irises along with an inspiring range of dry-climate flowering plants. Special events are also held as part of the Open Garden program.
When:
October 30 to November 7
Bright Spring Festival
showcases the vibrant sights, attractions and best of Bright with a series of events that include theatre, special dinners, film screenings and more. Highlights include the Halloween Fireworks Spectacular and Concert, open gardens tours, workshops and more.
When:
Ends Tuesday November 2
Food & Wine Festivals
Homemade Wine & Beer Festival
, held at Preston City Hall, showcases the skills and customs of local amateur wine and beer brewers. The multicultural event gives wine and beer makers the chance to share the fruits of their labours with other enthusiasts and also the community.
When:
Saturday November 6 - 2pm to 5pm
Music & Arts Festivals
Hume Festival of Music
offers a program of concerts and special events showcasing remarkable music from around the world at various venues within Hume. Celebrating the cultural diversity of Hume City, the festival is held in Spring to also celebrate the many open parks and gardens.
When:
October 15 to November 7
Film Festivals
Halls Gap Film Festival
features an impressive line-up of Australian and international films, screened in the heart of the beautiful Grampians National Park. With films selected by cinematic expert John Turner, this year's program offers a fresh twist with films made by local young filmmakers.
When:
Friday to Sunday, November 5 to 7
Upcoming Events
Tutankhamun
, presented by Melbourne Museum, will for the first time in Australia's history see this record-breaking exhibition visit Melbourne for its only Australian stop before the Egyptian treasures, which include Tutankhamun's golden canopic coffinette, are returned to their home in Cairo.
When:
Opens April 2011
Tickets On Sale:
November 29
Sustainable Procurement
, held at Melbourne Convention & Exhibition Centre, is an invitation to businesses to attend a free workshop on demystifying and implementing a cost effective green purchasing plan. Participants will also receive a free toolkit and a green purchasing guidelines template.
When:
Wednesday November 10 - Bookings Essential

NEW LIVE CALENDAR
To find out about future events in Melbourne, have a look at our new calendar, with details about many more events that lie ahead so you can jot them down on the to-do list , including Exhibitions, Live Gigs, Theatre, Markets, Expos and more..
View Future Events on any day of the week
What's New @ OnlyMelbourne
bookarestaurant.com
is an advanced restaurant booking website that offers a fast and efficient way of booking a table at Melbourne's many fine restaurants. With the ability to search by cuisine and location, you can find available tables in real-time. Bookings are free to the dining public and can be made online any time of the day.
Exhibitions - Art | Festival | Show
Felicity Dalgleish
, an artist who has exhibited worldwide, including at the National Gallery of Victoria, will be exhibiting work at Kinross House in Toorak. With paintings inspired by the Australian landscape, while not being site-specific, her works offer metaphors for life, death and renewal.
When:
November 5 to 12
Opening Launch:
Friday November 5 - 6:30pm
ROCK CHICKS
, presented at Melbourne's Arts Centre, is an exhibition that celebrates women in Australian music with many of the items on loan from the artists themselves. The exhibition covers a wide range of genres, showcasing the likes of Chrissy Amphlett , Deborah Conway and others.
When:
November 6 to February 27
ROCK CHICKS Live! - Free Concert
Friday November 12
WAR of the WALLS
is a chance to witness Melbourne's finest street artists battle it out on the bare walls of Collingwood Underground Arts Park, with artists producing a piece each within 2 hours. The licensed, underground venue will resonate with the beats of 'DJ Prequel' during the battle.
When:
Sunday November 7 - 6pm to 10pm
That's Life
is an Annual Exhibition of Armadale's Firestation Print Studio, a not-for-profit workshop that fosters creativity and innovation through printmaking. With prints, drawings and paintings, the exhibition showcases works created as part of the art gallery's Life Drawing competition.
When:
Until November 14 - Wednesdays to Saturdays
Mirror
, held at Melbourne Museum, is an exhibition of selected works by renowned children's author and artist Jeannie Baker. Exploring the connections of two boys from two very different countries, her collages use rich textures and brilliant colours to create three-dimensional scenes.
When:
November 5 to February 13
Art of Botanical Illustration Exhibition
, held at the Domain House Gallery of Melbourne's Royal Botanic Gardens, features over 150 works by leading artist from both Australia and overseas. Free to view and with all works for sale, proceeds from go towards projects in the RBG Melbourne.
When:
November 6 to 21 - 10am to 4pm
Celebrate Africa
, held at Just Africa in Armadale, is an exhibition of baskets from the Master Weavers of Southern Africa, exquisitely hand embroidered textiles, contemporary beaded animals, handmade jewellery, prints and soft furnishings shown alongside traditional Tribal Art.
When:
November 6 to 21
Tides of Resilience
, showing at St Kilda's Obscura Gallery, is an exhibition of photography by Rodney Dekker, which explores how climate change affects communities around the word, particularly in Bangladesh where a charity that builds schools will receive funds from the exhibition.
When:
Until November 18 - Tuesdays to Saturdays
So far, so close
, the latest exhibition by Robert Hollingworth held at Richmond's Blockprojects, continues incursions into the unknown by exploring deep space where the artist looks for signs of intelligence, referencing Higgs Boson, String Theory and many other unseen things.
When:
Oct 30 to Nov 25 - Tuesdays to Saturdays
Playing House
, an exhibition by Melbourne artist, Kevin Chin, showing at the West Wing of Melbourne Central, draws on Chin's own renovation experience to use painting and sculptural processes with home renovating materials to create works that include a vinyl laminate life-size bear rug.
When:
October 21 to November 6
Husk Liberty Exhibition
, held at Husk's Albert Park Store, is the latest exhibition of textiles, paintings and designs from gifted Melbourne artist and designer Sara Thorn. The exhibition includes a captivating array of watercolours, digital collage prints on cotton and inspiring hand embroidery.
When:
October 13 to November 23
Stuck on St Kilda
, presented by The Essence of St Kilda, is a public art installation, held outside and accessible to all. Featuring entries from the 2010 Essence of St Kilda Word and Photo Prizes, new and established photographers and writers have uniquely expressed how they view St Kilda.
When:
October 15 to November 21
Somewhat Different
, held at the gallery of RMIT, is an international touring exhibition showcases the work of over 100 key German and European designers. Celebrating the diversity of function, the Melbourne exhibition also features Screen Gown by Australian designers.
When:
Until November 13 - Closed Sundays
The Bald Archy Prize Exhibition
, Australia's most popular comic portrait competition and alternative to the prestigious Archibald, will be showing at Prahran's Chapel Off Chapel. Judged by a sulphur-crested cockatoo named Maude, the works range from the hilarious to the bizarrely vulgar.
When:
October 5 to November 6
Mortality
, showing at Southbank's Australian Centre for Contemporary Art, features works by some of the world's leading artists, exploring life's journey from the beginning to the end. Part of the Melbourne International Arts Festival, it includes works by Aleks Danko, Tacita Dean and others.
When:
October 8 to November 28 - Closed Mondays
Phar Lap
will be the focus of a special exhibition held at the Melbourne Museum. Marking the 150th running of the Melbourne Cup and the 80th anniversary of Phar Lap's historic win, his impressive skeleton will be on display, on loan from Wellington's Te Papa Tongarewa Museum.
When:
Until January 30, 2011
Expos, Launches & Open Days
Discover Europe 2011 Travel Show
, presented by Flight Centre at Southbank's Melbourne Exhibition Centre, can help you plan the perfect European getaway with the chance to save on cruising, holiday packages, coach tours, insurance and get information from Experienced travel consultants.
When:
Sunday November 7 - 10am to 5pm
Restoration of the B-24 Liberator Bomber
, Australia's last B-24 Liberator long range heavy bomber and one of only eight remaining in the world, is available for public viewing with people invited to watch the restoration taking place in a World War II hangars on the old Werribee airfield.
When:
Tuesdays, Thursdays & Sundays
You Can Help
There are many social causes that are relevant to people from all walks of life, many of which rely on public support to better the community or assist those who are less fortunate or to benefit others. This week we ask you to consider the following..
Movember
returns for another year to bring back the soup-strainer and raise money for men's health partners, the Prostate Cancer Foundation and beyondblue. By simply growing a moustache in November and finding sponsors, Gala Parties are held at month's end to thank all involved.
When:
Held Throughout November
Performances & Theatre
Songs for Nobodies
is a performance portraying five anonymous women whose brushes with fame had a profound effect on their lives, interleaved with the songs that gave them heart. Held at Melbourne's Arts Centre, the show features the songstress, Bernadette Robinson.
When:
November 5 to December 18
Altar Boyz
, presented by Fab Nobs Theatre at The Fab Factory in Bayswater, follows 5 small-town boys trying to save the world one screaming fan at a time in the musical parody about a Christian boy-band who begin to question their faith and each other on the last night of their tour.
When:
November 5 to 20 - Various Dates
Dirty Rotten Scoundrels
, presented by Williamstown Musical Theatre Company, is a vibrant musical based on the popular 1988 film. Centred on two con men living on the French Riviera, the play follows the misadventures they face after deciding to compete to swindle a young female heiress.
When:
November 5 to 20 - Various Dates
A Month Of Sundays
, held at the Australian Centre of Performing Arts in North Melbourne, is a series of short plays performed by the newly formed collective, Raglan St Theatre. Written by emerging authors from the Australian Writers Guild, the plays offer comedy, romance, drama and more.
When:
Until November 14 - Sundays
Blood and Ice
, performed at Prahran's Chapel Off Chapel, is the Australian Premiere of Liz Lochhead's recently revised play. Set in 1816, the play explores the infamous house party in which Frankenstein author, Mary Shelley took up a challenge to see who could write the most horrifying story.
When:
Oct 29 to Nov 13 - Wednesday to Sunday
Iolanthe
, Gilbert and Sullivan's first masterpiece, will be performed at The Alexander Theatre of Clayton's Monash University. Presented by the Gilbert and Sullivan Society of Victoria, the play is a satiric fantasy about the love between Phyllis and Strephon, the son of a fairy, Iolanthe.
When:
Until November 6 - Fridays & Saturdays
Oklahoma
, presented by Nova Music Theatre at The Whitehorse Centre in Nunawading, brings the classic musical by Rodgers and Hammerstein to the stage in a performance for people of all ages with songs that include "Oh What a Beautiful Morning"and "The Surrey with the Fringe on Top".
When:
October 22 to November 7 - Fridays to Sundays
Oh Well Never Mind Bye
, performed by Red Stitch Theatre in St Kilda, is the Australian Premiere of by Steven Lally's engrossing political drama. Set amidst the 2005 terrorist attacks in London, the play questions the ethics of modern journalism and the pressures that drive the media.
When:
Until November 6 - Wednesdays to Sundays
Life Without Me
is award-winning playwright Daniel Keene's debut play for Melbourne Theatre Company. Performed at the Sumner Theatre in Southbank, the play follows the lives of guests in a rundown hotel in an eccentric fable about taking up residence and trying to move on.
When:
October 9 to November 21
Hairspray
, the ultimate feel good musical based on the cult movie by John Waters, will hit the stage in Melbourne at the Princess Theatre. Set in the USA town of 1960s Baltimore, the production follows the life of Tracy Turnblad, a big girl with big hair and an even bigger passion to dance.
When:
Until January 30
|
Book Now
Mary Poppins The Musical
, held at Melbourne's Her Majesty's Theatre, brings the classic books and beloved Disney film to the stage with a spectacular production that includes all of the best loved songs from the film including Chim Chim Cheer-ee and Supercalifragilisticexpialidocious.
When:
Until February 13
|
Book Now
Classical, Choral & Recitals
Music for a Bavarian Duke
, held at Melbourne Recital Centre, is a special presentation by La Compa˝ia, Australia's premiere Renaissance ensemble. The concert features tender love songs and dance tunes from 16th-Century Spain with music by Francisco Guerrero and others.
When:
Wednesday November 3 - 6pm
Zoe Knighton and Amir Farid
will perform at Eltham's Montsalvat as part of the Pluck, Struck and Bowed concert series. Celebrating the tango and its sultry influence on Argentinian and Spanish composition, the duo will perform a seductive repertoire for cello and piano.
When:
Sunday November 7 - 2:30pm
Tungsten Duo
, a unique combination of Flute with Emily Chaffee and Percussion with Erica Rasmussen, will perform at Collins Street Baptist Church. Playing styles ranging from baroque to contemporary and tango, they'll also perform a composition by local Melbourne composer Dylan Nicholson.
When:
Sunday November 7 - 2pm
Burlesque, Cabaret & Dance
The Ruby Revue
, held at Melbourne's Geddes Bar, is a monthly cabaret variety night featuring Australia's most intriguing professional and emerging burlesque, vaudeville, comedy, music, magic and cabaret performers. With the option for dinner and a show, it makes for a great night out.
When:
Saturday November 6
Something Blew
, performed at St Kilda's Theatre Works, is a new contemporary dance production by 2nd Toe Dance Collective. Examining the current socio-climate, the performance explores perversity, sexual confusion and how we might abuse our primary need for love.
When:
Oct 27 to Nov 6 - Tuesdays to Saturdays
Entertainment & Nightlife
The Melbourne Songwriters Competition
, held at The Toff in Swanston Street, is a creative and inspiring night where performers have the chance to showcase their music talents to an audience and 3 industry judges for the chance to win a respected title and some great prizes.
When:
Wednesday November 3 - Doors Open 7pm
Chicago & America
, appearing at The Palais in St Kilda, features Peter Frampton of the Grammy Award winning group, America, performing alongside Peter Frampton of Chicago fame. Celebrating their 40th anniversary as a band, Americas will perform a mix of their greatest hits.
When:
Wednesday November 3
Jeudi Jazzy
, held at the cellar of Alliance Franšaise in St Kilda, is a live performance by the New Impromptu Quartet. Featuring Alexander Nettelbeck, Khari Cabral Simmons and Ben Kosi Karsay, the band performs Jazz, Latin and Soul standards alongside their own original compositions.
When:
Thursday November 4 - 8pm
The Naked and Famous and Seabellies
will be performing on the main stage of Federation Square as part of Fed Square Live, a series of free performances. With elements of lush dream pop, brittle ambience and sparky electronic rock, The Naked and Famous deliver great alternative rock.
When:
Thursday November 4 - 6pm to 7.30pm
Delany Davidson
, performing at Upper Yarra Arts Centre in Warburton, is a New Zealand born multi-instrumentalist and singer whose music goes beyond folk to include an eclectic jumble of styles and sound experimentation as he plays dark, haunted, whiskey-drenched, tobacco-stained vagabond folk.
When:
Friday November 5 - 7.30pm
DJ Spinderella
, the Hip Hop superstar from the Grammy award winning female trio, Salt n Pepa, will be appearing Toorak's Trak Live Lounge Bar. Without question one of the pioneers of the impact women have had on hip-hop music, special guests on the night include Ashley of Pussycat Dolls.
When:
Friday November 5
Gareth Liddiard
, performing at Thornbury Theatre, is Australia's most celebrated contemporary songwriter and the creative force behind award-winning band The Drones. Armed with a guitar and a bottle of whisky, he makes surreal stories of down and outers come alive like no one else could.
When:
Friday & Saturday, November 5 & 6
Engelbert Humperdinck
will be performing at Melbourne's Arts Centre as part of his Legacy of Love Tour. With a career spanning more than four decades, Engelbert Humperdinck's music has withstood the test of time with his ability to perform everything from pop to disco, rock and gospel.
When:
Friday & Saturday, November 5 & 6
80 Gigs in 80 days
is a marathon live music event by Nicolas Jorquera of Melbourne band 'I Heart Cusack,' which will see over 160 bands performing over 80 successive days at 80 different venues all over Melbourne and Regional Victoria with the events filmed for a documentary.
When:
September 3 to November 21
Regular Gigs
Melbourne Jazz Jammers
, held at Collingwood's Leinster Arms Hotel, offers a great opportunity for musicians of any background to drop in, join in, listen in, meet other musicians and relax over a drink as the evening unfolds with anything from bebop to swing, blues, Latin and more.
When:
Fridays - 6pm to Late & Sundays - 3:30pm to 6pm
House Of Blues
, held at the Royal Standard Hotel in West Melbourne, is a special evening of music presented each week by the Melbourne Blues Appreciation Society. With a featured artist invited to play each wee, performances are followed by an open jam session for all musicians.
When:
Every Tuesday - 8pm
Comedy & Magic
Stevl Shefn and his Translator Fatima
, performed at South Melbourne's Butterfly Club, is a unique ingenious character comedy by the award-winning Steve Sheehan. The performance follows Stevl, a downtrodden everyman in the tradition of Borat, and his colourless translator, Fatima.
When:
Friday & Saturday, November 5 & 6
Theatresports
, Melbourne's longest running improvisation comedy show, celebrates its 25th season with Silver Jubilee performances held at St Kilda's National Theatre where old meets new as a handful of Theatresports veterans take to the stage with upcoming improvisers barely as old as the show.
When:
September 19 to November 21 - Every Sunday
Melbourne For Kids
Myer Christmas Windows
are an iconic part of Melbourne Christmas with each year offering a specially selected theme - chosen from a story book, nursery rhyme, a film or even the theatre - brought to life in an animation spectacular that ignites the imagination and Christmas spirit in all.
When:
Unveiled Friday November 5
Family Day at Collingwood Children's Farm
is a special children's event held each month with each family day featuring a theme that matches activities provided for kids. Activities include hayrides, a BBQ and much more to make it a great day out for the kids and family.
When:
Sunday November 7
The Kids Garden Project
, held at Como House in South Yarra, is a monthly event that lets little gardeners and aspiring conservationists learn how to make a difference to their lives and the environment with kids learning the importance of good eating habits and sustainability.
When:
Sunday November 7 - 2:30pm
Circus
Perry Bros Circus
, Australia's oldest circus, will be appearing in Bayswater North, offering quality entertainment to please the entire family. With wire walkers, Jugglers, Whip crackers, balancing acts and more the circus also features performing ponies and camels along with their very funny clowns.
When:
Until November 7 - Bayswater North

Silvers Grand Magic Circus
will be holding performances in Noble Park. Established in 1976, Silvers Grand Magic Circus offers a great show for people of all ages with performers including everything from jugglers and clowns to acrobats, international performers and more.
When:
Until November 7 - Noble Park
Markets, Fetes and Fairs
Babies Bazaar
, with over 50 stand holders, offers pre-loved and often brand new goods in a wide variety of sizes and price ranges. Held at the Wodonga Civic Centre, you'll find brand name clothes, toys, cots and even items like prams, car seats and more amongst the many children's items.
When:
Saturday November 6
Gladstone Park Primary's 40th Anniversary Celebration
is a family fun day with activities for people of all ages. Along with a market offering a variety of stalls, the celebration includes showbags, games, prizes and rides for kids with food and drinks available for purchase all day.
When:
Saturday November 6 - 10am to 4pm
Mooroolbark East Primary School Fete
offers a fun day out with attractions including a Trash & Treasure market with great bargains up for grabs, children's rides, showbags, devonshire teas for the grownups and entertainment with MEPS Idol and many other fun activities.
When:
Saturday November 6 - 9am to 2pm
North Fitzroy Primary School's Fete
will this year feature a great range of attractions with a sausage sizzle, pony rides and an animal farm, a White Elephant Sale and an Inflatable Giant Train. There'll also plaster crafts for kids, Harley Rides, live band performances and much more.
When:
Sunday November 7 - 10am to 4pm
Valkstone Primary School Fair
is a chance to come and have some fun, engage with your local community, and support a great school when they celebrate their community spirit with a day of fun for people of all ages. Attractions on the day rides, stalls, food, auctions, competitions and more.
When:
Sunday November 7 - 10am to 3pm
Melbourne Market Guide
View MARKETS calendar
to make the most of the rare sunny days (it's a coin toss, isn't it!) and head to one of Melbourne's many excellent markets, fetes and fairs for a bargain!

A growing number of food, produce and even wine markets are always popping up around the suburbs. And don't forget garage sales!
Fetes Fairs & Shows
Art & Craft Markets
Food & Produce Markets
Swap Meets
Garage Sales This Weekend
Let Melbourne Know...
Advertise Your School Fete, Fair or Carnival FREE!
Everyone wants to support their local school by going to their annual fundraiser. Last year we promoted a whopping 1,200 school events. So, make sure you let your school organizers know they can list their fete, fair or carnival for
FREE @ OnlyMelbourne!
Add Your Event for FREE Today!!
Dining & Drink
The Victorian Wine Showcase
, held at the Atrium of Federation Square, allows visitors to taste wines from regional Victorian Wineries and even meet with winemakers. This month's event will showcase New Release Wines from makers all across Victoria.
When:
Wednesday & Thursday, November 3 & 4
Sunny Sizzle Dinner Dance
, held at Preston's Rydes Hotel at Bell City, is an evening of fine food and entertainment to welcome Adrian Richardson as ambassador of next year's Great Australian Sunny Sizzle, a campaign to raise greater awareness and wider acceptance of those with disabilities.
When:
Friday November 5 - Bookings Required
OnlyMelbourne Welcomes..
Each week we highlight some of the new business listings in the OnlyMelbourne Business and Services directory.
This week we suggest the following:
SIXT Rent a Car
- New rental cars to suit your budget...
Australian Photo Booths
- Photobooth hire for parties & events...
Fabulous Catering
- Specialist catering in Melbourne & Geelong...
Poker Delux
- Organised poker night for functions & parties...
View More of the Latest Listings at OnlyMelbourne!
Sporting Events
Cricket | One Day Internationals
One-Day Internationals Series
Australia v Sri Lanka
Wednesday November 3
MCG, Melbourne
Soccer | Hyundai A-League
Hyundai A-League - Week 13
Melbourne Victory v Gold Coast United
Saturday November 6 - 7pm
Marvel Stadium, Docklands
Roller Derby
Victorian Roller Derby League
, founded in 2007, is a Melbourne based, not for profit organisation that holds Roller Derby Matches in Reservoir.
Season 5 Match Dates
Saturday November 6
Dead Ringer Rosies vs Dolls Au-Go-Go
The Trots
Melbourne Cup Carnival
at Flemington Racecourse offers all the excitement of the world-renowned four-race carnival.
Saturday October 30
- AAMI Victoria Derby Day
Tuesday November 2
- Emirates Melbourne Cup Day
Thursday November 4
- Crown Oaks Day
Saturday November 6
- Emirates Stakes Day
Victoria's Spring Racing Carnival
showcases 50 days of premier world-class thoroughbred racing with 85 race meetings across the Victoria, including 20 Country Cups at venues such as Ararat. More than just a racing festival, the event highlights fashion, luxury dinners and more.
When:
October 1 to November 19 - Various Venues
Pakenham Racing Club
, founded in 1875 and an hour's drive from Melbourne, provides a country atmosphere within reach of the city, without the metropolitan price tag.
November Race Dates
Oaks Day
Thursday, November 4
Triathlons
XOSIZE Tri Series
is one of Victoria's premier triathlon series with five exciting sporting events for all ages and abilities held in stunning bay side locations.
Race 1 - Held in Brighton
Sunday November 7
Community Sports
The Y Rowing Centre
, located in Albert Park Lake, invites you to try your hand at rowing. Held on the first Sunday of each month, the Come & Try Rowing sessions are open to participants of all ages. Just turn up and have fun!
Sunday November 7
Cost: $10 - Bookings only required for groups.
Melbourne Tours
Smartvisit Card
is the best way to see the sights of Melbourne, whether you're visiting Melbourne for business, a vacation, or even if you're a local wanting to find Melbourne's hidden treasures!
The Smartvisit Card includes entry to attractions such as Melbourne Zoo, Melbourne Aquarium, Old Melbourne Gaol, Telstra Dome, Cook's Cottage, Melbourne River Cruises, and many more of Melbourne's TOP venues!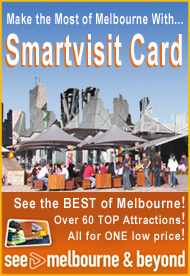 Free entry to over 60 top attractions..
Visit great venues like Zoos, museums & more across Melbourne & Victoria!
Over $800 of entry fees for ONE low price..
Plus special offers & discounts!
Visit just 2 Attractions a day & you'll save!
FREE 128 page guidebook..
Tailored to local knowledge on what to see & do!
Cash free entry..
Show your card & you're in, no need for cash!
All year-round Attractions..
Whatever time of year you visit - rain or shine!
Learn more about Smartvisit Card
Trivia
Bunswick Street's Grey History
During a period of Victoria's naive history, long before political correctness, Fitzroy's Labour in Vain Hotel (established in 1853) made emphasis of its title by displaying a sign that showed a white woman trying to wash the black from a black child to no avail.
Not to be outdone, the owner of the nearby Perseverance Hotel erected his own sign, which also emphasised the Hotel's name by displaying the very same picture but with the child growing whiter as it was scrubbed.
More about Melbourne's Historic Pubs
|
More Melbourne Trivia...
WHAT'S ON CALENDAR
Speaking of what's on, our
new calendar
allows you to select any day of the year to view everything (everything!!!) on that day in an easy to read, printable display.
-:- View
What's On Calendar
-:- View
Markets Only Calendar
OnlyMelbourne On The Phone

OnlyMelbourne
is now
mobile phone
compatible. Yes, our pages are formatted to be viewed on the small screen. To view our mobile phone website, go directly to our
Mobile Home Page
with your web compatible mobile phone at
www.melbournemobile.com.au
!
OnlyMelbourne is already iPad friendly, we know, we have one (chuckle) says he with bragging rights!
The Age iPad App
WHAT'S ON RSS FEEDS
We have a range of
RSS Feeds
.
NEWSLETTER
What's On this Week
is an email overview and reminder of the (too many to mention) events happening this week in Melbourne.
Get your copy
of What's On this Week!
FREE ADVERTISING
Advertising
your EVENT at OnlyMelbourne is not only easy, it's
FREE!!
-
Apply Online..
for inclusion in the What's On calendar and newsletter!
❊ Address & Contact ❊
⊜ Newsletter | #200 | What's On this Week Melbourne |
Map
❊ Web Links ❊
→
Newsletter | #200 | What's On this Week
→
Subscribe to OnlyMelbourne - Get your copy of What's On this Week!
→
List Your Business or Event - It's FREE!
→
Events Calendar - Find out What's On any day of the week!
→
Mobile OnlyMelbourne - View Our Website On Your Phone
→
Melbourne for Children | Kids
→
Newsletter | #199 | What's On this Week [Last Week]
❊ COVID-19 Notice ❊
Many locations have gone into lockdown as the state takes action to stop the spread of the deadly coronavirus (COVID-19).
→
Disclaimer
: Check with the operator before making plans
...
Trending HOT

Things to see, hear & do this weekend
Make the most of your weekend in Melbourne with these fabulous events. No city does it better than Melbourne, so get out and discover the very best shows, festivals, ..
---
Update Page