Newsletter | #194 | What's On this Week
Welcome to this week's Melbourne events, exhibitions, sports and community guide for Tuesday September 21 to Monday September 27, 2010.
This week... Melbourne Fringe Festival hits town with all its wonderfully quirky performances in an explosion of arty-fartyness guaranteed to have culture-vultures drooling at the beak. There's also true signs of spring finally having sprung with the Wildflower Festival held at the Royal Botanic Gardens in Cranbourne, showcasing no end of native flowers along with special activities for the kids.
Things are also getting big and brassy with two music festivals blowing their own trumpets this week with the Montsalvat Jazz Festival and the Melbourne International Festival of Brass, both featuring some of the best bands in the music scene today.
Should you happen upon anyone blowing their own trumpet elsewhere, well that's either a risque performance as part of Fringe, or you just should've caught a taxi yet again instead of risking the late night tram. And if you find yourself audience to a boisterous chap wrestling his ball while onlookers cry foul, you've clearly gone for the third option with a late-night train... unless you're at the biggest sports event of the year, that being the AFL Grand Final.
School Holiday Guide

Check out our
School Holiday Guide
for all the latest on what to do with the kids during the Spring Holidays, which run until Sunday October 3. The holiday guide offers some of the best things to do over the holiday period for the young and young at heart, with events, tours and holiday care programs.. all in marvelous Melbourne!
View School Holiday Guide
Mackillop the Musical | Ticket Giveaway!!
Mackillop the Musical
, is a new and topical performance chronicling the incredible life Mary MacKillop. Premiering at The Besen Centre in Burwood to coincide with the canonisation of Australia's first saint, the play by Xavier Brouwer features a cast of 80 and a 25 piece live orchestra.
When:
Saturday & Sunday, October 23 & 24
OnlyMelbourne
has
5 Double Pass Tickets
to give away for the exciting new performance of MacKillop the Musical.
To win a Double Pass, simply
Visit Here
and contact us using the Contact Button located at bottom of the page to email us the correct answer to this question,
"In which Melbourne Suburb was Mary MacKillop born?"
The first five people to send us the correct answer will each receive a Double Pass. Only winners will be notified.
Major Events
Melbourne Fringe Festival
is a celebration of Melbourne's vibrant and quirky arts culture with an extensive program of music, theatre, exhibitions and much more. Showcasing the talents of independent artists and performers at various venues, the festival includes performances for kids.
When:
September 22 to October 10
The Northcote Kids Festival
, held over two weeks during September School Holidays at Northcote Town Hall, offers a selection of theatre, music, magic, and workshops for children and their families with more than 35 performances in an inspiring program for kids of all ages.
When:
September 21 to October 3
Trung-Thu Festival
, also known as Children's Moon Festival, is one of the most popular Vietnamese festivals. Held at the Quang Minh Buddhist Temple in Braybrook, the festival is a celebration of children and laughter with the children's lantern procession, songs, dances and more.
When:
Saturday September 25 - 5pm to 9pm
Wildflower Festival
, held at Cranbourne's Royal Botanic Gardens, celebrates Spring when the bush land is carpeted with beautiful flowers. With tours to explore the bushland, workshops on how to create a native garden and more, the festival includes an extensive school holiday program.
When:
Until October 3
Royal Melbourne Show
, a highlight of School Holidays, provides entertainment for all ages. With something for everyone, from extreme rides and hundreds of showbags to choose from to food and rides, the Melbourne Show also has animal, woodchop contests and many more attractions.
When:
September 18 to 28
The Tesselaar Tulip Festival
, held in Silvan an hour away from Melbourne, is a vibrant festival that celebrates Spring with fields that feature more than half a million beautiful flowers. With themed weekends held throughout the festival, attractions include concerts, kids' days and more.
When:
September 16 to October 13
Music & Arts Festivals
Montsalvat Jazz Festival
, held at the historic artist's colony in Eltham, brings great food and wonderful, vibrant music to the picturesque surrounds with a fantastic line up that includes Paul Williamson, the Andrea Keller Quartet and 2008's Jazz Artist of the Year, Julien Wilson.
When:
Sunday September 26
The Melbourne International Festival of Brass
features recitals and concert performances from some of Australia's finest musicians and brass ensembles. The festival program includes musicians' forums, concerts, workshops, jam sessions and more at several venues throughout Melbourne.
When:
September 26 to October 2
Melbourne Music
, presented by the City of Melbourne, brings musical performances to laneways, trams, trains and squares with free concerts, public lectures and workshops. Featuring grass-roots and internationally renowned artists, it includes the search for Melbourne's best busker.
When:
September 29 to October 10
Food & Wine Festivals
The Asian Food Festival
, returning after last year's hiatus, celebrates Spring and the diverse range of Asian cuisine available in Melbourne. One of Melbourne's most popular culinary celebrations, special dinners, offers and events will be held at Melbourne's best Asian restaurants.
When:
Held Throughout September
Film Festivals
Digital Fringe
, held as part of Melbourne Fringe, is a visual delight with imagery and film showcased throughout Melbourne in venues that include libraries, shopfronts and more, presenting the work of emerging and established artists in unique, and often novel, environments.
When:
September 22 to October 10
Upcoming Events
Autumn Gem
, a documentary on modern China's first feminist, Qiu Jin, will screen for free at Burwood's Deakin University along with a Q&A session. The film explores Qiu Jin's extraordinary life as an accomplished writer, women's rights activist, and revolutionary leader.
When:
Tuesday September 28 - 6pm to 8pm

NEW LIVE CALENDAR
To find out about future events in Melbourne, have a look at our new calendar, with details about many more events that lie ahead so you can jot them down on the to-do list , including Exhibitions, Live Gigs, Theatre, Markets, Expos and more..
View Future Events on any day of the week
Exhibitions - Art | Festival | Show
Roads
, held at Brunswick Street Gallery, is a photographic exhibition of images by Dominik Staszowski. Taken over a 7-month period, the photos detail life and experiences through 30 countries around the world with the collection consisting of works capturing both people and landscapes.
When:
September 24 to October 7
Opening Night:
Friday September 24 - 6pm to 9pm
Vern Sherman Drinks Tea and Other Tales
, one of three exhibitions held at Collingwood gallery Off the Kerb, is a presentation by I & The Others, who have used a variety of media to created a series of works inspired by three and a half months spent in the United States last year.
When:
September 24 to October 15
Opening Night:
Friday September 24 - 6pm to 9pm
A Vision of Light
, presented at East Ringwood's Temple of Illumination, showcases an eclectic array of inspired works from some fabulous local fine artists and photographers. With all works for sale, featured artists in the exhibition include Dakeno Mark, Ngaire Johansen and Luana Mcdonald.
When:
September 24 to 30
Opening Night:
Friday September 24 - 7pm to 10pm
Stitches & Strokes
, an exhibition held at Kinross House in Toorak, is a beautiful presentation of textiles. With works by artists Lyn Guy, Bridget Frawley and Margaret Craven, the pieces display the technique of machine embroidery using silk fabrics and acrylic on canvas.
When:
Until October 3
Through the Cipher's Interval
, held at Bundoora's La Trobe University, is the first of a series of muti-media installations by Lyn Plummer, which will exhibit throughout Australia. Using video, light and colour, the works examine how people interact in relation to religion and art.
When:
Until October 3 - Mondays to Fridays
Virtual Encounter
, presented at Melbourne's Queen Victoria Women's Centre, is an exhibition of recent works by Julia Bilecki. Her latest works are urban landscapes, her own rendition of the physical elements in an urban area or city, focusing on the daily dynamics of city living.
When:
Until October 8
Visage
, held at the Upper Yarra Arts Centre, is Warburton's inaugural Portrait Competition featuring people who live, work and play in the Upper Yarra region. With works that are drawn, painted, sculpted and photographed, the exhibition depicts the lively, interesting and quirky characters.
When:
Until October 7 - Tuesdays to Saturdays
ABBAWORLD
, held at Federation Square, is an amazing multimedia exhibition that enables visitors to experience the music and magic of ABBA with state-of-the-art technology making a highly interactive experience where visitors can journey through ABBAWORLD'S 25 environments.
When:
Until October 31
The Amazing Bodies Exhibition
, held at Waterfront City in Docklands, is a chance to explore nature in a unique way with amazing displays of natural anatomical wonders. Using real body specimens, perfectly preserved, the exhibition shows muscular and bone structure in a captivating display.
When:
Until October 31
Phar Lap
will be the focus of a special exhibition held at the Melbourne Museum. Marking the 150th running of the Melbourne Cup and the 80th anniversary of Phar Lap's historic win, his impressive skeleton will be on display, on loan from Wellington's Te Papa Tongarewa Museum.
When:
Until January 30
trans-FORM
is an exhibition of sculpture by staff and students of Bayside Sculpture, located in Highett. With an emphasis nurturing the abilities and talents of emerging sculptors, particularly women, works displayed include winterstone, wood, ceramics and more with pieces on sale.
When:
September 20 to 25 - Monday to Saturday
The Making of Hope
, presented by fairtrade outlet One Seed and Design Original Art Gallery in Docklands, is a free exhibition of works by humanitarian photographer, Shelley Morris, detailing the opportunities One Seed provide in rural Cambodia and the hardships faced by those there.
When:
Friday September 24 - 6pm to 11pm
Left Behind
, held at Fitzroy North's Red Gallery, details the traces of life that linger in abandoned homes. Worn carpet, broken blinds and fragmented windows testify to years of occupation, while scattered possessions tell something of the nature of inhabitants once present and what they left behind.
When:
Sept 22 to Oct 9 - Wednesdays to Saturdays
Glass @ Fed Square
, presented by Architectural Glass Design Australia, is an exhibition of twelve panels of stained glass works suspended from the ceiling of the Atrium at Federation Square. The event also features floor level photographic information displays and demonstrations.
When:
Until September 26
Faces of Fashion
, is a presentation of the most iconic illustrations by legendary fashion illustrator, David Downtown. Held at Chadstone's Luxury Precinct, the retrospective features some of the world's most beautiful women including Dita von Tesse, Liz Hurley and Twiggy.
When:
September 9 to October 3
Images of Dance
, showing at Steps Gallery in Carlton South, is an exhibition by Debra Luccio that features paintings and monotypes that revisit her time spent with performers of the Queensland Ballet and also in New York with the NYC Ballet, capturing their physical movements.
When:
September 3 to 26 - Wednesday s to Sundays
From the Edge
, held at Montsalvat in Eltham, is an exhibition by Jenni Mitchell, who has spent much time studying and travelling to exotic and wild locations, which she has captured in paintings and photographs, exploring the patterns and rhythms of the natural land and seascape.
When:
Until September 30
Conversing
, an exhibition by David Tolley held at MARS Gallery in Port Melbourne, features artwork in contrast to his paintings over the last decade with his recent works examining the essence rather than elaboration of the structures and references held within his works.
When:
Until October 3 - Closed Mondays
Deborah Hally
, one of three artists exhibiting at St Kilda's Obscura Gallery, presents The Subterraneans, a series of photographic works that explore social and psychological experiences, both real and imagined. Her hauntingly beautiful works display child-like states of innocence.
When:
September 2 to 29 - Tuesdays to Saturdays
A New Jerusalem: Faith and the City
, presented at Melbourne Town Hall's City Gallery, is an exhibition by Christos Tsiolkas and Zoe Ali, long-time collaborators whose themes of exile, longing, faith and identity use image and text to explore the meaning of worship and faith today.
When:
September 2 to 22 - Mondays to Saturdays
Gestures & Procedures
is a new survey exhibition where artists use gestures, rituals and repetitions captured in video and photography. Presented at the Australian Centre of Contemporary Art in Southbank, recent works are shown along with key 1970s projects by pioneer conceptual artists.
When:
Until September 26
Burke and Wills: Terra Incognita
is a chance to discover the remarkable story of Burke and Wills' ill-fated Victorian Exploring Expedition. Marking the expedition's 150th anniversary, the exhibition at the State Library of Victoria includes original paintings, sketches and artefacts.
When:
Until October 3
Tim Burton: The Exhibition
is a special showcase of works brought to Melbourne direct from direct from The Museum of Modern Art in New York. Held at ACMI in Federation Square, the exhibition brings together over 700 works that helped create Burton's films, including drawings, puppets and more.
When:
Until October 10 - Open Daily
Expos, Launches & Open Days
MCG Community Day
welcomes footy fans on to the hallowed MCG turf to relive the thrill of the Grand Final, the most significant day of the footy calendar. Fans will have the opportunity to stand on the dais, pose in front of the giant scoreboard and explore the National Sports Museum.
When:
Sunday September 26, 10am to 4pm
Mothercare
, the world's leading parenting shop, will be launching at Knox Shopping Centre in Wantirna South with free kids' entertainment on offer to celebrate the opening. The free activities for children include balloon sculpters, face painters, photo booths and much more.
When:
Friday to Sunday, September 24 to 26
Car Shows
Lincoln Mercury Club
will be holding a display day and BBQ at Southbank's Queensbridge Square. With the aim of encouraging the restoration and preservation of classic cars, the day will feature fantastic cars on show throughout the day with club members on hand to offer information.
When:
Sunday September 26
Car Clubs Showcase Series
, held at Federation Square, features a different Car Club every month when ardent car enthusiasts and general public alike can wander through an amazing array of classic, modern and vintage cars. This month's event features the Mercedes Benz Club of Victoria.
When:
Sunday September 26 - 11am to 2:30pm
Pet Shows
Dogs Victoria
present Championship and Breed Shows, offering a great way to look at various dog breeds up close and speak to breeders and fanciers about the pros and con of owning a particular breed of dog. Most events include special agility competitions and entertaining parades.
When:
Saturday & Sunday, September 25 & 26
Performances & Theatre
The Price of Genius: A Daughter of the Revolution
, held at South Melbourne's Butterfly Club, celebrates the 250th anniversary of the birth of Mary Wollstonecraft with a performance by Ilsa Cook that examines the remarkable life of the woman who gave birth to feminism and Mary Shelley.
When:
Thursday to Sunday, September 23 to 26
I Could Be You
, presented as part of the Girls At Work series at St Kilda's Theatre Works, is a new play by award winning author Hoa Pham. Based on true stories, the play examines the life of Shireen, an Indian international student who finds herself in Maribyrnong detention centre.
When:
September 23 to 25 & October 5 to 9
Ad Nauseam: A Night of Infidelity
, presented by AtticErratic, is a monologue following one man's night through the streets and bars of some city or other. Using poetic language and a musical score of waltzes and rock music, it's held at Collingwood Underground Carpark.
When:
September 23 to 30 & October 5 to 7
Passion Pop
, performed at Richmond's Station 59, is a cross media production by Duchess Productions, combining film and live theatre to tell of an alcohol fuelled group of friends who discover their sexuality and the difficulties of infatuation, amidst their young and naive confusion.
When:
Wednesday to Friday, September 22 to 24
Sand
, presented by Geelong's Courthouse Arts with performances held at Woodbin Theatre, is a tense and touching psychological drama dealing with the lengths that humans will go to in order to survive as three very different men find themselves stranded on a desert island.
When:
September 22 to 24 - 7.30pm
Man of La Mancha
, presented by CLOC Theatre with performances held at St Kilda's National Theatre, is the musical tale of Don Quixote and his adventures with his loyal squire Sancho Panza as they fight windmills, mirrors and more in their quest to save damsels and right wrongs.
When:
September 17 to October 2 - Wed to Sun
Syncopation
, presented by the Follies Company, is a musical set in the exciting, electric rush of New York City in 1912. With choreography by Mark Hodge from Dancing With The Stars, the play held at Prahran's Chapel Off Chapel follows the relationship between two dance partners.
When:
September 8 to 26 - Tuesdays to Sundays
The City
, presented by Red Stitch Actors Theatre in St Kilda, is the Victorian premiere of the surreal drama by groundbreaking British playwright, Martin Crimp. Directed by Andrea Jacobs, the compelling play explores urban life, the theatre from outside and the nature of fiction itself.
When:
September 1 to 25 - Wednesdays to Sundays
West Side Story
, one of the most iconic musicals, is held at Melbourne's Regent Theatre with Joey McKneely's vibrant new stage production of the classic dance musical having already met rave reviews overseas. Based on Shakespeare's Romeo and Juliet, it features a spectacular orchestra.
When:
Until October 3
|
Book Now!
All About My Mother
, performed at Melbourne Theatre Company Sumner Teatre in Southbank, is the theatrical adaptation of the film by Pedro Almodovar. Written by Samuel Adamson, the play follows a mother's strength as she searches for an old lover following the death of her son.
When:
August 14 to September 26
Mary Poppins The Musical
, held at Melbourne's Her Majesty's Theatre, brings the classic books and beloved Disney film to the stage with a spectacular production that includes all of the best loved songs from the film including Chim Chim Cheer-ee and Supercalifragilisticexpialidocious.
When:
Until October 17
|
Book Now
Classical, Choral & Recitals
La Prima Opera
, appearing at the Whitehorse Centre in Nunawading, will present a performance that features beautiful solos, duets and trios from your best loved operas including Carmen, La Boheme, The Barber of Seville, Cosi Fan Tutte, Rigoletto, Tales of Hoffmann and many more.
When:
Wednesday September 22 - 11am
A Time, A Place
is a performance by the Tudor Choristers, featuring music that evokes community spirit and the lives of people of different places and times. With masterpieces that include works by Kodaly and Peter Sculthorpe, it's held at St John's Anglican Church in Camberwell.
When:
Friday September 24 - 8pm
Elandra String Quartet
will be performing at St John's Southgate, where they'll appear with guest artist Amir Farid of the Benaud Trio. A dynamic new ensemble based in Melbourne, the group will perform works by Haydn, Richard Meale and Schumann with violin, viola and cello.
When:
Sunday September 26 - 3pm to 5pm
Viennese Masters
, presented by the Australian Chamber Orchestra, celebrates Schubert, Beethoven and Brahms as the masters of Vienna when it was the centre of 19th century music-making. The concert includes Satu Vänskä's show-stopping performance of Schubert's Rondo Brilliante.
When:
Sunday & Monday, September 26 & 27
Burlesque, Cabaret & Dance
Of Earth & Sky
, performed by Bangarra Dance Theatre, sees the return of renowned choreographer Frances Rings with Artefact and the debut work Riley by Daniel Riley McKinley. Held at the Arts Centre, Riley is inspired by the Cloud series of photographs by the late Michael Riley.
When:
September 23 to October 2
La Petite Mort
, presented at Theatre Works in St Kilda, is a raunchy cabaret romp through sex and sexuality. French for 'The Little Death', Isabel Hertaeg's play about The Orgasm uses cabaret to explore sexuality, love, science, and more with comically shocking tales.
When:
September 23 to October 2
Red Door Burlesque
will be performing at the stylish Order of Melbourne in Swanston Street. Offering the finest in burlesque, vaudeville and circus, the night includes seductive tunes from DJ Emma Peel, saucy pinup girls, and death-defying aerial acts performed right above your table.
When:
Sunday September 26 - Doors open 6pm
How High the Moon
, held at Melbourne Cocktail Bar, 24 Moons, is a night with character with feel good performances by professional characterising Burlesque dancers. Stylish, sophisticated and classy, the night features the finest burlesque with a lush, titillating mood.
When:
Every Saturday - 9:30pm to 3am
Entertainment & Nightlife
Tight Rope
is an over 18 gig organised by event students showcasing Box Hill Institute student musicians and their respective bands. Held at the Esplanade Hotel in St Kilda, entry is only $5 with bands on the night including Vulpine, No Love For Lexi, Jubal and Jakk's Azimuth.
When:
Tuesday September 21 - 7:30pm
Mr Percival
, a unique musician whose solo performances use a collection of microphones and looping pedals, will be appearing at the East Brunswick Club. With a new album 'Microphones' on sale now, Mr Percival's performances are infectious, drawing audiences into his world.
When:
Wednesday September 22
One Kind
will be launching their latest release Mono/Stereo at The Spanish Club in Fitzroy. With their music having been described as Modern Rock meets 80 sounds, the group, will be supported on the night by guest bands, Brothers Crossing, Empra and Andrew McDonald.
When:
Friday September 24 - Doors Open 8pm
Ruth Roshan & Tango Noir
will be appearing at The Boite Cafe in Fitzroy North. Capturing the ambience of a 1930's French Salon, their performances are laden with flair, elegance and sauciness, taking the audience on a journey into the thrilling musical world of the tango.
When:
Saturday September 25
80 Gigs in 80 days
is a marathon live music event by Nicolas Jorquera of Melbourne band 'I Heart Cusack,' which will see over 160 bands performing over 80 successive days at 80 different venues all over Melbourne and Regional Victoria with the events filmed for a documentary.
When:
September 3 to November 21
Regular Gigs
The John Montesante Quintet
, performing at The Commune Cafe Bar, brings a hint of New York Be-Bop to Melbourne with performances that include timeless Jazz standards and improvisations by John Montesante and some of the finest, hottest Jazz players in town.
When:
Every Thursday - 5:45pm to 8:45pm
Melbourne Jazz Jammers
, held at Collingwood's Leinster Arms Hotel, offers a great opportunity for musicians of any background to drop in, join in, listen in, meet other musicians and relax over a drink as the evening unfolds with anything from bebop to swing, blues, Latin and more.
When:
Fridays - 6pm to Late & Sundays - 3:30pm to 6pm
House Of Blues
, held at the Royal Standard Hotel in West Melbourne, is a special evening of music presented each week by the Melbourne Blues Appreciation Society. With a featured artist invited to play each wee, performances are followed by an open jam session for all musicians.
When:
Every Tuesday - 8pm
Open Mic Sunday's
, held at Wild Oscars in Richmond, is a weekly Open Microphone night with gear supplied in house so musicians need only bring their guitar and talent. There is a prize of $50 for the winner plus the chance to play their own fully paid gig on a Friday night at the venue.
When:
Sundays - Starts 7pm
Cinema
The Melbourne Horror Film Society
, a not-for-profit group that screens the best and worst horror films ever made, holds monthly film sessions at Melbourne's cinema bar, 1000 Pound Bend. With a generous entry fee by membership, they'll be screening the film, The Beyond.
When:
Wednesday September 22 - 7:30pm
Dolphins and Whales 3D
, screening at Melbourne Museum's IMAX Cinema, is the latest underwater epic by Jean-Michel Cousteau and the Mantello Brothers. Narrated by Daryl Hannah, the film features humpback whales, belugas, orcas and more filmed across the world over three years.
When:
Until September 29
Comedy & Magic
Theatresports
, Melbourne's longest running improvisation comedy show, celebrates its 25th season with Silver Jubilee performances held at St Kilda's National Theatre where old meets new as a handful of Theatresports veterans take to the stage with upcoming improvisers barely as old as the show.
When:
September 19 to November 21 - Every Sunday
Comedy With Grace
, held weekly at the Grace Darling Hotel in Collingwood, is a platform for some of Australia's biggest names in comedy to test new material or polish some old, as well as showcase the best new up and comers from around the country with a new line-up every week.
When:
Sundays - 7pm to 9pm
Studio A
, Melbourne's own live TV Comedy Tonight Show on Channel 31, invites the public to come get up close to the funny by being in their live studio audience. Hosted by popular comedian Tommy Little Studio A features celebrity guests, interviews, bands, stand-up and live sketches.
When:
Mondays - 8:30pm
Melbourne For Kids
BEN 10 LIVE: Power of the Omnitrix
, held at Hisense Arena, brings the phenomenally successful hit cartoon to Melbourne as everyone's favourite boy-hero, Ben Tennyson, and his alien heroes come to life on stage in a show full of cool stunts, incredible action and awesome special effects.
When:
Tuesday & Wednesday, September 21 & 22
Whispering Jack and the Beanstalk
, the acclaimed children's production by Promac Productions Australia, will be playing at Darebin Arts & Entertainment Centre in Preston. The show casts the classic character Jack as a mad singing John Farnham Fan, putting a new spin on the tale.
When:
Friday September 24 - 11am
Disney's High School Musical
, performed by Altona City Theatre, brings the smash hit movie to the stage. Held at Altona Theatre, the performance follows the social upheaval that ensues when members of different cliques break rank by performing together.
When:
September 17 to October 2
Disney's Club Penguin
is calling Melbourne Aquarium its home for a limited time with children invited to dive into the fun and adventure with daily treasure hunts, an exciting games room complete with Nintendo DS and Wii consoles, free activity books, heaps of fun prizes and more.
When:
September 1 to October 3
Circus
Perry Bros Circus
, Australia's oldest circus, will be appearing in Dingley Village, offering quality entertainment to please the entire family. With wire walkers, Jugglers, Whip crackers, balancing acts and more the circus also features performing ponies and camels along with their very funny clowns.
When:
Until October 3 - Dingley Village
Circus Sunrise
, an action-packed show for all the family, will be appearing with performances held in Sunshine. A true family circus with lineage going back to 1648, the performances of Circus Sunrise feature juggling, acrobatics and whip-cracking excitement!
When:
Until October 3 - Sunshine

Silvers Grand Magic Circus
will be holding performances in Nunawading. Established in 1976, Silvers Grand Magic Circus offers a great show for people of all ages with performers including everything from jugglers and clowns to acrobats, international performers and more.
When:
Until October 10 - Nunawading
Markets, Fetes and Fairs
Australian Native Orchid Show
, held at Mount Waverley Community Centre, features displays of the most diverse and largest collection of terrestrial orchids including rare, endangered species. Along with the Orchid Cafe, the show includes an exhibition area with art and photography.
When:
Saturday & Sunday, September 25 & 26
Melbourne Market Guide
View MARKETS calendar
to make the most of the rare sunny days (it's a coin toss, isn't it!) and head to one of Melbourne's many excellent markets, fetes and fairs for a bargain!

A growing number of food, produce and even wine markets are always popping up around the suburbs. And don't forget garage sales!
Fetes Fairs & Shows
Art & Craft Markets
Food & Produce Markets
Swap Meets
Garage Sales This Weekend
Let Melbourne Know...
Advertise Your School Fete, Fair or Carnival FREE!
Everyone wants to support their local school by going to their annual fundraiser. Last year we promoted a whopping 1,200 school events. So, make sure you let your school organizers know they can list their fete, fair or carnival for
FREE @ OnlyMelbourne!
Add Your Event for FREE Today!!
Dining & Drink
The Spring Graze
, held as part of Put Victoria on Your Table - a campaign by the Victorian Government that celebrates our state's greatest food and wine - offers a series of events celebrating the arrival of Spring with more than 40 flavoursome events held at restaurants across Victoria.
When:
Held Throughout September
OnlyMelbourne Welcomes..
Each week we highlight some of the new business listings in the OnlyMelbourne Business and Services directory.
MELTours - Walking and Bicycle Tours of Melbourne
offer an entertaining insight into Melbourne's hidden gems. MELTours pride themselves in showcasing the best of the city in a sustainable and eco-friendly way with a leisurely walk around the city exploring art, laneways, shopping, bars, nightclubs and so much more in Melbourne.
This week we suggest the following:
EPR Productions
- Professional entertainment...
Lex-Itu
- Blog of a Melbourne Student...
Enchanted By Books
- Children's book store in Williamstown...
Been Cleaned
- Domestic & commercial cleaners...
View More of the Latest Listings at OnlyMelbourne!
Sporting Events
AFL Premiership | Grand Final
AFL Premiership | GRAND FINAL
Collingwood vs St Kilda
Saturday September 25 - 2:30pm, MCG
AFL Grand Final Week
is a chance to catch footy fever at Federation Square and Melbourne with free daily activities on offer for all football fans. Along with the much-loved Grand Final Parade, Federation Square will have the AFL Live Site with player appearances, footy panels and more.
When:
September 20 to 25
The Trots
Country Racing Victoria
represents racing clubs in outer metropolitan areas like Werribee and Mornington along with small clubs in rural areas such as Edenhope and Towong.
Highlights
Midweek Racing, Sale Turf Club - Sept 23
Race Dates:
September 21, 23, 24, 25 & 27
Melbourne Tours
Smartvisit Card
is the best way to see the sights of Melbourne, whether you're visiting Melbourne for business, a vacation, or even if you're a local wanting to find Melbourne's hidden treasures!
The Smartvisit Card includes entry to attractions such as Melbourne Zoo, Melbourne Aquarium, Old Melbourne Gaol, Telstra Dome, Cook's Cottage, Melbourne River Cruises, and many more of Melbourne's TOP venues!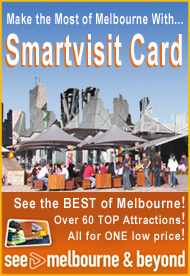 Free entry to over 60 top attractions..
Visit great venues like Zoos, museums & more across Melbourne & Victoria!
Over $800 of entry fees for ONE low price..
Plus special offers & discounts!
Visit just 2 Attractions a day & you'll save!
FREE 128 page guidebook..
Tailored to local knowledge on what to see & do!
Cash free entry..
Show your card & you're in, no need for cash!
All year-round Attractions..
Whatever time of year you visit - rain or shine!
Learn more about Smartvisit Card
Trivia
Lost in Translation..
Rumours abound that the pla
❊ Address & Contact ❊
⊜ Newsletter | #194 | What's On this Week Melbourne |
Map
❊ Web Links ❊
→
Newsletter | #194 | What's On this Week
→
Subscribe to OnlyMelbourne - Get your copy of What's On this Week!
→
List Your Business or Event - It's FREE!
→
Events Calendar - Find out What's On any day of the week!
→
Mobile OnlyMelbourne - View Our Website On Your Phone
→
Melbourne for Children | Kids
→
Newsletter | #193 | What's On this Week [Last Week]
❊ COVID-19 Notice ❊
Many locations have gone into lockdown as the state takes action to stop the spread of the deadly coronavirus (COVID-19).
→
Disclaimer
: Check with the operator before making plans
...
Trending HOT

Drive-In Movie Club
Drive-In Immersive Cinema Nights Are Coming to Melbourne Put together by our friends at Hot Tub Cinema, a string of family-friendly, social distancing-safe, drive-in ..

Things to see, hear & do this weekend
Make the most of your weekend in Melbourne with these fabulous events. No city does it better than Melbourne, so get out and discover the very best shows, festivals, ..
---
Update Page