Newsletter | #193 | What's On this Week
Welcome to this week's Melbourne events, exhibitions, sports and community guide for Tuesday September 14 to Monday September 20, 2010.
This week... have a taste of freedom why not, and get along to the Freedom Celebration Concert at Queensbridge Square where there's a day of music, fair-trade food and activities on offer. And for those who give a pluck, there's the Guildford Banjo Jamboree near Daylesford for a weekend of strumming.
And with the School Holidays on the rise, there's an enormous array of events for the family, most notably the Royal Melbourne Show. The tulips are also in bloom for the Tesselaar Tulip Festival, with specially themed weekends held for the family, perfect for those not prone to sneezes inspired by the sex dust of those naughty flowers out there.
School Holiday Guide

Check out our
School Holiday Guide
for all the latest on what to do with the kids during the Spring Holidays running from September 18 to October 3. The holiday guide offers some of the best things to do over the holiday period for the young and young at heart, with events, tours and holiday care programs.. all in marvelous Melbourne!
View School Holiday Guide
Melbourne City | Spring School Holidays
- Spend these spring school holidays in the city to discover what Melbourne offers with great adventures for every day of the week. With so much to see and do, attractions include the State Library of Victoria, Cooks' Cottage and the Royal Botanical Gardens.
When:
During Spring School Holidays
Witches & Wizards & Tails of Lizards!
is a special holiday performance at Rippon Lea, Elsternwick's heritage listed estate. A story of magical misfortune, performances follow the adventures of Wizard Powers, a wizard's apprentice who needs the help of Witch Way-Did-She-Go and the audience.
When:
September 20 to October 1 - Weekdays
Major Events
Freedom Celebration Concert
, a festival day held at Southbank's Queensbridge Square, celebrates the freedom we enjoy in Australia, while also raising awareness of those less fortunate in other countries. With live music, fair trade stalls, kid's activities and more, the event is free to attend.
When:
Saturday September 18
Royal Melbourne Show
, a highlight of School Holidays, provides entertainment for all ages. With something for everyone, from extreme rides and hundreds of showbags to choose from to food and rides, the Melbourne Show also has animal, woodchop contests and many more attractions.
When:
September 18 to 28
Doveton Show
, held annually, is a community-run festival that holds a day of fun for the whole family with music and dance performances, animals, amusement rides, market stalls and more. Held at Myuna Farm, the show offers a low-cost alternative to a certain other much-hyped show.
When:
Sunday September 19 - Entry by Gold Coin Donation
The Tesselaar Tulip Festival
, held in Silvan an hour away from Melbourne, is a vibrant festival that celebrates Spring with fields that feature more than half a million beautiful flowers. With themed weekends held throughout the festival, attractions include concerts, kids' days and more.
When:
September 16 to October 13
Overload Poetry Festival
, Australia's premier poetry festival, celebrates the vibrant poetry scene with special events that offer a broad program of entertainment with poets from across the globe converging on Melbourne with performances of spoken word held at various venues.
When:
September 10 to 19
Darebin Music Feast
offers a huge program of events celebrating song writing and music in all its diverse forms. The festival features hundreds of events that celebrate the diversity of Darebin, Melbourne's thriving music community, including High Vibes, the festival's closing celebration.
When:
September 4 to 19
Music & Arts Festivals
Firing Into the Future
, Ceramics Victoria's 9th Festival in Ceramics, features the works of 7 National Ceramic Artists including Julie Bartholomew and Maria Coyle. Held at the University of Ballarat, the festival program includes workshops and presentations on ceramic art.
When:
Saturday to Monday, September 18 to 20
The Guildford Banjo Jamboree
, a String Band Festival held in Guildford near Daylesford and Castlemaine, offers a spectacular weekend of entertainment with an Old Time Bush Dance held on the Saturday night along with performances, workshops and instrument displays.
When:
September 17 to 19
Food & Wine Festivals
The Asian Food Festival
, returning after last year's hiatus, celebrates Spring and the diverse range of Asian cuisine available in Melbourne. One of Melbourne's most popular culinary celebrations, special dinners, offers and events will be held at Melbourne's best Asian restaurants.
When:
Held Throughout September
Film Festivals
Environmental Film Festival
, with screenings held at Melbourne's Kino Cinemas, brings together filmmakers, experts, political leaders and the community to increase awareness on key environmental issues by inspiring debate and action through films highlighting global changes we face.
When:
Thursday to Sunday, September 16 to 19
Upcoming Events
Melbourne Fringe Festival
is a celebration of Melbourne's vibrant and quirky arts culture with an extensive program of music, theatre, exhibitions and much more. Showcasing the talents of independent artists and performers at various venues, the festival includes performances for kids.
When:
September 22 to October 10
The Northcote Kids Festival
, held over two weeks during September School Holidays at Northcote Town Hall, offers a selection of theatre, music, magic, and workshops for children and their families with more than 35 performances in an inspiring program for kids of all ages.
When:
September 21 to October 3

NEW LIVE CALENDAR
To find out about future events in Melbourne, have a look at our new calendar, with details about many more events that lie ahead so you can jot them down on the to-do list , including Exhibitions, Live Gigs, Theatre, Markets, Expos and more..
View Future Events on any day of the week
Exhibitions - Art | Festival | Show
Just Another Group Show
, held at 1000£Bend, celebrates the diversity of some of the art industry's best talent. Presented by Just Another Agency, who represent unique artists, featured works showcase each artist's style onto the corporate shape of the company's logo - a square.
When:
September 14 to 20
Opening Night:
Friday September 17 - 6pm to 9pm
trans-FORM
is an exhibition of sculpture by staff and students of Bayside Sculpture, located in Highett. With an emphasis nurturing the abilities and talents of emerging sculptors, particularly women, works displayed include winterstone, wood, ceramics and more with pieces on sale.
When:
September 20 to 25 - Monday to Saturday
Opening Night:
Sunday September 19 - 6pm to 8pm
The Making of Hope
, presented by fairtrade outlet One Seed and Design Original Art Gallery in Docklands, is a free exhibition of works by humanitarian photographer, Shelley Morris, detailing the opportunities One Seed provide in rural Cambodia and the hardships faced by those there.
When:
Friday September 24 - 6pm to 11pm
Left Behind
, held at Fitzroy North's Red Gallery, details the traces of life that linger in abandoned homes. Worn carpet, broken blinds and fragmented windows testify to years of occupation, while scattered possessions tell something of the nature of inhabitants once present and what they left behind.
When:
Sept 22 to Oct 9 - Wednesdays to Saturdays
Glass @ Fed Square
, presented by Architectural Glass Design Australia, is an exhibition of twelve panels of stained glass works suspended from the ceiling of the Atrium at Federation Square. The event also features floor level photographic information displays and demonstrations.
When:
Until September 26
Faces of Fashion
, is a presentation of the most iconic illustrations by legendary fashion illustrator, David Downtown. Held at Chadstone's Luxury Precinct, the retrospective features some of the world's most beautiful women including Dita von Tesse, Liz Hurley and Twiggy.
When:
September 9 to October 3
Images of Dance
, showing at Steps Gallery in Carlton South, is an exhibition by Debra Luccio that features paintings and monotypes that revisit her time spent with performers of the Queensland Ballet and also in New York with the NYC Ballet, capturing their physical movements.
When:
September 3 to 26 - Wednesday s to Sundays
From the Edge
, held at Montsalvat in Eltham, is an exhibition by Jenni Mitchell, who has spent much time studying and travelling to exotic and wild locations, which she has captured in paintings and photographs, exploring the patterns and rhythms of the natural land and seascape.
When:
Until September 30
Conversing
, an exhibition by David Tolley held at MARS Gallery in Port Melbourne, features artwork in contrast to his paintings over the last decade with his recent works examining the essence rather than elaboration of the structures and references held within his works.
When:
Until October 3 - Closed Mondays
Deborah Hally
, one of three artists exhibiting at St Kilda's Obscura Gallery, presents The Subterraneans, a series of photographic works that explore social and psychological experiences, both real and imagined. Her hauntingly beautiful works display child-like states of innocence.
When:
September 2 to 29 - Tuesdays to Saturdays
Colours
, showing at red gallery in Fitzroy North, is a group exhibition by Nick Vaughan, Mat Hufton and Josie Backhouse, students of RMIT. Using colours to communicate meaning in their paintings, drawings and artists' books, the works offer three different perspectives of how colours affect us.
When:
September 1 to 18 - Wednesdays to Saturdays
A New Jerusalem: Faith and the City
, presented at Melbourne Town Hall's City Gallery, is an exhibition by Christos Tsiolkas and Zoe Ali, long-time collaborators whose themes of exile, longing, faith and identity use image and text to explore the meaning of worship and faith today.
When:
September 2 to 22 - Mondays to Saturdays
Gestures & Procedures
is a new survey exhibition where artists use gestures, rituals and repetitions captured in video and photography. Presented at the Australian Centre of Contemporary Art in Southbank, recent works are shown along with key 1970s projects by pioneer conceptual artists.
When:
Until September 26 - Closed Mondays
Burke and Wills: Terra Incognita
is a chance to discover the remarkable story of Burke and Wills' ill-fated Victorian Exploring Expedition. Marking the expedition's 150th anniversary, the exhibition at the State Library of Victoria includes original paintings, sketches and artefacts.
When:
Until October 3
Tim Burton: The Exhibition
is a special showcase of works brought to Melbourne direct from direct from The Museum of Modern Art in New York. Held at ACMI in Federation Square, the exhibition brings together over 700 works that helped create Burton's films, including drawings, puppets and more.
When:
Until October 10 - Open Daily
Expos, Launches & Open Days
MBA & Postgrad Expo
, held at Melbourne Town Hall, has the largest gathering of institutions offering postgrad courses under one roof. Free to attend, the expo provides assistance with postgraduate study, with courses such as project management, marketing, finance, sciences and more.
When:
Tuesday September 14, Midday to 7pm
Vogue Runway Shows
will be held at Chadstone, where the free events will showcase Chadstone's finest designers, styled by the fashion experts at Vogue Australia. Presented by Vogue editor, Damien Woolnough, featured designers include Hugo Boss, Lisa Ho and renowned local designers.
When:
Wednesday September 15 - 6:30pm & 8:30pm
Car Shows
HSV Nationals
, held at Carlton's Royal Exhibition Building, showcases HSV/HDT vehicles from the first Brock VC to the latest HSV E3, battling it out in both 'Concourse' and 'Street' classes. A show for the whole family, the HSV Nationals features Holden concept cars, racecars and trader stands.
When:
Friday to Sunday, September 17 to 19
Pet Shows
Dogs Victoria
present Championship and Breed Shows, offering a great way to look at various dog breeds up close and speak to breeders and fanciers about the pros and con of owning a particular breed of dog. Most events include special agility competitions and entertaining parades.
When:
Saturday & Sunday, September 18 & 19
Performances & Theatre
The Man in Black - The Johnny Cash Story
is the Helpmann Award Nominated production that sees Tex Perkins leading The Tennessee Four in a night of memorable music. Held at The Palais in St Kilda, the show explores Cash's relationships and his inspiring life through his music.
When:
Saturday September 18
Sand
, presented by Geelong's Courthouse Arts with performances held at Woodbin Theatre, is a tense and touching psychological drama dealing with the lengths that humans will go to in order to survive as three very different men find themselves stranded on a desert island.
When:
September 15, 16 & 22 to 24 - 7.30pm
On The Wallaby Track
, held at Darebin Arts & Entertainment Centre in Preston, is a rollicking ride through Australia's colonial past in music and story, blending Irish-Australian melodies like Botany Bay and Wild Colonial Boy with stories by Henry Lawson, Mark Twain and others.
When:
Friday September 17 - 11am
Man of La Mancha
, presented by CLOC Theatre with performances held at St Kilda's National Theatre, is the musical tale of Don Quixote and his adventures with his loyal squire Sancho Panza as they fight windmills, mirrors and more in their quest to save damsels and right wrongs.
When:
September 17 to October 2 - Wed to Sun
League of Extraordinary Storytellers
, presented by Impro Melbourne at The Dog Theatre in Footscray, sees history's great authors gathered together in Blackspore Manor, where the likes of Austen, Vonnegut and Hunter S.Thompson band together for one last tale. It plays alongside Foul Play.
When:
September 8 to 18 - Wednesdays to Saturdays
Syncopation
, presented by the Follies Company, is a musical set in the exciting, electric rush of New York City in 1912. With choreography by Mark Hodge from Dancing With The Stars, the play held at Prahran's Chapel Off Chapel follows the relationship between two dance partners.
When:
September 8 to 26 - Tuesdays to Sundays
A Dinner to Die For
, held at the Retreat Hotel in Abbotsford, is a wickedly funny Murder Mystery Dinner set in 1928 as Lord Quinten Daventry hosts his party bash. Dinner guests are allocated a role and encouraged to indulge their inner artiste by dressing and behaving in character.
When:
September 11 & 18
The City
, presented by Red Stitch Actors Theatre in St Kilda, is the Victorian premiere of the surreal drama by groundbreaking British playwright, Martin Crimp. Directed by Andrea Jacobs, the compelling play explores urban life, the theatre from outside and the nature of fiction itself.
When:
September 1 to 25 - Wednesdays to Sundays
West Side Story
, one of the most iconic musicals, is held at Melbourne's Regent Theatre with Joey McKneely's vibrant new stage production of the classic dance musical having already met rave reviews overseas. Based on Shakespeare's Romeo and Juliet, it features a spectacular orchestra.
When:
Until October 3
|
Book Now!
All About My Mother
, performed at Melbourne Theatre Company Sumner Teatre in Southbank, is the theatrical adaptation of the film by Pedro Almodovar. Written by Samuel Adamson, the play follows a mother's strength as she searches for an old lover following the death of her son.
When:
August 14 to September 26
Mary Poppins The Musical
, held at Melbourne's Her Majesty's Theatre, brings the classic books and beloved Disney film to the stage with a spectacular production that includes all of the best loved songs from the film including Chim Chim Cheer-ee and Supercalifragilisticexpialidocious.
When:
Until October 17
|
Book Now
Classical, Choral & Recitals
Cathedral In Concert: Mostly Mozart
is a performance by St Paul's Cathedral Choir and The Chamber Orchestra, held at St Paul's Cathedral. Presented for one night only, the performance is a unique opportunity to hear some of Melbourne's best choral and musical talent.
When:
Thursday September 16 - 8pm to 10.30pm
Lunchtime Organ Recitals
, held at St Michael's Uniting Church on Collins Street, feature organists from across the Globe. Free to attend, resident organist Rhys Boak, often joined by special guests, performs music from some of the greatest composers in human history.
When:
Thursday September 16 - 1pm to 1.30pm
Burlesque, Cabaret & Dance
Shine On 2010
, this year's Victorian State Schools Spectacular, brings together 2,500 Victorian government school students in a stunning explosion of dance, music and song. Held at Hisense Arena, the show features electrifying special effects, puppetry and magical circus tricks.
When:
Saturday & Sunday, September 18 & 19
The Gangsters Ball
, held at The Forum is a standout event on the Australian Swing Dancing, Cabaret & Vaudeville calendar. A fully themed night of non-stop entertainment, the event features a stellar Cabaret and Vaudeville line-up and even The Gambling Den with poker, roulette and more.
When:
Saturday September 18 - Doors Open 8pm
Atrocity
, held at Burlesque Bar in Fitzroy, is a shocking theatrical soap opera of sex, violence, beauty, horror and psychological play that is not for the faint of heart. Shock performance with music, song, dance and the art of wicked tease, the show is a night of Burlesque du Grand Guignol.
When:
August 22 to September 19
How High the Moon
, held at Melbourne Cocktail Bar, 24 Moons, is a night with character with feel good performances by professional characterising Burlesque dancers. Stylish, sophisticated and classy, the night features the finest burlesque with a lush, titillating mood.
When:
Every Saturday - 9:30pm to 3am
Entertainment & Nightlife
Bornstein Ultimatum
will be appearing at The Fleece Hotel in South Melbourne as part of The Fleece's Thursday Night Live series of events. Joining them in the performance will be special guest John Dallimore, who was highly praised by Billy Thorpe as Australia's most terrifying guitarist.
When:
Thursday September 16 - 8pm to 11pm
For The Ladies
, held at The Bendigo Hotel in Collingwood, features The Fujiyama Mamas, one of the hottest new rockabilly bands in Melbourne, along with Tanya Ransom who recently won people's choice award at Yarra Edge Fest. The night includes an Open Mic session for women.
When:
Thursday September 16
Lord
, undoubtedly one of the most entertaining metal bands in the country, will be appearing at the East Brunswick Club as part of their tour to celebrate the launch of their upcoming EP, The Tyrants. They'll be supported on the night by The Eternal, Damnations Day, Aronora and Winterstorm.
When:
Friday September 17 - Doors Open 8pm
Dennis Band
, appearing at Spencers Live, will be making his debut performance at the Melbourne venue, with a line up of outstanding young performers. A versatile singer with a heartfelt ability to sing Gospel, R&B and Soul, Dennis Band will perform songs by well-known artists along with his own.
When:
Friday September 17
John Butler Trio
will be appear at Festival Hall where the band, which now includes Nicky Bomba - an accomplished musician in his own right - will be joined by Blue King Brown. The show is part of their April Uprising Tour, named after John's discoveries on TV's 'Who Do You Think You Are'.
When:
Friday September 17
Songs for a Season at Ghost Town Bridge
, held at fortyfivedownstairs in Flinders Lane, is the launch of a combined CD and book of songs and prose poems by James Griffin, a singer, poet and spoken word performer who has shared concert stages with Bob Dylan and Elvis Costello.
When:
Saturday September 18 - 6pm to 8pm
Jimmy Fong
, a performer who draws his music inspiration from a deep Malaysian culture, will be appearing at the Acorn On Forest, located in The Basin. His unique vocal style is accompanied by his intricate finger picking style and his own arrangements on the acoustic guitar.
When:
Sunday September 19 - 4pm to 7pm
80 Gigs in 80 days
is a marathon live music event by Nicolas Jorquera of Melbourne band 'I Heart Cusack,' which will see over 160 bands performing over 80 successive days at 80 different venues all over Melbourne and Regional Victoria with the events filmed for a documentary.
When:
September 3 to November 21
Regular Gigs
The John Montesante Quintet
, performing at The Commune Cafe Bar, brings a hint of New York Be-Bop to Melbourne with performances that include timeless Jazz standards and improvisations by John Montesante and some of the finest, hottest Jazz players in town.
When:
Every Thursday - 5:45pm to 8:45pm
Melbourne Jazz Jammers
, held at Collingwood's Leinster Arms Hotel, offers a great opportunity for musicians of any background to drop in, join in, listen in, meet other musicians and relax over a drink as the evening unfolds with anything from bebop to swing, blues, Latin and more.
When:
Fridays - 6pm to Late & Sundays - 3:30pm to 6pm
House Of Blues
, held at the Royal Standard Hotel in West Melbourne, is a special evening of music presented each week by the Melbourne Blues Appreciation Society. With a featured artist invited to play each wee, performances are followed by an open jam session for all musicians.
When:
Every Tuesday - 8pm
Open Mic Sunday's
, held at Wild Oscars in Richmond, is a weekly Open Microphone night with gear supplied in house so musicians need only bring their guitar and talent. There is a prize of $50 for the winner plus the chance to play their own fully paid gig on a Friday night at the venue.
When:
Sundays - Starts 7pm
Cinema
West Side Shorts
, presented by Angry Productions, is a monthly film night held at Williamstown' Customs House Hotel, offering the chance to see fantastic short films made by local talent and also to network with local filmmakers and actors after the screenings.
When:
Tuesday September 14 - 8:30pm - Only $5 Entry
Comedy & Magic
Theatresports
, Melbourne's longest running improvisation comedy show, celebrates its 25th season with Silver Jubilee performances held at St Kilda's National Theatre where old meets new as a handful of Theatresports veterans take to the stage with upcoming improvisers barely as old as the show.
When:
September 19 to November 21 - Every Sunday
Comedy With Grace
, held weekly at the Grace Darling Hotel in Collingwood, is a platform for some of Australia's biggest names in comedy to test new material or polish some old, as well as showcase the best new up and comers from around the country with a new line-up every week.
When:
Sundays - 7pm to 9pm
Studio A
, Melbourne's own live TV Comedy Tonight Show on Channel 31, invites the public to come get up close to the funny by being in their live studio audience. Hosted by popular comedian Tommy Little Studio A features celebrity guests, interviews, bands, stand-up and live sketches.
When:
Mondays - 8:30pm
Melbourne For Kids
The Gruffalo
, playing at the Whitehorse Centre in Nunawading, is an imaginative production that brings the colourful children's book to life on the stage as a mouse goes on an adventurous journey through the deep, dark woods, outwitting creatures that would otherwise find him tasty.
When:
Sunday September 19 - 1pm
NOTE:
Monday September 20 Shows now SOLD OUT!
Disney's High School Musical
, performed by Altona City Theatre, brings the smash hit movie to the stage. Held at Altona Theatre, the performance follows the social upheaval that ensues when members of different cliques break rank by performing together.
When:
September 17 to October 2
The Donkey Shelter
in Eltham, a non-profit organisation that helps orphaned and mistreated donkeys, often hold open days where you can enjoy a day out fro the family and see the wonderful donkeys the shelter cares for. Many of their open days include afternoon tea and kids' activities.
When:
Sunday September 19 - 11am to 3pm
Disney's Club Penguin
is calling Melbourne Aquarium its home for a limited time with children invited to dive into the fun and adventure with daily treasure hunts, an exciting games room complete with Nintendo DS and Wii consoles, free activity books, heaps of fun prizes and more.
When:
September 1 to October 3
Circus
The Big Show
, presented by the Melbourne Juggling Convention is the largest circus event you'll find with performers from around the world coming together to show off their amazing skills. With young, upcoming performers and veterans alike, it's held at Collingwood College Theatre.
When:
Saturday September 18
Perry Bros Circus
, Australia's oldest circus, will be appearing in Dingley Village, offering quality entertainment to please the entire family. With wire walkers, Jugglers, Whip crackers, balancing acts and more the circus also features performing ponies and camels along with their very funny clowns.
When:
Until October 3 - Dingley Village
Circus Olympia
, direct from Europe, is a bright and vibrant entertainment event that will thrill, awe and humour audiences of all ages. Performing in Reservoir, the circus features humane animal acts together with circus artists from nations that include Switzerland, Portugal and Russia.
When:
Until September 19 - Reservoir
Circus Sunrise
, an action-packed show for all the family, will be appearing with performances held in Sunshine. A true family circus with lineage going back to 1648, the performances of Circus Sunrise feature juggling, acrobatics and whip-cracking excitement!
When:
Until October 3 - Sunshine

Silvers Grand Magic Circus
will be holding performances in Nunawading. Established in 1976, Silvers Grand Magic Circus offers a great show for people of all ages with performers including everything from jugglers and clowns to acrobats, international performers and more.
When:
Until October 10 - Nunawading
Markets, Fetes and Fairs
Victorian Doll Show
, held at Croydon's Dorset Gardens, is an event that features a wide ranged of displays and stalls from doll makers across the state. With attractions for lovers of dolls and doll making, it showcases a wide range of bears and miniatures, workshops and a doll maker's competition.
When:
Saturday & Sunday, September 18 & 19
Melbourne Market Guide
View MARKETS calendar
to make the most of the rare sunny days (it's a coin toss, isn't it!) and head to one of Melbourne's many excellent markets, fetes and fairs for a bargain!

A growing number of food, produce and even wine markets are always popping up around the suburbs. And don't forget garage sales!
Fetes Fairs & Shows
Art & Craft Markets
Food & Produce Markets
Swap Meets
Garage Sales This Weekend
Let Melbourne Know...
Advertise Your School Fete, Fair or Carnival FREE!
Everyone wants to support their local school by going to their annual fundraiser. Last year we promoted a whopping 1,200 school events. So, make sure you let your school organizers know they can list their fete, fair or carnival for
FREE @ OnlyMelbourne!
Add Your Event for FREE Today!!
Dining & Drink
The Spring Graze
, held as part of Put Victoria on Your Table - a campaign by the Victorian Government that celebrates our state's greatest food and wine - offers a series of events celebrating the arrival of Spring with more than 40 flavoursome events held at restaurants across Victoria.
When:
Held Throughout September
OnlyMelbourne Welcomes..
Each week we highlight some of the new business listings in the OnlyMelbourne Business and Services directory.
Lucky Last Ticket Sales
sells DISCOUNT Lucky TICKETS to popular events. With listings that are for events that are coming close to the start date but as yet have not completely sold out, Lucky Last lists discounted tickets up to 7 days before the event is scheduled to begin with the prices decreasing day by day as the event gets closer.
This week we suggest the following:
Bollywood Brow Bar
- Threading & Eyelash Extensions...
Phoenix Dance Studio
- Private dance tuition & more...
Fairfield Village
- A community-focussed shopping precin...
Timeline Fair
- 2 days of historical re-enactment fun...
View More of the Latest Listings at OnlyMelbourne!
Sporting Events
AFL Premiership | Finals Week 3
AFL Premiership | Finals Week 3
Collingwood vs Geelong
Friday September 17 - 7:45pm, MCG
St Kilda vs Western Bulldogs
Saturday September 18 - 7:20pm, MCG
AFL Grand Final Week
is a chance to catch footy fever at Federation Square and Melbourne with free daily activities on offer for all football fans. Along with the much-loved Grand Final Parade, Federation Square will have the AFL Live Site with player appearances, footy panels and more.
When:
September 20 to 25
Soccer | Hyundai A-League
Hyundai A-League - Week 6
Melbourne Victory v Wellington Phoenix
Wednesday September 15 - 7:30pm - AAMI Park, Melbourne
Hyundai A-League - Week 7
Melbourne Heart v Wellington Phoenix
Sunday September 19 - 3pm - AAMI Park, Melbourne
The Trots
Caulfield Racecourse
, affectionately known as The Heath, plays host to some of the best highlights of racing both during and outside of the iconic Spring Racing Carnival.
Next Race Event
Underwood Stakes Day
Saturday September 18
Country Racing Victoria
represents racing clubs in outer metropolitan areas like Werribee and Mornington along with small clubs in rural areas such as Edenhope and Towong.
Highlights
Footy Final Fever Raceday, Echuca Racing Club - Sept 18
Race Dates:
September 14, 16, 17, 18, 19 & 20
Auto Sports
Off-Street Drag Racing at Calder Park
offers a safe way for competitive drivers to show their skills on the quater mile with Street Cars and Comp Cars allowed on the track.
Next Street Drag Event
Friday September 17
Gates Open 4pm - Registration Required
Melbourne Tours
Smartvisit Card
is the best way to see the sights of Melbourne, whether you're visiting Melbourne for business, a vacation, or even if you're a local wanting to find Melbourne's hidden treasures!
The Smartvisit Card includes entry to attractions such as Melbourne Zoo, Melbourne Aquarium, Old Melbourne Gaol, Telstra Dome, Cook's Cottage, Melbourne River Cruises, and many more of Melbourne's TOP venues!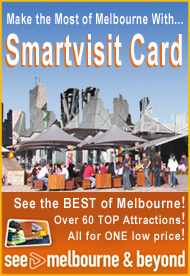 Free entry to over 60 top attractions..
Visit great venues like Zoos, museums & more across Melbourne & Victoria!
Over $800 of entry fees for ONE low price..
Plus special offers & discounts!
Visit just 2 Attractions a day & you'll save!
FREE 128 page guidebook..
Tailored to local knowledge on what to see & do!
Cash free entry..
Show your card & you're in, no need for cash!
All year-round Attractions..
Whatever time of year you visit - rain or shine!
Learn more about Smartvisit Card
Trivia
The Original Water Cooler..
The word
furphy
, a uniquely Australian idiom that describes an exaggerated story, a false report or a rumour, has its true origins in the Victorian city of Shepparton (we're not allowed to say 'towns' anymore).
With the family name having a long history in central Victoria, John Furphy moved from Kyneton to Shepparton in 1873 and set up a smithy in the then-tiny town of Shepparton. Within a few years he'd become well known as a blacksmith, a wheelwright, and also as an agricultural machinery supplier, something which led to his surname becoming a much used catch-cry.
A decade after setting up his business in Shepparton, John Furphy and his long-time employee Uriah 'Cocky' Robinson, came up with the idea of a mobile water tank, and within a few years, Furphy water carts were familiar sights with the family name vividly displayed upon the tank.
The water carts were used at the military camps including the Broadmeadows camp just out of Melbourne in 1914, when the troops were embarking to the First World War. Used for hygienic water supplies at the latrines, the water tanks were a common meeting point for the troops, who'd discuss what was in store for them. With the commanding officers less than giving with the information, it often fell upon the soldiers to speculate themselves, leading to much misinformation and rumours. In time, with the tank they gathered about baring the name Furphy so boldly, they soon associated the rumours with this word.
More About The Furphy
|
Read Melbourne Trivia...
WHAT'S ON CALENDAR
Speaking of what's on, our
new calendar
allows you to select any day of the year to view everything (everything!!!) on that day in an easy to read, printable display.
-:- View
What's On Calendar
-:- View
Markets Only Calendar
OnlyMelbourne On The Phone

OnlyMelbourne
is now
mobile phone
compatible. Yes, our pages are formatted to be viewed on the small screen. To view our mobile phone website, go directly to our
Mobile Home Page
with your web compatible mobile phone at
www.melbournemobile.com.au
!
OnlyMelbourne is already iPad friendly, we know, we have one (chuckle) says he with bragging rights!
❊ Address & Contact ❊
⊜ Newsletter | #193 | What's On this Week Melbourne |
Map
❊ Web Links ❊
→
Newsletter | #193 | What's On this Week
→
Subscribe to OnlyMelbourne - Get your copy of What's On this Week!
→
List Your Business or Event - It's FREE!
→
Events Calendar - Find out What's On any day of the week!
→
Mobile OnlyMelbourne - View Our Website On Your Phone
→
Melbourne for Children | Kids
→
Newsletter | #192 | What's On this Week [Last Week]
❊ COVID-19 Notice ❊
As the state takes action to stop the spread of coronavirus (COVID-19), please confirm details
before making plans
).
→
Disclaimer
: Check with the operator before making plans
...
Trending HOT

Things to see, hear & do this weekend
Make the most of your weekend in Melbourne with these fabulous events. No city does it better than Melbourne, so get out and discover the very best shows, festivals, ..
---
Update Page