Newsletter | #191 | What's On this Week
Welcome to this week's Melbourne events, exhibitions, sports and community guide for Tuesday August 31 to Monday September 6, 2010.
This week... Melbourne's hipper than thou have their time in the sun with Darebin Music Feast showcasing the talent of one of our city's most artiest and musical burbs with more performances than you could shake a drumstick at. You can also shake a drumstick or two of the spicy variety at the Asian Food Festival, making a welcome return after last year's hiatus.
Cinephiles can also enjoy the Message Sticks Film Festival along with the Singapore Film Festival, while the literati continue to sharpen their wits and pencils with the ongoing Melbourne Writers Festival.
Major Events
Darebin Music Feast
offers a huge program of events celebrating song writing and music in all its diverse forms. The festival features hundreds of events that celebrate the diversity of Darebin, Melbourne's thriving music community, including High Vibes, the festival's closing celebration.
When:
September 4 to 19
Launch:
Friday September 3 - Northcote Town Hall
Melbourne Writers Festival
, now in its 25th year, is one of Australia's key literary events, offering a broad range of literary ideas for people of all backgrounds. Held at various venues, the festival includes guest speakers, author signings, performances, debates and much more.
When:
August 27 to September 5
Melbourne Spring Fashion Week
, held at the festival hub of Melbourne Town hall and other venues, showcases all the hottest designers, labels, styles and retailers Melbourne offers with events that include fashion parades, films, workshops, parties, markets and exhibitions.
When:
August 30 to September 5
Coincides with Hats Off to the Races Display
Food & Wine Festivals
The Asian Food Festival
, returning after last year's hiatus, celebrates Spring and the diverse range of Asian cuisine available in Melbourne. One of Melbourne's most popular culinary celebrations, special dinners, offers and events will be held at Melbourne's best Asian restaurants.
When:
Held Throughout September
Film Festivals
The Message Sticks Film Festival
, held at the Bunjilaka Aboriginal Cultural Centre at Melbourne Museum, celebrates Indigenous storytelling from Australia and abroad. With short films and documentaries, the free screenings include Lani's Story, an Aboriginal woman's journey from victim to victor.
When:
Saturday to Tuesday, September 4 to 7
The Singapore Film Festival
, held for the first time in Australia, features seven Singapore-made films screening at Melbourne's Greater Union and Carlton's Cinema Nova. With critically acclaimed, award-winning films and shorts, the program showcases the best of Singapore's New Wave.
When:
September 4 to 8
Father's Day
Father's Day Gift Guide
- Father's Day is almost here, so don't be late and be sure to get a great gift for Dad! If you haven't bought a gift or planned something special for your father yet then why not try some of our ideas to make it a perfect Father's Day this year to show how great he is!
Father's Day, Sunday September 5:
-
Find Gifts Today!
Upcoming Events
The Himalaya Festival
, a Snow Lion Himalayan Relief Event, held at Kew's Genazzano FCJ College, is an entertaining fundraiser for the victims of the recent natural disasters in Tibet, as well as a Tibetan Cultural Event to support Rinpoche's dharma activities in Australia.
When:
Saturday October 23

NEW LIVE CALENDAR
To find out about future events in Melbourne, have a look at our new calendar, with details about many more events that lie ahead so you can jot them down on the to-do list , including Exhibitions, Live Gigs, Theatre, Markets, Expos and more..
View Future Events on any day of the week
Exhibitions - Art | Festival | Show
Images of Dance
, showing at Steps Gallery in Carlton South, is an exhibition by Debra Luccio that features paintings and monotypes that revisit her time spent with performers of the Queensland Ballet and also in New York with the NYC Ballet, capturing their physical movements.
When:
September 3 to 26 - Wednesday s to Sundays
Opening Night:
Thursday September 2 - 6:30pm to 8pm
Artist Talk:
Sunday September 12 - 3pm
Deborah Hally
, one of three artists exhibiting at St Kilda's Obscura Gallery, presents The Subterraneans, a series of photographic works that explore social and psychological experiences, both real and imagined. Her hauntingly beautiful works display child-like states of innocence.
When:
September 2 to 29 - Tuesdays to Saturdays
Opening Night:
Wednesday September - 6pm to 8pm
Colours
, showing at red gallery in Fitzroy North, is a group exhibition by Nick Vaughan, Mat Hufton and Josie Backhouse, students of RMIT. Using colours to communicate meaning in their paintings, drawings and artists' books, the works offer three different perspectives of how colours affect us.
When:
September 1 to 18 - Wednesdays to Saturdays
Opening Night:
Wednesday September 1 - 6pm to 8pm
Black
, held at The Nicholas Building of Swanston Street, is an exhibition that showcases contemporary jewellery by Vikki Kassioras and drawings by Katherine Bowman. Exploring the decorative possibilities of the colour black in fashion, the works include gems such as onyx and obsidian.
When:
September 3 to 11 - Thursdays to Saturdays
Official Opening:
Thursday September 2 - 5:30pm to 7:30pm
Green Fashion
, held at the historic Queen Victoria Women's Centre, showcases garments from exciting designers who've decided to make fashion that's more eco-friendly and ethically sound. Learn about the dilemmas faced by those who are leading this important industry trend.
When:
Until Saturday September 4
A New Jerusalem: Faith and the City
, presented at Melbourne Town Hall's City Gallery, is an exhibition by Christos Tsiolkas and Zoe Ali, long-time collaborators whose themes of exile, longing, faith and identity use image and text to explore the meaning of worship and faith today.
When:
September 2 to 22 - Mondays to Saturdays
The AGDA Members Show
, presented by Architectural Glass Design Australia, displays a diverse and innovative collection of architectural glass pieces created by members of the organisation. Showcasing the unique skills of the glassmakers, the show is held to promote the industry.
When:
Until September 18
The Rob McNamara Exhibition
, held at Collingwood Gallery, showcases the works of artists with and without disability. With works that include painting, textiles, collage, jewellery and writing, it explores the theme, Beyond First Impressions: What changes if you get to know me?
When:
August 27 to September 9 - Closed Mondays
encase
, an exhibition by Carly Grace held at Trocadero Art Space in Footscray, is an installation that expands on her drawings made from finely drawn small circles in organic patterns. Using aluminium can bases, both reflective and disrupted with patinas, viewers become encased in the work.
When:
Until September 4 - Wednesdays to Saturdays
Gestures & Procedures
is a new survey exhibition where artists use gestures, rituals and repetitions captured in video and photography. Presented at the Australian Centre of Contemporary Art in Southbank, recent works are shown along with key 1970s projects by pioneer conceptual artists.
When:
Until September 26 - Closed Mondays
Defaced
, held at Melbourne's Guilford Lane Gallery, is an art exhibition and installation by Josie Wadelton. With work that explores the theme of books that have been burned, banned and defaced, she uses a diverse range of materials including paintings, collage, digital prints and recycled books.
When:
August 25 to September 5 - Closed Mondays
Nearest & Dearest
, held at Nexus Modern Art in South Melbourne, is Jessica Charlotte's an exhibition of imaginative portraits featuring all the creatures that have enriched and contributed so much to her own idea of family, incorporating family pets and animals from her past and dreams.
When:
August 21 to September 4 - Wed to Sun
Atlas
, the Annual Artist Books Exhibition by Artisan Books in Fitzroy, explores the given theme with inspiring works that explore the boundaries of how books are defined, raising them to sculptural form with many unique handmade books created specifically for the exhibition.
When:
August 21 to September 11
The Journey
, held at Collingwood's James Makin Gallery, is an exhibiton of works by Jeff Makin, regarded as the 'living heir to the Heidelberg School. The 'plein air' landscapes are a summation of Jeff Makin's long career and show a new obsession with the Chinese landscape tradition.
When:
August 12 to September 4 - Tues to Sat
A Sweeter System of Donation (Apple Flavour)
is an exhibition held at Melbourne's Michael Koro Gelleries, which is a unique display using a system of donation to support the artist. Created by Keith Wong, visitors are invited to add to the work's value by adding to its weight with coin donations.
When:
August 6 to September 5
Making Meaning
, held at Ferntree Gulley's 1812 Theatre, is an exhibition of figurative, abstract and photographic art works by one of the most well known people with autism in the world, Donna Williams. Free to attend, 10% of all proceeds will benefit the 1812 community theatre.
When:
August 5 to September 4 - Wed to Sun
The Stony Rises Project
, held at the Swanston Street Gallery of RMIT University, brings together 10 artists and designers in an investigation of the rich, layered histories of the Western District of Victoria. Focusing on the histories of the area, artists include Vicki Couzens and Seth Keen.
When:
Until September 11
I Cover the Waterfront
, showing at the State Library of Victoria, is an exhibition by Rick Amor, who has depicted Melbourne's forgotten waterfront in evocative oils and watercolours. Painted en plein air, meaning outdoors, the works document a changing part of Melbourne's landscape.
When:
Until September 5
Burke and Wills: Terra Incognita
is a chance to discover the remarkable story of Burke and Wills' ill-fated Victorian Exploring Expedition. Marking the expedition's 150th anniversary, the exhibition at the State Library of Victoria includes original paintings, sketches and artefacts.
When:
Until October 3
Tim Burton: The Exhibition
is a special showcase of works brought to Melbourne direct from direct from The Museum of Modern Art in New York. Held at ACMI in Federation Square, the exhibition brings together over 700 works that helped create Burton's films, including drawings, puppets and more.
When:
Until October 10 - Open Daily
The Amazing Bodies Exhibition
, held at Waterfront City in Docklands, is a chance to explore nature in a unique way with amazing displays of natural anatomical wonders. Using real body specimens, perfectly preserved, the exhibition shows muscular and bone structure in a captivating display.
When:
Until September 2
Expos, Launches & Open Days
NMIT Open Day
, held at NMIT's Preston Campus, offers the public the chance to come along to find out about the courses and qualifications on offer, including an increasing number of bachelor degrees as well as pre-apprenticeships, apprenticeships, certificates and diplomas.
When:
Tuesday August 31 - 4pm to 7:30pm
Aussiecon 4
, the fourth World Science Fiction Convention to be held in Melbourne, brings professionals and fans of the science fiction and fantasy genres together at the Melbourne Convention and Exhibition Centre for a range of special events, lectures and guest appearances.
When:
Thursday to Monday, September 2 to 6
National Shades Month
, a Melanoma Awareness promotion held throughout September, invites the public to CHECK it OUT with Free Skin Cancer information, sunscreen and merchandise being handed out on special days held at Flinders Street Station and Federation Square.
Flinders St Station:
Wednesday September 1
Federation Square:
Saturday September 4
The Verandah Literary Journal
will launch its latest issue as part of the Melbourne Writers Festival with author readings and the announcement of award recipients held at Federation Square's Feddish Cafe. Now at its 25th issue, the magazine is a student-run publication of Deakin University.
When:
Saturday September 4 - 4pm
The National 4X4, Fishing Show & Outdoors Expo
, held at the Melbourne Showgrounds, offers an enormous showcase of everything that fans of touring, camping and fishing could want. The expo offers the latest innovations, product launches and seminars hosted by industry experts.
When:
Friday to Sunday, September 3 to 5
The Donkey Shelter
, a non-profit organisation that helps orphaned and mistreated donkeys will be holding an open day where the whole family can enjoy a day out and celebrate Father's Day with a special Luncheon. Located in Eltham, there will be special activities on the day.
When:
Father's Day, Sunday September 5
The Bags & Accessories Fair
, held at Melbourne Exhibition Centre, is the premier industry event featuring the latest fashion accessory releases with hundreds of labels on display. With high end designers represented, displays include bags, jewellery, belts, millinery and more on show.
When:
Ends Tuesday August 31
Coincides with Australian Shoe Fair
Fashion Exposed
, held at Melbourne Exhibition Centre, is a chance to discover the latest ranges at Australasia's premier trade fashion event. Launching new labels and showcasing the biggest brands, the event features over 1500 new ranges in womenswear, menswear, streetwear and more.
When:
Ends Tuesday August 31
Pet Shows
The Pre-Royal Horse Show
, held at the Prince of Wales Showgrounds in Bendigo, showcases a large range of led and ridden breeds. With Champion and Reserve sashes awarded to all classes together, the competition includes the awarding of a Supreme of class sash.
When:
Saturday & Sunday, September 4 & 5
Dogs Victoria
present Championship and Breed Shows, offering a great way to look at various dog breeds up close and speak to breeders and fanciers about the pros and con of owning a particular breed of dog. Most events include special agility competitions and entertaining parades.
When:
Saturday & Sunday, September 3 & 4
Car Shows
A Fathers Day Car Show
will be held at Old Gippstown, Gippsland's Heritage Park to celebrate the special day with cars of all makes and models proudly on show. The event offers a fun day for parents and children with all proceeds raised help maintain the park, buildings and artefacts within.
When:
Father's Day - Sunday September 5
The Dimboola Swap Meet Show N Shine
, organised by the Little Desert Rodders Club at the Dimboola Showgrounds, offers a wide range of displays with Hot Rod, Classics, Rat Rods, Street Machines and motorcycles. Swap sites will hold hot rod parts, antiques, collectables, bike parts and more.
When:
Saturday & Sunday, September 4 & 5
Performances & Theatre
The City
, presented by Red Stitch Actors Theatre in St Kilda, is the Victorian premiere of the surreal drama by groundbreaking British playwright, Martin Crimp. Directed by Andrea Jacobs, the compelling play explores urban life, the theatre from outside and the nature of fiction itself.
When:
September 1 to 25 - Wednesdays to Sundays
Footsteps of a Nobody
, performed at Stag Theatre in Strathmore, is the rock-musical by Donna Williams and The Aspinauts that's half play, half musical, tracing the developmental milestones portrayed in Donna's bestselling book, Nobody Nowhere; Autobiography of an Autistic Girl.
When:
Saturday September 4 - 8pm
The Wizard of Oz (tralia)
is a unique performance held at Altona City Theatre with the 24hr Panto seeing cast members meeting one another for the first time with only 24 hours to write and rehearse their performance which follows the adventures of Dorothy through a very Australian land of Oz.
When:
Sunday September 5 - 3pm
[title of show]
makes a return to St Kilda's Theatre Works with the quirky hit musical about a quirky hit musical presented by Magnormos. A melodic and uproarious musical about making ones dreams come true, the play takes a witty look at both the pleasures and perils of the artistic process.
When:
August 26 to September 11
Are We There Yet?
is a special presentation of this year's performance by local scouts and guides from the Maroondah and Whitehorse districts. Following the adventures of a group of teens who embark on their summer holidays after graduation, it's held at Nunawading's Whitehorse Arts Centre.
When:
Wednesday to Saturday, September 1 to 4
West Side Story
, one of the most iconic musicals, is held at Melbourne's Regent Theatre with Joey McKneely's vibrant new stage production of the classic dance musical having already met rave reviews overseas. Based on Shakespeare's Romeo and Juliet, it features a spectacular orchestra.
When:
Until October 3
|
Book Now!
Crave
, presented by PMD Productions, is the fourth work of Sarah Kane's short but spectacular career, dismantling ordinary ideas of time, place, character and relationship to offer a poetic stream of blind emotion. Directed by Paul Knox with Kellie Tori, it's held at Chapel Off Chapel.
When:
August 19 to September 4
All About My Mother
, performed at Melbourne Theatre Company Sumner Teatre in Southbank, is the theatrical adaptation of the film by Pedro Almodovar. Written by Samuel Adamson, the play follows a mother's strength as she searches for an old lover following the death of her son.
When:
August 14 to September 26
Let the Sunshine
, written by David Williamson, features Jacki Weaver and John Wood in a witty look at the Baby-Boomer generation as Toby, a left-minded documentary maker, tried to revisit a fishing village from his youth, only to find that much has changed. It's playing at the Arts centre.
When:
July 28 to September 4
Mary Poppins The Musical
, held at Melbourne's Her Majesty's Theatre, brings the classic books and beloved Disney film to the stage with a spectacular production that includes all of the best loved songs from the film including Chim Chim Cheer-ee and Supercalifragilisticexpialidocious.
When:
Until October 17
|
Book Now
Classical, Choral & Recitals
Chansons nouvelles de Paris
, held at Melbourne Recital Centre, is a special presentation by La Compa˝ia, Australia's premiere Renaissance instrument ensemble. The concert features tender love songs and dance tunes from 16th-Century Spain with music by Francisco Guerrero and others.
When:
Wednesday September 1 - 6pm
Flinders Quartet
, an exciting Australian chamber music group, will present Beloved Beethoven, their second concert program held at Montsalvat in Eltham. Performing the end of their journey through Beethoven's mammoth string quartet cycle, they'll also perform folk songs by Calvin Bowman.
When:
Saturday September 4 - 2:30pm
Eating Variations
, held at Melbourne's Guildford Lane Gallery, will see Syzygy Ensemble joined by a fabulous line up of elite local artists for contemporary chamber music with a humorous twist, as shown in Paterson's 'Eating Variations', a musing on cannibalism at MacDonalds.
When:
Sunday September 5
Marvellous Mozart
, the latest concert by the Melbourne Musicians, sees the impressive orchestra joined at Melba Hall by soprano Elena Xanthoudakis with rare early arias by Mozart. Directed by Frank Pam, the concert program also includes a newly discovered aria by J.C.Bach.
When:
Sunday September 5 - 5pm
Burlesque, Cabaret & Dance
The Masochism Tango
, featuring Mic Conway, former head of Captain Matchbox Whoopee Band, brings the irreverent musician to South Melbourne's Butterfly Club, where he'll be joined by guitarist Robbie Long, playing unusual and idiosyncratic songs that blend comedy, circus and magic.
When:
Thursday to Sunday, September 2 to 5
The Nutcracker
, performed live at The Palais in St Kilda by the Russian Imperial Ballet Company, brings the ageless tale of bravery and dreams to the stage in a performance that features one of Tchaikovsky's most recognisable and enduring music scores ever written.
When:
September 3 to 7
Atrocity
, held at Burlesque Bar in Fitzroy, is a shocking theatrical soap opera of sex, violence, beauty, horror and psychological play that is not for the faint of heart. Shock performance with music, song, dance and the art of wicked tease, the show is a night of Burlesque du Grand Guignol.
When:
August 22 to September 19
How High the Moon
, held at Melbourne Cocktail Bar, 24 Moons, is a night with character with feel good performances by professional characterising Burlesque dancers. Stylish, sophisticated and classy, the night features the finest burlesque with a lush, titillating mood.
When:
Every Saturday - 9:30pm to 3am
Entertainment & Nightlife
80 Gigs in 80 days
is a marathon live music event by Nicolas Jorquera of Melbourne band 'I Heart Cusack,' which will see over 160 bands performing over 80 successive days at 80 different venues all over Melbourne and Regional Victoria with the events filmed for a documentary.
When:
September 3 to November 21
Official Launch:
Friday September 3 - Cherry Bar
Naked In The Woods 2
, following on from the success of last year's FReeZACentral compilation CD, will be launched at the East Brunswick Club. With performances on the night by featured artists Deborah Conway and Willy Zygier, the music legends will be joined by The Little Stevies and others.
When:
Wednesday September 1
The Natural Culture
, appearing at Veludo in St Kilda, will hold a performance, marking the Sunshine north based band's first appearance on the other side of the river. Performing funk, pop and soul originals, the 6-piece group imbue a rhythmic filled culture of melody and life's gifts.
When:
Wednesday September 1 - 9:30pm to Midnight
Jeudi Jazzy
, held at the cellar of Alliance Franšaise in St Kilda, is a live performance by the New Impromptu Quartet. Featuring Alexander Nettelbeck, Khari Cabral Simmons and Ben Kosi Karsay, the band performs Jazz, Latin and Soul standards alongside their own original compositions.
When:
Thursday September 2 - 8pm
Swinging 50s
, presented by Club Wild, an organisation for those with disabilities and mental illness, is a fully accessible night of Swing music and 50's Rock & Roll held at North Melbourne Town Hall. With music by The Hacketts, the Club Wild DJs and others, carers are admitted free.
When:
Friday September 3
Regular Gigs
House Of Blues
, held at the Royal Standard Hotel in West Melbourne, is a special evening of music presented each week by the Melbourne Blues Appreciation Society. With a featured artist invited to play each wee, performances are followed by an open jam session for all musicians.
When:
Every Tuesday - 8pm
Open Mic Sunday's
, held at Wild Oscars in Richmond, is a weekly Open Microphone night with gear supplied in house so musicians need only bring their guitar and talent. There is a prize of $50 for the winner plus the chance to play their own fully paid gig on a Friday night at the venue.
When:
Sundays - Starts 7pm
Comedy & Magic
Comedy With Grace
, held weekly at the Grace Darling Hotel in Collingwood, is a platform for some of Australia's biggest names in comedy to test new material or polish some old, as well as showcase the best new up and comers from around the country with a new line-up every week.
When:
Sundays - 7pm to 9pm
Studio A
, Melbourne's own live TV Comedy Tonight Show on Channel 31, invites the public to come get up close to the funny by being in their live studio audience. Hosted by popular comedian Tommy Little Studio A features celebrity guests, interviews, bands, stand-up and live sketches.
When:
Mondays - 8:30pm
Cinema
The Melbourne Horror Film Society
, a not-for-profit group that screens the best and worst horror films ever made, holds monthly film sessions at Melbourne's cinema bar, 1000 Pound Bend. With a generous entry fee by membership, they'll be screening Friday the 13th Part 2.
When:
Wednesday September 1 - 7:30pm
Beauty Mark: Body Image and the Race for Perfection
, a documentary examining society's obsession with weight, will be screened at RMIT. Held as part of Body Image and Eating Disorders Awareness Week, the film follows former triathlete Diane Israel and includes a panel discussion.
When:
Sunday September 5 - 3pm
Melbourne For Kids
Father's Day at Rippon Lea
, Elsternwick's heritage listed estate, presents a great day out for the family with a special car show held by the Australian Buick Car Club. With a range of vintage and classic cars on display, the day includes a Sausage Sizzle, live music and children's attractions.
When:
Father's Day - Sunday September 5
The Kids Garden Project
, held at Como House in South Yarra, is a monthly event that lets little gardeners and aspiring conservationists learn how to make a difference to their lives and the environment with kids learning the importance of good eating habits and sustainability.
When:
Sunday September 5 - 2:30pm
Family Day at Collingwood Children's Farm
is a special children's event held each month with each family day featuring a theme that matches activities provided for kids. Activities include hayrides, a BBQ and much more to make it a great day out for the kids and family.
When:
Sunday September 5
Disney's Club Penguin
is calling Melbourne Aquarium its home for a limited time with children invited to dive into the fun and adventure with daily treasure hunts, an exciting games room complete with Nintendo DS and Wii consoles, free activity books, heaps of fun prizes and more.
When:
September 1 to October 3
Little Big Shots
, Australia's major travelling children's film festival, will be appearing at Moorabbin's Kingston Arts Centre with a special school's program of screenings along with informative introductions. Perfect for families and kids, the festival's films are inspiring, meaningful and fun for all.
When:
Friday September 3
Peter and the Wolf
, performed as part of La Mama for Kids, a theatre program for children, is Fondazione Aida's playful musical classic by Sergei Prokofiev, reinterpreted by Italian theatrical genius Dario Fo as three messy actors try to stage 'Peter and the Wolf' with help from the audience.
When:
Friday & Saturday, September 3 & 4
Crossing the Tightrope Together
is a series of workshops with professional trainers from Westside Circus in Footscray. Teaching circus skills for all abilities, the circus program, supported by Council, is for boys and girls aged 8-13 years with special needs and even their carers.
When:
Until September 12 - Sundays
Circus
Circus Sunrise
, an action-packed show for all the family, will be appearing with performances held in Altona. A true family circus with lineage going back to 1648, the performances of Circus Sunrise feature juggling, acrobatics and whip-cracking excitement!
When:
Until September 5 - Altona

Silvers Grand Magic Circus
will be holding performances in Bundoora. Established in 1976, Silvers Grand Magic Circus offers a great show for people of all ages with performers including everything from jugglers and clowns to acrobats, international performers and more.
When:
Until September 12 - Bundoora
Markets, Fetes and Fairs
Frankly My Dear Vintage Fair
features stall holders selling Vintage Men's and Women's Clothing and Accessories. Held at Geelong's Nash Hotel, the fair includes Soul DJ's spinning records, Vintage Giveaways, NASH noodles and delicious South Melbourne market Dim Sims.
When:
Saturday September 5 - 11am to 5pm
Maribyrnong Orchid Society
will be holding their annual Spring Show at the Maribyrnong Community Centre. Displaying a wide range of orchids, the event will include demonstrations on how to re-pot orchids, along with other advice on orchid culture from many of the members.
When:
Saturday & Sunday, September 4 & 5
Melbourne Market Guide
View MARKETS calendar
to make the most of the rare sunny days (it's a coin toss, isn't it!) and head to one of Melbourne's many excellent markets, fetes and fairs for a bargain!

A growing number of food, produce and even wine markets are always popping up around the suburbs. And don't forget garage sales!
Fetes Fairs & Shows
Art & Craft Markets
Food & Produce Markets
Swap Meets
Garage Sales This Weekend
Let Melbourne Know...
Advertise Your School Fete, Fair or Carnival FREE!
Everyone wants to support their local school by going to their annual fundraiser. Last year we promoted a whopping 1,200 school events. So, make sure you let your school organizers know they can list their fete, fair or carnival for
FREE @ OnlyMelbourne!
Add Your Event for FREE Today!!
Dining & Drink
The Victorian Wine Showcase
, held at the Atrium of Federation Square, allows visitors to taste wines from regional Victorian Wineries and even meet with winemakers. This month's event will showcase wines selected from makers in the regions of Geelong and Henty.
When:
Wednesday & Thursday, September 1 & 2
OnlyMelbourne Welcomes..
Each week we highlight some of the new business listings in the OnlyMelbourne Business and Services directory.
This week we suggest the following:
Fairy Floss Markets
- Exciting NEW Children's Markets...
Tell IT Media
- Web and Design Studio...
South East Mowing
- Lawn & garden services...
Fragrance Paradise
- Perfumes in Chadstone...
View More of the Latest Listings at OnlyMelbourne!
Sporting Events
AFL Premiership | Finals Week 1
AFL Premiership | Finals Week 1
Geelong vs St Kilda
Friday September 3 - 7:45pm, MCG
Collingwood vs Western Bulldogs
Saturday September 4 - 7:20pm, MCG
NRL - National Rugby League
NRL Premiership | Round 26
Melbourne Storm v Knights
Sunday September 5 - 2pm
AAMI Park (Melbourne Rectangular Stadium)
Soccer | Hyundai A-League
Hyundai A-League - Week 5
Melbourne Heart v North Queensland Fury
Saturday September 4 - 5:15pm
AAMI Park (Melbourne Rectangular Stadium)
Fun Runs & Walks
Yarra Valley Grape Run
is a Fun Run and Walk that let's you experience one of Victoria's most beautiful and best-known wine areas. With spectacularly scenic views of the valley and the Yarra Ranges, the community fitness event features a 13km run, 8km run and a 5km run/walk.
When:
Saturday September 4
Melbourne Tours
Smartvisit Card
is the best way to see the sights of Melbourne, whether you're visiting Melbourne for business, a vacation, or even if you're a local wanting to find Melbourne's hidden treasures!
The Smartvisit Card includes entry to attractions such as Melbourne Zoo, Melbourne Aquarium, Old Melbourne Gaol, Telstra Dome, Cook's Cottage, Melbourne River Cruises, and many more of Melbourne's TOP venues!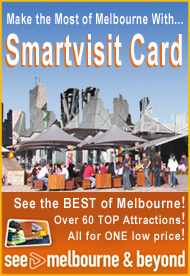 Free entry to over 60 top attractions..
Visit great venues like Zoos, museums & more across Melbourne & Victoria!
Over $800 of entry fees for ONE low price..
Plus special offers & discounts!
Visit just 2 Attractions a day & you'll save!
FREE 128 page guidebook..
Tailored to local knowledge on what to see & do!
Cash free entry..
Show your card & you're in, no need for cash!
All year-round Attractions..
Whatever time of year you visit - rain or shine!
Learn more about Smartvisit Card
Trivia
Lest We Regret..
Originally intended as a memorial arch that would span across St Kilda Rd, it was also proposed at one point that the Shrine of Remembrance instead be a cenotaph in a large "ANZAC Square"at the top of Bourke Street.
As this would have also included demolishing one of Melbourne's oldest buildings, the Windsor Hotel, the 1927 ANZAC Day march was also held as a demonstration, led by General Sir John Monash, former commander of the Australian forces.
More about the Shrine of Remembrance...
|
Read Melbourne Trivia...
WHAT'S ON CALENDAR
Speaking of what's on, our
new calendar
allows you to select any day of the year to view everything (everything!!!) on that day in an easy to read, printable display.
-:- View
What's On Calendar
-:- View
Markets Only Calendar
OnlyMelbourne On The Phone

OnlyMelbourne
is now
mobile phone
compatible. Yes, our pages are formatted to be viewed on the small screen. To view our mobile phone website, go directly to our
Mobile Home Page
with your web compatible mobile phone at
www.melbournemobile.com.au
!
❊ Address & Contact ❊
⊜ Newsletter | #191 | What's On this Week Melbourne |
Map
❊ Web Links ❊
→
Newsletter | #191 | What's On this Week
→
Subscribe to OnlyMelbourne - Get your copy of What's On this Week!
→
List Your Business or Event - It's FREE!
→
Events Calendar - Find out What's On any day of the week!
→
Mobile OnlyMelbourne - View Our Website On Your Phone
→
Melbourne for Children | Kids
→
Newsletter | #190 | What's On this Week [Last Week]
❊ COVID-19 Notice ❊
Many locations have gone into lockdown as the state takes action to stop the spread of the deadly coronavirus (COVID-19).
→
Disclaimer
: Check with the operator before making plans
...
Trending HOT

Drive-In Movie Club
Drive-In Immersive Cinema Nights Are Coming to Melbourne Put together by our friends at Hot Tub Cinema, a string of family-friendly, social distancing-safe, drive-in ..

Things to see, hear & do this weekend
Make the most of your weekend in Melbourne with these fabulous events. No city does it better than Melbourne, so get out and discover the very best shows, festivals, ..
---
Update Page