Newsletter | #190 | What's On this Week
Welcome to this week's Melbourne events, exhibitions, sports and community guide for Tuesday August 24 to Monday August 30, 2010.
This week... the Melbourne Writers Festival sharpens its pens for another round of events that celebrate writing with guest speakers, lively debates and many other wordy goings ons (sic) around town. There are also some unique film festivals showcasing the best of independent cinema with Melbourne Underground Film Festival and the Other Film Festival.
We also celebrate Melbourne Day, honouring our grand ol' city with a range of events held across town. And if you've a passion for fashion, you're in luck, what with the beginning of Melbourne Spring Fashion Week. We can only hope the weather keeps up with the trends and we can all ditch the droll winter gear of slippers and trackies (or soft jeans, as I like to call them).
Major Events
Melbourne Day
, marking the first European settlement here, honours our reputation as one of the world's most liveable cities with a wide range of events, including the official Flag Raising Ceremony at Enterprize Park, live entertainment and special offers from Melbourne's many great attractions.
When:
Monday August 30
Melbourne Writers Festival
, now in its 25th year, is one of Australia's key literary events, offering a broad range of literary ideas for people of all backgrounds. Held at various venues, the festival includes guest speakers, author signings, performances, debates and much more.
When:
August 27 to September 5
Hurstbridge Wattle Festival
, held to celebrate our unique Australian heritage in the historic Hurstbridge township, features a wide range of activities for the day with food, wine, entertainment and also displays of vintage cars, market stalls, roving entertainers and coach rides.
When:
Sunday August 29 - 10am to 4pm
Melbourne Spring Fashion Week
, held at the festival hub of Melbourne Town hall and other venues, showcases all the hottest designers, labels, styles and retailers Melbourne offers with events that include fashion parades, films, workshops, parties, markets and exhibitions.
When:
August 30 to September 5
Coincides with Hats Off to the Races Display
Food & Wine Festivals
The Sunbury Region Wine Festival
, held each year in August, is a chance to taste the best of Sunbury's wineries and enjoy events that include a Winemakers Dinner with a Mediterranean inspired menu, a wine Masterclass and open cellars with tastings, live music and food.
When:
Friday to Sunday, August 27 to 29
Film Festivals
The Melbourne Underground Film Festival
, a celebration of independent cinema, will showcase the best of this year's short films and a selection of new feature films from Australia and overseas. Now in its 11th year, venues include Classic Cinema Elsternwick and Melbourne's 1000 Pound Bend.
When:
Until August 28
The Other Film Festival
, held at The Age Theatre in Melbourne Museum, is a disability film festival, exploring the many facets of disability with humour, verve and drama. With workshops and discussions, the festivals includes the world's first demonstration of a cutting-edge prosthetic eye.
When:
Wednesday to Sunday, August 25 to 29
The Indonesian Film Festival
showcases the best of Indonesian cinema with a range of special events and screenings held at ACMI Cinemas in Federation Square. Now in its 5th year, the festival features a diverse program, ranging from major motion pictures to classic art house.
When:
August 20 to 26
Upcoming Events
The Modern PA/EA round-table series
is a set of facilitated meetings of peers, for discussion and exchange of views on the pros and cons of their role. Round-table participants will be asked to consider a series of case studies and questions associated with being a PA/EA.
When:
Starts 1 September - Max 6 per group

NEW LIVE CALENDAR
To find out about future events in Melbourne, have a look at our new calendar, with details about many more events that lie ahead so you can jot them down on the to-do list , including Exhibitions, Live Gigs, Theatre, Markets, Expos and more..
View Future Events on any day of the week
Exhibitions - Art | Festival | Show
The Rob McNamara Exhibition
, held at Collingwood Gallery, showcases the works of artists with and without disability. With works that include painting, textiles, collage, jewellery and writing, it explores the theme, Beyond First Impressions: What changes if you get to know me?
When:
August 27 to September 9 - Closed Mondays
Opening Night:
Friday August 27 - 5pm to 7pm
encase
, an exhibition by Carly Grace held at Trocadero Art Space in Footscray, is an installation that expands on her drawings made from finely drawn small circles in organic patterns. Using aluminium can bases, both reflective and disrupted with patinas, viewers become encased in the work.
When:
Until September 4 - Wednesdays to Saturdays
Labyrinthine
, held at Fitzroy's Shabana Jacobson Studios, is an exhibition of recent drawings, paintings and textiles by Maxime Banks. A personal response to loss and anxiety, she juxtaposes poetic text with emotional self-portraits, exploring themes of memory, mortality, self-identity and loss.
When:
Until Saturday August 28
Gestures & Procedures
is a new survey exhibition where artists use gestures, rituals and repetitions captured in video and photography. Presented at the Australian Centre of Contemporary Art in Southbank, recent works are shown along with key 1970s projects by pioneer conceptual artists.
When:
Until September 26 - Closed Mondays
Defaced
, held at Melbourne's Guilford Lane Gallery, is an art exhibition and installation by Josie Wadelton. With work that explores the theme of books that have been burned, banned and defaced, she uses a diverse range of materials including paintings, collage, digital prints and recycled books.
When:
August 25 to September 5 - Closed Mondays
Nearest & Dearest
, held at Nexus Modern Art in South Melbourne, is Jessica Charlotte's an exhibition of imaginative portraits featuring all the creatures that have enriched and contributed so much to her own idea of family, incorporating family pets and animals from her past and dreams.
When:
August 21 to September 4 - Wed to Sun
Long Socks
, one of three exhibitions held at Red Gallery in Fitzroy North, is Sally Darlison's exploration of both the similarities and differences in three codes football: Soccer, Rugby Union and Australian Rules. Displaying the common trait of long socks, her work uses collage and lino prints.
When:
Until August 28 - Wednesdays to Saturdays
Atlas
, the Annual Artist Books Exhibition by Artisan Books in Fitzroy, explores the given theme with inspiring works that explore the boundaries of how books are defined, raising them to sculptural form with many unique handmade books created specifically for the exhibition.
When:
August 21 to September 11
Connected10
, presented by State Trustees, is an art exhibition and art prize open to Victorians with a disability or an experience of mental illness. Featuring work by both new and emerging artists, winning artworks will be on display at an exhibition held at Melbourne Central.
When:
August 13 to 26
The Journey
, held at Collingwood's James Makin Gallery, is an exhibiton of works by Jeff Makin, regarded as the 'living heir to the Heidelberg School. The 'plein air' landscapes are a summation of Jeff Makin's long career and show a new obsession with the Chinese landscape tradition.
When:
August 12 to September 4 - Tues to Sat
Little Deaths
, an exhibition by Bill Sampson held at MARS Gallery in Port Melbourne, features artworks that show paint pooled on paper in a process that Sampson describes as inherently chaotic, yet having an order of its own that is governed by the physics of how the paint comes together.
When:
Until August 29 - Closed Mondays
Colourful Changes
, held at Warburton's Upper Yarra Arts Centre, is an exhibition Jeff Wilmott. An ocarina maker and musician, Jeff is also a prolific photographer whose work features previously discarded photographs, uniquely transformed by pen and ink into new, colourful images.
When:
Until August 26
A Sweeter System of Donation (Apple Flavour)
is an exhibition held at Melbourne's Michael Koro Gelleries, which is a unique display using a system of donation to support the artist. Created by Keith Wong, visitors are invited to add to the work's value by adding to its weight with coin donations.
When:
August 6 to September 5
Fantastic Fae and Phantosea
, held at Queen Victoria Women's Centre in Melbourne, is an exhibition of work by Rachael Hammond, an illustrator and graphic designer inspired by mythology and faerielore. Trained in traditional media, Rachel now produces most of her artwork digitally.
When:
August 2 to 27 - Weekdays
Making Meaning
, held at Ferntree Gulley's 1812 Theatre, is an exhibition of figurative, abstract and photographic art works by one of the most well known people with autism in the world, Donna Williams. Free to attend, 10% of all proceeds will benefit the 1812 community theatre.
When:
August 5 to September 4 - Wed to Sun
The Stony Rises Project
, held at the Swanston Street Gallery of RMIT University, brings together 10 artists and designers in an investigation of the rich, layered histories of the Western District of Victoria. Focusing on the histories of the area, artists include Vicki Couzens and Seth Keen.
When:
Until September 11
I Cover the Waterfront
, showing at the State Library of Victoria, is an exhibition by Rick Amor, who has depicted Melbourne's forgotten waterfront in evocative oils and watercolours. Painted en plein air, meaning outdoors, the works document a changing part of Melbourne's landscape.
When:
Until September 5
Banned Books in Australia
, presented at the Baillieu Library of the University of Melbourne, examines Melbourne's long history of banning books both Australian and imported, past and modern. Reflecting the changing values of our community, it includes artists' representations of this theme.
When:
Throughout July & August
Burke and Wills: Terra Incognita
is a chance to discover the remarkable story of Burke and Wills' ill-fated Victorian Exploring Expedition. Marking the expedition's 150th anniversary, the exhibition at the State Library of Victoria includes original paintings, sketches and artefacts.
When:
Until October 3
Tim Burton: The Exhibition
is a special showcase of works brought to Melbourne direct from direct from The Museum of Modern Art in New York. Held at ACMI in Federation Square, the exhibition brings together over 700 works that helped create Burton's films, including drawings, puppets and more.
When:
Until October 10 - Open Daily
The Amazing Bodies Exhibition
, held at Waterfront City in Docklands, is a chance to explore nature in a unique way with amazing displays of natural anatomical wonders. Using real body specimens, perfectly preserved, the exhibition shows muscular and bone structure in a captivating display.
When:
Until September 2
Expos, Launches & Lectures
Taste of Melbourne
, taking place at Carlton's Royal Exhibition Building, serves up demonstrations by the finest chefs from some of Melbourne's most prestigious and best hatted restaurants. The culinary celebration includes wine tastings, gourmet food showcases and more.
When:
Thursday to Sunday, August 26 to 29
The Bags & Accessories Fair
, held at Melbourne Exhibition Centre, is the premier industry event featuring the latest fashion accessory releases with hundreds of labels on display. With high end designers represented, displays include bags, jewellery, belts, millinery and more on show.
When:
August 29 to 31
Coincides with Australian Shoe Fair
Fashion Exposed
, held at Melbourne Exhibition Centre, is a chance to discover the latest ranges at Australasia's premier trade fashion event. Launching new labels and showcasing the biggest brands, the event features over 1500 new ranges in womenswear, menswear, streetwear and more.
When:
Sunday to Tuesday, August 29 to 31
Blooms Bridal Expo
, held at Melton Community Hall, presents the very best of wedding professionals from across the western region. With fashion shows, a wedding car display, wine tastings and door prizes drawn every hour, entry fees will be donated to the Melton Food Bank.
When:
Sunday August 29 - 10am to 4pm - $3 Entry
Car Shows
Auto Salon
, Australia's premiere modified car event, takes place at Melbourne Showgrounds with the Australian debut of some of the world's most recognised and revered modified cars. More than a simple car show, it features live demonstrations, special guests and performances.
When:
Saturday & Sunday, August 28 & 29
Pet Shows
Dogs Victoria
present Championship and Breed Shows, offering a great way to look at various dog breeds up close and speak to breeders and fanciers about the pros and con of owning a particular breed of dog. Most events include special agility competitions and entertaining parades.
When:
Saturday August 28
Performances & Theatre
Wretch
, performed at Warburton's Upper Yarra Arts Centre as part of their Wednesday Mecca theatre series, looks at the relationship between a mother and her son and the love they share in all its ugly and brilliant forms, shown within the visiting hours of the juvenile detention facility he's held at.
When:
Wednesday August 25 - 7pm
[title of show]
makes a return to St Kilda's Theatre Works with the quirky hit musical about a quirky hit musical presented by Magnormos. A melodic and uproarious musical about making ones dreams come true, the play takes a witty look at both the pleasures and perils of the artistic process.
When:
August 26 to September 11
Are We There Yet?
is a special presentation of this year's performance by local scouts and guides from the Maroondah and Whitehorse districts. Following the adventures of a group of teens who embark on their summer holidays after graduation, it's held at Nunawading's Whitehorse Arts Centre.
When:
August 27, 28 & September 1 to 4
West Side Story
, one of the most iconic musicals, is held at Melbourne's Regent Theatre with Joey McKneely's vibrant new stage production of the classic dance musical having already met rave reviews overseas. Based on Shakespeare's Romeo and Juliet, it features a spectacular orchestra.
When:
August 20 to 31
|
Book Now!
Crave
, presented by PMD Productions, is the fourth work of Sarah Kane's short but spectacular career, dismantling ordinary ideas of time, place, character and relationship to offer a poetic stream of blind emotion. Directed by Paul Knox with Kellie Tori, it's held at Chapel Off Chapel.
When:
August 19 to September 4
Present Laughter
, the acclaimed play by Noel Coward, will be performed by STAG theatre at Strathmore Community Hall. The play offers a glimpse into the private life of the lovable Garry Essendine, an enduring star of the stage who finds his confidence shaken with age.
When:
August 19 to 28
All About My Mother
, performed at Melbourne Theatre Company Sumner Teatre in Southbank, is the theatrical adaptation of the film by Pedro Almodovar. Written by Samuel Adamson, the play follows a mother's strength as she searches for an old lover following the death of her son.
When:
August 14 to September 26
Let the Sunshine
, written by David Williamson, features Jacki Weaver and John Wood in a witty look at the Baby-Boomer generation as Toby, a left-minded documentary maker, tried to revisit a fishing village from his youth, only to find that much has changed. It's playing at the Arts centre.
When:
July 28 to September 4
Mary Poppins The Musical
, held at Melbourne's Her Majesty's Theatre, brings the classic books and beloved Disney film to the stage with a spectacular production that includes all of the best loved songs from the film including Chim Chim Cheer-ee and Supercalifragilisticexpialidocious.
When:
Until October 17
|
Book Now
Classical, Choral & Recitals
A Night In Budapest And Vienna
, held at Prahran's Chapel off Chapel, is a performance by Antal Szalai and his Hungarian Gypsy Band. With traditional music and operetta, Antal Szalai has performed throughout Europe and recently to a sold-out audience at the Sydney Opera House.
When:
Thursday & Friday, August 25 & 26
Healthy
, performed at Prahran's Chapel Off Chapel, is a new work for double ensemble featuring Topology, one of Australia's leading new music groups, who'll be joining with Misinterprotato, a young, energetic contemporary jazz trio in the creation of a fascinating blend of sounds and styles.
When:
Friday August 27 - 7:30pm
Aled Jones
, one of the most well known choral singers and a presenter BBC's Songs Of Praise, will be appearing at the The Palais in St Kilda. His performances show why he's long been a household name, having released a total of 27 albums and sold over 6 million copies to date.
When:
Saturday August 28 - Doors Open 7.30pm
Preston Symphony Orchestra
will be at Northcote Town Hall where they'll perform with Preston Junior Strings as part of this year's Youth Concerto Competition. Held since 1988, the competition gives young musicians the opportunity to play a concerto with a symphony orchestra.
When:
Sunday August 29 - 2:30pm
ANAM
, the Australian National Academy of Music, will be presenting a concert held at Montsalvat in Eltham. A national institution regarded as one of the world's premiere music institutions, the latest in their concert series features original pieces for harp, piano and soprano saxophone.
When:
Sunday August 29 - 2:30pm
Burlesque, Cabaret & Dance
Le Femme Garcon Cabaret
, held at the Village Green Hotel in Mulgrave, celebrates the resurgence of gender illusion as the glamorous Monte Diamonte introduces the exceptional talent and diversity of Melbourne's leading drag artists with guests including Rita Ellsea and Selena La'More.
When:
Saturday August 28 - 7.30pm to 10pm
Atrocity
, held at Burlesque Bar in Fitzroy, is a shocking theatrical soap opera of sex, violence, beauty, horror and psychological play that is not for the faint of heart. Shock performance with music, song, dance and the art of wicked tease, the show is a night of Burlesque du Grand Guignol.
When:
August 22 to September 19
How High the Moon
, held at Melbourne Cocktail Bar, 24 Moons, is a night with character with feel good performances by professional characterising Burlesque dancers. Stylish, sophisticated and classy, the night features the finest burlesque with a lush, titillating mood.
When:
Every Saturday - 9:30pm to 3am
Entertainment & Nightlife
Kate Ceberano
, back by popular demand with a return appearance at Toorak's Trak Lounge Bar, will perform an exclusive show there for the very first time. A legendary Australian icon for over twenty-five years now, the sultry songstress will be supported by Rav Thomas.
When:
Friday August 27 - 8:30pm
Enzyme 14
, held at Blue Velvet in Collingwood, is an underground music extravaganza featuring the best in live Industrial Metal and Experimental music. Featuring Sarcophony in a debut live performance, other performers on the night include Cold Divide and DJ Infectious Unease.
When:
Friday August 27 - 8pm to midnight
100% Kylie
is the smash hit show that delivers an astonishing and captivating performance, celebrating Australia's 'Princess of Pop', Kylie Minogue. Spoken highly of by Kylie Minogue herself, the tribute show is a grand spectacular appearing at Karralyka Centre in Ringwood.
When:
Friday August 27 - 7:30pm
Cordrazine
, launching their new album, Always Coming Down, will be appearing at the East Brunswick Club. Marking their return after 13 years, Melbourne's former Top 10 chart-makers will perform songs from the album including their brand new single, Sunshine, a strings-laden ode to lovers.
When:
Saturday August 28
Rock 'n Roll Dance of the Decade
, featuring one of the most revered guitarists of all time, Albert Lee, sees the performer appear at The Thornbury Theatre as part of his Australian tour. Joined by The Straight 8's and others, the show is over 3 hours of great entertainment and dancing.
When:
Saturday August 28
The Daryl McKenzie Jazz Orchestra
will perform at The Apartment in Little Bourke Street where you can enjoy one of the best shows in town. With an 18-piece orchestra, Daryl McKenzie proves why he's one of Australia's best musicians with legends like Tom Jones using his arrangements.
When:
Monday August 30
Regular Gigs
House Of Blues
, held at the Royal Standard Hotel in West Melbourne, is a special evening of music presented each week by the Melbourne Blues Appreciation Society. With a featured artist invited to play each wee, performances are followed by an open jam session for all musicians.
When:
Every Tuesday - 8pm
Open Mic Sunday's
, held at Wild Oscars in Richmond, is a weekly Open Microphone night with gear supplied in house so musicians need only bring their guitar and talent. There is a prize of $50 for the winner plus the chance to play their own fully paid gig on a Friday night at the venue.
When:
Sundays - Starts 7pm
Comedy & Magic
Simon Taylor
, performing his new show The Street Psychologist at Preston's Darebin Arts & Entertainment Centre, offers a show with an insight into how to trick yourself into feeling happier. Able to predict your thoughts, the show blends his studies in psychology with illusion.
When:
Friday August 27
Comedy With Grace
, held weekly at the Grace Darling Hotel in Collingwood, is a platform for some of Australia's biggest names in comedy to test new material or polish some old, as well as showcase the best new up and comers from around the country with a new line-up every week.
When:
Sundays - 7pm to 9pm
Studio A
, Melbourne's own live TV Comedy Tonight Show on Channel 31, invites the public to come get up close to the funny by being in their live studio audience. Hosted by popular comedian Tommy Little Studio A features celebrity guests, interviews, bands, stand-up and live sketches.
When:
Mondays - 8:30pm
The Impro Cave
can help beat the winter chills with a toasty warm venue at The Penny Black in Brunswick and the hottest improvised entertainment. This year's series of improvised shows feature Bingo Board of Doom, Smells Like a Song, Gypsyprov and How 'Bout This just to name a few.
When:
Every Sunday Until August 29
Cinema
Underground Cinema
will present two special cinematic events where guests have no idea of the film they're watching until the actual screening. Using clues, props and the theme of WW2 to try and guess what will be shown, venue details are sent by SMS prior to the night.
When:
Saturday & Sunday, August 28 & 29
Melbourne For Kids
Come Dance and Sing
, presented as part of Melbourne Symphony Orchestra's Family Classic Kids series, features Play School's Jay Laga'aia in a performance children will love. Featuring Noni Hazelhurst as narrator, the popular program of concerts is suited for children aged three to seven.
When:
Wednesday to Friday, August 25 to 27
Peter and the Wolf
, performed as part of La Mama for Kids, a theatre program for children, is Fondazione Aida's playful musical classic by Sergei Prokofiev, reinterpreted by Italian theatrical genius Dario Fo as three messy actors try to stage 'Peter and the Wolf' with help from the audience.
When:
August 27 & 28 and September 3 & 4
Crossing the Tightrope Together
is a series of workshops with professional trainers from Westside Circus in Footscray. Teaching circus skills for all abilities, the circus program, supported by Council, is for boys and girls aged 8-13 years with special needs and even their carers.
When:
Until September 12 - Sundays
Circus
Circus Sunrise
, an action-packed show for all the family, will be appearing with performances held in Altona. A true family circus with lineage going back to 1648, the performances of Circus Sunrise feature juggling, acrobatics and whip-cracking excitement!
When:
Until September 5 - Altona

Silvers Grand Magic Circus
will be holding performances in Bundoora. Established in 1976, Silvers Grand Magic Circus offers a great show for people of all ages with performers including everything from jugglers and clowns to acrobats, international performers and more.
When:
Until September 12 - Bundoora
Markets, Fetes and Fairs
Melbourne Market Guide
View MARKETS calendar
to make the most of the rare sunny days (it's a coin toss, isn't it!) and head to one of Melbourne's many excellent markets, fetes and fairs for a bargain!

A growing number of food, produce and even wine markets are always popping up around the suburbs. And don't forget garage sales!
Fetes Fairs & Shows
Art & Craft Markets
Food & Produce Markets
Swap Meets
Garage Sales This Weekend
Let Melbourne Know...
Advertise Your School Fete, Fair or Carnival FREE!
Everyone wants to support their local school by going to their annual fundraiser. Last year we promoted a whopping 1,200 school events. So, make sure you let your school organizers know they can list their fete, fair or carnival for
FREE @ OnlyMelbourne!
Add Your Event for FREE Today!!
OnlyMelbourne Welcomes..
Each week we highlight some of the new business listings in the OnlyMelbourne Business and Services directory.
This week we suggest the following:
Verge3
SEO Services specialise in search engine optimisation and marketing services aimed at taking clients to the very top of search engine results for their search KP's, meaning your Key Phrases are the starting point of every campaign and the basis for our search engineers to target, develop and impliment a campaign to take you to the top.
Health 'N' More
- Health Store in Bentleigh East...
Ripple
- Mobile Day Spa and Beauty...
Mostly Murders
- Cheltenham Memorial Park Tour...
Eye Love
- Optometry in Elwood...
View More of the Latest Listings at OnlyMelbourne!
Sporting Events
AFL Premiership
AFL Premiership | Round 22
Hawthorn vs Essendon
- August 29 - MCG
Carlton vs Adelaide
- August 29 - Marvel Stadium
Geelong vs Fremantle
- August 29 - Skilled Stadium
Melbourne vs St Kilda
- August 30 - MCG
Collingwood vs Bulldogs
- August 30 - Marvel Stadium
Soccer | Hyundai A-League
Hyundai A-League - Week 4
Melbourne Heart v Perth Glory
Sunday August 29 - 5pm
AAMI Park, Melbourne
Roller Derby
South Sea Roller Derby
in Keysborough will hold their very first public bout when The Cutthroat Charmers face off against the Dolly Rogers in what promises to be a night full of thrills and spills! Both teams are hungry to be crowned the first winners for the League with neither holding back.
When:
Saturday August 28 - Doors Open 7pm
The Trots
Caulfield Racecourse
, affectionately known as The Heath, plays host to some of the best highlights of racing both during and outside of the iconic Spring Racing Carnival.
Next Race Date
Memsie Stakes Day
Saturday, 28 August
Pakenham Racing Club
, founded in 1875 and an hour's drive from Melbourne, provides a country atmosphere within reach of the city, without the metropolitan price tag.
Next Race Date
Jockeys Recognition Day
Saturday, 28 August
Melbourne Tours
Smartvisit Card
is the best way to see the sights of Melbourne, whether you're visiting Melbourne for business, a vacation, or even if you're a local wanting to find Melbourne's hidden treasures!
The Smartvisit Card includes entry to attractions such as Melbourne Zoo, Melbourne Aquarium, Old Melbourne Gaol, Telstra Dome, Cook's Cottage, Melbourne River Cruises, and many more of Melbourne's TOP venues!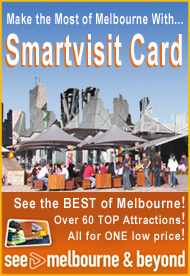 Free entry to over 60 top attractions..
Visit great venues like Zoos, museums & more across Melbourne & Victoria!
Over $800 of entry fees for ONE low price..
Plus special offers & discounts!
Visit just 2 Attractions a day & you'll save!
FREE 128 page guidebook..
Tailored to local knowledge on what to see & do!
Cash free entry..
Show your card & you're in, no need for cash!
All year-round Attractions..
Whatever time of year you visit - rain or shine!
Learn more about Smartvisit Card
Trivia
It's More Than Just Cricket...
Melbourne holds the world record for the highest attendance at a cricket match.
In February 1961, a staggering 90,800 people turned out to watch the 2nd day of the 5th test between Australia and the West Indies.
Read more about Victorian Cricket
|
Read Melbourne Trivia...
WHAT'S ON CALENDAR
Speaking of what's on, our
new calendar
allows you to select any day of the year to view everything (everything!!!) on that day in an easy to read, printable display.
-:- View
What's On Calendar
-:- View
Markets Only Calendar
OnlyMelbourne On The Phone

OnlyMelbourne
is now
mobile phone
compatible. Yes, our pages are formatted to be viewed on the small screen. To view our mobile phone website, go directly to our
Mobile Home Page
with your web compatible mobile phone at
www.melbournemobile.com.au
!
OnlyMelbourne is already iPad friendly, we know, we have one (chuckle) says he with bragging rights!
The Age iPad App
WHAT'S ON RSS FEEDS
We have a range of
RSS Feeds
.
NEWSLETTER
What's On this Week
is an email overview and reminder of the (too many to mention) events happening this week in Melbourne.
Get your copy
of What's On this Week!
FREE ADVERTISING
Advertising
your EVENT at OnlyMelbourne is not only easy, it's
FREE!!
-
Apply Online..
for inclusion in the What's On calendar and newsletter!
❊ Address & Contact ❊
⊜ Newsletter | #190 | What's On this Week Melbourne |
Map
❊ Web Links ❊
→
Newsletter | #190 | What's On this Week
→
Subscribe to OnlyMelbourne - Get your copy of What's On this Week!
→
List Your Business or Event - It's FREE!
→
Events Calendar - Find out What's On any day of the week!
→
Mobile OnlyMelbourne - View Our Website On Your Phone
→
Melbourne for Children | Kids
→
Newsletter | #189 | What's On this Week [Last Week]
❊ COVID-19 Notice ❊
Many locations have gone into lockdown as the state takes action to stop the spread of the deadly coronavirus (COVID-19).
→
Disclaimer
: Check with the operator before making plans
...
Trending HOT

Drive-In Movie Club
Drive-In Immersive Cinema Nights Are Coming to Melbourne Put together by our friends at Hot Tub Cinema, a string of family-friendly, social distancing-safe, drive-in ..

Things to see, hear & do this weekend
Make the most of your weekend in Melbourne with these fabulous events. No city does it better than Melbourne, so get out and discover the very best shows, festivals, ..
---
Update Page