Newsletter | #188 | What's On this Week
Welcome to this week's Melbourne events, exhibitions, sports and community guide for Tuesday August 10 to Monday August 16, 2010.
This week... Grab your goggles and lab coats because School's out for Winter with some educational shenanigans raising various Melbourne roofs as National Science Week returns with a range of fun events held across Melbourne and Victoria.
There's also the Geelong Schools Music and Movement Festival with performances from budding young stars taking to the stage for the very first time, while schools continue to get a look in with the ongoing Melbourne School Bands Festival and Entrepreneurs Week.
Major Events
National Science Week
raises awareness of science and education with a series of fun, unique and very quirky displays and events. Held at various venues throughout Victoria and Melbourne including Melbourne Museum and Scienceworks, there are competitions, exhibits and more.
When:
August 14 to 22
The Geelong Schools Music and Movement Festival
, now in its 64th year, is a chance for students to perform in a professional theatre environment and be audience to performances including Rock Bands, Dance Groups, Choirs and more. It's held at Geelong Performing Arts Centre.
When:
Until Friday August 13
Melbourne Winter Festival
, held in Southbank, sees Queensbridge Square transformed into an Alpine Village for a fun event that features the Strepsils Cool Ice Rink with ice skating for people of all ages, alpine food and beverages and a replica alpine ski hut with live music held nightly.
When:
August 3 to 15
The Melbourne School Bands Festival
, held at Clayton's Monash University, will see school bands from Melbourne and interstate come together for a series of tutorials and educational events. Participating bands, including brass and stage bands, will also perform for the public.
When:
August 9 to 21
Entrepreneurs Week
, an initiative of Student Entrepreneurs, a student-run organisation based at the University of Melbourne, will showcase a hit list of business moguls, successful entrepreneurs as well as up and coming entrepreneurs who will share the secrets of their success.
When:
August 6 to 13
Film Festivals
Celluloid Soup
, the Jewish Short Film Festival hosted by the Jewish Museum of Australia in St Kilda, will feature a program of film-based activities, workshops and events for the first time in the event's 12 year history as it leads up to the screening gala of film entries held in October.
When:
The Experts Talk #3 - Thursday August 12
Upcoming Events

NEW LIVE CALENDAR
To find out about future events in Melbourne, have a look at our new calendar, with details about many more events that lie ahead so you can jot them down on the to-do list , including Exhibitions, Live Gigs, Theatre, Markets, Expos and more..
View Future Events on any day of the week
What's New at OnlyMelbourne
Zoupon
offer great deals in Melbourne with many businesses offering discounts on services, dining, great products and more. With daily updates of discounts between 50% to 90% off the normal price, Zoupon is a great way to make the most of what's on offer in Marvellous Melbourne.
Find What's on Offer Today with Zoupon!!
Exhibitions - Art | Festival | Show
Connected10
, presented by State Trustees, is an art exhibition and art prize open to Victorians with a disability or an experience of mental illness. Featuring work by both new and emerging artists, winning artworks will be on display at an exhibition held at Melbourne Central.
When:
August 13 to 26
Opening & Awards Ceremony:
Friday August 13
Perceptions
, featuring works by Vesna Maksimovic and Jade Zivanovic, is an exhibition that examines how these two artists interpret the world, be that of a facade or a naive reality. Held at Steps Gallery in Carlton, the exhibition also features work by guest artist, photographer Lana Dawn.
When:
August 14 to 24
Opening Night:
Saturday August 14 - 6pm to 8pm
The Journey
, held at Collingwood's James Makin Gallery, is an exhibiton of works by Jeff Makin, regarded as the 'living heir to the Heidelberg School. The 'plein air' landscapes are a summation of Jeff Makin's long career and show a new obsession with the Chinese landscape tradition.
When:
August 12 to September 4 - Tues to Sat
Little Deaths
, an exhibition by Bill Sampson held at MARS Gallery in Port Melbourne, features artworks that show paint pooled on paper in a process that Sampson describes as inherently chaotic, yet having an order of its own that is governed by the physics of how the paint comes together.
When:
Until August 29 - Closed Mondays
Artist's Talk:
Wednesday August 18 - 6pm to 8pm
Fairfield Art Show
, with the theme this year of Blast from the Past, is Fairfield Primary School's Community Art Show and Family Day. Celebrating 125 Years of Learning this year, the day features great art, fabulous food, live music, old-fashioned games and a historical exhibition.
When:
Sunday August 15 - 10am to 4pm
Colourful Changes
, held at Warburton's Upper Yarra Arts Centre, is an exhibition Jeff Wilmott. An ocarina maker and musician, Jeff is also a prolific photographer whose work features previously discarded photographs, uniquely transformed by pen and ink into new, colourful images.
When:
Until August 26
A Sweeter System of Donation (Apple Flavour)
is an exhibition held at Melbourne's Michael Koro Gelleries, which is a unique display using a system of donation to support the artist. Created by Keith Wong, visitors are invited to add to the work's value by adding to its weight with coin donations.
When:
August 6 to September 5
Fantastic Fae and Phantosea
, held at Queen Victoria Women's Centre in Melbourne, is an exhibition of work by Rachael Hammond, an illustrator and graphic designer inspired by mythology and faerielore. Trained in traditional media, Rachel now produces most of her artwork digitally.
When:
August 2 to 27 - Weekdays
Heroes and High Drama
, held as part of Victoria Racing Club's 150th Melbourne Cup celebrations, is a free travelling photographic exhibition that acknowledges the significance that the Melbourne Cup has made to Australia's sporting and cultural heritage, capturing moments of the iconic race.
When:
August 2 to 12 in Sale
Next Appearance:
Werribee - August 16 to 23
Making Meaning
, held at Ferntree Gulley's 1812 Theatre, is an exhibition of figurative, abstract and photographic art works by one of the most well known people with autism in the world, Donna Williams. Free to attend, 10% of all proceeds will benefit the 1812 community theatre.
When:
August 5 to September 4 - Wed to Sun
Charles Blackman: Memories & Illuminations
, held at South Melbourne's Art At Cyclone, features more than 50 works by the notable artist, many of which have not been seen in the public domain. With works for sale, much of the work is from the 1960s when he resided in London.
When:
July 29 to August 22 - Thursdays to Sundays
The Stony Rises Project
, held at the Swanston Street Gallery of RMIT University, brings together 10 artists and designers in an investigation of the rich, layered histories of the Western District of Victoria. Focusing on the histories of the area, artists include Vicki Couzens and Seth Keen.
When:
Until September 11
Bronwyn Rees
will be holding an exhibition of prints and etchings that capture scenery from the You Yangs, inspired by Fred Williams a long time hero of hers. With 20 years experience as a fine artist and print maker, the exhibition is held at Armadale's Firestation Print Studio.
When:
Until August 24
I Cover the Waterfront
, showing at the State Library of Victoria, is an exhibition by Rick Amor, who has depicted Melbourne's forgotten waterfront in evocative oils and watercolours. Painted en plein air, meaning outdoors, the works document a changing part of Melbourne's landscape.
When:
Until September 5
Banned Books in Australia
, presented at the Baillieu Library of the University of Melbourne, examines Melbourne's long history of banning books both Australian and imported, past and modern. Reflecting the changing values of our community, it includes artists' representations of this theme.
When:
Throughout July & August
Burke and Wills: Terra Incognita
is a chance to discover the remarkable story of Burke and Wills' ill-fated Victorian Exploring Expedition. Marking the expedition's 150th anniversary, the exhibition at the State Library of Victoria includes original paintings, sketches and artefacts.
When:
Until October 3
Tim Burton: The Exhibition
is a special showcase of works brought to Melbourne direct from direct from The Museum of Modern Art in New York. Held at ACMI in Federation Square, the exhibition brings together over 700 works that helped create Burton's films, including drawings, puppets and more.
When:
Until October 10 - Open Daily
ABBAWORLD
, held at Federation Square, is an amazing multimedia exhibition that enables visitors to experience the music and magic of ABBA with state-of-the-art technology making a highly interactive experience where visitors can journey through ABBAWORLD'S 25 environments.
When:
Until August 15
The Amazing Bodies Exhibition
, held at Waterfront City in Docklands, is a chance to explore nature in a unique way with amazing displays of natural anatomical wonders. Using real body specimens, perfectly preserved, the exhibition shows muscular and bone structure in a captivating display.
When:
Until September 2
Expos, Launches & Open Days
Peppermint Ridge Farm
, located in Tynong North and designed to showcase active sustainability practices, will be holding an Environmental Tour of the farm and its Cornucopia Living Heritage Centre with the Cornucopia Australis Exhibition with artwork from local aboriginal artists.
When:
Sunday August 15 - Bookings Essential
Castlemaine Health & Wellbeing Expo
, now in its 10th year, is Country Victoria's largest, longest running premier Alternative Health and Wellbeing Event offering an inspirational and holistic weekend. With free workshops and hourly raffles, it's held at Castlemaine Town Hall.
When:
Saturday & Sunday, August 14 & 15
The Pool & Spa + Outdoor Living Expo
, held at the Melbourne Exhibition Centre, showcases displays from the widest range of leading pool and spa manufacturers. The event also features free workshops for landscaping, outdoor living and entertaining products for your home.
When:
Saturday & Sunday, August 14 & 15
Reed Gift Fairs
, the major gift product expo, are one of the most anticipated events on the Gift industry calendar. Exhibiting gift products including kitchenware, homewares, jewellery, fashion and more, it's held at the Melbourne Convention Centre and Melbourne Showgrounds.
When:
August 7 to 11
Coincides With:
Home & Giving Fair
Pet Shows
Dogs Victoria
present Championship and Breed Shows, offering a great way to look at various dog breeds up close and speak to breeders and fanciers about the pros and con of owning a particular breed of dog. Most events include special agility competitions and entertaining parades.
When:
Saturday & Sunday, August 14 & 15
Performances & Theatre
All About My Mother
, performed at Melbourne Theatre Company Sumner Teatre in Southbank, is the theatrical adaptation of the film by Pedro Almodovar. Written by Samuel Adamson, the play follows a mother's strength as she searches for an old lover following the death of her son.
When:
August 14 to September 26
Songs for Sylvie
, performed at A Day On Earth in Prahran, sees Tori Dixon-Whittle return to the stage after 10 years with a self-written, one-woman play. A poetic journey through the past, present and future of one woman, Sylvie explores questions of obligation, passion, and love.
When:
Thursday to Saturday, August 12 to 14
Fraudulent Behaviour
, performed in North Melbourne, is a philosophically playful exploration of everyday lies and deception. Using prose, invisible friends, a decoy duck and cardboard cut-outs, Sydney-based artist Rosie Dennis' one-woman show is a witty response to Nietzsche's beliefs.
When:
Thursday to Sunday, August 12 to 15
Daisy Chain
, the inaugural production of Rouse House Theatre Company, marks an ambitious beginning with this witty and stimulating play by Alan and Eryn Skinner. Held at St Kilda's Theatre Works, the play set at a picnic is a re-telling of the Orpheus and Eurydice legend.
When:
August 12 to 21 - Mondays to Saturdays
The Ultimate Jam Session
, presented by Boldjack productions at the Whitehorse Centre in Nunawading, recounts the extraordinary day in 1956 when Sun Studios in Memphis played host to an impromptu music session with Elvis Presley, Carl Perkins, Jerry Lee Lewis and Johnny Cash.
When:
Thursday August 12 - 8pm
2 Dimensional Life Of Her
, held at the Arts House Meat Market in North Melbourne, is a performance work made of drawing, animation, puppetry, projection and paper. With the audience drawn into the performance space, the imaginary world escapes the confines of its two-dimensional existence.
When:
Thursday to Sunday, August 12 to 15
The Paris Paradox
, performed by Melbourne songstress, Fiona Claire, presents the beautiful and absurd world of a housewife with an artistic temperament. Asking how do you get to Paris with just a song in your heart and a dishcloth in your hands, it's held at South Melbourne's Butterfly Club.
When:
Thursday to Sunday, August 12 to 15
Half a Person: My Life as Told by The Smiths
, presented by Fly On The Wall Theatre, is the acclaimed play that tells of William, a young man with three obsessions: very strong long blacks, pining for his lost Salome, and listening to The Smiths. It's held at Prahran's Chapel Off Chapel.
When:
August 4 to 15 - Wednesdays to Sundays
Let the Sunshine
, written by David Williamson, features Jacki Weaver and John Wood in a witty look at the Baby-Boomer generation as Toby, a left-minded documentary maker, tried to revisit a fishing village from his youth, only to find that much has changed. It's playing at the Arts centre.
When:
July 28 to September 4
STOP. REWIND
, presented by Red Stitch Actors Theatre in St Kilda East, is a comedy with heart that follows a disparate group of co-workers at a departmental office as they struggle to hold on their dreams throughout a series of compromises that has led to their being there.
When:
Until August 21, Wednesdays to Sundays
Mary Poppins The Musical
, held at Melbourne's Her Majesty's Theatre, brings the classic books and beloved Disney film to the stage with a spectacular production that includes all of the best loved songs from the film including Chim Chim Cheer-ee and Supercalifragilisticexpialidocious.
When:
Until October 17
|
Book Now
Classical, Choral & Recitals
Cosmo Cosmolino
will be appearing live at the World Music Cafe in Box Hill with a performance of luscious strings and romantic piano accordion. Creating exquisite sounds which cross between tango and gypsy music, the group will play new arrangements of well-known tunes.
When:
Friday August 13 - 8pm
Verdi's Macbeth
, presented by Heidelberg Choral Society, Amadeus Chamber Orchestra and soloists, is a special opera performance held at the Performing Arts Centre of Ivanhoe Girls Grammar School. Under the direction of Matthew Toogood, the part of Macbeth is performed by Gary Rowley.
When:
Friday & Sunday, August 13 & 15
The Freedom Concert
, held at Box Hill Town Hall, features performances by Pandit Shiv Kumar Sharma and Pandit Hariprasad Chaurasia. Legends of Indian Classical Music, the duo have created film scores for major pictures and will be holding live solo performances for the first time in Australia.
When:
Friday August 13 - 7am to 10pm
The Maroondah Singers
will be holding their Annual Concert at the Whitehorse Centre in Nunawading, where Musical Director, Lyn Henshall, will present her first concert with the performance group. Featured artists include the talented Vocal Scholars Nathan Lay and Penny Mason.
When:
Sunday August 15 - 2.30pm
Stefan Cassomenos
will be appearing at Forty Five Downstairs in flinders Lane as part of his series of classical concert evenings. The concert series will see the young pianist share his passion for Prokofiev along with performing works by Chopin and his own new works for the first time.
When:
Monday August 16 - 8pm
Burlesque, Cabaret & Dance
WOW
, a study on health for women who have femal sexual partners, will be holding a free gala performance night at the Glasshouse Hotel in Collingwood. Held to promote their health study, entertainment includes Chris Falk, Second Base women's circus, comedians and much more.
When:
Friday August 13 - 8pm to 10pm
How High the Moon
, held at Melbourne Cocktail Bar, 24 Moons, is a night with character with feel good performances by professional characterising Burlesque dancers. Stylish, sophisticated and classy, the night features the finest burlesque with a lush, titillating mood.
When:
Every Saturday - 9:30pm to 3am
Entertainment & Nightlife
Los Van Van
will be appearing at The Arts Centre as part of the Mix It Up concert series. Recognised as one of the most important post-revolution Cuban bands, Los Van Van performs a fusion of changui and son monturo with Afro-Cuban rhythms, rock, funk, disco and hip-hop.
When:
Wednesday August 11 - 8.30pm
Zeptepi
, a Melbourne folk-rock act, will be performing a stripped back acoustic show at City Library in support of their brand new 3rd album 'Stormclouds'. The lunchtime show will feature singer and guitarist Phil Dean, violinist Hayley Anderson and banjo player CC Thornley.
When:
Friday August 13 - 12:30pm to 1:30pm
Over-Reactor
, featuring vocalist Ezekiel Ox, once the mouthpiece for funk rockers Mammal, and Cory Blight, will be holding an album launch at Melbourne's Ding Dong Lounge. Fiercely independent with a raucous hybrid of punk, metal and hip hop, support is by Piggy and Chaos Radio.
When:
Friday August 13
Daryl Braithwaite
will be performing at Toorak's Trak Live Lounge Bar in an exclusive show with special guests The Toozies featuring Tottie Goldsmith and Eve Von Bibra. Known for a voice that captures the mood of a song perfectly, Braithwaite's performances soar with inspiration.
When:
Friday August 13
Regular Gigs
House Of Blues
, held at the Royal Standard Hotel in West Melbourne, is a special evening of music presented each week by the Melbourne Blues Appreciation Society. With a featured artist invited to play each wee, performances are followed by an open jam session for all musicians.
When:
Every Tuesday - 8pm
Open Mic Sunday's
, held at Wild Oscars in Richmond, is a weekly Open Microphone night with gear supplied in house so musicians need only bring their guitar and talent. There is a prize of $50 for the winner plus the chance to play their own fully paid gig on a Friday night at the venue.
When:
Sundays - Starts 7pm
Comedy
The Big HOO-HAA!
is a successful show that's been running for the past eight years in Perth and now comes to Melbourne. The show that began the burgeoning careers of Claire Hooper from Good News Week and Xavier Michelides from Rove Live will be appearing at The Portland Hotel.
When:
Every Friday - Doors Open 7.30pm
The Impro Cave
can help beat the winter chills with a toasty warm venue at The Penny Black in Brunswick and the hottest improvised entertainment. This year's series of improvised shows feature Bingo Board of Doom, Smells Like a Song, Gypsyprov and How 'Bout This just to name a few.
When:
Every Sunday Until August 29
Cinema
West Side Shorts
, presented by Angry Productions, is a monthly film night held at Williamstown' Customs House Hotel, offering the chance to see fantastic short films made by local talent and also to network with local filmmakers and actors after the screenings.
When:
Tuesday August 10 - 8:30pm - Only $5 Entry
Chevolution
, a free screening held at Outside-In Cinema at the State Library of Victoria, investigates how Che Guevera's face, with its enigmatic gaze, became a symbol for change with the widely used image taken in 1960 by a Cuban photographer who captured Che Guevara at a mass funeral.
When:
Wednesday August 11 - 6.30pm to 8pm
Melbourne For Kids
Crossing the Tightrope Together
is a series of workshops with professional trainers from Westside Circus in Footscray. Teaching circus skills for all abilities, the circus program, supported by Council, is for boys and girls aged 8-13 years with special needs and even their carers.
When:
Until September 12 - Sundays
Aladdin Jr.
will be performed at Preston's Darebin Arts & Entertainment Centre where the talented cast from Santa Maria College promise to make all of your favourite characters come to life in this stage adaptation of the Disney hit, including Aladdin, Jasmine, and of course, the Genie.
When:
Thursday to Saturday, August 12 to 15
Circus
Circus Sunrise
, an action-packed show for all the family, will be appearing with performances held in Altona. A true family circus with lineage going back to 1648, the performances of Circus Sunrise feature juggling, acrobatics and whip-cracking excitement!
When:
Until September 5 - Altona

Silvers Grand Magic Circus
will be holding performances in Epping. Established in 1976, Silvers Grand Magic Circus offers a great show for people of all ages with performers including everything from jugglers and clowns to acrobats, international performers and more.
When:
Until August 22 - Epping
Markets, Fetes and Fairs
Waverley Bonsai Group
will be holding their Annual Show at the Mount Waverley Community Centre where visitors can meet and talk to top Bonsai exponents and view beautiful displays. During the show there will also be a well-stocked trading table with plants and Bonsai equipment for sale.
When:
Saturday & Sunday, August 14 & 15
Melbourne Market Guide
View MARKETS calendar
to make the most of the rare sunny days (it's a coin toss, isn't it!) and head to one of Melbourne's many excellent markets, fetes and fairs for a bargain!

A growing number of food, produce and even wine markets are always popping up around the suburbs. And don't forget garage sales!
Fetes Fairs & Shows
Art & Craft Markets
Food & Produce Markets
Swap Meets
Garage Sales This Weekend
Let Melbourne Know...
Advertise Your School Fete, Fair or Carnival FREE!
Everyone wants to support their local school by going to their annual fundraiser. Last year we promoted a whopping 1,200 school events. So, make sure you let your school organizers know they can list their fete, fair or carnival for
FREE @ OnlyMelbourne!
Add Your Event for FREE Today!!
OnlyMelbourne Welcomes..
Each week we highlight some of the new business listings in the OnlyMelbourne Business and Services directory.
This week we suggest the following:
CoreDNA
- Online Content Management Solutions...
Moochi Womens Fashion Market
- Clothes & more in Bentleigh...
Sa-wad-dee-thaimassage
- Massage Therapy in Melbourne...
268 On Toorak
- A modern, yet rustic bar...
View More of the Latest Listings at OnlyMelbourne!
Sporting Events
AFL Premiership
AFL Premiership | Round 20
Essendon v Collingwood
- August 13 - MCG
Carlton v Richmond
- August 14 - MCG
Bulldogs v Geelong
- August 14 - Marvel Stadium
Hawthorn v Melbourne
- August 15 - MCG
Nth Melb v St Kilda
- August 15 - Marvel Stadium
NRL - National Rugby League
NRL Premiership | Round 23
Melbourne Storm v Rabbitohs
Sunday August 15 - 2pm
AAMI Park (Melbourne Rectangular Stadium)
Soccer | Hyundai A-League
Hyundai A-League - Week 2
Melbourne Victory vs Glory
Saturday 14 August
AAMI Park, Melbourne
The Trots
Caulfield Racecourse
, affectionately known as The Heath, plays host to some of the best highlights of racing both during and outside of the iconic Spring Racing Carnival.
Next Race Event
J.J. Liston Stakes Day
Saturday, 14th August
Melbourne Tours
Smartvisit Card
is the best way to see the sights of Melbourne, whether you're visiting Melbourne for business, a vacation, or even if you're a local wanting to find Melbourne's hidden treasures!
The Smartvisit Card includes entry to attractions such as Melbourne Zoo, Melbourne Aquarium, Old Melbourne Gaol, Telstra Dome, Cook's Cottage, Melbourne River Cruises, and many more of Melbourne's TOP venues!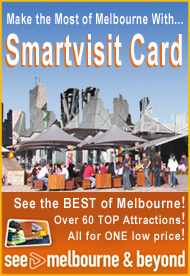 Free entry to over 60 top attractions..
Visit great venues like Zoos, museums & more across Melbourne & Victoria!
Over $800 of entry fees for ONE low price..
Plus special offers & discounts!
Visit just 2 Attractions a day & you'll save!
FREE 128 page guidebook..
Tailored to local knowledge on what to see & do!
Cash free entry..
Show your card & you're in, no need for cash!
All year-round Attractions..
Whatever time of year you visit - rain or shine!
Learn more about Smartvisit Card
Trivia
Exhibit B
Exhibition Street was originally named
Stephen Street
. However, after the Melbourne International Exhibition held in 1880 and Melbourne Centennial Exhibition held in 1888 were hosted at the Royal Exhibition Building, the street was renamed.
The name was officially changed by the Melbourne City Council on 5 December 1898.
Read more about Melbourne's Street Names
|
Read Melbourne Trivia...
WHAT'S ON CALENDAR
Speaking of what's on, our
new calendar
allows you to select any day of the year to view everything (everything!!!) on that day in an easy to read, printable display.
-:- View
What's On Calendar
-:- View
Markets Only Calendar
OnlyMelbourne On The Phone

OnlyMelbourne
is now
mobile phone
compatible. Yes, our pages are formatted to be viewed on the small screen. To view our mobile phone website, go directly to our
Mobile Home Page
with your web compatible mobile phone at
www.melbournemobile.com.au
!
OnlyMelbourne is already iPad friendly, we know, we have one (chuckle) says he with bragging rights!
The Age iPad App
WHAT'S ON RSS FEEDS
We have a range of
RSS Feeds
.
NEWSLETTER
What's On this Week
is an email overview and reminder of the (too many to mention) events happening this week in Melbourne.
Get your copy
of What's On this Week!
FREE ADVERTISING
Advertising
your EVENT at OnlyMelbourne is not only easy, it's
FREE!!
-
Apply Online..
for inclusion in the What's On calendar and newsletter!
❊ Address & Contact ❊
⊜ Newsletter | #188 | What's On this Week Melbourne |
Map
❊ Web Links ❊
→
Newsletter | #188 | What's On this Week
→
Subscribe to OnlyMelbourne - Get your copy of What's On this Week!
→
List Your Business or Event - It's FREE!
→
Events Calendar - Find out What's On any day of the week!
→
Mobile OnlyMelbourne - View Our Website On Your Phone
→
Melbourne for Children | Kids
→
Newsletter | #187 | What's On this Week [Last Week]
❊ COVID-19 Notice ❊
Many locations have gone into lockdown as the state takes action to stop the spread of the deadly coronavirus (COVID-19).
→
Disclaimer
: Check with the operator before making plans
...
Trending HOT

Drive-In Movie Club
Drive-In Immersive Cinema Nights Are Coming to Melbourne Put together by our friends at Hot Tub Cinema, a string of family-friendly, social distancing-safe, drive-in ..

Things to see, hear & do this weekend
Make the most of your weekend in Melbourne with these fabulous events. No city does it better than Melbourne, so get out and discover the very best shows, festivals, ..
---
Update Page