Newsletter | #185 | What's On this Week
Welcome to this week's Melbourne events, exhibitions, sports and community guide for Tuesday July 20 to Monday July 26, 2010.
This week... the Melbourne International Film Festival rears its celluloid once again with a grand selection of cinema and special events and there's also some risque entertainment with the Melbourne Cabaret festival and the Miss Burlesque Australia Competition held in South Yarra.
There's a good dose of music on the weekend with the Echuca-Moama Winter Blues Festival, which is a celebration of Blues music in winter, rather than a celebration of winter-blues although a parade of people grumpier than oneself at the drossful weather might raise a smile and a hint of Schadenfreude.
Major Events
Melbourne Cabaret Festival
, held at the Butterfly Club and the stunning stages within South Melbourne Town Hall, offers a fantastic program of cabaret with the finest talent performing across four nights following the Opening Gala, a star-studded event hosted by Alan Brough.
When:
Thursday to Sunday, July 22 to 25
Gala Opening:
Wednesday July 21 - 8:30pm
The Echuca-Moama Winter Blues Festival
, celebrating 11 years now, offers a program of music featuring more than 20 blues bands performing in the streets and at venues that include award-winning restaurants. With plenty of fun for kids the festival includes a Blues Boot Camp for Kids.
When:
Friday to Sunday, July 23 to 25
The State of Design Festival
, presented by the Victorian State Government, offers a diverse program of interactive events, exhibitions, workshops and talks. Held in Melbourne and regional Victoria, this year's themed of 'Change By Design' shows how design can better the environment.
When:
Until July 25
The Fire, Ice and Lights Festival
, held at Waterfront City, features Fireworks, synchronised Promenade Lighting and Fire Twirlers performances held every Friday night. Along with fantastic exhibitions held daily and during school holidays, a highlight is the display of hundreds of lanterns.
When:
Until August 8 - Performances Held Fridays
Liquid Architecture
, Australia's premier sound-arts festival, explores experimental methods of sound with performances and exhibitions by some of Australia's most imaginative musicians. The program features special concerts held in Castlemaine, Bendigo and various venues in Melbourne.
When:
Until July 17
The Seven Thousand Oaks Festival
is a series of special events that will showcase over 20 artists exploring the issue of sustainability through music, visual art, performance and installation. Held at various venues, the festival promotes conversations of sustainability in the cultural sphere.
When:
Until July 24
Film Festivals
The Melbourne International Film Festival
, one of Australia's key cinema events, offers an impressive program of cinematic features from over 50 countries with special screenings and events that include guest speakers, Q&A screenings and showcases of films from emerging talent.
When:
July 23 to August 8
Docklands Classic Film Festival
, held at Waterfront City Piazza, is a series of free screenings held every night with specially tailored themes that include Family Favourites, Documentaries, Hollywood's Best and more. Chairs and food are available, but all are welcome to bring a rug and snacks.
When:
Until July 25 - 7pm Daily & also 2pm Saturdays
Food Festivals
The Glenlyon Food and Wine Fayre
, held at the historic Glenlyon Shire Hall only ten minutes from Daylesford, showcases the region's cool climate wines, food products and celebrates the best of the region with live entertainment, stalls and cooking demonstrations by local chefs.
When:
Sunday July 25 - 10am to 4pm
Upcoming Events

NEW LIVE CALENDAR
To find out about future events in Melbourne, have a look at our new calendar, with details about many more events that lie ahead so you can jot them down on the to-do list , including Exhibitions, Live Gigs, Theatre, Markets, Expos and more..
View Future Events on any day of the week
Exhibitions - Art | Festival | Show
The Stony Rises Project
, held at the Swanston Street Gallery of RMIT University, brings together 10 artists and designers in an investigation of the rich, layered histories of the Western District of Victoria. Focusing on the histories of the area, artists include Vicki Couzens and Seth Keen.
When:
July 23 to September 11
Official Opening:
Thursday July 22 - 6pm to 8pm
Derinya Art & Craft Exhibition
showcases the talents of emerging and established Victorian and local artists. Held at Frankston South's Derinya Primary School, the exhibition, now in its 35th year, features over 400 artworks that include paintings, jewellery, sculpture and more.
When:
Friday to Sunday, July 23 to 25
Gala Opening:
Friday July 23 - 7:30pm
Bronwyn Rees
will be holding an exhibition of prints and etchings that capture scenery from the You Yangs, inspired by Fred Williams a long time hero of hers. With 20 years experience as a fine artist and print maker, the exhibition is held at Armadale's Firestation Print Studio.
When:
July 24 to August 24
Official Opening:
Saturday July 24 2pm to 6pm
Magnus McTavish
, an artist associated with Brisbane's street art scene, will be exhibiting works at Melbourne's Until Never. Having grown up in Brisbanes' wild West End where Magnus has had an impressive impact with his elaborate works using texta, this is his first solo show in Melbourne.
When:
Until August 7 - Wednesdays to Saturdays
Crossing Between Cultures
, held at fortyfivedownstairs in Flinders Lane, is an exhibition of works by painter Tamirat Gebremariam. The paintings are a response to devastation caused by bushfires with a stunning series of small, abstract swirling forms captured in burnt colours.
When:
July 20 to 31 - Tuesdays to Saturdays
Kodama (return to me)
is an exhibition of jewellery by Melbourne artist, Yuko Fujita. Held at e.g.etal in Flinders Lane, the work transforms recycled objects, turning distinctly domestic items into bold pieces of jewellery. The pieces recall imaginary plants, creatures and endangered habitats.
When:
Until July 31
Ashlea Bechaz
will be exhibiting a series of illustrations at The Owl and the Pussy Cat in Richmond. Exploring wonder and fantasy, the illustrations are inspired by works from the Middle East, capturing narratives filled with the darkly sexual undertones and strange stories of the characters.
When:
Until August 1
I Cover the Waterfront
, showing at the State Library of Victoria, is an exhibition by Rick Amor, who has depicted Melbourne's forgotten waterfront in evocative oils and watercolours. Painted en plein air, meaning outdoors, the works document a changing part of Melbourne's landscape.
When:
Until September 5
Banned Books in Australia
, presented at the Baillieu Library of the University of Melbourne, examines Melbourne's long history of banning books both Australian and imported, past and modern. Reflecting the changing values of our community, it includes artists' representations of this theme.
When:
Throughout July & August
Burke and Wills: Terra Incognita
is a chance to discover the remarkable story of Burke and Wills' ill-fated Victorian Exploring Expedition. Marking the expedition's 150th anniversary, the exhibition at the State Library of Victoria includes original paintings, sketches and artefacts.
When:
Until October 3
The Creating Liveable Cities Exhibition
, presented by Melbourne Water at QV, brings together leading Melbourne designers with installations relating to water use and sustainable change. The displays incorporate a broad range of talents, blending social science and architecture.
When:
Until July 25
The Scarf Festival
, held at the National Wool Museum in Geelong, offers a program of workshops and an exhibition of original, hand-made scarves created by individual craft makers with almost 250 scarves, including scarves from as far a field as India and New Zealand.
When:
Until July 25
The Arts Awards Exhibition
, presented by Cancer Council Victoria, has become an internationally acclaimed arts event that offers a creative voice for professional and amateur artists touched by cancer. With the theme this year of 'Lost and Found', the exhibition is showing at 120 Collins Street.
When:
Until July 30 - Mondays to Fridays
Butterflies and the Human Soul
, held at Melbourne Art Rooms in Port Melbourne, is a series of delicate small-scale watercolour paintings by Lucy Griggs. Filled with magic realism, the works capture migrating monarch butterflies and isolated grounds sweepers of the Shinto shrines of Tokyo.
When:
Until July 31 - Tuesdays to Sundays
little memories
, held at Brunswick Arts Space, is a visual arts exhibition about seemingly inconsequential, unarchived everyday thoughts and the smaller aspects of life that trigger remembrances that add to a person's identity. The group exhibition includes works by Ann Brennan and Lucy Farmer.
When:
Until July 25 - Thursdays to Sundays
Take a Drag
, held at Daylesford's Can't Think Straight Gallery, is an intimate, colourful and theatrical photographic exhibition by Cynthia Sciberras. Examining transgender, diversity and a sense of community, the series was developed over a number of years in Bali, Indonesia.
When:
Until September 30
The Drawn Blank Series
, showing at Artiq Galleries in South Yarra, is a new series of watercolour and gouache paintings created by Bob Dylan. With all graphics available for sale, the artworks cast a vibrant new light on the creativity of one of the world's most influential performers.
When:
Until August 1, Thursdays to Sundays
Tomorrow
, a group exhibition featuring three very different artists, is an exploration into 21st century consumerism and animism. Combining installation, print, painting and new media, the strange and fantastic assemblages are being shown at Melbourne's Michael Koro Gallery.
When:
Until August 1, Thursdays to Sundays
The Annual Beanie Exhibition
, now in its tenth year and held at Artisan Books in Fitzroy, exhibits a broad range of traditions and techniques used to make unique and novel beanies of every possible size, shape and material. With over 350 beanies shown last year, all beanies are for sale.
When:
Until July 24 - Mondays to Saturdays
Tim Burton: The Exhibition
is a special showcase of works brought to Melbourne direct from direct from The Museum of Modern Art in New York. Held at ACMI in Federation Square, the exhibition brings together over 700 works that helped create Burton's films, including drawings, puppets and more.
When:
Until October 10 - Open Daily
ABBAWORLD
, held at Federation Square, is an amazing multimedia exhibition that enables visitors to experience the music and magic of ABBA with state-of-the-art technology making a highly interactive experience where visitors can journey through ABBAWORLD'S 25 environments.
When:
Until August 15
The Amazing Bodies Exhibition
, held at Waterfront City in Docklands, is a chance to explore nature in a unique way with amazing displays of natural anatomical wonders. Using real body specimens, perfectly preserved, the exhibition shows muscular and bone structure in a captivating display.
When:
Until September 2
Towards an Elegant Solution
, held at Southbank's Australian Centre for Contemporary Art, is a major survey of work by minimalist artist, Peter Cripps. With meticulous structures that explore radical modernism and design, the exhibition, his first major survey, includes over 50 works.
When:
Until July 25 - Tuesdays to Sundays
Australia's Muslim Cameleers
, a special exhibition on loan from the South Australian Museum at the Immigration Museum, showcases the Pioneers of the Inland during the 1860s to 1930s when the cameleers' small Muslim community were a feature of Australian outback towns.
When:
Until September 19 - Open Daily
'til you drop
, held at the State Library of Victoria, is a free exhibition that celebrates Melbourne's passion for shopping, from the Paris end of Collins Street to the local corner store. The exhibition features historic photographs and nostalgic items on display such as wartime ration cards and more.
When:
Until October 31
Expos, Launches & Open Days
Morningshines
, Australia's premiere (and very bizarre) evening morning show, will be holding its TV Launch Party at Melbourne's Loop Bar where there will be special screenings of new (and very, very bizarre) episodes in anticipation of its official airing from August 6 on Channel 31.
When:
Wednesday July 21 - 8pm
The Zsaneta Couture Fashion Show
, held in Docklands and hosted by up and coming designer Zsaneta, showcases some of Australia's newest fashion talent with clothing including street wear, evening, couture and a sneak preview of new bridal couture along with Zsaneta's students' designs.
When:
Sunday July 25 - 1pm to 6pm
The Melbourne Craft & Quilt Fair
, held at the Melbourne Exhibition Centre, offers the freshest ideas from remarkable artists with inspirational displays from craft specialists from all over Australia. Featuring more than 65 different workshops, crafts include jewellery making and more.
When:
Thursday to Sunday, July 22 to 25
The Home Buyer Show
, held at the Melbourne Exhibition Centre, can make buying your next home or investment property easier, offering secrets to simplifying the buying process, saving time, money and unnecessary worry. The event also offers information on home financing and more.
When:
Friday to Sunday, July 23 to 25
The Trading and Investing Seminars Expo
, held at the Melbourne Exhibition Centre, is Australia's largest and independent gathering of investing and trading experts. The expo features a wide range of free financial seminars and showcases the latest products, services and more.
When:
Friday & Saturday, July 23 & 24
The Vital Health Expo
incorporates all key lifestyle elements with a chance to see, hear and learn from doctors and individual experts in diet and nutrition, exercise and fitness. With advice on food choices, medicine and much more, it's held at the Melbourne Exhibition Centre.
When:
Friday to Sunday, July 23 to 25
Pet Shows
Dogs Victoria
present Championship and Breed Shows, offering a great way to look at various dog breeds up close and speak to breeders and fanciers about the pros and con of owning a particular breed of dog. Most events include special agility competitions and entertaining parades.
Next Show:
Sunday July 25
Performances & Theatre
Tolstoy's Wife
, performed by Jennifer Claire at Montsalvat in Eltham, is a beautifully written performance that sees the character of Sonia, Tolstoy's wife, relaying the important periods in their married life as she introduces us to many of Tolstoy's contemporaries.
When:
Friday & Sunday, July 23 & 25
STOP. REWIND
, presented by Red Stitch Actors Theatre in St Kilda East, is a comedy with heart that follows a disparate group of co-workers at a departmental office as they struggle to hold on their dreams throughout a series of compromises that has led to their being there.
When:
July 21 to August 21, Wednesdays to Sundays
Mary Poppins The Musical
, held at Melbourne's Her Majesty's Theatre, brings the classic books and beloved Disney film to the stage with a spectacular production that includes all of the best loved songs from the film including Chim Chim Cheer-ee and Supercalifragilisticexpialidocious.
When:
Until October 17
|
Book Now
Manbeth
, presented by Band of Creatures and Opticnerve, is a raw and powerful performance that features ten men in a fast, furious and physical retelling of the classic Macbeth story. Revisiting the Elizabethan, all male theatre tradition, it's playing at Flinder's Lane's Forty Five Downstairs.
When:
Until August 1 - Tuesdays to Sundays
The Comedy of Errors
, held at Melbourne's Athenaeum Theatre, sees the Australian Shakespeare Company's lift Shakespeare's hilarious text into a new comedy orbit. The tale of two sets of identical twins, separated at birth, offers plenty of farce when the twins all arrive in the same town.
When:
Until July 25 - Tuesdays to Sundays
An Elephant in the Room
is a comic tale that uses Indian elephant fables to set the undertone of the lives of Lucy Hamilton, a young actress, and Wally Stern, a wholesale refrigerator salesman. Raising many philosophical questions, the play is performed at St Kilda's Theatre Works.
When:
Until July 25 - Thursdays to Sundays
Calendar Girls
, held at Melbourne's Comedy Theatre, is based on a poignant, hilarious and inspiring true story of a group of extraordinary middle-aged women, members of a very ordinary Yorkshire Women's Institute, who started a global phenomenon by posing naked for a charity calendar.
When:
Until August 1
|
Book Now
Jersey Boys
, performed at the Princess Theatre, is the Broadway hit that charts the story of Frankie Valli and The Four Seasons as the play takes a nostalgic look at how four blue-collar kids became one of the great music successes while showcasing the songs they became famous for.
When:
Until July 25
|
Book Now
Dead Man's Cell Phone
, written by Sarah Ruhl and featuring Lisa McCune, is an examination of how human goodness can triumph over the cruelty of fate when a woman in a cafe answers the cell phone of a man who she realises is dead, communicating with the man's family.
When:
Until August 7
Classical, Choral & Recitals
Tungsten Duo
, a unique combination of Flute with Emily Chaffee and Percussion with Erica Rasmussen, will be performing at Collins Street Baptist Church. Playing many different styles of music from baroque to contemporary and tango, the performance includes work by Ross Edwards.
When:
Sunday July 25 - 2pm
Burlesque, Cabaret & Dance
The Miss Burlesque Australia Competition
, appearing in Melbourne with a State Heat held at South Yarra's Chasers Nightclub, will see Australia's emerging and professional burlesque performers battle it out for the title of Miss Burlesque Australia and a prize pool worth over $10,000.
When:
Friday July 23
Red Door Burlesque
will be performing at the stylish Order of Melbourne in Swanston Street. Offering the finest in burlesque, vaudeville and circus, the night includes seductive tunes from DJ Emma Peel, saucy pinup girls, and death-defying aerial acts performed right above your table.
When:
Sunday July 25 - Doors Open 6pm
How High the Moon
, held at Melbourne Cocktail Bar, 24 Moons, is a night with character with feel good performances by professional characterising Burlesque dancers. Stylish, sophisticated and classy, the night features the finest burlesque with a lush, titillating mood.
When:
Every Saturday - 9:30pm to 3am
Entertainment & Nightlife
No Left Turn
, a cover band that performs all the favourites from the 60's 70's & 80's with a diverse sound featuring rock, blues or soul, will be appearing at the Three Crowns Hotel in West Melbourne with an exciting performance that will have you grooving through the decades.
When:
Saturday July 24
Martin Martini
will be appearing at The Butterfly Club in South Melbourne as part of the Melbourne Cabaret Festival. The show - titled Songs From New Beginnings Come From Some Other Songs Beginnings End! - is inspired by him witnessing a bird committing suicide by falling a building.
When:
Saturday & Sunday, July 24 & 25
Under the Apple Tree
, a band with soaring harmonies and influences ranging from Crowded House to Killing Heidi and Paul Kelly, will be performing in St Kilda at the Elephant and the Wheelbarrow. With vocals by Miranda Jane, the band offers a mix of relaxed and upbeat music.
When:
Sunday July 25 - 5:30pm
The Daryl McKenzie Jazz Orchestra
will perform at The Apartment in Little Bourke Street where they'll launch their new CD, Scallywag. With an 18-piece orchestra, Daryl McKenzie proves why he's one of Australia's best musicians with legends like Tom Jones using his arrangements.
When:
Monday July 26 - 8pm to 11pm
Regular Gigs
House Of Blues
, held at the Royal Standard Hotel in West Melbourne, is a special evening of music presented each week by the Melbourne Blues Appreciation Society. With a featured artist invited to play each wee, performances are followed by an open jam session for all musicians.
When:
Every Tuesday - 8pm
Open Mic Sunday's
, held at Wild Oscars in Richmond, is a weekly Open Microphone night with gear supplied in house so musicians need only bring their guitar and talent. There is a prize of $50 for the winner plus the chance to play their own fully paid gig on a Friday night at the venue.
When:
Sundays - Starts 7pm
Comedy
The Big HOO-HAA!
is a successful show that's been running for the past eight years in Perth and now comes to Melbourne. The show that began the burgeoning careers of Claire Hooper from Good News Week and Xavier Michelides from Rove Live will be appearing at The Portland Hotel.
When:
Every Friday - Doors Open 7.30pm
Bill Bailey
, one of Britain's top comedians has returned to Australia with his new show, Bill Bailey Live! Appearing at The Palais in St Kilda, the performance is a magical musical, mystery tour through a human history filled with doubt, to a place where Giant African Land Snails are here to stay.
When:
Tuesday July 20
The Impro Cave
can help beat the winter chills with a toasty warm venue at The Penny Black in Brunswick and the hottest improvised entertainment. This year's series of improvised shows feature Bingo Board of Doom, Smells Like a Song, Gypsyprov and How 'Bout This just to name a few.
When:
Every Sunday Until August 29
Melbourne For Kids
The Gruffalo
, paying at the National Theatre in St Kilda, is an imaginative production that brings the colourful children's book to life on the stage as a mouse goes on an adventurous journey through the deep, dark woods, outwitting every creature that would otherwise find him tasty.
When:
July 20 to 30
Paper Plane Academy
, held as pert of the State of Design Festival, is a call out to all budding young pilots with a sense of adventure. Held at Hargreaves Mall located in Bendigo, kids will get the chance to design and make their very own flying machines, then test them out in the Aerial Playground.
When:
Saturday July 24 - From 1pm
Circus
Circus Sunrise
, an action-packed show for all the family, will be appearing with performances held in Werribee. A true family circus with lineage going back to 1648, the performances of Circus Sunrise feature juggling, acrobatics and whip-cracking excitement!
When:
Until August 8 - Geelong

Silvers Grand Magic Circus
will be holding performances in Cheltenham. Established in 1976, Silvers Grand Magic Circus offers a great show for people of all ages with performers including everything from jugglers and clowns to acrobats, international performers and more.
When:
Until August 1 - Berwick
Markets, Fetes and Fairs
The Pakenham Antique Fair
, raising funds for 4C's Crisis Relief Centre, takes place at Pakenham Racecourse where there will be a wide variety of antiques ranging from china, glassware, dolls, linen, jewellery, bric a brac, small furniture, kitchen ware and more with plenty of bargains available.
When:
Saturday July 24 - 9am to 4pm
Melbourne Market Guide
View MARKETS on any day of the week
to make the most of the rare sunny days (it's a coin toss, isn't it!) and head to one of Melbourne's many excellent markets, fetes and fairs for a bargain!

A growing number of food, produce and even wine markets are always popping up around the suburbs. And don't forget garage sales!
Fetes Fairs & Shows
Art & Craft Markets
Food & Produce Markets
Swap Meets
Garage Sales
Let Melbourne Know...
Advertise Your School Fete, Fair or Carnival FREE!
Everyone wants to support their local school by going to their annual fundraiser. In 2009, we advertised over 1,200 school events. Make sure you let your school organizers know they can list their fete, fair or carnival for
FREE @ OnlyMelbourne!
Add Your Event for FREE Today!!
Dining & Drink
Fossilisin' Foods Cooking Sessions
, held at St Kilda's Port Phillip EcoCentre, are a fun way to meet new people and explore food by using excess fruit and veg donated you're your own home garden. No bookings are necessary, families are welcome are gold coin donations are appreciated.
When:
Sunday July 25 - 2pm
OnlyMelbourne Welcomes..
Each week we highlight some of the latest additions to OnlyMelbourne's ever growing guide to services, businesses and information sites for your community.
Serendipity Maternity Wear
is a Melbourne based online maternity boutique stocking a beautiful range of clothing focusing on breastfeeding. With designer brands that include Maternity Plus, Ninth Moon, Pea in a Pod, Ripe and Patch, they also stock pants, leggings, skirts, tops and nighties in breastfeeding and maternity clothing designs.
This week we suggest the following:
Social Media Club
- Meeting group for Media Professionals...
KIA Consulting
- Event Management & more...
Outlet Shopping Tours
- Discount Retail Therapy...
My Wardrobe
- Pakistani Fashion & Designerware...
View More of the Latest Listings at OnlyMelbourne!
Sporting Events
AFL Premiership
AFL Premiership | Round 17
St Kilda v Hawthorn
- July 23 - Marvel Stadium
Collingwoood v Richmond
- July 24 - MCG
Geelong v Brisbane Lions
- July 24 - Skilled Stadium
Nth Melb v Essendon
- July 24 - Marvel Stadium
Bulldogs v Fremantle
- July 25 - Marvel Stadium
Melbourne v Sydney
- July 26 - MCG
NRL - National Rugby League
NRL Premiership | Round 20
Melbourne Storm v Panthers
Saturday July 24 - 7:30pm
AAMI Park (Melbourne Rectangular Stadium), Melbourne
Ice Hockey
National Ice Hockey Tournament
Kurt DeFris Memorial-U15 & Jim Brown Trophy
Wednesday to Saturday, July 21 to 24
Held at Icehouse, Docklands
Melbourne ICE
is the only Victorian based team competing in the Australian Ice Hockey League with home games played at the Icehouse in Docklands.
Melbourne ICE vs Newcastle North Stars
Sunday July 25 - 4.15pm
Wrestling
PCWe Pro Championship Wrestling
returns to Rowville with Rampage - The Road to Carnage.
Saturday July 24
Polish Club, Rowville
Doors open at 6.30pm
The Trots
Cranbourne Turf Club
, situated in a picturesque setting, boasts superb member and public facilities for a great day at the races. Bring a picnic or enjoy fine dinning at the club.
July Race Dates
Sunday July 25th - Gates Open 10:30am
Yarra Valley Racing
, located at Yarra Glen, offers a great day out with the finest in racing entertainment along with great venues with regional food and wine.
Harness Race Dates
Monday July 26
Melbourne Tours
Smartvisit Card
is the best way to see the sights of Melbourne, whether you're visiting Melbourne for business, a vacation, or even if you're a local wanting to find Melbourne's hidden treasures!
The Smartvisit Card includes entry to attractions such as Melbourne Zoo, Melbourne Aquarium, Old Melbourne Gaol, Telstra Dome, Cook's Cottage, Melbourne River Cruises, and many more of Melbourne's TOP venues!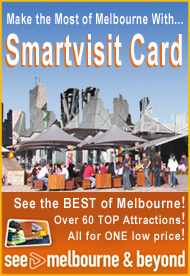 Free entry to over 60 top attractions..
Visit great venues like Zoos, museums & more across Melbourne & Victoria!
Over $800 of entry fees for ONE low price..
Plus special offers & discounts!
Visit just 2 Attractions a day & you'll save!
FREE 128 page guidebook..
Tailored to local knowledge on what to see & do!
Cash free entry..
Show your card & you're in, no need for cash!
All year-round Attractions..
Whatever time of year you visit - rain or shine!
Learn more about Smartvisit Card
Trivia
She Wasn't Such A Diva..
Dame Nellie Melba, born in 1861 at "Doonside"in Richmond Victoria, was originally named
Helen Porter Mitchell
. Although she found success overseas, she still carried a deep love and admiration for her homeland and also Melbourne.
The name of Melba, which is now synonymous with opera the world over, was chosen as a condensed version of Melbourne.
More about Dame Nellie Melba..
|
Read Melbourne Trivia...
WHAT'S ON CALENDAR
Speaking of what's on, our
new calendar
allows you to select any day of the year to view everything (everything!!!) on that day in an easy to read, printable display.
-:- View
What's On Calendar
-:- View
Markets Only Calendar
Melbourne On The Phone

OnlyMelbourne
is now
mobile phone
compatible. Yes, our pages are formatted to be viewed on the small screen. To view our mobile phone website, go directly to our
home page
with your web compatible mobile phone and you will automatically be redirected to the
mobile compatible
version of OnlyMelbourne, so you'll be in the know on the go!
WHAT'S ON FEEDS
For those with newsfeeds, we now have a daily
What's On Melbourne Today
feed.
NEWSLETTER
What's On this Week
is an email overview and reminder of the (too many to mention) events happening this week in Melbourne.
Get your copy
of What's On this Week!
FREE ADVERTISING
Advertising
your EVENT at OnlyMelbourne is not only easy, it's
FREE!!
-
Apply Online..
for inclusion in the What's On calendar and newsletter!
❊ Address & Contact ❊
⊜ Newsletter | #185 | What's On this Week Melbourne |
Map
❊ Web Links ❊
→
Newsletter | #185 | What's On this Week
→
Subscribe to OnlyMelbourne - Get your copy of What's On this Week!
→
List Your Business or Event - It's FREE!
→
Events Calendar - Find out What's On any day of the week!
→
Mobile OnlyMelbourne - View Our Website On Your Phone
→
Melbourne for Children | Kids
→
Newsletter | #184 | What's On this Week [Last Week]
❊ COVID-19 Notice ❊
Many locations have gone into lockdown as the state takes action to stop the spread of the deadly coronavirus (COVID-19).
→
Disclaimer
: Check with the operator before making plans
...
Trending HOT

Drive-In Movie Club
Drive-In Immersive Cinema Nights Are Coming to Melbourne Put together by our friends at Hot Tub Cinema, a string of family-friendly, social distancing-safe, drive-in ..

Things to see, hear & do this weekend
Make the most of your weekend in Melbourne with these fabulous events. No city does it better than Melbourne, so get out and discover the very best shows, festivals, ..
---
Update Page