Newsletter | #183 | What's On this Week
Welcome to this week's Melbourne events, exhibitions, sports and community guide for Tuesday July 6 to Monday July 12, 2010.
This week... things are looking bright and shiny in Fitzroy as the Gertrude Street Projection Festival flickers into action with public displays of celluloid and digital delight (mind out of the gutters please).
There's also the Arab Film Festival showcasing the best of Middle Eastern cinema, while in Docklands you can enjoy special performances as part of the Fire, Ice and Lights Festival with fireworks held on Friday nights.
School Holiday Guide

Check out our
School Holiday Guide
for all the latest on what to do with the kids during the Winter Holidays running until Sunday July 11. The holiday guide offers some of the best things to do over the holiday period for the young and young at heart, with events, tours and holiday care programs.. all in marvelous Melbourne!
View School Holiday Guide
Melbourne Tours & Activities
are a great way to get out during holidays with the kids to discover some of the hidden treasures in your own city. With guided tours, winery excursions, sports events and more, there's no end of great attractions throughout Melbourne and Victoria.
Find Melbourne Tours & Activities
Major Events
The Gertrude Street Projection Festival
is a program of projected media that spans along Gertrude Street, literally turning one of Fitzroy's main strips into an outdoor gallery tour of exciting free projection displays. This year's festival entries capture the theme of Me.You.Us.
When:
July 9 to 18
The Fire, Ice and Lights Festival
, held at Waterfront City, features Fireworks, synchronised Promenade Lighting and Fire Twirlers performances held every Friday night. Along with fantastic exhibitions held daily and during school holidays, a highlight is the display of hundreds of lanterns.
When:
Until August 8 - Performances Held Fridays
Liquid Architecture
, Australia's premier sound-arts festival, explores experimental methods of sound with performances and exhibitions by some of Australia's most imaginative musicians. The program features special concerts held in Castlemaine, Bendigo and various venues in Melbourne.
When:
Until July 17
The Melbourne Magic Festival
, presented by the Australian Institute of Magic at Northcote Town Hall, is the biggest gathering of magicians in Australia with a program that boasts 100 performances of 20 different shows along with magic classes and workshops for children.
When:
Until July 10
The Seven Thousand Oaks Festival
is a series of special events that will showcase over 20 artists exploring the issue of sustainability through music, visual art, performance and installation. Held at various venues, the festival promotes conversations of sustainability in the cultural sphere.
When:
Until July 24
Emerge Festival
, an exciting program of events that showcases Melbourne's diverse community, will be holding its Main Event with a special celebration held at Fitzroy Town Hall. The free event also sees the street closed off for 3 non-stop stages of world music, market stalls, food and more.
When:
Until August 3
Film Festivals
The Arab Film Festival
, held at Cinema Nova in Carlton, showcases stories from diverse Arabic-speaking cultures with films selected from the Middle East, United States, Europe and Australia. The Opening Night screening includes live music, food and special guest, filmmaker Ali Mostafa.
When:
Friday to Sunday, July 9 to 11
Celluloid Soup
, the Jewish Short Film Festival hosted by the Jewish Museum of Australia in St Kilda, will feature a program of film-based activities, workshops and events for the first time in the event's 12 year history as it leads up to the screening gala of film entries held in October.
When:
The Experts Talk #2 - Thursday July 8
Docklands Classic Film Festival
, held at Waterfront City Piazza, is a series of free screenings held every night with specially tailored themes that include Family Favourites, Documentaries, Hollywood's Best and more. Chairs and food are available, but all are welcome to bring a rug and snacks.
When:
Until July 25 - 7pm Daily & also 2pm Saturdays
Upcoming Events

NEW LIVE CALENDAR
To find out about future events in Melbourne, have a look at our new calendar, with details about many more events that lie ahead so you can jot them down on the to-do list , including Exhibitions, Live Gigs, Theatre, Markets, Expos and more..
View Future Events on any day of the week
Exhibitions - Art | Festival | Show
The Arts Awards Exhibition
, presented by Cancer Council Victoria, has become an internationally acclaimed arts event that offers a creative voice for professional and amateur artists touched by cancer. With the theme this year of 'Lost and Found', the exhibition is showing at 120 Collins Street.
When:
July 11 to 30 - Mondays to Fridays
Official Opening:
Sunday July 11 - 3pm to 5pm
Butterflies and the Human Soul
, held at Melbourne Art Rooms in Port Melbourne, is a series of delicate small-scale watercolour paintings by Lucy Griggs. Filled with magic realism, the works capture migrating monarch butterflies and isolated grounds sweepers of the Shinto shrines of Tokyo.
When:
July 6 to 31 - Tuesdays to Sundays
Constellation: A Durational Chamber Work
, held at red gallery in North Fitzroy, is an exhibition of new sound works, bringing together some of Australia's most innovative sound artists and composers. Inspired by the Chinese Zodiac, the works feature objects, music scores, installations and video.
When:
Until July 17
Artmageddon 1: An Intergenerational Conflict
features nine artists representing the generations of Baby Boomers, Generation X and Gen Y. With work created in response to a series of themes, visitors to the Melbourne exhibition are invited to cast their vote as to which generation's work is best.
When:
July 8 to 17 - Mondays to Saturdays
little memories
, held at Brunswick Arts Space, is a visual arts exhibition about seemingly inconsequential, unarchived everyday thoughts and the smaller aspects of life that trigger remembrances that add to a person's identity. The group exhibition includes works by Ann Brennan and Lucy Farmer.
When:
July 10 to 25 - Thursdays to Sundays
Some Bodies
, the first solo exhibition by young Melbourne artist Jason Cavanagh, is a confronting series of portraits that presents the artist's personal look at the human form which is sometimes challenging, mostly inspiring. It's held at The Owl and The Pussycat Gallery in Richmond.
When:
Until July 11 - Late Fridays & Saturdays
Take a Drag
, held at Daylesford's Can't Think Straight Gallery, is an intimate, colourful and theatrical photographic exhibition by Cynthia Sciberras. Examining transgender, diversity and a sense of community, the series was developed over a number of years in Bali, Indonesia.
When:
Until September 30
The Drawn Blank Series
, showing at Artiq Galleries in South Yarra, is a new series of watercolour and gouache paintings created by Bob Dylan. With all graphics available for sale, the artworks cast a vibrant new light on the creativity of one of the world's most influential performers.
When:
Until August 1, Thursdays to Sundays
Tomorrow
, a group exhibition featuring three very different artists, is an exploration into 21st century consumerism and animism. Combining installation, print, painting and new media, the strange and fantastic assemblages are being shown at Melbourne's Michael Koro Gallery.
When:
Until August 1, Thursdays to Sundays
The Annual Beanie Exhibition
, now in its tenth year and held at Artisan Books in Fitzroy, exhibits a broad range of traditions and techniques used to make unique and novel beanies of every possible size, shape and material. With over 350 beanies shown last year, all beanies are for sale.
When:
Until July 24 - Mondays to Saturdays
Psychologies
, held at Fairfield's New North Gallery, is an exhibition of photography by Sean O'Carroll, exploring the contradictions inherent in the bellicose play of boys and their journey in passing from boyhood to manhood, defining the difference between youth and maturity.
When:
Until July 17 - Tuesdays to Sundays
Tim Burton: The Exhibition
is a special showcase of works brought to Melbourne direct from direct from The Museum of Modern Art in New York. Held at ACMI in Federation Square, the exhibition brings together over 700 works that helped create Burton's films, including drawings, puppets and more.
When:
Until October 10 - Open Daily
ABBAWORLD
, held at Federation Square, is an amazing multimedia exhibition that enables visitors to experience the music and magic of ABBA with state-of-the-art technology making a highly interactive experience where visitors can journey through ABBAWORLD'S 25 environments.
When:
Until August 15
The Amazing Bodies Exhibition
, held at Waterfront City in Docklands, is a chance to explore nature in a unique way with amazing displays of natural anatomical wonders. Using real body specimens, perfectly preserved, the exhibition shows muscular and bone structure in a captivating display.
When:
Until September 2
Towards an Elegant Solution
, held at Southbank's Australian Centre for Contemporary Art, is a major survey of work by minimalist artist, Peter Cripps. With meticulous structures that explore radical modernism and design, the exhibition, his first major survey, includes over 50 works.
When:
Until July 25 - Tuesdays to Sundays
Photocopier
, showing at Fitzroy's Centre for Contemporary Photography, is an exhibition that features the work of eight Melbourne-based painters whose use of photographic images draws from a wide range of sources, with works comprised of record covers, women's magazines, family photos and more.
When:
Until July 18
In Your Face!
is an exhibition of cartoons centred around politics and society, with topical and humorous illustrations dating as far back as 1760. Covering themes as diverse as sex, politics, religion, fashion, doctors and lawyers, the exhibition is held at Art Gallery of Ballarat. Entry applies.
When:
Until August 8
|
Admission: $10 - Conc $6
It All Started With a Mouse
, presented by Silver K Gallery in Armadale, is the largest Disney animation art exhibition ever seen in Australia. With over 150 pieces from the period of Fantasia and Snow White through to the modern day classics of Disney, the show has taken two years to curate.
When:
Until July 18
Australia's Muslim Cameleers
, a special exhibition on loan from the South Australian Museum at the Immigration Museum, showcases the Pioneers of the Inland during the 1860s to 1930s when the cameleers' small Muslim community were a feature of Australian outback towns.
When:
Until September 19 - Open Daily
'til you drop
, held at the State Library of Victoria, is a free exhibition that celebrates Melbourne's passion for shopping, from the Paris end of Collins Street to the local corner store. The exhibition features historic photographs and nostalgic items on display such as wartime ration cards and more.
When:
Until October 31
Expos, Launches & Open Days
The Building & Home Improvement Expo
offers three days of demonstrations and seminars along with displays of the latest innovations and products for homebuilders and renovators. Held at Melbourne Exhibition Centre, the expo is also a chance to meet existing and new industry suppliers.
When:
Friday to Sunday, July 9 to 11
The Reinvent Your Career Expo
offers information on career opportunities, skills matching, and alternative education options for those looking to explore future career paths. With the largest gathering of employers, educators and trainers. it's held at Melbourne Exhibition Centre.
When:
Saturday & Sunday, July 10 & 11
The Wellness & Lifestyle Expo
, taking place at Plenty Ranges Arts and Convention Centre in South Morang, has something to offer everyone with the expo featuring over 60 exhibitors. With Massage Therapists, Life Coaches, Tarot and Angel Readings, the expo includes free workshops.
When:
Sunday July 11 - 10am to 5pm
Topless Vehicles
, presented by the Gippsland Vehicle Collection Motor Museum, offers a fun and interesting day for the family with a special day of display cars held on the large lawns of the museum. Vehicles on display will include vintage trucks, motorbikes, classic cars and more.
When:
Sunday July 11 - Gates Open 8am
Pet Shows
Dogs Victoria
present Championship and Breed Shows, offering a great way to look at various dog breeds up close and speak to breeders and fanciers about the pros and con of owning a particular breed of dog. Most events include special agility competitions and entertaining parades.
Next Shows:
Saturday & Sunday, July 10 & 11
Performances & Theatre
The Arcadians
, performed at The Malvern Theatre, is a funny and charming Edwardian Musical Comedy that was a hugely successful play in 1909. The classic play tells the story of a London restaurateur who crash-lands his plane in Greece's Arcadia where his habits shock the residents there.
When:
Until July 10
Sunyata
, a contemporary play by Benedict Walker and Sarah Sabell, offers a touching and honest exploration of the fragility of the human condition. Performed at The Guild Theatre of Melbourne University, the spellbinding play features Cory Corbett, Ben Rigby and Julianne Donovan.
When:
Wednesday to Saturday, July 7 to 10
An Elephant in the Room
is a comic tale that uses Indian elephant fables to set the undertone of the lives of Lucy Hamilton, a young actress, and Wally Stern, a wholesale refrigerator salesman. Raising many philosophical questions, the play is performed at St Kilda's Theatre Works.
When:
July 8 to 25 - Thursdays to Sundays
The Woman In Black
, playing at Geelong Performing Arts Centre, is a play about an attorney, Arthur Kipps, who has hired an actor to help him tell the story of an experience from his youth. Plagued by persistent nightmares, Kipps hopes that telling this story will "exorcise"the experience.
When:
Thursday to Saturday, July 8 to 10
Calendar Girls
, held at Melbourne's Comedy Theatre, is based on a poignant, hilarious and inspiring true story of a group of extraordinary middle-aged women, members of a very ordinary Yorkshire Women's Institute, who started a global phenomenon by posing naked for a charity calendar.
When:
Until August 1, Wednesdays to Sundays
Hello, Dolly!
presented by Amateur Repertory Company, a youth-based community theatre group, features the familiar and extremely 'hummable' Jerry Herman score, teamed with larger than life characters that make an exciting show. Performances are held at Banyule Theatre in Heidelberg.
When:
Until July 10 - Wednesday to Saturday
The Art of Being Still
, first staged in 1991 by Out Cast Theatre, is a ground-breaking comedy drama from Steven Dawson. The story of seven friends meeting every week for six years until they lose a member to AIDS, it's held at Brunswick's Mechanics Institute Performing Arts Centre.
When:
Until July 17
Topsy
, presented at Forty Five Downstairs in Flinders Lane, is a play written by award winner, Kit Lazaroo, which sees three Australian tourists arrive on Coney Island in the early 20th Century, determined to rescue Topsy, the notorious elephant that was condemned to die by electrocution.
When:
Until July 11 - Wednesday to Sunday
Jersey Boys
, performed at the Princess Theatre, is the Broadway hit that charts the story of Frankie Valli and The Four Seasons as the play takes a nostalgic look at how four blue-collar kids became one of the great music successes while showcasing the songs they became famous for.
When:
Until July 25
Dead Man's Cell Phone
, written by Sarah Ruhl and featuring Lisa McCune, is an examination of how human goodness can triumph over the cruelty of fate when a woman in a cafe answers the cell phone of a man who she realises is dead, communicating with the man's family.
When:
Until August 7
Boston Marriage
, a play by David Mamet, follows the relationship between two women in the drawing room of a fashionable Boston townhouse. Presented by Melbourne Theatre Company with performances held at the Arts Centre, it stars Sara Gleeson, Margaret Mills and Pamela Rabe.
When:
Until July 17
Classical, Choral & Recitals
Barefoot Fiddler
, presented by the Australian Chamber Orchestra, features Patricia Kopatchinskaja as Guest Director for a special performance of three concertos, including a rarity by Haydn. A free-spirited and imaginative musician, the concerts are held at The Arts Centre.
When:
Sunday & Monday, July 11 & 12
Burlesque, Cabaret & Dance
Too Much, Too Soon, Too Little, Too Late
, is a series of four cabaret performances featuring the graduating music theatre students of the University of Ballarat, Arts Academy. Deconstructing the excessive world of the 21st century, it's held at the Butterfly Club in South Melbourne.
When:
Thursday to Sunday, July 8 to 11
Emerge
, held at Dancehouse in Carlton North, is a dance performance featuring works by several Australians, a Kiwi, a Canadian, and an American. Bringing together ten young artists, all with their own questions of identity and artistry, the performance is comprised of six short works
When:
Saturday & Sunday, July 10 & 11
How High the Moon
, held at Melbourne Cocktail Bar, 24 Moons, is a night with character with feel good performances by professional characterising Burlesque dancers. Stylish, sophisticated and classy, the night features the finest burlesque with a lush, titillating mood.
When:
Every Saturday - 9:30pm to 3am
Atrocity
, held at Burlesque Bar in Fitzroy, is a shocking theatrical soap opera of sex, violence, beauty, horror and psychological play that is not for the faint of heart. Shock performance with music, song, dance and the art of wicked tease, the show is a night of Burlesque du Grand Guignol.
When:
Every Sunday - Starts 9pm
Entertainment & Nightlife
Valentino Flamenco Ensemble
will be performing at the Darebin Arts Centre for one show only. Having studied under one of Spain's most renowned flamenco guitarists, Carlos Heredia, Valentino is a passionate performer who captures the true essence of flamenco music and dance.
When:
Saturday July 10 - 7pm to 9pm
Jazz n Shiraz
, featuring Los Angeles jazz singer Connie Lansberg, held at Capitol Kitchen in Chadstone, offers a great evening show with a family friendly atmosphere as Connie Lansberg and her collection of great jazz musicians perform jazz and pop standards along with original tunes.
When:
Friday July 9 - 6pm to 9pm
Eurotrash
will be holding a Glow Stick Rave as part of their Houseparty Saturdays with the night featuring 100's of glow sticks and a performance by T-Rek. T-REK has appeared at festival and club shows supporting artists like LCD Soundsystem, David Bowie, U.N.K.L.E. and The Prodigy.
When:
Saturday July 10
Diva Dolls
, Australia's first authentic Pussycat Dolls tribute show, will be performing at The Dragonfly in Tullamarine, offering a night of entertainment that's full to the brim of hits from all of your favourite female artists including Cher, Madonna, Shania, Kylie Minogue and other great performers.
When:
Saturday July 10 - 7pm
Regular Gigs
House Of Blues
, held at the Royal Standard Hotel in West Melbourne, is a special evening of music presented each week by the Melbourne Blues Appreciation Society. With a featured artist invited to play each wee, performances are followed by an open jam session for all musicians.
When:
Every Tuesday - 8pm
Open Mic Sunday's
, held at Wild Oscars in Richmond, is a weekly Open Microphone night with gear supplied in house so musicians need only bring their guitar and talent. There is a prize of $50 for the winner plus the chance to play their own fully paid gig on a Friday night at the venue.
When:
Sundays - Starts 7pm
Melbourne For Kids
The Bongo Brothers
, appearing as part of La Mama Theatre's program of performances for children, will be riding the waves of drum 'n' bass, in a slapstick, percussive, cartoon adventure around Australia. The fun kids' performance will also be held to launch their 2nd CD, Surf Safari.
When:
Friday July 9 - 11am & 1pm
Fox
, presented by Monkey Baa in association with Siren Theatre Co, is a new Australian Opera for kids. Combining a beautiful score and breathtaking physicality, the production held at The Whitehorse Centre in Nunawading tells the fable of an unusual friendship between Magpie and Dog.
When:
Saturday July 10 - 11am & 1pm
Wombat Stew
, playing at various venues during School Holidays, sees the book by Marcia K.Vaughan and Pamela Lofts brought to life on the stage for children. The Brand New musical that's gooey, chewy, brewy and yummy is adapted for stage by Gary Young and Paul Keelan.
When:
July 6, 8 & 10
Circus
Circus Oz
has returned to launch the World Premiere of its latest show in Melbourne. The Circus Oz show is a high-energy animal free spectacular, bursting with colour, comedy and breathtaking feats! They'll be appearing under the Big Top, located at Birrarung Marr near Federation Square.
When:
Until July 11
Circus Sunrise
, an action-packed show for all the family, will be appearing with performances held in Werribee. A true family circus with lineage going back to 1648, the performances of Circus Sunrise feature juggling, acrobatics and whip-cracking excitement!
When:
Until July 11 - Werribee

Silvers Grand Magic Circus
will be holding performances in Cheltenham. Established in 1976, Silvers Grand Magic Circus offers a great show for people of all ages with performers including everything from jugglers and clowns to acrobats, international performers and more.
When:
Until July 11 - Cheltenham
Perry Bros Circus
, Australia's oldest circus, will be appearing in Cheltenham, offering quality entertainment to please the entire family. With wire walkers, Jugglers, Whip crackers, balancing acts and more the circus also features performing ponies and camels along with their very funny clowns.
When:
Until July 11 - Cheltenham
Dining & Drink
The Victorian Wine Showcase
, held at the Atrium of Federation Square, allows visitors to taste wines from regional Victorian Wineries and even meet with winemakers. This month's event will showcase wines selected from makers in the North East Victorian region.
When:
Wednesday & Thursday, July 7 & 8
Markets, Fetes and Fairs
The Bonanza Book Fair
, held at St Aidan's Anglican Church in Box Hill South, features thousands of books in many categories with non-fiction books on Gardening, Cookery, Travel, Hobbies and crafts, along with hundreds of fiction books, including best sellers, sci-fi, romance and more.
When:
Saturday July 10 - 8am to 2pm
The Miniatures & Dollhouse Fair & Exhibition
, held at Mount Waverley Community Centre, is the Victorian Association of Miniature Enthusiasts' annual show when clubs and individual members present intricate and stunning displays of dollhouses, furniture and more.
When:
Saturday & Sunday, July 10 & 11
Maribyrnong Orchid Society
will be holding their annual Winter Show at the Maribyrnong Community Centre. Displaying a wide range of orchids, the event will include demonstrations on how to re-pot orchids, along with other advice on orchid culture from many of the members.
When:
Saturday & Sunday, July 10 & 11
Babies Bazaar
, with over 50 stand holders, offers pre-loved and often brand new goods in a wide variety of sizes and price ranges. Held at the Wodonga Civic Centre, you'll find brand name clothes, toys, cots and even items like prams, car seats and more amongst the many children's items.
When:
Saturday July 10
Melbourne Market Guide
View MARKETS on any day of the week
to make the most of the rare sunny days (it's a coin toss, isn't it!) and head to one of Melbourne's many excellent markets, fetes and fairs for a bargain!

A growing number of food, produce and even wine markets are always popping up around the suburbs. And don't forget garage sales!
Fetes Fairs & Shows
Art & Craft Markets
Food & Produce Markets
Swap Meets
Garage Sales
Let Melbourne Know...
Advertise Your School Fete, Fair or Carnival FREE!
Everyone wants to support their local school by going to their annual fundraiser. In 2009, we advertised over 1,200 school events. Make sure you let your school organizers know they can list their fete, fair or carnival for
FREE @ OnlyMelbourne!
Add Your Event for FREE Today!!
OnlyMelbourne Welcomes..
Each week we highlight some of the latest additions to OnlyMelbourne's ever growing guide to services, businesses and information sites for your community.
This week we suggest the following:
Kiss Pizza
- Kiss FM's Radio Restaurant...
Scooter Smart
- superior mobility scooters...
Securezone Security Services
- Crowd Controlling & More...
Repair IT Now
- on-site computer repairs for home & business...
View More of the Latest Listings at OnlyMelbourne!
Sporting Events
AFL Premiership
AFL Premiership | Round 15
Geelong v Hawthorn
- July 10 - MCG
Richmond v Fremantle
- July 10 - Marvel Stadium
Melbourne v Essendon
- July 11 - MCG
Carlton v Bulldogs
- July 11 - Marvel Stadium
Horse Racing
Kilmore Racing Club - July Race Dates
offers patrons a huge range of entertainment options with the centerpiece being the 50+ top class Turf and Harness Race Meetings per year.
Thoroughbred Racing
Tuesday July 6
Cranbourne Turf Club
, situated in a picturesque setting, boasts superb member and public facilities for a great day at the races. Bring a picnic or enjoy fine dinning at the club.
July Race Dates
Sunday July 11th - Gates Open 10:30am
Melbourne Tours
Smartvisit Card
is the best way to see the sights of Melbourne, whether you're visiting Melbourne for business, a vacation, or even if you're a local wanting to find Melbourne's hidden treasures!
The Smartvisit Card includes entry to attractions such as Melbourne Zoo, Melbourne Aquarium, Old Melbourne Gaol, Telstra Dome, Cook's Cottage, Melbourne River Cruises, and many more of Melbourne's TOP venues!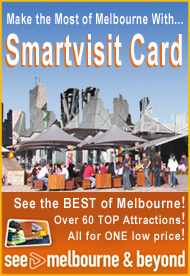 Free entry to over 60 top attractions..
Visit great venues like Zoos, museums & more across Melbourne & Victoria!
Over $800 of entry fees for ONE low price..
Plus special offers & discounts!
Visit just 2 Attractions a day & you'll save!
FREE 128 page guidebook..
Tailored to local knowledge on what to see & do!
Cash free entry..
Show your card & you're in, no need for cash!
All year-round Attractions..
Whatever time of year you visit - rain or shine!
Learn more about Smartvisit Card
Trivia
We're Happy Little.. Parwills?
Vegemite was not only invented in Melbourne by Fred Walker but every jar of Vegemite 'ever made' has come from the Melbourne factory at Fisherman Bend.
The name "Vegemite"was selected out of a hat by Fred Walker's daughter, Sheilah. However, in 1928 its name was changed to
"Parwill"
, using the advertising slogan, "Marmite but Parwill"- a play on words for an ad campaign aimed at the rival product
Marmite
.
The cheeky, but convoluted, advertising had little effect and the name was returned to Vegemite.
More about Vegemite's History..
|
Read Melbourne Trivia...
WHAT'S ON CALENDAR
Speaking of what's on, our
new calendar
allows you to select any day of the year to view everything (everything!!!) on that day in an easy to read, printable display.
-:- View
What's On Calendar
-:- View
Markets Only Calendar
Melbourne On The Phone

OnlyMelbourne
is now
mobile phone
compatible. Yes, our pages are formatted to be viewed on the small screen. To view our mobile phone website, go directly to our
home page
with your web compatible mobile phone and you will automatically be redirected to the
mobile compatible
version of OnlyMelbourne, so you'll be in the know on the go!
WHAT'S ON FEEDS
For those with newsfeeds, we now have a daily
What's On Melbourne Today
feed.
NEWSLETTER
What's On this Week
is an email overview and reminder of the (too many to mention) events happening this week in Melbourne.
Get your copy
of What's On this Week!
FREE ADVERTISING
Advertising
your EVENT at OnlyMelbourne is not only easy, it's
FREE!!
-
Apply Online..
for inclusion in the What's On calendar and newsletter!
❊ Address & Contact ❊
⊜ Newsletter | #183 | What's On this Week Melbourne |
Map
❊ Web Links ❊
→
Newsletter | #183 | What's On this Week
→
Subscribe to OnlyMelbourne - Get your copy of What's On this Week!
→
List Your Business or Event - It's FREE!
→
Events Calendar - Find out What's On any day of the week!
→
Mobile OnlyMelbourne - View Our Website On Your Phone
→
Melbourne for Children | Kids
→
Newsletter | #182 | What's On this Week [Last Week]
❊ COVID-19 Notice ❊
Many locations have gone into lockdown as the state takes action to stop the spread of the deadly coronavirus (COVID-19).
→
Disclaimer
: Check with the operator before making plans
...
Trending HOT

Things to see, hear & do this weekend
Make the most of your weekend in Melbourne with these fabulous events. No city does it better than Melbourne, so get out and discover the very best shows, festivals, ..
---
Update Page