Newsletter | #181 | What's On this Week
Welcome to this week's Melbourne events, exhibitions, sports and community guide for Tuesday June 22 to Monday June 28, 2010.
This week... there's magic in the air with Northcote pulling the Melbourne Magic Festival out of its proverbial hat, marking a fine entry into the upcoming School Holidays. With a great line up of events to entertain the kidlets, there's the Kilmore Celtic Festival held further afield for that weekend out of town, along with the hugely successful Fun4Kids Festival held in Warrnambool.
Those who'd rather stick closer to their little patch of Melbourne, might want to take the kids to Cheltenham where two circuses are currently residing. I'm sure there's a valuable life lesson in there somewhere while watching rival clowns duke it out, probably the same lesson one learns watching Parliament Question Time.
School Holiday Guide

Check out our
School Holiday Guide
for all the latest on what to do with the kids during the Winter Holidays running from June 26 to July 11. The holiday guide offers some of the best things to do over the holiday period for the young and young at heart, with events, tours and holiday care programs.. all in marvellous Melbourne!
View School Holiday Guide
Major Events
Refugee Week Celebrations
are held each year to raise awareness about refugees and to celebrate the positive contributions made by refugees to Australian society. With a wide range of events held across Melbourne, events include art exhibitions, special dinners, concerts and more.
When:
Until June 27
Liquid Architecture
, Australia's premier sound-arts festival, explores experimental methods of sound with performances and exhibitions by some of Australia's most imaginative musicians. The program features special concerts held in Castlemaine, Bendigo and various venues in Melbourne.
When:
June 24 to July 17
Castlemaine & Bendigo Concerts:
June 26 & 27
Melbourne Program:
July 1 to 17
Kilmore Celtic Festival
, held 60km from Melbourne on Victoria's oldest inland settled town celebrates its early settlers from Ireland, Scotland and Cornwall, paying tribute to the heritage that remains in Kilmore today with music, dancing markets, workshops and much more.
When:
Friday to Sunday, June 25 to 27
The Melbourne Magic Festival
, presented by the Australian Institute of Magic at Northcote Town Hall, is the biggest gathering of magicians in Australia with a program that boasts 100 performances of 20 different shows along with magic classes and workshops for children.
When:
June 28 to July 10
Fun4Kids Children's Festival
, held in Warrnambool in a magical 2.5 acre fully indoor 'village', is an extravaganza of fun with each day's program offering all stage shows with 7 hours of non-stop performances, roving entertainers and creative, energetic activities and workshops.
When:
June 27 to July 4
The Seven Thousand Oaks Festival
is a series of special events that will showcase over 20 artists exploring the issue of sustainability through music, visual art, performance and installation. Held at various venues, the festival promotes conversations of sustainability in the cultural sphere.
When:
Until July 24
Emerge Festival
, an exciting program of events that showcases Melbourne's diverse community, will be holding its Main Event with a special celebration held at Fitzroy Town Hall. The free event also sees the street closed off for 3 non-stop stages of world music, market stalls, food and more.
When:
Until August 3
The Light in Winter
, a spectacular light-based festival held at Federation Square, brings together artists to explore ideas of light, enlightenment and hope. This year's event also features a new work by Rafael Lozano-Hemmer - one of the world's greatest installation artists.
When:
Until July 4
Film Festivals
Melbourne International Animation Festival
, held at ACMI Cinema in Federation Square, celebrates its tenth year by presenting a comprehensive line-up of current animated short films that include recent productions and classics from the archive with over 400 films on show.
When:
June 19 to 27
Docklands Classic Film Festival
, held at Waterfront City Piazza, is a series of free screenings held every night with specially tailored themes that include Family Favourites, Documentaries, Hollywood's Best and more. Chairs and food are available, but all are welcome to bring a rug and snacks.
When:
Until July 25 - 7pm Daily & also 2pm Saturdays
Upcoming Events
Derby Day & Oaks Day Spring Racing Carnival Cruises
will be held by Melbourne's best social group, Fun, Food and Friendship. Experience the excitement of the 2010 Melbourne Spring Racing Carnival festival with an inclusive cruise package to Flemington on Derby Day or Oaks Day.
When:
October 30 & November 4

NEW LIVE CALENDAR
To find out about future events in Melbourne, have a look at our new calendar, with details about many more events that lie ahead so you can jot them down on the to-do list , including Exhibitions, Live Gigs, Theatre, Markets, Expos and more..
View Future Events on any day of the week
Exhibitions - Art | Festival | Show
Psychologies
, held at Fairfield's New North Gallery, is an exhibition of photography by Sean O'Carroll, exploring the contradictions inherent in the bellicose play of boys and their journey in passing from boyhood to manhood, defining the difference between youth and maturity.
When:
June 24 to July 17 - Tuesdays to Sundays
Official Opening:
Thursday June 24 - 6pm
Inhabiting Ritual
, held at Melbourne's Kings Artist Run Initiative, is an installation by Michelle Sakaris that comprises photography, video and site specific performance to explore the characteristics shared by conceptual art and the observance of religious ritual, giving both new meaning.
When:
Wednesday to Saturday - Until June 26
Sum of these holes: new pinhole works
is a new exhibition by Steph Tout, held at Brunswick Street Gallery. The exhibition explores perceptual processes with displays of dreamlike photographs of place, taken with a camera made from a biscuit tin, creating stunning images of landscapes.
When:
Until July 1
Vintage Garage
, one of the newest and very cool vintage stores in Collingwood's Smith Street, will he holding a one-off group exhibition featuring the works of five local and interstate female visual artists. With the theme of Sisters doing it for themselves, artworks and clothes will be for sale.
When:
June 24 to July 7
Tim Burton: The Exhibition
is a special showcase of works brought to Melbourne direct from direct from The Museum of Modern Art in New York. Held at ACMI in Federation Square, the exhibition brings together over 700 works that helped create Burton's films, including drawings, puppets and more.
When:
June 24 to October 10 - Open Daily
Babarczy, Hyde, Batton
, held at Obscura Gallery in St Kilda, offers a diverse range of works from the three artists and namesakes of the group show. Babarczy's series, Beam Me Up, features street busker, The Sonic Manipulator, in his unique costume posing far from his regular CBD haunts.
When:
Until July 8 - Wednesdays to Sundays
Rooms
, an exhibition by Simone Hine, is a series of new works created as part of the artist's PhD in Creative Arts at the University of Melbourne. On show at Forty Five Downstairs, the works investigate stillness and contemporary art and cinema by using performance, video and installation.
When:
Until July 3 - Tuesdays to Saturdays
Trouble Set Me Free
, held at Southbank's Margaret Lawrence Gallery, brings together six artists who, inspired by the 1970s cult film Harold and Maude, have explored the darkly humorous side of trauma as the catalyst for making work or a cathartic means of purging its many repercussions.
When:
Until July 3 - Tuesdays to Saturdays
ABBAWORLD
, held at Federation Square, is an amazing multimedia exhibition that enables visitors to experience the music and magic of ABBA with state-of-the-art technology making a highly interactive experience where visitors can journey through ABBAWORLD'S 25 environments.
When:
Until August 15
The Amazing Bodies Exhibition
, held at Waterfront City in Docklands, is a chance to explore nature in a unique way with amazing displays of natural anatomical wonders. Using real body specimens, perfectly preserved, the exhibition shows muscular and bone structure in a captivating display.
When:
Until September 2
Towards an Elegant Solution
, held at Southbank's Australian Centre for Contemporary Art, is a major survey of work by minimalist artist, Peter Cripps. With meticulous structures that explore radical modernism and design, the exhibition, his first major survey, includes over 50 works.
When:
Until July 25 - Tuesdays to Sundays
Photocopier
, showing at Fitzroy's Centre for Contemporary Photography, is an exhibition that features the work of eight Melbourne-based painters whose use of photographic images draws from a wide range of sources, with works comprised of record covers, women's magazines, family photos and more.
When:
Until July 18
In Your Face!
is an exhibition of cartoons centred around politics and society, with topical and humorous illustrations dating as far back as 1760. Covering themes as diverse as sex, politics, religion, fashion, doctors and lawyers, the exhibition is held at Art Gallery of Ballarat. Entry applies.
When:
Until August 8
|
Admission: $10 - Conc $6
A Little Bird Told Me
, held at Melbourne Art Rooms in Port Melbourne, is a contemporary art exhibition by numerous artists, dedicated to Australian birds that have become threatened or extinct due to the changing environmental climate, bush fires, and urban development.
When:
Until June 30
Creating History With Framing
, presented by Recherche Specialty Picture Framing, is a special exhibition held to celebrate the Northcote framing store's 40th anniversary. The free exhibition highlights the development in framing knowledge and materials with unique designs.
When:
Until July 3
Gravitas
, held at Collingwood's James Makin Gallery, is an exhibition of new works by Godwin Bradbeer, an acclaimed virtuoso draughtsman whose masterful drawings are an investigation of the physical and metaphysical human form, creating works that are stark and mysterious.
When:
Until June 26 - Tuesdays to Saturdays
City of the Damned
, the much-anticipated new Australian film, is the focus of an exhibition held at E55 in Melbourne, where the movie was filmed. With a number of photographs showing the making of the film, the exhibition features limited edition prints and posters available for sale.
When:
Until July 3
It All Started With a Mouse
, presented by Silver K Gallery in Armadale, is the largest Disney animation art exhibition ever seen in Australia. With over 150 pieces from the period of Fantasia and Snow White through to the modern day classics of Disney, the show has taken two years to curate.
When:
Until July 18
Australia's Muslim Cameleers
, a special exhibition on loan from the South Australian Museum at the Immigration Museum, showcases the Pioneers of the Inland during the 1860s to 1930s when the cameleers' small Muslim community were a feature of Australian outback towns.
When:
Until September 19 - Open Daily
'til you drop
, held at the State Library of Victoria, is a free exhibition that celebrates Melbourne's passion for shopping, from the Paris end of Collins Street to the local corner store. The exhibition features historic photographs and nostalgic items on display such as wartime ration cards and more.
When:
Until October 31
Expos, Launches & Open Days
DesignBUILD
, coinciding with Cedia Expo and held at Melbourne Exhibition Centre, is Australia's largest trade and professional building expo, showcasing all that's new, innovative and sustainable in building design, with 10,000 builders, architects and plumbers featured in the event.
When:
Wednesday to Friday, June 23 to 25
Pet Shows
Dogs Victoria
present Championship and Breed Shows, offering a great way to look at various dog breeds up close and speak to breeders and fanciers about the pros and con of owning a particular breed of dog. Most events include special agility competitions and entertaining parades.
Next Shows:
Saturday & Sunday, June 26 & 27
The Shorthair Cat Club
are holding their annual Cat Show at Glen Waverley's Brandon Park Community Centre. All breeds of cats will be on show including British Shorthair, Siamese and Persians. There will also be accessories for purchase including scratching poles, cat beds and more.
When:
Sunday June 27 - 1:30pm to 4pm
Performances & Theatre
Heracles High 5
, performed at North Melbourne's Arts House, is a post-punk cabaret disruption that incorporates 'Heracles 5' by Heiner Müller, a German dramatist, poet, writer, essayist and theatre director. The play examines the apathy and idolisation of modern Australian hero culture.
When:
Wednesday to Saturday, June 23 to 26
Starting Here, Starting Now
, performed at the Arts Centre, is an intimate musical revue from acclaimed writers Maltby and Shire. Featuring a collection of their songs, the revue, which features an all-star cast, takes a humorous and poignant look at the ups and downs of modern relationships.
When:
June 23 to July 7
BLOOD
, held at St Kilda's Theatre Works, is the Australian Premier of Sergi Belbel's confronting and unnerving drama that deals with a woman who is taken hostage and is subjected to a series of amputations while the terrorists await ransom from her politician husband.
When:
June 24 to July 4
Dead Man's Cell Phone
, written by Sarah Ruhl and featuring Lisa McCune, is an examination of how human goodness can triumph over the cruelty of fate when a woman in a cafe answers the cell phone of a man who she realises is dead, communicating with the man's family.
When:
June 26 to August 7
Candy Man
, featuring Wayne Scott Kermond, is a dynamic all dancing and all singing production that captures the heart of the famed performer with a performance that includes an eight piece Big Band, a cast of musical theatre performers and a Youth Choir. It plays at the Arts Centre.
When:
Until June 27
Reefer Madness
, presented by Fab Nobs Theatre in Bayswater, is a comical musical inspired by the original 1936 film of the same name. A tongue-in-cheek look at the hysteria caused when clean-cut kids fall prey to marijuana, the clever production features catchy musical numbers.
When:
Until July 3
Othello
, performed at Melbourne's Forty Five Downstairs, is a minimalist and tightly choreographed production that features the impressive Tongan actor Anthony Taufa as Othello and the stunning Annie Last as Desdemona in one of Shakespeare's most powerfully taut plays.
When:
Until June 26, Tuesdays to Sundays
Boston Marriage
, a play by David Mamet, follows the relationship between two women in the drawing room of a fashionable Boston townhouse. Presented by Melbourne Theatre Company with performances held at the Arts Centre, it stars Sara Gleeson, Margaret Mills and Pamela Rabe.
When:
Until July 17
Classical, Choral & Recitals
Flute Magic
, performed at St Johns Southgate, will see the Melbourne Musicians joined by Austrian flautist, Monika Koerner, in a delightful program of works by Mozart, arranged by his contemporaries for Flute and Strings with highlights from The Marriage of Figaro and The Magic Flute.
When:
Wednesday June 23 - 8pm
Melbourne Youth Orchestra
, gifted young musicians who are known for their inspiring performances, will present a performance at South Melbourne Town Hall with an all Bartok program where they'll be joined by special guests that include violinists, Kristian Winther and Monica Curro.
When:
Sunday June 27 - 2:30pm to 4:30pm
Burlesque, Cabaret & Dance
The King of Pop Dance Tribute Show
, presented by TJ and his dance crew, is a musical tribute to Michael Jackson. Commemorating the 1st year anniversary of Michael Jackson's passing, the show held at Tullamarine's Dragonfly Restaurant is a music and dance experience for all ages.
When:
Saturday June 26
How High the Moon
, held at Melbourne Cocktail Bar, 24 Moons, is a night with character with feel good performances by professional characterising Burlesque dancers. Stylish, sophisticated and classy, the night features the finest burlesque with a lush, titillating mood.
When:
Every Saturday - 9:30pm to 3am
Red Door Burlesque
will be performing at the stylish Order of Melbourne in Swanston Street. Offering the finest in burlesque, vaudeville and circus, the night includes seductive tunes from DJ Emma Peel, saucy pinup girls, and death-defying aerial acts performed right above your table.
When:
Sunday June 27 - Doors Open 6pm
Atrocity
, held at Burlesque Bar in Fitzroy, is a shocking theatrical soap opera of sex, violence, beauty, horror and psychological play that is not for the faint of heart. Shock performance with music, song, dance and the art of wicked tease, the show is a night of Burlesque du Grand Guignol.
When:
Every Sunday - Starts 9pm
Entertainment & Nightlife
Jaspora
, a 6 piece band that performs sweet Reggae with Soca beats and a Mauritian Creole twist will appear at the iconic Esplanade Hotel in St Kilda. Their heartfelt performances have earned them a reputation as Melbourne's most sought after Reggae and Soca band.
When:
Thursday June 24 - 11.30pm to 1am
The Happy Endings
will be appearing at the East Brunswick Club where they'll be joined by close friends Zoophyte, Tom Tuena and Kate Gogarty from Sydney. Showcasing their exciting new tunes from their upcoming 2nd album, the Happy Endings have performed L.A's famous Viper Room.
When:
Saturday June 26 - Doors Open 8:30pm
Under the Apple Tree
, a band with soaring harmonies and influences ranging from Crowded House to Killing Heidi and Paul Kelly, will be performing in Mordialloc and in St Kilda at the Elephant and the Wheelbarrow. With vocals by Miranda Jane, the band offers a mix of relaxed and upbeat music.
When:
Saturday & Sunday, June 26 & 27
Regular Gigs
House Of Blues
, held at the Royal Standard Hotel in West Melbourne, is a special evening of music presented each week by the Melbourne Blues Appreciation Society. With a featured artist invited to play each wee, performances are followed by an open jam session for all musicians.
When:
Every Tuesday - 8pm
A Jazz and Lounge Show Case
will be held each week during June at Melbourne's Red Love Cocktail Bar with The Vintage Suits jazz band presenting some of Melbourne's best up and coming Jazz Musician's. Featuring Sarah Taylor, Ron Romero and others the event is free to attend.
When:
Wednesdays in June - 8pm to 11pm
Open Mic Sunday's
, held at Wild Oscars in Richmond, is a weekly Open Microphone night with gear supplied in house so musicians need only bring their guitar and talent. There is a prize of $50 for the winner plus the chance to play their own fully paid gig on a Friday night at the venue.
When:
Sundays - Starts 7pm
Melbourne For Kids
Wombat Stew
, playing at the Whitehorse Centre in Nunawading, sees the book by Marcia K.Vaughan and Pamela Lofts brought to life on the stage for children. The Brand New musical that's gooey, chewy, brewy and yummy is adapted for stage by Gary Young and Paul Keelan.
When:
Saturday June 26 - 10am & 12pm
Cardboard Spaces
, presented by ArtPlay in Birrarung Marr by the Yarra River, is a chance for kids to climb into art in an interactive installation exhibition. Foundation year architecture students from Monash University will construct four cardboard spaces for children to explore.
When:
Until June 27 - Wednesdays to Sundays
Circus
Circus Oz
has returned to launch the World Premiere of its latest show in Melbourne. The Circus Oz show is a high-energy animal free spectacular, bursting with colour, comedy and breathtaking feats! They'll be appearing under the Big Top, located at Birrarung Marr near Federation Square.
When:
Until July 11
Circus Sunrise
, an action-packed show for all the family, will be appearing with performances held in Werribee. A true family circus with lineage going back to 1648, the performances of Circus Sunrise feature juggling, acrobatics and whip-cracking excitement!
When:
Until July 11 - Werribee

Silvers Grand Magic Circus
will be holding performances in Cheltenham. Established in 1976, Silvers Grand Magic Circus offers a great show for people of all ages with performers including everything from jugglers and clowns to acrobats, international performers and more.
When:
Until July 11 - Cheltenham
Perry Bros Circus
, Australia's oldest circus, will be appearing in Cheltenham, offering quality entertainment to please the entire family. With wire walkers, Jugglers, Whip crackers, balancing acts and more the circus also features performing ponies and camels along with their very funny clowns.
When:
Until July 11 - Cheltenham
Dining & Drink
The Roast Collection
, held as part of Put Victoria on Your Table - a campaign by the Victorian Government that celebrates our state's greatest food and wine - offers a series of events that honour the traditional roast with special dinners and cooking workshops held at various venues.
When:
Held Throughout June
Special Dining Offers
Dining Specials - Save Up To 20% on Your Bill
Menulog
is the easiest way to book a restaurant online with over 4000 restaurant listings! By booking online through Menulog you can enjoy fine food and save money with special deals offering discounts on total food bills, complimentary wine and drinks, discount group bookings and much, much more!
Big Mouth
in St Kilda has a well-earned reputation for a great night out with fine dining in a gorgeous Art Deco building.
SPECIAL DINING OFFER!!
Book Through
Menulog
for
$15.00 Pasta Every Tuesday
from 5pm to 10pm with fresh pasta & risotto dishes to choose from.
Visit here for BOOKING DETAILS @ Menulog
Offer Ends June 28, 2010 | Make a Booking Today!
Markets, Fetes and Fairs
The Hobby, Leisure & Collectors Carnival
, held at Springvale's Sandown Racecourse, is a great chance for collectors and enthusiasts of many passions to pick up a bargain and find rare items with traders offering vintage, retro and modern memorabilia, model toys and more.
When:
Sunday June 27 - 9am to 3pm
Melbourne Market Guide
View MARKETS on any day of the week
to make the most of the rare sunny days (it's a coin toss, isn't it!) and head to one of Melbourne's many excellent markets, fetes and fairs for a bargain!

A growing number of food, produce and even wine markets are always popping up around the suburbs. And don't forget garage sales!
Fetes Fairs & Shows
Art & Craft Markets
Food & Produce Markets
Swap Meets
Garage Sales
Let Melbourne Know...
Advertise Your School Fete, Fair or Carnival FREE!
Everyone wants to support their local school by going to their annual fundraiser. In 2009, we advertised over 1,200 school events. Make sure you let your school organizers know they can list their fete, fair or carnival for
FREE @ OnlyMelbourne!
Add Your Event for FREE Today!!
OnlyMelbourne Welcomes..
Each week we highlight some of the latest additions to OnlyMelbourne's ever growing guide to services, businesses and information sites for your community.
Lasoo
is Australia leading online Catalogue portal. Find great offers from local Retailers in Melbourne simply by entering your Melbourne postcode on Lasoo. Major retailers on Lasoo include Big W. Target, Harris Scarfe, Fantastic Furniture and more. Providing pre-shop assistance, all you have to do is search out a bargain, go into your nearest store and buy it.
This week we suggest the following:
Ultimate Internet Marketing Tool
- Market Samurai SEO Services...
Sarah Jones
- Corporate Entertainer & Comedian...
Top Cat Treasures
- Online market for kids' clothes...
Sparkl Yoga
- Yoga Lessons in Brunswick...
View More of the Latest Listings at OnlyMelbourne!
Sporting Events
AFL Premiership
AFL Premiership | Round 13
Split Round this week, so all you get's this lonely lil' chap!
St Kilda v Geelong
- June 25 - MCG
Soccer... From Afar
2010's FIFA World Cup
will be screened at various venues LIVE in Melbourne, so you can experience the thrill of the crowd as you cheer with other fans and watch the Socceroos take on the world. Matches will be televised at Birrarung Marr, Waterfront City Docklands and Crown Casino.
Thursday June 24, 4am - Australia v Serbia
Horse Racing
Yarra Valley Racing
, located at Yarra Glen, offers a great day out with the finest in racing entertainment along with great venues with regional food and wine.
Harness Race Dates
Wednesday June 23
Cranbourne Turf Club
, situated in a picturesque setting, boasts superb member and public facilities for a great day at the races. Bring a picnic or enjoy fine dinning at the club.
June Race Dates
Sunday June 27th - Gates Open 10:30am
Melbourne Tours
Smartvisit Card
is the best way to see the sights of Melbourne, whether you're visiting Melbourne for business, a vacation, or even if you're a local wanting to find Melbourne's hidden treasures!
The Smartvisit Card includes entry to attractions such as Melbourne Zoo, Melbourne Aquarium, Old Melbourne Gaol, Telstra Dome, Cook's Cottage, Melbourne River Cruises, and many more of Melbourne's TOP venues!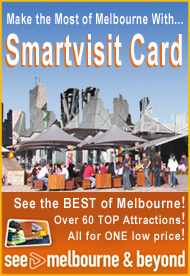 Free entry to over 60 top attractions..
Visit great venues like Zoos, museums & more across Melbourne & Victoria!
Over $800 of entry fees for ONE low price..
Plus special offers & discounts!
Visit just 2 Attractions a day & you'll save!
FREE 128 page guidebook..
Tailored to local knowledge on what to see & do!
Cash free entry..
Show your card & you're in, no need for cash!
All year-round Attractions..
Whatever time of year you visit - rain or shine!
Learn more about Smartvisit Card
Trivia
Is That An Overturned Tram In Your Pocket..?
When Victorian Police went on strike in 1923, many of the volunteer "Special Constables"who were appointed to maintain order during the riots which took place had ironically been involved in an earlier riot of 1919 when they had invaded the offices of the Victorian Premier, using an inkstand to assault the very same man who would later appoint them as officers of the law, clearly under duress.
Looting and rioting was so severe that trams were even overturned, and while much of the chaos and theft was attributed by many of Australia's newspapers to Melbourne's criminal element, with Squizzy Taylor bearing a lot of that brunt, court records would later show that most offenders who were apprehended during the riots were in fact young men and boys who had no previous histories of crime.
Read more about the 1923 Police Strike
|
Read Melbourne Trivia...
WHAT'S ON CALENDAR
Speaking of what's on, our
new calendar
allows you to select any day of the year to view everything (everything!!!) on that day in an easy to read, printable display.
-:- View
What's On Calendar
-:- View
Markets Only Calendar
Melbourne On The Phone

OnlyMelbourne
is now
mobile phone
compatible. Yes, our pages are formatted to be viewed on the small screen. To view our mobile phone website, go directly to our
home page
with your web compatible mobile phone and you will automatically be redirected to the
mobile compatible
version of OnlyMelbourne, so you'll be in the know on the go!
WHAT'S ON FEEDS
For those with newsfeeds, we now have a daily
What's On Melbourne Today
feed.
NEWSLETTER
What's On this Week
is an email overview and reminder of the (too many to mention) events happening this week in Melbourne.
Get your copy
of What's On this Week!
FREE ADVERTISING
Advertising
your EVENT at OnlyMelbourne is not only easy, it's
FREE!!
-
Apply Online..
for inclusion in the What's On calendar and newsletter!
❊ Address & Contact ❊
⊜ Newsletter | #181 | What's On this Week Melbourne |
Map
❊ Web Links ❊
→
Newsletter | #181 | What's On this Week
→
Subscribe to OnlyMelbourne - Get your copy of What's On this Week!
→
List Your Business or Event - It's FREE!
→
Events Calendar - Find out What's On any day of the week!
→
Mobile OnlyMelbourne - View Our Website On Your Phone
→
Melbourne for Children | Kids
→
Newsletter | #180 | What's On this Week [Last Week]
❊ COVID-19 Notice ❊
Many locations have gone into lockdown as the state takes action to stop the spread of the deadly coronavirus (COVID-19).
→
Disclaimer
: Check with the operator before making plans
...
Trending HOT

Drive-In Movie Club
Drive-In Immersive Cinema Nights Are Coming to Melbourne Put together by our friends at Hot Tub Cinema, a string of family-friendly, social distancing-safe, drive-in ..

Things to see, hear & do this weekend
Make the most of your weekend in Melbourne with these fabulous events. No city does it better than Melbourne, so get out and discover the very best shows, festivals, ..
---
Update Page