Newsletter | #180 | What's On this Week
Welcome to this week's Melbourne events, exhibitions, sports and community guide for Tuesday June 15 to Monday June 21, 2010.
This week... it's one for the film buffs with several festivals showcasing a great range of cinema, including the Melbourne International Animation Festival with a staggering program of over 400 films on offer - many of them short films, mind you, but as any director will tell you once they have you on the casting couch, it's not size that matters, it's the narrative.
There's also a celebration of art and sustainability and how the former can help promote the latter with a program of events that include a special day held at Heide Museum. Meanwhile, Melbourne plays host to yet another festival that celebrates our diverse culture with Emerge Festival holding their opening event in Fitzroy.
It's on the cards, surely, that one day we'll have a festival that celebrates our diverse festivals that celebrate our diversity - that or a carnival in honour of Dave, who prefers Holdens to Fords and likes footy.
Major Events
The Seven Thousand Oaks Festival
is a series of special events that will showcase over 20 artists exploring the issue of sustainability through music, visual art, performance and installation. Held at various venues, the festival promotes conversations of sustainability in the cultural sphere.
When:
June 17 to July 24
Opening Event & Exhibition:
Thursday June 17
Touch at a Distance:
Sunday June 20
Emerge Festival
, an exciting program of events that showcases Melbourne's diverse community, will be holding its Main Event with a special celebration held at Fitzroy Town Hall. The free event also sees the street closed off for 3 non-stop stages of world music, market stalls, food and more.
When:
June 20 to August 3
Emerge Festival Main Event:
Sunday June 20
The Paynesville Food & Garden Festival
, is a fun day presented every year by Paynesville Primary School, located near the picturesque Gippsland Lakes. A fantastic day for the family, this year's event features amusement rides, cooking demonstrations, plant sales, garden displays and more.
When:
Saturday June 19
The Booklovers Festival
, presented by Yarra Plenty Regional Libraries and held at their numerous branches including Mill Park and Watsonia, offers a program of literary events with author appearances including talented writers such as Barry Dickins and Anne Gracie.
When:
Until June 19 - Bookings Required
The Light in Winter
, a spectacular light-based festival held at Federation Square, brings together artists to explore ideas of light, enlightenment and hope. This year's event also features a new work by Rafael Lozano-Hemmer - one of the world's greatest installation artists.
When:
Until July 4
Food Festivals
Winter WineFest
held around Kangaroo Ground, celebrates warming winter fare with six boutique wineries offering gourmet wine and food. With some of the most progressive wine tasting and food right on Melbourne's doorstep, the family owned wineries are just 10 minutes apart.
When:
Saturday & Sunday, June 19 & 20
Film Festivals
The Warburton Film Festival
, held at the Upper Yarra Arts Centre in Warburton, is a weekend of films, food and fun at one of Australia's longest running film festivals. With special screenings and events, the festival is presented by the Yarra Ranges Film Society, first established in 1999.
When:
Friday to Sunday, June 18 to 20
Melbourne International Animation Festival
, held at ACMI Cinema in Federation Square, celebrates its tenth year by presenting a comprehensive line-up of current animated short films that include recent productions and classics from the archive with over 400 films on show.
When:
June 19 to 27
Docklands Classic Film Festival
, held at Waterfront City Piazza, is a series of free screenings held every night with specially tailored themes that include Family Favourites, Documentaries, Hollywood's Best and more. Chairs and food are available, but all are welcome to bring a rug and snacks.
When:
Until July 25 - 7pm Daily & also 2pm Saturdays
Upcoming Events

NEW LIVE CALENDAR
To find out about future events in Melbourne, have a look at our new calendar, with details about many more events that lie ahead so you can jot them down on the to-do list , including Exhibitions, Live Gigs, Theatre, Markets, Expos and more..
View Future Events on any day of the week
Exhibitions - Art | Festival | Show
Babarczy, Hyde, Batton
, held at Obscura Gallery in St Kilda, offers a diverse range of works from the three artists and namesakes of the group show. Babarczy's series, Beam Me Up, features street busker, The Sonic Manipulator, in his unique costume posing far from his regular CBD haunts.
When:
Until July 8 - Wednesdays to Sundays
Rooms
, an exhibition by Simone Hine, is a series of new works created as part of the artist's PhD in Creative Arts at the University of Melbourne. On show at Forty Five Downstairs, the works investigate stillness and contemporary art and cinema by using performance, video and installation.
When:
Until July 3 - Tuesdays to Saturdays
Trouble Set Me Free
, held at Southbank's Margaret Lawrence Gallery, brings together six artists who, inspired by the 1970s cult film Harold and Maude, have explored the darkly humorous side of trauma as the catalyst for making work or a cathartic means of purging its many repercussions.
When:
Until July 3 - Tuesdays to Saturdays
The Australian Woodturning Exibition
, presented by the Whitehorse Woodturners Club at Nunawading's Whitehorse Centre, offers a rare chance to view some of the best woodturning in Australia with works that will inspire all woodturners and anyone appreciative of woodcraft.
When:
Friday to Sunday, June 18 to 20
ABBAWORLD
, held at Federation Square, is an amazing multimedia exhibition that enables visitors to experience the music and magic of ABBA with state-of-the-art technology making a highly interactive experience where visitors can journey through ABBAWORLD'S 25 environments.
When:
June 19 to August 15
The Amazing Bodies Exhibition
, held at Waterfront City in Docklands, is a chance to explore nature in a unique way with amazing displays of natural anatomical wonders. Using real body specimens, perfectly preserved, the exhibition shows muscular and bone structure in a captivating display.
When:
Until September 2
Towards an Elegant Solution
, held at Southbank's Australian Centre for Contemporary Art, is a major survey of work by minimalist artist, Peter Cripps. With meticulous structures that explore radical modernism and design, the exhibition, his first major survey, includes over 50 works.
When:
Until July 25 - Tuesdays to Sundays
Photocopier
, showing at Fitzroy's Centre for Contemporary Photography, is an exhibition that features the work of eight Melbourne-based painters whose use of photographic images draws from a wide range of sources, with works comprised of record covers, women's magazines, family photos and more.
When:
Until July 18
Shoso Shimbo
, regarded as one of Australia's top floral artists, will be holding an Ikebana Exhibition at Kings Arcade in Armadale, displaying works by himself and his students. The contemporary Japanese flower arrangements of Shoso have seen him win multiple awards.
When:
Until June 18
In Your Face!
is an exhibition of cartoons centred around politics and society, with topical and humorous illustrations dating as far back as 1760. Covering themes as diverse as sex, politics, religion, fashion, doctors and lawyers, the exhibition is held at Art Gallery of Ballarat. Entry applies.
When:
Until August 8
|
Admission: $10 - Conc $6
A Little Bird Told Me
, held at Melbourne Art Rooms in Port Melbourne, is a contemporary art exhibition by numerous artists, dedicated to Australian birds that have become threatened or extinct due to the changing environmental climate, bush fires, and urban development.
When:
Until June 30
Creating History With Framing
, presented by Recherche Specialty Picture Framing, is a special exhibition held to celebrate the Northcote framing store's 40th anniversary. The free exhibition highlights the development in framing knowledge and materials with unique designs.
When:
Until July 3
Gravitas
, held at Collingwood's James Makin Gallery, is an exhibition of new works by Godwin Bradbeer, an acclaimed virtuoso draughtsman whose masterful drawings are an investigation of the physical and metaphysical human form, creating works that are stark and mysterious.
When:
Until June 26 - Tuesdays to Saturdays
City of the Damned
, the much-anticipated new Australian film, is the focus of an exhibition held at E55 in Melbourne, where the movie was filmed. With a number of photographs showing the making of the film, the exhibition features limited edition prints and posters available for sale.
When:
Until July 3
It All Started With a Mouse
, presented by Silver K Gallery in Armadale, is the largest Disney animation art exhibition ever seen in Australia. With over 150 pieces from the period of Fantasia and Snow White through to the modern day classics of Disney, the show has taken two years to curate.
When:
Until July 18
Hans Van Vlodrop
, an artist once extremely well known throughout Melbourne during the 70's and 80's, will be holding an exhibition of recent oil paintings. Exhibiting after a hiatus of many years, the popular artist's works are shown at the Old Post Office Gallery in Seymour.
When:
Until June 14
Constellations: A Large Number of Small Drawings
explores the role of drawing in a wide range of professions. Bringing together a large number of drawings from disciplines such as Art, Architecture, Cartography and more, the exhibition is held at Swanston Street's RMIT Gallery.
When:
Until June 26 - Monday to Saturday
Australia's Muslim Cameleers
, a special exhibition on loan from the South Australian Museum at the Immigration Museum, showcases the Pioneers of the Inland during the 1860s to 1930s when the cameleers' small Muslim community were a feature of Australian outback towns.
When:
Until September 19 - Open Daily
'til you drop
, held at the State Library of Victoria, is a free exhibition that celebrates Melbourne's passion for shopping, from the Paris end of Collins Street to the local corner store. The exhibition features historic photographs and nostalgic items on display such as wartime ration cards and more.
When:
Until October 31
Expos, Launches & Open Days
un Magazine
, a free independent art publication published bi-annually, will be holding the launch of their latest issue at the Grace Darling Hotel in Collingwood. un Magazine fosters and offers opportunities to promote independent and critical thinking regarding contemporary art in all media.
When:
Wednesday June 16 - 7pm to 10pm
Performances & Theatre
Generous
, presented by PMD Productions, is Michael Healey's play about politics and love, exploring what happens when someone's overwhelmed with a desire to help. Performed at Chapel Off Chapel in Prahran, the Australian premiere features strong performances from the cast.
When:
Wednesday to Saturday, June 16 to 19
Little Black Bastard
, playing at Melbourne's Athenaeum Theatre, is Noel Tovey's one-man performance that tells his own inspiring, true story of how a passion for art helped him overcome the worst of circumstances. A masterpiece of storytelling, the performance uses words and imagery.
When:
Tuesday to Sunday, June 15 to 20
Candy Man
, featuring Wayne Scott Kermond, is a dynamic all dancing and all singing production that captures the heart of the famed performer with a performance that includes an eight piece Big Band, a cast of musical theatre performers and a Youth Choir. It plays at the Arts Centre.
When:
June 16 to 27
A Midsummer Night's Dream
, presented by the acclaimed Australian Shakespeare Company with aspiring actors aged 16 to 18 years, brings Shakespeare's delightful comedy to the stage at Melbourne's Athenaeum Theatre, showcasing the capabilities of the highly talented students.
When:
Saturday & Sunday, June 19 & 20
Reefer Madness
, presented by Fab Nobs Theatre in Bayswater, is a comical musical inspired by the original 1936 film of the same name. A tongue-in-cheek look at the hysteria caused when clean-cut kids fall prey to marijuana, the clever production features catchy musical numbers.
When:
June 18 to July 3
Pure Imagination
, performed by The Young Australian Broadway Chorus at St Kilda's National Theatre, is a celebration of some of the most imaginative scores to ever grace the stage. With over 40 great songs, the production includes classics from Guys and Dolls, Rent and Wicked.
When:
Until June 19
Othello
, performed at Melbourne's Forty Five Downstairs, is a minimalist and tightly choreographed production that features the impressive Tongan actor Anthony Taufa as Othello and the stunning Annie Last as Desdemona in one of Shakespeare's most powerfully taut plays.
When:
Until June 26, Tuesdays to Sundays
Boston Marriage
, a play by David Mamet, follows the relationship between two women in the drawing room of a fashionable Boston townhouse. Presented by Melbourne Theatre Company with performances held at the Arts Centre, it stars Sara Gleeson, Margaret Mills and Pamela Rabe.
When:
Until July 17
Classical, Choral & Recitals
The Maroondah Symphony Orchestra
, a community orchestra that is based in Ringwood, will be holding their latest concert at Cowes Cultural Centre in Phillip Island. The performance will include works by composers, Tchaikovsky, Smetana, Rachmaninov and Elgar.
When:
Sunday June 20
Melbourne Mass Gospel Choir
, making their first performance for this year, will be appearing at The Evelyn Hotel in Fitzroy for an afternoon of Melbourne's hottest, rockin' gospel music. With a full band and the Apostles of Acappella, the assembly features a stunning 70-voice choir.
When:
Sunday June 20 - 2pm to 4pm
Perspectives
, presented by the Australian Boys Choir, is a program of recent choral music that includes works by Daniel Walker and Paul Jarman, along with pieces inspired by the settings of Australian poets. The performance takes place at BMW Edge in Federation Square.
When:
Sunday June 20, 3pm to 5pm
Burlesque, Cabaret & Dance
The Australian Dance Awards
, held at the Arts Centre and presented by Ausdance Victoria, is the dance world's night of nights when industry and dance lovers come together to celebrate Australia's best dance performers in a glamorous gala event that features extraordinary performances.
When:
Sunday June 20 - 7pm
How High the Moon
, held at Melbourne Cocktail Bar, 24 Moons, is a night with character with feel good performances by professional characterising Burlesque dancers. Stylish, sophisticated and classy, the night features the finest burlesque with a lush, titillating mood.
When:
Every Saturday - 9:30pm to 3am
Atrocity
, held at Burlesque Bar in Fitzroy, is a shocking theatrical soap opera of sex, violence, beauty, horror and psychological play that is not for the faint of heart. Shock performance with music, song, dance and the art of wicked tease, the show is a night of Burlesque du Grand Guignol.
When:
Every Sunday - Starts 9pm
Entertainment & Nightlife
Rockwiz LIVE
will be appearing at The Palais in St Kilda featuring the RocKwiz team, including mistress of ceremonies Julia Zemiro, firm but fair co-host Brian Nankervis, the legendary RocKwiz Orkestra and Dugald appearing with extended line up of special guests for the show.
When:
Wednesday June 16
NOTE:
Tuesday June 15 - SOLD OUT
Yusuf Islam
, formerly known as Cat Stevens, the iconic folk singer whose songs touched the hearts and lives of many, will be making a return to Australian shores with concerts held at Melbourne's Rod Laver Arena where the singer will perform here again for the first time in 36 years.
When:
Wednesday & Friday, June 16 & 18
The Tote
, one of Melbourne's most iconic venues in our city's unique live rock scene, will reopen it's doors officially with the Bakelite Age first band to hit the stage being Bakelite Age, a band that's raw, catchy and impulsive with a darkly humorous bent to their music and performances.
When:
Reopens Thursday June 17
The Martini Sisters
, appearing at Dizzy's Jazz Club in Richmond, are a fresh and entertaining jazz band that have captured the sound of the 1940s and brought it to the 21st century. Heavily influenced by 3 part harmonies, their repertoire includes covers by classic and modern performers.
When:
Saturday June 19
Regular Gigs
House Of Blues
, held at the Royal Standard Hotel in West Melbourne, is a special evening of music presented each week by the Melbourne Blues Appreciation Society. With a featured artist invited to play each wee, performances are followed by an open jam session for all musicians.
When:
Every Tuesday - 8pm
A Jazz and Lounge Show Case
will be held each week during June at Melbourne's Red Love Cocktail Bar with The Vintage Suits jazz band presenting some of Melbourne's best up and coming Jazz Musician's. Featuring Sarah Taylor, Ron Romero and others the event is free to attend.
When:
Wednesdays in June - 8pm to 11pm
The Melbourne Folk Club
meet each weekend to enjoy live acoustic music, offering a great afternoon with CDs available by local performers. Held at the Grandview Hotel in West Brunswick, the next performance features The Beenies and Alex Hallahan.
When:
Saturday June 19 - 3pm
Open Mic Sunday's
, held at Wild Oscars in Richmond, is a weekly Open Microphone night with gear supplied in house so musicians need only bring their guitar and talent. There is a prize of $50 for the winner plus the chance to play their own fully paid gig on a Friday night at the venue.
When:
Sundays - Starts 7pm
Melbourne For Kids
Shuffle and Buzz
, performed by Nilgun Guven and David Wells, is a special performance held as part of La Mama for Kids, a theatre program for children. A friendship based on dance, the show sees two characters work, play and conjure an entire world consisting of strange lands and creatures.
When:
Sunday June 20 - 11am & 2pm
Cardboard Spaces
, presented by ArtPlay in Birrarung Marr by the Yarra River, is a chance for kids to climb into art in an interactive installation exhibition. Foundation year architecture students from Monash University will construct four cardboard spaces for children to explore.
When:
Until June 27 - Wednesdays to Sundays
Circus
Circus Sunrise
, an action-packed show for all the family, will be appearing with performances held in Werribee. A true family circus with lineage going back to 1648, the performances of Circus Sunrise feature juggling, acrobatics and whip-cracking excitement!
When:
Until July 11 - Werribee

Silvers Grand Magic Circus
will be holding performances in Burnside. Established in 1976, Silvers Grand Magic Circus offers a great show for people of all ages with performers including everything from jugglers and clowns to acrobats, international performers and more.
When:
Until June 20 - Burnside
Perry Bros Circus
, Australia's oldest circus, will be appearing in Cheltenham, offering quality entertainment to please the entire family. With wire walkers, Jugglers, Whip crackers, balancing acts and more the circus also features performing ponies and camels along with their very funny clowns.
When:
Until June 20 - Cheltenham
Dining & Drink
The Roast Collection
, held as part of Put Victoria on Your Table - a campaign by the Victorian Government that celebrates our state's greatest food and wine - offers a series of events that honour the traditional roast with special dinners and cooking workshops held at various venues.
When:
Held Throughout June
Special Dining Offers
Dining Specials - Save Up To 20% on Your Bill
Menulog
is the easiest way to book a restaurant online with over 4000 restaurant listings! By booking online through Menulog you can enjoy fine food and save money with special deals offering discounts on total food bills, complimentary wine and drinks, discount group bookings and much, much more!
Big Mouth
in St Kilda has a well-earned reputation for a great night out with fine dining in a gorgeous Art Deco building.
SPECIAL DINING OFFER!!
Book Through
Menulog
for
$15.00 Pasta Every Tuesday
from 5pm to 10pm with fresh pasta & risotto dishes to choose from.
Visit here for BOOKING DETAILS @ Menulog
Offer Ends June 28, 2010 | Make a Booking Today!
Markets, Fetes and Fairs
The Big Red Book Fair
, held annually by the New International Bookshop at Trades Hall in Carlton, is a weekend long event offering plenty of bargains with pre-loved books covering Australian and international history, crime and popular fiction, kids books and more.
When:
Saturday & Sunday, June 19 & 20
The Way We Wear Fair
, held at Williamstown Town Hall, is a highlight for collectors of vintage clothing and accessories with second hand dealers from all over Australia offering antique, retro and designer label fashions, along with a travelling exhibition of vintage bridal gowns.
When:
Saturday & Sunday, June 19 & 20
Melbourne Market Guide
View MARKETS on any day of the week
to make the most of the rare sunny days (it's a coin toss, isn't it!) and head to one of Melbourne's many excellent markets, fetes and fairs for a bargain!

A growing number of food, produce and even wine markets are always popping up around the suburbs. And don't forget garage sales!
Fetes Fairs & Shows
Art & Craft Markets
Food & Produce Markets
Swap Meets
Garage Sales
Let Melbourne Know...
Advertise Your School Fete, Fair or Carnival FREE!
Everyone wants to support their local school by going to their annual fundraiser. In 2009, we advertised over 1,200 school events. Make sure you let your school organizers know they can list their fete, fair or carnival for
FREE @ OnlyMelbourne!
Add Your Event for FREE Today!!
OnlyMelbourne Welcomes..
Each week we highlight some of the latest additions to OnlyMelbourne's ever growing guide to services, businesses and information sites for your community.
This week we suggest the following:
Migani Fitness Trainer
- Results in Health & Wellbeing...
Continental Bookshop
- Languages & learning in Glen Iris...
Snakebusters
- Unique animals & reptiles for events...
Lets Go Dance
- Social Dance Nights & Lessons...
View More of the Latest Listings at OnlyMelbourne!
Sporting Events
AFL Premiership
AFL Premiership | Round 13
Hawthorn v Essendon
- June 18 - MCG
Carlton v Fremantle
- June 19 - Marvel Stadium
Nth Melb v Port Adelaide
- June 20 - Marvel Stadium
St Kilda v Geelong
- June 25 - MCG
NRL - National Rugby League
NRL Premiership | Round 15
Melbourne Storm v Cowboys
June 19 - 5:30pm
AAMI Park - Melbourne Rectangular Stadium, Melbourne
Soccer... From Afar
2010's FIFA World Cup
will be screened at various venues LIVE in Melbourne, so you can experience the thrill of the crowd as you cheer with other fans and watch the Socceroos take on the world. Matches will be televised at Birrarung Marr, Waterfront City Docklands and Crown Casino.
Saturday June 19, 11:30pm - Ghana vs Australia
Horse Racing
Kilmore Racing Club - June Race Dates
Harness Racing Calendar
Thursday June 17th (Day)
Melbourne Tours
Smartvisit Card
is the best way to see the sights of Melbourne, whether you're visiting Melbourne for business, a vacation, or even if you're a local wanting to find Melbourne's hidden treasures!
The Smartvisit Card includes entry to attractions such as Melbourne Zoo, Melbourne Aquarium, Old Melbourne Gaol, Telstra Dome, Cook's Cottage, Melbourne River Cruises, and many more of Melbourne's TOP venues!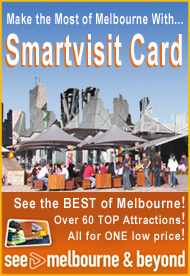 Free entry to over 60 top attractions..
Visit great venues like Zoos, museums & more across Melbourne & Victoria!
Over $800 of entry fees for ONE low price..
Plus special offers & discounts!
Visit just 2 Attractions a day & you'll save!
FREE 128 page guidebook..
Tailored to local knowledge on what to see & do!
Cash free entry..
Show your card & you're in, no need for cash!
All year-round Attractions..
Whatever time of year you visit - rain or shine!
Learn more about Smartvisit Card
Trivia
Let There Be Light.. And Coffee
The Victoria Hotel in Little Collins Street was the first in Melbourne to have electric lights in its rooms - a press notice at the time said,
'with the object of having bedrooms cool in the summer, the electric light is fitted in each room with taps to turn on and off the light as in gas jets'
.
The Victoria Hotel was also originally known as the
Victoria Coffee Palace
, founded by a Temperance League as an alternative to the rowdy, bawdy pub accommodation on offer during the late 19th century.
Read more about Melbourne's Oldest Hotels
|
Read Melbourne Trivia...
WHAT'S ON CALENDAR
Speaking of what's on, our
new calendar
allows you to select any day of the year to view everything (everything!!!) on that day in an easy to read, printable display.
-:- View
What's On Calendar
-:- View
Markets Only Calendar
Melbourne On The Phone

OnlyMelbourne
is now
mobile phone
compatible. Yes, our pages are formatted to be viewed on the small screen. To view our mobile phone website, go directly to our
home page
with your web compatible mobile phone and you will automatically be redirected to the
mobile compatible
version of OnlyMelbourne, so you'll be in the know on the go!
WHAT'S ON FEEDS
For those with newsfeeds, we now have a daily
What's On Melbourne Today
feed.
NEWSLETTER
What's On this Week
is an email overview and reminder of the (too many to mention) events happening this week in Melbourne.
Get your copy
of What's On this Week!
FREE ADVERTISING
Advertising
your EVENT at OnlyMelbourne is not only easy, it's
FREE!!
-
Apply Online..
for inclusion in the What's On calendar and newsletter!
❊ Address & Contact ❊
⊜ Newsletter | #180 | What's On this Week Melbourne |
Map
❊ Web Links ❊
→
Newsletter | #180 | What's On this Week
→
Subscribe to OnlyMelbourne - Get your copy of What's On this Week!
→
List Your Business or Event - It's FREE!
→
Events Calendar - Find out What's On any day of the week!
→
Mobile OnlyMelbourne - View Our Website On Your Phone
→
Mobile OnlyMelbourne - View Our Website On Your Phone
→
Melbourne for Children | Kids
→
Newsletter | #179 | What's On this Week [Last Week]
❊ COVID-19 Notice ❊
Many locations have gone into lockdown as the state takes action to stop the spread of the deadly coronavirus (COVID-19).
→
Disclaimer
: Check with the operator before making plans
...
Trending HOT

Drive-In Movie Club
Drive-In Immersive Cinema Nights Are Coming to Melbourne Put together by our friends at Hot Tub Cinema, a string of family-friendly, social distancing-safe, drive-in ..

Things to see, hear & do this weekend
Make the most of your weekend in Melbourne with these fabulous events. No city does it better than Melbourne, so get out and discover the very best shows, festivals, ..
---
Update Page