Newsletter | #179 | What's On this Week
Welcome to this week's Melbourne events, exhibitions, sports and community guide for Tuesday June 8 to Monday June 14, 2010.
This week... you'll find the welcome return of two of Victoria's best festivals with the National Celtic Festival in Portarlington and the Woodend Winter Arts Festival. For those who are keen to stick to the home ground and aren't up for a road-trip, there's A Taste of Portugal with music and spicy food to keep the winter chills away.
You'll also find that there's much ado about Lizzie with Melburnians either breathing a sigh of relief with the upcoming Long Weekend celebrating the Queen's Birthday, or begrudgingly taking comfort in being paid double-time for their services on a public holiday (bless you good folk, by the way, you're always there for me when I'm seedy and need a Big M).
Special Mention
Lady Melbourne
, a fashion and lifestyle blog written by Phoebe Montague, has seen the fashionista nominated for Cosmopolitan's 'Fun Fearless Female of the Year' award. Only one of two Melburnians represented Australia wide, she also has a YouTube series highlighting the best of Melbourne.
Vote For Lady Melbourne Today!!
Long Weekend Guide
Our Queen's Birthday Long Weekend Guide
, for those who want to cut to the chase and see what's happening on Lizzie's big day, has suggestions for what to do about town, special events held across the long weekend, tours you can take advantage of, Garage Sales and more.
Our Queen's Birthday Long Weekend Guide
Major Events
The National Celtic Festival
, held in Portarlington, is Australia's largest celebration of Celtic culture, is with performances and Celtic music of the highest quality in large concert venues and wine bars. The festival also features a range of workshops on offer for adults and kids.
When:
Friday to Monday, June 11 to 14
A Taste of Portugal
, held at Queen Victoria Market, is a celebration for young and old that encompasses delicious gourmet foods, wine, music and dance. Commemorating Portugal's National Day and the essence of their spirit, the festival showcases many aspects of their culture.
When:
Sunday June 13 - 10am to 4pm
The Woodend Winter Arts Festival
is one of Australia's premier chamber music, literary and visual arts festivals. Held every year on the Queen's Birthday weekend, the festival offers a wide range of concerts, music sessions, events and exhibitions that are engaging and entertaining.
When:
Friday to Monday, June 11 to 14
The Light in Winter
, a spectacular light-based festival held at Federation Square, brings together artists to explore ideas of light, enlightenment and hope. This year's event also features a new work by Rafael Lozano-Hemmer - one of the world's greatest installation artists.
When:
Until July 4
Film Festivals
Docklands Classic Film Festival
, held at Waterfront City Piazza, is a series of free screenings held every night with specially tailored themes that include Family Favourites, Documentaries, Hollywood's Best and more. Chairs and food are available, but all are welcome to bring a rug and snacks.
When:
Until July 25 - 7pm Daily & also 2pm Saturdays
Upcoming Events

NEW LIVE CALENDAR
To find out about future events in Melbourne, have a look at our new calendar, with details about many more events that lie ahead so you can jot them down on the to-do list , including Exhibitions, Live Gigs, Theatre, Markets, Expos and more..
View Future Events on any day of the week
Exhibitions - Art | Festival | Show
Towards an Elegant Solution
, held at Southbank's Australian Centre for Contemporary Art, is a major survey of work by minimalist artist, Peter Cripps. With meticulous structures that explore radical modernism and design, the exhibition, his first major survey, includes over 50 works.
When:
June 8 to July 25 - Tuesdays to Sundays
Photocopier
, showing at Fitzroy's Centre for Contemporary Photography, is an exhibition that features the work of eight Melbourne-based painters whose use of photographic images draws from a wide range of sources, with works comprised of record covers, women's magazines, family photos and more.
When:
Until July 18
The Kenneth Jack Memorial Award
, presented by the Watercolour society of Australia, is a special exhibition of works that show the interest and appreciation of the Art of Watercolour painting in Australia and worldwide. It's held at the Long Gallery and Great Barn Gallery at Montsalvat.
When:
Until June 13
Shoso Shimbo
, regarded as one of Australia's top floral artists, will be holding an Ikebana Exhibition at Kings Arcade in Armadale, displaying works by himself and his students. The contemporary Japanese flower arrangements of Shoso have seen him win multiple awards.
When:
June 12 to 18 - Mondays to Saturdays
In Your Face!
is an exhibition of cartoons centred around politics and society, with topical and humorous illustrations dating as far back as 1760. Covering themes as diverse as sex, politics, religion, fashion, doctors and lawyers, the exhibition is held at Art Gallery of Ballarat. Entry applies.
When:
June 12 to August 8
|
Admission: $10 - Conc $6
A Little Bird Told Me
, held at Melbourne Art Rooms in Port Melbourne, is a contemporary art exhibition by numerous artists, dedicated to Australian birds that have become threatened or extinct due to the changing environmental climate, bush fires, and urban development.
When:
Until June 30
Creating History With Framing
, presented by Recherche Specialty Picture Framing, is a special exhibition held to celebrate the Northcote framing store's 40th anniversary. The free exhibition highlights the development in framing knowledge and materials with unique designs.
When:
Until July 3
Gravitas
, held at Collingwood's James Makin Gallery, is an exhibition of new works by Godwin Bradbeer, an acclaimed virtuoso draughtsman whose masterful drawings are an investigation of the physical and metaphysical human form, creating works that are stark and mysterious.
When:
Until June 26 - Tuesdays to Saturdays
City of the Damned
, the much-anticipated new Australian film, is the focus of an exhibition held at E55 in Melbourne, where the movie was filmed. With a number of photographs showing the making of the film, the exhibition features limited edition prints and posters available for sale.
When:
Until July 3
It All Started With a Mouse
, presented by Silver K Gallery in Armadale, is the largest Disney animation art exhibition ever seen in Australia. With over 150 pieces from the period of Fantasia and Snow White through to the modern day classics of Disney, the show has taken two years to curate.
When:
Until July 18
May Projects
, held at Obscura Gallery in St Kilda, features new photographic works by Yiwen Yao. Inspired by a meditation session in the Australian bushland, her work questions the relationship between man and nature. The exhibition also features Sam Oster and Candice Ivers.
When:
Until June 10
Hans Van Vlodrop
, an artist once extremely well known throughout Melbourne during the 70's and 80's, will be holding an exhibition of recent oil paintings. Exhibiting after a hiatus of many years, the popular artist's works are shown at the Old Post Office Gallery in Seymour.
When:
Until June 14
Constellations: A Large Number of Small Drawings
explores the role of drawing in a wide range of professions. Bringing together a large number of drawings from disciplines such as Art, Architecture, Cartography and more, the exhibition is held at Swanston Street's RMIT Gallery.
When:
Until June 26 - Monday to Saturday
Australia's Muslim Cameleers
, a special exhibition on loan from the South Australian Museum at the Immigration Museum, showcases the Pioneers of the Inland during the 1860s to 1930s when the cameleers' small Muslim community were a feature of Australian outback towns.
When:
Until September 19 - Open Daily
'til you drop
, held at the State Library of Victoria, is a free exhibition that celebrates Melbourne's passion for shopping, from the Paris end of Collins Street to the local corner store. The exhibition features historic photographs and nostalgic items on display such as wartime ration cards and more.
When:
Until October 31
Expos, Launches & Open Days
Gilgamesh Connections
will be holding a launch of their publication, 'Contemporary Fables Volume One', with fables written by entrants of their first competition. Held at Claypots in St Kilda, winners of the second writing competition will also receive their prizes on the night.
When:
Sunday June 13 - Midday to 3pm
Model Expo
, held at Sandown Entertainment Centre in Springvale, showcases everything that encompasses scale plastic modelling. With model displays that include aircraft, trains and even science fiction, the event includes stalls held by model kit retailers and an enormous Swap and Sell Day.
When:
Saturday to Mponday, June 12 to 14
Pet Shows
The Cavalier King Charles Spaniel Championship Show
, an indoor event held at Skye's KCC Park, is the largest display of Cavalier King Charles Spaniels in the Southern Hemisphere. The event features many show categories along with offering information for those interested in the breed.
When:
Saturday to Monday, June 12 to 14
Performances & Theatre
Pure Imagination
, performed by The Young Australian Broadway Chorus at St Kilda's National Theatre, is a celebration of some of the most imaginative scores to ever grace the stage. With over 40 great songs, the production includes classics from Guys and Dolls, Rent and Wicked.
When:
June 8 to 19
FAME - The Musical
, playing at Melbourne's Regent Theatre, brings the iconic film to the stage for the first time. Based on the hit film that went on to be a cult hit TV show, FAME captures the passion and spirit of the journey taken by performing artists and musicians at a college.
When:
Until June 13
Othello
, performed at Melbourne's Forty Five Downstairs, is a minimalist and tightly choreographed production that features the impressive Tongan actor Anthony Taufa as Othello and the stunning Annie Last as Desdemona in one of Shakespeare's most powerfully taut plays.
When:
Until June 26, Tuesdays to Sundays
Boston Marriage
, a play by David Mamet, follows the relationship between two women in the drawing room of a fashionable Boston townhouse. Presented by Melbourne Theatre Company with performances held at the Arts Centre, it stars Sara Gleeson, Margaret Mills and Pamela Rabe.
When:
Until July 17
The Ugly One
, performed at Melbourne Theatre Company in Southbank, is the darkly funny play by Marius von Mayenburg that tells the story of Lette, an unattractive man who has plastic surgery to look handsome, only to learn that being better looking doesn't make life any easier.
When:
Until June 12
Richard III
, presented by Melbourne Theatre Company in Southbank, tells the story of an obsessed man with twisted ambitions, who manipulates, marries and murders his way to the top. Set as a contemporary political thriller, the gripping production excitingly reworks Shakespeare's classic.
When:
Until June 12
Classical, Choral & Recitals
Sacred
, presented by Choristry, is a concert series of contemporary a cappella works with modern pieces filled with serenity, beauty and awe. With their next concert held at South Yarra's Melbourne High School Memorial Hall, the complex harmonies offer an incredible live music experience.
When:
Saturday June 12 - 8pm
The Maroondah Symphony Orchestra
, a community orchestra that is based in Ringwood, will holding a performance at Luther College Chapel in Croydon. Joined by the Maroondah Singers, the concert features works by Tchaikovsky, Smetana, Rachmaninov and Elgar.
When:
Sunday June 13
Metaphysical Morsels
, presented by Syzygy Ensemble at Melbourne's Guildford Lane Gallery, is a rare opportunity to hear contemporary chamber music in a setting that breathes a creative atmosphere, evoking emotional turmoil of other ages, other places and even other dimensions.
When:
Sunday June 13 - 3pm to 5pm
Burlesque, Cabaret & Dance
La Petite Mort
, held at The Butterfly Club in South Melbourne, is a raunchy cabaret romp through sex and sexuality. French for 'The Little Death', Isabel Hertaeg's play about The Orgasm uses cabaret to explore sexuality, love, science, and more with comically shocking tales.
When:
Thursday to Sunday, June 10 to 13
How High the Moon
, held at Melbourne Cocktail Bar, 24 Moons, is a night with character with feel good performances by professional characterising Burlesque dancers. Stylish, sophisticated and classy, the night features the finest burlesque with a lush, titillating mood.
When:
Saturdays - 9:30pm to 3am
Atrocity
, held at Burlesque Bar in Fitzroy, is a shocking theatrical soap opera of sex, violence, beauty, horror and psychological play that is not for the faint of heart. Shock performance with music, song, dance and the art of wicked tease, the show is a night of Burlesque du Grand Guignol.
When:
Every Sunday - Starts 9pm
Entertainment & Nightlife
Dreadnaught
, a staple of the Australian rock and metal scene, having been together for more than 17 years, will be appearing at The Arthouse on Swanston Street where they'll be joined by Berzerkerfox and Demonhead, two bands that will be launching albums on the night.
When:
Friday June 11 - Starts 8pm
The Break
, featuring three former members of Midnight Oil and the bass player from Violent Femmes, will be performing at the East Brunswick Club. Performing their own sound of surf rock, the band recently supported Hoodoo Gurus on tour. They'll be appearing with Digger & The Pussycats.
When:
Saturday June 12 - Doors Open 8:30pm
Mistaken Identity
, featuring the talents of Steve Sedergreen, one of Melbourne's leading Jazz identities, his brother Mel, Nick Haywood and Ted Vining, will be playing at The Paris Cat, one of Melbourne's premier Jazz Clubs, voted one of the best World music venues in Australia.
When:
Saturday June 12 - 9:30pm
Music Festivals
The Royal Doof Music Festival
, held in Ararat this year, is one of Victoria's best outdoor festivals with a weekend of trance and electro music featuring some of the best local performers along with guests from interstate and overseas. The festival includes food stalls and craft markets.
When:
Saturday to Monday, June 12 to 14
Winter Sound System Festival
, held at Melbourne Park on the Queen's Birthday weekend, is an enormous 24 hour music festival that features some of the best trance and dance music artists, including Underworld, Crookers, Steve Aoki, Markus Schulz and the hottest guest DJs.
When:
Sunday & Monday, June 13 & 14
Regular Gigs
House Of Blues
, held at the Royal Standard Hotel in West Melbourne, is a special evening of music presented each week by the Melbourne Blues Appreciation Society. With a featured artist invited to play each wee, performances are followed by an open jam session for all musicians.
When:
Every Tuesday - 8pm
A Jazz and Lounge Show Case
will be held each week during June at Melbourne's Red Love Cocktail Bar with The Vintage Suits jazz band presenting some of Melbourne's best up and coming Jazz Musician's. Featuring Sarah Taylor, Ron Romero and others the event is free to attend.
When:
Wednesdays in June - 8pm to 11pm
The Melbourne Folk Club
meet each weekend to enjoy live acoustic music, offering a great afternoon with CDs available by local performers. Held at the Grandview Hotel in West Brunswick, the next performance features Rusty Pickers, Peter Anderson and Simon Kerr.
When:
Saturday June 12 - 3pm
Open Mic Sunday's
, held at Wild Oscars in Richmond, is a weekly Open Microphone night with gear supplied in house so musicians need only bring their guitar and talent. There is a prize of $50 for the winner plus the chance to play their own fully paid gig on a Friday night at the venue.
When:
Sundays - Starts 7pm
Cinema
West Side Shorts
, presented by Angry Productions, is a monthly film night held at Williamstown' Customs House Hotel, offering the chance to see fantastic short films made by local talent and also to network with local filmmakers and actors after the screenings.
When:
Tuesday June 8 - 8:30pm - Only $5 Entry
Melbourne For Kids
Little Big Shots
, Australia's major travelling children's film festival, will be appearing at ACMI Cinema with screenings along with special events held there and also at ArtPlay along Birrarung Marr. Perfect for families and kids, the festival's films are inspiring, meaningful and fun for all.
When:
Wednesday to Monday, June 9 to 14
Hello Music Land
, held at Village Cinemas at Westfield Southland, is an interactive cinema show that uses a magical mix of digital cinema animation and live stage show, which is musical fun for the whole family. Performed for one day only, all proceeds will go to the Ilhan Food Allergy Foundation.
When:
Sunday June 13 - 10am
Cardboard Spaces
, presented by ArtPlay in Birrarung Marr by the Yarra River, is a chance for kids to climb into art in an interactive installation exhibition. Foundation year architecture students from Monash University will construct four cardboard spaces for children to explore.
When:
Until June 27 - Wednesdays to Sundays
Circus
Circus Sunrise
, an action-packed show for all the family, will be appearing with performances held in Rowville. A true family circus with lineage going back to 1648, the performances of Circus Sunrise feature juggling, acrobatics and whip-cracking excitement!
When:
Until June 10 - Rowville

Silvers Grand Magic Circus
will be holding performances in Burnside. Established in 1976, Silvers Grand Magic Circus offers a great show for people of all ages with performers including everything from jugglers and clowns to acrobats, international performers and more.
When:
Until June 20 - Burnside
Perry Bros Circus
, Australia's oldest circus, will be appearing in Cheltenham, offering quality entertainment to please the entire family. With wire walkers, Jugglers, Whip crackers, balancing acts and more the circus also features performing ponies and camels along with their very funny clowns.
When:
Until June 20 - Cheltenham
Dining & Drink
The Rutherglen Winery Walkabout
is Victoria's original wine festival offering a great weekend as North East Victoria's Winemakers promote their quality wines. With entertainment and activities, the Walkabout includes live music, produce markets and unique dining events.
When:
Saturday & Sunday, June 12 & 13
Special Dining Offers
Dining Specials - Save Up To 20% on Your Bill
Menulog
is the easiest way to book a restaurant online with over 4000 restaurant listings! By booking online through Menulog you can enjoy fine food and save money with special deals offering discounts on total food bills, complimentary wine and drinks, discount group bookings and much, much more!
Big Mouth
in St Kilda has a well-earned reputation for a great night out with fine dining in a gorgeous Art Deco building.
SPECIAL DINING OFFER!!
Book Through
Menulog
for
$15.00 Pasta Every Tuesday
from 5pm to 10pm with fresh pasta & risotto dishes to choose from.
Visit here for BOOKING DETAILS @ Menulog
Offer Ends June 28, 2010 | Make a Booking Today!
Markets, Fetes and Fairs
The Anglican Men's Society Book Fair
, held at Oakleigh's Holy Trinity Church, will offer a wide range of books for avid readers and collectors. The Anglican Men's Society aims to encourage men to seek out and live out the Christian Faith, but it's also okay if you just want to find a good read.
When:
Saturday June 12
Melbourne Market Guide
View MARKETS on any day of the week
to make the most of the rare sunny days (it's a coin toss, isn't it!) and head to one of Melbourne's many excellent markets, fetes and fairs for a bargain!

A growing number of food, produce and even wine markets are always popping up around the suburbs. And don't forget garage sales!
Fetes Fairs & Shows
Art & Craft Markets
Food & Produce Markets
Swap Meets
Garage Sales
Let Melbourne Know...
Advertise Your School Fete, Fair or Carnival FREE!
Everyone wants to support their local school by going to their annual fundraiser. In 2009, we advertised over 1,200 school events. Make sure you let your school organizers know they can list their fete, fair or carnival for
FREE @ OnlyMelbourne!
Add Your Event for FREE Today!!
OnlyMelbourne Welcomes..
Each week we highlight some of the latest additions to OnlyMelbourne's ever growing guide to services, businesses and information sites for your community.
This week we suggest the following:
Event Photobooth Australia
- Photo booth rentals...
Plaintext Copywriting
- Copywriting for websites, brochures & more...
Recycled Fashion
- Fashion blog with op shops & vintage stores...
Melbourne Bar Tours
- Tour Melbourne's chic, unique bars & pubs...
View More of the Latest Listings at OnlyMelbourne!
Sporting Events
AFL Premiership
AFL Premiership | Round 12
Nth Melb v Carlton
- June 11 - Marvel Stadium
Essendon v Geelong
- June 12 - Marvel Stadium
Richmond v West Coast Eagles
- June 13 - MCG
Bulldogs v Brisbane Lions
- June 13 - Marvel Stadium
Melbourne v Collingwood
- June 14 - MCG
NRL - National Rugby League
NRL Premiership | Round 14
Melbourne Storm v Roosters
Monday June 14 - 7pm
AAMI Park - Melbourne Rectangular Stadium, Melbourne
Netball
ANZ Championships | Round 13
Melbourne Vixens v NSW Swifts
Saturday, 12 June - 2:20pm
Hisense Arena, Melbourne
Soccer... From Afar
2010's FIFA World Cup
will be screened at various venues LIVE in Melbourne, so you can experience the thrill of the crowd as you cheer with other fans and watch the Socceroos take on the world. Matches will be televised at Birrarung Marr, Waterfront City Docklands and Crown Casino.
Monday June 14, 4am - Germany vs Australia
Athletics & Gymnastics
The Victorian Gymnastics Championships
, held with Rhythmic Aussie All Stars, is Gymnastics Victoria's premier event. Taking place at the State Netball Hockey Centre in Parkville, over 600 participants will compete in gymnastics and perform live entertainment with feats of athleticism.
When:
Friday to Monday, June 11 to 14
Horse Racing
Kilmore Racing Club - June Race Dates
Harness Racing Calendar
Tuesday June 8th (Night)
Cranbourne Turf Club
, situated in a picturesque setting, boasts superb member and public facilities for a great day at the races. Bring a picnic or enjoy fine dinning at the club.
June Race Dates
Sunday June 13th - Gates Open 10:30am
Melbourne Tours
Smartvisit Card
is the best way to see the sights of Melbourne, whether you're visiting Melbourne for business, a vacation, or even if you're a local wanting to find Melbourne's hidden treasures!
The Smartvisit Card includes entry to attractions such as Melbourne Zoo, Melbourne Aquarium, Old Melbourne Gaol, Telstra Dome, Cook's Cottage, Melbourne River Cruises, and many more of Melbourne's TOP venues!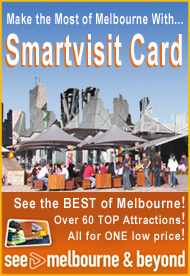 Free entry to over 60 top attractions..
Visit great venues like Zoos, museums & more across Melbourne & Victoria!
Over $800 of entry fees for ONE low price..
Plus special offers & discounts!
Visit just 2 Attractions a day & you'll save!
FREE 128 page guidebook..
Tailored to local knowledge on what to see & do!
Cash free entry..
Show your card & you're in, no need for cash!
All year-round Attractions..
Whatever time of year you visit - rain or shine!
Learn more about Smartvisit Card
Trivia
While My Picasso Gently Weeps...
One of Melbourne's most infamous and mysterious crimes was the theft of a $7 million painting by Picasso from the National Gallery of Victoria - now known as NGV International.
Stolen in 1986, one of Picasso's most well-known paintings,
Weeping Woman
, was taken from its display in the National Gallery of Victoria by a group calling itself the
Australian Cultural Terrorists
who demanded a ten per cent increase in arts funding and an annual prize for painting "open to artists under thirty'.
The painting was recovered several weeks later from a luggage locker at Spencer Street railway station - now known as Southern Cross Station.
Although never caught, it's assumed that unlike the NGV or Southern Cross Station, the Australian Cultural Terrorists were happy with their moniker as it was.
More about NGV International..
|
Read Melbourne Trivia...
Read more about Melbourne Firsts
|
Read Melbourne Trivia...
WHAT'S ON CALENDAR
Speaking of what's on, our
new calendar
allows you to select any day of the year to view everything (everything!!!) on that day in an easy to read, printable display.
-:- View
What's On Calendar
-:- View
Markets Only Calendar
Melbourne On The Phone

OnlyMelbourne
is now
mobile phone
compatible. Yes, our pages are formatted to be viewed on the small screen. To view our mobile phone website, go directly to our
home page
with your web compatible mobile phone and you will automatically be redirected to the
mobile compatible
version of OnlyMelbourne, so you'll be in the know on the go!
WHAT'S ON FEEDS
For those with newsfeeds, we now have a daily
What's On Melbourne Today
feed.
NEWSLETTER
What's On this Week
is an email overview and reminder of the (too many to mention) events happening this week in Melbourne.
Get your copy
of What's On this Week!
FREE ADVERTISING
Advertising
your EVENT at OnlyMelbourne is not only easy, it's
FREE!!
-
Apply Online..
for inclusion in the What's On calendar and newsletter!
❊ Address & Contact ❊
⊜ Newsletter | #179 | What's On this Week Melbourne |
Map
❊ Web Links ❊
→
Newsletter | #179 | What's On this Week
→
Subscribe to OnlyMelbourne - Get your copy of What's On this Week!
→
List Your Business or Event - It's FREE!
→
Events Calendar - Find out What's On any day of the week!
→
Mobile OnlyMelbourne - View Our Website On Your Phone
→
Melbourne for Children | Kids
→
Newsletter | #178 | What's On this Week [Last Week]
→
Disclaimer
: Check with the venue before making plans
...
Trending HOT

Drive-In Movie Club
Drive-In Immersive Cinema Nights Are Coming to Melbourne Put together by our friends at Hot Tub Cinema, a string of family-friendly, social distancing-safe, drive-in ..

Things to see, hear & do this weekend
Make the most of your weekend in Melbourne with these fabulous events. No city does it better than Melbourne, so get out and discover the very best shows, festivals, ..
---
Update Page