Newsletter | #177 | What's On this Week
Welcome to this week's Melbourne events, exhibitions, sports and community guide for Tuesday May 25 to Monday May 31, 2010.
This week... there's a veritable buffet of music with a little something for everyone, no matter what their tastes. Country lovers can boot-scoot their way to the Kingston Harvest Festival for a good dose of guitar plucking and twanging, while those who like it spicy can enjoy the Salsa Beats Festival in Rochford. Stonnington Jazz continues this week also for anyone who likes their shindigs big and brassy.
There's also the Next Wave Festival covering all music genres far and in between along with performances and art, and film buffs can bathe in the splendour of the St Kilda Film festival's return, along with the Docklands Classic Film Festival offering free screenings every night.
Major Events
Kingston Harvest Festival
, held in Carrum's Roy Dore Reserve, is a family oriented musical event that features a great line-up of country and bluegrass artists that include Felicity Urquhart. The festival also has celebrity chef demonstrations, kids' activities and much more.
When:
Saturday May 29 - 11am to 11pm
Salsa Beats Festival
, held at Rochford Winery, heats up winter with a night of live music with a 15-piece South American band and sensational salsa performances. The night also features dance lessons with Melbourne Salsa, followed by music throughout the night with DJ and bongos.
When:
Saturday May 29 - 6pm to 1am
Stonnington Jazz
, held at venues that include Chapel Off Chapel and Malvern Town Hall, features performances of the very best jazz this country has to offer. Now in its 5th year, the festival features seasoned performers such as Ted Vining, along with new performers in Australia's Jazz scene.
When:
Until May 30
The Emerging Writers' Festival
, held in various venues, offers a program of panels, performances, readings and workshops. Featuring special events that include forums that explores the art, craft and business of being a writer, the festival has an open-age program of events.
When:
Until May 30
The Melbourne Italian Festival
, held at various venues in Melbourne, celebrates the 64th anniversary of the Foundation of the Italian Republic with a program of music performances and theatre by local and Italian artists that highlight the vibrant Italian culture throughout Melbourne.
When:
Until June 6
Next Wave Festival
, this year carrying the theme of 'No Risk Too Great' to explore the role of risk in a risk-averse culture, presents a wide variety of genre-busting new works across Melbourne. With many events free to the public, the festival features art, theatre, music and much more.
When:
Until May 30
Film Festivals
Docklands Classic Film Festival
, held at Waterfront City Piazza, is a series of free screenings held every night with specially tailored themes that include Family Favourites, Documentaries, Hollywood's Best and more. Chairs and food are available, but all are welcome to bring a rug and snacks.
When:
Until July 25 - 7pm Daily & also 2pm Saturdays
The St Kilda Film Festival
, now in its 27th year, is an iconic event that screens more Australian short films than any other festival. With genres including drama, comedy, documentary and animation, the festival also features short films overseas from interfilm Berlin Short Film Festival.
When:
Tuesday to Sunday, May 25 to 30
Upcoming Events
Country Club Dress-up Ball
, Melbourne's best annual ball, will feature special guest entertainment by Daryl Braithwaite. Set this year in the Art Deco venue of Ormond Hall in St Kilda, this all inclusive event features first class live entertainment in an exciting party atmosphere.
When:
Friday July 23 - Bookings Advised
Special Offer:
$20 discount Only Melbourne readers!

NEW LIVE CALENDAR
To find out about future events in Melbourne, have a look at our new calendar, with details about many more events that lie ahead so you can jot them down on the to-do list , including Exhibitions, Live Gigs, Theatre, Markets, Expos and more..
View Future Events on any day of the week
Exhibitions - Art | Festival | Show
True Colours
, held at the Australian Guild of Realist Artists Gallery in Camberwell, is a presentation by Pastel Palette, a collective formed in 2006 by a group of artists who all share a love of the pastel medium. With vivid rendering of many subjects, members include Fiona Anderson and Linda Finch.
When:
May 26 to June 6 - Wednesday to Sunday
Opening Night:
Wednesday May 26 - 7pm
The Camberwell Rotary Art Show
, held at the larger venue this year of Caulfield Racecourse, is one of the largest art shows in Australia with art competitions, displays and painting sales helping to raise funds for community needs serviced by the Rotary Club of Camberwell.
When:
Friday to Sunday, May 28 to 30
It All Started With a Mouse
, presented by Silver K Gallery in Armadale, is the largest Disney animation art exhibition ever seen in Australia. With over 150 pieces from the period of Fantasia and Snow White through to the modern day classics of Disney, the show has taken two years to curate.
When:
Until July 18
(Nanker/Phelge)
, an art exhibition named after the Rolling Stones first attempts at collective songwriting, pays triubute to the era of 1963 with a collection of paintings, screenprints and drawings that were inspired by rediscovered scrapbooks. It's held at Fitzroy's 69 Smith Street Gallery.
When:
Until June 6 - Wednesday to Sunday
May Projects
, held at Obscura Gallery in St Kilda, features new photographic works by Yiwen Yao. Inspired by a meditation session in the Australian bushland, her work questions the relationship between man and nature. The exhibition also features Sam Oster and Candice Ivers.
When:
Until June 10 - Tuesday to Saturday
Hans Van Vlodrop
, an artist once extremely well known throughout Melbourne during the 70's and 80's, will be holding an exhibition of recent oil paintings. Exhibiting after a hiatus of many years, the popular artist's works are shown at the Old Post Office Gallery in Seymour.
When:
Until June 14
fold/field
, an exhibition by Emma Lashmar, s a series of works that feature delicate structural frames suspend individual glass bubbles. Showing at MARS Gallery in Port Melbourne, the works display a relationship between the surrounding architectural environment and the artwork.
When:
Until May 30
Self Bare
is a series of works by Annie van Limbeek, one of three artists who are currently showing at Off the Kerb Gallery in Collingwood. An intimate collection of figurative drawings, her works date from 2008 to the present, marking relevant changes to her appearance.
When:
Until May 28
The Toorak Village Sculpture Exhibition
, held on both the sidewalks and shop windows of Toorak Village, is a unique arts event that attracts works from a diverse range of sculptors. Set along what's referred to as Australia's Rodeo Drive, it features over 90 sculptures with all works for sale.
When:
Held Throughout May
Art From the Heart
, held at Hawthorn Town Hall Gallery, is an exhibition by the Mosaic Association of Australia and New Zealand. Showcasing the work of members, the show also allows the public to learn about the art form with events that include a technical and creative workshop.
When:
Until May 29, Wednesday to Saturday
Pastiche
, held at The Wyreena Gallery in Croydon, is a group exhibition by artists who work in pastels. The featured artists, who live and work in the Outer Eastern Suburbs, display a diverse range of subject matter in their works to share the many stories behind what inspires them.
When:
Until May 29 - Monday to Saturday
Go Red for Women
, presented by the Handweavers and Spinners Guild of Victoria at their guild rooms in Carlton North, is an exhibition of handspun, handwoven and handcrafted textiles. With displays of hats, scarves, gloves and more, all proceeds go to the Heart Foundation.
When:
Until June 4 - Tuesday to Saturday
Out of Nowhere
, held at Gallery 696 Ink in Brunswick, features a selection of works by various artists. The second group show for the newly revamped gallery, the exhibition will be the first time US artists Chet Zar, Barnaby Whitfield and Steven Johnson Leyba have exhibited in Australia.
When:
Until May 28 - Wednesday to Sunday
Constellations: A Large Number of Small Drawings
explores the role of drawing in a wide range of professions. Bringing together a large number of drawings from disciplines such as Art, Architecture, Cartography and more, the exhibition is held at Swanston Street's RMIT Gallery.
When:
Until June 26 - Monday to Saturday
Australia's Muslim Cameleers
, a special exhibition on loan from the South Australian Museum at the Immigration Museum, showcases the Pioneers of the Inland during the 1860s to 1930s when the cameleers' small Muslim community were a feature of Australian outback towns.
When:
Until September 19 - Open Daily
'til you drop
, held at the State Library of Victoria, is a free exhibition that celebrates Melbourne's passion for shopping, from the Paris end of Collins Street to the local corner store. The exhibition features historic photographs and nostalgic items on display such as wartime ration cards and more.
When:
Until October 31
Expos, Launches & Open Days
Melbourne Home and Leisure Show
, held at Carlton's Royal Exhibition Building, is a new the newest home expo with over 150 exhibitors displaying the best in home furnishings, carpets, furniture and more with all exhibitors carefully selected to provide variety and competitive pricing.
When:
Until Sunday May 30
Pet Shows
The Bulla Autumn Extravaganza
, presented by Dogs Victoria, offers a great showcasing of dogs and the chance to speak to breeders and fanciers about the pros and con of owning a particular breed of dog. The event is held across two days with the Oak and Maple Championship Shows.
When:
Saturday & Sunday, May 29 & 30
Performances & Theatre
Four Funerals in One Day
, staged as part of Palliative Care week by the Eastern Metropolitan Region Palliative Care Consortium, is an entertaining and inspiring play starring Alan Hopgood. Examining themes of death, grief and living, it's held at Ringwood East's Karralyka Centre.
When:
Wednesday May 26 - 7.30pm
The Folding Wife
, performed at North Melbourne Town Hall, is the Melbourne premiere of Paschal Daantos Berry and Valerie Berry's intensely personal collaboration, which uses rhythmic poetic text with the unique visual textures to explore the stories of three generations of women.
When:
Wednesday to Saturday, May 26 to 29
You
, presented by new independent theatre company, seedbox theatre, is a collection of four short plays that offer an extremely human ride through the twists and turns of contemporary relationships. Intimate, funny, unnerving and at times heartbreaking, it's held at St Kilda's Theatre Works.
When:
Wednesday to Saturday, May 26 to 29
RUST
, a production by Moreland Theatre Company, uses a Brunswick backyard shed as a metaphor of rust to illustrate that aging has good and bad qualities. Performed at Brunswick's Mechanics Institute Performing Arts Centre, the play explores aging through the eyes of a teenage girl.
When:
May 27 to 30 & June 3 to 5
The History Boys
, Alan Bennet's modern classic which became a hit film, will be performed in Strathmore by STAG Theatre. The play follows unruly yet bright sixth-form grammar school boys as they come of age and discover life's foibles during the eighties in Thatcher's Britain.
When:
May 27 to June 5 - Wednesdays to Sundays
URCHIN
, presented by Full Tilt and Encyclopaedia of Animals, fuses text, film, song and other mediums to create a darkly comic story that examines the meaning of fear when three men try to market a device that claims to vaccinate against fear. It's held at the Arts Centre's Fairfax Studio.
When:
Until May 29
Don't Just Lie There, Say Something!
is a classic English comedy about an upstanding Member of Parliament who, while campaigning against permissiveness, may not be as upstanding as he seems. Mischievous and fun, the play is performed by Knox Theatre Company in Bayswater.
When:
Thursday & Friday, May 27 & 28
Dusty - the Original Pop Diva
, playing at the National Theatre in St Kilda, is a theatrical journey of Dusty's life and career, spanning her early days in 1950s London to through to the new wave of pop in the 1990s. The show features classic songs like Son of a Preacher Man and other greats.
When:
Until June 5
The Ugly One
, performed at Melbourne Theatre Company in Southbank, is the darkly funny play by Marius von Mayenburg that tells the story of Lette, an unattractive man who has plastic surgery to look handsome, only to learn that being better looking doesn't make life any easier.
When:
Until June 12
Anything Goes
, the gloriously screwball musical that shows the madcap world of luxury cruising, will be performed by Whitehorse Musical Theatre. With chaos ensuing on a cruise ship sailing from New York to England, the fast paced classic is held at the Besen Centre in Burwood.
When:
Until May 29 - Thursday to Saturday
FAME - The Musical
, playing at Melbourne's Regent Theatre, brings the iconic film to the stage for the first time. Based on the hit film that went on to be a cult hit TV show, FAME captures the passion and spirit of the journey taken by performing artists and musicians at a college.
When:
Until May 30
Richard III
, presented by Melbourne Theatre Company in Southbank, tells the story of an obsessed man with twisted ambitions, who manipulates, marries and murders his way to the top. Set as a contemporary political thriller, the gripping production excitingly reworks Shakespeare's classic.
When:
Until June 12
MAMA MIA!
the hit musical that's inspired by the songs of ABBA, returns to Melbourne for a limited time with performances held at Her Majesty's Theatre. The romantic comedy follows a young girl whose efforts to meet her father reunite her mother with three lovers from the past.
When:
Until May 30
Classical, Choral & Recitals
Virtuosos
, held at Hawthorn Town Hall, is the third concert of the Boroondara Masters Series. MSO concertmaster, Wilma Smith, will join Principal Horn Andrew Bain and pianist, Ian Munro to perform a Horn Trio by Brahms and by Koechlin, along with works by Mozart and Beethoven.
When:
Saturday May 29 - 8pm
Preston Symphony Orchestra
, founded in 1950, will be holding a performance at Preston City Hall where they'll present Schnittke in the Suburbs. The concert offers music lovers the chance to hear the extraordinary viola concerto by Alfred Schnittke in its first Melbourne concert performance.
When:
Sunday May 30 - 2:30pm
Zelman Symphony Orchestra
, the renowned orchestra, will perform a concert at Hawthorn Town Hall accompanied by three talented pianists during the final of the 2010 Piano Concerto Award. Conducted by Mark Shiell, they'll perform works by Tchaikovsky, Chopin and Saint-Saens.
When:
Sunday May 30 - 2pm
Burlesque, Cabaret & Dance
Shen Yun Performing Arts
, an acclaimed theatre troupe that features Chinese dance, drumming and exquisite costumes inspired by the traditions of Chinese culture before communist rule, will be appearing at The Arts Centre with their gloriously colourful and exhilarating shows.
When:
Tuesday to Sunday, May 25 to 30
Bromance
, presented as party of Next Wave Festival, is dance production by Alisdair Macindoe and Adam Synnott. Exploring the life-long negotiation of trust, rivalry and responsibility that is built from childhood between brothers, it's held at North Melbourne's Arts House.
When:
Wednesday to Sunday, May 26 to 30
Red Door Burlesque
will be performing at the stylish Order of Melbourne in Swanston Street. Offering the finest in burlesque, vaudeville and circus, the night includes seductive tunes from DJ Emma Peel, saucy pinup girls, and death-defying aerial acts performed right above your table.
When:
Sunday May 29 - Doors Open 6pm
Trans-Mute Butoh-Cabaret
, performed at Melbourne University, is a special presentation by legendary performer, Yumi Umiumare, who has worked with students to create a playful, transgressive performance that tells everyday stories as strange outlandish songs and dances.
When:
Wednesday to Saturday, May 26 to 29
Atrocity
, held at Burlesque Bar in Fitzroy, is a shocking theatrical soap opera of sex, violence, beauty, horror and psychological play that is not for the faint of heart. Shock performance with music, song, dance and the art of wicked tease, the show is a night of Burlesque du Grand Guignol.
When:
Every Sunday - Starts 9pm
Entertainment & Nightlife
House Of Blues
, held at the Royal Standard Hotel in West Melbourne, is a special evening of music presented each week by the Melbourne Blues Appreciation Society. With a featured artist invited to play each wee, performances are followed by an open jam session for all musicians.
When:
Every Tuesday - 8pm
Zulya & the Children of the Underground
, led by the multi award-winning Zulya Kamalova, will be appearing at the Upper Yarra Arts Centre in Warburton. Performing Tatar and Russian music, their unique sound creates melancholy, beauty and drama through a combination of musical styles.
When:
Saturday May 29 - 8pm
Woolhouse-Michailidis-Robertson Trio
, featuring Jeremy Woolhouse, Lucas Michailidis and Ben Robertson, will present a program of imaginative original compositions at Melbourne's Bennetts Lane. With South American and world music influences, the trio create a sophisticated atmosphere.
When:
Sunday May 30 - 9pm to 11pm
Matthew Fagan
, an international touring artist who has toured with The Buena Vista Social Club and Shirley Bassey, will be holding a solo performance at Hickinbotham Winery in Dromana. The diverse musician's styles include Spanish Classical and flamenco, Jazz, Latin and Country.
When:
Sunday May 30
Open Mic Sunday's
, held at Wild Oscars in Richmond, is a weekly Open Microphone night with gear supplied in house so musicians need only bring their guitar and talent. There is a prize of $50 for the winner plus the chance to play their own fully paid gig on a Friday night at the venue.
When:
Sundays - Starts 7pm
The John Montesante Quintet
, performing at The Commune Cafe Bar, brings a hint of New York Be-Bop to Melbourne with performances that include timeless Jazz standards and improvisations by John Montesante and some of the finest, hottest Jazz players in town.
When:
Every Thursday - 5:45pm to 8:45pm
Melbourne Jazz Jammers
, held at Collingwood's Leinster Arms Hotel, offers a great opportunity for musicians of any background to drop in, join in, listen in, meet other musicians and relax over a drink as the evening unfolds with anything from bebop to swing, blues, Latin and more.
When:
Fridays - 6pm to Late & Sundays - 3pm to 6pm
Melbourne For Kids
National Simultaneous Storytime
, held each year by the Australian Library and Information Association, promotes the value of reading with a story session held in public libraries across Australia. This year's chosen book is 'Little White Dogs Can't Jump' by Bruce Whatley and Rosie Smith.
When:
Wednesday May 26 at 11am - Various Venues
Cardboard Spaces
, presented by ArtPlay in Birrarung Marr by the Yarra River, is a chance for kids to climb into art in an interactive installation exhibition. Foundation year architecture students from Monash University will construct four cardboard spaces for children to explore.
When:
Until June 27 - Wednesdays to Sundays
Circus
Circus Sunrise
, an action-packed show for all the family, will be appearing with performances held in Rowville. A true family circus with lineage going back to 1648, the performances of Circus Sunrise feature juggling, acrobatics and whip-cracking excitement!
When:
Until June 10 - Rowville

Silvers Grand Magic Circus
will be holding performances in Greensborough. Established in 1976, Silvers Grand Magic Circus offers a great show for people of all ages with performers including everything from jugglers and clowns to acrobats, international performers and more.
When:
Until May 30 - Greensborough
Perry Bros Circus
, Australia's oldest circus, will be appearing in Cranbourne, offering quality entertainment to please the entire family. With wire walkers, Jugglers, Whip crackers, balancing acts and more the circus also features performing ponies and camels along with their very funny clowns.
When:
Until May 30 - Cranbourne
Dining & Drink
Special Dining Offers
Dining Specials - Save Up To 20% on Your Bill
Menulog
is the easiest way to book a restaurant online with over 4000 restaurant listings! By booking online through Menulog you can enjoy fine food and save money with special deals offering discounts on total food bills, complimentary wine and drinks, discount group bookings and much, much more!
Yum Cha Dragon
offers great food along with a feast for the eyes with oriental decor & a dragon water feature!
SPECIAL DINING OFFER!!
Book Through
Menulog
for
Unlimited Yum Cha
at just $39.50 per person from Monday to Saturday.
Visit here for BOOKING DETAILS @ Menulog
Offer Valid Until May 30, 2010 | Make a Booking Today!
Markets, Fetes and Fairs
The Melbourne Doll Show
, taking place at the Whitehorse Club in Burwood East, is a weekend long event that features displays of some of the finest bisque and porcelain dolls. Along with collectable and antique dolls for sale, there will also be stalls offering doll making supplies and evaluations.
When:
Saturday & Sunday, May 29 & 30
Mornington Peninsula Orchid Society
will be holding an orchid show and market day at the St Paul's Church Hall in Frankston. Several commercial orchid nurseries will be in attendance as well as members of our society who will be selling spare orchids at good prices.
When:
Saturday May 29 - 9am to 3pm
|
Entry $3
Melbourne Market Guide
View MARKETS on any day of the week
to make the most of the rare sunny days (it's a coin toss, isn't it!) and head to one of Melbourne's many excellent markets, fetes and fairs for a bargain!

A growing number of food, produce and even wine markets are always popping up around the suburbs. And don't forget garage sales!
Fetes Fairs & Shows
Art & Craft Markets
Food & Produce Markets
Swap Meets
Garage Sales
Let Melbourne Know...
Advertise Your School Fete, Fair or Carnival FREE!
Everyone wants to support their local school by going to their annual fundraiser. In 2009, we advertised over 1,200 school events. Make sure you let your school organizers know they can list their fete, fair or carnival for
FREE @ OnlyMelbourne!
Add Your Event for FREE Today!!
OnlyMelbourne Welcomes..
Each week we highlight some of the latest additions to OnlyMelbourne's ever growing guide to services, businesses and information sites for your community.
This week we suggest the following:
Feed Melbourne
- Charity Singles Night Events...
Turkish Thyme Cooking School
- Hands-on Cooking Classes...
Cheap Chic City
- Melbourne on a budget...
Crossway North
- Baptist Church in Craigieburn...
View More of the Latest Listings at OnlyMelbourne!
Sporting Events
AFL Premiership
AFL Premiership | Round 10
Essendon v Bulldogs
- May 28 - Marvel Stadium
Geelong v Melbourne
- May 29 - Skilled Stadium
St Kilda v Adelaide
- May 29 - Marvel Stadium
Hawthorn v Sydney
- May 30 - MCG
Carlton v West Coast Eagles
- May 30 - Marvel Stadium
NRL - Telstra Premiership
NRL Premiership | Round 12
Melbourne Storm v Bulldogs
May 30 - 2pm
AAMI Park, Melbourne
The Trots
Cranbourne Turf Club
boasts superb member and public facilities for a great day out at the races.
May Race Dates
Sunday May 30th
Gates Open 10:30am
Melbourne Tours
Smartvisit Card
is the best way to see the sights of Melbourne, whether you're visiting Melbourne for business, a vacation, or even if you're a local wanting to find Melbourne's hidden treasures!
The Smartvisit Card includes entry to attractions such as Melbourne Zoo, Melbourne Aquarium, Old Melbourne Gaol, Telstra Dome, Cook's Cottage, Melbourne River Cruises, and many more of Melbourne's TOP venues!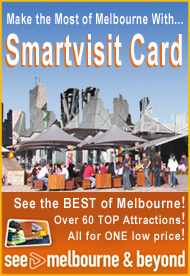 Free entry to over 60 top attractions..
Visit great venues like Zoos, museums & more across Melbourne & Victoria!
Over $800 of entry fees for ONE low price..
Plus special offers & discounts!
Visit just 2 Attractions a day & you'll save!
FREE 128 page guidebook..
Tailored to local knowledge on what to see & do!
Cash free entry..
Show your card & you're in, no need for cash!
All year-round Attractions..
Whatever time of year you visit - rain or shine!
Learn more about Smartvisit Card
Trivia
Alas, Poor Yorick Club.. Too Many Knew You Well
The very first literary club to be formed in Australia began in Melbourne in 1868. Formed by a group of journalists, some of which wrote for The Age and The Argus - a major paper back at this time - the group called themselves the
Yorick Club
, named after one of the characters in Shakespeare's Hamlet.
The club began as an informal gathering at a cafe, but due to the stolid nature of the regular patrons there the founders of the club, which was considered rather avant-garde and bohemian at the time, decided to rent a room next door to the Argus office.
Originally intended as an exclusive club for members of the press, the group had to broaden their criteria for membership as there were not enough people who qualified to make up sufficient numbers.
More Australian Firsts in Melbourne..
|
Read Melbourne Trivia...
WHAT'S ON CALENDAR
Speaking of what's on, our
new calendar
allows you to select any day of the year to view everything (everything!!!) on that day in an easy to read, printable display.
-:- View
What's On Calendar
-:- View
Markets Only Calendar
Melbourne On The Phone

OnlyMelbourne
is now
mobile phone
compatible. Yes, our pages are formatted to be viewed on the small screen. To view our mobile phone website, go directly to our
home page
with your web compatible mobile phone and you will automatically be redirected to the
mobile compatible
version of OnlyMelbourne, so you'll be in the know on the go!
WHAT'S ON FEEDS
For those with newsfeeds, we now have a daily
What's On Melbourne Today
feed.
NEWSLETTER
What's On this Week
is an email overview and reminder of the (too many to mention) events happening this week in Melbourne.
Get your copy
of What's On this Week!
FREE ADVERTISING
Advertising
your EVENT at OnlyMelbourne is not only easy, it's
FREE!!
-
Apply Online..
for inclusion in the What's On calendar and newsletter!
❊ Address & Contact ❊
⊜ Newsletter | #177 | What's On this Week Melbourne |
Map
❊ Web Links ❊
→
Newsletter | #177 | What's On this Week
→
Subscribe to OnlyMelbourne - Get your copy of What's On this Week!
→
List Your Business or Event - It's FREE!
→
Events Calendar - Find out What's On any day of the week!
→
Mobile OnlyMelbourne - View Our Website On Your Phone
→
Melbourne for Children | Kids
→
Newsletter | #176 | What's On this Week [Last Week]
❊ COVID-19 Notice ❊
Many locations have gone into lockdown as the state takes action to stop the spread of the deadly coronavirus (COVID-19).
→
Disclaimer
: Check with the operator before making plans
...
Trending HOT

Drive-In Movie Club
Drive-In Immersive Cinema Nights Are Coming to Melbourne Put together by our friends at Hot Tub Cinema, a string of family-friendly, social distancing-safe, drive-in ..

Things to see, hear & do this weekend
Make the most of your weekend in Melbourne with these fabulous events. No city does it better than Melbourne, so get out and discover the very best shows, festivals, ..
---
Update Page