Newsletter | #175| What's On this Week
Welcome to this week's Melbourne events, exhibitions, sports and community guide for Tuesday May 11 to Monday May 17, 2010.
This week... there's a taste of the Asiatic with the Buddha's Day and Multicultural Festival held at Federation Square offering some spiritual and culinary treats in equal measure, while in Box Hill there's the Japan Festival with a showcase of cultural performances and food.
Next Wave Festival also begins this week in all its adventurously arty glory with performances, exhibitions and more that pushes the boundaries of expression. For those swept up in the mood of such a thing who find themselves having to explain why they're wearing nothing but their birthday suit and a scratch & sniff sticker, legal representation can be easily found during Law Week, which also kicks off on Monday.
Major Events
Next Wave Festival
, this year carrying the theme of 'No Risk Too Great' to explore the role of risk in a risk-averse culture, presents a wide variety of genre-busting new works across Melbourne. With many events free to the public, the festival features art, theatre, music and much more.
When:
May 13 to 30
Law Week
held each year in Melbourne and regional Victoria, offers the public fun and informative ways to engage in their law and legal system. Courts Open Day is the highlight of Law Week celebrations, when Melbourne's major courts open their doors to the Victorian community.
When:
May 17 to 23
Courts Open Day:
Saturday 22 May
Buddha's Day and Multicultural Festival
, held at Federation Square, celebrates the birth of the Buddha with a weekend of traditional Buddhist ceremonies, vegetarian delights with stalls alongside the Yarra on the River Terrace, musical performances and art and craft activities for kids.
When:
Saturday & Sunday, May 15 & 16 - FREE
Japan Festival
, presented by Japan Club of Victoria and held at Box Hill Town Hall and TAFE, features an extensive food court offering many Japanese foods. Showcasing the unique traditions of Japan, the festival includes theatre, karate displays, traditional drumming and more.
When:
Sunday May 16 - $3 Entry
Fair Trade Fortnight
highlights the plight of disadvantaged workers overseas with a range of events that showcase ethically produced goods including chocolate, coffee and clothing. A highlight of the program is the Fair Trade Festival held at Queen Victoria Market.
When:
Until May 16
Fair Trade Festival:
Sunday May 16 - 10am to 4pm
Neighbourhood House Week
will see Victoria and Melbourne celebrating the event with Neighbourhood Houses and Learning Centres across the state opening their doors to welcome new members and build stronger communities with a range of events and activities to attend.
When:
Until May 16
The St Kilda Busking Festival
offers a fantastic look at the colourful entertainment on offer from Melbourne's hidden artists. With fun performances held on Sundays between 1pm and 4 pm, the free entertainment offers colourful, bizarre and hilarious entertainment for the whole family.
When:
Sundays Until May 23 - St Kilda Village
Film Festivals
The Spanish Film Festival
, now in its 13th year, offers a fantastic program that features entertaining and beautiful films screening at South Yarra's Palace Cinema Como and Melbourne's Kino Cinema. With over 50 films featured in the program, it includes shorts and documentaries.
When:
May 12 to 23
Upcoming Events

NEW LIVE CALENDAR
To find out about future events in Melbourne, have a look at our new calendar, with details about many more events that lie ahead so you can jot them down on the to-do list , including Exhibitions, Live Gigs, Theatre, Markets, Expos and more..
View Future Events on any day of the week
Let Melbourne Know...
Advertise Your School Fete, Fair or Carnival FREE!
Everyone wants to support their local school by going to their annual fundraiser. In 2009, we advertised over 1,200 school events. Make sure you let your school organizers know they can list their fete, fair or carnival for
FREE @ OnlyMelbourne!
Add Your Event for FREE Today!!
Exhibitions - Art | Festival | Show
Hans Van Vlodrop
, an artist once extremely well known throughout Melbourne during the 70's and 80's, will be holding an exhibition of recent oil paintings. Exhibiting after a hiatus of many years, the popular artist's works are shown at the Old Post Office Gallery in Seymour.
When:
Until June 14
fold/field
, an exhibition by Emma Lashmar, s a series of works that feature delicate structural frames suspend individual glass bubbles. Showing at MARS Gallery in Port Melbourne, the works display a relationship between the surrounding architectural environment and the artwork.
When:
May 5 to 30
Opening Held:
Wednesday May 12 - 6pm to 8pm
NEW010
, presented by The Balnaves Foundation, features new works by Australian artists in this popular, annual commissions exhibition held at the Australian Centre for Contemporary Art in Southbank. The exhibition features seven individual sites that the artists have responded to.
When:
Until May 23
Self Bare
is a series of works by Annie van Limbeek, one of three artists who are currently showing at Off the Kerb Gallery in Collingwood. An intimate collection of figurative drawings, her works date from 2008 to the present, marking relevant changes to her appearance.
When:
Until May 28
Recovery: Stroke Survivors Share their Stories
, is an exhibition of photography presented by the Stroke Association of Victoria. Held at Melbourne Town Hall, the exhibition gives stroke survivors the chance to share their experiences that have encouraged them in recovery.
When:
Friday to Sunday, May 14 to 16
The Toorak Village Sculpture Exhibition
, held on both the sidewalks and shop windows of Toorak Village, is a unique arts event that attracts works from a diverse range of sculptors. Set along what's referred to as Australia's Rodeo Drive, it features over 90 sculptures with all works for sale.
When:
Held Throughout May
Art From the Heart
, held at Hawthorn Town Hall Gallery, is an exhibition by the Mosaic Association of Australia and New Zealand. Showcasing the work of members, the show also allows the public to learn about the art form with events that include a technical and creative workshop.
When:
Until May 29, Wednesday to Saturday
Pastiche
, held at The Wyreena Gallery in Croydon, is a group exhibition by artists who work in pastels. The featured artists, who live and work in the Outer Eastern Suburbs, display a diverse range of subject matter in their works to share the many stories behind what inspires them.
When:
Until May 29 - Monday to Saturday
Go Red for Women
, presented by the Handweavers and Spinners Guild of Victoria at their guild rooms in Carlton North, is an exhibition of handspun, handwoven and handcrafted textiles. With displays of hats, scarves, gloves and more, all proceeds go to the Heart Foundation.
When:
Until June 4 - Tuesday to Saturday
Out of Nowhere
, held at Gallery 696 Ink in Brunswick, features a selection of works by various artists. The second group show for the newly revamped gallery, the exhibition will be the first time US artists Chet Zar, Barnaby Whitfield and Steven Johnson Leyba have exhibited in Australia.
When:
Until May 28 - Wednesday to Sunday
Independent Type
, showing at Altona Meadows Library, is an exhibition that celebrates the history of Victoria's literary culture with displays that mark the progression of writing by exploring traditional Indigenous storytelling through to colonial classics and today's vibrant writing scene.
When:
Until May 16
Constellations: A Large Number of Small Drawings
explores the role of drawing in a wide range of professions. Bringing together a large number of drawings from disciplines such as Art, Architecture, Cartography and more, the exhibition is held at Swanston Street's RMIT Gallery.
When:
Until June 26 - Monday to Saturday
Australia's Muslim Cameleers
, a special exhibition on loan from the South Australian Museum at the Immigration Museum, showcases the Pioneers of the Inland during the 1860s to 1930s when the cameleers' small Muslim community were a feature of Australian outback towns.
When:
Until September 19 - Open Daily
'til you drop
, held at the State Library of Victoria, is a free exhibition that celebrates Melbourne's passion for shopping, from the Paris end of Collins Street to the local corner store. The exhibition features historic photographs and nostalgic items on display such as wartime ration cards and more.
When:
Until October 31
Expos, Launches & Open Days
Snow Travel Expo
, held at the Melbourne Exhibition Centre, offers an exciting environment where snow enthusiasts can plan everything from a local snow adventure to an international tour. The expo features displays, travel experts, kids' entertainment and a film screening.
When:
Sunday May 16
Performances & Theatre
The Ugly One
, performed at Melbourne Theatre Company in Southbank, is the darkly funny play by Marius von Mayenburg that tells the story of Lette, an unattractive man who has plastic surgery to look handsome, only to learn that being better looking doesn't make life any easier.
When:
May 12 to June 12
Anything Goes
, the gloriously screwball musical that shows the madcap world of luxury cruising, will be performed by Whitehorse Musical Theatre. With chaos ensuing on a cruise ship sailing from New York to England, the fast paced classic is held at Nunawading's Whitehorse Arts Centre.
When:
May 15 to 29 - Thursday to Sunday
Little Women
, held at Nunawading's Whitehorse Centre, is the Broadway musical based on Louisa May Allcott's novel, still regarded as a classic after 140 years. With songs that lift the spirit, the musical follows the adventures of the March sisters as they grow up in Civil War America.
When:
Until May 22
FAME - The Musical
, playing at Melbourne's Regent Theatre, brings the iconic film to the stage for the first time. Based on the hit film that went on to be a cult hit TV show, FAME captures the passion and spirit of the journey taken by performing artists and musicians at a college.
When:
Until May 30
Richard III
, presented by Melbourne Theatre Company in Southbank, tells the story of an obsessed man with twisted ambitions, who manipulates, marries and murders his way to the top. Set as a contemporary political thriller, the gripping production excitingly reworks Shakespeare's classic.
When:
Until June 12
The Grenade
, performed by Melbourne Theatre Company at the Arts Centre, follows the plight of major advisor and lobbyist, Busby McTavish. Finding a live grenade in his living room, he's forced to question the meaning and who may have done such a thing, inspiring paranoia.
When:
Until May 15
MAMA MIA!
the hit musical that's inspired by the songs of ABBA, returns to Melbourne for a limited time with performances held at Her Majesty's Theatre. The romantic comedy follows a young girl whose efforts to meet her father reunite her mother with three lovers from the past.
When:
Until May 30
Classical, Choral & Recitals
Hommage à Gombert
, held at Xavier College Chapel in Kew, is the 20th Anniversary Concert by Ensemble Gombert, Named after Renaissance composer, Nicolas Gombert. The outstanding chamber choir is noted for its pure intonation and historic approach to choral sound and style.
When:
Saturday May 15 - 8pm
Great Moments in Opera
, held as part of the Boroondara Masters Series, features Rosario La Spina and Milijana Nikolic performing at Hawthorn Town Hall, straight from their Melbourne Season with Opera Australia. The duo will be accompanied by pianist/conductor Tahu Matheson.
When:
Saturday May 15 - 8pm
Burlesque & Dance
Private Dances
, a keynote project of the Next Wave Festival, is all about intimate encounters with dance. One on one performances, private rooms and damn good dancing all fan out from an exquisite central banquet that features diverse performances held at North Melbourne's Arts House.
When:
Friday & Saturday, May 14 & 15
Atrocity
, held at Burlesque Bar in Fitzroy, is a shocking theatrical soap opera of sex, violence, beauty, horror and psychological play that is not for the faint of heart. Shock performance with music, song, dance and the art of wicked tease, the show is a night of Burlesque du Grand Guignol.
When:
Every Sunday - Starts 9pm
Entertainment & Nightlife
The John Montesante Quintet
, performing at The Commune Cafe Bar, brings a hint of New York Be-Bop to Melbourne with performances that include timeless Jazz standards and improvisations by John Montesante and some of the finest, hottest Jazz players in town.
When:
Every Thursday - 5:45pm to 8:45pm
Melbourne Jazz Jammers
, held at Collingwood's Leinster Arms Hotel, offers a great opportunity for musicians of any background to drop in, join in, listen in, meet other musicians and relax over a drink as the evening unfolds with anything from bebop to swing, blues, Latin and more.
When:
Fridays - 6pm to Late & Sundays - 3pm to 6pm
No Left Turn
, a cover band that performs all the favourites from the 60's 70's & 80's with a diverse sound featuring rock, blues or soul, will be appearing at the Three Crowns Hotel in West Melbourne with an exciting performances that will have you grooving through the decades.
When:
Saturday May 15
Leticia Maher
, the award winning singer, songwriter and guitarist whose Alternative Rock touches on fado, jazz, blues and country, will be returning to the Elwood Lounge in Elwood to perform as a 3 piece, featuring Anita Quayle on Cello and Greg Williams on backing vocals and guitar.
When:
Sunday May 16
Jimmy Fong
, a performer who draws his music inspiration from a deep Malaysian culture, will be appearing at the Acorn On Forest, located in The Basin. His unique vocal style is accompanied by his intricate finger picking style and his own arrangements on the acoustic guitar.
When:
Sunday May 16
Cinema
West Side Shorts
, presented by Angry Productions, is a monthly film night held at Williamstown' Customs House Hotel, offering the chance to see fantastic short films made by local talent and also to network with local filmmakers and actors after the screenings.
When:
Tuesday May 11 - 7:30pm - Only $4 Entry
6 Great Greeks on Film
, presented as part of Antipodes Festival, a celebration of Melbourne's Greek influences, is a program of documentaries by Greek filmmaker Demetres Anagnostopoulos. Screening at the State Library of Victoria, Demetres Anagnostopoulos will be introducing the films.
When:
Friday to Sunday, May 14 to 16
Melbourne For Kids
Cardboard Spaces
, presented by ArtPlay in Birrarung Marr by the Yarra River, is a chance for kids to climb into art in an interactive installation exhibition. Foundation year architecture students from Monash University will construct four cardboard spaces for children to explore.
When:
May 15 to June 27 - Wednesdays to Sundays
Wombat Stew
, playing at the National Theatre in St Kilda, sees the book by Marcia K.Vaughan and Pamela Lofts brought to life on the stage for children. The Brand New musical that's gooey, chewy, brewy and yummy is adapted for stage by Gary Young and Paul Keelan.
When:
Wednesday May 12 - 10am & 11.45am
The Wiggly Circus
, presented by The Wiggles at The Palais in St Kilda, has acrobats, clowns, gymnasts, dancers, trapeze artists and more! With Sam, Jeff, Anthony and Murray, Dorothy the Dinosaur, Captain Feathersword and friends, the show is a delight for kids.
When:
May 17 to 20
Circus
Circus Sunrise
, an action-packed show for all the family, will be appearing with performances held in Hastings. A true family circus with lineage going back to 1648, the performances of Circus Sunrise feature juggling, acrobatics and whip-cracking excitement!
When:
Until May 16 - Hastings

Silvers Grand Magic Circus
will be holding performances in Airport West. Established in 1976, Silvers Grand Magic Circus offers a great show for people of all ages with performers including everything from jugglers and clowns to acrobats, international performers and more.
When:
Until May 16 - Airport West
Markets, Fetes and Fairs
The Geelong Antique Fair
, held annually in May and now in its 35th year, is one of the most highly regarded events for collectors of antiques. With traders from across Australia gathered together at the Geelong West Town Hall, the fair is a stand-out event for collectors.
When:
Friday to Sunday, May 14 to 16
Mornington Collectables & Memorabilia Fair
, held at Malvern Town Hall, is a great chance for collectors and enthusiasts of many passions to pick up a bargain and find rare items with traders offering vintage, retro and modern collectables with sports memorabilia, model toys and more.
When:
Sunday May 16 - 9am to 3pm
Mornington Peninsula Orchid Society
will be holding a free orchid display and demonstration day in the Uniting Church hall of Dromana. With light morning tea provided, it includes talks on cymbidium and Australian native orchid growing and potting followed by a video presentation.
When:
Saturday May 15 - 10am to 2pm
Fetes
Black Rock Primary School Fete - Saturday May 15
Celebrating 100 years with rides, bands, stalls and more.
Heathmont Pre-School Baby Bazaar - Sunday May 16
Quality pre-loved baby and children's clothes toys and more.
St Johns College Community Fete - Sunday May 16
Fun day with music, dancing, food, rides and amazing stalls.
Melbourne Market Guide
View MARKETS on any day of the week
to make the most of the rare sunny days (it's a coin toss, isn't it!) and head to one of Melbourne's many excellent markets, fetes and fairs for a bargain!

A growing number of food, produce and even wine markets are always popping up around the suburbs. And don't forget garage sales!
Fetes Fairs & Shows
Art & Craft Markets
Food & Produce Markets
Swap Meets
Garage Sales
OnlyMelbourne Welcomes..
Each week we highlight some of the latest additions to OnlyMelbourne's ever growing guide to services, businesses and information sites for your community.
The Children's Performing Company of Australia
has been committed to developing young people through the performing arts for over 25 years. Offering three streams of performance training, over 3000 students participate with them across 20 venues so there's bound to be one conveniently located near you!
This week we suggest the following:
Fanantique
- Blog about vintage styles in Melbourne...
AJR Bounce For Fun
- Bouncing castle hire in Melbourne...
Perry's Young Stars
- Performing Arts School for kids...
Melbourne Crime Tours
- Explore Melbourne's grim history...
View More of the Latest Listings at OnlyMelbourne!
Sporting Events
Soccer
Melbourne Victory v Come Play! XI
is Melbourne Victory's opening match at AAMI Park, celebrating one of the all time great Australian footballers and Melbourne Victory captain, Kevin Muscat in his testimonial match as he leads Melbourne Victory against the Come Play! XI.
When:
Friday May 14 - Match Starts 8pm
AFL Premiership
AFL Premiership | Round 8
Melbourne v West Coast Eagles
- May 15 - MCG
Nth Melb v Adelaide
- May 15 - Marvel Stadium
Richmond v Hawthorn
- May 16 - MCG
St Kilda v Essendon
- May 16 - Marvel Stadium
The Trots
Kilmore Racing Club - May Race Dates
Harness Racing
Sunday May 16th
Twilight Diamond Valley/Yarrambat Cup
Cranbourne Turf Club
boasts superb member and public facilities for a great day out at the races.
May Race Dates
Sunday May 16th - Gates Open 10:30am
Melbourne Tours
Smartvisit Card
is the best way to see the sights of Melbourne, whether you're visiting Melbourne for business, a vacation, or even if you're a local wanting to find Melbourne's hidden treasures!
The Smartvisit Card includes entry to attractions such as Melbourne Zoo, Melbourne Aquarium, Old Melbourne Gaol, Telstra Dome, Cook's Cottage, Melbourne River Cruises, and many more of Melbourne's TOP venues!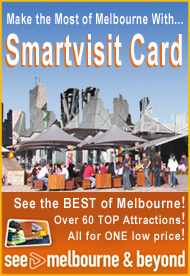 Free entry to over 60 top attractions..
Visit great venues like Zoos, museums & more across Melbourne & Victoria!
Over $800 of entry fees for ONE low price..
Plus special offers & discounts!
Visit just 2 Attractions a day & you'll save!
FREE 128 page guidebook..
Tailored to local knowledge on what to see & do!
Cash free entry..
Show your card & you're in, no need for cash!
All year-round Attractions..
Whatever time of year you visit - rain or shine!
Learn more about Smartvisit Card
Trivia
As Much Class As Glass
The National Gallery of Victoria has the world's largest stained glass ceiling, measuring 51 metres long by 15 metres wide.
The famous ceiling was created by Leonard French, who is also known for the equally beautiful stained glass circular window in Monash University's Robert Blackwood Concert Hall.
An accomplished Melbourne artist, since 1949 French has held over 40 solo exhibitions in Australia and was honoured with an OBE in 1969.
More World Firsts for Melbourne..
|
Read Melbourne Trivia...
WHAT'S ON CALENDAR
Speaking of what's on, our
new calendar
allows you to select any day of the year to view everything (everything!!!) on that day in an easy to read, printable display.
-:- View
What's On Calendar
-:- View
Markets Only Calendar
Melbourne On The Phone

OnlyMelbourne
is now
mobile phone
compatible. Yes, our pages are formatted to be viewed on the small screen. To view our mobile phone website, go directly to our
home page
with your web compatible mobile phone and you will automatically be redirected to the
mobile compatible
version of OnlyMelbourne, so you'll be in the know on the go!
WHAT'S ON FEEDS
For those with newsfeeds, we now have a daily
What's On Melbourne Today
feed.
NEWSLETTER
What's On this Week
is an email overview and reminder of the (too many to mention) events happening this week in Melbourne.
Get your copy
of What's On this Week!
FREE ADVERTISING
Advertising
your EVENT at OnlyMelbourne is not only easy, it's
FREE!!
-
Apply Online..
for inclusion in the What's On calendar and newsletter!
❊ Address & Contact ❊
⊜ Newsletter | #175| What's On this Week Melbourne |
Map
❊ Web Links ❊
→
Newsletter | #175| What's On this Week
→
Subscribe to OnlyMelbourne - Get your copy of What's On this Week!
→
List Your Business or Event - It's FREE!
→
Events Calendar - Find out What's On any day of the week!
→
Mobile OnlyMelbourne - View Our Website On Your Phone
→
Melbourne for Children | Kids
→
Newsletter | #174 | What's On this Week [Last Week]
→
Disclaimer
: Check with the venue before making plans
...
Trending HOT

Drive-In Movie Club
Drive-In Immersive Cinema Nights Are Coming to Melbourne Put together by our friends at Hot Tub Cinema, a string of family-friendly, social distancing-safe, drive-in ..

Things to see, hear & do this weekend
Make the most of your weekend in Melbourne with these fabulous events. No city does it better than Melbourne, so get out and discover the very best shows, festivals, ..
---
Update Page