Newsletter | #174| What's On this Week
Welcome to this week's Melbourne events, exhibitions, sports and community guide for Tuesday May 4 to Monday May 10, 2010.
This week... with Mother's Day approaching, it's time to nestle into that sweet comforting bosom and suckle at the milk of hum kindness with Melbourne playing host to several festivals that celebrate the best in all.
There's Fair Trade Fortnight, which can help you find the perfect guilt-free cuppa using only the nicest of coffee beans, the Human Rights Arts and Film Festival with exhibitions, film screenings and more, and finally there's Neighbourhood House Week with community activities that promote the importance of being nice to your neighbour even if they do decide to pour a billion bottles into their recycle bin at 4am.
Mother's Day
Mother's Day Gift Guide | May 9th
- Mother's Day is almost here now, so be sure to get a great gift for Mum! If you haven't bought a gift or planned something special for your mother yet then why not try some of our ideas for a perfect Mother's Day this year to show her you care.
Sunday May 9
|
Visit Here For Mother's Day Gift Ideas
Catalogue Central
presents a wide variety of Melbourne based catalogues highlighting wonderful offers
EXCLUSIVE to OnlyMelbourne readers
with many high profile retailers including Big W, Kmart, ABC Bookshops and others making shopping for Mum much easier for Mother's day.
Find Great Mother's Day Gifts Today!
Petals Network
can help you make Mother's Day special with flowers that can be sent to anywhere in the world, offering quality flowers and gifts in over 70 countries, delivered fresh with over 1000 florists Australia wide also, so you can make Mum happy no matter where she is!
Send Mum Flowers Today!
Major Events
Fair Trade Fortnight
highlights the plight of disadvantaged workers overseas with a range of events that showcase ethically produced goods including chocolate, coffee and clothing. A highlight of the program is the Fair Trade Festival held at Queen Victoria Market.
When:
May 1 to 16
Fair Trade Festival Held Sunday May 16 - 10am to 4pm
The Human Rights Arts & Film Festival
features a program of 43 internationally acclaimed films, including a film by renowned film maker, Jane Campion. Held to spread public awareness of Human Rights issues, the festival also includes music events, art exhibitions and much more.
When:
Until Sunday May 9
Neighbourhood House Week
will see Victoria and Melbourne celebrating the event with Neighbourhood Houses and Learning Centres across the state opening their doors to welcome new members and build stronger communities with a range of events and activities to attend.
When:
May 10 to 16
The Melbourne International Jazz Festival
returns with an impressive program offering events that celebrate jazz with performances by international and Australian jazz masters, free concerts at Federation Square, Jazz for Kids, cinema screenings at ACMI and plenty of jam sessions.
When:
Until Saturday May 8 - Various Venues
Bright Autumn Festival
celebrates two weeks of Autumn's vibrant colours and produce in the valleys of the Victorian High Country with festival highlights in the township of Bright including a Gala Weekend with a street market and parade, winery tours, an art show and more.
When:
Until Wednesday May 5
Shakespeare on the River Festival
celebrates William Shakespeare's birthday a program of events in Stratford that include theatre, musical performances, story telling, workshops and more along with the major highlight, the Avon Village Fair Day, held at Stratford's Village Green.
When:
Until Friday May 7
The St Kilda Busking Festival
offers a fantastic look at the colourful entertainment on offer from Melbourne's hidden artists. With fun performances held on Sundays between 1pm and 4 pm, the free entertainment offers colourful, bizarre and hilarious entertainment for the whole family.
When:
Sundays Until May 23 - St Kilda Village
Film Festivals
Celluloid Soup
, the Jewish Short Film Festival hosted by the Jewish Museum of Australia in St Kilda, will feature a program of film-based activities, workshops and events for the first time in the event's 12 year history as it leads up to the screening gala of film entries held in October.
When:
The Experts Talk #1 - Thursday May 6
Upcoming Events
Law Week
held each year in Melbourne and regional Victoria, offers the public fun and informative ways to engage in their law and legal system. Courts Open Day is the highlight of Law Week celebrations, when Melbourne's major courts open their doors to the Victorian community.
When:
May 17 to 23
Courts Open Day:
Saturday 22 May
United Nations Day of Vesak
, held at Melbourne Town Hall, is designed to have a vibrant performance feel, bringing Buddhists from different traditions together to celebrate their diverse cultures. Offering an insight into the rich culture of Buddhism, highlights include a musical performance.
When:
Saturday May 22

NEW LIVE CALENDAR
To find out about future events in Melbourne, have a look at our new calendar, with details about many more events that lie ahead so you can jot them down on the to-do list , including Exhibitions, Live Gigs, Theatre, Markets, Expos and more..
View Future Events on any day of the week
Let Melbourne Know...
Advertise Your School Fete, Fair or Carnival FREE!
Everyone wants to support their local school by going to their annual fundraiser. In 2009, we advertised over 1,200 school events. Make sure you let your school organizers know they can list their fete, fair or carnival for
FREE @ OnlyMelbourne!
Add Your Event for FREE Today!!
Exhibitions - Art | Festival | Show
The Toorak Village Sculpture Exhibition
, held on both the sidewalks and shop windows of Toorak Village, is a unique arts event that attracts works from a diverse range of sculptors. Set along what's referred to as Australia's Rodeo Drive, it features over 90 sculptures with all works for sale.
When:
Held Throughout May
A Visual Discovery: Six Weeks in Southern France
, held at Red Gallery in Fitzroy North, is an exhibition of new photographs and sculptural works by Dawn Whitehand. Created during a residency in France, her works reflect the rural nature of the old small town she stayed in.
When:
Until 15 May, Wednesday to Saturday
Art From the Heart
, held at Hawthorn Town Hall Gallery, is an exhibition by the Mosaic Association of Australia and New Zealand. Showcasing the work of members, the show also allows the public to learn about the art form with events that include a technical and creative workshop.
When:
May 5 to 29, Wednesday to Saturday
Pastiche
, held at The Wyreena Gallery in Croydon, is a group exhibition by artists who work in pastels. The featured artists, who live and work in the Outer Eastern Suburbs, display a diverse range of subject matter in their works to share the many stories behind what inspires them.
When:
May 5 to 29 - Monday to Saturday
Opening Night Held Wednesday May 5 - 7.30pm
Go Red for Women
, presented by the Handweavers and Spinners Guild of Victoria at their guild rooms in Carlton North, is an exhibition of handspun, handwoven and handcrafted textiles. With displays of hats, scarves, gloves and more, all proceeds go to the Heart Foundation.
When:
May 6 to June 4 - Tuesday to Saturday
Out of Nowhere
, held at Gallery 696 Ink in Brunswick, features a selection of works by various artists. The second group show for the newly revamped gallery, the exhibition will be the first time US artists Chet Zar, Barnaby Whitfield and Steven Johnson Leyba have exhibited in Australia.
When:
Until May 28 - Wednesday to Sunday
Nora Wompi
, presented by Suzanne O'Connell Gallery, is an exhibition of paintings by Kunawarritji artist Nora Wompi. Held at Flinders Lane's Forty Five Downstairs, Wompi's paintings capture the underlying spiritual meanings of the landscape, holding a tangible, passionate energy.
When:
Until May 8 - Tuesday to Saturday
Arte on Yarra
, showing at the gallery of Mont De Lancey Historic Homestead, is an exhibition that celebrates a mother's journey, exploring colour and the beauty of nature as the river flows towards the sea. With silk paintings, enhanced and mixed media, works presented are for sale.
When:
Until May 9 - Wednesday to Sunday
Imaging the Spiritual
, held at St Kilda's Obscura Gallery, is a photo exhibition by Joyce Evans that spanning her 30-year photographic career. With poignant imagery captured by the artist, the works documents her enduring commitment to finding the spiritual in the everyday.
When:
Until May 7
Independent Type
, showing at Altona Meadows Library, is an exhibition that celebrates the history of Victoria's literary culture with displays that mark the progression of writing by exploring traditional Indigenous storytelling through to colonial classics and today's vibrant writing scene.
When:
Until May 16
Constellations: A Large Number of Small Drawings
explores the role of drawing in a wide range of professions. Bringing together a large number of drawings from disciplines such as Art, Architecture, Cartography and more, the exhibition is held at Swanston Street's RMIT Gallery.
When:
Until June 26 - Monday to Saturday
Australia's Muslim Cameleers
, a special exhibition on loan from the South Australian Museum at the Immigration Museum, showcases the Pioneers of the Inland during the 1860s to 1930s when the cameleers' small Muslim community were a feature of Australian outback towns.
When:
Until September 19 - Open Daily
'til you drop
, held at the State Library of Victoria, is a free exhibition that celebrates Melbourne's passion for shopping, from the Paris end of Collins Street to the local corner store. The exhibition features historic photographs and nostalgic items on display such as wartime ration cards and more.
When:
Until October 31
Expos, Launches & Open Days
The Stitches & Craft Show
, held at Caulfield Racecourse, is Australia's longest running craft event bringing retailers, independent crafters and designers together. Highlights include fashion parades, traditional craft workshops and the return of the popular Craft Happy Hour.
When:
Wednesday to Sunday, May 5 to 9
The Donkey Shelter
, a non-profit organisation that helps orphaned and mistreated donkeys will be holding an open day where the whole family can enjoy a day out and celebrate Mother's Day with a special Luncheon. Located in Eltham, there will also be a special raffle held on the day.
When:
Mother's Day, Sunday May 9
Performances & Theatre
Little Women
, held at Nunawading's Whitehorse Centre, is the Broadway musical based on Louisa May Allcott's novel, still regarded as a classic after 140 years. With songs that lift the spirit, the musical follows the adventures of the March sisters as they grow up in Civil War America.
When:
May 7 to 22
Faulty Towers, The Dining Experience
returns with performances of the interactive comedy show held at The Aegean Restaurant in Fitzroy. With a 3-course dinner, the evening captures the mayhem of a restaurant run by Basil Faulty, his wife Sybil and the misguided waiter Manuel.
When:
Saturday & Sunday, May 8 & 9
FAME - The Musical
, playing at Melbourne's Regent Theatre, brings the iconic film to the stage for the first time. Based on the hit film that went on to be a cult hit TV show, FAME captures the passion and spirit of the journey taken by performing artists and musicians at a college.
When:
Until May 30
Richard III
, presented by Melbourne Theatre Company in Southbank, tells the story of an obsessed man with twisted ambitions, who manipulates, marries and murders his way to the top. Set as a contemporary political thriller, the gripping production excitingly reworks Shakespeare's classic.
When:
Until June 12
CAGELING
, presented by The rabble, is a surreal nightmare of four daughters trapped by their mother's rage. Inspired by Lorca's classic text The House of Bernarda Alba; CAGELING is at once grotesque and sublime, exploring repression, monsters, sexuality and the feminine.
When:
Until May 8
Distant Bodies
, a black comedy about hope, innocence and how we communicate, is a tale of five people who meet in the desert, revisiting past experiences that have shaped them. Honest, moving and often hilarious, the play by Barnaby Chiverton is held at Northcote Town Hall.
When:
Until May 8, Wednesday to Saturday
The Grenade
, performed by Melbourne Theatre Company at the Arts Centre, follows the plight of major advisor and lobbyist, Busby McTavish. Finding a live grenade in his living room, he's forced to question the meaning and who may have done such a thing, inspiring paranoia.
When:
Until May 15
MAMA MIA!
the hit musical that's inspired by the songs of ABBA, returns to Melbourne for a limited time with performances held at Her Majesty's Theatre. The romantic comedy follows a young girl whose efforts to meet her father reunite her mother with three lovers from the past.
When:
Until May 30
Classical, Choral & Recitals
Sing Australia
, an organisation of community singing groups, will be presenting a special concert by the Camberwell, Altona and Heathmont chapters. Held at Auburn Uniting Church in Hawthorn, the performance is a chance to be entertained and learn more about Sing Australia.
When:
Saturday May 8 - 2pm
Twilight at the Terrace
, a series of music events held at the Royal Botanic Garden's Terrace tearoom. With exquisite views and food, they'll be presenting a Mother's Day performance by Clair de Lune, playing music on harp, violin and flute, inspired by the Rennaisance and Celtic traditions.
When:
Sunday May 9 - 4:30pm to 6:30pm
Entertainment & Nightlife
Wilco
, known as one of the most exciting rock bands to perform live with on-stage sets that run for over 2 hours, will be appearing in Melbourne at The Forum Theatre. The Chicago sextet will perform songs from their many albums along with this year's outstanding self- titled release Wilco.
When:
Wednesday May 5 (Thursday May 6 SOLD OUT)
Jeudi Jazzy
, held at the cellar of Alliance Franšaise in St Kilda, is a live performance by the New Impromptu Quartet. Featuring Alexander Nettelbeck, Khari Cabral Simmons and Ben Kosi Karsay, the band performs Jazz, Latin and Soul standards alongside their own original compositions.
When:
Thursday May 6 - 8pm
Leigh Barker
, one of Melbourne's most well respected double bass players will be performing with his band The New Sheiks. Appearing at the Paris Cat, one of Melbourne's Premier Jazz Clubs and voted one of Australia's best World Music venues, the guest vocalist will be Heather Stewart.
When:
Friday May 7 - 9:30pm
Dead River Deeps
will be appearing at the East Brunswick Club to mark the release of their debut full length album 'A Room Full of Beggars'. With their energetic live shows and crafty song writing, the Melbourne based band will be supported by The Dacios and The Voodoo Economic.
When:
Friday May 7
Celadore
, a band that blends brooding rock with subdued balladry and joyous, uplifting pop, will perform at The Evelyn Hotel in Fitzroy to launch their debut EP, Distance Is A Gun. With a compelling live show, the band will be supported on the night by Ikarii, The Ravenous and Another Castle.
When:
Friday May 7
Creamfields Festival
is an iconic international music festival that has already toured every continent and now comes Australia for the first time with the event taking place at Melbourne Showgrounds. The festival features both new and iconic dance acts including The Bloody Beetroots.
When:
Saturday May 8
The John Montesante Quintet
, performing at The Commune Cafe Bar, brings a hint of New York Be-Bop to Melbourne with performances that include timeless Jazz standards and improvisations by John Montesante and some of the finest, hottest Jazz players in town.
When:
Every Thursday - 5:45pm to 8:45pm
Melbourne Jazz Jammers
, held at Collingwood's Leinster Arms Hotel, offers a great opportunity for musicians of any background to drop in, join in, listen in, meet other musicians and relax over a drink as the evening unfolds with anything from bebop to swing, blues, Latin and more.
When:
Fridays - 6pm to Late & Sundays - 3pm to 6pm
Melbourne For Kids
For Keeps
, performed by Rachel Edward and Nilgun Guven, is a special performance held as part of La Mama for Kids, a theatre program for children. The performance is a poignant portrayal that uses dance to teach children about discovering treasure amongst the trash when you least expect it.
When:
Saturday May 8 - 11am & 2pm
Circus
Circus Sunrise
, an action-packed show for all the family, will be appearing with performances held in Hastings. A true family circus with lineage going back to 1648, the performances of Circus Sunrise feature juggling, acrobatics and whip-cracking excitement!
When:
Until May 16 - Hastings
Perry Bros Circus
, Australia's oldest circus, will be appearing in Pakenham, offering quality entertainment to please the entire family. With wire walkers, Jugglers, Whip crackers, balancing acts and more the circus also features performing ponies and camels along with their very funny clowns.
When:
Until May 9 - Pakenham

Silvers Grand Magic Circus
will be holding performances in Airport West. Established in 1976, Silvers Grand Magic Circus offers a great show for people of all ages with performers including everything from jugglers and clowns to acrobats, international performers and more.
When:
Until May 9 - Airport West
Markets, Fetes and Fairs
Modish Creators Market
, held at Malvern Town Hall, is a great craft market offering local handmade products. The handmade lifestyle market features some of Melbourne's finest handmade designers and artists, retailing fashion and accessories, giftware, art and stationery, food and more.
When:
Saturday May 8 - 9am to 3pm
Melbourne Market Guide
View MARKETS on any day of the week
to make the most of the rare sunny days (it's a coin toss, isn't it!) and head to one of Melbourne's many excellent markets, fetes and fairs for a bargain!

A growing number of food, produce and even wine markets are always popping up around the suburbs. And don't forget garage sales!
Fetes Fairs & Shows
Art & Craft Markets
Food & Produce Markets
Swap Meets
Garage Sales
Dining Events
The Victorian Wine Showcase
, held at the Atrium of Federation Square, allows visitors to taste wines from regional Victorian Wineries and even meet with winemakers. This month's event will showcase wines specially selected from makers found in the Yarra Valley region.
When:
Wednesday & Thursday, May 5 & 6
OnlyMelbourne Welcomes..
Each week we highlight some of the latest additions to OnlyMelbourne's ever growing guide to services, businesses and information sites for your community.
This week we suggest the following:
Bellydancer Kaylah
- Event entertainment...
Clamms Seafood
- Qual;ity Frozen Seafood...
Lawson Creative Print
- Business Cards, Brochures & more...
Urban Camping
- Camping Tours...
View More of the Latest Listings at OnlyMelbourne!
Sporting Events
AFL Premiership
AFL Premiership | Round 7
Melbourne v Bulldogs
- May 7 - MCG
Essendondon v Port Adelaide
- May 8 - Marvel Stadium
Collingwood v Nth Melb
- May 8 - MCG
Geelong v Sydney
- May 9 - Skilled Stadium
St Kilda v Carlton
- May 10 - Marvel Stadium
NRL - National Rugby League
NRL Premiership | Round 9
Melbourne Storm v Broncos
Sunday May 9 - 3pm
AAMI Park, Melbourne
Netball
ANZ Championships | Round 8
Melbourne Vixens v West Coast Fever
Monday, 10 May - 7:05pm
Hisense Arena, Melbourne
The Trots
Warrnambool May Racing Carnival
, acknowledged as Australia's premier regional racing Carnival, features the longest thoroughbred race in Australia. Held across three days, the Carnival is action packed with quality racing, exceptional catering and great entertainment.
When:
May 5 to 7
Kilmore Racing Club - May Race Dates
Harness Racing
Friday May 7th
Melbourne Tours
Smartvisit Card
is the best way to see the sights of Melbourne, whether you're visiting Melbourne for business, a vacation, or even if you're a local wanting to find Melbourne's hidden treasures!
The Smartvisit Card includes entry to attractions such as Melbourne Zoo, Melbourne Aquarium, Old Melbourne Gaol, Telstra Dome, Cook's Cottage, Melbourne River Cruises, and many more of Melbourne's TOP venues!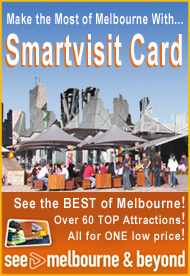 Free entry to over 60 top attractions..
Visit great venues like Zoos, museums & more across Melbourne & Victoria!
Over $800 of entry fees for ONE low price..
Plus special offers & discounts!
Visit just 2 Attractions a day & you'll save!
FREE 128 page guidebook..
Tailored to local knowledge on what to see & do!
Cash free entry..
Show your card & you're in, no need for cash!
All year-round Attractions..
Whatever time of year you visit - rain or shine!
Learn more about Smartvisit Card
Arsenic, an Old Race
The most recent speculation surrounding the death of Australia's most infamous racing horse, Phar Lap, is that he was poisoned accidentally, and not intentionally taken from the game as part of a sinister plot.
Although previous tests had found that Phar Lap's remains contained high levels of arsenic, it has recently been found in a diary kept by his trainer, Harry Telford, that the horse's death may have been by accidental poisoning by his strapper Tommy Woodcock.
It's said that in Phar Lap's time, the early 30's, arsenic was quite a common tonic, usually given in the form of a solution known as
Fowler's Solution
.
The solution was so common that it's estimated 90 per cent of the horses back then would have had arsenic in their systems.
More about Phar Lap..
|
Read Melbourne Trivia...
WHAT'S ON CALENDAR
Speaking of what's on, our
new calendar
allows you to select any day of the year to view everything (everything!!!) on that day in an easy to read, printable display.
-:- View
What's On Calendar
-:- View
Markets Only Calendar
Melbourne On The Phone

OnlyMelbourne
is now
mobile phone
compatible. Yes, our pages are formatted to be viewed on the small screen. To view our mobile phone website, go directly to our
home page
with your web compatible mobile phone and you will automatically be redirected to the
mobile compatible
version of OnlyMelbourne, so you'll be in the know on the go!
WHAT'S ON FEEDS
For those with newsfeeds, we now have a daily
What's On Melbourne Today
feed.
NEWSLETTER
What's On this Week
is an email overview and reminder of the (too many to mention) events happening this week in Melbourne.
Get your copy
of What's On this Week!
FREE ADVERTISING
Advertising
your EVENT at OnlyMelbourne is not only easy, it's
FREE!!
-
Apply Online..
for inclusion in the What's On calendar and newsletter!
❊ Address & Contact ❊
⊜ Newsletter | #174| What's On this Week Melbourne |
Map
❊ Web Links ❊
→
Newsletter | #174| What's On this Week
→
Subscribe to OnlyMelbourne - Get your copy of What's On this Week!
→
List Your Business or Event - It's FREE!
→
Events Calendar - Find out What's On any day of the week!
→
Mobile OnlyMelbourne - View Our Website On Your Phone
→
Melbourne for Children | Kids
→
Newsletter | #173 | What's On this Week [Last Week]
❊ COVID-19 Notice ❊
As the state takes action to stop the spread of coronavirus (COVID-19), please confirm details
before making plans
).
→
Disclaimer
: Check with the operator before making plans
...
Trending HOT

T2 Tea | 20% Off Storewide Sale
20% off storewide when you spend $80 or more. 2 day sale; 20 - 21 August 2020 We travel the earth to find the best quality tea to deliver a delicious cup moment ..

Things to see, hear & do this weekend
Make the most of your weekend in Melbourne with these fabulous events. No city does it better than Melbourne, so get out and discover the very best shows, festivals, ..
---
Update Page