Newsletter | #173 | What's On this Week
Welcome to this week's Melbourne events, exhibitions, sports and community guide for Tuesday April 27 to Monday May 3, 2010.
This week... Melbourne gets an extra good dose of Jazz with a shot up the trumpet with the Melbourne International Festival joining the Melbourne Jazz Fringe Festival, making for some big and brassy entertainment. There's also a bit of cross-cultural shindiggery going on with the Koroit Irish Festival up Warrnambool way, while Ivanhoe nods its own Mexican hat at culture appropriation with the Ivanhoe Fiesta. Remember to have your papers in order when crossing that border in Heidelberg.
Major Events
The Melbourne International Jazz Festival
returns with an impressive program offering events that celebrate jazz with performances by international and Australian jazz masters, free concerts at Federation Square, Jazz for Kids, cinema screenings at ACMI and plenty of jam sessions.
When:
May 1 to 8 - Various Venues
The Koroit Irish Festival
celebrates Irish heritage with music, poetry, dancing, singing and more. Held in historic Koroit, between Warrnambool and Port Fairy, the festival features activities for people of all ages with six music stages on the village green, a market and street stalls.
When:
Friday to Sunday, April 30 to May 2
Ivanhoe Fiesta
, presented by the Ivanhoe Traders Association, is a huge street festival with entertainment for the whole family. Featuring market and food stalls, the event includes a performance by Mark Seymour of Hunters and Collectors along with other special guests.
When:
Saturday May 1 - 10am to 4pm
KLM Dutch Orange Day
, held at Melbourne's Queensbridge Square, is a festive day that celebrates Queen Beatrix' birthday with attractions showcasing food, folklore and music of Holland. The event features children's entertainment, clog making demonstrations and more.
When:
Sunday May 2
Melbourne Jazz Fringe Festival
, held at various venues, features some of Australia's most celebrated improvisers in an inspiring program of creative and groundbreaking music making. Nurturing Melbourne's creative jazz scene, the festival showcases some of the best musicians in town.
When:
April 23 to May 2
Bright Autumn Festival
celebrates two weeks of Autumn's vibrant colours and produce in the valleys of the Victorian High Country with festival highlights in the township of Bright including a Gala Weekend with a street market and parade, winery tours, an art show and more.
When:
April 24 to May 5
Gala Day Held Saturday May 1
Shakespeare on the River Festival
celebrates William Shakespeare's birthday a program of events in Stratford that include theatre, musical performances, story telling, workshops and more along with the major highlight, the Avon Village Fair Day, held at Stratford's Village Green.
When:
April 23 to May 7
|
Village Fair Day held May 2
The St Kilda Busking Festival
offers a fantastic look at the colourful entertainment on offer from Melbourne's hidden artists. With fun performances held on Sundays between 1pm and 4 pm, the free entertainment offers colourful, bizarre and hilarious entertainment for the whole family.
When:
Sundays Until May 23 - St Kilda Village
Film Festivals
AIEFF
, the Australian International Experimental Film Festival brings quality experimental film and video from all over the world with unique works screening at Preston's suek-artist warehouse. The event promotes independent cinema with specially themed screening sessions.
When:
Friday to Sunday, April 30 to May 2
The Audi Festival of German Films
is an eclectic and versatile mix of German films screening at Kino Cinemas and Palace Cinema Como. This year's festival features the works of two eminent directors, Fatih Akin and S÷nke Wortmann along with challenging new productions.
When:
April 22 to May 2
Food Festivals
The Chestnut Festival
, held at Mount Dandenong's Kalorama Reserve, offers fun for the whole family with fairground rides, buskers, market stalls and plenty of roast chestnuts. With raffles, face painting, showbags and more the festival includes musical performances.
When:
Sunday May 2
Cider Festival
, held at Kellybrook Winery in Wonga Park, celebrates all things cidery from the west of England with a great day for the whole family. The winery will be presenting cider-making demonstrations, food marquees, tastings and sales, live music and kids entertainment.
When:
Saturday & Sunday, May 1 & 2 - Entry Applies
Upcoming Events
Law Week
held each year in Melbourne and regional Victoria, offers the public fun and informative ways to engage in their law and legal system. Courts Open Day is the highlight of Law Week celebrations, when Melbourne's major courts open their doors to the Victorian community.
When:
May 17 to 23
Courts Open Day:
Saturday 22 May
Transformation Through Sound
, held in Melbourne with international teacher of sound, song, voice and meditation, Chris James, is a workshop aimed to reveal much about how we live our life and discover who you truly are on the path of return to your own natural voice.
When:
Saturday & Sunday, June 19 & 20
A Dinner to Die For
, held at the Retreat Hotel in Abbotsford, is a wickedly funny Murder Mystery Dinner set in 1928 as Lord Quinten Daventry hosts his party bash. Dinner guests are allocated a role and encouraged to indulge their inner artiste by dressing and behaving in character.
When: July 3 & 31 | Bookings Required

NEW LIVE CALENDAR
To find out about future events in Melbourne, have a look at our new calendar, with details about many more events that lie ahead so you can jot them down on the to-do list , including Exhibitions, Live Gigs, Theatre, Markets, Expos and more..
View Future Events on any day of the week
Let Melbourne Know...
Advertise Your School Fete, Fair or Carnival FREE!
Everyone wants to support their local school by going to their annual fundraiser. In 2009, we advertised over 1,200 school events. Make sure you let your school organizers know they can list their fete, fair or carnival for
FREE @ OnlyMelbourne!
Add Your Event for FREE Today!!
Exhibitions - Art | Festival | Show
Out of Nowhere
, held at Gallery 696 Ink in Brunswick, features a selection of works by various artists. The second group show for the newly revamped gallery, the exhibition will be the first time US artists Chet Zar, Barnaby Whitfield and Steven Johnson Leyba have exhibited in Australia.
When:
April 30 to May 28 - Wednesday to Sunday
Opening Held Friday April 30 - 6pm to 9pm
Nora Wompi
, presented by Suzanne O'Connell Gallery, is an exhibition of paintings by Kunawarritji artist Nora Wompi. Held at Flinders Lane's Forty Five Downstairs, Wompi's paintings capture the underlying spiritual meanings of the landscape, holding a tangible, passionate energy.
When:
Until May 8 - Tuesday to Saturday
Comic Dames and Pin Ups
, showing at the Clement Meadmore Room in Port Melbourne, features art by Chelsea Hatherall that exploring being a female in contemporary society. With live music by Simone Gill, the opening night will see 20% of all sales go towards Ovarian Cancer research.
When:
Friday April 30 - 6pm to 8:00pm
Nillumbik Artists Open Studios
invites the public the studios of 31 artists in 24 studios throughout Eltham and the historic area of Nillumbik. With artists of many mediums including sculpture and printmaking, most work is for sale with many artists also open to commission.
When:
Saturday & Sunday, May 1 & 2
Arte on Yarra
, showing at the gallery of Mont De Lancey Historic Homestead, is an exhibition that celebrates a mother's journey, exploring colour and the beauty of nature as the river flows towards the sea. With silk paintings, enhanced and mixed media, works presented are for sale.
When:
Until May 9 - Wednesday to Sunday
Highway Drawings
, an exhibition by Lea Ward, displays the beauty found by the artist in smashed cars with works on paper that cleverly engage the audience once the folds and shadows of crumpled metal start bouncing off the paper. It's held at Abbotsford's Chapman & Bailey Gallery.
When:
Until May 1 - Monday to Saturday
Imaging the Spiritual
, held at St Kilda's Obscura Gallery, is a photo exhibition by Joyce Evans that spanning her 30-year photographic career. With poignant imagery captured by the artist, the works documents her enduring commitment to finding the spiritual in the everyday.
When:
Until May 7
Selections
, featured at Steps Gallery, a purpose built art exhibition space in Carlton South, is a showcase of sculptures by the artist, Beatrice Magalotti. The exhibition also includes works on paper by Sharyn Madder, a professional illustrator whose art is both haunting and touching.
When:
Until May 2
Independent Type
, showing at Altona Meadows Library, is an exhibition that celebrates the history of Victoria's literary culture with displays that mark the progression of writing by exploring traditional Indigenous storytelling through to colonial classics and today's vibrant writing scene.
When:
April 17 to May 16
In The Kitchen Sink
, showing at Melbourne Art Rooms in Port Melbourne, is a group show featuring works by artists that include Emma de Clario, Stuart Spence and Nicholas Jones. The exhibition examines the role of our domestic goddess today and what suburban domesticity really means.
When:
Until May 2
Constellations: A Large Number of Small Drawings
explores the role of drawing in a wide range of professions. Bringing together a large number of drawings from disciplines such as Art, Architecture, Cartography and more, the exhibition is held at Swanston Street's RMIT Gallery.
When:
Until June 26 - Monday to Saturday
The Arthur Rylah Institute
, Victoria's leading centre for applied ecological research, will be celebrating its 40th anniversary during April by presenting a free exhibition of rare flora and fauna prints from the Arthur and Caroline Howard Collection, which includes settlement era artworks.
When:
Throughout April - Various Venues
Australia's Muslim Cameleers
, a special exhibition on loan from the South Australian Museum at the Immigration Museum, showcases the Pioneers of the Inland during the 1860s to 1930s when the cameleers' small Muslim community were a feature of Australian outback towns.
When:
Until September 19 - Open Daily
'til you drop
, held at the State Library of Victoria, is a free exhibition that celebrates Melbourne's passion for shopping, from the Paris end of Collins Street to the local corner store. The exhibition features historic photographs and nostalgic items on display such as wartime ration cards and more.
When:
Until October 31
Expos, Launches & Lectures
The Australasian Quilt Convention
, the nation's largest quilt-dedicated event, showcases quilts of the highest standard from Australia and around the world. Held at the Royal Exhibition Building, the Expo features informative seminars and specially compiled quilt collections.
When:
Thursday to Sunday, April 29 to May 2
Going Green Expo
, held at Melbourne Exhibition Centre, showcases ideas, concepts and information on how easy it can be to help save the environment, save money and contribute to a more sustainable future. The expo features sustainable developments for businesses and homes.
When:
Friday to Sunday, April 30 to May 2
Melbourne Knife Show
, held at Melbourne's International Hotel Ibis, is a presentation by the Austalian Knifemakers Guild to share the history, art and romance of knifemaking. Visitors will be able to view and purchase some of the best handmade knives in Australia by Austalian makers.
When:
Saturday & Sunday, May 1 & 2
Keilor Rotary Car Show
, held on the grounds of the historic Keilor Hotel is held in conjunction with the popular monthly craft and produce market providing lots fun and of entertainment for the whole family. Car entries will compete for $300 in cash prizes, trophies and other great prizes.
When:
Sunday May 2
Pet Shows
The CCCA National Cat Show
, held in conjunction with the World Cat Congress at Melbourne Show Grounds, is a rare chance for cat lovers to watch International, National and Local Judges in action, during the 8 Ring All Breeds Show while also exploring over 700 exhibits and displays.
When:
Saturday & Sunday, May 1 & 2
Performances & Theatre
FAME - The Musical
, playing at Melbourne's Regent Theatre, brings the iconic film to the stage for the first time. Based on the hit film that went on to be a cult hit TV show, FAME captures the passion and spirit of the journey taken by performing artists and musicians at a college.
When:
April 28 to May 30
Richard III
, presented by Melbourne Theatre Company in Southbank, tells the story of an obsessed man with twisted ambitions, who manipulates, marries and murders his way to the top. Set as a contemporary political thriller, the gripping production excitingly reworks Shakespeare's classic.
When:
Until June 12
CAGELING
, presented by The rabble, is a surreal nightmare of four daughters trapped by their mother's rage. Inspired by Lorca's classic text The House of Bernarda Alba; CAGELING is at once grotesque and sublime, exploring repression, monsters, sexuality and the feminine.
When:
April 30 to May 8
Melbourne Boys, One Final Song
, held at Prahran's Chapel Off Chapel, explores marriage, separation, birth, death, rebirth, reinvention, loves lost and found. Holding five stories intertwined into one memory, the play directed by JC La Fontaine captures life and its many upheavals.
When:
Thursday to Sunday, April 29 to May 2
BJORN AGAIN
, the ABBA tribute band that has a worldwide following, will perform two special 21st Birthday Concerts at Melbourne's Comedy Theatre. Having performed over 5,000 shows in over 70 countries since 1989, Bjorn Again have earned a reputation as one of the best tribute bands ever.
When:
Saturday May 1
Distant Bodies
, a black comedy about hope, innocence and how we communicate, is a tale of five people who meet in the desert, revisiting past experiences that have shaped them. Honest, moving and often hilarious, the play by Barnaby Chiverton is held at Northcote Town Hall.
When:
April 21 to May 8, Wednesday to Saturday
The Grenade
, performed by Melbourne Theatre Company at the Arts Centre, follows the plight of major advisor and lobbyist, Busby McTavish. Finding a live grenade in his living room, he's forced to question the meaning and who may have done such a thing, inspiring paranoia.
When:
Until May 15
MAMA MIA!
the hit musical that's inspired by the songs of ABBA, returns to Melbourne for a limited time with performances held at Her Majesty's Theatre. The romantic comedy follows a young girl whose efforts to meet her father reunite her mother with three lovers from the past.
When:
Until May 30
Classical, Choral & Recitals
Calendimaggio di Firenze
, held at the Melbourne Recital Centre, is a special presentation by La Compa˝ia, Australia's premiere Renaissance instrument ensemble. The concert features Carnival songs from 16th-Century Florence, performed during the rule of the Medici's.
When:
Wednesday April 28 - 6pm
The Quiet Music Festival
, held at the Incinerator Arts Complex in Moonee Ponds, celebrates creative music with performances that feature Latin-American music played on harp, North-Indian classical music and other unique concerts including jazz using traditional Vietnamese instruments.
When:
Sunday May 2
Cabaret & Burlesque
The Ruby Revue
, a variety night held at the Order Of Melbourne, offers a completely different show each month. A sell-out hit in Sydney, the show has been breaking new ground in Melbourne with new talent performing a range of acts including musical, burlesque, magic, comedy and more.
When:
Saturday April 1 - Doors Open 8pm
Entertainment & Nightlife
Groovin the Moo
returns to Bendigo Showgrounds this year with another great line up of Australian and International artists and DJ's performing on an outdoor double stage and in one of the biggest dance tents around. Headliners this year include Silverchair and Empire of the Sun.
When:
Saturday May 1
Cherry Rock Music Festival
, now in its fourth year, brings the best of live rock n roll to Melbourne's AC/DC Lane and Cherry Lane. Featuring some 20 acts across 3 stages the festival includes performances by Dan Sultan, Gun Street Girls and the iconic rockers, Rose Tattoo.
When:
Sunday May 2 - Midday to 9pm
100% Kylie
is the smash hit show that delivers an astonishing and captivating performance, celebrating Australia's 'Princess of Pop', Kylie Minogue. Spoken highly of by Kylie Minogue herself, the tribute show is a grand spectacular appearing in Chirnside Park and Chelsea Heights.
When:
Friday & Saturday, April 30 & May 1
The Buddy Love Jazz Quartet
will be performing at Kojo Brown in Richmond, offering the perfect chance to catch some laidback jazz. The shows will see the Melbourne jazz vocalist, Buddy Love, performing an eclectic blend of soulful tunes and jazz standards with his formidable band.
When:
Saturday & Sunday, May 1 & 2
D1st0rt
, held at Melbourne's Inflation Night Club, is a monthly industrial/electro club that revels in hot circuitry with Australian and International DJ's playing all your favourite Industrial, EBM, Industrial-Metal, and Dark Electro tunes. Drink specials will be available all night at the event.
When:
Saturday may 1
The John Montesante Quintet
, performing at The Commune Cafe Bar, brings a hint of New York Be-Bop to Melbourne with performances that include timeless Jazz standards and improvisations by John Montesante and some of the finest, hottest Jazz players in town.
When:
Every Thursday - 5:45pm to 8:45pm
Melbourne Jazz Jammers
, held at Collingwood's Leinster Arms Hotel, offers a great opportunity for musicians of any background to drop in, join in, listen in, meet other musicians and relax over a drink as the evening unfolds with anything from bebop to swing, blues, Latin and more.
When:
Fridays - 6pm to Late & Sundays - 3pm to 6pm
Melbourne For Kids
The Lake Goldsmith Steam Rally
, held just outside of Ballarat at The Perfect Living Museum, offers a great day out for the family with grand parades of vintage steam powered vehicles and displays of restored steam engines, steam rollers and even a working 90 tonne steam shovel.
When:
Saturday & Sunday, May 1 & 2
Mulgrave Fun Day
, held at Wellington Reserve, offers a huge range of activities for kids with a performance by Jamieson and Bongo the Cheeky Monkey, Bollywood dance workshops, face painting and more. The day also includes free activities held at the Mulgrave Neighbourhood House.
When:
Saturday May 1 - 11am to 3pm
Family Day at Collingwood Children's Farm
is a special children's event held each month with each family day featuring a theme that matches activities provided for kids. Activities include hayrides, a BBQ, free pony rides and more, making it a great day out for the kids.
When:
Sunday May 2
|
Only $16 Per Family
The Maize Maze Carnival
, held at the Enchanted Maze Garden in Arthurs Seat, is a chance to discover the amazing Maize Maze - the largest of its kind in the Southern hemisphere. With fun twists and turns, the impressive Maize Maze is made from more than 100,000 stalks of corn.
When:
Until May 2 - Open Daily
Circus
Circus Sunrise
, an action-packed show for all the family, will be appearing with performances held in Hastings. A true family circus with lineage going back to 1648, the performances of Circus Sunrise feature juggling, acrobatics and whip-cracking excitement!
When:
Until May 16 - Hastings
Perry Bros Circus
, Australia's oldest circus, will be appearing in Pakenham, offering quality entertainment to please the entire family. With wire walkers, Jugglers, Whip crackers, balancing acts and more the circus also features performing ponies and camels along with their very funny clowns.
When:
Until May 9 - Pakenham

Silvers Grand Magic Circus
will be holding performances in Airport West. Established in 1976, Silvers Grand Magic Circus offers a great show for people of all ages with performers including everything from jugglers and clowns to acrobats, international performers and more.
When:
Until May 9 - Airport West
Markets, Fetes and Fairs
Melbourne Market Guide
View MARKETS on any day of the week
to make the most of the rare sunny days (it's a coin toss, isn't it!) and head to one of Melbourne's many excellent markets, fetes and fairs for a bargain!

A growing number of food, produce and even wine markets are always popping up around the suburbs. And don't forget garage sales!
Fetes Fairs & Shows
Art & Craft Markets
Food & Produce Markets
Swap Meets
Garage Sales
OnlyMelbourne Welcomes..
Each week we highlight some of the latest additions to OnlyMelbourne's ever growing guide to services, businesses and information sites for your community.
Spin City Dance
in Brunswick offer Salsa Dancing Lessons with an 8 Week course for Beginner held in Brunswick. Salsa, one of the most popular latin dances worldwide, refers to a fusion of informal dance styles having roots in the Caribbean. Salsa is definitely Spin City's forte, and their Salsa teams travel the world every year to teach and perform.
This week we suggest the following:
Kelly Tennis
- Tennis Coaching in the Eastern Suburbs...
Sustain Health
- Chinese natural health clinics...
Viiper Studios
- Funfilled dance instruction...
View More of the Latest Listings at OnlyMelbourne!
Sporting Events
AFL Premiership
AFL Premiership | Round 6
Bulldogs v St Kilda
- April 30 - Marvel Stadium
Nth Melb v Melbourne
- May 1 - Marvel Stadium
Essendon v Hawthorn
- May 1 - MCG
Carlton v Collingwood
- May 2 - MCG
Athletics & Gymnastics
The Pacific Rim Gymnastics Championships
, taking place at Hisense Arena and the State Netball Hockey Centre, will find Melbourne playing host to more than 300 athletes and officials in this biennial event that features gymnastics along with trampoline and rhythmic gymnastics.
When:
April 29 to May 2
The Trots
Kilmore Racing Club - May Race Dates
Harness Racing
Monday May 3rd
Cranbourne Turf Club
boasts superb member and public facilities for a great day out at the races.
May Race Dates
Sunday May 2nd - Gates Open 10:30am
Community Sports & Fun Runs
The Great Train Race
is more than a fun with the exciting challenge of racing against the steam locomotive, Puffing Billy, over 13.2 kilometres through the hills and fern gullies of the picturesque Dandenong Ranges. All proceeds go towards maintenance of Puffing Billy's family of locomotives.
When:
Sunday May 2
Melbourne Tours
Smartvisit Card
is the best way to see the sights of Melbourne, whether you're visiting Melbourne for business, a vacation, or even if you're a local wanting to find Melbourne's hidden treasures!
The Smartvisit Card includes entry to attractions such as Melbourne Zoo, Melbourne Aquarium, Old Melbourne Gaol, Telstra Dome, Cook's Cottage, Melbourne River Cruises, and many more of Melbourne's TOP venues!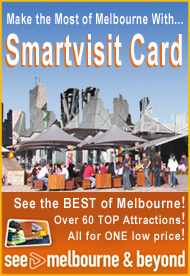 Free entry to over 60 top attractions..
Visit great venues like Zoos, museums & more across Melbourne & Victoria!
Over $800 of entry fees for ONE low price..
Plus special offers & discounts!
Visit just 2 Attractions a day & you'll save!
FREE 128 page guidebook..
Tailored to local knowledge on what to see & do!
Cash free entry..
Show your card & you're in, no need for cash!
All year-round Attractions..
Whatever time of year you visit - rain or shine!
Learn more about Smartvisit Card
Melbourne Trivia
Yellow, I Must Be Going..
Vault (otherwise cruelly known as Yellow Peril) was a controversial public sculpture by Ron Robertson-Swann commissioned by the Melbourne City Council in 1978 for the newly built Melbourne City Square.
Installed in the City Square in May 1980, it was moved to Batman Park in 1981 and finally to its current location outside the Australian Centre for Contemporary Art in Southbank.
Find What Happened To..?
|
Read Melbourne Trivia...
WHAT'S ON CALENDAR
Speaking of what's on, our
new calendar
allows you to select any day of the year to view everything (everything!!!) on that day in an easy to read, printable display.
-:- View
What's On Calendar
-:- View
Markets Only Calendar
Melbourne On The Phone

OnlyMelbourne
is now
mobile phone
compatible. Yes, our pages are formatted to be viewed on the small screen. To view our mobile phone website, go directly to our
home page
with your web compatible mobile phone and you will automatically be redirected to the
mobile compatible
version of OnlyMelbourne, so you'll be in the know on the go!
WHAT'S ON FEEDS
For those with newsfeeds, we now have a daily
What's On Melbourne Today
feed.
NEWSLETTER
What's On this Week
is an email overview and reminder of the (too many to mention) events happening this week in Melbourne.
Get your copy
of What's On this Week!
FREE ADVERTISING
Advertising
your EVENT at OnlyMelbourne is not only easy, it's
FREE!!
-
Apply Online..
for inclusion in the What's On calendar and newsletter!
❊ Address & Contact ❊
⊜ Newsletter | #173 | What's On this Week Melbourne |
Map
❊ Web Links ❊
→
Newsletter | #173 | What's On this Week
→
Subscribe to OnlyMelbourne - Get your copy of What's On this Week!
→
List Your Business or Event - It's FREE!
→
Events Calendar - Find out What's On any day of the week!
→
Mobile OnlyMelbourne - View Our Website On Your Phone
→
Melbourne for Children | Kids
→
Newsletter | #172 | What's On this Week [Last Week]
❊ COVID-19 Notice ❊
Many locations have gone into lockdown as the state takes action to stop the spread of the deadly coronavirus (COVID-19).
→
Disclaimer
: Check with the operator before making plans
...
Trending HOT

Things to see, hear & do this weekend
Make the most of your weekend in Melbourne with these fabulous events. No city does it better than Melbourne, so get out and discover the very best shows, festivals, ..
---
Update Page