Newsletter | #172 | What's On this Week
Welcome to this week's Melbourne events, exhibitions, sports and community guide for Tuesday April 20 to Monday April 26, 2010.
This week... Melbourne gets very vocal with the Melbourne Festival of Choirs singing loud and proud, while the Melbourne Jazz Fringe Festival gets ready to wet its spit valve with a great range of workshops and events celebrating our vibrant Jazz scene. There's also the chance to get good and Bardy with Stratford's Shakespeare on the River Festival, celebrates the great playwright's birthday with theatre, readings and a special community day.
ANZAC Day
He dreamt of his wife's garden, with its flowers in the sun,
but when a flower loudly screamed, the dream, it was undone.
He opened up his eyes and knew the battle had begun,
as it had the day before, and would, for many days to come.
He'd buttoned up his collar, when the soldier reached his tent,
he turned his face away and sighed, to hide that he was spent.
With thoughts of flowers in the sun still lingering in his head,
he regained his stone composure, General of the Regiment.
He looked across the field to where the rifles loudly roared,
where men, like broken sticks, lay scattered, twisted by the score.
And something seized the General, and it shook him to the core.
It wasn't fear or anger, it was something tired and worn.
And a soldier, looking pale, with a gash across his head,
reared up upon the General,
"What's our orders, Sir?"
he said.
The General said,
"I don't quite know, but I would like some tea...
"Let's make us some Darjeeling and we'll sit beneath that tree.
"If history looks unfavourably upon the course we'd take,
"be thankful that it's not our book, in that, we have no stake,
"for history's written not today, but in the days to come,
"I'd rather be a footnote in the tragic things we've done.
"But if they would remember me as one who loved his tea,
"then let my name be known to all, for that is what I'll be.
"I'd rather spill the sugar than the blood when all is done...
"But none the less be careful, as you pass that sugar, son."
ANZAC Day - Saturday April 25
Major Events
Melbourne Festival of Choirs
, held at Southbank's Melbourne Recital Centre and other venues, brings together choirs and individual singers from across Melbourne and Victoria to share the joys, talents and skills of singing with performance, workshops, forums and social gatherings.
When:
Friday to Monday, April 23 to 26
Melbourne Jazz Fringe Festival
, held at various venues, features some of Australia's most celebrated improvisers in an inspiring program of creative and groundbreaking music making. Nurturing Melbourne's creative jazz scene, the festival showcases some of the best musicians in town.
When:
April 23 to May 2
Bright Autumn Festival
celebrates two weeks of Autumn's vibrant colours and produce in the valleys of the Victorian High Country with festival highlights in the township of Bright including a Gala Weekend with a street market and parade, winery tours, an art show and more.
When:
April 24 to May 5
Gala Day Held Saturday May 1
The Mount Beauty Music Festival
offers another fantastic line-up this year with performers of blues, roots, rock, jazz, country, bush poetry and comedy. Along with fantastic entertainment the festival is also a chance to savour the local produce and wines of the North-East Alpine Valleys.
When:
Friday to Sunday, April 23 to 25
Shakespeare on the River Festival
celebrates William Shakespeare's birthday a program of events in Stratford that include theatre, musical performances, story telling, workshops and more along with the major highlight, the Avon Village Fair Day, held at Stratford's Village Green.
When:
April 23 to May 7
|
Village Fair Day held May 2
The St Kilda Busking Festival
offers a fantastic look at the colourful entertainment on offer from Melbourne's hidden artists. With fun performances held on Sundays between 1pm and 4 pm, the free entertainment offers colourful, bizarre and hilarious entertainment for the whole family.
When:
Sundays Until May 23 - St Kilda Village
Film Festivals
The Audi Festival of German Films
is an eclectic and versatile mix of German films screening at Kino Cinemas and Palace Cinema Como. This year's festival features the works of two eminent directors, Fatih Akin and Sönke Wortmann along with challenging new productions.
When:
April 22 to May 2
Upcoming Events

NEW LIVE CALENDAR
To find out about future events in Melbourne, have a look at our new calendar, with details about many more events that lie ahead so you can jot them down on the to-do list , including Exhibitions, Live Gigs, Theatre, Markets, Expos and more..
View Future Events on any day of the week
Let Melbourne Know...
Advertise Your School Fete, Fair or Carnival FREE!
Everyone wants to support their local school by going to their annual fundraiser. In 2009, we advertised over 1,200 school events. Make sure you let your school organizers know they can list their fete, fair or carnival for
FREE @ OnlyMelbourne!
Add Your Event for FREE Today!!
Exhibitions - Art | Festival | Show
Arte on Yarra
, showing at the gallery of Mont De Lancey Historic Homestead, is an exhibition that celebrates a mother's journey, exploring colour and the beauty of nature as the river flows towards the sea. With silk paintings, enhanced and mixed media, works presented are for sale.
When:
Until May 9 - Wednesday to Sunday
Highway Drawings
, an exhibition by Lea Ward, displays the beauty found by the artist in smashed cars with works on paper that cleverly engage the audience once the folds and shadows of crumpled metal start bouncing off the paper. It's held at Abbotsford's Chapman & Bailey Gallery.
When:
Until May 1 - Monday to Saturday
Imaging the Spiritual
, held at St Kilda's Obscura Gallery, is a photo exhibition by Joyce Evans that spanning her 30-year photographic career. With poignant imagery captured by the artist, the works documents her enduring commitment to finding the spiritual in the everyday.
When:
Until May 7
Selections
, featured at Steps Gallery, a purpose built art exhibition space in Carlton South, is a showcase of sculptures by the artist, Beatrice Magalotti. The exhibition also includes works on paper by Sharyn Madder, a professional illustrator whose art is both haunting and touching.
When:
Until May 2
Out of My Head
, an exhibition by Margaret Gold, uses her abstract/expressionist technique to explore autobiographical components of her subjects. With a style that blurs the boundaries between painting and drawing, her works are on display at Forty Five Downstairs in Flinders Lane.
When:
April 13 to 24 - Tuesday to Saturday
The Star
, an illustrative book by Felicity Marshall which examines the phenomenon of celebrity culture, will be exhibited with original artwork on display at Port Melbourne Prints and Framing. The Star follows the adventures of a wooden doll who learns about the trappings of fame.
When:
April 13 to 27
Twenty One
, an exhibition by Jack Douglas, explores coming-of-age in a society that's not quite right. Held at Per Square Metre Gallery in Collingwood, the works use influences that include pop surrealism, tattoo art, skateboard graphics and more to portray the hardships in daily life.
When:
April 14 to 25 - Wednesday to Saturday
I Am
, an exhibition held at The Atrium of Federation Square, celebrates the many talents of artists associated with Mind and Doutta Galla Community Health. The artworks promote the significance of creative expression in the recovery process of people experiencing mental health challenges.
When:
April 15 to 26 - Open 24 hours
Independent Type
, showing at Altona Meadows Library, is an exhibition that celebrates the history of Victoria's literary culture with displays that mark the progression of writing by exploring traditional Indigenous storytelling through to colonial classics and today's vibrant writing scene.
When:
April 17 to May 16
In The Kitchen Sink
, showing at Melbourne Art Rooms in Port Melbourne, is a group show featuring works by artists that include Emma de Clario, Stuart Spence and Nicholas Jones. The exhibition examines the role of our domestic goddess today and what suburban domesticity really means.
When:
Until May 2
Constellations: A Large Number of Small Drawings
explores the role of drawing in a wide range of professions. Bringing together a large number of drawings from disciplines such as Art, Architecture, Cartography and more, the exhibition is held at Swanston Street's RMIT Gallery.
When:
Until June 26 - Monday to Saturday
Surface Play
, featured at Red Gallery in Fitzroy North as one of three exhibitions, displays works that use stripes that project into the third-dimension to draw attention to painting as surface. Created by Susanne Pearce, the new series of acrylics on canvas present colourful shifting perspectives.
When:
Until April 24 - Wednesday to Saturday
Studies of the Natural World
, held at Forty Five Downstairs in Flinders Lane, is an exhibition of oil paintings by Peta Cross. Exploring the artist's relationship with animals and the natural world, the works are drawn from the artist's observations of the taxidermy profession.
When:
Until April 24 - Tuesday to Saturday
The Arthur Rylah Institute
, Victoria's leading centre for applied ecological research, will be celebrating its 40th anniversary during April by presenting a free exhibition of rare flora and fauna prints from the Arthur and Caroline Howard Collection, which includes settlement era artworks.
When:
Throughout April - Various Venues
Australia's Muslim Cameleers
, a special exhibition on loan from the South Australian Museum at the Immigration Museum, showcases the Pioneers of the Inland during the 1860s to 1930s when the cameleers' small Muslim community were a feature of Australian outback towns.
When:
Until September 19 - Open Daily
'til you drop
, held at the State Library of Victoria, is a free exhibition that celebrates Melbourne's passion for shopping, from the Paris end of Collins Street to the local corner store. The exhibition features historic photographs and nostalgic items on display such as wartime ration cards and more.
When:
Until October 31
Expos, Launches & Lectures
Save Water, Save Energy Expo
, held at the One Community Centre in Blackburn, offers everything you need to know about saving water, saving energy and therefore saving money. The expo features practical, informative advice from special guest speakers and industry experts.
When:
Wednesday April 21 - Bookings Required
Pet Shows
Meet the Dogs of Melbourne
, presented by Dogs Victoria, is a special event held at Federation Square that show the public what really goes on at a dog show. The free, family event will take you behind the scenes of the judging process with agility tests, obedience trials and more.
When:
Monday April 26 - Midday to 3pm
Performances & Theatre
Distant Bodies
, a black comedy about hope, innocence and how we communicate, is a tale of five people who meet in the desert, revisiting past experiences that have shaped them. Honest, moving and often hilarious, the play by Barnaby Chiverton is held at Northcote Town Hall.
When:
April 21 to May 8, Wednesday to Saturday
Footsteps of a Nobody
, performed at J Studios in North Fitzroy, is the rock-musical by Donna Williams and The Aspinauts that's half play, half musical, tracing the developmental milestones portrayed in Donna's bestselling book, Nobody Nowhere; Autobiography of an Autistic Girl.
When:
Saturday April 24 - 8pm
Parkland Avenue
, performed at St Kilda's Theatre Works, is a tale of the emotions found as three friends watch their perfect relationship unravel violently around them. Presented by Collaboration The Project's, it's performed along with Project Y's It Sounds Silly, featuring 28 young dancers.
When:
April 21 to 24
The Grenade
, performed by Melbourne Theatre Company at the Arts Centre, follows the plight of major advisor and lobbyist, Busby McTavish. Finding a live grenade in his living room, he's forced to question the meaning and who may have done such a thing, inspiring paranoia.
When:
Until May 15
MAMA MIA!
the hit musical that's inspired by the songs of ABBA, returns to Melbourne for a limited time with performances held at Her Majesty's Theatre. The romantic comedy follows a young girl whose efforts to meet her father reunite her mother with three lovers from the past.
When:
Until May 30
Classical, Choral & Recitals
Baroque & Beyond
, presented by the Melbourne Musicians with soloists Karen Columbine and Frank Pam, is the Australian Premiere of a newly restored concerto by J.S.Bach for Violin and Viola. Held at St Johns in Southgate, the concert includes sinfonias by Bach's four musical sons.
When:
Wednesday April 21
Cabaret & Burlesque
Red Door Burlesque
will be performing at the stylish Order of Melbourne in Swanston Street. Offering the finest in burlesque, vaudeville and circus, the night includes seductive tunes from DJ Emma Peel, saucy pinup girls, and death-defying aerial acts performed right above your table.
When:
Sunday April 25 - Doors Open 6pm
Convent Cornucopia
, held at Abbotsford Convent as a celebration of the unique venue's 6th birthday, features a dazzling array of performers. The entertaining annual party highlights the revival of the arts, cultural and learning precinct with the theme this year of ruffling your feathers.
When:
Saturday April 24 - Bookings Required
Entertainment & Nightlife
The John Montesante Quintet
, performing at The Commune Cafe Bar, brings a hint of New York Be-Bop to Melbourne with performances that include timeless Jazz standards and improvisations by John Montesante and some of the finest, hottest Jazz players in town.
When:
Every Thursday - 5:45pm to 8:45pm
Uptown Jazz Cafe
, the newest jazz joint in Fitzroy's Brunswick Street, will present a performance by the Eugene Ball Quartet, featuring Australia's most active and versatile trumpet player. A seasoned performer, Eugene Ball has played with Paul Kelly, Jimmy Barnes and other greats.
When:
Friday April 23
Melbourne Jazz Jammers
, held at Collingwood's Leinster Arms Hotel, offers a great opportunity for musicians of any background to drop in, join in, listen in, meet other musicians and relax over a drink as the evening unfolds with anything from bebop to swing, blues, Latin and more.
When:
Fridays - 6pm to Late & Sundays - 3pm to 6pm
Kym Campbell
, whose music spans genres that include acoustic reggae, folk, roots and surf-rock, will be performing it The Edinburgh Castle in Brunswick. Celebrating the release of her new EP titled 'Preview', her tunes reflect a lifestyle of travel, sun, ocean, surf and song.
When:
Sunday April 25 - 9pm
The Daryl McKenzie Jazz Orchestra
will perform at The Apartment in Little Bourke Street where you can enjoy one of the best shows in town. With an 18-piece orchestra, Daryl McKenzie proves why he's one of Australia's best musicians with legends like Tom Jones using his arrangements.
When:
Monday April 26
Comedy & Spoken Word
Melbourne International Comedy Festival Roadshow
will be making an appearance at Upper Yarra Arts Centre in Warburton for one night only when international and local comedians will take to the stage for a gala evening of laughs with some of the festival's finest acts.
When:
Saturday April 24
Earth Day Cabaret
, held at Solidarity Salon in Brunswick, is a fundraising night of poetry and song featuring performances by Paul Karp, a passionate cycling environmentalist, a musician, poet and a workplace delegate. Proceeds will assist the Freedom Socialist Party travel fund.
When:
Saturday April 24 - Doors Open 6:30pm
Melbourne For Kids
Baloomba-wop
, held J Studios in North Fitzroy, is a musical adventure for kids. Performed by Donna and the Aspinauts, the show is an interactive, off the wall, musical adventure for kids and kids at heart, appealing to fans of Dr Seuss, Lewis Carroll and Roald Dahl.
When:
Saturday April 24
The Maize Maze Carnival
, held at the Enchanted Maze Garden in Arthurs Seat, is a chance to discover the amazing Maize Maze - the largest of its kind in the Southern hemisphere. With fun twists and turns, the impressive Maize Maze is made from more than 100,000 stalks of corn.
When:
Until May 2 - Open Daily
Circus
Circus Sunrise
, an action-packed show for all the family, will be appearing with performances held in Hastings. A true family circus with lineage going back to 1648, the performances of Circus Sunrise feature juggling, acrobatics and whip-cracking excitement!
When:
Until May 16 - Hastings
Perry Bros Circus
, Australia's oldest circus, will be appearing in Pakenham, offering quality entertainment to please the entire family. With wire walkers, Jugglers, Whip crackers, balancing acts and more the circus also features performing ponies and camels along with their very funny clowns.
When:
Until May 9 - Pakenham

Silvers Grand Magic Circus
will be holding performances in Airport West. Established in 1976, Silvers Grand Magic Circus offers a great show for people of all ages with performers including everything from jugglers and clowns to acrobats, international performers and more.
When:
Until May 9 - Airport West
Markets, Fetes and Fairs
Melbourne Market Guide
View MARKETS on any day of the week
to make the most of the rare sunny days (it's a coin toss, isn't it!) and head to one of Melbourne's many excellent markets, fetes and fairs for a bargain!

A growing number of food, produce and even wine markets are always popping up around the suburbs. And don't forget garage sales!
Fetes Fairs & Shows
Art & Craft Markets
Food & Produce Markets
Swap Meets
Garage Sales
OnlyMelbourne Welcomes..
Each week we highlight some of the latest additions to OnlyMelbourne's ever growing guide to services, businesses and information sites for your community.
This week we suggest the following:
Buffys Beauty Bliss
- Massage, Manicures, Pedicures & more...
Creative Corner
- Community radio arts program...
Blythewood Grange Chapel
- An ideal wedding venue...
La Vida Yoga
- Inspiring & nurturing yoga classes...
View More of the Latest Listings at OnlyMelbourne!
Sporting Events
AFL Premiership
AFL Premiership | Round 5
Bulldogs v Adelaide
- April 23 - Marvel Stadium
Melbourne v Brisbane Lions
- April 24 - MCG
Collingwood v Essendon
- April 25 - MCG
Carlton v Geelong
- April 26 - MCG
NRL - National Rugby League
NRL Premiership | Round 7
Melbourne Storm v Warriors
Sunday April 25
Marvel Stadium, Docklands
The Trots
Kilmore Racing Club - April Race Dates
Harness Racing
Friday April 23rd
Yarra Valley Racing
, located at Yarra Glen, offers a great day out with the finest in racing entertainment along with great venues with regional food and wine.
Next Race Dates
Thoroughbred Racing - Sunday April 25
Community Sports & Fun Runs
Republica Beach Volleyball
, held at St Kilda Sea Baths, invites mixed teams of 4 to compete in a fun, entertaining atmosphere smack bang in front of one of the world's greatest DJ's. With a first in best dressed policy, each participant will receive a free refreshment from Republica.
When:
Every Wednesday - 6:30pm (Fees Apply)
Melbourne Tours
Smartvisit Card
is the best way to see the sights of Melbourne, whether you're visiting Melbourne for business, a vacation, or even if you're a local wanting to find Melbourne's hidden treasures!
The Smartvisit Card includes entry to attractions such as Melbourne Zoo, Melbourne Aquarium, Old Melbourne Gaol, Telstra Dome, Cook's Cottage, Melbourne River Cruises, and many more of Melbourne's TOP venues!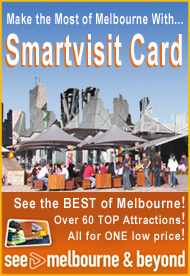 Free entry to over 60 top attractions..
Visit great venues like Zoos, museums & more across Melbourne & Victoria!
Over $800 of entry fees for ONE low price..
Plus special offers & discounts!
Visit just 2 Attractions a day & you'll save!
FREE 128 page guidebook..
Tailored to local knowledge on what to see & do!
Cash free entry..
Show your card & you're in, no need for cash!
All year-round Attractions..
Whatever time of year you visit - rain or shine!
Learn more about Smartvisit Card
Melbourne Trivia
The Big Screen Seldom Now Seen
Melbourne's first Drive-In theatre, the Skyline in Burwood, which opened on February 18th in 1954, was also the very first Drive-In to open in Australia. The first of more than 330 drive-ins that were built across Australia, the Drive-In was one of the most popular pastimes and dating rituals during the 50's and indeed the 60's when their popularity peaked with 19 Drive-In cinemas found in greater Melbourne in 1966 and a total of 60 throughout Victoria.
With the growing popularity of independent cinemas and large chain cinemas flourishing in Melbourne, many of the Drive-In cinemas sadly fell by the wayside, and today there are only 3 that still operate today, located in Coburb, Dromana and the Lunar Drive-in Theatre in Dandenong, which is also the largest drive-in theatre in the Southern Hemisphere.
Read more about Melbourne's Cinemas
|
Read Melbourne Trivia...
WHAT'S ON CALENDAR
Speaking of what's on, our
new calendar
allows you to select any day of the year to view everything (everything!!!) on that day in an easy to read, printable display.
-:- View
What's On Calendar
-:- View
Markets Only Calendar
Melbourne On The Phone

OnlyMelbourne
is now
mobile phone
compatible. Yes, our pages are formatted to be viewed on the small screen. To view our mobile phone website, go directly to our
home page
with your web compatible mobile phone and you will automatically be redirected to the
mobile compatible
version of OnlyMelbourne, so you'll be in the know on the go!
WHAT'S ON FEEDS
For those with newsfeeds, we now have a daily
What's On Melbourne Today
feed.
NEWSLETTER
What's On this Week
is an email overview and reminder of the (too many to mention) events happening this week in Melbourne.
Get your copy
of What's On this Week!
FREE ADVERTISING
Advertising
your EVENT at OnlyMelbourne is not only easy, it's
FREE!!
-
Apply Online..
for inclusion in the What's On calendar and newsletter!
❊ Address & Contact ❊
⊜ Newsletter | #172 | What's On this Week Melbourne |
Map
❊ Web Links ❊
→
Newsletter | #172 | What's On this Week
→
Subscribe to OnlyMelbourne - Get your copy of What's On this Week!
→
List Your Business or Event - It's FREE!
→
Events Calendar - Find out What's On any day of the week!
→
Mobile OnlyMelbourne - View Our Website On Your Phone
→
Melbourne for Children | Kids
→
Newsletter | #171 | What's On this Week [Last Week]
❊ COVID-19 Notice ❊
Many locations have gone into lockdown as the state takes action to stop the spread of the deadly coronavirus (COVID-19).
→
Disclaimer
: Check with the operator before making plans
...
Trending HOT

Drive-In Movie Club
Drive-In Immersive Cinema Nights Are Coming to Melbourne Put together by our friends at Hot Tub Cinema, a string of family-friendly, social distancing-safe, drive-in ..

Things to see, hear & do this weekend
Make the most of your weekend in Melbourne with these fabulous events. No city does it better than Melbourne, so get out and discover the very best shows, festivals, ..
---
Update Page