Newsletter | #171 | What's On this Week
Welcome to this week's Melbourne events, exhibitions, sports and community guide for Tuesday April 13 to Monday April 19, 2010.
This week... there's a lot of growth happening with Collingwood Estate celebrating their abundant harvest from their community garden with a day of music, food and entertainment. Victoria's favourite pig has also had a growth spurt with Edgar's Mission Farm in Willowmavin holding a porcine party in honour of the grand chap. You'll also find a touch of multicultural flair at La Plaza de Mercado, a Latin market festival, while it's New years already it seems with the Cambodian New Year Festival held across three days. Much like our own New Year festivities if you include the two days of recovery time.
Major Events
The Cambodian New Year Festival
held at Wat Buddhrangsi Melbourne in Springvale South draws over 5,000 Cambodians to come and celebrate this traditional and cultural event with others. The festival includes music, food, traditional New Year ceremonies, games and more.
When:
Friday to Sunday, April 16 to 18
Collingwood Harvest Festival
, an annual event held on the grounds of the Collingwood Housing Estate, celebrates the harvest of vegetables grown in the Community Gardens on the estate. Activities held on the day include cooking demonstrations, tours, art workshops and live music.
When:
Saturday April 17
Compassion Art Day
, held at Edgar's Mission Farm in Willowmavin, is a celebration of Edgar the Pig's 7th birthday. With farm tours, face painting, line dancing, chalk art and more. There will be food available all day and there'll be music from guest performers.
When:
Sunday April 18 - Free
La Plaza de Mercado
, held at Queen Victoria Market, is a unique Latin American "Market within a Market"that is set to be even more spectacular this year. Presented by CELAS, the free event showcases Spain and Latin America's passion for food, dance, music and decorative arts.
When:
Sunday April 18 - 9pm to 4pm
The Melbourne International Comedy Festival
returns with a great program of performances by some of the best entertainers from Australia and overseas. With shows for people of all ages at various venues in Melbourne, the festival offers comedy, circus, theatre and more.
When:
Until April 18
The St Kilda Busking Festival
offers a fantastic look at the colourful entertainment on offer from Melbourne's hidden artists. With fun performances held on Sundays between 1pm and 4 pm, the free entertainment offers colourful, bizarre and hilarious entertainment for the whole family.
When:
Sundays Until April 18 - St Kilda Sea Baths
Upcoming Events

NEW LIVE CALENDAR
To find out about future events in Melbourne, have a look at our new calendar, with details about many more events that lie ahead so you can jot them down on the to-do list , including Exhibitions, Live Gigs, Theatre, Markets, Expos and more..
View Future Events on any day of the week
Exhibitions - Art | Festival | Show
Out of My Head
, an exhibition by Margaret Gold, uses her abstract/expressionist technique to explore autobiographical components of her subjects. With a style that blurs the boundaries between painting and drawing, her works are on display at Forty Five Downstairs in Flinders Lane.
When:
April 13 to 24 - Tuesday to Saturday
The Star
, an illustrative book by Felicity Marshall which examines the phenomenon of celebrity culture, will be exhibited with original artwork on display at Port Melbourne Prints and Framing. The Star follows the adventures of a wooden doll who learns about the trappings of fame.
When:
April 13 to 27
Twenty One
, an exhibition by Jack Douglas, explores coming-of-age in a society that's not quite right. Held at Per Square Metre Gallery in Collingwood, the works use influences that include pop surrealism, tattoo art, skateboard graphics and more to portray the hardships in daily life.
When:
April 14 to 25 - Wednesday to Saturday
I Am
, an exhibition held at The Atrium of Federation Square, celebrates the many talents of artists associated with Mind and Doutta Galla Community Health. The artworks promote the significance of creative expression in the recovery process of people experiencing mental health challenges.
When:
April 15 to 26 - Open 24 hours
Independent Type
, showing at Altona Meadows Library, is an exhibition that celebrates the history of Victoria's literary culture with displays that mark the progression of writing by exploring traditional Indigenous storytelling through to colonial classics and today's vibrant writing scene.
When:
April 17 to May 16
In The Kitchen Sink
, showing at Melbourne Art Rooms in Port Melbourne, is a group show featuring works by artists that include Emma de Clario, Stuart Spence and Nicholas Jones. The exhibition examines the role of our domestic goddess today and what suburban domesticity really means.
When:
Until May 2
Asahi Silver + Black
, presented by Japanese beer, Asahi, at Melbourne's 1000 £ Bend, is a unique combination of art, photography, fashion and design culture. Born from the aesthetic of the Asahi Super Dry label, the exhibit features obscure objects, prints, sketches and live creative events.
When:
Until April 18 - Free
Constellations: A Large Number of Small Drawings
explores the role of drawing in a wide range of professions. Bringing together a large number of drawings from disciplines such as Art, Architecture, Cartography and more, the exhibition is held at Swanston Street's RMIT Gallery.
When:
Until June 26 - Monday to Saturday
Groove
, held at Brunswick St Gallery in Fitzroy, is an exhibition of recent portraiture by artist Monique Richards. Examining how people construct and express their individuality and find their groove, the show features portraits of Australian music icons Paul Kelly and John Butler.
When:
Until April 22
Surface Play
, featured at Red Gallery in Fitzroy North as one of three exhibitions, displays works that use stripes that project into the third-dimension to draw attention to painting as surface. Created by Susanne Pearce, the new series of acrylics on canvas present colourful shifting perspectives.
When:
Until April 24 - Wednesday to Saturday
Studies of the Natural World
, held at Forty Five Downstairs in Flinders Lane, is an exhibition of oil paintings by Peta Cross. Exploring the artist's relationship with animals and the natural world, the works are drawn from the artist's observations of the taxidermy profession.
When:
Until April 24 - Tuesday to Saturday
Not Moving
, an exhibition by David Van Royen, is a study of self-portraiture that uses the environment within a collection of photographs to capture the artist, rather than the artist himself. Examining themes of persona and identity, it's held at Fitzroy's Centre for Contemporary Photography.
When:
Until May 18
Max Dupain and John Witzig
, showing at Dickerson Gallery in Collingwood, brings together two of Australia's most talented photographers. A historical snapshot of Australia's beach culture identity, their photos document beach culture during the 30s, 40s, 60s and 70s.
When:
Until April 17 - Tuesday to Saturday
The Arthur Rylah Institute
, Victoria's leading centre for applied ecological research, will be celebrating its 40th anniversary during April by presenting a free exhibition of rare flora and fauna prints from the Arthur and Caroline Howard Collection, which includes settlement era artworks.
When:
Throughout April - Various Venues
Endless Perspectives
, held at St Kilda's Obscura Gallery, is an exhibition that comprises of work by three photographers who offer an insight into the lives of others both here and overseas. Among the featured artists is Jenny Hodge, whose photos examine the Sikh Community in Melbourne.
When:
Until April 18
Australia's Muslim Cameleers
, a special exhibition on loan from the South Australian Museum at the Immigration Museum, showcases the Pioneers of the Inland during the 1860s to 1930s when the cameleers' small Muslim community were a feature of Australian outback towns.
When:
Until September 19 - Open Daily
Ron Mueck
, an Australian sculptor whose work has long made a great impact on the world of international contemporary art, will be featured at Melbourne's NGV International with an astounding exhibition of his hyperreal sculptures that eerily capture the human form.
When:
Until April 18 - Wednesday to Monday
Spun Light
, showing at the Stonnington Service Centre located at Malvern Town Hall, is an exhibition of photography that uses the camera to capture light at a particular moment in time, at times with the light in movement, while at others the camera alone moves, capturing playful images.
When:
Until April 16 - Mondays to Fridays
'til you drop
, held at the State Library of Victoria, is a free exhibition that celebrates Melbourne's passion for shopping, from the Paris end of Collins Street to the local corner store. The exhibition features historic photographs and nostalgic items on display such as wartime ration cards and more.
When:
Until October 31
Expos, Launches & Lectures
The Internet Show
, held at the Melbourne Conference and Exhibition Centre, offers a series of seminars and special displays that showcase what the internet can offer for small to large businesses. With the latest technology and internet solutions, the expo covers all you need to know.
When:
Tuesday & Wednesday, April 13 & 14
Lynx 'Date with a Twist'
is giving men the chance to be part of a world record attempt during a one-on-one speed date with gorgeous single cover girl, Bec, who has appeared in the pages of Zoo, Ralph and FHM. To enter be one of the first 200 to attend the event at Westfield Fountain Gate.
When:
Saturday April 17 - 9am to 5pm
Performances & Theatre
Parkland Avenue
, performed at St Kilda's Theatre Works, is a tale of the emotions found as three friends watch their perfect relationship unravel violently around them. Presented by Collaboration The Project's, it's performed along with Project Y's It Sounds Silly, featuring 28 young dancers.
When:
April 14 to 18 & 21 to 24
The Grenade
, performed by Melbourne Theatre Company at the Arts Centre, follows the plight of major advisor and lobbyist, Busby McTavish. Finding a live grenade in his living room, he's forced to question the meaning and who may have done such a thing, inspiring paranoia.
When:
Until May 15
I Heart Frankston
, performed in South Melbourne, is a new musical that celebrates all things Frankston when two young musical men with a passion for football and jazz ballet stage a protest show to revitalise their beloved town which has since fallen dead and banned musicals.
When:
Until April 18 - Thursday to Sunday
Sinbad
, performed for a limited season by Altona City Theatre, sees the classic tale of adventure given a very skewed twist with the people's hero and his trusty crew, Abu, Mustapha and Auntie Frank, thwarting the plans of Al Capone. Performances are held at the Altona Theatre.
When:
Until April 17
Faulty Towers, The Dining Experience
returns with performances of the interactive comedy show held at The Aegean Restaurant in Fitzroy. With a 3-course dinner, the evening captures the mayhem of a restaurant run by Basil Faulty, his wife Sybil and the misguided waiter Manuel.
When:
Until April 18
MAMA MIA!
the hit musical that's inspired by the songs of ABBA, returns to Melbourne for a limited time with performances held at Her Majesty's Theatre. The romantic comedy follows a young girl whose efforts to meet her father reunite her mother with three lovers from the past.
When:
Until May 30
Classical, Choral & Recitals
Sam & Joanna's Chopin Liszt
, a performance held at Upper Yarra Arts Centre in Warburton, is an evening of classical pieces performed by the exciting teenage duo of pianist, Sam Colcheedas and cellist Joanna Tidy. Their debut concert, they'll also perform works by Ebussy and others.
When:
Saturday April 17 - 7:30pm to 9pm
The Camberwell Chorale
together with the Camerata Orchestra will present a performance of Haydn's Creation at Hawthorn Town Hall. Established in 1944 and formed by local people, the community choir will perform alongside special guest soloists for the performance.
When:
Sunday April 18 - 2.30pm to 4.30pm
Melbourne Youth Orchestra
will present a concert at South Melbourne Town Hall with special guest pianist Michael Kieran Harvey and Fabian Russell as Conductor. With works by Rachmaninoff and Prokofiev, the gifted young musicians of the orchestra are known for their inspiring performances.
When:
Sunday April 18 - 2:30pm
Cabaret & Burlesque
Drags Aloud at the Movies
, performed at the Village Green Hotel in Mulgrave, is a wildly entertaining show that goes beyond the normal shtick of mimed songs and corny gags to make a drag show that is a satire on movies with excerpts of dialogue used along with famous songs.
When:
Saturday April 17
Bang On!!!
held at The Order of Melbourne in Swanston Street, is the Bang Bang Agency brand-new all-female variety night. Showcasing rising stars in live entertainment, the performance nights bring together Melbourne's sassiest female performers with comedy, circus, cabaret and more.
When:
Thursday April 15
The Manly Sisters Spag n Drag Show
, held at the British Crown Hotel in Collingwood, is an entertaining night out with Melbourne's favourite Manly Sisters bouncing onto the stage where they also invite audience members to join them on stage for their crazy "Drag Stars"competition.
When:
Until April 17 - Wednesday & Saturday
Unexpected!
is a solo variety show by Jenny Wynter that combines stand-up, cabaret, storytelling, musical, improvised theatre and character comedy. With a deeply personal story about adventures in the unexpected. the performances will be held at GasWorks in Albert Park.
When:
Until April 18
Entertainment & Nightlife
Live at the Lawn
, held on the lawn of Melbourne's State Library, is Channel 31's live outside-broadcast gala event. Featuring live music performances by Calling all Cars, Red Ink and Renee Cassar, the free event hosted by Jack Crane and Cassie Walker is held as part of National Youth Week.
When:
Friday April 16
Uptown Jazz Cafe
, the newest jazz joint in Fitzroy's Brunswick Street, will present a performance by the Eugene Ball Quartet, featuring Australia's most active and versatile trumpet player. A seasoned performer, Eugene Ball has played with Paul Kelly, Jimmy Barnes and other greats.
When:
Fridays April 16 & 23
Kizztroyer
, Australia's premier tribute band performing the hit songs of KISS, will be appearing at Doncaster Shoppingtown Hotel. With a dynamic presence that captures the spirit of the glam rockers, they'll be supported by other tribute bands, Bad Medicine and Blood Sugar Sex Magik.
When:
Friday April 16
No Left Turn
, a cover band that performs all the favourites from the 60's 70's & 80's with a diverse sound featuring rock, blues or soul, will be appearing at the Three Crowns Hotel in West Melbourne with an exciting performances that will have you grooving through the decades.
When:
Saturday April 17
Kelly Clarkson
, the world's first 'American Idol' and now a certified pop sensation, will be performing at Melbourne's Rod Laver Arena as part of her Australian tour. With her infectious, high-energy live show, she'll be performing songs from her latest studio album, All I Ever Wanted.
When:
Monday April 19
Cinema
West Side Shorts
, presented by Angry Productions, is a monthly film night held at Williamstown' Customs House Hotel, offering the chance to see fantastic short films made by local talent and also to network with local filmmakers and actors after the screenings.
When:
Tuesday April 13 - 8:30pm - Only $4 Entry
MICMACS
, the latest film by director of Amelie, is about a group of misfits who plan to bring down two large arms manufacturers. It will be screening at Westgarth Cinema as a special fundraiser for Inner North Community Foundation to assist employment projects funded in Darebin.
When:
Thursday April 15
Underground Cinema
will present a special cinematic event where guests have no idea of the film they're watching, using clues and props at the secret venue to try and guess what will be screening. With the theme of A Fantastical Journey, guests receive venue details by SMS prior to the night.
When:
Sunday April 18
Comedy & Spoken Word
Celebrity Theatresports
, presented by Impro Melbourne, sees the performance troupe go head to head with drafted celebrity guests as they take to the stage to think on their feet with extreme ad-libbing. With TV, radio and sporting personalities involved, it's held at St Kilda's National Theatre.
When:
Saturday April 17 - 7:30pm
While I'm Away
, by Poet Laureate, Telia Nevile, uses photos taken by her grandmother to piece together a spoken performance set against a 1970s slideshow of the world's greatest sights. Fresh from an acclaimed 2009 Melbourne Fringe season, the show is held at Melbourne Town Hall.
When:
Until April 18 - Tuesday to Sunday
A Ship-Load Of Laughs
, presented by The Baby Seals, brings improvised comedy mayhem to Young & Jacksons with an ocean adventure of Titanic proportions. Each night the crew of improvisers will navigate a different show with the audience in charge of steering their good ship.
When:
Until April 17
Melbourne For Kids
Songs from a Children's Garden
, the new CD by Eltham native Prue Clarke, will be launched at CERES Environmental Park in Brunswick. With songs that inspire children to care for nature and the environment, she'll be performing along with Living Out Loud and Andy and Valunga Khosa.
When:
Sunday April 18 - 3pm
Sticks Stones Broken Bones
, performed at the Trades Hall in Carlton, is a performance of stunning shadow puppetry by Canadian puppeteer, Jeff Achtem. Transforming bits of junk into surreal shadow puppets, the comedy show for people of all ages features hilarious and wonderful characters.
When:
Until April 18 - Tuesday to Sunday
The Maize Maze Carnival
, held at the Enchanted Maze Garden in Arthurs Seat, is a chance to discover the amazing Maize Maze - the largest of its kind in the Southern hemisphere. With fun twists and turns, the impressive Maize Maze is made from more than 100,000 stalks of corn.
When:
Until May 2 - Open Daily
Circus

Silvers Grand Magic Circus
will be holding performances in Hoppers Crossing. Established in 1976, Silvers Grand Magic Circus offers a great show for people of all ages with performers including everything from jugglers and clowns to acrobats, international performers and more.
When:
Until April 18 - Narre Warren South
Puzzles & Competitions
Spot The Difference
There are 5 Differences between these two pictures of the Platypusary at
Healesville Sanctuary
... See if you can spot them! Sign up for answers revealed in
Next Week's Newsletter
Last week's answers are further down with
Melbourne Trivia
More on Healesville Sanctuary
|
Learn More about Melbourne!
Markets, Fetes and Fairs
Mornington Peninsula Orchid Society
will be showcasing a display of orchids in Centro, Rosebud. With a wide range of species orchids from around the world, the show includes cultural information that will be made available from society members, offering assistance to anyone attending.
When:
Saturday April 17 - 9am to 3pm
Essendon Record & CD Fair
, held at Essendon's Ukrainian House, brings together Melbourne's record collectors and interstate stallholders to offer over 70,000 Records, 10,000 CD's. With a focus solely on music, the fair also features cassettes, DVD's and memorabilia from many eras.
When:
Sunday April 18 - 9:30am to 5pm
Melbourne Market Guide
View MARKETS on any day of the week
to make the most of the rare sunny days (it's a coin toss, isn't it!) and head to one of Melbourne's many excellent markets, fetes and fairs for a bargain!

A growing number of food, produce and even wine markets are always popping up around the suburbs. And don't forget garage sales!
Fetes Fairs & Shows
Art & Craft Markets
Food & Produce Markets
Swap Meets
Garage Sales
OnlyMelbourne Welcomes..
Each week we highlight some of the latest additions to OnlyMelbourne's ever growing guide to services, businesses and information sites for your community.
This week we suggest the following:
Childfree Victoria Meetup Group
- For people without kids...
Seven Stars Shiatsu
- Martial Arts Classes...
A Night in Monaco
- Gaming night for National Breast Cancer Foundation...
Upstaged Workshop
- Workshops for young performers...
View More of the Latest Listings at OnlyMelbourne!
Sporting Events
AFL Premiership
AFL Premiership | Round 4
Nth Melb v Sydney
- April 17 - Marvel Stadium
Collingwood v Hawthorn
- April 17 - MCG
Richmond v Melbourne
- April 18 - MCG
St Kilda v Fremantle
- April 18 - Marvel Stadium
NRL - National Rugby League
NRL Premiership | Round 6
Melbourne Storm v Sea Eagles
Monday April 19
Marvel Stadium, Docklands
Netball
ANZ Championships | Round 5
Melbourne Vixens v Northern Mystics
Monday, 19 April - 7:05pm
Hisense Arena, Melbourne
The Trots
Kilmore Racing Club - April Race Dates
Thoroughbred Racing
Monday April 19th
Harness Racing
Fridays April 16th
Cranbourne Turf Club
, situated in a picturesque setting, boasts superb member and public facilities for a great day at the races. Bring a picnic or enjoy fine dinning at the club.
April Race Dates
Sunday April 18th - Gates Open 10:30am
Yarra Valley Racing
, located at Yarra Glen, offers a great day out with the finest in racing entertainment along with great venues with regional food and wine.
Next Race Date
Harness Racing - Monday April 19
Community Sports & Fun Runs
Run the Rock
, staged on the historic racecourse within the Hanging Rock Recreation Reserve. Situated north west of Melbourne just off the Calder Highway, the event offers a picturesque 5km run or walk and 10km run.
Saturday, 17 April
9.30am - 5km run/walk | 10.00am - 5km run
Republica Beach Volleyball
, held at St Kilda Sea Baths, invites mixed teams of 4 to compete in a fun, entertaining atmosphere smack bang in front of one of the world's greatest DJ's. With a first in best dressed policy, each participant will receive a free refreshment from Republica.
When:
Every Wednesday - 6:30pm (Fees Apply)
Melbourne Tours
Smartvisit Card
is the best way to see the sights of Melbourne, whether you're visiting Melbourne for business, a vacation, or even if you're a local wanting to find Melbourne's hidden treasures!
The Smartvisit Card includes entry to attractions such as Melbourne Zoo, Melbourne Aquarium, Old Melbourne Gaol, Telstra Dome, Cook's Cottage, Melbourne River Cruises, and many more of Melbourne's TOP venues!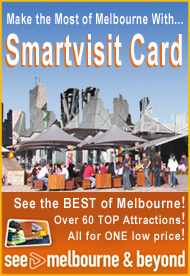 Free entry to over 60 top attractions..
Visit great venues like Zoos, museums & more across Melbourne & Victoria!
Over $800 of entry fees for ONE low price..
Plus special offers & discounts!
Visit just 2 Attractions a day & you'll save!
FREE 128 page guidebook..
Tailored to local knowledge on what to see & do!
Cash free entry..
Show your card & you're in, no need for cash!
All year-round Attractions..
Whatever time of year you visit - rain or shine!
Learn more about Smartvisit Card
Last Week's Puzzle Answers
Spot The Difference
Here are the 5 Differences in last week's picture of
City Museum
...
Newsletter | #170 | What's On this Week [Last Week]
Melbourne Trivia
And If You Go Chasing Rabbits..
Did you know tunnels run everywhere under Melbourne? More than 50 tunnels dating back to WW2 run under Melbourne, including one near Dights Falls - Yarra River.
There are reports that there used to be a large underground "bunker"near Dights Falls at Abbotsford, in Melbourne, Victoria.
It is believed that this large underground "bunker"was an old WW2 air raid shelter, and it's estimated that it could hold a few thousand people.
Read more about Melbourne's Tunnels
|
Read Melbourne Trivia...
WHAT'S ON CALENDAR
Speaking of what's on, our
new calendar
allows you to select any day of the year to view everything (everything!!!) on that day in an easy to read, printable display.
-:- View
What's On Calendar
-:- View
Markets Only Calendar
Melbourne On The Phone

OnlyMelbourne
is now
mobile phone
compatible. Yes, our pages are formatted to be viewed on the small screen. To view our mobile phone website, go directly to our
home page
with your web compatible mobile phone and you will automatically be redirected to the
mobile compatible
version of OnlyMelbourne, so you'll be in the know on the go!
WHAT'S ON FEEDS
For those with newsfeeds, we now have a daily
What's On Melbourne Today
feed.
NEWSLETTER
What's On this Week
is an email overview and reminder of the (too many to mention) events happening this week in Melbourne.
Get your copy
of What's On this Week!
FREE ADVERTISING
Advertising
your EVENT at OnlyMelbourne is not only easy, it's
FREE!!
-
Apply Online..
for inclusion in the What's On calendar and newsletter!
❊ Address & Contact ❊
⊜ Newsletter | #171 | What's On this Week Melbourne |
Map
❊ Web Links ❊
→
Newsletter | #171 | What's On this Week
→
Subscribe to OnlyMelbourne - Get your copy of What's On this Week!
→
List Your Business or Event - It's FREE!
→
Events Calendar - Find out What's On any day of the week!
→
Mobile OnlyMelbourne - View Our Website On Your Phone
→
Melbourne for Children | Kids
→
Newsletter | #170 | What's On this Week [Last Week]
→
Disclaimer
: Check with the venue before making plans
...
Trending HOT

Drive-In Movie Club
Drive-In Immersive Cinema Nights Are Coming to Melbourne Put together by our friends at Hot Tub Cinema, a string of family-friendly, social distancing-safe, drive-in ..

Things to see, hear & do this weekend
Make the most of your weekend in Melbourne with these fabulous events. No city does it better than Melbourne, so get out and discover the very best shows, festivals, ..
---
Update Page