Newsletter | #169 | What's On this Week
Welcome to this week's Melbourne events, exhibitions, sports and community guide for Tuesday March 30 to Monday April 5, 2010.
This week... the big bunny hops into town with a huge weekend of fun at the Bendigo Easter Festival, while it's courses for horses in Beechworth with the Golden Horseshoes Festival. Emerald also has some fancy going on with the PAVE Festival bestowing all things arty.
And what's in it for poor ol' Melbourne, you ask? Why, the Melbourne International Comedy Festival, of course. You'll also find a special series of ceremonies held as part of Holy Week, which ties in with something to do with chocolate, and turmoil if you really want to be nit-picky.
Wouldn't it be nice if the world was atheist...
Well, maybe not. Otherwise we'd have nothing to yell when we stub our toes.
Major Events
Bendigo Easter Festival
, celebrating its 140th birthday this year, offers four days of activities that honour the festival's past, present and future. Highlights include Hazeldene's Family Day with an enormous Easter Egg Hunt, The Big Party at Kidzone, musical performances and more.
When:
Friday to Monday, April 2 to 5
Beechworth Golden Horseshoes Festival
, a popular annual event in regional Victoria, offers events for all ages with a Grand Parade and live music with performances and busking on the streets. The festival also includes an Easter market, art exhibitions, kids' activities and more.
When:
Friday to Monday, April 2 to 5
PAVE Festival
, held annually in the township of Emerald in the scenic Dandenong Ranges, offers a program that celebrates music and arts with free and low priced events for people of all ages with concerts, art exhibitions, children's performances and activities, live theatre and much more.
When:
April 5 to 11
The AquaFest Community Festival
, held at the Safety Beach Sailing Club, an hour's drive from Melbourne, offers a day of fun with Come and Try Dragon Boating and Come and Try Sailing held on the day along with information on joining the Sea Scouts beach games and activities.
When:
Saturday April 3
The Melbourne International Comedy Festival
returns with a great program of performances by some of the best entertainers from Australia and overseas. With shows for people of all ages at various venues in Melbourne, the festival offers comedy, circus, theatre and more.
When:
Until April 18
Holy Week
will see, for the first time in over 40 years, all the traditional Latin ceremonies of Holy Week celebrated by a Bishop in the Extraordinary Form of the Roman Rite, the traditional form in Latin. The official centre for the events is St Aloysius' Church, in Caulfield.
When:
Until April 5
The St Kilda Busking Festival
offers a fantastic look at the colourful entertainment on offer from Melbourne's hidden artists. With fun performances held on Sundays between 1pm and 4 pm, the free entertainment offers colourful, bizarre and hilarious entertainment for the whole family.
When:
Sundays Until April 18 - St Kilda Sea Baths
Upcoming Events
Easter Weekend
is just a bunny hop away, so keep those floppy ears to the ground and make sure you're in the know when it comes to the tastiest bargains around. Kmart have a great range of goodies on offer, and there's no need to head to the mailbox with their catalogues online!
Find Easter Weekend Bargains

NEW LIVE CALENDAR
To find out about future events in Melbourne, have a look at our new calendar, with details about many more events that lie ahead so you can jot them down on the to-do list , including Exhibitions, Live Gigs, Theatre, Markets, Expos and more..
View Future Events on any day of the week
Special Reminder
Day Light Savings Ends on Sunday April 4
, so be sure to set your clocks ONE HOUR BACK at 2am. Hopefully the Easter Bunny was extra kind to you and you'll still be up by then, winding down from the sugar high - that or you have Monday off, working up towards feeling hungover and down.
April 4 - One Hour Back at 2am
School Holiday Guide

Check out our
School Holiday Guide
for all the latest on what to do with the kids during the Autumn School Holidays running until April 11. The holiday guide offers some of the best things to do over the holiday period for the young and young at heart, with events, tours and holiday care programs.. all in marvellous Melbourne!
View School Holiday Guide
We Built This City
, featured as part of the celebrations during Bendigo's Easter Festival, is a presentation by Polyglot that will see Bendigo's Rosalind Park become a public construction extravaganza with children able to help create a city using thousands of big cardboard boxes.
When:
Sunday & Monday, April 4 & 5
|
Free Event
Exhibitions - Art | Festival | Show
Studies of the Natural World
, held at Forty Five Downstairs in Flinders Lane, is an exhibition of oil paintings by Peta Cross. Exploring the artist's relationship with animals and the natural world, the works are drawn from the artist's observations of the taxidermy profession.
When:
March 30 to April 24 - Tuesday to Saturday
Not Moving
, an exhibition by David Van Royen, is a study of self-portraiture that uses the environment within a collection of photographs to capture the artist, rather than the artist himself. Examining themes of persona and identity, it's held at Fitzroy's Centre for Contemporary Photography.
When:
Until May 18
Max Dupain and John Witzig
, showing at Dickerson Gallery in Collingwood, brings together two of Australia's most talented photographers. A historical snapshot of Australia's beach culture identity, their photos document beach culture during the 30s, 40s, 60s and 70s.
When:
March 31 to April 17 - Tuesday to Saturday
The Arthur Rylah Institute
, Victoria's leading centre for applied ecological research, will be celebrating its 40th anniversary during April by presenting a free exhibition of rare flora and fauna prints from the Arthur and Caroline Howard Collection, which includes settlement era artworks.
When:
Throughout April - Various Venues
Endless Perspectives
, held at St Kilda's Obscura Gallery, is an exhibition that comprises of work by three photographers who offer an insight into the lives of others both here and overseas. Among the featured artists is Jenny Hodge, whose photos examine the Sikh Community in Melbourne.
When:
Until April 18
Voices
, showing at Chapel off Chapel in Prahran, showcasing artwork developed during art therapy as part of TaskForce's Imagine a Life program, which assists the disadvantaged. Using drawings, painting, photography and installation, the works invite people to view life from a new perspective.
When:
Until April 9
Australia's Muslim Cameleers
, a special exhibition on loan from the South Australian Museum at the Immigration Museum, showcases the Pioneers of the Inland during the 1860s to 1930s when the cameleers' small Muslim community were a feature of Australian outback towns.
When:
Until September 19 - Open Daily
Figment
, presented as part of the L'Oreal Melbourne Fashion Festival by e.g.etal in Flinders Lane, is a unique 'mythical' exhibition showcasing the work of seven contemporary jewellery designers who've drawn on personal memories of a treasured fable or myth to produce new works.
When:
Until March 31
Simply Madonna
, on display at Chadstone, offers an exclusive look at the wardrobe of the iconic singer. With clothing curated from the world's largest private collection of Madonna costumes and artefacts, it includes the pink 'Material Girl' dress and a stunning ball gown from Evita.
When:
Until April 4
Status Anxiety
, showing at the Monash Gallery of Art in Wheelers Hill, is an exhibition of photography by Lyra, an artist whose work is influenced by her background in film. The exhibition explores society's pressures on women to conform to ideals as presented by fashion magazines.
When:
Until April 11 - Tuesday to Sunday
Palimpsest
, held at the historic Firestation Print Gallery in Armadale, is an exhibition of the latest photography work by Rachael Delmenico and Marie Watt. Along with the art displays, there's also the opportunity during the exhibition to go 'behind the scenes' in the working studio.
When:
Until April 11 - Tuesday to Sunday
Hidden Facets
is a collaborative exhibition that brings together the creativity of jeweller, Katherine Wheeler and print maker and bookbinder, Abby Seymour. Capturing the subtle yet dynamic bond between each artist's work, the exhibition is held at Bourke Street's Hand Held Gallery.
When:
Until April 3 - Monday to Saturday
Ron Mueck
, an Australian sculptor whose work has long made a great impact on the world of international contemporary art, will be featured at Melbourne's NGV International with an astounding exhibition of his hyperreal sculptures that eerily capture the human form.
When:
Until April 18 - Wednesday to Monday
Australian Moderns
, presented by Cyclone in South Melbourne, is an exhibition that showcases original works by some of Australia's most famous and prominent artists. With works available for sale, the exhibition includes artworks by Arkley, Blackman, Boyd, Gleeson and Perceval.
When:
Until April 3 - Tuesdays to Saturdays
Spun Light
, showing at the Stonnington Service Centre located at Malvern Town Hall, is an exhibition of photography that uses the camera to capture light at a particular moment in time, at times with the light in movement, while at others the camera alone moves, capturing playful images.
When:
Until April 16 - Mondays to Fridays
QUEEN - The Unseen Archive
, a special presentation held at the Art Gallery of Ballarat, is a world premiere exhibition that showcases a fascinating blend of photographs and memorabilia related to the legendary English rock band Queen, providing a rare insight into the iconic band.
When:
Until April 11
'til you drop
, held at the State Library of Victoria, is a free exhibition that celebrates Melbourne's passion for shopping, from the Paris end of Collins Street to the local corner store. The exhibition features historic photographs and nostalgic items on display such as wartime ration cards and more.
When:
Until October 31
Expos, Launches & Lectures
Angus and Robertson
in Bourke Street will be holding a book signing session with Gary Mehigan, the acclaimed chef and MasterChef Australia judge. Held suitably during the lunch hour rush, the restaurateur sign copies of his latest book, Comfort Food, a compilation of recipes with a twist.
When:
Wednesday March 31 - Midday to 2pm
Pet Shows
Dogs Victoria
host a range of Championship and Breed Shows that include special competitions or parades such as veterans or baby puppy classes. The events offer an entertaining day out and the chance to meet with breeders and owners to learn more about the dogs involved.
When:
Dog Shows & Trials Held April 2 to 5
Performances & Theatre
The Jewish Chronicles
, starring Daniel Cainer, is a performance that saw sell-out seasons at London's West End and Edingburgh Festival. A frank look at Daniel Cainer's personal journey, told in song and storytelling, the bitter-sweet performance is held at St Kilda's TheatreWorks.
When:
March 31 to April 10
A Midsummer Nights Dream
, presented by OZACT, is a performance of one of Shakespeare's greatest comedies, played out in the spectacular outdoors of Heatherlie Quarry in Grampians National Park, bringing to life the tale of love, magic, mischief and mistaken identity.
When:
Saturday & Sunday, April 3 & 4
Faulty Towers, The Dining Experience
returns with performances of the interactive comedy show held at The Aegean Restaurant in Fitzroy. With a 3-course dinner, the evening captures the mayhem of a restaurant run by Basil Faulty, his wife Sybil and the misguided waiter Manuel.
When:
April 1 to 18
Alzheimer's the Musical
, presented by Prospect Productions, is a night to remember with the lively residents of the Jurassic Park Retirement Village, where the motto is 'never say die' and growing old disgracefully is the only way to go. Performances are held in Prahran.
When:
Until April 11 - Wednesday to Sunday
Master & Servant
, performed at the Old Courthouse in Geelong, is a 30 minute rotating performance that examines human relationships, the exercise of power and status, and how this can be altered. A metaphoric, intimate experience, audience members are invited to sit at the Master's table.
When:
Thursday to Saturday, April 1 to 3
As You Like It
, presented by Winterfall Theatre, gives the classic play by Shakespeare an 80's twist with mascara, fluorescent lipstick and new romantic fashions. Performed at The Theatre Husk in Northcote, it features recent graduates from schools that include London's Globe Theatre.
When:
Thursday to Sunday - April 1 to 4
MAMA MIA!
the hit musical that's inspired by the songs of ABBA, returns to Melbourne for a limited time with performances held at Her Majesty's Theatre. The romantic comedy follows a young girl whose efforts to meet her father reunite her mother with three lovers from the past.
When:
Until May 30
Cabaret & Burlesque
Bang On!!!
held at The Order of Melbourne in Swanston Street, is the Bang Bang Agency brand-new all-female variety night. Showcasing rising stars in live entertainment, the performance nights bring together Melbourne's sassiest female performers with comedy, circus, cabaret and more.
When:
April 1 to 15 - Thursdays
The Manly Sisters Spag n Drag Show
, held at the British Crown Hotel in Collingwood, is an entertaining night out with Melbourne's favourite Manly Sisters bouncing onto the stage where they also invite audience members to join them on stage for their crazy "Drag Stars"competition.
When:
Until April 17 - Wednesday & Saturday
Unexpected!
is a solo variety show by Jenny Wynter that combines stand-up, cabaret, storytelling, musical, improvised theatre and character comedy. With a deeply personal story about adventures in the unexpected. the performances will be held at GasWorks in Albert Park.
When:
Until April 18
Entertainment & Nightlife
All Black Everything
, taking place at Melbourne's Eurotrash, kicks the notorious weekly Hangtime up a notch with its biggest ever party. Held over two floors with some of the country's most outlandish party DJs, the night will feature close to 20 acts including The Aston Shuffle.
When:
Thursday April 1 - Bookings Advised
The John Montesante Quintet
, performing at The Commune Cafe Bar, brings a hint of New York Be-Bop to Melbourne with performances that include timeless Jazz standards and improvisations by John Montesante and some of the finest, hottest Jazz players in town.
When:
Every Thursday - 5:45pm to 8:45pm
HiJack
, appearing at Melbourne's Roxanne Parlour, is one of the UK's most notorious DJs from the underground house scene. Fusing house and techno, with samples from all musical eras and genres, the popular DJ will be performing alongisde Kissy Sell Out on the night.
When:
Sunday April 4
The Chandelier Room's Live Sundays
brings you the best of Melbourne's singers and songwriters performing in a family friendly environment. With great entertainment from performers Susan Lily and Josh Romig, the Moorabbin venue will also be offering special Easter games for the kids.
When:
Sunday April 4 - 4pm to 8pm
Cinema
Alice in Wonderland
, Tim Burton's imaginative reworking of the classic tale by Lewis Carroll, will be screening in 3D at IMAX Melbourne. The colourful and epic fantasy follows the adventures of Alice when she revisits Wonderland as a 19-year-old and is re-united with her childhood friends.
When:
Until April 7
Comedy
The Al Pitcher Picture Show
, an award winning performance, returns to Melbourne with the quirky Al Pitcher capturing the world as he sees it every day with a camera. Weaving the day's events and pictures into a new show every night, performances are held at Trades Hall in Carlton.
When:
Until April 18 - Tuesday to Sunday
A Ship-Load Of Laughs
, presented by The Baby Seals, brings improvised comedy mayhem to Young & Jacksons with an ocean adventure of Titanic proportions. Each night the crew of improvisers will navigate a different show with the audience in charge of steering their good ship.
When:
Until April 17
Snake Oil Traders
, held at Melbourne's Fad Gallery, is the self-proclaimed funniest New Show of the Melbourne International Comedy Festival that will fix your problems with absurd, clever comedy. Good for what ails ya, the show is performed by Damian Briese and Micah.
When:
Until April 3 - Tuesday to Saturday
Melbourne For Kids
Postcards from Nanna
, held at the Arts Centre's Blackbox theatre, is the multi-award winning story concert starring Cha Cha Sam and Nanna's Band. Featuring funky folk/pop songs, this is a bumpalicious story concert for kids, grown-ups and Nannas alike, about learning to love being different.
When:
March 30 to April 3
Family Day at Collingwood Children's Farm
is a special children's event held each month with each family day featuring a theme that matches activities provided for kids. Activities include hayrides, a BBQ, free pony rides and more, making it a great day out for the kids.
When:
Sunday April 4
|
Only $16 Per Family
Rodney. Missing
is the tale of John Johnson and Rodney, an African Elephant, who've enchanted audiences on the streets since running away from the circus when young. But with Rodney elsewhere and 11,564 kilograms of the act missing, the show at Melbourne Town Hall must go on!
When:
Until April 11 - Tuesday to Sunday
The Maize Maze Carnival
, held at the Enchanted Maze Garden in Arthurs Seat, is a chance to discover the amazing Maize Maze - the largest of its kind in the Southern hemisphere. With fun twists and turns, the impressive Maize Maze is made from more than 100,000 stalks of corn.
When:
Until May 2 - Open Daily
Circus
Veritas
, held at NICA's National Circus Centre in Prahran, features the circus arts school's 3rd year students in a spectacular high-energy ensemble performance about the search for truth and self discovery. The show features spectacular circus feats combined with video projection.
When:
Until March 31
Stardust Circus
, Australia's largest circus with animals, will be holding performances at their big top located in Mooroolbark. The performance features African lions, monkeys, Liberty horses and trick ponies, acrobats, Aerialists, the sensational flying trapeze, clowns and more.
When:
Until April 7 - Mooroolbark
Perry Bros Circus
, Australia's oldest circus, will be making appearances with their Big Top located in Bayswater North, offering quality entertainment to please the entire family. With wire walkers, Jugglers, Whip crackers, balancing acts and more the circus also features performing ponies and camels along with their very funny clowns.
When:
Until April 11 - Bayswater North

Silvers Grand Magic Circus
will be holding performances in Hoppers Crossing. Established in 1976, Silvers Grand Magic Circus offers a great show for people of all ages with performers including everything from jugglers and clowns to acrobats, international performers and more.
When:
Until April 18 - Narre Warren South
Puzzles & Competitions
Spot The Difference
There are 5 Differences between these two pictures of one of the displays from the
National Sports Museum
... See if you can spot them! Sign up for answers revealed in
Next Week's Newsletter
Last week's answers are further down with
Melbourne Trivia
More on the National Sports Museum
|
Learn More about Melbourne!
You Can Help
There are many social causes that are relevant to people from all walks of life, many of which rely on public support to better the community or assist those who are less fortunate or to benefit others. This week we ask you to consider the following..
The Good Friday Appeal
brings together people from all parts of the community to raise money for the Royal Children's Hospital. Broadcast live on Channel 7, donations made will help the hospital ensure that all children with life-threatening diseases get the best possible medical care.
Learn How to Donate Today
Markets, Fetes and Fairs
Melbourne Market Guide
View MARKETS on any day of the week
to make the most of the rare sunny days (it's a coin toss, isn't it!) and head to one of Melbourne's many excellent markets, fetes and fairs for a bargain!

A growing number of food, produce and even wine markets are always popping up around the suburbs. And don't forget garage sales!
Fetes Fairs & Shows
Art & Craft Markets
Food & Produce Markets
Swap Meets
Garage Sales
OnlyMelbourne Welcomes..
Each week we highlight some of the latest additions to OnlyMelbourne's ever growing guide to services, businesses and information sites for your community.
This week we suggest the following:
Emergency Teachers Australia
- Emergency Teacher Agency...
Chez Regine
- An elegant, intimate cocktail bar...
Melbourne Showgrounds Farmers' Market
- New Weekly Market...
Walking in Autistic Shoes
- Autism presentation with Donna Williams...
View More of the Latest Listings at OnlyMelbourne!
Sporting Events
AFL Premiership
AFL Premiership | Round 2
Collingwood v Melbourne
- April 3 - MCG
St Kilda v North Melbourne
- April 3 - Marvel Stadium
Essendon v Fremantle
- April 4 - Marvel Stadium
Richmond v Bulldogs
- April 4 - MCG
Hawthorn v Geelong
- April 5 - MCG
NRL - National Rugby League
NRL Premiership | Round 4
Melbourne Storm v St George Dragons
Friday April 2 - 2:10pm
Marvel Stadium, Docklands
Community Sports
The Stawell Gift
, an event presented since 1878 by the Stawell Athletic Club, is an action-packed carnival over the Easter weekend culminating in the Stawell Gift, Australia's oldest and richest short distance running race. Highlights include the Stawell Regional Health Family Day.
When:
Friday to Monday, April 2 to 5
Republica Beach Volleyball
, held at St Kilda Sea Baths, invites mixed teams of 4 to compete in a fun, entertaining atmosphere smack bang in front of one of the world's greatest DJ's. With a first in best dressed policy, each participant will receive a free refreshment from Republica.
When:
Every Wednesday - 6:30pm (Fees Apply)
Melbourne Tours
Smartvisit Card
is the best way to see the sights of Melbourne, whether you're visiting Melbourne for business, a vacation, or even if you're a local wanting to find Melbourne's hidden treasures!
The Smartvisit Card includes entry to attractions such as Melbourne Zoo, Melbourne Aquarium, Old Melbourne Gaol, Telstra Dome, Cook's Cottage, Melbourne River Cruises, and many more of Melbourne's TOP venues!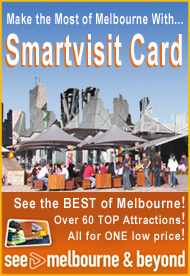 Free entry to over 60 top attractions..
Visit great venues like Zoos, museums & more across Melbourne & Victoria!
Over $800 of entry fees for ONE low price..
Plus special offers & discounts!
Visit just 2 Attractions a day & you'll save!
FREE 128 page guidebook..
Tailored to local knowledge on what to see & do!
Cash free entry..
Show your card & you're in, no need for cash!
All year-round Attractions..
Whatever time of year you visit - rain or shine!
Learn more about Smartvisit Card
Last Week's Puzzle Answers
Spot The Difference
Here are the 5 Differences in last week's picture of the view from
Southgate Complex
...
Newsletter | #168 | What's On this Week [Last Week]
Melbourne Trivia
Hoddle What Now?
One of Melbourne's busiest stretches of road, notoriously busy some might say, is in fact more crowded than you'd think, what with it actually holding three names and not the two it's most commonly referred to. Known commonly as Hoddle Street and Punt Road, both are actually constituent parts of the greater, but lesser known, Hoddle Highway.
So named after Robert Hoddle, who designed Melbourne's Hoddle Grid, the highway is known as Hoddle Street north of Bridge Road, and Punt Road south of Bridge Road, named after the punt that was once used to cross the Yarra River before a bridge was built.
More About Hoddle Highway..
|
Read Melbourne Trivia...
WHAT'S ON CALENDAR
Speaking of what's on, our
new calendar
allows you to select any day of the year to view everything (everything!!!) on that day in an easy to read, printable display.
-:- View
What's On Calendar
-:- View
Markets Only Calendar
Melbourne On The Phone

OnlyMelbourne
is now
mobile phone
compatible. Yes, our pages are formatted to be viewed on the small screen. To view our mobile phone website, go directly to our
home page
with your web compatible mobile phone and you will automatically be redirected to the
mobile compatible
version of OnlyMelbourne, so you'll be in the know on the go!
WHAT'S ON FEEDS
For those with newsfeeds, we now have a daily
What's On Melbourne Today
feed.
NEWSLETTER
What's On this Week
is an email overview and reminder of the (too many to mention) events happening this week in Melbourne.
Get your copy
of What's On this Week!
FREE ADVERTISING
Advertising
your EVENT at OnlyMelbourne is not only easy, it's
FREE!!
-
Apply Online..
for inclusion in the What's On calendar and newsletter!
❊ Address & Contact ❊
⊜ Newsletter | #169 | What's On this Week Melbourne |
Map
❊ Web Links ❊
→
Newsletter | #169 | What's On this Week
→
Subscribe to OnlyMelbourne - Get your copy of What's On this Week!
→
List Your Business or Event - It's FREE!
→
Events Calendar - Find out What's On any day of the week!
→
Mobile OnlyMelbourne - View Our Website On Your Phone
→
Melbourne for Children | Kids
→
Newsletter | #168 | What's On this Week [Last Week]
→
Disclaimer
: Check with the venue before making plans
...
Trending HOT

Drive-In Movie Club
Drive-In Immersive Cinema Nights Are Coming to Melbourne Put together by our friends at Hot Tub Cinema, a string of family-friendly, social distancing-safe, drive-in ..

Things to see, hear & do this weekend
Make the most of your weekend in Melbourne with these fabulous events. No city does it better than Melbourne, so get out and discover the very best shows, festivals, ..
---
Update Page