Newsletter | #167 | What's On this Week
Welcome to this week's Melbourne events, exhibitions, sports and community guide for Tuesday March 16 to Monday March 22, 2010.
This week... It's all about the community with festivals taking place in Kew, Sunbury, Whittlesea, Mooroolbark and Banyule, which is all well and good, but if that neighbour you've always been wary of starts talking about their sovereign state and the celebrations going on in their kitchen, be very wary and head to the hills instead for the Houdini-Centenary Air Show in Diggers Rest where you'll find a spectacular celebration of the first powered flight in Australia by that dapper, dashing magician.
There's also a great range of music festivals going on with the Apollo Bay Music Festival, some nifty tunes and food at the Bright'n'Sandy festival and the ongoing Brunswick Music Festival offers plenty of shindigs with a cultural flair.
Major Events
The Upper Yarra Harmony Festival
offers a program with plenty of entertainment and arts that will celebrate the theme of Harmony in the community. With events that include music concerts, artistic and cultural performances, it's held at the Upper Yarra Arts Centre in Warburton.
When:
Wednesday to Sunday, March 17 to 21
The Houdini-Centenary Air Show
, celebrating the great magician's achievement of Australia's first powered controlled flight, is a festival of flight with special events held in Diggers Rest and Melton including vintage aircraft and car displays, rides, magicians, kite-making, bands and more.
When:
Thursday to Sunday, March 18 to 21
The American Express Festival of Potential
, held at St Kilda's O'Donnell Gardens, is a free outdoor event that encourages the public to try something new and explore their potential with a team of inspiring artists that includes drumming troupe, Taikoz and circus performers from NICA.
When:
Friday & Saturday, March 19 & 20
Celebrate Mooroolbark
, honouring the Mooroolbark Community Centre's 30th Anniversary this year with the Mooroolbark Talent Quest, features festivities that begin with a street parade that leads to the Red Earth Community Park where there'll be free entertainment, music, food and more.
When:
Friday & Saturday, March 19 & 20
Black Harmony Gathering
, held at the Fairfield Amphitheatre, is a free concert that showcases a sensational range of Indigenous, African and culturally diverse performers. Held as part of Cultural Diversity Week, the day includes a koori BBQ, African food stalls and a market place.
When:
Sunday March 21
The Kew Community Festival
, showcasing local community groups and businesses with special events, will be presenting a street parade that will end at Kew's Alexandra Gardens where a Family Fun Day will be held with food, craft and market stalls, rides and free entertainment.
When:
Until March 21
Festival Family Fun Day - Saturday March 13
The St Kilda Busking Festival
offers a fantastic look at the colourful entertainment on offer from Melbourne's hidden artists. With fun performances held on Sundays between 1pm and 4 pm, the free entertainment offers colourful, bizarre and hilarious entertainment for the whole family.
When:
Sundays, March 21 to April 18 - St Kilda Sea Baths
The City of Whittlesea Community Festival
, with the theme this year of Reflect, Respect, Refresh, celebrates its local community with a day of free entertainment that includes an arts market, roving entertainment, workshops, carnival rides, welcome parade and spectacular fireworks.
When:
Sunday March 21 - 2pm to 9.30pm
The Sunbury Community Festival
, held at Sunbury's Village Green, is a free festival offering fun entertainment for all ages with the return of festival favourites that include talent competitions, performances by local and International bands, roving performers and a charity fun run.
When:
Saturday & Sunday, March 20 & 21
The Brunswick Music Festival
, one of Victoria's most celebrated multicultural events, celebrates the cultural diversity of the City of Moreland, offers a great program of music and entertainment featuring some of the finest performers from here and around the world.
When:
Until March 21
Food Festivals
The Melbourne Food and Wine Festival
, one of Australia's most celebrated culinary festivals, returns with yet another tasty program of events that showcase the best that Victoria has to offer with the spotlight on food, culinary skills, winemaking, international guests and much more.
When:
Until March 23
The Bright 'n' Sandy Food and Wine Festival
, held at Green Point in Brighton, offers an exciting day of music and culinary treats with a performance by Abby Dobson and appearances from chefs such as Marie Claire's Michele Cranston along with kids' entertainment and workshops.
When:
Sunday March 21
The Thai Culture & Food Festival
, held in Federation Square, is a chance to join the Thai Community as they celebrate and showcase their rich and historical culture with a day that includes a Buddhist ceremony and attractions such as food and desert stalls, live performers and more.
When:
Sunday March 21
Upcoming Events
Holy Week
will see, for the first time in over 40 years, all the traditional Latin ceremonies of Holy Week celebrated by a Bishop in the Extraordinary Form of the Roman Rite, the traditional form in Latin. The official centre for the events, which include concerts, is St Aloysius' Church, in Caulfield.
When:
March 28 to April 5

NEW LIVE CALENDAR
To find out about future events in Melbourne, have a look at our new calendar, with details about many more events that lie ahead so you can jot them down on the to-do list , including Exhibitions, Live Gigs, Theatre, Markets, Expos and more..
View Future Events on any day of the week
What's New?
Catalogue Central
presents a wide variety of online catalogues highlighting sensational bargains and stocktake sales
EXCLUSIVE to OnlyMelbourne readers
from high profile retailers including Dell Computers, Big W, Flight Centre, Kmart, Ted's Camera's, Telstra and many other great names.
Find Great Deals & Save!
Exhibitions - Art | Festival | Show
Flock
, an exhibition held at RMIT's First Site Gallery in Swanston Street, showcases excellence in fashion and textile design by students. With an emphasis on the handmade, the show features beautiful textiles and gorgeous garments that explore the theme of birds using diverse mediums.
When:
March 17 to 27 - Tuesdays to Saturdays
Opening Held Tuesday March 16 - 6pm
Vestiges
, an exhibition held at Forty Five Downstairs in Flinders Lane, features works by Jo Daniell, whose photographs of the Outback explore its timelessness. Looking at the landscape in a Pre-European way, the works present an awareness of nature, art and the essence of landscape.
When:
March 16 to 27 - Tuesdays to Saturdays
Australia's Muslim Cameleers
, a special exhibition on loan from the South Australian Museum at the Immigration Museum, showcases the Pioneers of the Inland during the 1860s to 1930s when the cameleers' small Muslim community were a feature of Australian outback towns.
When:
Until September 19 - Open Daily
Figment
, presented as part of the L'Oreal Melbourne Fashion Festival by e.g.etal in Flinders Lane, is a unique 'mythical' exhibition showcasing the work of seven contemporary jewellery designers who've drawn on personal memories of a treasured fable or myth to produce new works.
When:
March 16 to 31
Simply Madonna
, on display at Chadstone, offers an exclusive look at the wardrobe of the iconic singer. With clothing curated from the world's largest private collection of Madonna costumes and artefacts, it includes the pink 'Material Girl' dress and a stunning ball gown from Evita.
When:
March 16 to April 4
Status Anxiety
, showing at the Monash Gallery of Art in Wheelers Hill, is an exhibition of photography by Lyra, an artist whose work is influenced by her background in film. The exhibition explores society's pressures on women to conform to ideals as presented by fashion magazines.
When:
Until April 11 - Tuesday to Sunday
Palimpsest
, held at the historic Firestation Print Gallery in Armadale, is an exhibition of the latest photography work by Rachael Delmenico and Marie Watt. Along with the art displays, there's also the opportunity during the exhibition to go 'behind the scenes' in the working studio.
When:
Until April 11 - Tuesday to Sunday
Hidden Facets
is a collaborative exhibition that brings together the creativity of jeweller, Katherine Wheeler and print maker and bookbinder, Abby Seymour. Capturing the subtle yet dynamic bond between each artist's work, the exhibition is held at Bourke Street's Hand Held Gallery.
When:
Until April 3 - Monday to Saturday
Climate
by Geoff Dyer is a collection of landscape portraits presented by Axia Modern Art in Armadale. Infusing his art with the majesty of the natural world, Dyer's ability to find beauty within a seemingly barren locale bears testimony to his talent and the beauty of Australia's landscapes.
When:
Until March 22
Ron Mueck
, an Australian sculptor whose work has long made a great impact on the world of international contemporary art, will be featured at Melbourne's NGV International with an astounding exhibition of his hyperreal sculptures that eerily capture the human form.
When:
Until April 18 - Wednesday to Monday
Australian Moderns
, presented by Cyclone in South Melbourne, is an exhibition that showcases original works by some of Australia's most famous and prominent artists. With works available for sale, the exhibition includes artworks by Arkley, Blackman, Boyd, Gleeson and Perceval.
When:
Until April 3 - Tuesdays to Saturdays
Letterheads 2010
, held at the Melbourne gallery of 1000 £ Bend Artspace, is a re-visioning of the English alphabet by 26 of the most influential emerging and established contemporary artists in the world today. With pieces created exclusively for the exhibition it features work by Mark Bode.
When:
Until March 19
Spun Light
, showing at the Stonnington Service Centre located at Malvern Town Hall, is an exhibition of photography that uses the camera to capture light at a particular moment in time, at times with the light in movement, while at others the camera alone moves, capturing playful images.
When:
Until April 16 - Mondays to Fridays
QUEEN - The Unseen Archive
, a special presentation held at the Art Gallery of Ballarat, is a world premiere exhibition that showcases a fascinating blend of photographs and memorabilia related to the legendary English rock band Queen, providing a rare insight into the iconic band.
When:
Until April 11
'til you drop
, held at the State Library of Victoria, is a free exhibition that celebrates Melbourne's passion for shopping, from the Paris end of Collins Street to the local corner store. The exhibition features historic photographs and nostalgic items on display such as wartime ration cards and more.
When:
Until October 31
Expos, Launches & Lectures
The Annual Schools Cook Off Championship
, presented by the William Angliss Institute at their La Trobe Street campus, will see students from across Victoria competing to present the perfect cupcake in a special event that includes cookery demonstrations, school tours and more.
When:
Thursday March 18
The L'Oreal Melbourne Fashion Festival
, Australia's largest and most successful fashion event for consumers, returns to Central Pier in Docklands to showcase the latest designs and bring to the public the upcoming collections for autumn and winter with a program of special events.
When:
Until March 21
Target Rocks Red Market
, a free event held at Federation Square as part of L'Oreal Melbourne Fashion Festival, showcases chic trends with free activities on offer including manicures, fantastic beauty tricks, tarot readings and sessions with some of Australia's best stylists.
When:
Saturday March 20 - Starts 1pm
Performances & Theatre
Death By Chocolate
, presented by WhoDunnit Events, is an interactive murder mystery held at Melbourne's Koko Black Chocolate. With the chance to start sleuthing online once a ticket's purchased, the two-hour live event allows guests to solve a mystery while sampling gorgeous chocolate.
When:
Thursday to Sunday, March 18 to 21
Journey of Asylum - Waiting
, held at Carlton's Bella Union Theatre, offers a look into the world of an asylum seeker, as seen through their eyes. The exciting new theatre production weaves the lived experiences of asylum seekers now residing in Melbourne into a poetic performance.
When:
Tuesday to Saturday, March 16 to 20
The House of Barnada Alba
, presented by Alterior Motive with an entirely female cast, tells the story of Bernada, a Spanish widow who keeps her daughters housebound in mourning over the death of their father. Hailed as a classic of theatre in Spain, it's playing at Northcote Town Hall.
When:
Tuesday to Sunday, March 16 to 21
At the Sans Hotel
, a theatrical performance inspired by the events surrounding Cornelia Rau, is a production that moves from sadness to humour as it studies the terror of loneliness and indecision. Written by Nicola Gunn, performances are held at Theatre Works Theatre in St Kilda.
When:
March 16 to 27 - Tuesdays to Sundays
Sinbad
, performed for a limited season by Altona City Theatre, sees the classic tale of adventure given a very skewed twist with the people's hero and his trusty crew, Abu, Mustapha and Auntie Frank, thwarting the plans of Al Capone. Performances are held at the Altona Theatre.
When:
Friday to Sunday, March 19 to 28 & April 9 to 17
As You Like It
, presented by Winterfall Theatre, gives the classic play by Shakespeare an 80's twist with mascara, fluorescent lipstick and new romantic fashions. Performed at The Theatre Husk in Northcote, it features recent graduates from schools that include London's Globe Theatre.
When:
Until April 4 - Thursdays to Sundays
The Fate of Franklin & His Gallant Crew
is an unusual piece of theatre with performances held at a secret location in Northcote. Presented by the acclaimed performance group, Four Larks, the play is a junkyard opera that fuses theatre, installation, live music, spectacle and rum.
When:
March 17 to 21 & 24 to 27
Dogg's Hamlet, Cahoot's Macbeth
is a performance by PMD Productions that uses two of Shakespeare's most well known plays to turn language on its head. Written by Tom Stoppard, the theatre pieces use irreverent and absurdist dialogue to highlight issues of liberty and freedom.
When:
Until March 27 - Wednesdays to Sundays
Grease The Musical
, presented by Fab Nobs Theatre, captures the spirit of the film with the classic love story at Rydell High featuring the iconic songs Such as 'You're The One That I Want' that made the movie the hit it still is today. Performances are held at The Fab Factory in Bayswater.
When:
Until March 27
MEN
, a production by Brendan Cowell performed at fortyfive downstairs in Flinders Lane, examines the inner workings of the male as three men must share a room, revealing their varied flaws and strengths. Directed by Sarah Hallam, the performance stars Samuel Johnson.
When:
Until March 21 - Tuesday to Sunday
CATS
, the best-known and best loved musical the world has ever known, returns to Melbourne for a limited run with performances held at the Regent Theatre. Composed by the legendary Andrew Lloyd Webber, the hit musical features inspired choreography and stunning costumes.
When:
Until March 28
Three Steps Forward
is a performance of three short plays written by Paul Spinks and directed by Bronwyn Dunston. Held at the Australian Centre Of Performing Arts in North Melbourne, the plays combine theatre and film to interweave three stories that examine three very different lives.
When:
Fridays to Sundays During March
Madagascar
, presented by Melbourne Theatre Company, is an intriguing performance set in the room of a hotel in Rome where three versions of a story are told at three different times. Starring Nicholas Bell, Noni Hazlehurst and Asher Keddie, it's playing at the Fairfax Studio of the Arts Centre.
When:
Until March 27
MAMA MIA!
the hit musical that's inspired by the songs of ABBA, returns to Melbourne for a limited time with performances held at Her Majesty's Theatre. The romantic comedy follows a young girl whose efforts to meet her father reunite her mother with three lovers from the past.
When:
Until May 30
Dance
The Melbourne Latin Festival
, held at the Darebin Arts and Entertainment Centre in Preston, showcases Latin dancing with an exciting program of entertaining workshops, performances by international guests and hot after-parties with some of Melbourne's best Latin bands performing.
When:
Friday to Sunday, March 19 to 21
Cabaret & Burlesque
The Manly Sisters Dinner and Drag Show
, held each week at Dante's in Fitzroy, is an entertaining night out with Melbourne's favourite Manly Sisters bouncing onto the stage where they also invite audience members to join them on stage for their crazy "Drag Stars"competition.
When:
Saturdays - Doors Open 7:30pm
Classical, Choral & Recitals
Selby & Friends
will be presenting a concert at the University of Melbourne's Melba Hall. Focusing on the work of famed composers inspired by the genre of the piano trio, the performance by the accomplished ensemble, Trioz, will feature music from Liszt, Bloch, Arensky and Schubert.
When:
Wednesday March 17 - 8pm
Entertainment & Nightlife
Between the Bays Music Festival
, now its 5th year, takes place at Penbank in Moorooduc where there'll be performances by Tex Perkins and his band along with Angie Hart, The Fauves and other great bands. The festival also features gourmet food stalls and children's entertainment.
When:
Saturday March 20
Wendy Stapleton and Paul Norton
, the former member of The Runners who featured in the Australian tour of The Countdown Spectacular, will be appearing at A D Ryan's Bar & Restaurant in Diamond Creek. Frequent performers at the intimate venue, guests are welcome to dance.
When:
Thursday March 18
The John Montesante Quintet
, performing at The Commune Cafe Bar, brings a hint of New York Be-Bop to Melbourne with performances that include timeless Jazz standards and improvisations by John Montesante and some of the finest, hottest Jazz players in town.
When:
Every Thursday - 5:45pm to 8:45pm
Pete Ewing and Co.
will be performing at the John Curtin Hotel in Carlton where they'll also be launching Ewing's debut EP. Joined by very special guests James McCann's Other Band and Van Walker, copies of the EP will be available on the night before it goes out and hits the stores.
When:
Friday March 19 - 8pm
Hotel California -The Eagles Experience
, recaptures the excitement of the much loved rock superstars, The Eagles, who disbanded in 1982. With five highly respected, multi-talented musicians performing at The Palais in St Kilda, the show faithfully recreates The Eagles' timeless hits.
When:
Friday March 19 - Doors Open 7:30pm
The Whitehorse Summer Music Series
, a program of exciting concerts with fantastic performers, will present a World Harmony Day Concert at Box Hill Gardens with special guests including Chinese pop band, Klova and Orleans Funk band, Mega Horns. The family friendly event is free.
When:
Sunday March 21 - 4pm to 8pm
Cinema
The Alliance Francaise French Film Festival
screens in Melbourne at selected Palace Cinemas with a program that presents new features that encompass the best of French Cinema with documentaries, dramas, action, romance, and a special presentation of the superb children's animation, U.
When:
Until March 19

The Rooftop Cinema
flickers into action with film screenings of everything from cult favourites to new releases and documentaries, literally offering the height of entertainment with screenings held on the rooftop of Swanston Street's Curtin House along with the rooftop bar.
When:
Tuesdays to Sundays Until March 28
Comedy
The Impro Cave Summer Club
sees Impro Melbourne's sharpshooting players taking their stage skills out west, appearing at the Dog Theatre in Footscray. After a sell-out season of last year's Impro Cave, the troupe will hold nothing back with a totally new season at their mercy.
When:
Sunday March 21 - 7:30pm
[email protected]
is a comedy night at Spleen Bar in Bourke Street, where you can enjoy a great night out with an eclectic mix of Melbourne's comedy scene featuring established personalities and comedy legends from radio and television with guests such as Glenn Robbins, Corinne Grant and others.
When:
Every Monday - 8:30pm to 10:30pm
|
FREE Entry
Melbourne For Kids
Ride2School Day
, held to promote healthier living and safe cycling for children, is an invitation to all parents, teachers and students to leave the car at home and get riding, walking, skating or scootering to school with group events held across Melbourne and Victoria.
When:
Wednesday March 17
All Gone!
presented by Pocketfool Productions, is a special performance held as part of La Mama for Kids, a theatre program for children. A special comedy for young audiences, the production explores ways we connect with each other and the notion of things around us disappearing.
When:
Saturday & Sunday, March 20 & 21
The Kids Summer Sessions
, held at Rippon Lea House and Garden in Elsternwick, offers a day of music and fun for the whole family where you can take a picnic, relax and the kids can be entertained with face painting, crafts, performers and more at the grand 19th century estate.
When:
Until March 28 - Sundays
The Maize Maze Carnival
, held at the Enchanted Maze Garden in Arthurs Seat, is a chance to discover the amazing Maize Maze - the largest of its kind in the Southern hemisphere. With fun twists and turns, the impressive Maize Maze is made from more than 100,000 stalks of corn.
When:
Until May 2 - Open Daily
Circus
Learn Circus with NICA
- Drop into Fed Square each Monday and try your hand at basic circus skills with experienced NICA trainers. Offering the chance to get a taste of circus in your lunchbreak, these free, fun workshops are suitable for all ages with a range of circus skills on offer.
When:
Mondays Until March 22 - Midday
Perry Bros Circus
, Australia's oldest circus, will be making appearances with their Big Top located in Bayswater North, offering quality entertainment to please the entire family. With wire walkers, Jugglers, Whip crackers, balancing acts and more the circus also features performing ponies and camels along with their very funny clowns.
When:
Until April 11 - Bayswater North

Silvers Grand Magic Circus
will be holding performances in Hoppers Crossing. Established in 1976, Silvers Grand Magic Circus offers a great show for people of all ages with performers including everything from jugglers and clowns to acrobats, international performers and more.
When:
Until March 21 - Hoppers Crossing
Puzzles & Competitions
Spot The Difference
There are 5 Differences between these two pictures of
Festival Hall
which has seen many famous performers play, including Sinatra and the Beatles... See if you can spot them! Sign up for answers revealed in
Next Week's Newsletter
Last week's answers are further down with
Melbourne Trivia
More on Festival Hall
|
Learn More about Melbourne!
You Can Help
There are many social causes that are relevant to people from all walks of life, many of which rely on public support to better the community or assist those who are less fortunate or to benefit others. This week we ask you to consider the following..
The Lighthouse Foundation
is a not-for-profit organisation dedicated to empowering young people to take responsibility for their own lives. Offering a loving family environment, Lighthouse provides long-term accommodation, care and outreach to young people, who would otherwise be homeless.
Learn How you Can Help
Markets, Fetes and Fairs
Fetes
The Merry Merri Fete
, held annually by Fitzroy North's Merri Creek Primary School, is a fun day out for the whole family with amusements and rides, a 'more treasure' than trash market with books, cds and clothing, gourmet food, a BBQ and bar along with all-day live music and performances.
When:
Saturday March 20 - 10am to 4pm
St Jude's Family Fair
, held at their parish in Scoresby, is a fun-filled family event where there'll be something for everyone including music and entertainment, rides for all ages, children's activities and a big variety of stalls with great bargains on offer along with other attractions.
When:
Saturday March 20 - Midday to 10pm
The Whizz Bang Fete
, presented by Wales Street Primary School in Thornbury, has a fantastic range of attractions with fabulous food, children's rides, farm animals and live music performances. The fete also features an artisan market, magic shows, a live auction and market.
When:
Saturday March 20
Melbourne Market Guide
View MARKETS on any day of the week
to make the most of the rare sunny days (it's a coin toss, isn't it!) and head to one of Melbourne's many excellent markets, fetes and fairs for a bargain!

A growing number of food, produce and even wine markets are always popping up around the suburbs. And don't forget garage sales!
Fetes Fairs & Shows
Art & Craft Markets
Food & Produce Markets
Swap Meets
Garage Sales
Dining & Drink
Dining Events
The Point Family Fair Day
, held at Albert Park Lake, has a day of entertainment for the whole family with The Point's Chef Scott Pickett preparing a lakeside barbeque feast along with children's rides, music and entertainment. Family tickets to the event will assist the charity, Kids Under Cover.
When:
Sunday March 21 - Bookings Advised
Wining
Wirra Wirra
, the Historic McLaren Vale winery, will be presenting a public work of art at Melbourne's Southbank by creating one of the world's largest cork sculptures, the 10 metre 'Church Block: Work of Art' to promote their wine along with free tastings and a competition for visitors.
When:
Until March 19
Dining Gift Vouchers
Menulog Gift Vouchers
are the perfect way to treat someone special to a great dinner with vouchers available for a wide range of participating restaurants in Melbourne and across Australia. There's even the option to buy a voucher and let the lucky recipient decide which restaurant they'd like to dine at!
Learn More about Menulog Gift Vouchers
OnlyMelbourne Welcomes..
Each week we highlight some of the latest additions to OnlyMelbourne's ever growing guide to services, businesses and information sites for your community.
This week we suggest the following:
Artigraphics
- Glamour photography packages...
Salsa In Motion
- Latin Dance Lessons...
Wotnews
- Australian business news online...
Red Hill Wine Tour
- Tour through three wineries...
View More of the Latest Listings at OnlyMelbourne!
Sporting Events
Netball
ANZ Championships | Round 1
Melbourne Vixens v Waikato BOP Magic
Monday, 22 March - 7:05pm
Hisense Arena, Melbourne
The Trots
Yarra Valley Racing
, located at Yarra Glen, offers a great day out with the finest in racing entertainment along with great venues with regional food and wine.
Next Race Date
Thoroughbred Racing - Sunday, 21 March
NMIT Yarra Valley Cup Food & Wine Day
Kilmore Racing Club
offers patrons a huge range of entertainment options with the centerpiece being the 50+ top class Turf and Harness Race Meetings per year.
Next Race Dates
Harness Racing
Wednesday March 17
Community Sports
Republica Beach Volleyball
, held at St Kilda Sea Baths, invites mixed teams of 4 to compete in a fun, entertaining atmosphere smack bang in front of one of the world's greatest DJ's. With a first in best dressed policy, each participant will receive a free refreshment from Republica.
When:
Every Wednesday - 6:30pm (Fees Apply)
South Sea Roller Derby
hold a Recruitment Day and Learn to skate session each week at Frankston Skateworld, located in Carrum Downs. The sessions are a chance to learn more about the Roller Derby and learn the basic skills required to begin training for one of the hottest sports in town.
When:
Every Sunday - 2pm to 4pm
Melbourne Tours
Smartvisit Card
is the best way to see the sights of Melbourne, whether you're visiting Melbourne for business, a vacation, or even if you're a local wanting to find Melbourne's hidden treasures!
The Smartvisit Card includes entry to attractions such as Melbourne Zoo, Melbourne Aquarium, Old Melbourne Gaol, Telstra Dome, Cook's Cottage, Melbourne River Cruises, and many more of Melbourne's TOP venues!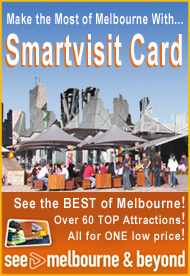 Free entry to over 60 top attractions..
Visit great venues like Zoos, museums & more across Melbourne & Victoria!
Over $800 of entry fees for ONE low price..
Plus special offers & discounts!
Visit just 2 Attractions a day & you'll save!
FREE 128 page guidebook..
Tailored to local knowledge on what to see & do!
Cash free entry..
Show your card & you're in, no need for cash!
All year-round Attractions..
Whatever time of year you visit - rain or shine!
Learn more about Smartvisit Card
Last Week's Puzzle Answers
Spot The Difference
Here are the 5 Differences in last week's picture of the Oceanarium at
Melbourne Aquarium
...
Newsletter | #166 | What's On this Week [Last Week]
Melbourne Trivia
We're Happy Little.. Parwills?
Vegemite was not only invented in Melbourne by Fred Walker but every jar of Vegemite 'ever made' has come from the Melbourne factory at Fisherman Bend.
The name "Vegemite"was selected out of a hat by Fred Walker's daughter, Sheilah. However, in 1928 its name was changed to
"Parwill"
, using the advertising slogan, "Marmite but Parwill"- a play on words for an ad campaign aimed at the rival product
Marmite
.
The cheeky, but convoluted, advertising had little effect and the name was returned to Vegemite.
More about Vegemite's History..
|
Read Melbourne Trivia...
WHAT'S ON CALENDAR
Speaking of what's on, our
new calendar
allows you to select any day of the year to view everything (everything!!!) on that day in an easy to read, printable display.
-:- View
What's On Calendar
-:- View
Markets Only Calendar
Melbourne On The Phone

OnlyMelbourne
is now
mobile phone
compatible. Yes, our pages are formatted to be viewed on the small screen. To view our mobile phone website, go directly to our
home page
with your web compatible mobile phone and you will automatically be redirected to the
mobile compatible
version of OnlyMelbourne, so you'll be in the know on the go!
WHAT'S ON FEEDS
For those with newsfeeds, we now have a daily
What's On Melbourne Today
feed.
NEWSLETTER
What's On this Week
is an email overview and reminder of the (too many to mention) events happening this week in Melbourne.
Get your copy
of What's On this Week!
FREE ADVERTISING
Advertising
your EVENT at OnlyMelbourne is not only easy, it's
FREE!!
-
Apply Online..
for inclusion in the What's On calendar and newsletter!
❊ Address & Contact ❊
⊜ Newsletter | #167 | What's On this Week Melbourne |
Map
❊ Web Links ❊
→
Newsletter | #167 | What's On this Week
→
Subscribe to OnlyMelbourne - Get your copy of What's On this Week!
→
List Your Business or Event - It's FREE!
→
Events Calendar - Find out What's On any day of the week!
→
Mobile OnlyMelbourne - View Our Website On Your Phone
→
Melbourne for Children | Kids
→
Newsletter | #166 | What's On this Week [Last Week]
❊ COVID-19 Notice ❊
Many locations have gone into lockdown as the state takes action to stop the spread of the deadly coronavirus (COVID-19).
→
Disclaimer
: Check with the operator before making plans
...
Trending HOT

Drive-In Movie Club
Drive-In Immersive Cinema Nights Are Coming to Melbourne Put together by our friends at Hot Tub Cinema, a string of family-friendly, social distancing-safe, drive-in ..

Things to see, hear & do this weekend
Make the most of your weekend in Melbourne with these fabulous events. No city does it better than Melbourne, so get out and discover the very best shows, festivals, ..
---
Update Page