Newsletter | #166 | What's On this Week
Welcome to this week's Melbourne events, exhibitions, sports and community guide for Tuesday March 9 to Monday March 15, 2010.
This week... It's on like King Kong in Melbourne with a hug line up of events this week. Socks are full to the brim with off-going frogs, and the clappers are doing whatever it is that they do to warrant a phrase implying a great big hullabaloo. And if you've already had your fill of awkward analogies, why not try filling up on something much tastier with the Melbourne Food and Wine Festival with it's ever resplendent program of events and culinary wonders.
With Multicultural Week in full swing this week, you'll also find a wide range of events throughout the local community with everything from Latin American Festivals and Celtic shindigs to a free performance day at Melbourne Town Hall celebrating Chinese Opera.
Major Events
The St Kilda Busking Festival
offers a fantastic look at the colourful entertainment on offer from Melbourne's hidden artists. With fun performances held on Sundays between 1pm and 4 pm, the free entertainment offers colourful, bizarre and hilarious entertainment for the whole family.
When:
Sunday March 14 - Fitzroy Street
The Brunswick Music Festival
, one of Victoria's most celebrated multicultural events, celebrates the cultural diversity of the City of Moreland, offers a great program of music and entertainment featuring some of the finest performers from here and around the world.
When:
March 11 to 21
The Williamstown Festival
, now in its 33rd year, features a wide range of activities for the whole family with children's art activities, roaming performers, face painters, food and merchandise stalls. Along with a parade, the festival also has live entertainment, carnival rides, heritage tours and more.
When:
Friday to Sunday, March 12 to 14
The Echuca Moama Celtic Festival
, held in the paddle steamer capital of Australia, celebrates Celtic culture with a range of events that include special dinners, performance and community dances, and exhibitions that showcase the rich history of art in the Celtic heritage.
When:
Friday to Sunday, March 12 to 14
The Brimbank Festival
, held as part of Cultural Diversity Week in Sunshine, offers a great day of entertainment for young and old with market stalls, amusements rides, music, children's activities and a special showcase of sustainability talks that includes celebrity gardener, Vasilli.
When:
Saturday March 13 - 10am to 6pm
The Pascoe Vale Festival
offers a day of music and dance, carnival rides and a variety of stalls. Presented by the Rotary Club of Pascoe Vale and held at Hallam Reserve, the festival also includes the Rotary Star Search, a singing competition for young people aged 5 to 21.
When:
Saturday March 13
Ventana Latina Fiesta
, held in Frankston's Wells Street Plaza, celebrates Latin American culture an authentic Latin American experience offering a day of dance, music, food, artworks and performances by local groups that showcase their Portuguese and Spanish heritage.
When:
Saturday March 13 - Midday to 11pm
Mordialloc by the Bay
, the popular Fine Food, Wine and Music Festival, returns with a great weekend of events held at Mordialloc's Peter Scullin Reserve. With live music, gourmet market stalls and kids' entertainment, the festival includes the new addition of an art exhibition.
When:
Saturday & Sunday, March 13 & 14
Viva Victoria
, a free Multicultural Festival held at Federation Square, sees Melbourne's very own hub will come alive in a celebration of Cultural Diversity Week that features music and dancing across two stages, art, dancing and traditional foods from more than 50 countries.
When:
Sunday March 14 - 11am to 6pm
The Melbourne Food and Wine Festival
, one of Australia's most celebrated culinary festivals, returns with yet another tasty program of events that showcase the best that Victoria has to offer with the spotlight on food, culinary skills, winemaking, international guests and much more.
When:
March 12 to 23
The SheppARTon Festival
, with the theme this year of Inspired, features a spectacular program of events with music, dance, theatre, literature and film. With over 40 special events held across ten days, the festival includes culinary entertainment along with artistic exhibitions.
When:
Until March 14
Upcoming Events
The Discover Casey Cardinia Expo
, held at the Berwick Leisure Centre, offers a great chance to grab some giveaways from local businesses, while also enjoying a free day of family fun with food, performances, children's entertainment and even a pamper room for adults.
When:
Sunday April 18
The CCCA National Cat Show
, held in conjunction with the World Cat Congress at Melbourne Show Grounds, is a rare chance for cat lovers to watch International, National and Local Judges in action, during the 8 Ring All Breeds Show while also exploring over 700 exhibits and displays.
When:
Saturday & Sunday, May 1 & 2

NEW LIVE CALENDAR
To find out about future events in Melbourne, have a look at our new calendar, with details about many more events that lie ahead so you can jot them down on the to-do list , including Exhibitions, Live Gigs, Theatre, Markets, Expos and more..
View Future Events on any day of the week
What's New?
Catalogue Central
, new to OnlyMelbourne, presents a wide variety of Melbourne based catalogues highlighting sensational bargains and stocktake sales
EXCLUSIVE to OnlyMelbourne readers
with many high profile retailers and services offering great deals, including Dell Computers, Big W, Kmart, Telstra and many other great names.
Find Great Deals & Save!
Exhibitions - Art | Festival | Show
Status Anxiety
, showing at the Monash Gallery of Art in Wheelers Hill, is an exhibition of photography by Lyra, an artist whose work is influenced by her background in film. The exhibition explores society's pressures on women to conform to ideals as presented by fashion magazines.
When:
Until April 11 - Tuesday to Sunday
Palimpsest
, held at the historic Firestation Print Gallery in Armadale, is an exhibition of the latest photography work by Rachael Delmenico and Marie Watt. Along with the art displays, there's also the opportunity during the exhibition to go 'behind the scenes' in the working studio.
When:
March 10 to April - Tuesday to Sunday
Hidden Facets
is a collaborative exhibition that brings together the creativity of jeweller, Katherine Wheeler and print maker and bookbinder, Abby Seymour. Capturing the subtle yet dynamic bond between each artist's work, the exhibition is held at Bourke Street's Hand Held Gallery.
When:
March 11 to April 3 - Monday to Saturday
Climate
by Geoff Dyer is a collection of landscape portraits presented by Axia Modern Art in Armadale. Infusing his art with the majesty of the natural world, Dyer's ability to find beauty within a seemingly barren locale bears testimony to his talent and the beauty of Australia's landscapes.
When:
Until March 22
Ron Mueck
, an Australian sculptor whose work has long made a great impact on the world of international contemporary art, will be featured at Melbourne's NGV International with an astounding exhibition of his hyperreal sculptures that eerily capture the human form.
When:
Until April 18 - Wednesday to Monday
Australian Moderns
, presented by Cyclone in South Melbourne, is an exhibition that showcases original works by some of Australia's most famous and prominent artists. With works available for sale, the exhibition includes artworks by Arkley, Blackman, Boyd, Gleeson and Perceval.
When:
Until April 3 - Tuesdays to Saturdays
Letterheads 2010
, held at the Melbourne gallery of 1000 £ Bend Artspace, is a re-visioning of the English alphabet by 26 of the most influential emerging and established contemporary artists in the world today. With pieces created exclusively for the exhibition it features work by Mark Bode.
When:
Until March 19
Spun Light
, showing at the Stonnington Service Centre located at Malvern Town Hall, is an exhibition of photography that uses the camera to capture light at a particular moment in time, at times with the light in movement, while at others the camera alone moves, capturing playful images.
When:
Until April 16 - Mondays to Fridays
QUEEN - The Unseen Archive
, a special presentation held at the Art Gallery of Ballarat, is a world premiere exhibition that showcases a fascinating blend of photographs and memorabilia related to the legendary English rock band Queen, providing a rare insight into the iconic band.
When:
Until April 11
Experimenta Utopia Now
, held at the Arts Centre, is a free exhibition that showcases over 30 fun, engaging and interactive works from Australian and international artists with themes that explore a broad spectrum of social behaviour and the boundaries of humanity and our planet.
When:
Until March 14
'til you drop
, held at the State Library of Victoria, is a free exhibition that celebrates Melbourne's passion for shopping, from the Paris end of Collins Street to the local corner store. The exhibition features historic photographs and nostalgic items on display such as wartime ration cards and more.
When:
Until October 31
Expos, Launches & Lectures
The L'Oreal Melbourne Fashion Festival
, Australia's largest and most successful fashion event for consumers, returns to Central Pier in Docklands to showcase the latest designs and bring to the public the upcoming collections for autumn and winter with a program of special events.
When:
March 14 to 21
The Japanese Couture Master Designers
, presented at Melbourne's Madam Virtue & Co as part of the L'Oreal Fashion Festival, is an installation from the archive collection of Dean Hewitt, featuring Japanese designers that include Issey Miyake, Yohji Yamamoto and Comme des Garçons.
When:
Until March 20 - Mondays to Saturdays
The Global Atheist Convention
, titled The Rise of Atheism, will take place at the Melbourne Convention and Exhibition Centre. Drawing a large gathering of atheists, rationalists, secularists, humanists, sceptics and freethinkers together, guests include scientist Richard Dawkins.
When:
Friday to Sunday, March 12 to 14
Performances & Theatre
As You Like It
, presented by Winterfall Theatre, gives the classic play by Shakespeare an 80's twist with mascara, fluorescent lipstick and new romantic fashions. Performed at The Theatre Husk in Northcote, it features recent graduates from schools that include London's Globe Theatre.
When:
March 11 to April 4 - Thursdays to Sundays
The Fate of Franklin & His Gallant Crew
is an unusual piece of theatre with performances held at a secret location in Northcote. Presented by the acclaimed performance group, Four Larks, the play is a junkyard opera that fuses theatre, installation, live music, spectacle and rum.
When:
March 12 to 14, 17 to 21 & 24 to 27 (Bingo!)
Attic under the Sky
, a theatre performance renowned in Denmark, will be presented at Courthouse Arts in Geelong. A non-verbal performance that was created in 2003, the production is an intimate performance that blends animation and music to create laughter, sorrow and beauty.
When:
Until March 13
Dogg's Hamlet, Cahoot's Macbeth
is a performance by PMD Productions that uses two of Shakespeare's most well known plays to turn language on its head. Written by Tom Stoppard, the theatre pieces use irreverent and absurdist dialogue to highlight issues of liberty and freedom.
When:
March 11 to 27 - Wednesdays to Sundays
Grease The Musical
, presented by Fab Nobs Theatre, captures the spirit of the film with the classic love story at Rydell High featuring the iconic songs Such as 'You're The One That I Want' that made the movie the hit it still is today. Performances are held at The Fab Factory in Bayswater.
When:
March 12 to 27
Hazel Curtis: Fear Doctor
is a funny take on 'fear' and the booming self-help industry it's inspired. Held at Mark Street Hall in North Fitzroy, the hilarious and, subversive attack on the multi-billion dollar industry and the construction of fear is written by Petra Kalive and Melissa Bubnic.
When:
Until March 14 - Tuesday to Sunday
Another Opening, Another Show
, playing at Chapel Off Chapel in Prahran, is a performance that celebrates the hit songs from the flop shows that barely see the light of day on Broadway. Presented by Manilla St Productions, it features Andrew Lloyd Weber's work from The Beautiful Game.
When:
Wednesday to Sunday, March 3 to 7
Incompleteness
, held at La Mama Courthouse theatre in Carlton, examines the life of the greatest logician since Aristotle and why he tragically starved himself to death. The theatrical portrait of Kurt Godel, a close friend of Einstein's, follows his passion for mathematics that led to madness.
When:
Until March 14
MEN
, a production by Brendan Cowell performed at fortyfive downstairs in Flinders Lane, examines the inner workings of the male as three men must share a room, revealing their varied flaws and strengths. Directed by Sarah Hallam, the performance stars Samuel Johnson.
When:
Until March 21 - Tuesdays to Sundays
CATS
, the best-known and best loved musical the world has ever known, returns to Melbourne for a limited run with performances held at the Regent Theatre. Composed by the legendary Andrew Lloyd Webber, the hit musical features inspired choreography and stunning costumes.
When:
Until March 28
Three Steps Forward
is a performance of three short plays written by Paul Spinks and directed by Bronwyn Dunston. Held at the Australian Centre Of Performing Arts in North Melbourne, the plays combine theatre and film to interweave three stories that examine three very different lives.
When:
Fridays to Sundays During March
Madagascar
, presented by Melbourne Theatre Company, is an intriguing performance set in the room of a hotel in Rome where three versions of a story are told at three different times. Starring Nicholas Bell, Noni Hazlehurst and Asher Keddie, it's playing at the Fairfax Studio of the Arts Centre.
When:
Until March 27
MAMA MIA!
the hit musical that's inspired by the songs of ABBA, returns to Melbourne for a limited time with performances held at Her Majesty's Theatre. The romantic comedy follows a young girl whose efforts to meet her father reunite her mother with three lovers from the past.
When:
Until May 30
The Swimming Club
, held at Melbourne Theatre Company in Southbank, is a co-production with Black Swan State Theatre Company featuring Tina Bursill and John Waters in the story of six friends who reunite on a Greek island where they'd spent an adventurous summer thirty years earlier.
When:
Until March 14
A Midsummer Night's Dream
, held as this summer's production of Shakespeare Under The Stars in the Royal Botanic Gardens, features a young, vibrant and comical cast that brings the playful tale of love, mischief and magic to life, you can bring your own picnic or order a gourmet hamper.
When:
Until March 13
Dance
Mortal Engine
, presented by the award winning Chunky Move, follows the resounding success of Glow, with a dance-video-laser performance using movement-responsive technology to portray an ever-shifting, shimmering world in which the limits of the human body are an illusion.
When:
Until March 13
Cabaret & Burlesque
The Devils Playground Masquerade Party
, held at Melbourne Actors Studio in St Kilda, is a night of burlesque entertainment with the theme of Saints and sinners. With a live performance by belly dancer Bella D and circus inspired acts, the night will be hosted by the beautiful Natalie M.
When:
Saturday March 13 - 7.30pm
The Manly Sisters Dinner and Drag Show
, held each week at Dante's in Fitzroy, is an entertaining night out with Melbourne's favourite Manly Sisters bouncing onto the stage where they also invite audience members to join them on stage for their crazy "Drag Stars"competition.
When:
Saturdays - Doors Open 7:30pm
Classical, Choral & Recitals
The Chinese Opera Festival
, held at Melbourne Town Hall, is a free presentation of performances by eight opera artists from mainland China. Showcasing arias and highlights from major Chinese operas, free tickets are provided at City Gallery, next door to the main entrance.
When:
Sunday March 14 - 1pm to 4pm
ACO Soloists
, held at The Arts Centre, is a chance to see some of the best musicians from the Australian Chamber Orchestra as the Principals play some of their favourite pieces. As part of the concerts, Principal Viola Christopher Moore will perform Britten's hauntingly beautiful Lachrymae.
When:
Sunday & Monday, March 14 & 15
Entertainment & Nightlife
The Mossvale Music Festival
, held in South Gippsland at an idyllic secreted park, draws people of all ages for performances held from noon to dusk. With local food and craft stalls on offer, this year's festival features performers that include Kasey Chambers, Eilen Jewel and The Junes.
When:
Saturday March 13
Friday'
[email protected]
is the hottest new Over 25's Party Night in town with the Footscray venue offering great views down the Maribyrnong River to the city making it the best place to enjoy the last of the summer evenings while listening to some of Melbournes best cover bands and DJs.
When:
Opening Night March 12
Dima Bilan
, winner of five MTV Europe Music Awards and the winner of 2008's Eurovision Song Contest, will be appearing at Dallas Brooks Hall. Appearing in Melbourne for the first time ever, the singer is known as one of the most successful of Europe's popular young music artists today.
When:
Tuesday March 9 - 8pm
The Saw Doctors
will be appearing in Melbourne as part of a tour that sees the popular Irish band making their first return to Australia in seventeen years. One of Ireland's most popular bands with their recent compilation going platinum, they'll be appearing in Richmond and Ferntree Gully.
When:
Thursday & Friday, March 11 & 12
The Jeremy Woolhouse Trio
will be appearing at Dizzy's Jazz Club in Richmond where the group will perform a program of imaginative original compositions. Known as a versatile pianist, Jeremy Woolhouse's distinctive sound embraces the traditions of Afro-American jazz.
When:
Friday March 12
Ruth Roshan & Tango Noir
will be appearing at the Melbourne jazz venue, Paris Cat. Capturing the ambience of a 1930's French Salon, their performances are laden with flair, elegance and sauciness, taking the audience on a journey into the thrilling musical world of the tango.
When:
Saturday March 13
Melbourne Zoo Twilights
is a chance to enjoy music performed live at Melbourne Zoo with this year's season boasting a great range of performers. Held on the zoo's concert lawn areas, each concert evening also includes special displays of selected species open until 7.30pm.
When:
Saturdays & Sundays, March 13 & 14
Cinema
West Side Shorts
, presented by Angry Productions, is a monthly film night held at Williamstown' Customs House Hotel, offering the chance to see fantastic short films made by local talent and also to network with local filmmakers and actors after the screenings.
When:
Tuesday March 9 - 7:30pm - Only $3 Entry
The Ventana Film Festival
, presented by Melbourne Filmoteca, makes its debut on the cinematic calendar as it celebrates Latin America cultures with a showcase of independent contemporary films. With screenings free to attend, the festival is held at AMC Cinemas in Frankston.
When:
Until March 13
The Alliance Francaise French Film Festival
screens in Melbourne at selected Palace Cinemas with a program that presents new features that encompass the best of French Cinema with documentaries, dramas, action, romance, and a special presentation of the superb children's animation, U.
When:
Until March 19
MIFF on Deckchairs
, presented on the Big Screen at Federation Square, brings the very best of the Melbourne International Film Festival to the public with free screenings held every week. With deckchairs provided, it's the perfect way to kick back and enjoy great films under the stars.
When:
Thursdays March 11 - 7pm
Comedy
The Impro Cave Summer Club
sees Impro Melbourne's sharpshooting players taking their stage skills out west, appearing at the Dog Theatre in Footscray. After a sell-out season of last year's Impro Cave, the troupe will hold nothing back with a totally new season at their mercy.
When:
Until March 21 - Sundays at 7:30pm
[email protected]
is a comedy night at Spleen Bar in Bourke Street, where you can enjoy a great night out with an eclectic mix of Melbourne's comedy scene featuring established personalities and comedy legends from radio and television with guests such as Glenn Robbins, Corinne Grant and others.
When:
Every Monday - 8:30pm to 10:30pm
|
FREE Entry
Melbourne For Kids
The Darebin Community and Kite Festival
, held this year at Northcote's All Nations Park, has a huge range of activities and events for the whole family. The festival features fabulous performers, colourful kites, delicious foods and activities for people of all backgrounds and ages.
When:
Sunday March 14 - 10am to 5pm
Playtime in the Park
, presented by High School for Coburg and held at Lake Reserve, is a relaxed family fun day that offers plenty of entertainment. Free to attend, during the day there'll be live music, children's entertainment and a sausage sizzle on the banks of Coburg Lake.
When:
Sunday March 14 - Midday to 3pm
The St Patrick's Family Festival
, presented by the Melbourne Irish Festival committee, will be holding a free day of activities and entertainment at Edinburgh Gardens in North Fitzroy. With wide variety of cultural activities for all the family, the day includes live Irish music and dancing.
When:
Sunday March 14 - Midday to 5pm
The Kids Summer Sessions
, held at Rippon Lea House and Garden in Elsternwick, offers a day of music and fun for the whole family where you can take a picnic, relax and the kids can be entertained with face painting, crafts, performers and more at the grand 19th century estate.
When:
Until March 28 - Sundays
Dora the Explorer LIVE!
presented by Nick Jr, is a children's theatre show that sees the adventurous Dora in a song and dance spectacular that also stars Boots, Diego and many friends as they search for the City Of Lost Toys. Melbourne performances are held at The Arts Centre.
When:
Friday & Saturday, March 12 & 13
The Maize Maze Carnival
, held at the Enchanted Maze Garden in Arthurs Seat, is a chance to discover the amazing Maize Maze - the largest of its kind in the Southern hemisphere. With fun twists and turns, the impressive Maize Maze is made from more than 100,000 stalks of corn.
When:
Until May 2 - Open Daily
Circus
Learn Circus with NICA
- Drop into Fed Square each Monday and try your hand at basic circus skills with experienced NICA trainers. Offering the chance to get a taste of circus in your lunchbreak, these free, fun workshops are suitable for all ages with a range of circus skills on offer.
When:
Mondays Until March 22 - Midday
Perry Bros Circus
, Australia's oldest circus, will be appearing at Lilydale Showgrounds, offering quality entertainment to please the entire family. With wire walkers, Jugglers, Whip crackers, balancing acts and more the circus also features performing ponies and camels along with their very funny clowns.
When:
Until March 14 - Lilydale

Silvers Grand Magic Circus
will be holding performances in Hoppers Crossing. Established in 1976, Silvers Grand Magic Circus offers a great show for people of all ages with performers including everything from jugglers and clowns to acrobats, international performers and more.
When:
Until March 21 - Hoppers Crossing
Puzzles & Competitions
Spot The Difference
There are 5 Differences between these two pictures of the Oceanarium at
Melbourne Aquarium
... See if you can spot them! Sign up for answers revealed in
Next Week's Newsletter
Last week's answers are further down with
Melbourne Trivia
More on Melbourne Aquarium
|
Learn More about Melbourne!
You Can Help
There are many social causes that are relevant to people from all walks of life, many of which rely on public support to better the community or assist those who are less fortunate or to benefit others. This week we ask you to consider the following..
The Lighthouse Foundation
is a not-for-profit organisation dedicated to empowering young people to take responsibility for their own lives. Offering a loving family environment, Lighthouse provides long-term accommodation, care and outreach to young people, who would otherwise be homeless.
Learn How you Can Help
Markets, Fetes and Fairs
Beaumaris North Primary School
will be holding a fete to celebrate the school's 50th anniversary with a day of fun for the whole family. With games and rides for children, the fete will also feature book and market stalls, fairy performers, displays of vintage cars, food and more.
When:
Saturday March 13 - Starts 9am
The Camberwell Fair
, Australia's longest running fair for Records, Comics and Cards, will be held at Box Hill Town Hall where collectors and retro enthusiasts can find collectible 45's, Beatles Records, hard to find CD's, music posters, music memorabilia, football cards, and more.
When:
Sunday March 14 - 9.30am to 4pm
The Mornington Collectables & Memorabilia Fair
, held at Sandown Racecourse, combines three big events with the Collectable and Nostalgia Toyfest, a Scale Model Show and Sale, and the the Collectaworld Fair all offering great items for collectors and enthusiasts of many passions.
When:
Sunday March 14 - 9am to 3pm
The Pre-loved Toy and Clothing Fair
, held to raise funds to maintain the services of the Collingwood Toy Library, offers a day of family entertainment for the kids. With plenty of bargains on offer the fair has a wide range of quality goods. It's held at Darling Gardens in Clifton Hill.
When:
Sunday March 14 - 9am to 1pm
View MARKETS on any day of the week
to make the most of the rare sunny days (it's a coin toss, isn't it!) and head to one of Melbourne's many excellent markets, fetes and fairs for a bargain!

A growing number of food, produce and even wine markets are always popping up around the suburbs. And don't forget garage sales!
Fetes Fairs & Shows
Art & Craft Markets
Food & Produce Markets
Swap Meets
Garage Sales
Dining & Drink
Dining Events
The Hawkers' Market
, held at Queen Victoria Market as part of the Melbourne Food and Wine Festival, captures the spirit of Asia with food vendors on offer featuring treats from Melbourne's best Asian chefs who'll be cooking a variety of delectable dishes and Asian BBQ wonders.
When:
March 15 to 17
Wining
Wirra Wirra
, the Historic McLaren Vale winery, will be presenting a public work of art at Melbourne's Southbank by creating one of the world's largest cork sculptures, the 10 metre 'Church Block: Work of Art' to promote their wine along with free tastings and a competition for visitors.
When:
March 15 to 19
Dining Gift Vouchers
Menulog Gift Vouchers
are the perfect way to treat someone special to a great dinner with vouchers available for a wide range of participating restaurants in Melbourne and across Australia. There's even the option to buy a voucher and let the lucky recipient decide which restaurant they'd like to dine at!
Learn More about Menulog Gift Vouchers
OnlyMelbourne Welcomes..
Each week we highlight some of the latest additions to OnlyMelbourne's ever growing guide to services, businesses and information sites for your community.
This week we suggest the following:
Carpet Shed
- For all flooring industry needs...
Real Leather
- Aaheli Oceania's range of wallets...
Shoplist
- An easy way to buy & sell online...
The French Jewelbox
- Fine Antique Jewellery...
View More of the Latest Listings at OnlyMelbourne!
Advertising
your Business or Event at OnlyMelbourne is not only easy, but best of all it's
FREE!!
-
Get Listed..
- don't forget to tell your friends!
Sporting Events
Golf
The Handa Women's Australian Open Golf
, held at Commonwealth Golf Club, will see some of the world's best golfers from Australia and overseas battle it out for the prized Patricia Bridges Trophy in what will be the final event in the Asia Pacific swing of the Ladies European Tour.
When:
March 11 to 14
The Trots
The Melbourne Festival of Racing
, held at various venues throughout Victoria, features Australia's top race meetings, including nine Group 1 races worth more than $6 million.
Sat, Mar 13 - Flemington Festival Blamey Stakes Day
Sun, Mar 14 - Devine Communities Pakenham Cup Day
AFL
NAB Cup | Grand Final
Match 13 - Western Bulldogs v St Kilda
Saturday March 13 - 7.10pm
Held at Marvel Stadium, Docklands
Community Sports
The Big Day NOT Out
, held at Edinburgh Gardens in Fitzroy, will see the local pubs' cricket teams battle it out for the coveted Big Day Not Out Trophy. Now in its 10th year, the popular family event, features music, activities for the kids and, of course, sensational cricket action.
When:
Sunday March 14
Republica Beach Volleyball
, held at St Kilda Sea Baths, invites mixed teams of 4 to compete in a fun, entertaining atmosphere smack bang in front of one of the world's greatest DJ's. With a first in best dressed policy, each participant will receive a free refreshment from Republica.
When:
Every Wednesday - 6:30pm (Fees Apply)
South Sea Roller Derby
hold a Recruitment Day and Learn to skate session each week at Frankston Skateworld, located in Carrum Downs. The sessions are a chance to learn more about the Roller Derby and learn the basic skills required to begin training for one of the hottest sports in town.
When:
Every Sunday - 2pm to 4pm
The Mums' Tennis Program
, one of Tennis Victoria's most popular programs for mums, will be appearing at various local tennis clubs, offering an affordable series of lessons with qualified tennis coaching. Participating parents can also enrol the kids in the Tiny Tots Tennis Program.
When:
Until March 12
Melbourne Tours
Smartvisit Card
is the best way to see the sights of Melbourne, whether you're visiting Melbourne for business, a vacation, or even if you're a local wanting to find Melbourne's hidden treasures!
The Smartvisit Card includes entry to attractions such as Melbourne Zoo, Melbourne Aquarium, Old Melbourne Gaol, Telstra Dome, Cook's Cottage, Melbourne River Cruises, and many more of Melbourne's TOP venues!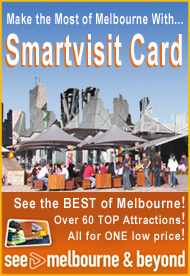 Free entry to over 60 top attractions..
Visit great venues like Zoos, museums & more across Melbourne & Victoria!
Over $800 of entry fees for ONE low price..
Plus special offers & discounts!
Visit just 2 Attractions a day & you'll save!
FREE 128 page guidebook..
Tailored to local knowledge on what to see & do!
Cash free entry..
Show your card & you're in, no need for cash!
All year-round Attractions..
Whatever time of year you visit - rain or shine!
Learn more about Smartvisit Card
Last Week's Puzzle Answers
Spot The Difference
Here are the 5 Differences in last week's picture of Melbourne's
Immigration Museum
...
Newsletter | #165 | What's On this Week [Last Week]
Melbourne Trivia
Never Look A Guest Horse In The Mouth...
When the Olympics were first held in Australia, hosted by Melbourne in 1956, there were several world firsts that occurred that year and entered Olympic History. One of the more peculiar of these was that for the first time in the Games' hundred year existence, the unity of time and place, which is stipulated by the Olympic Charter, could not been observed.
Due to quarantine issues that caused problems with horses entering Australia, the Equestrian sports of that year's Olympics saw the Games take place in two different cities (Stockholm and Melbourne), in two different countries (Sweden and Australia), on two different continents (Europe and Oceania) and also in two different seasons (June and November).
Read more about Melbourne's 1956 Olympics
|
Read Melbourne Trivia...
WHAT'S ON CALENDAR
Speaking of what's on, our
new calendar
allows you to select any day of the year to view everything (everything!!!) on that day in an easy to read, printable display.
-:- View
What's On Calendar
-:- View
Markets Only Calendar
Melbourne On The Phone

OnlyMelbourne
is now
mobile phone
compatible. Yes, our pages are formatted to be viewed on the small screen. To view our mobile phone website, go directly to our
home page
with your web compatible mobile phone and you will automatically be redirected to the
mobile compatible
version of OnlyMelbourne, so you'll be in the know on the go!
WHAT'S ON FEEDS
For those with newsfeeds, we now have a daily
What's On Melbourne Today
feed.
NEWSLETTER
What's On thi


❊ Address & Contact ❊

⊜ Newsletter | #166 | What's On this Week Melbourne | Map


❊ Web Links ❊

→ Newsletter | #166 | What's On this Week

→ Subscribe to OnlyMelbourne - Get your copy of What's On this Week!

→ List Your Business or Event - It's FREE!

→ Events Calendar - Find out What's On any day of the week!

→ Mobile OnlyMelbourne - View Our Website On Your Phone

→ Melbourne for Children | Kids

→ Newsletter | #165 | What's On this Week [Last Week]




→ Disclaimer: Check with the venue before making plans...



Trending HOT

Drive-In Movie Club
Drive-In Immersive Cinema Nights Are Coming to Melbourne Put together by our friends at Hot Tub Cinema, a string of family-friendly, social distancing-safe, drive-in ..

Things to see, hear & do this weekend
Make the most of your weekend in Melbourne with these fabulous events. No city does it better than Melbourne, so get out and discover the very best shows, festivals, ..
---
Update Page