Newsletter | #165 | What's On this Week
Welcome to this week's Melbourne events, exhibitions, sports and community guide for Tuesday March 2 to Monday March 8, 2010.
This week... If your pockets are feeling a tad heavy and you're worried about publicly exposing yourself should gravity get the better of your pants, why not make your way to the St Kilda Busking Festival where you'll find some great entertainment that's free, unless the pants really are a concern and you feel generous enough to throw some coinage to the performers there.
And with Labour Day on its way, there's a wide range of events taking place across the long weekend including the very popular Moomba Festival with its very Melbourne and very daggy Birdman Rally. There's also a great line up of events held further out of town for those who've had enough of the big smoke and need some quiet time in the country along with the quiet time spent on the backed-up freeways whilst making their way to the country. Or you could just stay at home, holding your pants up if you're a Scrooge.
Major Events
The St Kilda Busking Festival
offers a fantastic look at the colourful entertainment on offer from Melbourne's hidden artists. With fun performances held on Sundays between 1pm and 4 pm, the free entertainment offers colourful, bizarre and hilarious entertainment for the whole family.
When:
Sundays March 7 & 14 - St Kilda Sea Baths
Moomba Festival
, Melbourne's biggest free festival for the community, returns to run across four days with a great program this year including old favourites like the Birdman Rally, water sport activities, celebrity challenges on the Yarra, the ever popular Moomba Parade and much more.
When: Friday to Monday, March 5 to 8
The SheppARTon Festival
, with the theme this year of Inspired, features a spectacular program of events with music, dance, theatre, literature and film. With over 40 special events held across ten days, the festival includes culinary entertainment along with artistic exhibitions.
The Port Fairy Folk Festival
offers a great chance to head out to enjoy the coast with over 100 acts and around 500 artists performing at the festival's hub. Now in its 34th year, the festival includes parades, workshops, children's activities theatre and markets along with much more.
When: Friday to Monday, March 5 to 8
The Ballarat Begonia Weekend
is a celebration of gardening, arts and culture in one of Victoria's most prominent historical towns. With the Ballarat Botanical Gardens showcasing begonias in over 200 varieties along with performances, activities and much more.
When: Saturday to Monday, March 6 to 8
ChillOut Festival: A Bush Odyssey
returns to Daylesford to celebrate the largest gay and lesbian festival in regional and rural Australia. Transforming Central Victoria's spa town into Disco heaven, this year's festival features Carnival Day, the Dance Party and the popular Street Parade.
The Inverloch Jazz Festival
, held across the Labour Day weekend, presents top class jazz in the beauty of South Gippsland. With performers ranging from big band and traditional to mainstream and other styles the festival includes the popular Jazz Picnic in the Park on Labour Day.
When: Friday to Monday, March 5 to 8
Melbourne Ukulele Festival
, held in various venues, features ukulele performers from across Australia, along with special international guests. Presented by the Melbourne Ukulele Kollective, the festival includes workshops, picnic gatherings, documentary screenings and more.
When: Ends Tuesday March 2

The Herring Island Summer Arts Festival
offers special exhibitions every Saturday and Sunday at the Herring Island Environmental Sculpture Park in Toorak. Accessible by boat with a punt service, the arts festival includes special artists demonstrations, talks and activities.
When: Weekends - Until April 18
Upcoming Events
Friday'
[email protected]
is the hottest new Over 25's Party Night in town with the Footscray venue offering great views down the Maribyrnong River to the city making it the best place to enjoy the last of the summer evenings while listening to some of Melbournes best cover bands and DJs.
When: Opening Night March 12

NEW LIVE CALENDAR
To find out about future events in Melbourne, have a look at our new calendar, with details about many more events that lie ahead so you can jot them down on the to-do list , including Exhibitions, Live Gigs, Theatre, Markets, Expos and more..
View Future Events on any day of the week
What's New?
Catalogue Central
, new to OnlyMelbourne, presents a wide variety of Melbourne based catalogues highlighting sensational bargains and stocktake sales
EXCLUSIVE to OnlyMelbourne readers
with many high profile retailers and services offering great deals, including Dell Computers, Big W, Kmart, Telstra and many other great names.
Exhibitions - Art | Festival | Show
Ron Mueck
, an Australian sculptor whose work has long made a great impact on the world of international contemporary art, will be featured at Melbourne's NGV International with an astounding exhibition of his hyperreal sculptures that eerily capture the human form.
When: Until April 18 - Wednesday to Monday
RECYCLE
, an exhibition held at Synergy Gallery in Northcote, features works by artists who've created unique pieces using recycled material. Using recycled materials for a range of reasons - political, personal, nostalgic, aesthetic and economic - it includes jewellery by Melissa Cameron.
When: Wednesday to Sunday
Australian Moderns
, presented by Cyclone in South Melbourne, is an exhibition that showcases original works by some of Australia's most famous and prominent artists. With works available for sale, the exhibition includes artworks by Arkley, Blackman, Boyd, Gleeson and Perceval.
When: March 4 to April 3 - Tuesdays to Saturdays
Letterheads 2010
, held at the Melbourne gallery of 1000 Ł Bend Artspace, is a re-visioning of the English alphabet by 26 of the most influential emerging and established contemporary artists in the world today. With pieces created exclusively for the exhibition it features work by Mark Bode.
Spun Light
, showing at the Stonnington Service Centre located at Malvern Town Hall, is an exhibition of photography that uses the camera to capture light at a particular moment in time, at times with the light in movement, while at others the camera alone moves, capturing playful images.
When: Until April 16 - Mondays to Fridays
Re-imaging the Classic Print
, held at Obscura Gallery in St Kilda, sees the gallery's first exhibition for the year fusing the old and the new world in Fine Art Photography with works that range from digital prints to hand made, showcasing the techniques and talents of a variety of artists.
When: Until March 18 - Tuesday to Saturday
QUEEN - The Unseen Archive
, a special presentation held at the Art Gallery of Ballarat, is a world premiere exhibition that showcases a fascinating blend of photographs and memorabilia related to the legendary English rock band Queen, providing a rare insight into the iconic band.
Experimenta Utopia Now
, held at the Arts Centre, is a free exhibition that showcases over 30 fun, engaging and interactive works from Australian and international artists with themes that explore a broad spectrum of social behaviour and the boundaries of humanity and our planet.
Fields of View
, appearing at various venues, is a touring exhibition based on the Black Saturday Fires that raged through Victoria last year. Featuring work by artists that include Kerrie Warren, Leonie Ryan and Peter Biram, it's currently showing at Gippsland Art Gallery.
When: Until March 7 - Gippsland
Chinoiserie: Asia in Europe
, running at Melbourne's NGV International, is an exhibition that examines the style in Western art which draws influences from China, Japan and India. Ceramics, furniture, prints and more are presented with examples of Asian art to illustrate such inspirations.
Heroes and Villains
, a special presentation of artwork and prints held at Silver K Gallery in Armadale, is an extensive collection of artwork featured in comics and animation. Showcasing many rare pieces released from Warner Bros, it includes works by the talented artist, Alex Ross.
When: Weekdays Until March 14
'til you drop
, held at the State Library of Victoria, is a free exhibition that celebrates Melbourne's passion for shopping, from the Paris end of Collins Street to the local corner store. The exhibition features historic photographs and nostalgic items on display such as wartime ration cards and more.
Expos, Launches & Lectures
Angus and Robertson
in Bourke Street will be holding a book signing session with author Hazel Edwards. The author of a popular array of books, will be there to release her latest book, 'Hooray! There's a Hippopotamus on Our Roof Having a Birthday Party', which will be available to buy.
When: Wednesday March 3 - 12:30pm
The Japanese Couture Master Designers
, presented at Melbourne's Madam Virtue & Co as part of the L'Oreal Fashion Festival, is an installation from the archive collection of Dean Hewitt, featuring Japanese designers that include Issey Miyake, Yohji Yamamoto and Comme des Garçons.
When: March 8 to 20 - Mondays to Saturdays
The Annual AIMIA Awards
, presented by the Australian Interactive Media Industry Association, will be held at Melbourne's Telstra Corporate Centre where the award evening will feature enlightening guest speakers that include Martin Hosking, Co-founder of Red Bubble.
When: Friday March 5 - Bookings Required
Performances & Theatre
Hazel Curtis: Fear Doctor
is a funny take on 'fear' and the booming self-help industry it's inspired. Held at Mark Street Hall in North Fitzroy, the hilarious and, subversive attack on the multi-billion dollar industry and the construction of fear is written by Petra Kalive and Melissa Bubnic.
When: Until March 14 - Tuesdays to Sundays
Another Opening, Another Show
, playing at Chapel Off Chapel in Prahran, is a performance that celebrates the hit songs from the flop shows that barely see the light of day on Broadway. Presented by Manilla St Productions, it features Andrew Lloyd Weber's work from The Beautiful Game.
When: Wednesday to Sunday, March 3 to 7
Incompleteness
, held at La Mama Courthouse theatre in Carlton, examines the life of the greatest logician since Aristotle and why he tragically starved himself to death. The theatrical portrait of Kurt Godel, a close friend of Einstein's, follows his passion for mathematics that led to madness.
MEN
, a production by Brendan Cowell performed at fortyfive downstairs in Flinders Lane, examines the inner workings of the male as three men must share a room, revealing their varied flaws and strengths. Directed by Sarah Hallam, the performance stars Samuel Johnson.
When: March 4 to 21 - Tuesdays to Sundays
CATS
, the best-known and best loved musical the world has ever known, returns to Melbourne for a limited run with performances held at the Regent Theatre. Composed by the legendary Andrew Lloyd Webber, the hit musical features inspired choreography and stunning costumes.
Three Steps Forward
is a performance of three short plays written by Paul Spinks and directed by Bronwyn Dunston. Held at the Australian Centre Of Performing Arts in North Melbourne, the plays combine theatre and film to interweave three stories that examine three very different lives.
When: Fridays to Sundays During March
Madagascar
, presented by Melbourne Theatre Company, is an intriguing performance set in the room of a hotel in Rome where three versions of a story are told at three different times. Starring Nicholas Bell, Noni Hazlehurst and Asher Keddie, it's playing at the Fairfax Studio of the Arts Centre.
MAMA MIA!
the hit musical that's inspired by the songs of ABBA, returns to Melbourne for a limited time with performances held at Her Majesty's Theatre. The romantic comedy follows a young girl whose efforts to meet her father reunite her mother with three lovers from the past.
The Swimming Club
, held at Melbourne Theatre Company in Southbank, is a co-production with Black Swan State Theatre Company featuring Tina Bursill and John Waters in the story of six friends who reunite on a Greek island where they'd spent an adventurous summer thirty years earlier.
A Midsummer Night's Dream
, held as this summer's production of Shakespeare Under The Stars in the Royal Botanic Gardens, features a young, vibrant and comical cast that brings the playful tale of love, mischief and magic to life, you can bring your own picnic or order a gourmet hamper.
Dance
Mortal Engine
, presented by the award winning Chunky Move, follows the resounding success of Glow, with a dance-video-laser performance using movement-responsive technology to portray an ever-shifting, shimmering world in which the limits of the human body are an illusion.
Shanghai Beauty
, a dance performance presented by China's first ever major independent dance company, Jin Xing Dance Theatre, is a groundbreaking production that features fourteen dancers that explores the concept of beauty from east to west. It's held at the Arts Centre.
When: Thursday to Sunday, March 4 to 7
Cabaret & Burlesque
The Manly Sisters Dinner and Drag Show
, held each week at Dante's in Fitzroy, is an entertaining night out with Melbourne's favourite Manly Sisters bouncing onto the stage where they also invite audience members to join them on stage for their crazy "Drag Stars"competition.
When: Saturdays - Doors Open 7:30pm
Classical, Choral & Recitals
The Echuca-Moama Celtic Festival
will present a performance by the Australian Welsh Male Choir at Echuca's Paramount Theatre. Set amidst the beautiful surrounds of the paddle steamer capital of Australia, the upcoming festival celebrates many aspects of Celtic culture.
When: Sunday March 7 - 2pm
Festival Continues March 12 to 14
Entertainment & Nightlife
George Michael
will be appearing at Marvel Stadium when he returns to Australia's shores for what will be his first performance in Melbourne since 1988. Performing material that spans his entire career, the renowned singer will also perform classic songs from his early days in Wham!
Jeudi Jazzy
, held at the cellar of Alliance Française in St Kilda, is a live performance by the New Impromptu Quartet. Featuring Alexander Nettelbeck, Khari Cabral Simmons and Ben Kosi Karsay, the band performs Jazz, Latin and Soul standards alongside their own original compositions.
One One
, featuring the exciting collaboration of Satomi from the band, Deerhoof and Saya from the band, Tenniscoats, sees the longtime friends and fellow musicians joining together at the East Brunswick Club for their unique project of cryptic pop music.
When: Thursday March 4 - Doors Open 8:30pm
The Future Music Festival
, held at Flemington Racecourse, features an all-star line-up that includes The Prodigy, Empire Of The Sun and Franz Ferdinand. The unique, world-class event blends the biggest names in electronic music with the brightest stars of Hip Hop, Pop and Indie Rock.
The Push Over Festival
, an all-ages extravaganza held at Abbotsford Convent, is a live music festival that will feature 40 Australian indie rock, hardcore and hip hop acts performing across four stages. The day includes a chance to meet performers in MySpace Music's ArtistSigning Area.
The Chandelier Room's Live Sundays
brings you the best of Melbourne's singers and songwriters performing in a family friendly environment every Sunday afternoon. With great entertainment on offer, the venue in Moorabbin features a children's room along with drinks, snacks and coffee.
When: Sundays - 4pm to 8pm
Melbourne Zoo Twilights
is a chance to enjoy music performed live at Melbourne Zoo with this year's season boasting a great range of performers. Held on the zoo's concert lawn areas, each concert evening also includes special displays of selected species open until 7.30pm.
When: Saturdays & Sundays Until March 14
The Whitehorse Summer Music Series
offers an exciting range of concerts with fantastic performers. The free concert held at Blackburn Lake Sanctuary is a relaxed family event and will feature performances by Klova, Zazu and Whitehorse Batucada with their Latin drumming.
When: Sunday March 7 - 4pm to 8pm
The Fairfield Amphitheatre Summer Concert Series
returns with a fantastic program of free performances, held every Sunday. Presented by the City of Yarra, the family-friendly concerts feature a diverse range of performers with backgrounds and styles from across the globe.
When: Sundays in February - 5pm to 7:30pm
Cinema
Dreamcatchers
, screening at the Treacy Conference Centre in Parkville, is a new feature film that questions the meaning of life and what it means as it follows the journeys of nine ordinary people living exceptional lives. The producer and main star will be present at the film's launch.
When: Tuesday March 2 - 7pm
The Ventana Film Festival
, presented by Melbourne Filmoteca, makes its debut on the cinematic calendar as it celebrates Latin America cultures with a showcase of independent contemporary films. With screenings free to attend, the festival is held at AMC Cinemas in Frankston.
The Alliance Francaise French Film Festival
screens in Melbourne at selected Palace Cinemas with a program that presents new features that encompass the best of French Cinema with documentaries, dramas, action, romance, and a special presentation of the superb children's animation, U.
The Over the Fence Short Film Festival
, held at Northcote Town Hall, has a line up of infectiously funny and cheeky films. With all films family friendly, the short films selected from over 150 submitted from across the globe will be shown free on a big outdoor screen in the Civic Square.
When: Saturday March 6 - 8pm to 10pm
MIFF on Deckchairs
, presented on the Big Screen at Federation Square, brings the very best of the Melbourne International Film Festival to the public with free screenings held every week. With deckchairs provided, it's the perfect way to kick back and enjoy great films under the stars.
When: Thursdays Until March 11 - 7pm

The Rooftop Cinema
flickers into action with film screenings of everything from cult favourites to new releases and documentaries, literally offering the height of entertainment with screenings held on the rooftop of Swanston Street's Curtin House along with the rooftop bar.
When: Tuesdays to Sundays Until March 28
Moonlight Cinema
, held at the Royal Botanic Gardens, is Melbourne's favourite open-air cinema with a program that includes latest releases, contemporary films and cult classic movies. A great way to spend a night out with friends and family, you can bring your own picnic or buy food there.
When: Tuesdays to Sundays Until March 14
Comedy
The Impro Cave Summer Club
sees Impro Melbourne's sharpshooting players taking their stage skills out west, appearing at the Dog Theatre in Footscray. After a sell-out season of last year's Impro Cave, the troupe will hold nothing back with a totally new season at their mercy.
When: Until March 21 - Sundays at 7:30pm
[email protected]
is a comedy night at Spleen Bar in Bourke Street, where you can enjoy a great night out with an eclectic mix of Melbourne's comedy scene featuring established personalities and comedy legends from radio and television with guests such as Glenn Robbins, Corinne Grant and others.
When: Every Monday - 8:30pm to 10:30pm | FREE Entry
Melbourne For Kids
Scoresby Steamfest
is a great event for fans of big engines and vehicles from little tykes who adore trains to the big kids who love machinery with lots of grunt. Held annually by the Melbourne Steam Traction Engine Club, the event includes Miniature railway rides and model displays.
When: Saturday to Monday, March 6 to 8
Family Day at Collingwood Children's Farm
is a special children's event held each month with each family day featuring a theme that matches activities provided for kids. Activities include hayrides, a BBQ, free pony rides and more, making it a great day out for the kids.
When: Sunday March 7 - Only $16 Per Family
The Maize Maze Carnival
, held at the Enchanted Maze Garden in Arthurs Seat, is a chance to discover the amazing Maize Maze - the largest of its kind in the Southern hemisphere. With fun twists and turns, the impressive Maize Maze is made from more than 100,000 stalks of corn.
When: Until May 2 - Open Daily
Sand Sculpting Australia
will again present a special display as part of the Frankston Waterfront Festival with their newest theme 'Great Moments In History' featuring 3,500 tonnes of sand carved into spectacular sculptures depicting people, places and events that have shaped our world.
Circus
Learn Circus with NICA
- Drop into Fed Square each Monday and try your hand at basic circus skills with experienced NICA trainers. Offering the chance to get a taste of circus in your lunchbreak, these free, fun workshops are suitable for all ages with a range of circus skills on offer.
When: Mondays Until March 22 - Midday
Perry Bros Circus
, Australia's oldest circus, will be appearing at Lilydale Showgrounds, offering quality entertainment to please the entire family. With wire walkers, Jugglers, Whip crackers, balancing acts and more the circus also features performing ponies and camels along with their very funny clowns.
When: March 5 to 14 - Lilydale

Silvers Grand Magic Circus
will be holding performances in Hoppers Crossing. Established in 1976, Silvers Grand Magic Circus offers a great show for people of all ages with performers including everything from jugglers and clowns to acrobats, international performers and more.
When: Until March 21 - Hoppers Crossing
Puzzles & Competitions
Spot The Difference
There are 5 Differences between these two pictures of Melbourne's
Immigration Museum
... See if you can spot them! Sign up for answers revealed in
Next Week's Newsletter
Last week's answers are further down with Melbourne Trivia
More on Immigration Museum
|
Learn More about Melbourne!
You Can Help
There are many social causes that are relevant to people from all walks of life, many of which rely on public support to better the community or assist those who are less fortunate or to benefit others. This week we ask you to consider the following..
The Lighthouse Foundation
is a not-for-profit organisation dedicated to empowering young people to take responsibility for their own lives. Offering a loving family environment, Lighthouse provides long-term accommodation, care and outreach to young people, who would otherwise be homeless.
Markets, Fetes and Fairs
The Ballarat Antique Fair
, now in its 40th year, is Australia's largest and longest-running Antique Fair with close to 100 dealers from all around the country. Featuring rare and fabulous items sourced from around the world, many dealers save their best pieces just for this event.
When: Saturday & Sunday, March 6 & 7
View MARKETS on any day of the week
to make the most of the rare sunny days (it's a coin toss, isn't it!) and head to one of Melbourne's many excellent markets, fetes and fairs for a bargain!

A growing number of food, produce and even wine markets are always popping up around the suburbs. And don't forget garage sales!
Dining & Drink
The Bacchus Marsh Harvest Festival
offers a great taste of the country life with a day of activities that include the chance to try your hand (or foot) at grape-stomping, free tastings of homemade foods, children's attractions, live performances of jazz and even scarecrow displays.
The Victorian Wine Showcase
, held at the Atrium of Federation Square, allows visitors to taste wines from regional Victorian Wineries and even meet with winemakers. This month's event will showcase wines from Goulburn, Upper Goulburn, Strathbogie Ranges and Nagambie Lakes.
When: Wednesday & Thursday, March 3 & 4
Wining
Special Dining Offers

Dining Specials - Save Up To 20% on Your Bill
Menulog
is the easiest way to book a restaurant online with over 4000 restaurant listings! By booking online through Menulog you can enjoy fine food and save money with special deals offering discounts on total food bills, complimentary wine and drinks, discount group bookings and much, much more!
Dining in Melbourne
offers a splendid range of food styles to enjoy. Here are just a few classic food styles to choose from..

Modern Australian Cuisine

Chinese Restaurants

Italian Restaurants

Seafood Restaurants

French Restaurants

Dining Gift Vouchers
Menulog Gift Vouchers
are the perfect way to treat someone special to a great dinner with vouchers available for a wide range of participating restaurants in Melbourne and across Australia. There's even the option to buy a voucher and let the lucky recipient decide which restaurant they'd like to dine at!
Learn More about Menulog Gift Vouchers
OnlyMelbourne Welcomes..
Each week we highlight some of the latest additions to OnlyMelbourne's ever growing guide to services, businesses and information sites for your community.
This week we suggest the following:
View More of the Latest Listings at OnlyMelbourne!
Advertising
your Business or Event at OnlyMelbourne is not only easy, but best of all it's
FREE!!
-
Get Listed..
- don't forget to tell your friends!
Sporting Events
Tennis
The Davis Cup
returns to Melbourne on Margaret Court Arena when Australia's favourite Davis Cup players will take on Chinese Taipei in the first round of the Asia-Oceania Zone Group I with the likes of Lleyton Hewitt, Peter Luczak and Carsten Ball taking to the courts.
When: Friday to Sunday, March 5 to 7
The Trots
The Melbourne Festival of Racing
, held at various venues throughout Victoria, features Australia's top race meetings, including nine Group 1 races worth more than $6 million.
Sat, Mar 6 - Flemington Racing Festival Super Saturday
Sat & Sun, Mar 6 & 7 - Echuca Cup Carnival
Sun, Mar 7 - Stony Creek Cup
Athletics
The Melbourne Track Classic
, held as part of the Australian Athletics Tour at Melbourne's Olympic Park Stadium, will see the hottest stars of Australian track and field battle with international challengers.
Thursday March 4 - 7:30pm
Olympic Park Stadium
Rage in a Cage
RISK Championship Wrestling
presents the roughest and toughest Australian wrestlers going head to head in six extreme, breathtaking, edge of your seat bouts. Held at the Polish Club in Rowville, the exciting evening will feature Sinister facing Daniel Swagger in a Steel Cage Match.
AFL
NAB Cup | Round 3
Match 13 - Western Bulldogs v Port Adelaide
- Fri Mar 5
Match 14 - St Kilda v Fremantle
- Sat Mar 6
All Matches Held at Marvel Stadium, Docklands
Community Sports
Omara Cycles Tri-it Women's Triathlon
is a brand new event designed specifically for women. With a focus on fun and participation, the event held at Peter Scullin Reserve in Moridalloc offers a friendly and motivating experience of triathlon while meeting like-minded women.
Republica Beach Volleyball
, held at St Kilda Sea Baths, invites mixed teams of 4 to compete in a fun, entertaining atmosphere smack bang in front of one of the world's greatest DJ's. With a first in best dressed policy, each participant will receive a free refreshment from Republica.
When: Every Wednesday - 6:30pm (Fees Apply)
South Sea Roller Derby
hold a Recruitment Day and Learn to skate session each week at Frankston Skateworld, located in Carrum Downs. The sessions are a chance to learn more about the Roller Derby and learn the basic skills required to begin training for one of the hottest sports in town.
When: Every Sunday - 2pm to 4pm
The Mums' Tennis Program
, one of Tennis Victoria's most popular programs for mums, will be appearing at various local tennis clubs, offering an affordable series of lessons with qualified tennis coaching. Participating parents can also enrol the kids in the Tiny Tots Tennis Program.
Melbourne Tours
Smartvisit Card
is the best way to see the sights of Melbourne, whether you're visiting Melbourne for business, a vacation, or even if you're a local wanting to find Melbourne's hidden treasures!
The Smartvisit Card includes entry to attractions such as Melbourne Zoo, Melbourne Aquarium, Old Melbourne Gaol, Telstra Dome, Cook's Cottage, Melbourne River Cruises, and many more of Melbourne's TOP venues!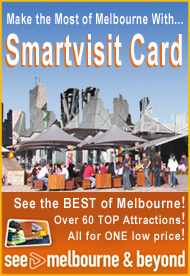 Free entry to over 60 top attractions..
Visit great venues like Zoos, museums & more across Melbourne & Victoria!