Newsletter | #162 | What's On this Week
Welcome to this week's Melbourne events, exhibitions, sports and community guide for Tuesday February 9 to Monday February 15, 2010.
This week.. Love is in the air with Valentine's Day rearing it's pretty, pucker lipped head, and just in time for the Chinese New Year celebrations, too, ringing in the Year of the Tiger. Combine the two and it's the perfect chance to send your loved a sweet Chinese whispered nothing to say, 'I rub too, my sweaty ballast tide..'
You'll find festivities of a celestially feline nature in Box Hill and also Chinatown, with the celebrations swinging well into the am as the clock ticks over and it's the tiger's time to shine. The Whittlesea Country Music Festival also makes its return, while the Festival of the Photocopier continues this week along with the St Kilda Festival.
Valentine's Day
Valentine's Day
, February 14th, is a week away so get the jump on Cupid with our Valentine's Day Guide, with gift suggestions and more. Remind your loved one why you love them so much on that one special day when you can say, 'Thankyou, just for being you!' with a special gift, or even flowers to say, 'I'm sorry I ____ with your ___ and ____!'
Petals Network
- Valentines Day's the perfect time to spoil your loved one rotten and not get asked, "What's this for?"Stay in the good books and send flowers to your loved one, be they here or anywhere in the world - even that "woman"you've met on World of Warcraft! Petals Network offer quality flowers and gifts in over 70 countries, delivered fresh!
Major Events
The Whittlesea Country Music Festival
is a chance to celebrate country music with a host of talented performers from across Australia. Held across three days, the festival includes the Victorian and National Country Music Awards, a vibrant street party, kids' entertainment and more.
When: Friday to Sunday, February 12 to 14
The Melbourne Chinese New Year Festival
, held in Little Bourke Street's Chinatown, features traditional and contemporary Chinese cultural festivities with dances, a performance of Chinese opera, a karaoke competition and stalls with food and crafts and the popular dragon parades.
When:
Saturday & Sunday, February 13 & 14
Chinese New Year | Box Hill
- The City of Whitehorse will be celebrating Chinese New Year with a festival held at the Box Hill Mall precinct. Marking the Year of the Tiger, which symbolises courage, attractions include a variety of amusement rides, stalls, music and performances.
When:
Saturday February 13, 1pm to 3am
Festival Of The Photocopier
, held at Sticky in the Underground Subway Arcade of Melbourne's Degraves St, is a month-long festival that offers an insight into the world of independent press. Featuring 12 zinemakers from around the country, it includes launches, readings and more.
When:
Until February 28
The St Kilda Festival
, now in its 30th year, celebrates local talent and the vibrant arts scene of St Kilda with various venues hosting performances, exhibitions, comedy events and other highlights that include the closing festival with over 50 bands, competitions and kids entertainment.
When:
Until February 14
The Sustainable Living Festival
returns with a program of attractions, workshops, seminars and other special events held across Melbourne. Highlighting this year's theme of Climate Change, it features the Main Event held at Federation Square with exhibits, performances and more.
When:
Until February 21
Main Event at Fed Square - February 19 to 21

The Herring Island Summer Arts Festival
offers special exhibitions every Saturday and Sunday at the Herring Island Environmental Sculpture Park in Toorak. Accessible by boat with a punt service, the arts festival includes special artists demonstrations, talks and activities.
When:
Weekends - Until April 18
Upcoming Events
The Joy-Full Voice Evening Worshop
, held in South Melbourne with international teacher of sound, song, voice and meditation, Chris James, is a workshop aimed to reveal much about how we live our life and discover who you truly are on the path of return to your own natural voice.
When:
March 25 - Bookings Advised

NEW LIVE CALENDAR
To find out about future events in Melbourne, have a look at our new calendar, with details about many more events that lie ahead so you can jot them down on the to-do list , including Exhibitions, Live Gigs, Theatre, Markets, Expos and more..
View Future Events on any day of the week
Exhibitions - Art | Festival | Show
1 Artist 3 Exhibitions
is a presentation of works by award winning artist Rob McKinnon, whose works are on permanent display at the Surfworld Surfing Museum. With three distinctly different exhibitions held at Gasworks Arts Park in Albert Park, all proceeds go to the Gasworks Foundation.
When:
February 9 to 28
Experimenta Utopia Now
, held at the Arts Centre, is a free exhibition that showcases over 30 fun, engaging and interactive works from Australian and international artists with themes that explore a broad spectrum of social behaviour and the boundaries of humanity and our planet.
When:
February 12 to March 14
Lost and Saved in Tasmania
, showing at Forty Five Downstairs in Flinders Lane, is an exhibition of photographs that display the beauty and of the Tasmania environment, while also highlighting the value of peaceful protest in protecting the forests from imminent destruction.
When:
Until Saturday February 13
Fields of View
, appearing at various venues, is a touring exhibition based on the Black Saturday Fires that raged through Victoria last year. Featuring work by artists that include Kerrie Warren, Leonie Ryan and Peter Biram, it's currently showing at Gippsland Art Gallery.
When:
Until March 7 - Gippsland
Renewal
, held at Chapman & Bailey in Abbotsford, is an exhibition of paintings by Phillip Sayers. Highlighting the regrowth since last year's Black Saturday, the Templestowe artist has painted the renewal of the St Andrews bush, showing the first signs of recovery in a range of artworks.
When:
Until February 20
Chinoiserie: Asia in Europe
, running at Melbourne's NGV International, is an exhibition that examines the style in Western art which draws influences from China, Japan and India. Ceramics, furniture, prints and more are presented with examples of Asian art to illustrate such inspirations.
When:
Until March 14
Heroes and Villains
, a special presentation of artwork and prints held at Silver K Gallery in Armadale, is an extensive collection of artwork featured in comics and animation. Showcasing many rare pieces released from Warner Bros, it includes works by the talented artist, Alex Ross.
When:
Weekdays Until March 14
AC/DC Family Jewels
, held at the Melbourne Art Centre, collects memorabilia from Australia's most iconic band and their record company. Free to the public, it covers the 35-year career of AC/DC, one of the greatest rock bands, with original material revealed publicly for the first time.
When:
Until February 28, 2010 - Open Daily
'til you drop
, held at the State Library of Victoria, is a free exhibition that celebrates Melbourne's passion for shopping, from the Paris end of Collins Street to the local corner store. The exhibition features historic photographs and nostalgic items on display such as wartime ration cards and more.
When:
Until October 31, 2010
Expos, Launches & Open Days
The Pet And Animal Expo
, Australia's biggest public pet expo, features a wide range of stalls with everything a pet lover could want. Held at Caulfield Racecourse, the expo includes retailers, government bodies, clubs and breeders and associations from Australia and even overseas.
When:
Friday February 12
Travel Expo
, presented by Flight Centre and held at the Melbourne Convention and Exhibition Centre, offers information on travel packages suited for people from all walks of life with the expo featuring exclusive deals on holiday ideas and packages on offer across the weekend.
When:
Saturday & Sunday, February 13 & 14
Angus and Robertson
in Bourke Street will be holding book signing sessions with authors, Andrew Winter, Ryan Kennedy and Ray Smithies, who'll be signing his book 'Scorpio's Lot', a fast-paced mystery set in southern Gippsland. Books will be available to buy on the day for signing.
When:
Friday & Saturday, February 12 & 13
Performances & Theatre
Madagascar
, presented by Melbourne Theatre Company, is an intriguing performance set in the room of a hotel in Rome where three versions of a story are told at three different times. Starring Nicholas Bell, Noni Hazlehurst and Asher Keddie, it's playing at the Fairfax Studio of the Arts Centre.
When:
February 12 to March 27
MAMA MIA!
the hit musical that's inspired by the songs of ABBA, returns to Melbourne for a limited time with performances held at Her Majesty's Theatre. The romantic comedy follows a young girl whose efforts to meet her father reunite her mother with three lovers from the past.
When:
February 13 to May 30
The Swimming Club
, held at Melbourne Theatre Company in Southbank, is a co-production with Black Swan State Theatre Company featuring Tina Bursill and John Waters in the story of six friends who reunite on a Greek island where they'd spent an adventurous summer thirty years earlier.
When:
Until March 14
The Drowsy Chaperone
, held at the Art Centre's Playhouse Theatre, is a nostalgic look at the golden age of musicals as Geoffrey Rush stars as a die-hard musical theatre fan who invites us into his dreary living room where an outrageously funny musical from the 1920s bursts into life.
When:
Until February 20
A Midsummer Night's Dream
, held as this summer's production of Shakespeare Under The Stars in the Royal Botanic Gardens, features a young, vibrant and comical cast that brings the playful tale of love, mischief and magic to life, you can bring your own picnic or order a gourmet hamper.
When:
Until March 13
Jersey Boys
, performed at the Princess Theatre, is the Broadway hit that charts the story of Frankie Valli and The Four Seasons as the play takes a nostalgic look at how four blue-collar kids became one of the great music successes while showcasing the songs they became famous for.
When:
Until February 28
Classical & Recitals
Los Maestros de Sevilla
, held at the Melbourne Recital Centre, is a special presentation by La Compaņia, Australia's premiere Renaissance instrument ensemble. The concert features love songs and lively dance tunes from Spain, exploring the music of Francisco Guerrero and others.
When:
Wednesday February 10
The James Morrison Orchestra
will be appearing at Melbourne's Regent Theatre where the world renowned trumpet virtuoso will be joined by his orchestra and special guests that include Monica Trapaga, Doug Parkinson and the Australian a cappella group, Tiara for one night only.
When:
Friday February 12
Made in China
, a special performance marking Chinese New Year, is an opportunity to hear the sounds of the brave new world of contemporary Chinese culture with Australian soprano Xenia Hanusiak performing a piece by renowned composer Zhang Xiao Fu at Forty Five Downstairs.
When:
Sunday February 14
Entertainment & Nightlife
Live Concerts & Gigs
The AC/DC's Black Ice Tour
will be appearing at Marvel Stadium with the iconic Aussie rock gods performing what will be a loud and proud concert. With three shows only held in Melbourne, tickets will go fast with support featuring the bands Wolf Mother and Calling All Cars.
When:
February 11, 13 & 15
Julie Stewart
will be performing at Cristal Lounge in the heart of busy South Yarra. Delivering a truly unforgettable after-dark experience at the stylish cocktail bar, Julie Stewart performs passionate ballads and songs of love, loss, pleasure and pain, with support from H.A.T.S.
When:
Thursdays from 7:30pm - Free Entry
The John Montesante Quintet
, performing at The Commune Cafe Bar, brings a hint of New York Be-Bop to Melbourne with performances that include timeless Jazz standards and improvisations by John Montesante and some of the finest, hottest Jazz players in town.
When:
Every Thursday - 5:45pm to 8:45pm
Mindsnare
, veterans of the Australian hardcore and metal scene, will be appearing with the new breed of bands with an appearance that features support by Samsara, Hopeless, The Abandonment and technically impressive Dead Kings from Canberra. It takes place at the East Brunswick Club.
When:
Saturday February 13 - Doors Open 8pm
The Melbourne Folk Club
meet each weekend to enjoy live acoustic music, offering a great afternoon with CDs available by local performers. Performances are held at the Grandview Hotel in West Brunswick with the next guests who'll perform including Mathew Fagan and John Ross.
When:
Saturday February 13 - 3pm
No Left Turn
, a cover band that performs all the favourites from the 60's 70's & 80's with a diverse sound featuring rock, blues or soul, will be appearing at the Three Crowns Hotel in West Melbourne with an exciting performances that will have you grooving through the decades.
When:
Saturday February 13 - 9pm
Melbourne Zoo Twilights
is a chance to enjoy music performed live at Melbourne Zoo with this year's season boasting a great range of performers. Held on the zoo's concert lawn areas, each concert evening also includes special displays of selected species open until 7.30pm.
When:
Saturdays & Sundays Until March 14
Grand Wazoo
, the Legendary Kings of Soul, will be performing at Queen Street's Blue Diamond Club. With four lead singers, six horns and four rhythm players, the band offers vibrant arrangements of Black Soul and R&B Classics, playing greats ranging from the 50's through to the 60's.
When:
Sunday February 14 - 6pm to 9pm
The Fairfield Amphitheatre Summer Concert Series
returns with a fantastic program of free performances, held every Sunday. Presented by the City of Yarra, the family-friendly concerts feature a diverse range of performers with backgrounds and styles from across the globe.
When:
Sundays in February - 5pm to 7:30pm
Cinema

The Rooftop Cinema
flickers into action with film screenings of everything from cult favourites to new releases and documentaries, literally offering the height of entertainment with screenings held on the rooftop of Swanston Street's Curtin House along with the rooftop bar.
When:
Tuesday to Sunday Until March 28
Moonlight Cinema
, held at the Royal Botanic Gardens, is Melbourne's favourite open-air cinema with a program that includes latest releases, contemporary films and cult classic movies. A great way to spend a night out with friends and family, you can bring your own picnic or buy food there.
When:
Tuesdays to Sundays Until March 14
Comedy
The St Kilda Laughs Festival
, held as part of the Live N Local St Kilda Festival, celebrates Melbourne's love of live comedy with an exciting program held across 8 venues that features over 120 performances that include some of the best comedians from Australia and overseas.
When:
Until February 14
ET's Comedy Night
is a free weekly comedy room night held at ET's Hotel in Prahran. With free comedy held each Thursday from 8pm, the nights also offer a $15 Steak & Wine (or Pot) Special so you can fill your belly in between belly-laughs with some of Melbourne's best comics.
When:
Every Thursday - 8pm
[email protected]
is a comedy night at Spleen Bar in Bourke Street, where you can enjoy a great night out with an eclectic mix of Melbourne's comedy scene featuring established personalities and comedy legends from radio and television with guests such as Glenn Robbins, Corinne Grant and others.
When: Every Monday - 8:30pm to 10:30pm | FREE Entry
Melbourne For Kids
The Grimstones - Hatched
, held at the ANZ Pavilion of the Arts Centre, is a gothic fairy tale told with beautiful old world marionettes and Australian sign language. Acclaimed both here and overseas, the magical, gothic fairytale is about a girl who can read dreams and a baby boy with three legs.
When:
Saturday & Sunday, February 13 & 14
Kids at Fairview Park
, taking place in Hawthorn, is a special event for children held as part of a series of concerts showcasing Boroondara's magnificent parks and waterways. Free to attend, the day features an appearance by Fifi and the Flowertots along with gardening activities.
When:
Saturday February 13 - 5pm to 7pm
Birrarung Yarn
, held at Birrarung Marr located near Federation Square, is a free event for children that teaches traditional Indigenous dance performances, the meaning behind the Aboriginal flag, face painting and more. Held to bring Indigenous culture to children, it's free to attend.
When:
Sunday, February 14 - 10:30am to 12:30pm
Sand Sculpting Australia
will again present a special display as part of the Frankston Waterfront Festival with their newest theme 'Great Moments In History' featuring 3,500 tonnes of sand carved into spectacular sculptures depicting people, places and events that have shaped our world.
When:
Until April 25
Circus

Circus Sunrise
, an action-packed show for all the family, will be appearing with performances held at Westfield in Mill Park. A true family circus with lineage going back to 1648, the performances of Circus Sunrise feature juggling, acrobatics and whip-cracking excitement!
Highly recommended!
We clapped our hands raw and thoroughly enjoyed the show. Even if you have seen Circus Sunrise before (which we have), its well worth going again.
When:
Until February 28 - Mill Park
Learn Circus with NICA
- Drop into Fed Square each Monday and try your hand at basic circus skills with experienced NICA trainers. Offering the chance to get a taste of circus in your lunchbreak, these free, fun workshops are suitable for all ages with a range of circus skills on offer.
When:
Mondays Until March 22 - Midday
Perry Bros Circus
, Australia's oldest circus, will be appearing in Roxburgh Park, offering quality entertainment to please the entire family. With wire walkers, Jugglers, Whip crackers, balancing acts and more the circus also features performing ponies and camels along with their very funny clowns.
When:
February 8 to 28 - Roxburgh Park

Silvers Grand Magic Circus
will be holding performances in Taylors Lakes. Established in 1976, Silvers Grand Magic Circus offers a great show for people of all ages with performers including everything from jugglers and clowns to acrobats, international performers and more.
When:
February 10 to 28 - Taylors Lakes
Puzzles & Competitions
Spot The Difference
There are 5 Differences between these two pictures of the
Nobbies
, home to many of Victoria's penguins and seabirds... See if you can spot them! Sign up for answers revealed in
Next Week's Newsletter
Last week's answers are further down with Melbourne Trivia
More on the Nobbies
|
Learn More about Melbourne!
You Can Help
There are many social causes that are relevant to people from all walks of life, many of which rely on public support to better the community or assist those who are less fortunate or to benefit others. This week we ask you to consider the following..
The Lighthouse Foundation
is a not-for-profit organisation dedicated to empowering young people to take responsibility for their own lives. Offering a loving family environment, Lighthouse provides long-term accommodation, care and outreach to young people, who would otherwise be homeless.
Markets, Fetes and Fairs

The Suzuki Night Market
, held weekly at Queen Victoria Market, has become a summer tradition that offers a great mix of unique products and a great atmosphere with a stunning mix of world food, eclectic wares, bars and even two stages showcasing the best live music!
When:
Until February 24 - Every Wednesday
View MARKETS on any day of the week
to make the most of the rare sunny days (it's a coin toss, isn't it!) and head to one of Melbourne's many excellent markets, fetes and fairs for a bargain!

A growing number of food, produce and even wine markets are always popping up around the suburbs. And don't forget garage sales!
Dining & Drink
Wining
Special Dining Offers

Dining Specials - Save Up To 20% on Your Bill
Menulog
is the easiest way to book a restaurant online with over 4000 restaurant listings! By booking online through Menulog you can enjoy fine food and save money with special deals offering discounts on total food bills, complimentary wine and drinks, discount group bookings and much, much more!
Meltemi Greek Tavern | Moonee Ponds
Meltemi Greek Tavern
in Moonee Ponds offer traditional Greek island meals with lamb on the spit and charcoal cooked seafood.
SPECIAL DINING OFFER!!
Book Through
Menulog
to have any banquet of your choice and you'll receive desserts for FREE!
Visit here for BOOKING DETAILS @ Menulog
Offer Ends February 25 | Make a Booking Today!
Dining in Melbourne
offers a splendid range of food styles to enjoy. Here are just a few classic food styles to choose from..

Modern Australian Cuisine

Chinese Restaurants

Italian Restaurants

Seafood Restaurants

French Restaurants

Dining Gift Vouchers
Menulog Gift Vouchers
are the perfect way to treat someone special to a great dinner with vouchers available for a wide range of participating restaurants in Melbourne and across Australia. There's even the option to buy a voucher and let the lucky recipient decide which restaurant they'd like to dine at!
Learn More about Menulog Gift Vouchers
OnlyMelbourne Welcomes..
Each week we highlight some of the latest additions to OnlyMelbourne's ever growing guide to services, businesses and information sites for your community.
Affinity Wedding Band
provide entertainment for weddings that require sophisticated or groovy music with a variety of styles including current hits and classic party hits. Successful at hundreds of high profile weddings, Affinity Wedding Band also offer optional MC all-inclusive with performances that have earned them clients that include Fosters International.
Christmas Party Venues
have a wide range of Christmas party venues and Christmas Party function rooms to help you find the perfect venue for your Christmas party. With Christmas party venue recommendations complete with photos and email tailored to your Christmas party requirements, has never been easier.
The Amazing Mr Twist
is a magician also known as Twisty a funny clown, a wacky wizard or Captain Twist, the adventurous pirate. Creating fun and excitement for your kids' party or event, Mr. Twist performs an amazing and amusing interactive magic show themed to each character that includes puppetry, face painting and much more.
View More of the Latest Listings at OnlyMelbourne!
Advertising
your Business or Event at OnlyMelbourne is not only easy, but best of all it's
FREE!!
-
Get Listed..
- don't forget to tell your friends!
Sporting Events
Golf
The Victorian PGA Championship
Thursday 11th February - Round 1
Friday 12th February - Round 2
Saturday 13th February - Round 3 (Top 50 +ties)
Sunday 14th February - Round 4 & Presentations
Held at the Sandhurst Club
NBL Championship
NBL Championship | Round 20
Melbourne Tigers Home Game
Tigers vs Blaze
Saturday February 13 - 7:30pm
State Netball and Hockey Centre, Parkville
The Trots
Yarra Valley Racing
, located at Yarra Glen, offers a great day out with the finest in racing entertainment along with great venues with regional food and wine.
Next Race Date
Harness Racing
Friday February 12
Kilmore Racing Club
offers patrons a huge range of entertainment options with the centerpiece being the 50+ top class Turf and Harness Race Meetings per year.
Next Race Dates - Thoroughbred Racing
Sportingbet Kilmore Turf Cup
Sunday February 14
Fun Runs & Walks
Go The Tan
, Melbourne's Official Tan time trials, offering the chance to sprint, jog or walk one lap of the famous tan track to receive your official 2010 Tan time. All profits from the event will go toward supporting Australia's world leading research into a treatment and cure for Friedreich Ataxia.
When:
Friday & Saturday, February 12 & 13
Community Sports
Republica Beach Volleyball
, held at St Kilda Sea Baths, invites mixed teams of 4 to compete in a fun, entertaining atmosphere smack bang in front of one of the world's greatest DJ's. With a first in best dressed policy, each participant will receive a free refreshment from Republica.
When:
Every Wednesday - 6:30pm (Fees Apply)
An Aquathon
will be held at the YMCA of Northcote offering a fun day for the whole family with categories on the day including running and swimming events for adults and even special events for children under the age of 12. Registration fees apply and can be paid on the day.
When:
Friday February 12
South Sea Roller Derby
hold a Recruitment Day and Learn to skate session each week at Frankston Skateworld, located in Carrum Downs. The sessions are a chance to learn more about the Roller Derby and learn the basic skills required to begin training for one of the hottest sports in town.
When:
Every Sunday - 2pm to 4pm
The Mums' Tennis Program
, one of Tennis Victoria's most popular programs for mums, will be appearing at various local tennis clubs, offering an affordable series of lessons with qualified tennis coaching. Participating parents can also enrol the kids in the Tiny Tots Tennis Program.
When:
Until March 12
Melbourne Tours
Smartvisit Card
is the best way to see the sights of Melbourne, whether you're visiting Melbourne for business, a vacation, or even if you're a local wanting to find Melbourne's hidden treasures!
The Smartvisit Card includes entry to attractions such as Melbourne Zoo, Melbourne Aquarium, Old Melbourne Gaol, Telstra Dome, Cook's Cottage, Melbourne River Cruises, and many more of Melbourne's TOP venues!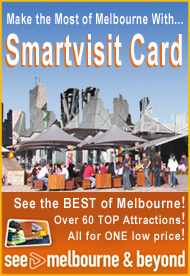 Free entry to over 60 top attractions..
Visit great venues like Zoos, museums & more across Melbourne & Victoria!
Over $800 of entry fees for ONE low price..
Plus special offers & discounts!
Visit just 2 Attractions a day & you'll save!
FREE 128 page guidebook..
Tailored to local knowledge on what to see & do!
Cash free entry..
Show your card & you're in, no need for cash!
All year-round Attractions..
Whatever time of year you visit - rain or shine!
Learn more about Smartvisit Card
Last Week's Puzzle Answers
Spot The Difference
Here are the 5 Differences in last week's picture of the artists' colony,
Montsalvat
...
Newsletter | #161 | What's On this Week [Last Week]
Melbourne Trivia
Have A Squizzy At This..
Fitzroy was Melbourne's first suburb, created when the area between Melbourne and Alexandra Parade (originally named Newtown) was subdivided into vacant lots and offered for sale.
Newtown was later renamed Collingwood, and the area now called Fitzroy (west of Smith Street) was made a ward of the Melbourne City Council. On 10 September 1858, Fitzroy became a municipality in its own right, separate from the City of Melbourne.
Fitzroy is also infamous for being home to the 1920's gangster figure, Squizzy Taylor, who frequented the area around the junction of Napier Street and Gertrude Street.
Read more about Melbourne's Suburbs
|
Read Melbourne Trivia...
WHAT'S ON CALENDAR
Speaking of what's on, our
new calendar
allows you to select any day of the year to view everything (everything!!!) on that day in an easy to read, printable display.
-:- View
What's On Calendar
-:- View
Markets Only Calendar
Melbourne On The Phone

OnlyMelbourne
is now
mobile phone
compatible. Yes, our pages are formatted to be viewed on the small screen. To view our mobile phone website, go directly to our
home page
with your web compatible mobile phone and you will automatically be redirected to the
mobile compatible
version of OnlyMelbourne, so you'll be in the know on the go!
WHAT'S ON FEEDS
For those with newsfeeds, we now have a daily
What's On Melbourne Today
feed.
NEWSLETTER
What's On this Week
is an email overview and reminder of the (too many to mention) events happening this week in Melbourne.
Get your copy
of What's On this Week!
❊ Address & Contact ❊
⊜ Newsletter | #162 | What's On this Week Melbourne |
Map
❊ Web Links ❊
→
Newsletter | #162 | What's On this Week
→
Subscribe to OnlyMelbourne - Get your copy of What's On this Week!
→
List Your Business or Event - It's FREE!
→
Events Calendar - Find out What's On any day of the week!
→
Mobile OnlyMelbourne - View Our Website On Your Phone
→
Melbourne for Children | Kids
→
Newsletter | #161 | What's On this Week [Last Week]
→
Disclaimer
: Check with the venue before making plans
...
Trending HOT

Drive-In Movie Club
Drive-In Immersive Cinema Nights Are Coming to Melbourne Put together by our friends at Hot Tub Cinema, a string of family-friendly, social distancing-safe, drive-in ..

Things to see, hear & do this weekend
Make the most of your weekend in Melbourne with these fabulous events. No city does it better than Melbourne, so get out and discover the very best shows, festivals, ..
---
Update Page