Newsletter | #161 | What's On this Week
Welcome to this week's Melbourne events, exhibitions, sports and community guide for Tuesday February 2 to Monday February 8, 2010.
This week.. There's the Festival of the Photocopier taking a month long gander at the art of Zinemaking, so if the office toner's running low you might want to head along to that to find some likely culprits. And it's all happening on the high seas as the Melbourne International Boat and Lifestyle Festival cruises into Docklands with a range of events celebrating boating... and also life, it seems, because we all like a bit of that.
Also in Docklands, there's the Rock the Boat Festival, which may have something to do with the former festival, just like in St Kilda you have the St Kilda Festival, which coincides with the St Kilda Laughs Festival. It's either an uncanny run of coincidences, or the festival gurus these days are hedging their bets (and funding) by modelling their event plans on Babushka Dolls.
Valentine's Day
Valentine's Day
, February 14th, is fast approaching... Get the jump on Cupid with our Valentine's Day Guide, with gift suggestions and more. Remind your loved one why you love them so much on that one special day when you can say, 'Thankyou, just for being you!' with a special gift, or even flowers to say, 'I'm sorry I ____ with your ___ and ____!'
Petals Network
- Valentines Day's the perfect time to spoil your loved one rotten and not get asked, "What's this for?"Stay in the good books and send flowers to your loved one, be they here or anywhere in the world - even that "woman"you've met on World of Warcraft! Petals Network offer quality flowers and gifts in over 70 countries, delivered fresh!
Major Events
Festival Of The Photocopier
, held at Sticky in the Underground Subway Arcade of Melbourne's Degraves St, is a month-long festival that offers an insight into the world of independent press. Featuring 12 zinemakers from around the country, it includes launches, readings and more.
When:
February 3 to 28
The Melbourne International Boat & Lifestyle Festival
, held at Docklands, has something for everyone with displays, giveaways and fun for all the family with live entertainment. With gourmet food, wine, fashion and more, the festival features more than $100 million of boats on display.
When:
Friday to Sunday, February 5 to 7
The St Kilda Festival
, now in its 30th year, celebrates local talent and the vibrant arts scene of St Kilda with various venues hosting performances, exhibitions, comedy events and other highlights that include the closing festival with over 50 bands, competitions and kids entertainment.
When:
February 6 to 14
The Sustainable Living Festival
returns with a program of attractions, workshops, seminars and other special events held across Melbourne. Highlighting this year's theme of Climate Change, it features the Main Event held at Federation Square with exhibits, performances and more.
When:
February 6 to 21
Main Event at Fed Square - February 19 to 21
Rock the Boats
, held at Waterfront City in Docklands, is a free Summer Music Festival that brings a great collection of live music to the stage. Running daily from 11am until late, performances include Rock, Blues, Jazz, Pop and Country along with competitions, giveaways and more.
When:
Friday to Sunday, February 6 to 7
The Midsumma Festival
celebrates Melbourne's premier Gay and Lesbian culture at various venues with queer centric and queer friendly performances and entertainment including special performances, cabaret, art exhibitions, community events and much more in its extensive program.
When:
Until February 7

The Herring Island Summer Arts Festival
offers special exhibitions every Saturday and Sunday at the Herring Island Environmental Sculpture Park in Toorak. Accessible by boat with a punt service, the arts festival includes special artists demonstrations, talks and activities.
When:
Weekends - Until April 18
Upcoming Events

NEW LIVE CALENDAR
To find out about future events in Melbourne, have a look at our new calendar, with details about many more events that lie ahead so you can jot them down on the to-do list , including Exhibitions, Live Gigs, Theatre, Markets, Expos and more..
View Future Events on any day of the week
Exhibitions - Art | Festival | Show
Fields of View
, appearing at various venues, is a touring exhibition based on the Black Saturday Fires that raged through Victoria last year. Featuring work by artists that include Kerrie Warren, Leonie Ryan and Peter Biram, it's currently showing at Gippsland Art Gallery.
When:
Until March 7 - Gippsland
When:
Presentation at Parliament House - Friday, February 5
Renewal
, held at Chapman & Bailey in Abbotsford, is an exhibition of paintings by Phillip Sayers. Highlighting the regrowth since last year's Black Saturday, the Templestowe artist has painted the renewal of the St Andrews bush, showing the first signs of recovery in a range of artworks.
When:
February 2 to 20
Chinoiserie: Asia in Europe
, running at Melbourne's NGV International, is an exhibition that examines the style in Western art which draws influences from China, Japan and India. Ceramics, furniture, prints and more are presented with examples of Asian art to illustrate such inspirations.
When:
Until March 14
Heroes and Villains
, a special presentation of artwork and prints held at Silver K Gallery in Armadale, is an extensive collection of artwork featured in comics and animation. Showcasing many rare pieces released from Warner Bros, it includes works by the talented artist, Alex Ross.
When:
Weekdays Until March 14
'til you drop
, held at the State Library of Victoria, is a free exhibition that celebrates Melbourne's passion for shopping, from the Paris end of Collins Street to the local corner store. The exhibition features historic photographs and nostalgic items on display such as wartime ration cards and more.
When:
Until October 31, 2010
Anatomy to Robots
, showing at Southbank's Queensbridge Square, is a remarkable exhibition that brings the designs of Leonardo da Vinci to life. One of the world's greatest and inventive minds, the exhibition shows his passion for nature, science and art with life size recreations of his works.
When:
Until January 31, 2010
AC/DC Family Jewels
, held at the Melbourne Art Centre, collects memorabilia from Australia's most iconic band and their record company. Free to the public, it covers the 35-year career of AC/DC, one of the greatest rock bands, with original material revealed publicly for the first time.
When:
Until February 28, 2010 - Open Daily
Expos & Open Days
The David Calleja Memorial Car Show & Rally
, held in the historic grounds of Maddingley Park in Bacchus Marsh, displays some of the finest vehicles with a great day out for the family and all auto enthusiasts. With food and activities for kids, the event raises funds for local health services.
When:
Sunday, February 7
Reed Gift Fairs
, known as the major gift product expo, are one of the most anticipated events on the Gift industry calendar. The fair will be exhibiting gift products including kitchenware, homewares, jewellery, fashion and more at the Melbourne Convention and Exhibition Centre.
When:
Ends Tuesday, February 2
Performances & Theatre
The Choir
, presented by Fly On The Wall Theatre at St Kilda's Brightspace Gallery, tells the story of an orphanage boys' choir, their determination to win a national competition for the fourth year in a row, and the dark secret holding the choir together that gets in the way and tests their loyalties.
When:
Until February 7
The Swimming Club
, held at Melbourne Theatre Company in Southbank, is a co-production with Black Swan State Theatre Company featuring Tina Bursill and John Waters in the story of six friends who reunite on a Greek island where they'd spent an adventurous summer thirty years earlier.
When:
Until March 14
The Drowsy Chaperone
, held at the Art Centre's Playhouse Theatre, is a nostalgic look at the golden age of musicals as Geoffrey Rush stars as a die-hard musical theatre fan who invites us into his dreary living room where an outrageously funny musical from the 1920s bursts into life.
When:
Until February 20
A Midsummer Night's Dream
, held as this summer's production of Shakespeare Under The Stars in the Royal Botanic Gardens, features a young, vibrant and comical cast that brings the playful tale of love, mischief and magic to life, you can bring your own picnic or order a gourmet hamper.
When:
Until March 13
Jersey Boys
, performed at the Princess Theatre, is the Broadway hit that charts the story of Frankie Valli and The Four Seasons as the play takes a nostalgic look at how four blue-collar kids became one of the great music successes while showcasing the songs they became famous for.
When:
Until February 28
Classical & Recitals
The Australian Chamber Orchestra
, appearing at the Arts Centre, will present a performance by Richard Tognetti, the ACO's Artistic Director and Lead Violinist. Performing Mozart's Violin Concerto No.4 and Schubert's Quartettsatz, the concerts also include works by Grieg and Haydn.
When:
Sunday & Monday, February 7 & 8
Entertainment & Nightlife
Live Concerts & Gigs
Jahmakn' It Funky
, a seven-piece band combining the roots of reggae, funk and RnB to create a unique live sound, will be performing at George Public Bar St Kilda. Playing well known reggae classics, the band uses as many as four vocals in harmony and first-rate musicians.
When:
Thursday, February 5
Jeudi Jazzy
, held at the cellar of Alliance Franšaise in St Kilda, is a live performance by the New Impromptu Quartet. Featuring Alexander Nettelbeck, Khari Cabral Simmons and Ben Kosi Karsay, the band performs Jazz, Latin and Soul standards alongside their own original compositions.
When:
Thursday, February 4
Julie Stewart
will be performing at Cristal Lounge in the heart of busy South Yarra. Delivering a truly unforgettable after-dark experience at the stylish cocktail bar, Julie Stewart performs passionate ballads and songs of love, loss, pleasure and pain, with support from H.A.T.S.
When:
Thursdays from 7:30pm - Free Entry
Melbourne Zoo Twilights
is a chance to enjoy music performed live at Melbourne Zoo with this year's season boasting a great range of performers. Held on the zoo's concert lawn areas, each concert evening also includes special displays of selected species open until 7.30pm.
When:
Saturdays & Sundays Until March 14
Jazz at Canterbury Gardens
sees the return of this much loved annual event featuring bands that include The Syncopators performing in the 100 year old rotunda of Canterbury's beautiful heritage gardens. The free concert is part of a series in Boroodara's magnificent parks.
When:
Saturday, February 6
Twilight Jazz
, held at Cruden Farm in Langwarrin, is a fundraising event for the McClelland Gallery and Sculpture Park. The event features The Hottentots (pictured) with their uniquely Australian acoustic music style, who'll be performing along with special guest Bob Sedergreen.
When:
Saturday, February 6 - 4pm to 8pm
The Stats
, a band that's redefined electro with their dynamic live shows and soaring vocals, will be appearing at Revolver in Prahran. One of Melbourne's best electro bands, they'll be headlining a night that includes performances by Back Back Forward Punch and Polygon Palace.
When:
Saturday, February 6
The Fairfield Amphitheatre Summer Concert Series
returns with a fantastic program of free performances, held every Sunday. Presented by the City of Yarra, the family-friendly concerts feature a diverse range of performers with backgrounds and styles from across the globe.
When:
Sundays in February - 5pm to 7:30pm
Cinema

The Rooftop Cinema
flickers into action with film screenings of everything from cult favourites to new releases and documentaries, literally offering the height of entertainment with screenings held on the rooftop of Swanston Street's Curtin House along with the rooftop bar.
When:
Tuesday to Sunday Until March 28
Moonlight Cinema
, held at the Royal Botanic Gardens, is Melbourne's favourite open-air cinema with a program that includes latest releases, contemporary films and cult classic movies. A great way to spend a night out with friends and family, you can bring your own picnic or buy food there.
When:
Tuesdays to Sundays Until March 14
Comedy & Spoken Word
Willow Tales
, held at Northcote's Willow Bar, offers a night of pure storytelling with performers taking to the stage to share stories, tales and fables from some of Melbourne's top comedians, writers and yarn spinners with performances that offer far more than the usual stand-up shtick.
When:
Wednesday, February 3
The St Kilda Laughs Festival
, held as part of the Live N Local St Kilda Festival, celebrates Melbourne's love of live comedy with an exciting program held across 8 venues that features over 120 performances that include some of the best comedians from Australia and overseas.
When:
February 4 to 14
ET's Comedy Night
is a free weekly comedy room night held at ET's Hotel in Prahran. With free comedy held each Thursday from 8pm, the nights also offer a $15 Steak & Wine (or Pot) Special so you can fill your belly in between belly-laughs with some of Melbourne's best comics.
When:
Every Thursday - 8pm
[email protected]
is a comedy night at Spleen Bar in Bourke Street, where you can enjoy a great night out with an eclectic mix of Melbourne's comedy scene featuring established personalities and comedy legends from radio and television with guests such as Glenn Robbins, Corinne Grant and others.
When: Every Monday - 8:30pm to 10:30pm | FREE Entry
Melbourne For Kids
The Movie Moves Dance Workshop
, held at Waterfront City Piazza, will see Docklands transformed into one huge dance floor with professional dancers presenting free lessons in dance routines inspired by classic movies that include Saturday Night Fever and music clips like Thriller.
When:
Saturday, February 6 - 5pm to 7pm
Birrarung Yarn
, held at Birrarung Marr located near Federation Square, is a free event for children that teaches traditional Indigenous dance performances, the meaning behind the Aboriginal flag, face painting and more. Held to bring Indigenous culture to children, it's free to attend.
When:
Sunday, February 7 - 10:30am to 12:30pm
A Children's Storytelling Session
will be held at Melbourne's Shrine of Remembrance. Free to attend, it offers the ideal way to introduce children to the Shrine for the first time and to learn about the inspiring leadership of one of our great icons, Sir Edward 'Weary' Dunlop.
When:
Sunday, February 7 - 2pm
Family Day at Collingwood Children's Farm
is a special children's event held each month with each family day featuring a theme that matches activities provided for kids. Activities include hayrides, a BBQ, free pony rides and more, making it a great day out for the kids.
When: Sunday, February 7 | Only $16 per Family
Sand Sculpting Australia
will again present a special display as part of the Frankston Waterfront Festival with their newest theme 'Great Moments In History' featuring 3,500 tonnes of sand carved into spectacular sculptures depicting people, places and events that have shaped our world.
When:
Until April 25
Circus

Circus Sunrise
, an action-packed show for all the family, will be appearing with performances held at Westfield in Mill Park. A true family circus with lineage going back to 1648, the performances of Circus Sunrise feature juggling, acrobatics and whip-cracking excitement!
Highly recommended!
We clapped our hands raw and thoroughly enjoyed the show last Sunday. Even if you have seen Circus Sunrise before (which we have), its well worth going again.
When:
February 5 to 28 - Mill Park
Learn Circus with NICA
- Drop into Fed Square each Monday and try your hand at basic circus skills with experienced NICA trainers. Offering the chance to get a taste of circus in your lunchbreak, these free, fun workshops are suitable for all ages with a range of circus skills on offer.
When:
Mondays Until March 22 - Midday
Perry Bros Circus
, Australia's oldest circus, will be appearing in Sanctuary Lakes offering quality entertainment to please the entire family. With wire walkers, Jugglers, Whip crackers, balancing acts and more the circus also features performing ponies and camels along with their very funny clowns.
When:
Until February 7 - Sanctuary Lakes

Silvers Grand Magic Circus
will be holding performances in Altona. Established in 1976, Silvers Grand Magic Circus offers a great show for people of all ages with performers including everything from jugglers and clowns to acrobats, international performers and more.
When:
Until February 7 - Altona
Puzzles & Competitions
Spot The Difference
There are 5 Differences between these two pictures of the artists' colony,
Montsalvat
, located in Eltham... See if you can spot them! Sign up for answers revealed in
Next Week's Newsletter
Last week's answers are further down with Melbourne Trivia
More on Montsalvat
|
Learn More about Melbourne!
You Can Help
There are many social causes that are relevant to people from all walks of life, many of which rely on public support to better the community or assist those who are less fortunate or to benefit others. This week we ask you to consider the following..
The Lighthouse Foundation
is a not-for-profit organisation dedicated to empowering young people to take responsibility for their own lives. Offering a loving family environment, Lighthouse provides long-term accommodation, care and outreach to young people, who would otherwise be homeless.
Markets, Fetes and Fairs

The Suzuki Night Market
, held weekly at Queen Victoria Market, has become a summer tradition that offers a great mix of unique products and a great atmosphere with a stunning mix of world food, eclectic wares, bars and even two stages showcasing the best live music!
When:
Until February 24 - Every Wednesday
View MARKETS on any day of the week
to make the most of the rare sunny days (it's a coin toss, isn't it!) and head to one of Melbourne's many excellent markets, fetes and fairs for a bargain!

A growing number of food, produce and even wine markets are always popping up around the suburbs. And don't forget garage sales!
Dining & Drink
Wining
The Victorian Wine Showcase
, held at the Atrium of Federation Square, is a monthly event that allows visitors to taste wines from a number of regional Victorian Wineries and even meet with winemakers. This month's event will showcase wines from the Mornington Peninsula.
When:
Wednesday & Thursday, February 3 & 4
Special Dining Offers

Dining Specials - Save Up To 20% on Your Bill
Menulog
is the easiest way to book a restaurant online with over 4000 restaurant listings! By booking online through Menulog you can enjoy fine food and save money with special deals offering discounts on total food bills, complimentary wine and drinks, discount group bookings and much, much more!
Meltemi Greek Tavern | Moonee Ponds
Meltemi Greek Tavern
in Moonee Ponds offer traditional Greek island meals with lamb on the spit and charcoal cooked seafood.
SPECIAL DINING OFFER!!
Book Through
Menulog
to have any banquet of your choice and you'll receive desserts for FREE!
Visit here for BOOKING DETAILS @ Menulog
Offer Ends February 25 | Make a Booking Today!
Dining in Melbourne
offers a splendid range of food styles to enjoy. Here are just a few classic food styles to choose from..

Modern Australian Cuisine

Chinese Restaurants

Italian Restaurants

Seafood Restaurants

French Restaurants

Dining Gift Vouchers
Menulog Gift Vouchers
are the perfect way to treat someone special to a great dinner with vouchers available for a wide range of participating restaurants in Melbourne and across Australia. There's even the option to buy a voucher and let the lucky recipient decide which restaurant they'd like to dine at!
Learn More about Menulog Gift Vouchers
OnlyMelbourne Welcomes..
Each week we highlight some of the latest additions to OnlyMelbourne's ever growing guide to services, businesses and information sites for your community.
This week we suggest the following:
Helen Bauzon - Consultant dietician for weight, diabetes & more...
Aks Movers - Helping with moving, shfting & courier needs...
endota day spa - Body treatments & more in Port Melbourne...
65 Degrees Cafe - Award winning coffee on Exhibition Street...
View More of the Latest Listings at OnlyMelbourne!
Advertising
your Business or Event at OnlyMelbourne is not only easy, but best of all it's
FREE!!
-
Get Listed..
- don't forget to tell your friends!
Sporting Events
Cricket
KFC Twenty20 International Series
Australia vs Pakistan
Friday February 5 - 7.35pm
MCG - Melbourne Cricket Ground
Soccer | Hyundai A-League
Hyundai A League | Round 26
Melbourne Victory Home Game
Melbourne Victory vs North Queensland Fury
Friday February 5 - 8pm
Marvel Stadium, Docklands
NBL Championship

NBL Championship | Round 19
Melbourne Tigers Home Game
Tigers vs Wildcats
Saturday February 6 - 7:30pm
State Netball and Hockey Centre, Parkville
The Trots
Kilmore Racing Club
offers patrons a huge range of entertainment options with the centerpiece being the 50+ top class Turf and Harness Race Meetings per year.
Next Race Date
Harness Racing
Friday February 5
Fun Runs & Walks
The Brazilian Butterfly Queen of the Lake
, held at Palm Lawns in Albert Park, is a day that's all about fitness, fillies, fun, fashion and food with people able to choose a 5 or 10km run/walk around the picturesque Albert Park Lake and also enjoy 2XU's High Performance Runway Show.
When:
Sunday February 7
Community Sports
East Bentleigh Soccer Club
are a Family Friendly club who cater for boys and girls from 5 years and up along with both Senior Men and Womens teams. New players are welcome and invited to register for the 2010 season.
Next Registration Day
Saturday February 6 - 10am to 11.30am
South Sea Roller Derby
hold a Recruitment Day and Learn to skate session each week at Frankston Skateworld, located in Carrum Downs. The sessions are a chance to learn more about the Roller Derby and learn the basic skills required to begin training for one of the hottest sports in town.
When:
Every Sunday - 2pm to 4pm
The Mums' Tennis Program
, one of Tennis Victoria's most popular programs for mums, will be appearing at various local tennis clubs, offering an affordable series of lessons with qualified tennis coaching. Participating parents can also enrol the kids in the Tiny Tots Tennis Program.
When:
February 8 to March 12
Melbourne Tours
Smartvisit Card
is the best way to see the sights of Melbourne, whether you're visiting Melbourne for business, a vacation, or even if you're a local wanting to find Melbourne's hidden treasures!
The Smartvisit Card includes entry to attractions such as Melbourne Zoo, Melbourne Aquarium, Old Melbourne Gaol, Telstra Dome, Cook's Cottage, Melbourne River Cruises, and many more of Melbourne's TOP venues!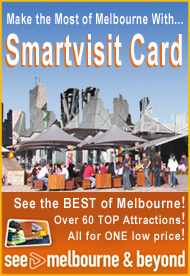 Free entry to over 60 top attractions..
Visit great venues like Zoos, museums & more across Melbourne & Victoria!
Over $800 of entry fees for ONE low price..
Plus special offers & discounts!
Visit just 2 Attractions a day & you'll save!
FREE 128 page guidebook..
Tailored to local knowledge on what to see & do!
Cash free entry..
Show your card & you're in, no need for cash!
All year-round Attractions..
Whatever time of year you visit - rain or shine!
Learn more about Smartvisit Card
Last Week's Puzzle Answers
Spot The Difference
Here are the 5 Differences in last week's picture of the
Crown Entertainment Complex
...
Newsletter | #160 | What's On this Week [Last Week]
Melbourne Trivia
Is That An Overturned Tram In Your Pocket..?
When Victorian Police went on strike in 1923, many of the volunteer "Special Constables"who were appointed to maintain order during the riots which took place had ironically been involved in an earlier riot of 1919 when they had invaded the offices of the Victorian Premier, using an inkstand to assault the very same man who would later appoint them as officers of the law, clearly under duress.
Looting and rioting was so severe that trams were even overturned, and while much of the chaos and theft was attributed by many of Australia's newspapers to Melbourne's criminal element, with Squizzy Taylor bearing a lot of that brunt, court records would later show that most offenders who were apprehended during the riots were in fact young men and boys who had no previous histories of crime.
Read more about the 1923 Police Strike
|
Read Melbourne Trivia...
WHAT'S ON CALENDAR
Speaking of what's on, our
new calendar
allows you to select any day of the year to view everything (everything!!!) on that day in an easy to read, printable display.
-:- View
What's On Calendar
-:- View
Markets Only Calendar
Melbourne On The Phone

OnlyMelbourne
is now
mobile phone
compatible. Yes, our pages are formatted to be viewed on the small screen. To view our mobile phone website, go directly to our
home page
with your web compatible mobile phone and you will automatically be redirected to the
mobile compatible
version of OnlyMelbourne, so you'll be in the know on the go!
WHAT'S ON FEEDS
For those with newsfeeds, we now have a daily
What's On Melbourne Today
feed.
NEWSLETTER
What's On this Week
is an email overview and reminder of the (too many to mention) events happening this week in Melbourne.
Get your copy
of What's On this Week!
❊ Address & Contact ❊
⊜ Newsletter | #161 | What's On this Week Melbourne |
Map
❊ Web Links ❊
→
Newsletter | #161 | What's On this Week
→
Subscribe to OnlyMelbourne - Get your copy of What's On this Week!
→
List Your Business or Event - It's FREE!
→
Events Calendar - Find out What's On any day of the week!
→
Mobile OnlyMelbourne - View Our Website On Your Phone
→
Melbourne for Children | Kids
→
Newsletter | #160 | What's On this Week [Last Week]
❊ COVID-19 Notice ❊
Many locations have gone into lockdown as the state takes action to stop the spread of the deadly coronavirus (COVID-19).
→
Disclaimer
: Check with the operator before making plans
...
Trending HOT

Drive-In Movie Club
Drive-In Immersive Cinema Nights Are Coming to Melbourne Put together by our friends at Hot Tub Cinema, a string of family-friendly, social distancing-safe, drive-in ..

Things to see, hear & do this weekend
Make the most of your weekend in Melbourne with these fabulous events. No city does it better than Melbourne, so get out and discover the very best shows, festivals, ..
---
Update Page