Newsletter | #160 | What's On this Week
Welcome to this week's Melbourne events, exhibitions, sports and community guide for Tuesday January 26 to Monday February 1, 2010.
This week.. The BBQ gets a good scraping and a rub down with a lemon (I know a certain venue where that'll cost you a pretty penny, but that's neither here nor there) as Melbourne celebrates Australia Day with a range of events about town that include the free Share The Spirit Festival at Treasury Gardens.
There's also the return of the St Jerome Laneway Festival, held at its new location of Footscray Arts Centre. While it may not be the tucked away little gem that it was, and while the St Jerome Footscray Arts Centre Festival may not have the same ring - hence the lack of name change- the festival remains one of the bright sparks that celebrates independent arts, music and everything else that's 'nifty', as the kids no longer say.
School Holiday Guide

Check out our
School Holiday Guide
for all the latest on what to do with the kids during the Summer School Holidays ending Sunday January 31. The holiday guide offers some of the best things to do over the holiday period for the young and young at heart, with events, tours and holiday care programs.. all in marvellous Melbourne!
Australia Day Events
Australia Day
is celebrated with a wide range of special events held to honour the day with plenty of free events and activities that you'll find in Melbourne and throughout the suburbs with many local councils offering events such as BBQ days, Ceremonies and more.
When:
Australia Day - Tuesday January 26
Share the Spirit
, held at East Melbourne's Treasury Gardens, is a free festival that marks Australia Day and also recognises the original occupants of this country. With a great line-up of performers, the event includes community market stalls, workshops and children's activities.
When:
Tuesday January 26 - 1pm to 7pm
Caulfield Racecourse
will be holding an Australia Day Meeting where you can enjoy all the action on the track and celebrate Australia Day by relaxing in the Summer Turf Bar. Kids can be entertained with the free children's activities so there's something for everyone at Caulfield.
When:
Tuesday January 26
The Australia Day Beerfest
, held at the iconic bar of Young & Jackson, celebrates our national day with a great day of live entertainment from performers that include The Surfdogs. With Beer Giveaways on offer all day, entry to the event includes the chance to win two brewing kits!
When:
Australia Day, Tuesday January 26
Major Events
The St Jerome's Laneway Festival
, held this year at the new venue of Footscray Community Arts Centre, is the popular street party that celebrates creativity with a day of art installations, gourmet and exotic food, fashion markets and live music, with performers including the Dirty Three.
When:
Saturday January 30
Audi Victoria Week
, Australia's largest sailing event which was first held in 1844, has become a standout celebration in Geelong that features entertainment for the entire family. With shoreside activities for all ages, it includes craft markets, street theatre and musical acts across two stages.
When:
Ends Tuesday January 26
The Midsumma Festival
celebrates Melbourne's premier Gay and Lesbian culture at various venues with queer centric and queer friendly performances and entertainment including special performances, cabaret, art exhibitions, community events and much more in its extensive program.
When:
Until February 7

The Herring Island Summer Arts Festival
offers special exhibitions every Saturday and Sunday at the Herring Island Environmental Sculpture Park in Toorak. Accessible by boat with a punt service, the arts festival includes special artists demonstrations, talks and activities.
When:
Weekends - Until April 18

The Port Fairy Moyneyana Festival
, Victoria's longest running festival, is a community event that offers fun for the whole family with daily entertainment that includes historic tours, concerts and film screenings, camel rides, workshops and much more with many attractions free.
When:
Until January 27
Upcoming Events

NEW LIVE CALENDAR
To find out about future events in Melbourne, have a look at our new calendar, with details about many more events that lie ahead so you can jot them down on the to-do list , including Exhibitions, Live Gigs, Theatre, Markets, Expos and more..
View Future Events on any day of the week
Exhibitions - Art | Festival | Show
Heroes and Villains
, a special presentation of artwork and prints held at Silver K Gallery in Armadale, is an extensive collection of artwork featured in comics and animation. Showcasing many rare pieces released from Warner Bros, it includes works by the talented artist, Alex Ross.
When:
Weekdays Until March 14
TransMasculinities
, showing at red gallery in Fitzroy North, is an exhibition held as part of Midsumma Festival, featuring photography, painting, drawing and video by nine artists from around Australia, the United Kingdom and the United States whose works examine female-to-male transitioning.
When:
January 22 to February 6
Glory Box
is a Modern Art Exhibition that presents a symbolic look at love, culture and desire, generating bold, humorous and sometimes provocative imagery. Works featured are on display at The Workshop Bar in Elizabeth Street, a 'typically' Melbourne, inner city venue.
When:
Until January 30 - 6pm to Late
Blueprint for a Better World
, presented by Caritas Australia and AusAID, is an interactive multimedia exhibition that highlights the realities of extreme poverty while explaining how we can achieve Millennium Development Goals. It's held at Fed Square's BMW Edge Theatre.
When:
Until January 30 - 10am to 8pm Daily
'til you drop
, held at the State Library of Victoria, is a free exhibition that celebrates Melbourne's passion for shopping, from the Paris end of Collins Street to the local corner store. The exhibition features historic photographs and nostalgic items on display such as wartime ration cards and more.
When:
Until October 31, 2010
Anatomy to Robots
, showing at Southbank's Queensbridge Square, is a remarkable exhibition that brings the designs of Leonardo da Vinci to life. One of the world's greatest and inventive minds, the exhibition shows his passion for nature, science and art with life size recreations of his works.
When:
Until January 31, 2010
AC/DC Family Jewels
, held at the Melbourne Art Centre, collects memorabilia from Australia's most iconic band and their record company. Free to the public, it covers the 35-year career of AC/DC, one of the greatest rock bands, with original material revealed publicly for the first time.
When:
Until February 28, 2010 - Open Daily
Expos & Open Days
Reed Gift Fairs
, known as the major gift product expo, are one of the most anticipated events on the Gift industry calendar. The fair will be exhibiting gift products including kitchenware, homewares, jewellery, fashion and more at the Melbourne Convention and Exhibition Centre.
When:
January 30 to February 2
History Comes Alive at Werribee Park
is a special holiday program of free, hands-on tours for children where they can discover what life was like at the Chirnside Mansion and its surrounds in the time of swag-men, sheep drovers and the feared bushranger, Ned Kelly. Bookings are Essential.
When:
Tuesdays & Thursdays in January - 1.30pm
Performances & Theatre
The Choir
, presented by Fly On The Wall Theatre at St Kilda's Brightspace Gallery, tells the story of an orphanage boys' choir, their determination to win a national competition for the fourth year in a row, and the dark secret holding the choir together that gets in the way and tests their loyalties.
When:
January 28 to February 7
The Swimming Club
, held at Melbourne Theatre Company in Southbank, is a co-production with Black Swan State Theatre Company featuring Tina Bursill and John Waters in the story of six friends who reunite on a Greek island where they'd spent an adventurous summer thirty years earlier.
When:
January 30 to March 14
Its All Good Fun Among The Gumtrees
, playing in Carlton, is a new double-bill comedy created by upcoming Melbourne writers. Consisting of two comedy plays, the first is a farce about a birthday surprise gone wrong, while the second examines a day in the life of three Koalas.
When:
Wednesday to Saturday - Until January 30
The Drowsy Chaperone
, held at the Art Centre's Playhouse Theatre, is a nostalgic look at the golden age of musicals as Geoffrey Rush stars as a die-hard musical theatre fan who invites us into his dreary living room where an outrageously funny musical from the 1920s bursts into life.
When:
Until February 20
A Midsummer Night's Dream
, held as this summer's production of Shakespeare Under The Stars in the Royal Botanic Gardens, features a young, vibrant and comical cast that brings the playful tale of love, mischief and magic to life, you can bring your own picnic or order a gourmet hamper.
When:
Until March 13
Jersey Boys
, performed at the Princess Theatre, is the Broadway hit that charts the story of Frankie Valli and The Four Seasons as the play takes a nostalgic look at how four blue-collar kids became one of the great music successes while showcasing the songs they became famous for.
When:
Until February 28
Dance
Latin American Night
, held at Elio's Bar and Restaurant in North Fitzroy, features FUEGO Latin American Band, one of Melbourne's best Latin groups. With delicious food available and great rhythms, the night includes free Cumbia and Salsa lessons from expert instructors.
When:
Saturday January 30 - $12 Entry
Entertainment & Nightlife
Live Concerts & Gigs
Diego Guerrero Flamenco Latin Quintet
, featuring one of Spain's most respected musical innovators, Diego Guerrero, will be appearing at Melbourne's Bennetts Lane Jazz Club where he'll be joined by percussionist Nasrine Rahmani, offering the chance to hear a true flamenco voice.
When:
Thursday January 28
Julie Stewart
will be performing at Cristal Lounge in the heart of busy South Yarra. Delivering a truly unforgettable after-dark experience at the stylish cocktail bar, Julie Stewart performs passionate ballads and songs of love, loss, pleasure and pain, with support from H.A.T.S.
When:
Thursdays from 7:30pm - Free Entry
Peruquois & Praful
will be appearing at RMIT's Kaleide Theatre as part of their Breathing Love Tour. With the music of Chantress Peruquois and Wind instrumentalist Praful, the acclaimed world music artists capture the magic of ancient Indian classical with the fresh refinement of jazz.
When:
Saturday January 30
The Michelle Nicole Quintet
will be appearing at the Paris Cat, one of Melbourne's Premier Jazz Clubs and voted one of the best World music venues in Australia. Known for her ability to find the heart of a song, Michelle Nicole's ease of improvisation brings to mind greats like Ella Fitzgerald.
When:
Saturday January 30
The Buddy Love Jazz Quartet
will be performing at Kojo Brown in Richmond, offering the perfect chance to catch some laidback jazz. The evening will see the Melbourne jazz vocalist, Buddy Love, performing an eclectic blend of soulful tunes and jazz standards with his formidable band.
When:
Friday January 29
Grand Wazoo
, the Legendary Kings of Soul, will be performing at Queen Street's Blue Diamond Club. With four lead singers, six horns and four rhythm players, the band offers vibrant arrangements of Black Soul and R&B Classics, playing greats ranging from the 50's through to the 60's.
When:
Sunday January 31 - 6pm to 9pm
Cinema

The Rooftop Cinema
flickers into action with film screenings of everything from cult favourites to new releases and documentaries, literally offering the height of entertainment with screenings held on the rooftop of Swanston Street's Curtin House along with the rooftop bar.
When:
Tuesday to Sunday Throughout January
Comedy & Magic
ET's Comedy Bight
is a free weekly comedy room night held at ET's Hotel in Prahran. With free comedy held each Thursday from 8pm, the nights also offer a $15 Steak & Wine (or Pot) Special so you can fill your belly in between belly-laughs with some of Melbourne's best comics.
When:
Every Thursday - 8pm
[email protected]
is a comedy night at Spleen Bar in Bourke Street, where you can enjoy a great night out with an eclectic mix of Melbourne's comedy scene featuring established personalities and comedy legends from radio and television with guests such as Glenn Robbins, Corinne Grant and others.
When: Every Monday - 8:30pm to 10:30pm | FREE Entry
Melbourne For Kids
Baloomba-wop
, held at Altona Meadows Library, is a musical adventure for kids. Performed by Donna and the Aspinauts, the show is an interactive, off the wall, musical adventure for kids and kids at heart, appealing to fans of Dr Seuss, Lewis Carroll and Roald Dahl.
When:
Thursday January 28 - 2pm

The Wind in the Willows
, Melbourne's favourite family entertainment, returns with its well-loved tradition of bringing the animals to the Royal Botanic Gardens. Pack a picnic, pack the kids and join Rat, Mole, Badger and Mr Toad, as they bring to life Kenneth Grahame's classic tale.
When:
Until January 30 - Tuesday to Saturday
Sand Sculpting Australia
will again present a special display as part of the Frankston Waterfront Festival with their newest theme 'Great Moments In History' featuring 3,500 tonnes of sand carved into spectacular sculptures depicting people, places and events that have shaped our world.
When:
Until April 25
Circus
Learn Circus with NICA
- Drop into Fed Square each Monday and try your hand at basic circus skills with experienced NICA trainers. Offering the chance to get a taste of circus in your lunchbreak, these free, fun workshops are suitable for all ages with a range of circus skills on offer.
When:
Mondays Until March 22 - Midday

Silvers Grand Magic Circus
will be holding performances in Altona. Established in 1976, Silvers Grand Magic Circus offers a great show for people of all ages with performers including everything from jugglers and clowns to acrobats, international performers and more.
When:
Until February 7 - Altona

Circus Sunrise
, an action-packed show for all the family, will be appearing with performances held at Epping Plaza Shopping Centre. A true family circus with lineage going back to 1648, the performances of Circus Sunrise feature juggling, acrobatics and whip-cracking excitement!
When:
Until January 31 - Epping
Puzzles & Competitions
Spot The Difference
There are 5 Differences between these two pictures of
Crown Entertainment Complex
... See if you can spot them! Sign up for answers revealed in
Next Week's Newsletter
Last week's answers are further down with Melbourne Trivia
More on Crown Entertainment Complex
|
Learn More about Melbourne!
You Can Help
There are many social causes that are relevant to people from all walks of life, many of which rely on public support to better the community or assist those who are less fortunate or to benefit others. This week we ask you to consider the following..
Fat-Loss-A-Thon
is an on-line competition where you can lose weight, win prizes and help raise $250,000 for charity. For only a $10 donation to The Sports Rewards Foundation, entrants can help a good cause while losing weight with a proven 12-week program called The Real Body Plan.
When:
Held Throughout January
Markets, Fetes and Fairs
The Mornington Collectables & Memorabilia Fair
, held at Mornington Racecourse, is a great chance for collectors and enthusiasts of many passions to pick up a bargain and find rare items with traders offering vintage, retro and modern collectables with sports memorabilia, model toys and more.
When:
Sunday January 31 - 9am to 3pm

The Suzuki Night Market
, held weekly at Queen Victoria Market, has become a summer tradition that offers a great mix of unique products and a great atmosphere with a stunning mix of world food, eclectic wares, bars and even two stages showcasing the best live music!
When:
Until February 24 - Every Wednesday
View MARKETS on any day of the week
to make the most of the rare sunny days (it's a coin toss, isn't it!) and head to one of Melbourne's many excellent markets, fetes and fairs for a bargain!

A growing number of food, produce and even wine markets are always popping up around the suburbs. And don't forget garage sales!
Dining & Drink
Special Dining Offers

Dining Specials - Save Up To 20% on Your Bill
Menulog
is the easiest way to book a restaurant online with over 4000 restaurant listings! By booking online through Menulog you can enjoy fine food and save money with special deals offering discounts on total food bills, complimentary wine and drinks, discount group bookings and much, much more!
Republica
at the St Kilda Sea Baths Complex has regular drink specials and exquisite dining with great views of Port Phillip Bay.
SPECIAL DINING OFFER!!
Book Through
Menulog
and enjoy
$5 Pizzas Every Monday
from 5pm to 7pm when you dine at Republica!
Visit here for BOOKING DETAILS @ Menulog
Offer Ends January 28, 2010 | Make a Booking Today!
Dining in Melbourne
offers a splendid range of food styles to enjoy. Here are just a few classic food styles to choose from..

Modern Australian Cuisine

Chinese Restaurants

Italian Restaurants

Seafood Restaurants

French Restaurants

Dining Gift Vouchers
Menulog Gift Vouchers
are the perfect way to treat someone special to a great dinner with vouchers available for a wide range of participating restaurants in Melbourne and across Australia. There's even the option to buy a voucher and let the lucky recipient decide which restaurant they'd like to dine at!
Learn More about Menulog Gift Vouchers
OnlyMelbourne Welcomes..
Each week we highlight some of the latest additions to OnlyMelbourne's ever growing guide to services, businesses and information sites for your community.
This week we suggest the following:
Ugg Culture - Natural sheepskin footwear & accessories...
Inspired Lifestyle Properties - Restorations, extensions & more...
Miss Amy Jewels - Fashionable, handcrafted jewellery...
Melbourne Systema - Martial Arts in Coburg north...
View More of the Latest Listings at OnlyMelbourne!
Advertising
your Business or Event at OnlyMelbourne is not only easy, but best of all it's
FREE!!
-
Get Listed..
- don't forget to tell your friends!
Sporting Events
Tennis
The Australian Open
, held at Melbourne Park, plays host to the hottest event on the Tennis calendar. Running for two, the Australian Open will see the world's finest tennis pros hitting the courts with matches held at Rod Laver Arena, Hisense Arena and the Margaret Court Arena.
When:
January 18 to 31
Soccer | Hyundai A-League
Hyundai A League | Round 19
Melbourne Victory Home Game
Melbourne Victory vs Wellington Phoenix
Tuesday January 26 - 6pm
Marvel Stadium, Docklands
NBL Championship

NBL Championship | Round 18
Melbourne Tigers Home Game
Tigers vs 36ers
Wednesday January 27 - 7:30pm
State Netball and Hockey Centre, Parkville
Community Sports
South Sea Roller Derby
hold a Recruitment Day and Learn to skate session each week at Frankston Skateworld, located in Carrum Downs. The sessions are a chance to learn more about the Roller Derby and learn the basic skills required to begin training for one of the hottest sports in town.
When:
Every Sunday - 2pm to 4pm
Melbourne Tours
Smartvisit Card
is the best way to see the sights of Melbourne, whether you're visiting Melbourne for business, a vacation, or even if you're a local wanting to find Melbourne's hidden treasures!
The Smartvisit Card includes entry to attractions such as Melbourne Zoo, Melbourne Aquarium, Old Melbourne Gaol, Telstra Dome, Cook's Cottage, Melbourne River Cruises, and many more of Melbourne's TOP venues!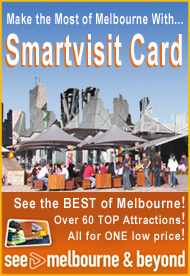 Free entry to over 60 top attractions..
Visit great venues like Zoos, museums & more across Melbourne & Victoria!
Over $800 of entry fees for ONE low price..
Plus special offers & discounts!
Visit just 2 Attractions a day & you'll save!
FREE 128 page guidebook..
Tailored to local knowledge on what to see & do!
Cash free entry..
Show your card & you're in, no need for cash!
All year-round Attractions..
Whatever time of year you visit - rain or shine!
Learn more about Smartvisit Card
Last Week's Puzzle Answers
Spot The Difference
Here are the 5 Differences in last week's picture of the
Fitzroy Gardens Conservatory
...
Newsletter | #159 | What's On this Week [Last Week]
Melbourne Trivia
A Wheelie Big Deal!
The world record for the largest human wheelbarrow race was broken in 2008 on September 9th when Melbourne's own Carey Baptist Grammar School in Kew set out to break the previous record that had been held by a high school in Singapore.
Aside from breaking the Guinness World record for the largest number of participants with a staggering number of 1,044 people, one pair of students decided to take it further and managed to break a second world record that day, also breaking the record for the fastest time in a 50-metre Human Wheelbarrow Race by making the distance in just 14.87 seconds.
More on Carey Baptist Grammar's World Record
|
Read Melbourne Trivia...
WHAT'S ON CALENDAR
Speaking of what's on, our
new calendar
allows you to select any day of the year to view everything (everything!!!) on that day in an easy to read, printable display.
-:- View
What's On Calendar
-:- View
Markets Only Calendar
Melbourne On The Phone

OnlyMelbourne
is now
mobile phone
compatible. Yes, our pages are formatted to be viewed on the small screen. To view our mobile phone website, go directly to our
home page
with your web compatible mobile phone and you will automatically be redirected to the
mobile compatible
version of OnlyMelbourne, so you'll be in the know on the go!
WHAT'S ON FEEDS
For those with newsfeeds, we now have a daily
What's On Melbourne Today
feed.
NEWSLETTER
What's On this Week
is an email overview and reminder of the (too many to mention) events happening this week in Melbourne.
Get your copy
of What's On this Week!
❊ Address & Contact ❊
⊜ Newsletter | #160 | What's On this Week Melbourne |
Map
❊ Web Links ❊
→
Newsletter | #160 | What's On this Week
→
Subscribe to OnlyMelbourne - Get your copy of What's On this Week!
→
List Your Business or Event - It's FREE!
→
Events Calendar - Find out What's On any day of the week!
→
Mobile OnlyMelbourne - View Our Website On Your Phone
→
Melbourne for Children | Kids
→
Newsletter | #159 | What's On this Week [Last Week]
❊ COVID-19 Notice ❊
Many locations have gone into lockdown as the state takes action to stop the spread of the deadly coronavirus (COVID-19).
→
Disclaimer
: Check with the operator before making plans
...
Trending HOT

Things to see, hear & do this weekend
Make the most of your weekend in Melbourne with these fabulous events. No city does it better than Melbourne, so get out and discover the very best shows, festivals, ..
---
Update Page