Newsletter | #157 | What's On this Week
Welcome to this week's Melbourne events, exhibitions, sports and community guide for Tuesday January 5 to Monday January 11, 2010.
This week.. The festival calendar has truly popped a Berocca and shaken off its New Year's fatigue as a good spread of festivals rear up. Granted they're on the fringe of Melbourne, but we can forgive the big smoke for that one night when it has a big drink.
If you hedge your bets (and designated drivers) just right, you'll find quite a buffet on offer with festivals that celebrate strawberries in Dromana, mussels in Portarlington, jazz in the town of Somers and a good dose of all things arty at Churchill Island.
There's also the ongoing Peninsula Summer Music Festival along with the Port Fairy Moyneyana Festival, making it the perfect weekend to take a break from the city if you rang in the New Year with a bit too much gusto, beer, wine and scotch in whichever order took your fancy.
School Holiday Guide
Eaten Alive, The World of Predators
is an exhibition full of hands-on activities held at the National Wool Museum in Geelong. From well-known carnivores like sharks, lions and crocodiles through to predatory insects, it explores fearsome jaws and claws along with the softer side of predators.
When:
Until January 29

Check out our
School Holiday Guide
for all the latest on what to do with the kids during the Summer School Holidays ending Sunday January 31. The holiday guide offers some of the best things to do over the holiday period for the young and young at heart, with events, tours and holiday care programs.. all in marvellous Melbourne!
Major Events
The Art & Soul Festival
, presented by Art on the Cape, is a must see for adults and children alike. Held at Churchill Island, just off Phillip Island, the festival features local food, a great program of music, art workshops, face painting, theatre performance and jumping castles for the small folk.
When:
Sunday January 10
The Lavender Harvest Festival
, held at Lavandula Swiss Italian Farm in Shepherds Flat, celebrates the bringing in of the crops and the history of the beautiful farm with local foods, joyful acoustic music, the chance to play petanque and also hear family stories about the farm's settlers.
When:
Sunday January 10
The Dromana Strawberry Festival
is a fun filled event for families offering lots of different strawberry products and entertainment. Held at Dromana Recreational Reserve the festival features market stalls, children's rides, an animal nursery, live entertainment and vintage car displays.
When:
Saturday January 9 - 8am to 1pm
The Portarlington Mussel Festival
, held in the coastal town's beautiful bayside beach, showcases local food and its mussel farming with a range of events that include mussel farm tours, live music and many other activities for all the family such as model boat displays, animals and more.
When:
Saturday January 9
The Coolart Jazz Festival
, Mornington Peninsula's No 1 Jazz event at Coolart Homestead in Somers, is a family friendly festival that offers a great program of jazz music for adults along with entertainment for kids with facepainting, roving performers and much more.
When:
Friday to Sunday, January 8 to 10

The Herring Island Summer Arts Festival
offers special exhibitions every Saturday and Sunday at the Herring Island Environmental Sculpture Park in Toorak. Accessible by boat with a punt service, the arts festival includes special artists demonstrations, talks and activities.
When:
Weekends - January 9 to April 18
The Peninsula Summer Music Festival
, held at various venues in the Peninsula including Mornington, Red Hill South and Sorrento, features the glorious sounds of classical and contemporary music with this year's festival offering one of the most diverse and entertaining programs yet.
When:
Ends Tuesday January 5

The Port Fairy Moyneyana Festival
, Victoria's longest running festival, is a community event that offers fun for the whole family with daily entertainment that includes historic tours, concerts and film screenings, camel rides, workshops and much more with many attractions free.
When:
Until January 27
Upcoming Events

NEW LIVE CALENDAR
To find out about future events in Melbourne, have a look at our new calendar, with details about many more events that lie ahead so you can jot them down on the to-do list , including Exhibitions, Live Gigs, Theatre, Markets, Expos and more..
View Future Events on any day of the week
Exhibitions - Art | Festival | Show
The Centenary of Flinders Street Station
will be celebrated by an exhibition depicting the station's history. Held at the Degraves Street Subway, the exhibition, entitled The Station Turns 100, features illustrations and photography that honour Melbourne's iconic landmark.
When:
Until January 23 - Monday to Saturday
Art Break
, presented by Joint Councils Access for All Abilities, is an exhibition featuring self-portraits, installation, paintings, prints and painted silk. Showing in both Malvern and Prahran, the exhibition is a showcase of visual art created during JCAAA's Holiday Arts for Adults program.
When:
Until January 15, 2010
'til you drop
, held at the State Library of Victoria, is a free exhibition that celebrates Melbourne's passion for shopping, from the Paris end of Collins Street to the local corner store. The exhibition features historic photographs and nostalgic items on display such as wartime ration cards and more.
When:
Until October 31, 2010
AC/DC Family Jewels
, held at the Melbourne Art Centre, collects memorabilia from Australia's most iconic band and their record company. Free to the public, it covers the 35-year career of AC/DC, one of the greatest rock bands, with original material revealed publicly for the first time.
When:
Until February 28, 2010 - Open Daily
Anatomy to Robots
, showing at Southbank's Queensbridge Square, is a remarkable exhibition that brings the designs of Leonardo da Vinci to life. One of the world's greatest and inventive minds, the exhibition shows his passion for nature, science and art with life size recreations of his works.
When:
Until January 31, 2010
Performances & Theatre
A Midsummer Night's Dream
, held as this summer's production of Shakespeare Under The Stars in the Royal Botanic Gardens, features a young, vibrant and comical cast that brings the playful tale of love, mischief and magic to life, you can bring your own picnic or order a gourmet hamper.
When:
Until March 13
Jersey Boys
, performed at the Princess Theatre, is the Broadway hit that charts the story of Frankie Valli and The Four Seasons as the play takes a nostalgic look at how four blue-collar kids became one of the great music successes while showcasing the songs they became famous for.
When:
Until February 28
Godzone
, performed at Melbourne Theatre Company in Southbank, is the new political satire by Guy Rundle and Max Gillies where Reverend Kevin of Rudd Ministries, in a sermon from the German translated via Mandarin, tells his congregation that religion is the new politics and vice versa.
When:
Until January 17 - Various Days
Entertainment & Nightlife
Live Concerts & Gigs
The Sandcastles Music Festival
, presented by Summer Kick and Pedestrian.tv, is a day of games on the beach and live music held on the grass of St Kilda's Foreshore. With a Beach Soccer competition held on the day, performers at the festival include Miami Horror, Neon Indian and other guests.
When:
Saturday, January 9 - Midday to 9pm
Jeudi Jazzy
, held at the cellar of Alliance Franšaise in St Kilda, is a live performance by the New Impromptu Quartet. Featuring Alexander Nettelbeck, Khari Cabral Simmons and Ben Kosi Karsay, the band performs Jazz, Latin and Soul standards alongside their own original compositions.
When:
Thursday January 7 - 8pm
The Paris Cat
, one of Melbourne's Premier Jazz Clubs and voted one of the best World music venues in Australia, reopens its doors with a program of intimate and unique performances from the vibrant underground Jazz scene beginning with a performance by the Cam McAllister Quintet.
When:
Friday, January 8 - 9:30pm
The Red Hot Summer Tour
, featuring Jimmy Barnes, Shannon Noll and Adam Brand performing live, will be appearing at selected venues across Victoria, bringing a very special series of concerts with three of Australia's greatest and most loved entertainers on the one bill.
When:
Wednesday & Sunday, January 6 & 10
Cinema

The Rooftop Cinema
flickers into action with film screenings of everything from cult favourites to new releases and documentaries, literally offering the height of entertainment with screenings held on the rooftop of Swanston Street's Curtin House along with the rooftop bar.
When:
Tuesday to Sunday Throughout January
Comedy & Magic
[email protected]
is a comedy night at Spleen Bar in Bourke Street, where you can enjoy a great night out with an eclectic mix of Melbourne's comedy scene featuring established personalities and comedy legends from radio and television with guests such as Glenn Robbins, Corinne Grant and others.
When: Every Monday - 8:30pm to 10:30pm | FREE Entry
Melbourne For Kids
The BFG
, Roald Dahl's classic children's story, is brought to the stage by Melbourne's RMIT students with a fantaculous adaptation of the spine-tingling tale of a young girl's encounter with real life giants! With novel puppetry, the charming production is sure to delight children of all ages.
When:
Weekdays Until January 22

Angelina Ballerina's Big Audition
is a performance that sees everyone's favourite mouse returning to the Arts Centre with a brand new show. Performed by the acclaimed English National Ballet, the show follows Angelina as she takes her next step (en pointe!) towards becoming a Prima Ballerina.
When:
January 5 to 12

The Wind in the Willows
, Melbourne's favourite family entertainment, returns with its well-loved tradition of bringing the animals to the Royal Botanic Gardens. Pack a picnic, pack the kids and join Rat, Mole, Badger and Mr Toad, as they bring to life Kenneth Grahame's classic tale.
When:
Until January 30 - Tuesday to Saturday
Sand Sculpting Australia
will again present a special display as part of the Frankston Waterfront Festival with their newest theme 'Great Moments In History' featuring 3,500 tonnes of sand carved into spectacular sculptures depicting people, places and events that have shaped our world.
When:
Until April 25
Circus

Silvers Grand Magic Circus
will be holding performances in Mornington. Established in 1976, Silvers Grand Magic Circus offers a great show for people of all ages with performers including everything from jugglers and clowns to acrobats, international performers and more.
When:
Until January 17 - Mornington
Perry Bros Circus
, Australia's oldest circus, will be appearing in Torquay offering quality entertainment to please the entire family. With wire walkers, Jugglers, Whip crackers, balancing acts and more the circus also features performing ponies and camels along with their very funny clowns.
When:
Until January 24 - Torquay

Circus Sunrise
, an action-packed show for all the family, will be appearing with performances held at Epping Plaza Shopping Centre. A true family circus with lineage going back to 1648, the performances of Circus Sunrise feature juggling, acrobatics and whip-cracking excitement!
When:
Until January 31 - Epping
Puzzles & Competitions
Spot The Difference
There are 5 Differences between these two pictures of
Queen Victoria Market
, Melbourne's iconic haven for knock-off jeans and tasty donuts... See if you can spot them! Sign up for answers revealed in
Next Week's Newsletter
Last week's answers are further down with Melbourne Trivia
More on Queen Victoria Market
|
Learn More about Melbourne!
You Can Help
There are many social causes that are relevant to people from all walks of life, many of which rely on public support to better the community or assist those who are less fortunate or to benefit others. This week we ask you to consider the following..
Fat-Loss-A-Thon
is an on-line competition where you can lose weight, win prizes and help raise $250,000 for charity. For only a $10 donation to The Sports Rewards Foundation, entrants can help a good cause while losing weight with a proven 12-week program called The Real Body Plan.
When:
Held Throughout January
Markets, Fetes and Fairs

The Suzuki Night Market
, held weekly at Queen Victoria Market, has become a summer tradition that offers a great mix of unique products and a great atmosphere with a stunning mix of world food, eclectic wares, bars and even two stages showcasing the best live music!
When:
Until February 24 - Every Wednesday
View MARKETS on any day of the week
to make the most of the rare sunny days (it's a coin toss, isn't it!) and head to one of Melbourne's many excellent markets, fetes and fairs for a bargain!

A growing number of food, produce and even wine markets are always popping up around the suburbs. And don't forget garage sales!
Dining & Drink
Special Dining Offers

Dining Specials - Save Up To 20% on Your Bill
Menulog
is the easiest way to book a restaurant online with over 4000 restaurant listings! By booking online through Menulog you can enjoy fine food and save money with special deals offering discounts on total food bills, complimentary wine and drinks, discount group bookings and much, much more!
Republica
at the St Kilda Sea Baths Complex has regular drink specials and exquisite dining with great views of Port Phillip Bay.
SPECIAL DINING OFFER!!
Book Through
Menulog
and enjoy
$5 Pizzas Every Monday
from 5pm to 7pm when you dine at Republica!
Visit here for BOOKING DETAILS @ Menulog
Offer Ends January 28, 2010 | Make a Booking Today!
Dining in Melbourne
offers a splendid range of food styles to enjoy. Here are just a few classic food styles to choose from..

Modern Australian Cuisine

Chinese Restaurants

Italian Restaurants

Seafood Restaurants

French Restaurants

Dining Gift Vouchers
Menulog Gift Vouchers
are the perfect way to treat someone special to a great dinner with vouchers available for a wide range of participating restaurants in Melbourne and across Australia. There's even the option to buy a voucher and let the lucky recipient decide which restaurant they'd like to dine at!
Learn More about Menulog Gift Vouchers
OnlyMelbourne Welcomes..
Each week we highlight some of the latest additions to OnlyMelbourne's ever growing guide to services, businesses and information sites for your community.
This week we suggest the following:
Scoozi - Modern Italian food in Ascot Vale...
Ravenswood Productions - DVD Presentations, Video & more...
Family Drug Help - Social support in Carnegie...
Nine Months More - Preloved maternity wear...
View More of the Latest Listings at OnlyMelbourne!
Advertising
your Business or Event at OnlyMelbourne is not only easy, but best of all it's
FREE!!
-
Get Listed..
- don't forget to tell your friends!
Sporting Events
NBL Championship

NBL Championship | Round 15
Melbourne Tigers Home Game
Tigers vs Hawks
Friday January 8 - 7:30pm
State Netball and Hockey Centre, Parkville
Fun Runs & Swims
The Sorrento Bay Swim
is a chance to join in one of Victoria's best bay swims and soak up the picturesque coastline of the Mornington Peninsula. Offering a great family day, competitors of all ages can get involved with proceeds raised going towards the Sorrento Surf Life Saving Club.
When:
Sunday, January 10
Community Sports
South Sea Roller Derby
hold a Recruitment Day and Learn to skate session each week at Frankston Skateworld, located in Carrum Downs. The sessions are a chance to learn more about the Roller Derby and learn the basic skills required to begin training for one of the hottest sports in town.
When:
Every Sunday - 2pm to 4pm
Melbourne Tours
Smartvisit Card
is the best way to see the sights of Melbourne, whether you're visiting Melbourne for business, a vacation, or even if you're a local wanting to find Melbourne's hidden treasures!
The Smartvisit Card includes entry to attractions such as Melbourne Zoo, Melbourne Aquarium, Old Melbourne Gaol, Telstra Dome, Cook's Cottage, Melbourne River Cruises, and many more of Melbourne's TOP venues!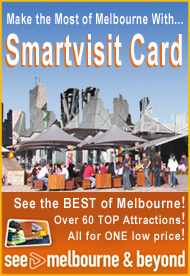 Free entry to over 60 top attractions..
Visit great venues like Zoos, museums & more across Melbourne & Victoria!
Over $800 of entry fees for ONE low price..
Plus special offers & discounts!
Visit just 2 Attractions a day & you'll save!
FREE 128 page guidebook..
Tailored to local knowledge on what to see & do!
Cash free entry..
Show your card & you're in, no need for cash!
All year-round Attractions..
Whatever time of year you visit - rain or shine!
Learn more about Smartvisit Card
Last Week's Puzzle Answers
Spot The Difference
Here are the 5 Differences in last week's picture of
Captain Cook's Cottage
...
Newsletter | #156 | What's On this Week [Last Week]
Melbourne Trivia
How High... ICI?
Melbourne's first skyscraper was the
ICI Building
on Nicholson Street, East Melbourne, which now stands as the
Orica Building
. Until 1958, buildings had to be under 132 feet - the highest that fire ladders could reach at this time.
From November 1958 to 1961, after the law had subsided, the
ICI Building
was the tallest building in Australia.
Read more about Melbourne's Buildings History
|
Read Melbourne Trivia...
WHAT'S ON CALENDAR
Speaking of what's on, our
new calendar
allows you to select any day of the year to view everything (everything!!!) on that day in an easy to read, printable display.
-:- View
What's On Calendar
-:- View
Markets Only Calendar
Melbourne On The Phone

OnlyMelbourne
is now
mobile phone
compatible. Yes, our pages are formatted to be viewed on the small screen. To view our mobile phone website, go directly to our
home page
with your web compatible mobile phone and you will automatically be redirected to the
mobile compatible
version of OnlyMelbourne, so you'll be in the know on the go!
WHAT'S ON FEEDS
For those with newsfeeds, we now have a daily
What's On Melbourne Today
feed.
NEWSLETTER
What's On this Week
is an email overview and reminder of the (too many to mention) events happening this week in Melbourne.
Get your copy
of What's On this Week!
❊ Address & Contact ❊
⊜ Newsletter | #157 | What's On this Week Melbourne |
Map
❊ Web Links ❊
→
Newsletter | #157 | What's On this Week
→
Subscribe to OnlyMelbourne - Get your copy of What's On this Week!
→
List Your Business or Event - It's FREE!
→
Events Calendar - Find out What's On any day of the week!
→
Mobile OnlyMelbourne - View Our Website On Your Phone
→
Melbourne for Children | Kids
→
Newsletter | #156 | What's On this Week [Last Week]
Trending HOT

Things to see, hear & do this weekend
Make the most of your weekend in Melbourne with these fabulous events. No city does it better than Melbourne, so get out and discover the very best shows, festivals, ..

Australia Day 2020
Australia Day is on Sunday 26th January 2020 | Public Holiday: Monday 27 January 2020 On the 26th of January each year we celebrate our National Day as the Victorian ..
---
Update Page Request