Newsletter | #156 | What's On this Week
Welcome to this week's Melbourne events, exhibitions, sports and community guide for Tuesday December 29 to Monday January 4, 2010.
This week.. There's a range of music festivals to mark the brand spanking 2010 that we're boldly walking into with The Peninsula Summer Music Festival and the Red Hill Counrty Music Festival offering some fanfare that doesn't require a glowstick and sturdy ear-drums.
That's right, things are going to get loud and proud as the year comes to a close with no end of shindigs held across Melbourne as nightclubs, bars, theatres and more come to life to ring in the New Year. With a great number of events on New Year's Eve - too many to mention here - you'll find a party-popper's worth of attractions by visiting our
New Year's Eve Events
.
There's a huge range of happenings this year, including that guy on the porch who plays a lonely trumpet at midnight. True story, stand on my porch and you'll hear him - and don't ask what I was doing alone on my own porch one New Year's Eve listening to a mournful trumpet, I won't go there. I'm just happy to say that this New Year's is looking much brighter with a swell, beautiful gal to lock lips with when the bell tolls! ;)
Have a very safe, happy and hopefully smoochy New Year's from the team @ OnlyMelbourne
School Holiday Guide
Drama Workshops | Drama Camp & Glee Camp
- Treat the kids to Drama! Music! Dance! A series of drama camps will be held at various locations during the School Holidays in summer, with activities and classes held in Croydon and Templestowe offering creative fun for kids and teens.
When:
Various Dates - December 21 to January 15

Check out our
School Holiday Guide
for all the latest on what to do with the kids during the Summer School Holidays ending Sunday January 31. The holiday guide offers some of the best things to do over the holiday period for the young and young at heart, with events, tours and holiday care programs.. all in marvellous Melbourne!
New Year's Eve

New Year's Eve
- The year's almost been and gone and hasn't it snuck up quickly! With New years on the way, everyone's gearing up for Melbourne's biggest night of the year, so get ready to count down the New Year into 2010!
Major Events
The Peninsula Summer Music Festival
, held at various venues in the Peninsula including Mornington, Red Hill South and Sorrento, features the glorious sounds of classical and contemporary music with this year's festival offering one of the most diverse and entertaining programs yet.
When:
December 30 to January 5, 2010

The Red Hill Country Music Festival
, held at the Red Hill Showgrounds on Arthurs Seat Road, promises to be a great event in 2010 with the festival including fabulous entertainers, line dancing demos, a Classic Car Show and much more in a great family atmosphere.
When:
Sunday January 3, 2010

The Port Fairy Moyneyana Festival
, Victoria's longest running festival, is a community event that offers fun for the whole family with daily entertainment that includes historic tours, concerts and film screenings, camel rides, workshops and much more with many attractions free.
When:
Until January 27
Upcoming Events

The Herring Island Summer Arts Festival
offers special exhibitions every Saturday and Sunday at the Herring Island Environmental Sculpture Park in Toorak. Accessible by boat with a punt service, the arts festival includes special artists demonstrations, talks and activities.
When:
Weekends - January 9 to April 18

NEW LIVE CALENDAR
To find out about future events in Melbourne, have a look at our new calendar, with details about many more events that lie ahead so you can jot them down on the to-do list , including Exhibitions, Live Gigs, Theatre, Markets, Expos and more..
View Future Events on any day of the week
Exhibitions - Art | Festival | Show
The Centenary of Flinders Street Station
will be celebrated by an exhibition depicting the station's history. Held at the Degraves Street Subway, the exhibition, entitled The Station Turns 100, features illustrations and photography that honour Melbourne's iconic landmark.
When:
January 4 to 23 - Monday to Saturday
Opening Held January 8
Transition
is an exhibition at Bourke House of paintings and drawings by Rousselclo, a Franco-Australian artist who chose the relaxed pace of Melbourne over his homeland of France and has since become a fixture of Melbourne's art scene with a style that has gradually taken on local influences.
When:
Until December 31
Art Break
, presented by Joint Councils Access for All Abilities, is an exhibition featuring self-portraits, installation, paintings, prints and painted silk. Showing in both Malvern and Prahran, the exhibition is a showcase of visual art created during JCAAA's Holiday Arts for Adults program.
When:
Until January 15, 2010
'til you drop
, held at the State Library of Victoria, is a free exhibition that celebrates Melbourne's passion for shopping, from the Paris end of Collins Street to the local corner store. The exhibition features historic photographs and nostalgic items on display such as wartime ration cards and more.
When:
Until October 31, 2010
Mind the Gap
, showing at the unique arts space of Melbourne's Degraves Street Subway, is an exhibition that features the works of artists who live under Sacred Heart Mission's Rooming House Plus Project. The inspiring work reflects their reconnection with the community through art.
When:
Held Throughout December
AC/DC Family Jewels
, held at the Melbourne Art Centre, collects memorabilia from Australia's most iconic band and their record company. Free to the public, it covers the 35-year career of AC/DC, one of the greatest rock bands, with original material revealed publicly for the first time.
When:
Until February 28, 2010 - Open Daily
Anatomy to Robots
, showing at Southbank's Queensbridge Square, is a remarkable exhibition that brings the designs of Leonardo da Vinci to life. One of the world's greatest and inventive minds, the exhibition shows his passion for nature, science and art with life size recreations of his works.
When:
Until January 31, 2010
Performances & Theatre
A Midsummer Night's Dream
, held as this summer's production of Shakespeare Under The Stars in the Royal Botanic Gardens, features a young, vibrant and comical cast that brings the playful tale of love, mischief and magic to life, you can bring your own picnic or order a gourmet hamper.
When:
Until March 13
A New Year's Eve Spectacular
, held at the Arts Centre, stars Australia's favourite leading lady Marina Prior and the magnificent 60 piece Australian Pops Orchestra in a gala concert to honour the year's end with songs including 'Amazing Grace' and many other widely loved musical pieces.
When:
Wednesday & Thursday, December 30 & 31
Jersey Boys
, performed at the Princess Theatre, is the Broadway hit that charts the story of Frankie Valli and The Four Seasons as the play takes a nostalgic look at how four blue-collar kids became one of the great music successes while showcasing the songs they became famous for.
When:
Until February 28
Godzone
, performed at Melbourne Theatre Company in Southbank, is the new political satire by Guy Rundle and Max Gillies where Reverend Kevin of Rudd Ministries, in a sermon from the German translated via Mandarin, tells his congregation that religion is the new politics and vice versa.
When:
Until January 17 - Various Days
Entertainment & Nightlife
Live Concerts & Gigs
The Saints & Sinners Ball
, one of the most decadent events on the clubbing calendar, will celebrates New Year's in true decadent style. With guests invited to attend as any erotic theme they choose, venue details are only revealed several days before the event for those with tickets.
When:
Thursday December 31 - Bookings Required
The Falls Festival
, held each year in the Otway rainforest above Lorne and Victoria's Great Ocean Road, features a spectacular natural amphitheatre playing host to some of the best musicians performing across three nights along with an Arts Village offering Body Painting, food and more.
When:
December 29 to January 1, 2010
The Pyramid Rock Festival
, now in its sixth year, is a huge event held on Phillip Island that celebrates the New Year with a line up of performers that includes the internationally successful band, Empire of the Sun, Cat Power, Grinspoon, and the welcome return of Regurgitator.
When:
December 29 to January 1, 2010
Summadayze
, a Melbourne institution since 1999 that has since become a national event, kicks off the New Year with a 12-hour dance music party held at the Sidney Myer Music Bowl. Attracted bigger international DJs and performers each year, 2010's effort features Carl Cox and Riton.
When:
Friday January 1, 2010
The Solar Music Festival
, held at Mornington Racecourse, is the Mornington Peninsula's beloved summer music festival with a stellar line-up of international artists along with blue chip Australian bands and DJs including the Dirty South recently added to the already impressive line up.
When:
Sunday January 3
The Garden Party
, held at Melbourne's Belgian Beer Cafe Bluestone, is a chance to celebrate New Year's Day in the sunshine with this family friendly event, and presented by JOY FM, who'll be broadcasting live from the party. Free to attend, the day features music from DJ's and a barbeque.
When:
Friday January 1, 11am to 1am
The Red Hot Summer Tour
, featuring Jimmy Barnes, Shannon Noll and Adam Brand performing live, will be appearing at selected venues across Victoria, bringing a very special series of concerts with three of Australia's greatest and most loved entertainers on the one bill.
When:
Saturday & Sunday, January 2 & 3
Comedy & Magic
[email protected]
is a comedy night at Spleen Bar in Bourke Street, where you can enjoy a great night out with an eclectic mix of Melbourne's comedy scene featuring established personalities and comedy legends from radio and television with guests such as Glenn Robbins, Corinne Grant and others.
When: Every Monday - 8:30pm to 10:30pm | FREE Entry
Melbourne For Kids

The Wind in the Willows
, Melbourne's favourite family entertainment, returns with its well-loved tradition of bringing the animals to the Royal Botanic Gardens. Pack a picnic, pack the kids and join Rat, Mole, Badger and Mr Toad, as they bring to life Kenneth Grahame's classic tale.
When:
Dec 29 to Jan 30 - Tuesday to Saturday
Sand Sculpting Australia
will again present a special display as part of the Frankston Waterfront Festival with their newest theme 'Great Moments In History' featuring 3,500 tonnes of sand carved into spectacular sculptures depicting people, places and events that have shaped our world.
When:
Until April 25
The Myer Christmas Windows
, which have delighted families and kids for more than 50 years now, are displayed outside the Bourke Street store where you can now find this year's offering, 'Olivia Helps with Christmas', featuring the popular children's character and adorable pig, Olivia.
When:
On Display Until January 4
Crown's Christmas Spectacular
transforms the grand Atrium into a magical Christmas carnival. Presented each year to entertain children, a cavalcade of Christmas characters perform and dance under the enormous brand new Christmas Carousel each time the giant clock chimes.
When:
Until January 3
Puzzles & Competitions
Spot The Difference
There are 5 Differences between these two pictures of
Captain Cook's Cottage
, located in Fitzroy Gardens... See if you can spot them! Sign up for answers revealed in
Next Week's Newsletter
Last week's answers are further down with Melbourne Trivia
More on Captain Cook's Cottage
|
Learn More about Melbourne!
You Can Help
There are many social causes that are relevant to people from all walks of life, many of which rely on public support to better the community or assist those who are less fortunate or to benefit others. This week we ask you to consider the following..
Fat-Loss-A-Thon
is an on-line competition where you can lose weight, win prizes and help raise $250,000 for charity. For only a $10 donation to The Sports Rewards Foundation, entrants can help a good cause while losing weight with a proven 12-week program called The Real Body Plan.
When:
Held Throughout January
Markets, Fetes and Fairs

The Suzuki Night Market
, held weekly at Queen Victoria Market, has become a summer tradition that offers a great mix of unique products and a great atmosphere with a stunning mix of world food, eclectic wares, bars and even two stages showcasing the best live music!
When:
Until February 24 - Every Wednesday
View MARKETS on any day of the week
to make the most of the rare sunny days (it's a coin toss, isn't it!) and head to one of Melbourne's many excellent markets, fetes and fairs for a bargain!

A growing number of food, produce and even wine markets are always popping up around the suburbs. And don't forget garage sales!
Dining & Drink
Special Dining Offers

Dining Specials - Save Up To 20% on Your Bill
Menulog
is the easiest way to book a restaurant online with over 4000 restaurant listings! By booking online through Menulog you can enjoy fine food and save money with special deals offering discounts on total food bills, complimentary wine and drinks, discount group bookings and much, much more!
Republica
at the St Kilda Sea Baths Complex has regular drink specials and exquisite dining with great views of Port Phillip Bay.
SPECIAL DINING OFFER!!
Book Through
Menulog
and enjoy
$5 Pizzas Every Monday
from 5pm to 7pm when you dine at Republica!
Visit here for BOOKING DETAILS @ Menulog
Offer Ends January 28, 2010 | Make a Booking Today!
Dining in Melbourne
offers a splendid range of food styles to enjoy. Here are just a few classic food styles to choose from..

Modern Australian Cuisine

Chinese Restaurants

Italian Restaurants

Seafood Restaurants

French Restaurants

Dining Gift Vouchers
Menulog Gift Vouchers
are the perfect way to treat someone special to a great dinner with vouchers available for a wide range of participating restaurants in Melbourne and across Australia. There's even the option to buy a voucher and let the lucky recipient decide which restaurant they'd like to dine at!
Learn More about Menulog Gift Vouchers
OnlyMelbourne Welcomes..
Each week we highlight some of the latest additions to OnlyMelbourne's ever growing guide to services, businesses and information sites for your community.
This week we suggest the following:
Thai Central School - Cultural & language Thai classes...
Filmtime Media Group - Video production specialists...
Stormproof Roofing - Award winning roof repair...
Soul Beauty Massage - Body treatments in Elwood...
View More of the Latest Listings at OnlyMelbourne!
Advertising
your Business or Event at OnlyMelbourne is not only easy, but best of all it's
FREE!!
-
Get Listed..
- don't forget to tell your friends!
Sporting Events
Fun Runs & Walks
The Infolio Portsea Twilight
is a 6.7km or 3km run and walk through Point Nepean National Park. Boasting one of Australia's most scenic and challenging courses, with spectacular Bass Strait and Port Phillip Bay views, the first 2,000 entrants will receive a 2XU cap worth $25.
When:
Saturday January 2 - 6:30pm
Cricket
Boxing Day Test 2009
- The biggest event on Australia's cricketing calendar begins this week when the Boxing Day Test match sees Australia takes on Pakistan.
Australia vs Pakistan
December 29 & 30 - 10:30am
Melbourne Cricket Ground (MCG)
NBL Championship

NBL Championship | Round 14 - Split Round
Melbourne Tigers Home Game
Tigers vs Taipans
Saturday January 2 - 7:30pm
State Netball and Hockey Centre, Parkville
The Trots
Yarra Valley Racing
, located at Yarra Glen, offers a great day out with the finest in racing entertainment along with great venues with regional food and wine.
Next Race Date
Harness Racing - Leader Kids Day Out
Tuesday December 29
Community Sports
South Sea Roller Derby
hold a Recruitment Day and Learn to skate session each week at Frankston Skateworld, located in Carrum Downs. The sessions are a chance to learn more about the Roller Derby and learn the basic skills required to begin training for one of the hottest sports in town.
When:
Every Sunday - 2pm to 4pm
Melbourne Tours
Smartvisit Card
is the best way to see the sights of Melbourne, whether you're visiting Melbourne for business, a vacation, or even if you're a local wanting to find Melbourne's hidden treasures!
The Smartvisit Card includes entry to attractions such as Melbourne Zoo, Melbourne Aquarium, Old Melbourne Gaol, Telstra Dome, Cook's Cottage, Melbourne River Cruises, and many more of Melbourne's TOP venues!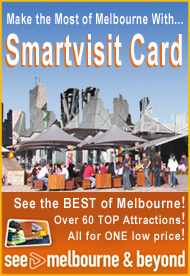 Free entry to over 60 top attractions..
Visit great venues like Zoos, museums & more across Melbourne & Victoria!
Over $800 of entry fees for ONE low price..
Plus special offers & discounts!
Visit just 2 Attractions a day & you'll save!
FREE 128 page guidebook..
Tailored to local knowledge on what to see & do!
Cash free entry..
Show your card & you're in, no need for cash!
All year-round Attractions..
Whatever time of year you visit - rain or shine!
Learn more about Smartvisit Card
Last Week's Puzzle Answers
Spot The Difference
Here are the 5 Differences in last week's picture of St Kilda's
Palais Theatre
...
Newsletter | #155 | What's On this Week [Last Week]
Melbourne Trivia
These Rolls Were Made For Walkin'...
One of Victoria's most iconic creations, the Chiko Roll, was developed in the 1940s by Francis McEnroe from Bendigo.
In line with that other of Victoria's much-loved icons, AFL Football, the Chiko Roll was based on the Chinese egg roll and spring roll, but given a much more robust and thicker deep-fried wrapping so that it would survive transport to Football matches.
The fact that it can be held in one hand while the other hand's occupied by a beer was also a winning sales point.
Read more about the Chiko Roll
|
Read Melbourne Trivia...
WHAT'S ON CALENDAR
Speaking of what's on, our
new calendar
allows you to select any day of the year to view everything (everything!!!) on that day in an easy to read, printable display.
-:- View
What's On Calendar
-:- View
Markets Only Calendar
Melbourne On The Phone

OnlyMelbourne
is now
mobile phone
compatible. Yes, our pages are formatted to be viewed on the small screen. To view our mobile phone website, go directly to our
home page
with your web compatible mobile phone and you will automatically be redirected to the
mobile compatible
version of OnlyMelbourne, so you'll be in the know on the go!
WHAT'S ON FEEDS
For those with newsfeeds, we now have a daily
What's On Melbourne Today
feed.
NEWSLETTER
What's On this Week
is an email overview and reminder of the (too many to mention) events happening this week in Melbourne.
Get your copy
of What's On this Week!
❊ Address & Contact ❊
⊜ Newsletter | #156 | What's On this Week Melbourne |
Map
❊ Web Links ❊
→
Newsletter | #156 | What's On this Week
→
Subscribe to OnlyMelbourne - Get your copy of What's On this Week!
→
List Your Business or Event - It's FREE!
→
Events Calendar - Find out What's On any day of the week!
→
Mobile OnlyMelbourne - View Our Website On Your Phone
→
Melbourne for Children | Kids
→
Dining Specials - Save Up To 20% on Your Bill
→
Competitions & Special Offers - WIN Cash & More!
→
Melbourne Guide | Accommodation, Travel & Tours
→
OnlyMelbourne Newsletters Archive
→
Newsletter | #155 | What's On this Week [Last Week]
❊ COVID-19 Notice ❊
Many locations have gone into lockdown as the state takes action to stop the spread of the deadly coronavirus (COVID-19).
→
Disclaimer
: Check with the operator before making plans
...
Trending HOT

Drive-In Movie Club
Drive-In Immersive Cinema Nights Are Coming to Melbourne Put together by our friends at Hot Tub Cinema, a string of family-friendly, social distancing-safe, drive-in ..

Things to see, hear & do this weekend
Make the most of your weekend in Melbourne with these fabulous events. No city does it better than Melbourne, so get out and discover the very best shows, festivals, ..
---
Update Page