Newsletter | #155 | What's On this Week
Welcome to this week's Melbourne events, exhibitions, sports and community guide for Tuesday December 22 to Monday December 28, 2009.
This week.. All is well and truly quiet on the Victorian front as Christmas finally rears its eggnog, with
New Year's Eve
just around the corner, coming in by a red nose. There is one grand, big old shindig this week, however, so look no further than the Port Fairy Moyneyana Festival with a free day of festivities celebrating Christmas Eve.
And wipe that sneer from your face, Scrooge... It doesn't really count as a Christmas festival because it runs well and truly into January, long after you've picked up all those little scraps of tinsel that seem to linger for weeks after the tree's packed away. Much like that Christmas Lay-By receipt you find in February, the one you completely forgot about.
Have a very merry Christmas from the team @ OnlyMelbourne
School Holiday Guide

Check out our
School Holiday Guide
for all the latest on what to do with the kids during the Summer School Holidays beginning Saturday December 19. The holiday guide offers some of the best things to do over the holiday period for the young and young at heart, with events, tours and holiday care programs.. all in marvellous Melbourne!
Christmas Events

Walk Through Bethlehem
, held each year in Thornbury, is a living display of life in a small town at the time of the birth of Jesus. With weavers, blacksmiths, carpenters, potters and people of other ancient crafts and trades, the focal point of the production is the stable, with Mary, Joseph and Jesus.
When:
Tuesday to Thursday, December 22 to 24
Christmas Events in Melbourne
- Christmas is on its way, but why wait when there's plenty of fun to be had right now? With a wide range of events and activities held in Melbourne and Victoria, get in early and treat the kids to some of the fabulous events on offer. There are many events that are free and you'll find them in jolly old Melbourne. Ho! Ho! Ho!
Melbourne's Best Christmas Lights

Christmas Lights | Melbourne's BEST
- With Christmas all but here, find the best Christmas light displays are in Melbourne. Our list continues on from last year, with a handy little asterisk marking confirmed displays for 2009. To confirm your Christmas Light display (yes, it's free) you can also tell us through the Contact Us button on the Christmas Lights Guide.
New Year's Eve

New Year's Eve
- The year's almost been and gone and hasn't it snuck up quickly! With New years on the way, everyone's gearing up for Melbourne's biggest night of the year, so get ready to count down the New Year into 2010!
Major Events

The Port Fairy Moyneyana Festival
, Victoria's longest running festival, is a community event that offers fun for the whole family with daily entertainment that includes historic tours, concerts and film screenings, camel rides, workshops and much more with many attractions free.
When:
December 24 to January 27
Christmas Festival on the Green - December 24
Upcoming Events

NEW LIVE CALENDAR
To find out about future events in Melbourne, have a look at our new calendar, with details about many more events that lie ahead so you can jot them down on the to-do list , including Exhibitions, Live Gigs, Theatre, Markets, Expos and more..
View Future Events on any day of the week
Exhibitions - Art | Festival | Show
Porcelain Vessels
, held at Axia Modern Art in Armadale, is an exhibition of ceramic art by Les Blakebrough with works that capture delicate forms of ethereal beauty. With a career spanning over five decades, Les Blakebrough has become one of Australia's most influential ceramic artists.
When:
Until December 23
Transition
is an exhibition at Bourke House of paintings and drawings by Rousselclo, a Franco-Australian artist who chose the relaxed pace of Melbourne over his homeland of France and has since become a fixture of Melbourne's art scene with a style that has gradually taken on local influences.
When:
Until December 31
Art Break
, presented by Joint Councils Access for All Abilities, is an exhibition featuring self-portraits, installation, paintings, prints and painted silk. Showing in both Malvern and Prahran, the exhibition is a showcase of visual art created during JCAAA's Holiday Arts for Adults program.
When:
Until January 15, 2010
'til you drop
, held at the State Library of Victoria, is a free exhibition that celebrates Melbourne's passion for shopping, from the Paris end of Collins Street to the local corner store. The exhibition features historic photographs and nostalgic items on display such as wartime ration cards and more.
When:
Until October 31, 2010
Mind the Gap
, showing at the unique arts space of Melbourne's Degraves Street Subway, is an exhibition that features the works of artists who live under Sacred Heart Mission's Rooming House Plus Project. The inspiring work reflects their reconnection with the community through art.
When:
Held Throughout December
AC/DC Family Jewels
, held at the Melbourne Art Centre, collects memorabilia from Australia's most iconic band and their record company. Free to the public, it covers the 35-year career of AC/DC, one of the greatest rock bands, with original material revealed publicly for the first time.
When:
Until February 28, 2010 - Open Daily
Anatomy to Robots
, showing at Southbank's Queensbridge Square, is a remarkable exhibition that brings the designs of Leonardo da Vinci to life. One of the world's greatest and inventive minds, the exhibition shows his passion for nature, science and art with life size recreations of his works.
When:
Until January 31, 2010
Performances & Theatre
Godzone
, performed at Melbourne Theatre Company in Southbank, is the new political satire by Guy Rundle and Max Gillies where Reverend Kevin of Rudd Ministries, in a sermon from the German translated via Mandarin, tells his congregation that religion is the new politics and vice versa.
When:
Until January 17 - Various Days
Classical & Choral
Carols in the Cathedral
, held at St Paul's Cathedral, is one of the biggest Christmas Carol events with performances by the Royal Melbourne Philharmonic Choir, The Australian Children's Choir, RMP Brass and guest soloists that include Jonathan Bradley who'll be playing the organ.
When:
Tuesday December 22
Christmas Concerts & Carols
Community Carols in the Gardens
, presented by St Michael's Church in Kalorama, is an enjoyable night out on Christmas Eve when you can bring the whole family along to gather for an evening of great community spirit and fun. In the event of bad weather the carols will move into the hall.
When:
Thursday December 24 - 8pm to 9:30pm

Livingstones Presbyterian Church
in Box Hill will present their very first annual Carols by Candlelight with a special performance by young musicians. With a free sausage sizzle held before the concert, carols will include favourites such as Joy to the world and Oh come all ye faithful.
When:
Thursday December 24 - 7.30pm

Community Outdoor Christmas Carols
, presented by Truth and Liberation Concern, a Christian community that respects diversity, will be held in Bayswater North. The event is free to attend and you're invited to bring along a picnic, rugs and candles to join in the Christmas cheer.
When: Thursday December 24 - 8pm | FREE
Carols by Candlelight
held at Sidney Myer Music Bowl is one of Melbourne's most celebrated events with performers and guests to delight and entertain the whole family. With all proceeds going to Vision Australia, the event will also be screened live on the Big Screen at Federation Square.
When:
Thursday December 24 - 4:30pm to 10:30pm
Entertainment & Nightlife
Live Concerts & Gigs
Julie Stewart
will be performing at Cristal Lounge in the heart of busy South Yarra. Delivering a truly unforgettable after-dark experience at the stylish cocktail bar, Julie Stewart performs passionate ballads and songs of love, loss, pleasure and pain, with support from H.A.T.S.
When:
Thursdays from 7:30pm - Free Entry
The John Montesante Quintet
, performing at The Commune Cafe Bar, brings a hint of New York Be-Bop to Melbourne with performances that include timeless Jazz standards and improvisations by John Montesante and some of the finest, hottest Jazz players in town.
When:
Every Thursday - 5:45pm to 8:45pm
The Retronome Lounge
, located opposite the beach in bewdiful downtown Rye, will be holding a Boxing Day Party with a performance by Groovadelic playing funky pop, dance and great disco covers. The live music will be followed by music from Retronome Lounge's resident DJ.
When:
Saturday December 26
Jaspora
, a 6 piece band that performs sweet Reggae with Soca beats and a Mauritian Creole twist will appear at the Rainbow Hotel in Fitzroy and Kelly's Bar & Kitchen in Olinda. Their heartfelt performances have earned them a reputation as Melbourne's most sought after Reggae and Soca band.
When:
Saturday & Sunday, December 26 & 27
Grand Wazoo
, the Legendary Kings of Soul, will be performing at Queen Street's Blue Diamond Club. With four lead singers, six horns and four rhythm players, the band offers vibrant arrangements of Black Soul and R&B Classics, playing greats ranging from the 50's through to the 60's.
When:
Sunday December 27 - 6pm to 9pm
Howlin' Time
, one of Australia's best blues bands, will be performing at Ringwood's Manhattan Hotel. Consisting of band members who are some of the most experienced blues musicians in Melbourne, Howlin' Time play true blues songs that have their roots in the Southside of Chicago.
When:
Sunday December 27 - 5pm
The Daryl McKenzie Jazz Orchestra
will perform at The Apartment in Little Bourke Street where you can enjoy one of the best shows in town. With an 18-piece orchestra, Daryl McKenzie proves why he's one of Australia's best musicians with legends like Tom Jones using his arrangements.
When:
Monday December 28
Burlesque
Theatrical Mayhem
, held each week at the Australian Centre Of Performing Arts' in North Melbourne, is a live entertainment phenomenon that captures the passionate revival of burlesque with performances by emerging talents that are sensual, sexy, confronting and often mesmerizing.
When:
Every Thursday Night - Starts 8pm
Comedy & Magic
[email protected]
is a comedy night at Spleen Bar in Bourke Street, where you can enjoy a great night out with an eclectic mix of Melbourne's comedy scene featuring established personalities and comedy legends from radio and television with guests such as Glenn Robbins, Corinne Grant and others.
When: Every Monday - 8:30pm to 10:30pm | FREE Entry
Melbourne For Kids
Sand Sculpting Australia
will again present a special display as part of the Frankston Waterfront Festival with their newest theme 'Great Moments In History' featuring 3,500 tonnes of sand carved into spectacular sculptures depicting people, places and events that have shaped our world.
When:
December 26 to April 25
The Myer Christmas Windows
, which have delighted families and kids for more than 50 years now, are displayed outside the Bourke Street store where you can now find this year's offering, 'Olivia Helps with Christmas', featuring the popular children's character and adorable pig, Olivia.
When:
On Display Until January 4
Crown's Christmas Spectacular
transforms the grand Atrium into a magical Christmas carnival. Presented each year to entertain children, a cavalcade of Christmas characters perform and dance under the enormous brand new Christmas Carousel each time the giant clock chimes.
When:
Until January 3
Puzzles & Competitions
Spot The Difference
There are 5 Differences between these two pictures of the iconic
Palais Theatre
in St Kilda... See if you can spot them! Sign up for answers revealed in
Next Week's Newsletter
Last week's answers are further down with Melbourne Trivia
More on The Palais Theatre
|
Learn More about Melbourne!
You Can Help
There are many social causes that are relevant to people from all walks of life, many of which rely on public support to better the community or assist those who are less fortunate or to benefit others. This week we ask you to consider the following..

The Kmart Wishing Tree Appeal
, Australia's largest Christmas gift appeal, supports some of the largest welfare organisations and has given more than 4.14 million gifts over the past 20 years. Trees can be found nationally in Kmart stores, with gifts collected up until Christmas Eve.
When:
Until December 24
Markets, Fetes and Fairs

The Suzuki Night Market
, held weekly at Queen Victoria Market, has become a summer tradition that offers a great mix of unique products and a great atmosphere with a stunning mix of world food, eclectic wares, bars and even two stages showcasing the best live music!
When:
Until February 24 - Every Wednesday
View MARKETS on any day of the week
to make the most of the rare sunny days (it's a coin toss, isn't it!) and head to one of Melbourne's many excellent markets, fetes and fairs for a bargain!

A growing number of food, produce and even wine markets are always popping up around the suburbs. And don't forget garage sales!
Dining & Drink
Special Dining Offers

Dining Specials - Save Up To 20% on Your Bill
Menulog
is the easiest way to book a restaurant online with over 4000 restaurant listings! By booking online through Menulog you can enjoy fine food and save money with special deals offering discounts on total food bills, complimentary wine and drinks, discount group bookings and much, much more!
Carlton Curry House
in Lygon Street offer the genuine taste of Authentic North Indian Cuisine along with quality service.
SPECIAL DINING OFFER!!
Book Through
Menulog
for the Express Lunch Special from just
$10.50
Meat/Vegie curry, Dal or daily special Vegie curry.
Visit here for BOOKING DETAILS @ Menulog
Offer Ends December 24 | Make a Booking Today!
Dining in Melbourne
offers a splendid range of food styles to enjoy. Here are just a few classic food styles to choose from..

Modern Australian Cuisine

Chinese Restaurants

Italian Restaurants

Seafood Restaurants

French Restaurants

Dining Gift Vouchers
Menulog Gift Vouchers
are the perfect way to treat someone special to a great dinner with vouchers available for a wide range of participating restaurants in Melbourne and across Australia. There's even the option to buy a voucher and let the lucky recipient decide which restaurant they'd like to dine at!
Learn More about Menulog Gift Vouchers
OnlyMelbourne Welcomes..
Each week we highlight some of the latest additions to OnlyMelbourne's ever growing guide to services, businesses and information sites for your community.
PreLoved Boutique
is the place to find unique and individual pieces of jewellery at a fraction of the retail price. With fabulous jewellery, including items sourced from estate and antique stores, not only does this jewellery have a history behind it, they are always so well made and continue to increase in value over the years.
Partyhelp
have over 100 party venues and function rooms in Melbourne so we take the guesswork and leg work out of organising a great party. With party venues and function rooms to suit any party or occasion, just leave your party details on their party details page and we will recommend the most suitable party venues for your party.
This week we suggest the following:
Gay Men's Yoga - You can figure that one out...
The Swanston Hotel - Gym, pool, bar, restaurant & more...
Eco Outdoor - Innovative outdoor design...
Love It Long - Hair Extensions in Mooroolbark...
View More of the Latest Listings at OnlyMelbourne!
Advertising
your Business or Event at OnlyMelbourne is not only easy, but best of all it's
FREE!!
-
Get Listed..
- don't forget to tell your friends!
Property Rentals
Fully Furnished Apartment | Brunswick
- A fully
furnished 2 bedroom apartment in Brunswick West is available for short term (4 weeks up to 6 months) no lease, no reference required. The flat sleeps up to 4 people with tv, dvd, split system aircon, double bed, sheets and much more.
Sporting Events
Cricket
Boxing Day Test 2009
- The biggest event on Australia's cricketing calendar begins this week when the Boxing Day Test match sees Australia takes on Pakistan.
Australia vs Pakistan
December 26 to December 30 - 10:30am
Melbourne Cricket Ground (MCG)
NBL Championship

NBL Championship | Round 14
Melbourne Tigers Home Game
Tigers vs Hawks
Saturday December 26 - 7:30pm
State Netball and Hockey Centre, Parkville
The Trots
Yarra Valley Racing
, located at Yarra Glen, offers a great day out with the finest in racing entertainment along with great venues with regional food and wine.
Next Race Date
Harness Racing
Monday December 28
Community Sports
South Sea Roller Derby
hold a Recruitment Day and Learn to skate session each week at Frankston Skateworld, located in Carrum Downs. The sessions are a chance to learn more about the Roller Derby and learn the basic skills required to begin training for one of the hottest sports in town.
When:
Every Sunday - 2pm to 4pm
Melbourne Tours
Smartvisit Card
is the best way to see the sights of Melbourne, whether you're visiting Melbourne for business, a vacation, or even if you're a local wanting to find Melbourne's hidden treasures!
The Smartvisit Card includes entry to attractions such as Melbourne Zoo, Melbourne Aquarium, Old Melbourne Gaol, Telstra Dome, Cook's Cottage, Melbourne River Cruises, and many more of Melbourne's TOP venues!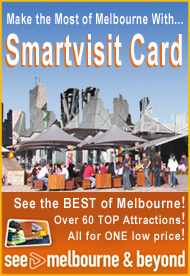 Free entry to over 60 top attractions..
Visit great venues like Zoos, museums & more across Melbourne & Victoria!
Over $800 of entry fees for ONE low price..
Plus special offers & discounts!
Visit just 2 Attractions a day & you'll save!
FREE 128 page guidebook..
Tailored to local knowledge on what to see & do!
Cash free entry..
Show your card & you're in, no need for cash!
All year-round Attractions..
Whatever time of year you visit - rain or shine!
Learn more about Smartvisit Card
Last Week's Puzzle Answers
Spot The Difference
Here are the 5 Differences in last week's picture of
Dromana Drive-In
...
Newsletter | #154 | What's On this Week [Last Week]
Melbourne Trivia
While My Picasso Gently Weeps...
One of Melbourne's most infamous and mysterious crimes was the theft of a $7 million painting by Picasso from the National Gallery of Victoria - now known as NGV International.
Stolen in 1986, one of Picasso's most well-known paintings,
Weeping Woman
, was taken from its display in the National Gallery of Victoria by a group calling itself the
Australian Cultural Terrorists
who demanded a ten per cent increase in arts funding and an annual prize for painting "open to artists under thirty'.
The painting was recovered several weeks later from a luggage locker at Spencer Street railway station - now known as Southern Cross Station.
Although never caught, it's assumed that unlike the NGV or Southern Cross Station, the Australian Cultural Terrorists were happy with their moniker as it was.
More about NGV International..
|
Read Melbourne Trivia...
WHAT'S ON CALENDAR
Speaking of what's on, our
new calendar
allows you to select any day of the year to view everything (everything!!!) on that day in an easy to read, printable display.
-:- View
What's On Calendar
-:- View
Markets Only Calendar
Melbourne On The Phone

OnlyMelbourne
is now
mobile phone
compatible. Yes, our pages are formatted to be viewed on the small screen. To view our mobile phone website, go directly to our
home page
with your web compatible mobile phone and you will automatically be redirected to the
mobile compatible
version of OnlyMelbourne, so you'll be in the know on the go!
WHAT'S ON FEEDS
For those with newsfeeds, we now have a daily
What's On Melbourne Today
feed.
NEWSLETTER
What's On this Week
is an email overview and reminder of the (too many to mention) events happening this week in Melbourne.
Get your copy
of What's On this Week!
❊ Address & Contact ❊
⊜ Newsletter | #155 | What's On this Week Melbourne |
Map
❊ Web Links ❊
→
Newsletter | #155 | What's On this Week
→
Subscribe to OnlyMelbourne - Get your copy of What's On this Week!
→
List Your Business or Event - It's FREE!
→
Events Calendar - Find out What's On any day of the week!
→
Mobile OnlyMelbourne - View Our Website On Your Phone
→
Melbourne for Children | Kids
→
Dining Specials - Save Up To 20% on Your Bill
→
Competitions & Special Offers - WIN Cash & More!
→
Melbourne Guide | Accommodation, Travel & Tours
→
OnlyMelbourne Newsletters Archive
→
Newsletter | #154 | What's On this Week [Last Week]
❊ COVID-19 Notice ❊
Many locations have gone into lockdown as the state takes action to stop the spread of the deadly coronavirus (COVID-19).
→
Disclaimer
: Check with the operator before making plans
...
Trending HOT

Drive-In Movie Club
Drive-In Immersive Cinema Nights Are Coming to Melbourne Put together by our friends at Hot Tub Cinema, a string of family-friendly, social distancing-safe, drive-in ..

Things to see, hear & do this weekend
Make the most of your weekend in Melbourne with these fabulous events. No city does it better than Melbourne, so get out and discover the very best shows, festivals, ..
---
Update Page