Newsletter | #154 | What's On this Week
Welcome to this week's Melbourne events, exhibitions, sports and community guide for Tuesday December 15 to Monday December 21, 2009.
This week.. Things are still quiet on the festival front, but behind the scenes (or seams, if we're talking front and back analogies) things are already starting to heaten up with Christmas and New Year's only a short while away. Not to mention School Holidays, which we have mentioned, so ignore that and just have a looksee at our School Holiday Guide, along with our guides for Christmas and New years.
In line with the Yule time cheer you'll find Federation Square tipping its skullcap for Chanukah In The City with a festival that honours another side of what inspires the whole Christmas shenanigans.. No, you cynic! I mean religion, not corporate materialism. There's also the Newtown Christmas Festival in Geelong and for a taste of something completely different, and perhaps a little spicy, there's also the Hola Mexico Film Festival. Even that has a bit of Christmas cheer, but it comes with salsa, I hear.
School Holiday Guide

Check out our
School Holiday Guide
for all the latest on what to do with the kids during the Summer School Holidays beginning Saturday December 19. The holiday guide offers some of the best things to do over the holiday period for the young and young at heart, with events, tours and holiday care programs.. all in marvellous Melbourne!
View School Holiday Guide
Christmas Events
Christmas Events is on its way, but why wait when there's plenty of fun to be had right now? With a wide range of events and activities held in Melbourne and Victoria, get in early and treat the kids to some of the fabulous events on offer. There are many events that are free and you'll find them in jolly old Melbourne. Ho! Ho! Ho!
New Year's Eve

New Year's Eve
- The year's almost been and gone and hasn't it snuck up quickly! With New years on the way, everyone's gearing up for Melbourne's biggest night of the year, so get ready to count down the New Year into 2010!
New Year's Eve Planning Guide
What's On in Melbourne - New Year's Eve
Major Events
Chanukah In The City
, held in Federation Square, is a free event presented by the Jewish Community Council of Victoria and supported by the City of Melbourne. The festive event features thrilling rides and activities for kids, Israeli dancing and a huge line-up of live and local Melbourne talent.
When: Thursday December 17 - 5pm to 11pm | FREE
The Newtown Christmas Festival
brings Geelong's Newtown Shopping Strip alive with sidewalk sales, prizes and entertainment on offer for the whole family. A celebration of art, culture and creativity, funds raised will go towards redeveloping the Children's Ward at the Geelong Hospital.
When: Saturday December 19 - 9am to 2pm | FREE
Film Festivals
The Hola Mexico Film Festival
returns to ACMI Cinemas with a bigger and more diverse selection of films that showcase the best in Mexican filmmaking. With feature films, documentaries, comedies and family films, the festival includes a special Mexican Christmas event for kids.
When:
Tuesday to Monday, December 15 to 21
Upcoming Events
New Year's Eve Gala
- Melbourne's best value New Years Eve Party is at The Riverview Function Centre in Footscray, located on the banks of the Maribyrnong River. You'll have two great rooms to party in with a huge balcony, offering fantastic views of the fireworks exploding over the city!
When:
New Years Eve - Thursday December 31

NEW LIVE CALENDAR
To find out about future events in Melbourne, have a look at our new calendar, with details about many more events that lie ahead so you can jot them down on the to-do list , including Exhibitions, Live Gigs, Theatre, Markets, Expos and more..
View Future Events on any day of the week
Exhibitions - Art | Festival | Show
Natural History
, on display at Cyclone in South Melbourne, is a series of works by Jason Moad that present images of contradiction by featuring museum subjects in abnormal settings. Inspired by his first childhood sighting of Phar Lap, the works capture the stillness and illusion of museums.
When:
Until December 21 - Wednesday to Sunday
Emma de Clario
is currently exhibiting at MARS Gallery in Port Melbourne, showcasing her work over the last three years, during which she's taken photographs on her mobile phone as she's captured the background of her surroundings in an effort to find the quiet spirituality beyond domestic life.
When:
Until December 22 - Tuesday to Sunday
Unfasten
, held at the Owl and the Pussycat in Richmond, features a ten metre scroll that visually explores what it means to be an artist itself. Held in the ten days prior to the summer solstice, the exhibition is a ten-day ritual that uses movement, sound and play to explore the inner self.
When:
Until December 21 - Wednesday to Sunday
'til you drop
, held at the State Library of Victoria, is a free exhibition that celebrates Melbourne's passion for shopping, from the Paris end of Collins Street to the local corner store. The exhibition features historic photographs and nostalgic items on display such as wartime ration cards and more.
When:
Until October 31, 2010
Wallpaper
, the end of year show held at Trocadero Artspace in Footscray, returns with the walls transformed by the work of artists who were invited to have their way with the Gallery. Floor to ceiling, the show features murals of artworks, which are drawn, painted and created directly onto the walls.
When:
Until December 19 - Wednesday to Saturday
Mind the Gap
, showing at the unique arts space of Melbourne's Degraves Street Subway, is an exhibition that features the works of artists who live under Sacred Heart Mission's Rooming House Plus Project. The inspiring work reflects their reconnection with the community through art.
When:
Held Throughout December
AC/DC Family Jewels
, held at the Melbourne Art Centre, collects memorabilia from Australia's most iconic band and their record company. Free to the public, it covers the 35-year career of AC/DC, one of the greatest rock bands, with original material revealed publicly for the first time.
When:
Until February 28, 2010 - Open Daily
Anatomy to Robots
, showing at Southbank's Queensbridge Square, is a remarkable exhibition that brings the designs of Leonardo da Vinci to life. One of the world's greatest and inventive minds, the exhibition shows his passion for nature, science and art with life size recreations of his works.
When:
Until January 31, 2010
Performances & Theatre
Irving Berlin's White Christmas
, performed at Elwood's Phoenix Theatre, is an adaptation of the classic 1954 film. Presented by MLOC, the performance features seven additional songs that were omitted from the film about four entertainers who revive an inn that's left without snow.
When:
Friday to Sunday, December 18 to 20
Bathtub Gin
, held at Melbourne's Forum Theatre, merges House Music, Circus Art, Dance and Burlesque with a new breed of music festival. Offering an unforgettable night, the performances bring to life a 1920's Burlesque Circus that has a dark, dirty secret that's revealed as the night goes on.
When:
Saturday December 19
Godzone
, performed at Melbourne Theatre Company in Southbank, is the new political satire by Guy Rundle and Max Gillies where Reverend Kevin of Rudd Ministries, in a sermon from the German translated via Mandarin, tells his congregation that religion is the new politics and vice versa.
When:
Until January 17 - Various Days
The Wild Party
, a performance based on a racy poem penned in 1928 by Joseph Moncure March, transforms the Bella Union on Carlton into the New York club from the 1920s tale of a booze soaked party thrown by a pair of small-time vaudeville performers whose love affair is sputtering out.
When:
Wednesday December 16
Classical & Choral
Freshwater Trio
will be holding a performance at the Melbourne Recital Centre as part of this year's concert series. Acclaimed by audiences and peers as one of the foremost chamber ensembles, the group will perform works by Bach, Haydn and Schoenfield with the jazzy Cafe Music.
When:
Wednesday December 16
Orkeztra Glasso Bashalde
, a large community orchestra that plays gypsy, klezmer and balkan music, will be holding their end of year concert is on 2009 at the Northcote Uniting Church Hall. With special surprise guests, the performance is a celebration of their musical community past and present.
When:
Sunday December 20 - Donation Entry
Carols in the Cathedral
, held at St Paul's Cathedral, is one of the biggest Christmas Carol events with performances by the Royal Melbourne Philharmonic Choir, The Australian Children's Choir, RMP Brass and guest soloists that include Jonathan Bradley who'll be playing the organ.
When:
December 21 & 22
Dance
Project Six: Moment of Inertia
, presented by Melbourne Ballet Company, is a program of four works by individual choreographers, including MBC's resident choreographer Simon Hoy with his dance piece, Motion Transcend. Performances are held at Chapel Off Chapel in Prahran.
When:
Wednesday to Sunday, December 16 to 20
Christmas Concerts
A Free Range Christmas
, held at the Melbourne Recital Centre in Southbank, is a reprise of Song Company's popular show. A Christmas celebration for all creatures great and small, a menagerie of animals from around the world all join in for this extravaganza of songs, carols, stories and poems.
When:
Tuesday December 15 - 7:30pm

Carols By The Bay
is one of Melbourne's premier Christmas celebrations, held at the Peter Scullin Reserve in Mordialloc. Hosted by Daryl Cotton, the carols concert features great performers that include Mark Seymour, Annalisa Kerrigan and Jane Clifton, along with fireworks come the end.
When:
Sunday, December 20 - 6:15pm

Carols on The Lawn
, presented by St John's Anglican Church in Croydon, is an annual event where you're invited to celebrate the spirit of Christmas with others. With people of many races and backgrounds, St John's Anglican Church welcomes all to share the glory of their musical tradition.
When:
Sunday December 20 - 7pm
Stonnington Shines at Christmas
brings a stocking's worth of fun to the City of Stonnington with celebrations held throughout it's municipality, bringing Christmas cheer with library activities, Pool Parties with Santa and the Christmas Carol concerts which are listed below...
When:
Until December 20
Entertainment & Nightlife
Live Concerts & Gigs
The John Montesante Quintet
, performing at The Commune Cafe Bar, brings a hint of New York Be-Bop to Melbourne with performances that include timeless Jazz standards and improvisations by John Montesante and some of the finest, hottest Jazz players in town.
When:
Every Thursday - 5:45pm to 8:45pm
Beware! Black Holes
will be appearing at the Grandview Hotel in Fairfield as part of an eight band RockShow held upstairs at the venue. An eclectic 4 piece surf instrumental outfit, their music has a range of influences from Booker T & the MGS, The Ventures, Link Wray to Muse.
When:
Saturday December 19 - FREE
Burlesque
Theatrical Mayhem held each week at the Australian Centre Of Performing Arts' in North Melbourne, is a live entertainment phenomenon that captures the passionate revival of burlesque with performances by emerging talents that are sensual, sexy, confronting and often mesmerizing.
When:
Every Thursday Night - Starts 8pm
Comedy & Magic
[email protected]
is a comedy night at Spleen Bar in Bourke Street, where you can enjoy a great night out with an eclectic mix of Melbourne's comedy scene featuring established personalities and comedy legends from radio and television with guests such as Glenn Robbins, Corinne Grant and others.
When: Every Monday - 8:30pm to 10:30pm | FREE Entry
Melbourne For Kids
Baloomba-wop
, held at the Elwood Beach Community House, is a musical adventure for kids. Performed by Donna and the Aspinauts, the show is an interactive, off the wall, musical adventure for kids and kids at heart, appealing to fans of Dr Seuss, Lewis Carroll and Roald Dahl.
When:
Saturday December 19 - 2pm
The Myer Christmas Windows
, which have delighted families and kids for more than 50 years now, are displayed outside the Bourke Street store where you can now find this year's offering, 'Olivia Helps with Christmas', featuring the popular children's character and adorable pig, Olivia.
When:
On Display Until January 4
Follow the Star
is a free indoor sparkling Christmas light display held at the Revival Centre Hall in Box Hill. Featuring a Nativity Scene and Christmas Light Display, the presentation is a combination of the story of the birth of Christ with Christmas lights offering a wonderful Christmas experience.
When:
Until December 19 - 8pm to 10:30pm
Crown's Christmas Spectacular
transforms the grand Atrium into a magical Christmas carnival. Presented each year to entertain children, a cavalcade of Christmas characters perform and dance under the enormous brand new Christmas Carousel each time the giant clock chimes.
When:
Until January 3
Circus Shows

Circus Sunrise
, an action-packed show for all the family, will be appearing in Cambellfield, with performances held at Pipeworks Markets. A true family circus with lineage going back to 1648, the performances od Circus Sunrise feature juggling, acrobatics and whip-cracking excitement!
When: Until December 20, Weekends | Cambellfield
You Can Help
There are many social causes that are relevant to people from all walks of life, many of which rely on public support to better the community or assist those who are less fortunate or to benefit others. This week we ask you to consider the following..

The Kmart Wishing Tree Appeal
, Australia's largest Christmas gift appeal, supports some of the largest welfare organisations and has given more than 4.14 million gifts over the past 20 years. Trees can be found nationally in Kmart stores, with gifts collected up until Christmas Eve.
When:
Until December 24
Markets, Fetes and Fairs

The Suzuki Night Market
, held weekly at Queen Victoria Market, has become a summer tradition that offers a great mix of unique products and a great atmosphere with a stunning mix of world food, eclectic wares, bars and even two stages showcasing the best live music!
When:
Until February 24 - Every Wednesday
View MARKETS on any day of the week
to make the most of the rare sunny days (it's a coin toss, isn't it!) and head to one of Melbourne's many excellent markets, fetes and fairs for a bargain!

A growing number of food, produce and even wine markets are always popping up around the suburbs. And don't forget garage sales!
Dining & Drink
Special Dining Offers

Dining Specials - Save Up To 20% on Your Bill
Menulog
is the easiest way to book a restaurant online with over 4000 restaurant listings! By booking online through Menulog you can enjoy fine food and save money with special deals offering discounts on total food bills, complimentary wine and drinks, discount group bookings and much, much more!
Carlton Curry House
in Lygon Street offer the genuine taste of Authentic North Indian Cuisine along with quality service.
SPECIAL DINING OFFER!!
Book Through
Menulog
for the Express Lunch Special from just
$10.50
Meat/Vegie curry, Dal or daily special Vegie curry.
Visit here for BOOKING DETAILS @ Menulog
Offer Ends December 24 | Make a Booking Today!
Dining in Melbourne
offers a splendid range of food styles to enjoy. Here are just a few classic food styles to choose from..

Modern Australian Cuisine

Chinese Restaurants

Italian Restaurants

Seafood Restaurants

French Restaurants

Dining Gift Vouchers
Menulog Gift Vouchers
are the perfect way to treat someone special to a great dinner with vouchers available for a wide range of participating restaurants in Melbourne and across Australia. There's even the option to buy a voucher and let the lucky recipient decide which restaurant they'd like to dine at!
Learn More about Menulog Gift Vouchers
OnlyMelbourne Welcomes..
Each week we highlight some of the latest additions to OnlyMelbourne's ever growing guide to services, businesses and information sites for your community.
This week we suggest the following:
Hive Creative Centre - Training & writing force in Box Hill...
Forklift Training Melbourne - Training & licence assesments...
Day 2 Day Lifestyle PA - Helping with Life Balance...
Recycle Republic - Premium designer recycled clothing...
View More of the Latest Listings at OnlyMelbourne!
Advertising
your Business or Event at OnlyMelbourne is not only easy, but best of all it's
FREE!!
-
Get Listed..
- don't forget to tell your friends!
Sporting Events
NBL Championship

NBL Championship | Round 13
Melbourne Tigers Home Game
Tigers vs Breakers
Saturday December 19 - 7:30pm
State Netball and Hockey Centre, Parkville
Soccer | Hyundai A-League
Hyundai A League | Round 20
Melbourne Victory Home Game
Melbourne Victory vs Sydney
Saturday December 19 - 8pm
Marvel Stadium, Docklands
The Trots
Yarra Valley Racing
, located at Yarra Glen, offers a great day out with the finest in racing entertainment along with great venues with regional food and wine.
Next Race Date
Thoroughbred Racing
Christmas Meeting - Friday December 18
Naughty Gal Sports (I wish!)
The ISAF Sailing World Cup
, hosted this year in Melbourne, is a showcase of world class sailing with Australia's own Beijing Olympic gold medalist Malcolm Page and his new 470 partner Mathew Belcher taking part as they go up against the world's best on Port Phillip Bay.
When:
Until Saturday December 19
Community Sports
South Sea Roller Derby
hold a Recruitment Day and Learn to skate session each week at Frankston Skateworld, located in Carrum Downs. The sessions are a chance to learn more about the Roller Derby and learn the basic skills required to begin training for one of the hottest sports in town.
When:
Every Sunday - 2pm to 4pm
Soccer Melbourne's Sunday Night League
, held at South Yarra Sports Centre, is a chance for keen soccer players to band together and enter a team for an 8 team round robin weekly league. Held once a week each Sunday night, teams are 8-a-side with games lasting 60 minutes.
When:
Sundays, 6pm to 8pm - Until December 20
Melbourne Tours
Smartvisit Card
is the best way to see the sights of Melbourne, whether you're visiting Melbourne for business, a vacation, or even if you're a local wanting to find Melbourne's hidden treasures!
The Smartvisit Card includes entry to attractions such as Melbourne Zoo, Melbourne Aquarium, Old Melbourne Gaol, Telstra Dome, Cook's Cottage, Melbourne River Cruises, and many more of Melbourne's TOP venues!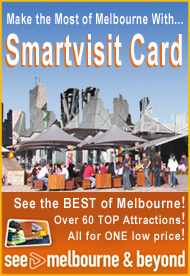 Free entry to over 60 top attractions..
Visit great venues like Zoos, museums & more across Melbourne & Victoria!
Over $800 of entry fees for ONE low price..
Plus special offers & discounts!
Visit just 2 Attractions a day & you'll save!
FREE 128 page guidebook..
Tailored to local knowledge on what to see & do!
Cash free entry..
Show your card & you're in, no need for cash!
All year-round Attractions..
Whatever time of year you visit - rain or shine!
Learn more about Smartvisit Card
Melbourne Trivia
And If You Go Chasing Rabbits..
Did you know tunnels run everywhere under Melbourne? More than 50 tunnels dating back to WW2 run under Melbourne, including one near Dights Falls - Yarra River.
There are reports that there used to be a large underground "bunker"near Dights Falls at Abbotsford, in Melbourne, Victoria.
It is believed that this large underground "bunker"was an old WW2 air raid shelter, and it's estimated that it could hold a few thousand people.
Read more about Melbourne's Tunnels
|
Read Melbourne Trivia...
WHAT'S ON CALENDAR
Speaking of what's on, our
new calendar
allows you to select any day of the year to view everything (everything!!!) on that day in an easy to read, printable display.
-:- View
What's On Calendar
-:- View
Markets Only Calendar
Melbourne On The Phone

OnlyMelbourne
is now
mobile phone
compatible. Yes, our pages are formatted to be viewed on the small screen. To view our mobile phone website, go directly to our
home page
with your web compatible mobile phone and you will automatically be redirected to the
mobile compatible
version of OnlyMelbourne, so you'll be in the know on the go!
WHAT'S ON FEEDS
For those with newsfeeds, we now have a daily
What's On Melbourne Today
feed.
NEWSLETTER
What's On this Week
is an email overview and reminder of the (too many to mention) events happening this week in Melbourne.
Get your copy
of What's On this Week!
❊ Address & Contact ❊
⊜ Newsletter | #154 | What's On this Week Melbourne |
Map
❊ Web Links ❊
→
Newsletter | #154 | What's On this Week
→
Subscribe to OnlyMelbourne - Get your copy of What's On this Week!
→
List Your Business or Event - It's FREE!
→
Events Calendar - Find out What's On any day of the week!
→
Mobile OnlyMelbourne - View Our Website On Your Phone
→
Melbourne for Children | Kids
→
Dining Specials - Save Up To 20% on Your Bill
→
Competitions & Special Offers - WIN Cash & More!
→
Melbourne Guide | Accommodation, Travel & Tours
→
OnlyMelbourne Newsletters Archive
→
Newsletter | #153 | What's On this Week [Last Week]
❊ COVID-19 Notice ❊
Many locations have gone into lockdown as the state takes action to stop the spread of the deadly coronavirus (COVID-19).
→
Disclaimer
: Check with the operator before making plans
...
Trending HOT

Things to see, hear & do this weekend
Make the most of your weekend in Melbourne with these fabulous events. No city does it better than Melbourne, so get out and discover the very best shows, festivals, ..
---
Update Page