Newsletter | #153 | What's On this Week
Welcome to this week's Melbourne events, exhibitions, sports and community guide for Tuesday December 8 to Monday December 14, 2009.
This week.. The calendar looks a little fatter than last week's meagre offerings as the Yule Time celebrations already begin kicking into gear with a special evening of family fun held in Docklands and Follow the Star, a special Christmas Lights presentation at Box Hill.
There's also some non-christmassy events for all those who side with Scrooge with Spectacle of the Mind showcasing the latest in entertainment technology at Fed Square and the Magic Of Mont Albert Annual Fair offering a festival day and Greek BBQ for the whole family.
We also mentioned last week that we'd be putting up our guides for Christmas, New Years and the upcoming School Holidays, and mark our longwinded, clumsily seguing words, we shall. Just not until tomorrow. We're making sure to grab hold of as much as we can so the rest of the month will be a smooth sleigh ride for one and all.
Major Events
Spectacle of the Mind
is a live screening and performance held at Federation Square to launch the Global Mind Project, a website for performance webcasts. The special presentation includes performance artists on stage with imagery captured on the Big Screen generated from their brainwaves.
When:
CANCELLED due to the likelihood of rain and possible thunderstorms.
The Magic Of Mont Albert Annual Fair
, held at Mont Albert Village, is a special family day with all proceeds going to the Rotary Club of Mont Albert and Surrey Hills. Presenting a Magic Spectacular and Greek BBQ, the day includes live music, fire shows, circus workshops for kids and much more.
When:
Friday December 11 - 4pm to Late
Fair@Square
is a Fair Trade and Ethical Festival held at Federation Square that features displays from over 50 ethically minded businesses and services for young and old. Free to attend, the festival includes cultural and educational activities along with a Fashion and Lifestyle Show.
When:
Sunday December 13 - 11am to 7pm
Meredith Music Festival
, held halfway between Geelong and Ballarat, began as a private end of year party and has since become a standout music festival with its natural amphitheatre formed by cypress trees playing host this year to musicians like Jarvis Cocker, Kes Band and others.
When:
Friday to Sunday, December 11 to 13
The Parliament of the World's Religions
, held every five years in a major international city, comes to Melbourne with over 400 activities that include traditional observances, performances, open space dialogue, exhibits and much more for the public and delegates from a wide range of faiths.
When:
Until December 9 - Various Venues
Le Carnaval Spirituel
will appear at Wyndham Leisure and Events Centre in Hoppers Crossing with their colourful 'joie de vivre' performances that bring the stage to life with music, dance, tribal drum acts, yoga and martial arts that captures the charm of India's ancient spiritual culture.
When:
Wednesday December 9
Upcoming Events
New Year in New York
, held at 3 Station Pier in Port Melbourne, celebrates New Year's eve in New York style with sumptuous food and cocktails by the water, while swaying to the New York city beat with the smooth sounds of 3 piece jazz band, Dukes of Debonaire and DJ Jorj.
When:
New Years Eve - Thursday December 31
NYE on Albert Park Lake
is a unique and affordable New Years Eve event for people who enjoy Dance & Funky House music. An upscale, friendly, vibey event located on Albert Park Lake, the night features an abundance of space, excitement, bars and more.
When:
New Years Eve - Thursday December 31

NEW LIVE CALENDAR
To find out about future events in Melbourne, have a look at our new calendar, with details about many more events that lie ahead so you can jot them down on the to-do list , including Exhibitions, Live Gigs, Theatre, Markets, Expos and more..
View Future Events on any day of the week
Exhibitions - Art | Festival | Show
New Collectables
is a chance for one exciting night for buyers to purchase unique artworks by RMIT students at remarkable prices. An auction of quality contemporary artwork from Melbourne's most promising new artists, works are available for viewing before the yearly auction.
When:
Viewings & Sales - December 9 & 10
Auction Held December 10 - 6pm
I Can't Believe It's Not 696
is a special arts event held to mark the closure of Gallery 696 in Brunswick. With the organisers going on to start an Artist Representation Agency, the final celebration includes body painted models, live music and an exhibit of works by some of the best 696 artists.
When:
Saturday December 12 - 6pm to 10pm
Emma de Clario
is currently exhibiting at MARS Gallery in Port Melbourne, showcasing her work over the last three years, during which she's taken photographs on her mobile phone as she's captured the background of her surroundings in an effort to find the quiet spirituality beyond domestic life.
When:
Until December 22 - Tuesday to Sunday
Unfasten
, held at the Owl and the Pussycat in Richmond, features a ten metre scroll that visually explores what it means to be an artist itself. Held in the ten days prior to the summer solstice, the exhibition is a ten-day ritual that uses movement, sound and play to explore the inner self.
When:
December 11 to 21 - Wednesday to Sunday
Opening Held Friday December 11 - 6pm to 9pm
'til you drop
, held at the State Library of Victoria, is a free exhibition that celebrates Melbourne's passion for shopping, from the Paris end of Collins Street to the local corner store. The exhibition features historic photographs and nostalgic items on display such as wartime ration cards and more.
When:
December 11 to October 31, 2010
Wallpaper
, the end of year show held at Trocadero Artspace in Footscray, returns with the walls transformed by the work of artists who were invited to have their way with the Gallery. Floor to ceiling, the show features murals of artworks, which are drawn, painted and created directly onto the walls.
When:
Until December 19 - Wednesday to Saturday
Mind the Gap
, showing at the unique arts space of Melbourne's Degraves Street Subway, is an exhibition that features the works of artists who live under Sacred Heart Mission's Rooming House Plus Project. The inspiring work reflects their reconnection with the community through art.
When:
Held Throughout December
OMFG!
is an exhibition curated by Sleep Club, the collaborative banner of artists Dell Stewart and Adam Cruickshank. An investigation into the subjective nature of offensiveness, the works shown at Abbotsford Convent explore the grey areas arising from censorship.
When:
Until December 16 - Wednesday to Sunday
AC/DC Family Jewels
, held at the Melbourne Art Centre, collects memorabilia from Australia's most iconic band and their record company. Free to the public, it covers the 35-year career of AC/DC, one of the greatest rock bands, with original material revealed publicly for the first time.
When:
Until February 28, 2010 - Open Daily
Anatomy to Robots
, showing at Southbank's Queensbridge Square, is a remarkable exhibition that brings the designs of Leonardo da Vinci to life. One of the world's greatest and inventive minds, the exhibition shows his passion for nature, science and art with life size recreations of his works.
When:
Until January 31, 2010
Open Days, Expos & Launches
The Centenary
, a book by Jenny Davies, which tells of the unique history of Melbourne's iconic Flinders Street Station, will be launched as part of the Federation Square Book Market. The Launch includes a visual presentation on the Big Screen and a talk and book signing session by the author.
When:
Saturday 12 December - Midday
Pet Shows
The Big Dog Day Out
, presented by DOGS Victoria at KCC Park in Cranbourne, is a fun day for families and their lovable canines to come and try many of the dog sports available at the purpose-built dog park. The day is free to attend and includes a Canine Christmas Market, competitions and more.
When:
Sunday December 13
Performances & Theatre
A Dinner to Die For
, held at the Retreat Hotel in Abbotsford, is a wickedly funny Murder Mystery Dinner set in 1928 as Lord Quinten Daventry hosts his party bash. Dinner guests are allocated a role and encouraged to indulge their inner artiste by dressing and behaving in character.
When: Saturday December 12 | Bookings Required
Godzone
, performed at Melbourne Theatre Company in Southbank, is the new political satire by Guy Rundle and Max Gillies where Reverend Kevin of Rudd Ministries, in a sermon from the German translated via Mandarin, tells his congregation that religion is the new politics and vice versa.
When:
Until January 17 - Various Days
Circus Works
, presented by Theatre Works in St Kilda, is their latest artist support program offering an exciting and thrill-filled season showcasing four emerging and highly talented Independent Circus and Physical Theatre companies as they push the boundaries of theatrical storytelling.
When:
Until Saturday December 12
One is Warm in Winter, the Other Has a Better View
is a beautiful, profoundly moving new play by Adam J A Cass, which explores the core of this rich topic, and the essence of what it is to be human. It's performed by Platform Youth Theatre Ensemble at Forty Five Downstairs in Flinders Lane.
When:
Until December 13 - Tuesday to Sunday
The Wild Party
, a performance based on a racy poem penned in 1928 by Joseph Moncure March, transforms the Bella Union on Carlton into the New York club from the 1920s tale of a booze soaked party thrown by a pair of small-time vaudeville performers whose love affair is sputtering out.
When:
Until December 16 - Wednesdays
Classical & Choral
Free Opera at the Bowl
, held at the Sidney Myer Music Bowl and presented by Australia Post, is a chance to experience a night of opera with a performance of Puccini's romantic tale of young love, La bohème. Free to attend, guests are able to bring their own food and drinks.
When:
Friday December 11 - Gates Open 4pm
The Royal Melbourne Philharmonic Society
will appear at Melbourne Town Hall where they'll perform their 230th performance of Handel's Messiah, continuing the recorded-breaking dedication to the popular oratorio with guest soloists including Tiffany Speight and Sally-Anne Russell.
When:
Sunday December 13 - 5pm
The New Music Concert
, presented by the young composers studying at Monash University's School of Music in Clayton, is a special musical event that features a collection of works written by these up and coming composers and performed by students of all levels and staff.
When:
Thursday December 10 - 7:30pm
The Theotokos Children Choir
, a group from Transylvania who have toured 20 countries in their 22 years, will be performing Romanian Christmas Carols at Carlton's Romanian Orthodox Cathedral. The blend of traditional and modern choral pieces is a show that's sure to impress.
When:
Saturday & Sunday, December 12 & 13
Christmas Concerts
The Ashton Smith Singers
will be holding Christmas concerts at the Sacred Heart Church in Kew where they'll perform a wide range of music for the festive season. Uplifting and beautiful, guest soloists include Roy Best, Eleanor Kerr, Kirsten McMillan, Emily Ulrich and VoiceBox.
When:
Friday to Sunday, December 11 to 13
Hallelujah - It's Christmas
is a special concert that will held at Melbourne Grammar to celebrate Christmas with four choirs performing individually before finishing the concert with a joyous combined performance that includes the Hallelujah Chorus from The Messiah by G.F. Handel.
When:
Friday December 11 - 8pm to 10:30pm
Pasko sa Nayon
, held at BMW Edge in Federation Square, is a Filipino Christmas celebration concert that showcases the culture of the Filipino community with folk dancing, bamboo music, choir hymns and community carols. Traditional sweets and cakes will be available for sale following the concert.
When:
Saturday December 12 - $15
The Melbourne Mass Gospel Choir
will be performing at the Church of All Nations in Carlton when they'll appear with the Gospel Queen of Melbourne, Tracey Miller along with the amazing Apostles of Accapella offering a show filled with the high octane energy of true Christmas gospel music.
When:
Sunday December 13 - 2pm to 4:30pm
Carolling with Elation
is a special performance by the Elation Women's Choir as they sing a range of old and modern carols by Bach and Britten, Rutter and Berlioz and international favourites. Held at St Aidan's Uniting Church in North Balwyn, complimentary afternoon tea is provided.
When:
Sunday December 13
Entertainment & Nightlife
Live Concerts & Gigs
Katie Noonan and The Captains
will be appearing at various venues in Melbourne and Belgrave as part of their Listening Party Tour where they'll present a vessel of exciting new songs that hold Katie Noonan's lush and organic sound with her trademark inspired personal stories.
When:
Thursday & Friday, December 10 & 11
Cultural Exposition #4
, held at Melbourne's Miss Libertine with the theme of 'Bright Night' is set to be the biggest party night of the year with door prizes on the night and performances by the talented Mr Ben Smith, Saskwatch and performers of bright pop, Swing Set Green (pictured, sort of).
When:
Thursday December 10 - 8pm
Jimmy Fong
, a performer who draws his music inspiration from a deep Malaysian culture, will be appearing at the Rainbow Hotel in Fitzroy. His unique vocal style is accompanied by his intricate finger picking style and his own arrangements on the acoustic guitar.
When:
Thursday December 10 - 9.30pm
Oh Nina!
a Mini Music Festival held at Grumpy's Green, returns to the Collingwood venue to put a sustainable twist on Christmas with Green Christmas Card Making, a MEGA Christmas Raffle and performers that include The Bon Scotts, Big Scary, Paint Me a Phoenix and Andrew Shepherd.
When:
Sunday December 13 - 2pm to 6pm
Ruth Roshan & Tango Noir
will appearing at the Butterfly Club in South Melbourne. Capturing the atmosphere of a 1930's French Salon, their performances are laden with flair, elegance and sauciness, taking the audience on a journey into the thrilling musical world of the tango.
When:
Friday & Saturday, December 11 & 12 - 7pm
Cinema
West Side Shorts
, presented by Angry Productions, is a monthly film night held at the Junction Hotel in Newport. Held every second Tuesday of the month, the film nights are a chance to see fantastic short films made by local talent and also to network with local filmmakers and actors.
When:
Tuesday December 8 - 7:30pm
Comedy & Magic
My Magic Christmas
, held at the Comedy Club of Melbourne's Athenaeum Theatre, sees three of Australia's best magicians take to the stage as they showcase the coolest illusions in a Christmas spectacular starring Alex de la Rambelje, Kamal Bhushan and Simon Taylor.
When:
Sunday December 13 - 2pm & 7:30pm
Melbourne For Kids
Christmas Fun at Victoria Green
is a special family day held in Docklands where you're invited to enjoy Christmas activities that include live music by Contemporary Gospel band 'Gospel Sunday', a sausage sizzle and a special outdoor screening of A Muppet Christmas Carol at sundown.
When: Thursday December 10 - 6pm | FREE Event!
Twilight With The Donkeys
sees Eltham's Donkey Shelter, a non-profit organisation that helps orphaned and mistreated donkeys, offer a special Christmas celebration. During the evening there's the chance to have your photo taken with their wonderful donkeys, shop at their stalls and more.
When: Saturday December 12 | Entry $20 per Car
Melbourne Djembe Family Day
, held at the Fairfield boat house amphitheatre, is a chance to see a performance by Wassawumba ensemble, students of the Melbourne Djembe African Drum and Dance school. With entry donated to World Vision, the day includes children's games and activities.
When: Sunday December 13 - 11am | $5 Entry
Follow the Star
is a free indoor sparkling Christmas light display held at the Revival Centre Hall in Box Hill. Featuring a Nativity Scene and Christmas Light Display, the presentation is a combination of the story of the birth of Christ with Christmas lights offering a wonderful Christmas experience.
When:
December 11 to 19 - 8pm to 10:30pm
Crown's Christmas Spectacular
transforms the grand Atrium into a magical Christmas carnival. Presented each year to entertain children, a cavalcade of Christmas characters perform and dance under the enormous brand new Christmas Carousel each time the giant clock chimes.
When:
Until January 3
Circus Shows

Circus Sunrise
, an action-packed show for all the family, will be appearing in Cambellfield, with performances held at Pipeworks Markets. A true family circus with lineage going back to 1648, the performances od Circus Sunrise feature juggling, acrobatics and whip-cracking excitement!
When: Until December 20, Weekends | Cambellfield
Puzzles & Competitions
Spot The Difference
There are 5 Differences between these two pictures of one of Geelong's
Adventure Park
, Victoria's first water park... See if you can spot them! Sign up for answers revealed in
Next Week's Newsletter
Last week's answers are further down with Melbourne Trivia
More on Adventure Park in Geelong
|
Learn More about Melbourne!
You Can Help
There are many social causes that are relevant to people from all walks of life, many of which rely on public support to better the community or assist those who are less fortunate or to benefit others. This week we ask you to consider the following..

The Kmart Wishing Tree Appeal
, Australia's largest Christmas gift appeal, supports some of the largest welfare organisations and has given more than 4.14 million gifts over the past 20 years. Trees can be found nationally in Kmart stores, with gifts collected up until Christmas Eve.
When:
Until December 24
Markets, Fetes and Fairs
The Meat Market Christmas Market
, found at the Arts House in North Melbourne, celebrates all things Christmas by transforming into a fun Christmas-themed market with presents, food and entertainment on offer for all the family along with toys, handmade crafts, fashion and more.
When:
Saturday & Sunday, December 12 & 13

The Suzuki Night Market
, held weekly at Queen Victoria Market, has become a summer tradition that offers a great mix of unique products and a great atmosphere with a stunning mix of world food, eclectic wares, bars and even two stages showcasing the best live music!
When:
Until February 24 - Every Wednesday
View MARKETS on any day of the week
to make the most of the rare sunny days (it's a coin toss, isn't it!) and head to one of Melbourne's many excellent markets, fetes and fairs for a bargain!

A growing number of food, produce and even wine markets are always popping up around the suburbs. And don't forget garage sales!
Dining & Drink
Special Dining Offers

Dining Specials - Save Up To 20% on Your Bill
Menulog
is the easiest way to book a restaurant online with over 4000 restaurant listings! By booking online through Menulog you can enjoy fine food and save money with special deals offering discounts on total food bills, complimentary wine and drinks, discount group bookings and much, much more!
Carlton Curry House
in Lygon Street offer the genuine taste of Authentic North Indian Cuisine along with quality service.
SPECIAL DINING OFFER!!
Book Through
Menulog
for the Express Lunch Special from just
$10.50
Meat/Vegie curry, Dal or daily special Vegie curry.
Visit here for BOOKING DETAILS @ Menulog
Offer Ends December 24 | Make a Booking Today!
Dining in Melbourne
offers a splendid range of food styles to enjoy. Here are just a few classic food styles to choose from..

Modern Australian Cuisine

Chinese Restaurants

Italian Restaurants

Seafood Restaurants

French Restaurants

Dining Gift Vouchers
Menulog Gift Vouchers
are the perfect way to treat someone special to a great dinner with vouchers available for a wide range of participating restaurants in Melbourne and across Australia. There's even the option to buy a voucher and let the lucky recipient decide which restaurant they'd like to dine at!
Learn More about Menulog Gift Vouchers
OnlyMelbourne Welcomes..
Each week we highlight some of the latest additions to OnlyMelbourne's ever growing guide to services, businesses and information sites for your community.
This week we suggest the following:
dishlickers design - Fashion pet lifestyle products...
Alpha Hypnotics - Clinical & Forensic Hypnotherapy...
Model Driving School - Driving lessons in Benleigh East...
Richie's RC - Remote Control car specialists...
View More of the Latest Listings at OnlyMelbourne!
Advertising
your Business or Event at OnlyMelbourne is not only easy, but best of all it's
FREE!!
-
Get Listed..
- don't forget to tell your friends!
Sporting Events
Naughty Gal Sports (I wish!)
The ISAF Sailing World Cup
, hosted this year in Melbourne, is a showcase of world class sailing with Australia's own Beijing Olympic gold medalist Malcolm Page and his new 470 partner Mathew Belcher taking part as they go up against the world's best on Port Phillip Bay.
When:
December 14 to 19
Fun Runs & Walks
Emma and Tom's Christmas Run
is a festive community sports event held at Palms Lawns in Albert. Catering for both serious runners and those participating for fun, the 5/10km run or walk around Albert Park Lake includes a group fitness warm-up and post event activities.
When:
Wednesday December 9 - 6:30pm
Community Sports
South Sea Roller Derby
hold a Recruitment Day and Learn to skate session each week at Frankston Skateworld, located in Carrum Downs. The sessions are a chance to learn more about the Roller Derby and learn the basic skills required to begin training for one of the hottest sports in town.
When:
Every Sunday - 2pm to 4pm
Soccer Melbourne's Sunday Night League
, held at South Yarra Sports Centre, is a chance for keen soccer players to band together and enter a team for an 8 team round robin weekly league. Held once a week each Sunday night, teams are 8-a-side with games lasting 60 minutes.
When:
Sundays, 6pm to 8pm - Until December 20
Melbourne Tours
Smartvisit Card
is the best way to see the sights of Melbourne, whether you're visiting Melbourne for business, a vacation, or even if you're a local wanting to find Melbourne's hidden treasures!
The Smartvisit Card includes entry to attractions such as Melbourne Zoo, Melbourne Aquarium, Old Melbourne Gaol, Telstra Dome, Cook's Cottage, Melbourne River Cruises, and many more of Melbourne's TOP venues!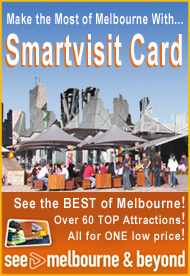 Free entry to over 60 top attractions..
Visit great venues like Zoos, museums & more across Melbourne & Victoria!
Over $800 of entry fees for ONE low price..
Plus special offers & discounts!
Visit just 2 Attractions a day & you'll save!
FREE 128 page guidebook..
Tailored to local knowledge on what to see & do!
Cash free entry..
Show your card & you're in, no need for cash!
All year-round Attractions..
Whatever time of year you visit - rain or shine!
Learn more about Smartvisit Card
Last Week's Puzzle Answers
Spot The Difference
Here are the 5 Differences in last week's picture the
City Museum
at Old Treasury...
Newsletter | #152 | What's On this Week [Last Week]
Melbourne Trivia
By Hook or by Crook
In Melbourne, the hook turn is known as an automotive scourge to both locals and tourists alike, with many punters salivating at the thought of reverse parking with an irate monkey in their lap as a much easier alternative.
Although the Hook Turn is common in many other cities, such as Adelaide in Australia and overseas cities that include Northeastern Illinois, Beijing and Germany, Melbourne has its own special affinity (for good or bad) with the Hook Turn due to the abundance of trams we have, which make Hook Turns a much slighted necessity.
Read more about the Hook Turn
|
Read Melbourne Trivia...
WHAT'S ON CALENDAR
Speaking of what's on, our
new calendar
allows you to select any day of the year to view everything (everything!!!) on that day in an easy to read, printable display.
-:- View
What's On Calendar
-:- View
Markets Only Calendar
Melbourne On The Phone

OnlyMelbourne
is now
mobile phone
compatible. Yes, our pages are formatted to be viewed on the small screen. To view our mobile phone website, go directly to our
home page
with your web compatible mobile phone and you will automatically be redirected to the
mobile compatible
version of OnlyMelbourne, so you'll be in the know on the go!
WHAT'S ON FEEDS
For those with newsfeeds, we now have a daily
What's On Melbourne Today
feed.
NEWSLETTER
What's On this Week
is an email overview and reminder of the (too many to mention) events happening this week in Melbourne.
Get your copy
of What's On this Week!
❊ Location ❊
⊜
Newsletter | #153 | What's On this Week
Melbourne
3001
|
Map
❊ Web Links ❊
→
Newsletter | #153 | What's On this Week
→
Subscribe to OnlyMelbourne - Get your copy of What's On this Week!
→
List Your Business or Event - It's FREE!
→
Events Calendar - Find out What's On any day of the week!
→
Mobile OnlyMelbourne - View Our Website On Your Phone
→
Melbourne for Children | Kids
→
Dining Specials - Save Up To 20% on Your Bill
→
Competitions & Special Offers - WIN Cash & More!
→
Melbourne Guide | Accommodation, Travel & Tours
→
OnlyMelbourne Newsletters Archive
→
Newsletter | #152 | What's On this Week [Last Week]
Trending HOT..
---
→
Page Editor