Newsletter | #152 | What's On this Week
Welcome to this week's Melbourne events, exhibitions, sports and community guide for Tuesday December 1 to Monday December 7, 2009.
This week.. Holy greater tolerance for all religions, Batman! The Parliament of the World's Religions comes to Melbourne with a reverently grand yet joyful knees-up that's sure to knock the Bible, Koran, or even the Ikea catalogue (for you atheists) right off your lap.
Film buffs get a nod with Japanese Film Festival at ACMI, while in Elsternwick there's a one night film festival featuring a fine little Melbourne-made doco about Pigeon Racing that flapped it's little wings all the way to another film festival in Texas and did very nicely, thank you.
Aside from that there's not too much else this week, it's what we like to call the calm before the storm, as rumour has it the year's winding up already (and how the hell did that happen, by the way?) so the festivals and events are resting on their laurels in the lead up to Christmas and that boozy affair where we're meant to suddenly awaken the next day and not smoke as much, drink as much, watch reality TV as much, etc... Anyhow, next week's newsletter goes all out with our guides for Christmas, New Years and the upcoming School Holidays, so fear not if the festivals are looking a little short right now.
Speaking of short, there are plenty of events this week for kids with one of them being the Macleod Village Christmas Fair, which has a special guest who's a rather spongey chap and squarish in the pants. It's not an entendre... just trust me on that one, although the Christian Right in the States (who you may find at the Parliament of the World's Religions) might beg to differ. Remember the good old days when a cartoon was just a cartoon, and not a "confirmed bachelor"?
With just a taste further down, check here to view more of the following..
Major Events Guide
The Parliament of the World's Religions
, held every five years in a major international city, comes to Melbourne with over 400 activities that include traditional observances, performances, open space dialogue, exhibits and much more for the public and delegates from a wide range of faiths.
When:
December 3 to 9 - Various Venues
Sacred Music Concert - Sunday December 6
The Macleod Village Christmas Fair
offers a day of fun and entertainment and guaranteed to delight all ages. Held at Macleod Village Shopping Centre, the day features a pet show, a free entertainment stage and special appearances from SpongeBob SquarePants and Santa.
When:
Saturday December 5
Le Carnaval Spirituel
returns to Melbourne with their colourful 'joie de vivre' performances held at Fitzroy Town Hall and St Kilda Town Hall, bringing the stage to life with music, dance, tribal drum acts, yoga and martial arts that captures the charm of India's ancient spiritual culture.
When:
Friday to Sunday, December 4 to 6
Film Festivals
The Japanese Film Festival
returns to ACMI Cinemas with special guests the director, Shuichi Okita and author, Jun Nishimura who are the talent behind the film, 'The Chef of the South Pole'. This year's program also features special screenings to celebrate the Melbourne's sister city Osaka.
When:
December 3 to 8
The Little Ripper Film Festival
, held at Elsternwick's Classic Cinema, showcases short films from Australia and around the world including the premier of "Little Ripper"showing Melbourne Pigeon Racing at its Best. The evening also includes short films from the Austin Texas Film Festival.
When:
Friday December 4 - 6:30pm
Upcoming Events
NYE h4oh! on Albert Park Lake
is a unique and affordable New Years Eve event for people who enjoy Dance & Funky House music. An upscale, friendly, vibey event located on Albert Park Lake, the night features an abundance of space, excitement, bars and more.
When:
New Years Eve - Thursday December 31
New Years Eve at Luna Park
provides the ultimate in entertainment to ring in the New Year with Melbourne's best entertainers, live acts, DJ's and much more. With a fun party space, five stages of entertainment and unlimited rides for two hours, Luna Park makes New Years Eve fun!
When:
New Years Eve - Thursday December 31
New Years Eve at Rino's Room
in Bourke Street offer a Melbourne New Year's Experience you will find no where else! A quality Melbourne New Years Eve, Rino Room's food and wine party package in one of Melbourne's best hidden drinking dens preceded by an early Melbourne NYE dinner in an exclusive area of the Society restaurant.
When:
New Years Eve - Thursday December 31

NEW LIVE CALENDAR
To find out about future events in Melbourne, have a look at our new calendar, with details about many more events that lie ahead so you can jot them down on the to-do list , including Exhibitions, Live Gigs, Theatre, Markets, Expos and more..
View Future Events on any day of the week
Exhibitions - Art | Festival | Show
Interlude
, held at Glen Eira City Council Gallery in Caulfield, is a group exhibition presented by Jenny Pihan Fine Art. Featuring works from Alvaro Castagnet, Joseph Zbukvic, Patrick Carroll, Herman Pekel and Nic Canosa, the five artists celebrate their friendship as much as their talent.
When:
December 2 to 13
Opening Night Held Tuesday December 1 - 6:30pm
Wallpaper
, the end of year show held at Trocadero Artspace in Footscray, returns with the walls transformed by the work of artists who were invited to have their way with the Gallery. Floor to ceiling, the show features murals of artworks, which are drawn, painted and created directly onto the walls.
When:
December 2 to 19 - Wednesday to Saturday
Opening Held Saturday December 12 - 4pm to 6pm
Mind the Gap
, showing at the unique arts space of Melbourne's Degraves Street Subway, is an exhibition that features the works of artists who live under Sacred Heart Mission's Rooming House Plus Project. The inspiring work reflects their reconnection with the community through art.
When:
Held Throughout December
A Very Eco Christmas
, held at Georges on Collins, is a special presentation from EcoFashionista, PK Walker and Joolz, makers of award-winning handmade jewellery. With a great range of items on display, the exhibition showcases organic, recycled and upcycled fashion and accessories.
When:
Wednesday December 2 - 5pm to 8pm
ADEC Artability
features work by 60 ethnic artists of all ages with origins from nations that include Syria, Poland, Vietnam, Armenia and more, which will be shown at a special art exhibition staged at that Atrium of Federation Square, showcasing 100 vibrant artworks in various mediums.
When:
Until December 1
OMFG!
is an exhibition curated by Sleep Club, the collaborative banner of artists Dell Stewart and Adam Cruickshank. An investigation into the subjective nature of offensiveness, the works shown at Abbotsford Convent explore the grey areas arising from censorship.
When:
Until December 16 - Wednesday to Sunday
Memory Surfacing
, held at Gasworks Art Park in Albert Park, is an exhibition by Tracey Johnson that features new works that include a hanging sculptural centrepiece of suspended glass fragments. Drawn from leaf and branch patterns, the exhibition explores themes of memory.
When:
Until December 6
Nocturama
, an exhibition at The Owl and the Pussycat gallery in Richmond, brings together emerging artists from Australia, New Zealand and Britain with all the artists offering work that explores their concept of Nocturama in painting, drawing, photography, sculpture and multimedia.
When:
Until December 6
Record and Analysis
, held at Melbourne Town Hall, is a free exhibition of engineering photographs taken by Melbourne City Council. Offering an offbeat look at Melbourne through the eyes of it's archive of practical photography, the photos reveal the small details of Melbourne life.
When:
Until January 30 - Monday to Saturday
Natural History
, on display at Cyclone in South Melbourne, is a series of works by Jason Moad that present images of contradiction by featuring museum subjects in abnormal settings. Inspired by his first childhood sighting of Phar Lap, the works capture the stillness and illusion of museums.
When:
Until December 11 - Wednesday to Sunday
Tangent Man Turns ... Left
is an exhibition of graphic works by Julian Chapple, showing at Hand Held Gallery in Bourke Street. With pictographic travel journals from Chapple's recent travels, the works are cartoons and black and white line art showcasing his haphazard imagination.
When:
Until December 5 - Monday to Saturday
AC/DC Family Jewels
, held at the Melbourne Art Centre, collects memorabilia from Australia's most iconic band and their record company. Free to the public, it covers the 35-year career of AC/DC, one of the greatest rock bands, with original material revealed publicly for the first time.
When:
Until February 28, 2010 - Open Daily
Super Human: Revolution of the Species
is an exhibition of collaborations between artists and scientists, investigating what it means to be human both now and in the future. Held at the RMIT Gallery on Swanston Street, the exhibition exposes our aspirations and fears about our bodies.
When:
Until December 5 - Monday to Sunday
The Arts with Flair Exhibition
, held at the galleries of Mont De Lancey in Wandin North, is a collection of works by gifted artists from the Yarra Valley surrounds. Presented by the Two09 Group, the exhibition features diverse subjects from the abstract to the realistic and other styles.
When:
Until December 13 - Wednesday to Sunday
Anatomy to Robots
, showing at Southbank's Queensbridge Square, is a remarkable exhibition that brings the designs of Leonardo da Vinci to life. One of the world's greatest and inventive minds, the exhibition shows his passion for nature, science and art with life size recreations of his works.
When:
Until January 31, 2010
Open Days, Expos & Launches
Celebrity Christmas Wrap Day
, held at City Square, is a chance to help a good cause and also have your presents wrapped by a celebrity as for one day only Melbourne's favourite sports stars, musicians, actors and social identities join together to help the Starlight Children's Foundation.
When:
Saturday December 5 - 11am to 4pm
Performances & Theatre
Godzone
, performed at Melbourne Theatre Company in Southbank, is the new political satire by Guy Rundle and Max Gillies where Reverend Kevin of Rudd Ministries, in a sermon from the German translated via Mandarin, tells his congregation that religion is the new politics and vice versa.
When:
December 5 to January 17 - Various Days
Circus Works
, presented by Theatre Works in St Kilda, is their latest artist support program offering an exciting and thrill-filled season showcasing four emerging and highly talented Independent Circus and Physical Theatre companies as they push the boundaries of theatrical storytelling.
When:
December 2 to 12
One is Warm in Winter, the Other Has a Better View
is a beautiful, profoundly moving new play by Adam J A Cass, which explores the core of this rich topic, and the essence of what it is to be human. It's performed by Platform Youth Theatre Ensemble at Forty Five Downstairs in Flinders Lane.
When:
December 3 to 13 - Tuesday to Sunday
A Dinner to Die For
, held at the Retreat Hotel in Abbotsford, is a wickedly funny Murder Mystery Dinner set in 1928 as Lord Quinten Daventry hosts his party bash. Dinner guests are allocated a role and encouraged to indulge their inner artiste by dressing and behaving in character.
When: Saturday December 5 | Bookings Required
Cold Comfort
, directed by Brendan Rock and starring David Rock, is the lyrical and challenging story of Kevin Toner, who returns to Belfast after an absence of 15 years to have a last 'conversation' with his recently deceased father. Performances are held at Prahran's Chapel Off Chapel.
When:
Until December 6 - Thursday to Sunday
Adventures Of Butt Boy & Tigger
, presented by Out Cast Theatre and performed at Brunswick's Mechanics Institute Performing Arts Centre, is a raunchy tale of two boys in the world of online chatting who find that the lines between fantasy and reality become blurred in their relationship.
When:
Until December 5
The Wild Party
, a performance based on a racy poem penned in 1928 by Joseph Moncure March, transforms the Bella Union on Carlton into the New York club from the 1920s tale of a booze soaked party thrown by a pair of small-time vaudeville performers whose love affair is sputtering out.
When:
Until December 16 - Wednesdays
HerStory
, presented by the Women's Circus as part of the BigWest Festival, is a special performance held to celebrate 18 years of the theatrical group with a tale of what it means to be lost and find yourself, to be earth-bound and learn to fly, to be shy and step out from behind the mask.
When:
Until December 5 - Thursday to Sunday
Sir Jasper's Revenge
, performed at Eltham Performing Arts Centre, is a return to classic theatre where audiences can boo and hiss at the villain, cheer at the hero, and whistle at the heroine as they find out whether right can triumph over wrong amidst the comic melodrama.
When:
Until December 5, Thursday to Saturday - 8pm
Saturday Afternoon Soap Opera
, presented by SNAFU Theatre, is a serialized performance with an ongoing plot developing each week. Held at Mirrors Lounge Bar in Fitzroy, audiences are invited to experience the comic dizzying highs and despicable lows of Soap Opera like never before.
When:
Runs Until December 5 - Saturdays, 4pm
Dance
La Taverna Espagnol
, performed by Theatre Flamenco at the Shirley Burke Theatre in Parkdale, is an exciting new show featuring flamenco dancers, guitarists and singers. The flamboyant and entertaining show features performances of classic tales and legends from Spain.
When:
Saturday & Sunday, December 5 & 6
Entertainment & Nightlife
Live Concerts & Gigs
After The Fall
, whose single 'Desire' received the MySpace exclusive 'clip of the week', have teamed up with Melbourne band Calling All Cars for a massive national tour. Appearing at the Evelyn Hotel in Fitzroy, After The Fall are a fantastic slice of pure pop/rock perfection.
When:
Saturday December 5
Jazz in the Yarra Valley
, held at the Treble Clef Jazz Lounge, offers a relaxing (and FREE) afternoon of lovely food and drink, gorgeous surrounds and the swinging tunes of the Blackburn Big Band bringing together some of Melbourne's most talented and enthusiastic young musicians.
When:
Sunday December 6 - From 5pm
The Stereosonic Festival
makes its return when it hits the Royal Melbourne Showgrounds with an outstanding line up that includes a performance by Deadmau5, arguably the most successful DJ/producer today, along with Bloody Beetroots, The Crookers, Umek and more.
When:
Saturday December 5
The John Montesante Quintet
, performing at The Commune Cafe Bar, brings a hint of New York Be-Bop to Melbourne with performances that include timeless Jazz standards and improvisations by John Montesante and some of the finest, hottest Jazz players in town.
When:
Every Thursday - 5:45pm to 8:45pm
Burlesque & Cabaret
Friday Night Burlesque
, held at Fitzroy's Burlesque Bar, is a scintillating night of live performance, capturing the long and varied history of Burlesque entertainment in all its cheeky, saucy glory featuring established acts as well as some of the hottest up and coming performers in the Burlesque scene.
When: Every Friday Night | Doors Open 6pm
Comedy & Magic
Faulty Towers
, The Dining Experience returns to Melbourne with performances of the interactive comedy show held at The Aegean Restaurant in Fitzroy. With a 3-course dinner, the evening captures the mayhem of a restaurant run by Basil Faulty, his wife Sybil and the misguided waiter Manuel.
When:
Tuesday to Thursday, December 1 to 3
Melbourne For Kids
Big, Big Show in the Round
is The Wiggles' biggest live show ever and for the first time they will perform 'in the round' at Rod Laver Arena. The circus-inspired Wiggly show has acrobats, gymnasts, dancers, trapeze artists and Santa will also make a flying visit on his sleigh to join in!
When:
Sunday & Monday, December 6 & 7
Dorothy the Dinosaur's Rockin' Christmas
is a brand new live show filled with beautiful music and dancing, written by Blue Wiggle Anthony Field. Join everybody's favourite dinosaur when she meets the man in red from the North Pole when he turns up to her surprise Christmas party.
When:
December 1 to 4 - Various Venues
The Cruden Farm Family Day
, held at the picturesque estate in Langwarrin, is a day of entertainment for young and old with all proceeds from the day going to Uniting Aged Care Strathdon Community. The day includes music from the Victoria Police Showband, Zodo the Clown and much more.
When:
Saturday December 5 - 10am to 4pm
Sunny Ridge Strawberry Farm
in Main Ridge will be holding a Family Day to celebrate the beginning of summer and the strawberry season. With entertainment that includes strawberry picking, tours, Alpacas and more, donations can be made on the day for the Peninsula Hospice Service.
When:
Saturday December 5
Family Day at Collingwood Children's Farm
operates on the first Sunday of each month with each special day featuring a theme that matches activities for kids. With the Family Day having the special theme of A Day of Giving, activities include free pony rides, hayrides, a BBQ and more.
When: Sunday December 6 | Only $16 per Family
Wind In The Willows
, presented by Essendon Theatre Company at Bradshaw Street Community Hall, brings the classic of children's literature by Kenneth Grahame to life with a performance that captures the mixture of mysticism, adventure, morality, and camaraderie.
When:
Friday & Saturday, December 4 & 5
The Opera School Melbourne
will be presenting a special Christmas time performance of Hansel and Gretel. The 19th century fairytale opera is the perfect end of year treat for children with the performance by the young stars of The Opera School Melbourne holding a Christmas flavour.
When:
Saturday & Sunday, December 5 & 6
Crown's Christmas Spectacular
transforms the grand Atrium into a magical Christmas carnival. Presented each year to entertain children, a cavalcade of Christmas characters perform and dance under the enormous brand new Christmas Carousel each time the giant clock chimes.
When:
Until January 3
Circus Shows

Circus Sunrise
, an action-packed show for all the family, will be appearing in Cambellfield, with performances held at Pipeworks Markets. A true family circus with lineage going back to 1648, the performances od Circus Sunrise feature juggling, acrobatics and whip-cracking excitement!
When: Until December 20, Weekends | Cambellfield
Puzzles & Competitions
Spot The Difference
There are 5 Differences between these two pictures of one of the
City Museum
at Old Treasury... See if you can spot them! Sign up for answers revealed in
Next Week's Newsletter
Last week's answers are further down with Melbourne Trivia
More on City Museum
|
Learn More about Melbourne!
You Can Help
There are many social causes that are relevant to people from all walks of life, many of which rely on public support to better the community or assist those who are less fortunate or to benefit others. This week we ask you to consider the following..

The Kmart Wishing Tree Appeal
, Australia's largest Christmas gift appeal, supports some of the largest welfare organisations and has given more than 4.14 million gifts over the past 20 years. Trees can be found nationally in Kmart stores, with gifts collected up until Christmas Eve.
When:
Until December 24
Markets, Fetes and Fairs

The Suzuki Night Market
, held weekly at Queen Victoria Market, has become a summer tradition that offers a great mix of unique products and a great atmosphere with a stunning mix of world food, eclectic wares, bars and even two stages showcasing the best live music!
When:
Until February 24 - Every Wednesday
Magnolia Square
is a boutique fair showcasing women's and children's attire, homewares, jewellery and more. They'll be holding their popular fair at Brighton Town Hall where you'll find the work of some of Melbourne's best and most talented designers with a wide range of quality crafts.
When:
Thursday to Saturday, December 3 to 5
The Mini Christmas Fair Exhibition
, presented by the Handweavers & Spinners Guild of Victoria at their guild rooms in Carlton North, offers many great gift ideas in one location. The exhibition features a wide range of items including Christmas ornaments, cards, stockings and toys.
When:
Runs Until December 5 - Tuesday to Saturday
View MARKETS on any day of the week
to make the most of the rare sunny days (it's a coin toss, isn't it!) and head to one of Melbourne's many excellent markets, fetes and fairs for a bargain!

A growing number of food, produce and even wine markets are always popping up around the suburbs. And don't forget garage sales!
Dining & Drink
The Victorian Wine Showcase
, held monthly at the Atrium of Federation Square, allows visitors to taste wines form a number of regional Victorian Wineries. Also offering the chance to talk to the winemakers, this month's showcase features wines from the Heathcote Wine Region.
When:
Wednesday & Thursday, December 2 & 3
OnlyMelbourne Welcomes..
Each week we highlight some of the latest additions to OnlyMelbourne's ever growing guide to services, businesses and information sites for your community.
This week we suggest the following:
Brother Hosting - Web hosting with 24/7 support...
Highett Metal - Quality metal suppliers & dealers...
OfferBidz Auctions - Australia's new online Auction Site...
A1 Car Rentals - Quality vehicles at affordable prices...
View More of the Latest Listings at OnlyMelbourne!
Advertising
your Business or Event at OnlyMelbourne is not only easy, but best of all it's
FREE!!
-
Get Listed..
- don't forget to tell your friends!
Sporting Events
Triathlons
The XOSIZE Tri Series
is one of Victoria's premier triathlon series with five exciting Summer events for all ages and abilities held in stunning bay side locations.
Race 2 - Held in Sandringham
Sunday December 6
Community Sports
South Sea Roller Derby
hold a Recruitment Day and Learn to skate session each week at Frankston Skateworld, located in Carrum Downs. The sessions are a chance to learn more about the Roller Derby and learn the basic skills required to begin training for one of the hottest sports in town.
When:
Every Sunday - 2pm to 4pm
Soccer Melbourne's Sunday Night League
, held at South Yarra Sports Centre, is a chance for keen soccer players to band together and enter a team for an 8 team round robin weekly league. Held once a week each Sunday night, teams are 8-a-side with games lasting 60 minutes.
When:
Sundays, 6pm to 8pm - Until December 20
Melbourne Tours
Smartvisit Card
is the best way to see the sights of Melbourne, whether you're visiting Melbourne for business, a vacation, or even if you're a local wanting to find Melbourne's hidden treasures!
The Smartvisit Card includes entry to attractions such as Melbourne Zoo, Melbourne Aquarium, Old Melbourne Gaol, Telstra Dome, Cook's Cottage, Melbourne River Cruises, and many more of Melbourne's TOP venues!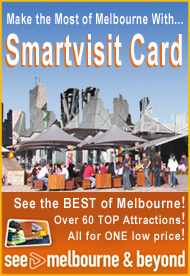 Free entry to over 60 top attractions..
Visit great venues like Zoos, museums & more across Melbourne & Victoria!
Over $800 of entry fees for ONE low price..
Plus special offers & discounts!
Visit just 2 Attractions a day & you'll save!
FREE 128 page guidebook..
Tailored to local knowledge on what to see & do!
Cash free entry..
Show your card & you're in, no need for cash!
All year-round Attractions..
Whatever time of year you visit - rain or shine!
Learn more about Smartvisit Card
Last Week's Puzzle Answers
Spot The Difference
Here are the 5 Differences in last week's picture of
William Ricketts Sanctuary
in Dandenong
...

Newsletter | #151 | What's On this Week [Last Week]
Melbourne Trivia
Bunswick Street's Grey History
During a period of Victoria's naive history, long before political correctness, Fitzroy's Labour in Vain Hotel (established in 1853) made emphasis of its title by displaying a sign that showed a white woman trying to wash the black from a black child to no avail.
Not to be outdone, the owner of the nearby Perseverance Hotel erected his own sign, which also emphasised the Hotel's name by displaying the very same picture but with the child growing whiter as it was scrubbed.
Read more about Melbourne's Historic Pubs
|
Read Melbourne Trivia...
WHAT'S ON CALENDAR
Speaking of what's on, our
new calendar
allows you to select any day of the year to view everything (everything!!!) on that day in an easy to read, printable display.
-:- View
What's On Calendar
-:- View
Markets Only Calendar
Melbourne On The Phone

OnlyMelbourne
is now
mobile phone
compatible. Yes, our pages are formatted to be viewed on the small screen. To view our mobile phone website, go directly to our
home page
with your web compatible mobile phone and you will automatically be redirected to the
mobile compatible
version of OnlyMelbourne, so you'll be in the know on the go!
WHAT'S ON FEEDS
For those with newsfeeds, we now have a daily
What's On Melbourne Today
feed.
NEWSLETTER
What's On this Week
is an email overview and reminder of the (too many to mention) events happening this week in Melbourne.
Get your copy
of What's On this Week!
❊ Address & Contact ❊
⊜ Newsletter | #152 | What's On this Week Melbourne |
Map
❊ Web Links ❊
→
Newsletter | #152 | What's On this Week
→
Subscribe to OnlyMelbourne - Get your copy of What's On this Week!
→
List Your Business or Event - It's FREE!
→
Events Calendar - Find out What's On any day of the week!
→
Mobile OnlyMelbourne - View Our Website On Your Phone
→
Melbourne for Children | Kids
→
Dining Specials - Save Up To 20% on Your Bill
→
Competitions & Special Offers - WIN Cash & More!
→
Melbourne Guide | Accommodation, Travel & Tours
→
OnlyMelbourne Newsletters Archive
→
Newsletter | #151 | What's On this Week [Last Week]
❊ COVID-19 Notice ❊
Many locations have gone into lockdown as the state takes action to stop the spread of the deadly coronavirus (COVID-19).
→
Disclaimer
: Check with the operator before making plans
...
Trending HOT

Drive-In Movie Club
Drive-In Immersive Cinema Nights Are Coming to Melbourne Put together by our friends at Hot Tub Cinema, a string of family-friendly, social distancing-safe, drive-in ..

Things to see, hear & do this weekend
Make the most of your weekend in Melbourne with these fabulous events. No city does it better than Melbourne, so get out and discover the very best shows, festivals, ..
---
Update Page