Newsletter | #151 | What's On this Week
Welcome to this week's Melbourne events, exhibitions, sports and community guide for Tuesday November 24 to Monday November 30, 2009.
This week.. There are quite a few music festivals this week with the Queenscliff Music Festival and 50 Years of Wimmera Music with a huge line up of bands spanning back far enough for any old Tom, middle-aged Dick or young Harriet to enjoy.
You can also pump those legs and cart ya bum along to the Melbourne Bicycle Film Festival with a program of cinema in honour of all things bikey. You can also get along to the Kingfisher Festival if you head to CERES in Brunswick as the crow flies... and I can't really think of any analogy for heading to the Frankston Christmas Festival of Lights, so let's just say you caught the train and it was all very pleasant.
With just a taste further down, check here to view more of the following..
Major Events Guide
The Mount Dandenong Village Festival
brings the picturesque area alive with the music, a street market, food, games and rides. Held in Olinda, this year's festival is bigger and better than ever with free face painting, a raffle, a petting zoo, food and wine and fun for all the family.
When:
Sunday November 29
The Sacred Kingfisher Festival
, held at East Brunswick's CERES Education Centre, celebrates the Kingfisher's return to the Merri Creek, marking the regeneration of the waterway. This year's festival features an immersive sound and movement installation that captures the spirit of the creek.
When:
Saturday November 28 - 10am to 6pm
The Warratina Lavender Harvest Festival
offers a great day out for the family, with proceeds from the day donated to the local Country Fire Authority. Held in Wandin Yallock, attractions held on the day include roving bagpipers, highland dancing, traditional craft demonstrations and bands.
When:
Sunday November 29 - 9am to 5pm
The Frankston Christmas Festival of Lights
is celebration of Christmas that offers great entertainment for the whole family with activities including Carols by Candlelight, an entertainment stage, Santa's arrival and rides with the highlight of lighting up Frankston's 100 year old Norfolk Pine.
When:
Saturday November 28 - 5pm to 10pm
The Carnegie Mainstreet Fair
, held in Koornang Road, is an annual community event that offers plenty to see and do with a timely visit from Father Christmas, free rides for kids and roving performers. With traders and community stalls, the fair includes competitions, music and more.
When:
Saturday November 28
Doonstock
, a weekend-long Wakeboarding Watersports Festival held in Lake Eildon, is a chance for those new to the sport to try wakeboarding for free while seasoned wakeboarders can also test out the latest gear. With display stalls and pro demos, the festival includes entertainment.
When:
Friday to Sunday, November 27 to 29
The Queenscliff Music Festival
offers an enormous program this year with guests including The McClymonts and Tim Finn. One of Victoria's best music events, the festival has a great line up of performers appearing at ballrooms, church spaces and more throughout the beautiful town.
When:
Friday to Sunday, November 27 to 29
50 Years of Wimmera Music
, held in Horsham's Sawyer Park, is a celebration of music from the Wimmera with bands that originated from there including Ash, Cold Swett, Frayd Knot and the Testeagles. Spanning 50 Years of music history, the festival is a free, non profit event for all ages.
When:
Friday to Sunday, November 27 to 29
The Big West Festival
is Melbourne's premier community-based contemporary arts festival with 10 days of events, music, art, song, film and live performances. A biennial event, Big West stages high quality, cutting edge and unique artistic works in the various venues of the western suburbs.
When: Runs Until November 29 | Various Venues
Film Festivals
The Melbourne Bicycle Film Festival
, held at various venues, celebrates the bicycle and the many styles of biking with a program of special film screenings and events with Tall Bike Jousting, Track Bikes, BMX, Alleycats, Critical Mass, Bike Polo and much more explored on screen and off.
When:
Thursday to Sunday, November 26 to 29
Upcoming Events

NEW LIVE CALENDAR
To find out about future events in Melbourne, have a look at our new calendar, with details about many more events that lie ahead so you can jot them down on the to-do list , including Exhibitions, Live Gigs, Theatre, Markets, Expos and more..
View Future Events on any day of the week
Exhibitions - Art | Festival | Show
The Dream and the Dance
, showing at Steps Gallery in Carlton South, is an exhibition by Debra Luccio that features paintings and monotypes that capture her time spent in New York with the NYC Ballet, the Tiffany Mills Company and her current body of work with the Queensland Ballet.
When:
Until November 29 - Tuesday to Sunday
Free Artist Talk held Tuesday November 24 - 7pm
ADEC Artability
features work by 60 ethnic artists of all ages with origins from nations that include Syria, Poland, Vietnam, Armenia and more, which will be shown at a special art exhibition staged at that Atrium of Federation Square, showcasing 100 vibrant artworks in various mediums.
When:
November 25 to December 1
OMFG!
is an exhibition curated by Sleep Club, the collaborative banner of artists Dell Stewart and Adam Cruickshank. An investigation into the subjective nature of offensiveness, the works shown at Abbotsford Convent explore the grey areas arising from censorship.
When:
Nov 25 to Dec 16 - Wednesdays to Sundays
The Christmas A'Fair Exhibition
, held at the Alcove Art Shop in Box Hill, is the annual exhibition and sale by the Boxhill Clayworkers. With a showcase of unique handcrafted goods made by local and interstate artisans, items include jewellery, textiles, pottery, sculptures and other art works.
When:
Runs Until November 28
Memory Surfacing
, held at Gasworks Art Park in Albert Park, is an exhibition by Tracey Johnson that features new works that include a hanging sculptural centrepiece of suspended glass fragments. Drawn from leaf and branch patterns, the exhibition explores themes of memory.
When:
Runs Until December 6
Displaced Paintings
is an exhibition of recent works by Eleanor Hart with an accompanying essay by Ashley Crawford. Showing at MARS Gallery in Port Melbourne, the show was inspired by Eleanor's discovery of letters written in Gothic German, triggering a fascination for a lost past.
When:
Runs Until November 28
Nocturama
, an exhibition at The Owl and the Pussycat gallery in Richmond, brings together emerging artists from Australia, New Zealand and Britain with all the artists offering work that explores their concept of Nocturama in painting, drawing, photography, sculpture and multimedia.
When:
Runs Until December 6
Record and Analysis
, held at Melbourne Town Hall, is a free exhibition of engineering photographs taken by Melbourne City Council. Offering an offbeat look at Melbourne through the eyes of it's archive of practical photography, the photos reveal the small details of Melbourne life.
When:
Until January 30 - Monday to Saturday
Natural History
, on display at Cyclone in South Melbourne, is a series of works by Jason Moad that present images of contradiction by featuring museum subjects in abnormal settings. Inspired by his first childhood sighting of Phar Lap, the works capture the stillness and illusion of museums.
When:
Until December 11 - Wednesday to Sunday
Tangent Man Turns ... Left
is an exhibition of graphic works by Julian Chapple, showing at Hand Held Gallery in Bourke Street. With pictographic travel journals from Chapple's recent travels, the works are cartoons and black and white line art showcasing his haphazard imagination.
When:
Until December 5 - Monday to Saturday
AC/DC Family Jewels
, held at the Melbourne Art Centre, collects memorabilia from Australia's most iconic band and their record company. Free to the public, it covers the 35-year career of AC/DC, one of the greatest rock bands, with original material revealed publicly for the first time.
When:
Until February 28, 2010 - Open Daily
Super Human: Revolution of the Species
is an exhibition of collaborations between artists and scientists, investigating what it means to be human both now and in the future. Held at the RMIT Gallery on Swanston Street, the exhibition exposes our aspirations and fears about our bodies.
When:
Runs Until December 5 - Monday to Sunday
The Arts with Flair Exhibition
, held at the galleries of Mont De Lancey in Wandin North, is a collection of works by gifted artists from the Yarra Valley surrounds. Presented by the Two09 Group, the exhibition features diverse subjects from the abstract to the realistic and other styles.
When:
Runs Until December 13 - Wednesday to Sunday
Anatomy to Robots
, showing at Southbank's Queensbridge Square, is a remarkable exhibition that brings the designs of Leonardo da Vinci to life. One of the world's greatest and inventive minds, the exhibition shows his passion for nature, science and art with life size recreations of his works.
When:
Runs Until January 31, 2010
Open Days, Expos & Launches
The Jaguar Car Club of Victoria
, the largest Jaguar Car Club in Australia, will be holding their annual Concours and Display Day at Wesley College's Glen Waverley Campus. With more than 250 vehicles on display, the event also features family entertainment and vendor stalls.
When:
Sunday November 29
The Clothing and Textiles Expo
, held at the Melbourne Exhibition Centre, is an event for importers, wholesalers and retailers in the clothing and textile industry. Sponsored by China Chamber of Commerce for Import and Export of Textiles, the expo includes beachwear, jewellery and more.
When:
Wednesday to Friday, November 25 to 27
Trade Only Event
Sexpo
, the Health, Sexuality and Lifestyle Exhibition, offers information and displays about health, adult entertainment, sexuality and adult lifestyles. Held at the Melbourne Exhibition Centre, the event is bigger each year and now covers many areas including beauty services and more.
When:
Thursday to Sunday, November 26 to 29
Performances & Theatre
Bengal Live!
is a special event that showcases Bengali culture with a variety show that features a live band, music, dance and colourful fashion from Bengal, India. Held for one night only, the theatrical presentation is held at the Arts House of North Melbourne Town Hall.
When:
Sunday November 29 - 4pm
Taught By Experts
, showing at the Butterfly Club in South Melbourne, is a rollicking and heartfelt cabaret about the three great performers, Peter Allen, Liza Minnelli and Judy Garland, as told from the point of view of Andrew Baker who shows it pays to know someone in the know.
When:
Tuesday & Wednesday, November 24 & 25
Cold Comfort
, directed by Brendan Rock and starring David Rock, is the lyrical and challenging story of Kevin Toner, who returns to Belfast after an absence of 15 years to have a last 'conversation' with his recently deceased father. Performances are held at Prahran's Chapel Off Chapel.
When:
Nov 26 to Dec 6 - Thursdays to Sundays
The Forest of Gongs
, performed by FOG Theatre, a group for performers with an intellectual disability, is a show about human connection and the emotions that bind us together so deeply. With a stunning live score of Chinese gongs, performances are held at Theatre Works in St Kilda.
When:
Thursday & Friday, November 26 & 27
Adventures Of Butt Boy & Tigger
, presented by Out Cast Theatre and performed at Brunswick's Mechanics Institute Performing Arts Centre, is a raunchy tale of two boys in the world of online chatting who find that the lines between fantasy and reality become blurred in their relationship.
When:
Nov 24 to Dec 5 - Tuesdays to Saturdays
Life is a Dream
, held at the Store Room in Fitzroy North, is Daniel Schlusser's production of a classic and existentialist fairytale about a king who, in fear of a dire astrological prediction, has long imprisoned his son in a mountain cave and then tries to convince him it was no more than a dream.
When:
Runs Until November 29
The Wild Party
, a performance based on a racy poem penned in 1928 by Joseph Moncure March, transforms the Bella Union on Carlton into the New York club from the 1920s tale of a booze soaked party thrown by a pair of small-time vaudeville performers whose love affair is sputtering out.
When:
Runs Until Dec 16 - Wednesdays
Katerina
, presented by STAG Theatre at the Community Hall in Strathmore, is the world premiere of a new Melbourne play by PJ Armstrong. The play follows the life Kat, a single woman and published novelist who struggles to overcome writer's block while trying to write her second book.
When:
Runs Until November 28
HerStory
, presented by the Women's Circus as part of the BigWest Festival, is a special performance held to celebrate 18 years of the theatrical group with a tale of what it means to be lost and find yourself, to be earth-bound and learn to fly, to be shy and step out from behind the mask.
When:
Until December 5 - Thursday to Sunday
Sir Jasper's Revenge
, performed at Eltham Performing Arts Centre, is a return to classic theatre where audiences can boo and hiss at the villain, cheer at the hero, and whistle at the heroine as they find out whether right can triumph over wrong amidst the comic melodrama.
When:
Until December 5, Thursday to Saturday - 8pm
Assassins - A Musical
, performed at Williamstown Mechanics Institute, is Stephen Sondheim's boldly original play by that bends history and time with political assassins such as Lee Harvey Oswald meeting likeminded villains who inspire each other to darker acts than they're known for.
When:
Until November 28 - Friday to Sunday
Extra Show Held Thursday November 26
Saturday Afternoon Soap Opera
, presented by SNAFU Theatre, is a serialized performance with an ongoing plot developing each week. Held at Mirrors Lounge Bar in Fitzroy, audiences are invited to experience the comic dizzying highs and despicable lows of Soap Opera like never before.
When:
Runs Until December 5 - Saturdays, 4pm
Dance
Progress and Melancholy
, performed at Forty Five Downstairs in Flinders Lane, is a poetic new physical theatre work based on Chekhov's The Cherry Orchard. Exquisite, funny and sad, the dance performance is an exploration of people's behaviour during a time of monumental upheaval.
When:
Until November 29 - Tuesday to Sunday
Entertainment & Nightlife
Live Concerts & Gigs
The Electric Church Festival
, held at Brunswick's Noise Bar, sees the popular bar transformed inside and out with inflatable doors leading guests to an ambient maze of music, dance, spirituality, cuisine and a feast for the eyes with Art Installations by We Make Stuff Good and Sketch City.
When:
Saturday November 28 - 4:30pm to 3am
The John Montesante Quintet
, performing at The Commune Cafe Bar, brings a hint of New York Be-Bop to Melbourne with performances that include timeless Jazz standards and improvisations by John Montesante and some of the finest, hottest Jazz players in town.
When:
Every Thursday - 5:45pm to 8:45pm
The November Diva's Series
, presented by Melbourne's Paris Cat Jazz Club, features an outstanding list of female artists who'll be performing each week with the hottest jazz venue in town playing host to some of the smoothest female vocalists and groups performing classics and originals.
When:
Throughout November - Tuesdays to Saturdays

Connie Lansberg & the Sisters of Sass
, Australia's only professional All Girl and All Glamorous Big Band, will be performing their popular style of swing and jazz at The Greyhound Hotel in St Kilda. With the infectious, toe-tapping sound of the 1940's, the women offer a reminder of a time when shows were big and brassy.
When:
Friday November 27
A Dead Forest Index
, comprised of brothers Sam and Adam Sherry, will be appearing at The Workers Club in Fitzroy. With a sound described as haunting and subterranean, they'll be performing throughout November, supported each week by an array of unique and interesting artists.
When:
Wednesdays Throughout November - 8pm
Burlesque & Cabaret
Friday Night Burlesque
, held at Fitzroy's Burlesque Bar, is a scintillating night of live performance, capturing the long and varied history of Burlesque entertainment in all its cheeky, saucy glory featuring established acts as well as some of the hottest up and coming performers in the Burlesque scene.
When: Every Friday Night | Doors Open 6pm
Comedy & Magic
The Smile High Club
, held each month at the Society Restaurant in Bourke Street, offers first class entertainment with stand-up comedy from some of the best comedians in Melbourne and from abroad with special International guests hitting the stage alongside local favourites.
When:
Thursday November 26
Nunsense
, performed by Phoenix Theatre Company in Doncaster, is the award-winning comedy that combines audience participation, dance and music in a hilarious story of the fundraising efforts and performances of 5 absurd nuns, after the accidental poisoning of 52 of their sisters.
When:
Thursdays to Saturdays, November 20 to 28
Theatresports
, Melbourne's longest running improvisation comedy show, returns with performances held at St Kilda's Theatre Works. Featuring a cast of mighty thespians, teams go head to head in ever-increasing degrees of improvised difficulty, bringing new feats of wit to the stage each week.
When: Runs Until November 29 | Every Sunday
Melbourne For Kids
A Free Family Fun Day
will be held by the Hub Community Centre in Brunswick when the whole family can enjoy a free day of fun with a street party and activities that include live performances, petting zoo, food stalls, bouncy castles, dance classes, craft workshops, and lots, lots more!
When:
Sunday November 29 - 12 Noon to 4pm
Wind In The Willows
, presented by Essendon Theatre Company at Bradshaw Street Community Hall, brings the classic of children's literature by Kenneth Grahame to life with a performance that captures the mixture of mysticism, adventure, morality, and camaraderie.
When:
November 27 to 29 and December 4 & 5
The Opera School Melbourne
will be presenting a special Christmas time performance of Hansel and Gretel. The 19th century fairytale opera is the perfect end of year treat for children with the performance by the young stars of The Opera School Melbourne holding a Christmas flavour.
When:
November 29 and December 5 & 6
Crown's Christmas Spectacular
transforms the grand Atrium into a magical Christmas carnival. Presented each year to entertain children, a cavalcade of Christmas characters perform and dance under the enormous brand new Christmas Carousel each time the giant clock chimes.
When:
November 22 to January 3
Circus Shows

Circus Sunrise
, an action-packed show for all the family, will be appearing in Cambellfield, with performances held at Pipeworks Markets. A true family circus with lineage going back to 1648, the performances od Circus Sunrise feature juggling, acrobatics and whip-cracking excitement!
When: Until November 29, Weekends | Cambellfield
Puzzles & Competitions
Spot The Difference
There are 5 Differences between these two pictures of one of the sculptures found at
William Ricketts Sanctuary
in Dandenong... See if you can spot them! Sign up for answers revealed in
Next Week's Newsletter
Last week's answers are further down with Melbourne Trivia
More on William Ricketts Sanctuary
|
Learn More about Melbourne!
You Can Help
There are many social causes that are relevant to people from all walks of life, many of which rely on public support to better the community or assist those who are less fortunate or to benefit others. This week we ask you to consider the following..
Movember
returns for another year to bring back the soup-strainer and raise money for men's health partners, the Prostate Cancer Foundation and beyondblue. By simply growing a moustache in November and finding sponsors, Gala Parties are held at month's end to thank all involved.
Learn More About Movember Today!
Kids Clothing Sale
Designer Kids Clothing Pre-Christmas Sale
- Kidz Brandz Pre-Christmas Sale for designer kids clothing up to 75% below regular retail prices. Brands include Gap, Osh Kosh, Nike, Ralph Lauren, Roxy and more.
One Day Only : Saturday, 28 November 2009
9am-2pm at Uniting Church Hall, Cnr North & Mackie Rd, Bentleigh East.
Markets, Fetes and Fairs
Magnolia Square
is a boutique fair showcasing women's and children's attire, homewares, jewellery and more. They'll be holding their popular fair at Malvern Town Hall where you'll find the work of some of Melbourne's best and most talented designers with a wide range of quality crafts.
When:
Thursday to Saturday, November 26 to 28
The

[email protected]

Twilight Fair
celebrates Alphington Grammar School's 20th anniversary with their annual twilight fair offering attractions for people of all ages. With food, drinks, live music and concerts, the fair also features children's amusements, surprises and much more.
When:
Saturday November 28 - 4pm to 8pm
The St. Francis Family Fair
is a fun-filled family event held to raise funds for the Mill Park Parish and School. Offering a great day out for people of all ages, the fair will feature children's rides, games, stalls with food and great bargains up for grabs, live entertainment and more.
When:
Sunday November 29 - 10am to 4pm
The Mini Christmas Fair Exhibition
, presented by the Handweavers & Spinners Guild of Victoria at their guild rooms in Carlton North, offers many great gift ideas in one location. The exhibition features a wide range of items including Christmas ornaments, cards, stockings and toys.
When:
Runs Until December 5 - Tuesday to Saturday
View MARKETS on any day of the week
to make the most of the rare sunny days (it's a coin toss, isn't it!) and head to one of Melbourne's many excellent markets, fetes and fairs for a bargain!

A growing number of food, produce and even wine markets are always popping up around the suburbs. And don't forget garage sales!
Dining & Drink
The Harvest Picnic at Werribee Park
brings food and wine producers from all over Victoria together with the public to sample, showcase and sell their tasty products. Presented by The Age, the event is a chance to taste family made jams, artisan breads, local ales and more.
When:
Sunday November 29 - 9am to 5pm
Special Dining Offers

Dining Specials - Save Up To 20% on Your Bill
Menulog
is the easiest way to book a restaurant online with over 4000 restaurant listings! By booking online through Menulog you can enjoy fine food and save money with special deals offering discounts on total food bills, complimentary wine and drinks, discount group bookings and much, much more!
Curry Leaf Cafe
in Elwood offers authentic Tandoori Barbecue Platters with an exotic ambience and friendly attentive service.
SPECIAL DINING OFFER!!
Book Through
Menulog
and enjoy the Spring Finger Food Special with a tasty platter & a Glass of Wine for just
$17
!
Visit here for BOOKING DETAILS @ Menulog
Offer Ends November 30, 2009 | Make a Booking Today!
Dining in Melbourne
offers a splendid range of food styles to enjoy. Here are just a few classic food styles to choose from..

Modern Australian Cuisine

Chinese Restaurants

Italian Restaurants

Seafood Restaurants

French Restaurants

Dining Gift Vouchers
Menulog Gift Vouchers
are the perfect way to treat someone special to a great dinner with vouchers available for a wide range of participating restaurants in Melbourne and across Australia. There's even the option to buy a voucher and let the lucky recipient decide which restaurant they'd like to dine at!
Learn More about Menulog Gift Vouchers
OnlyMelbourne Welcomes..
Each week we highlight some of the latest additions to OnlyMelbourne's ever growing guide to services, businesses and information sites for your community.
myBirthdayVenue
is the best way to find the perfect Melbourne bar or pub for your next birthday party! Browse over 100 function and event rooms at licensed venues all around Melbourne. All listings include high-quality photos, in-depth venue information and up-to-date pricing so you can save time planning for your next party or event.
This week we suggest the following:
Swiss Istor - Authentic Swiss Made Sharpeners...
Luke Massage - Professional deep-tissue massage...
Nil Limit - Home business opportunities...
Lifespan Fitness - Exercise & Gym equipment specialist...
View More of the Latest Listings at OnlyMelbourne!
Advertising
your Business or Event at OnlyMelbourne is not only easy, but best of all it's
FREE!!
-
Get Listed..
- don't forget to tell your friends!
Sporting Events
Stockings Full'a Walnuts!!!
WrestleClash 2
, held at the Darebin Community Sports Stadium in Reservoir, sees the return of one of the biggest pro-wrestling shows of last year when it returns to Melbourne for one night only with all the action, entertainment and drama of only the very best going head to head.
When:
Saturday November 28
Water Sports
The UIM World Jetsprint Championships
, held at Melton's MacPherson Park, offers non stop action for all the family with thrills and spills as jet boats navigate around a purpose built track, pumping 12 tonne water per minute! The event includes an opening ceremony and entertainment.
When:
Saturday & Sunday, November 28 & 29
Fun Runs
The Great Australian Run
returns to Melbourne bigger and better this year with a world-class field in addition to a number of new initiatives set to engage and inspire thousands of weekend warriors - and kids - across the nation. The adult and junior events will take place in Albert Park.
When:
Saturday & Sunday, November 28 & 29
The Trots
Yarra Valley Racing
, located at Yarra Glen, offers a great day out with the finest in racing entertainment along with great venues with regional food and wine.
Next Race Date
Thoroughbred Racing
Saturday November 28
Soccer | Hyundai A-League
Hyundai A League | Round 16
Melbourne Victory Home Game
Melbourne Victory vs Gold Coast United
Saturday November 28 - 7pm
Marvel Stadium, Docklands
Community Sports
South Sea Roller Derby
hold a Recruitment Day and Learn to skate session each week at Frankston Skateworld, located in Carrum Downs. The sessions are a chance to learn more about the Roller Derby and learn the basic skills required to begin training for one of the hottest sports in town.
When:
Every Sunday - 2pm to 4pm
Soccer Melbourne's Sunday Night League
, held at South Yarra Sports Centre, is a chance for keen soccer players to band together and enter a team for an 8 team round robin weekly league. Held once a week each Sunday night, teams are 8-a-side with games lasting 60 minutes.
When:
Sundays, 6pm to 8pm - Until December 20
Melbourne Tours
Smartvisit Card
is the best way to see the sights of Melbourne, whether you're visiting Melbourne for business, a vacation, or even if you're a local wanting to find Melbourne's hidden treasures!
The Smartvisit Card includes entry to attractions such as Melbourne Zoo, Melbourne Aquarium, Old Melbourne Gaol, Telstra Dome, Cook's Cottage, Melbourne River Cruises, and many more of Melbourne's TOP venues!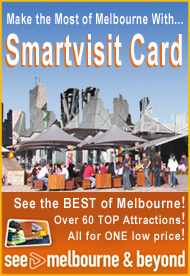 Free entry to over 60 top attractions..
Visit great venues like Zoos, museums & more across Melbourne & Victoria!
Over $800 of entry fees for ONE low price..
Plus special offers & discounts!
Visit just 2 Attractions a day & you'll save!
FREE 128 page guidebook..
Tailored to local knowledge on what to see & do!
Cash free entry..
Show your card & you're in, no need for cash!
All year-round Attractions..
Whatever time of year you visit - rain or shine!
Learn more about Smartvisit Card
Last Week's Puzzle Answers
Spot The Difference
Here are the 5 Differences in last week's picture of Melbourne's
Block Arcade
...
Newsletter | #150 | What's On this Week [Last Week]
Melbourne Trivia
No Gym For You, Jim..!
One of the first women only gyms, in Victoria and possibly Australia, was established by Harriet Elphinstone-Dick, who lived from 1858 to 1902. Also known as Harriet Rowell, she was an early English and Australian swimming champion, and was known to be a pioneering physical fitness teacher.
She had an intense interest in physical fitness and in 1879 opened Melbourne's first women's only gymnasium, in the Queen Victoria Building, which used to stand where the Melbourne City Square is now.
Physical fitness for women was a popular idea of the 1880s and the gym attracted many of Melbourne's independent career women, particularly teachers from the city's growing number of private girls' schools.
Read more about Melbourne Firsts
|
Read Melbourne Trivia...
WHAT'S ON CALENDAR
Speaking of what's on, our
new calendar
allows you to select any day of the year to view everything (everything!!!) on that day in an easy to read, printable display.
-:- View
What's On Calendar
-:- View
Markets Only Calendar
Melbourne On The Phone

OnlyMelbourne
is now
mobile phone
compatible. Yes, our pages are formatted to be viewed on the small screen. To view our mobile phone website, go directly to our
home page
with your web compatible mobile phone and you will automatically be redirected to the
mobile compatible
version of OnlyMelbourne, so you'll be in the know on the go!
WHAT'S ON FEEDS
For those with newsfeeds, we now have a daily
What's On Melbourne Today
feed.
NEWSLETTER
What's On this Week
is an email overview and reminder of the (too many to mention) events happening this week in Melbourne.
Get your copy
of What's On this Week!
❊ Address & Contact ❊
⊜ Newsletter | #151 | What's On this Week Melbourne |
Map
❊ Web Links ❊
→
Newsletter | #151 | What's On this Week
→
Subscribe to OnlyMelbourne - Get your copy of What's On this Week!
→
List Your Business or Event - It's FREE!
→
Events Calendar - Find out What's On any day of the week!
→
Mobile OnlyMelbourne - View Our Website On Your Phone
→
Melbourne for Children | Kids
→
Dining Specials - Save Up To 20% on Your Bill
→
Competitions & Special Offers - WIN Cash & More!
→
Melbourne Guide | Accommodation, Travel & Tours
→
OnlyMelbourne Newsletters Archive
→
Newsletter | #150 | What's On this Week [Last Week]
❊ COVID-19 Notice ❊
Many locations have gone into lockdown as the state takes action to stop the spread of the deadly coronavirus (COVID-19).
→
Disclaimer
: Check with the operator before making plans
...
Trending HOT

Drive-In Movie Club
Drive-In Immersive Cinema Nights Are Coming to Melbourne Put together by our friends at Hot Tub Cinema, a string of family-friendly, social distancing-safe, drive-in ..

Things to see, hear & do this weekend
Make the most of your weekend in Melbourne with these fabulous events. No city does it better than Melbourne, so get out and discover the very best shows, festivals, ..
---
Update Page