Newsletter | #136 | What's On this Week

Welcome to this week's Melbourne events, exhibitions, sports and community guide for the week running from Tuesday August 11 - Monday August 17, 2009.
This week.. There's the chance to broaden your horizons and explore the best of the East with Asia Week at Melbourne University offering a range of special events, while the Indonesian Film Festival also begins with special guests from each film featured. There's also a tasty program of events and food tastings on offer with the West Gippsland Slow Food Winter Festival - that's Slow Food, not Slow Winter, God forbid! The ArtBeat Festival kicks off in Melton, offering a range of exhibitions and more.
The Australian National Academy of Music continues its festival of recitals, workshops and more with Piano! Also at Melbourne University this week, those busy bees are continuing with Mudfest11, their festival of performances, exhibitions and more. Craft Victoria also continues gets crafty on all y'all easels with their inaugural Craft Cubed Festival.
And with just a taste further down, check here to view more of the following..
Major Events Guide
Asia Week
, presented by the Asia Institute of the University of Melbourne, offers a program of events and special activities to allow the public to experience the languages, music, and cultures of the Asian continent. The program includes concerts, seminars, public lectures and films.
When:
August 17 to August 21
The Indonesian Film Festival
showcases the best of Indonesian cinema with a range of special events that will feature the casts and directors of the featured films. Held at RMIT Capitol Theatre and ACMI Cinemas in Federation Square, the festival features screenings, guest talks and more.
When:
August 11 to August 20
The West Gippsland Slow Food Winter Festival
offers a program of events that showcase the superb local produce grown in Cardinia Shire, one of Victoria's most picturesque regions. Highlights during the festival include a wide range of cooking classes, demonstrations and food tastings.
When: Runs Until August 31 | Various Venues
The ArtBeat Festival
, presented by Melton Shire, offers a diverse range of events that showcase the talents of local residents. Held in various venues within Melton, the program explores many art forms with free author talks, art workshops, art exhibitions, films and music and dance performances.
When:
August 17 to September 13
Piano!
is the Australian National Academy of Music's festival offering a celebration of the piano and of great piano playing with recitals, master classes, discussions and more. Held at the Academy, located in South Melbourne Town Hall, the program features some of the finest performers from here and overseas.
When:
Runs Until August 15
MUDfest11
, once a drama festival and now the largest student arts and culture festival in Australia, takes place at the University of Melbourne where it plays host to a vibrant program that features Hidden Spaces with installations and artworks, and also Muddy Shorts with a one night extravaganza of theatre.
When: Runs Until August 29 | Muddy Shorts Held August 23
Craft Cubed
, presented by Craft Victoria, is a new festival of experimental, skilled and ideas-based craft and design. With its very first theme of CITY|COUNTRY, looking at local geographical boundaries, the festival features a wide range of events including Open Studio days, seminars, exhibitions and markets.
When: Runs Until September 11 | Various Locations
Words in Winter
is an annual festival held in the Shire of Hepburn with events also held in Clunes, Creswick and Trentham. With a huge program that includes book launches, workshops, and poetry readings, the festival also features special guests in Author Talks, theatre, oral history discussions and much more.
When:
Runs Until August 25 - Various Locations
Special Ticket Giveaway
Holiday
, performed at the Guild Theatre of Melbourne University, is an original contemporary dance piece by award-winning siblings, Leah and Ben Landau. Exploring the notion that everybody, at some point, has wanted to kill someone, the performance follows a family whose lives spiral out of control.
When:
August 12 to August 16
Win a Double-Pass!!!
OnlyMelbourne has a Double Pass to give away for the Opening Night performance of Holiday.

To go into the draw to win a chance to see the impressive film, email your name, address and contact details with 'Holiday Tickets Giveaway' as the subject line.

To email your entry ---> Click Here to Enter Competition
Note: Double Pass is only valid for the opening night of August 12, 2009.
Only Winners will be notified.
Upcoming Events

NEW LIVE CALENDAR
To find out about future events in Melbourne, have a look at our new calendar, with details about many more events that lie ahead, including Exhibitions, Gigs, Markets, Expos and more..
View Future Events on any day of the week
Exhibitions - Art | Festival | Show
Planktos - Made to wander
, showing at Seventh Gallery in Fitzroy, is an exhibition of new artworks by emerging Melbourne artist, Laureen Lansdown. A survey of hidden and transcendental beauty, the exhibition explores light and the bioluminescent qualities of deep-sea life and microscopic algae.
When: August 11 to 28 | Wednesdays to Saturdays
Opening Night Held Tuesday August 11, 6pm to 8pm
Light & Shade
, held at Collingwood's Catherine Asquith Gallery, is an exhibition by Marcella Kaspar. With a creative process that echoes the techniques of tapestry artisans and Renaissance painters, her paintings reference the numerous metaphors in literature, music, painting, choreography and philosophy.
When: Runs Until August 22 | Tuesdays to Sundays
Galada Tamboore
, held at Northcote's Synergy Gallery, is an exhibition by fine art photographer David Tatnall, capturing the landscape of a small gorge on the Merri Creek near Campbellfield. Presented by Merri Creek Management Committee, the show celebrates their twentieth anniversary of caring for Merri Creek.
When: August 12 to 30 | Wednesdays to Sundays
Between the Lines
is the 5th Annual Artist Books Exhibition by Artisan Books in Fitzroy. With a given theme inspiring works for each exhibition, this year's theme of 'Between the Lines' has attracted an amazing collection of works exploring the boundaries of how book are defined, raising them to sculptural form.
When: August 15 to September 5 | Monday to Saturday
Lost Dogs
is a photographic documentary project exploring the plight of the dogs at The Lost Dogs' Home, the largest shelter in Australia, which rescues over 11,000 dogs each year. Illustrating individual stories from among the large number of dogs there, the exhibition is held at Forty Five Downstairs in Flinders Lane.
When: Runs Until August 15 | Tuesday to Saturday
The Intentional Mark
, an exhibition held at Brunswick Arts Space, is a collection of works by Emma Nunan, Lilly Dusting and Zoe Minnis, three of Melbourne's most exciting emerging printmakers. Their works display an exploration of various themes that respond to the natural environment.
When:
Runs Until August 21 - Thursdays to Sundays
From East to West
by Liu Xiao Xian, a contemporary Chinese Australian artist, is an exhibition at Melbourne's RMIT Gallery that explores the nuances between East and West. Using playfulness and wit, his photographs and sculptures explore his experiences since leaving China following the Tiananmen Square Massacre.
When:
Runs Until September 12 - Monday to Saturday
Clandestine Wishes Photography
- a photographic collection of works from local artist, Shauna Phoon of Clandestine Wishes Photography is being exhibited at Visage 'n' Vice, a Boutique alternative clothing store in Brunswick East. Shauna's work is a whimsical and unique exploration of emotion.
When:
Runs Until August 27 - Wednesday to Sunday
The Bald Archy Prize Exhibition
, Australia's most popular comic portrait competition and an alternative to the prestigious Archibald, celebrates its 16th year at Chapel Off Chapel. Judged by a sulphur-crested cockatoo named Maude, this year's subjects include Bill Henson, Nicole Kidman and Bart Cummings.
When: Runs Until August 30 | Open Daily, 10am to 5pm
Break a Leg
, held at City Museum, is a special exhibition that highlights Melbourne's rich theatre history. Charting the lives of some of the stars who gave birth to the rich legacy of Melbourne theatre, establishing it as a city for the arts, the exhibition features original material icons like from Dame Nellie Melba.
When:
Runs Until August 23
SUB12
is a Hobsons Bay arts event that features over 40 artists and 34 exhibitions held across 12 weeks in one great space, The Substation, which is located in Newport. Presented in four distinct exhibition blocks, each with its own opening night, the shows feature a diverse mix of emerging and established artists.
When: Until September 27 | Wednesdays to Sundays
Series Two: Runs July 31 to August 16
Fox in a Box
is a photographic installation by Rebecca McIntosh that tells the tale of the facetious character Flying Fox Woman, an urban legend and home-made superhero suffering from domestication. The installation can be seen at The Dolls House, a unique miniature gallery held in a shop window in Preston.
When:
On Display Until September 19
Open Days, Expos & Launches
Star On The Cover Of An IKEA Catalogue
- To mark the arrival of the home furnishing 'bible', IKEA is giving people the chance to star on the front cover of their copy of the Catalogue by having their picture taken at the IKEA Photobooth, a 3D replica of the Catalogue cover created at Flinders Street Station.
When:
Runs Until August 16
Deakin University
will be holding their Open Days when you can get all the information you need for becoming a Deakin student. Offering the chance to learn more about Deakin's range of courses, scholarships, accommodation and more, attendees even have a chance to win an iPhone.
When:
Warrnambool - Sunday August 16, 10am to 2pm
Performances & Theatre
The Complete Works of Shakespeare
, performed by Rough and Tumble Theatre Company, is a performance that features three actors who take up the challenge of presenting all thirty-seven of the Bard's plays and sonnets in a frenetic ninety-nine minutes. It's held at Melbourne's Paris Cat Jazz Club.
When:
Tuesday August 11 to Sunday August 16
Slava's Snowshow
is a special chance to see the extraordinary talents of Slava Polunin, Russia's famous clown. Performing in Melbourne for a limited season at the Athenaeum Theatre, the show features an impressive climax that engulfs the entire audience in the illusion of a snowstorm.
When:
August 12 to August 30
Lysistrata
, presented by Monash University in Clayton, is the classic comedy by Aristophanes that offers centuries old battle of the sexes tale that stands up today. With the women of Athens fed up with the men always being away at war, Lysistrata rallies her friends to abstain from sex until all fighting stops.
When:
Thursday August 13 to Saturday August 15
Sadako and the Thousand paper Cranes
, an adaptation of Eleanor Coerr's classic which was based on a true story, follows Sadako, a feisty girl whose dreams of becoming Japan's greatest runner are hindered by a terrible illness due to the Hiroshima bombing. It's performed at Warburton's Upper Yarra Arts Centre.
When:
Saturday August 15
Chicago
, appearing at Her Majesty's Theatre, is one of the true greats in Broadway history that tells the tale of Roxie Hart, a nightclub dancer with dreams of stardom who kills her lover and goes to prison. Featuring Sharon Millerchip as Roxie, other stars include Caroline O'Connor, Craig McLaughlin and Gina Riley.
When:
August 15 to September 13
The Merchant of Venice
, presented by PMD Productions and directed by Paul Knox, is a performance of one of William Shakespeare's challenging play that sees the classic play set in modern-day Italy. Held at Chapel Off Chapel in Prahran, the play confronts its deeply anti-Semitic themes head on.
When:
Runs Until August 29 - Thursdays to Sundays
Rockabye
, performed by Melbourne Theatre Company at their Sumner Theatre in Southbank, is a play that examines our self-involved, celebrity-obsessed culture. Written by Joanna Murray-Smith, the play follows Sidney, a pop star who struggles to find success with her career and life after turning forty.
When:
Runs Until September 20
The Club
, David Williamson's celebrated play, will be performed by Fab Nobs Theatre. Inspired by the backroom dealings of the VFL during the 1970's, the play follows the transition of an Australian sport becoming Australian business. Performances will be held at The New Fab Factory in Bayswater.
When:
Runs Until August 15
Life's A Circus
is a play about love and betrayal as Vivien and David, two Australian circus performers working overseas, meet the youthful Alex and realise they may have found someone worth risking everything for. Featuring renowned theatre and circus performers, it's held at St Kilda's Theatre Works.
When: Until August 15 | Monday & Wednesday to Saturday
Jersey Boys
, performed at the Princess Theatre, is the Broadway hit that charts the story of Frankie Valli and The Four Seasons as the play takes a nostalgic look at how four blue-collar kids became one of the greatest successes in pop music history while showcasing the great songs they became famous for.
When:
Runs Until September 27
Buddy! The Buddy Holly Story
returns to Melbourne with a brand new production held at the Palms at Crown. The live music extravaganza, which has become one of the biggest hits on the stage, presents the story of the iconic singer with two hours of his greatest hits that inspired many other performers.
When:
Runs Until August 22
Classical, Choral & Recitals
The Melbourne Guitar Quartet
will be appearing at Chapel Off Chapel to launch their new CD, Four Elements. A vibrant guitar based ensemble, the award-winning group is known for their development of chamber music for the guitar by continuously cultivating groundbreaking arrangements of major works.
When:
Saturday August 15 - 8 pm
The Melbourne Chamber Choir
will be staging a performance at the University of Melbourne's Melba Hall, presented by Faye Dumont Singers. Inspired by the hymn, Come, Come Ye Saints, the performance premieres twelve musical responses to the same music and text source by composers from across the world.
When:
Sunday August 16
The Maroondah Symphony Orchestra
, a community orchestra that is based in Ringwood, will be holding a performance that features works by Schumann, Massenet, Brahms and Strauss' popular Fledermaus Overture. The concert will be held at the Luther College Chapel in Croydon.
When:
Sunday August 16 - 2.30pm
The Mary MacKillop Mass
, a composition by Nicholas Buc that celebrates the centenary of Sister Mary MacKillop's death, will be premiered with the first public Melbourne performance at Fitztoy's Central Hall with the Australian Catholic University Choir, Box Hill Chorale and the Music Glenelg Festival Singers.
When:
Saturday August 15 - 7pm
Entertainment & Nightlife
Live Concerts & Gigs
Noel Gardner and Alex Bridge
will be appearing at Wednesday Night Acoustics, held at Clifton Hill Hotel. Partners in both music and life, the duo are popular performers at festivals all over Australia and perform heart-felt original songs that tell stories about our land, our environment, our lives and our hearts.
When:
Wednesday August 12
Footsteps of a Nobody
, performed at Spensers Live, is the very first rock-musical by Donna Williams and The Aspinauts. Half play, half musical, the performance traces the developmental milestones that are portrayed in the bestselling book, Nobody Nowhere; Autobiography of an Autistic Girl.
When:
Friday August 14 - 7:30pm
Leticia Maher
will be appearing at Northcote Social Club to launch her new album, Fallen Angels. An 'Afternoon Tea Party' celebration with everyone attending will receive a cup cake at the door, Leticia Maher and her band will perform folk-pop songs that touch on fado, jazz, blues and country.
When:
Sunday August 16
Jesters Lane
, a six piece original band from Melbourne, will be performing at Brunswick's Noise Bar in. Fronted by lead singer, Kimba, the band plays a unique fusion of funk, pop, jazz, blues, reggae and rock. They'll be supported by the bands RPG Radio, Jakk's Asimuth and The Young Have Secrets.
When: Saturdays Until August 29 | 8pm to 1am
Grand Wazoo
, the Legendary Kings of Soul, will be performing at Queen Street's Blue Diamond Club. With four lead singers, six horns and four rhythm players, the band offers vibrant arrangements of Black Soul and R&B Classics, playing greats ranging from the 50's through to the 60's.
When:
Sunday August 16 - 5:45pm
Clubbing
Classic Kandy
, held at Billboard The Venue, presents an excursion into what life was like in the deepest and best years of the early 21st century with a night of Old Skool clubbing. With the theme of school uniform with fluff attire, the night includes a Multi Color laser installation and CD and merchandise giveaways.
When:
Friday August 14 - 10pm Onwards
Burlesque & Cabaret
Friday Night Burlesque
, held at Fitzroy's Burlesque Bar, is a scintillating night of live performance, capturing the long and varied history of Burlesque entertainment in all its cheeky, saucy glory featuring established acts as well as some of the hottest up and coming performers in the Burlesque scene.
When: Every Friday Night | Doors Open 6pm
Trivia
The Monkami Trivia Night
is a trivia event and charity auction held in Ringwood to raise money for Monkami and their support of people with intellectual disabilities. A fun night of questions, games and lots of prizes and giveaways, the theme is Cartoons, Characters and Clowns with fancy dress encouraged on the night.
When:
Friday August 14 - 7pm to 11:30pm
Comedy
Suade
, a male vocal group who deliver smooth vocal harmonies and questionable comedy like no one else possible could, will be appearing at Chapel Off Chapel with a performance that winds its way through pop, rock, jazz, soul, swing, R&B and whatever else they can get their grubby mitts on.
When:
Sunday August 16 - 5 pm
That Time Of The Month
, held at the Butterfly Club in South Melbourne, is the newest monthly comedy room. Far from the norm of stand-up comedy, the night offers entertainment with a difference, specialising in comedic cabaret and musical comedy from the rising stars of the cabaret scene.
When:
Tuesday August 11 - 8pm
The Impro Cave
returns for another great run of entertainment to help beat the winter chills with a toasty warm venue at The Penny Black in Brunswick and the hottest improvised entertainment. This year's series of improvised shows are ones of exploration and adventure with a new show each time.
When: Every Sunday, 7:30pm | Until August 30
[email protected]
is a comedy night at Spleen Bar in Bourke Street, where you can step out to enjoy a great night out with an eclectic mix of Melbourne's comedy scene featuring established personalities and comedy legends from radio and television with guests such as Glenn Robbins, Corinne Grant and others.
When: Every Monday - 8:30pm to 10:30pm | FREE Entry
Live Music Guide Melbourne Venues and Gig guide.
Melbourne For Kids
Alice in Wonderland Jr
, is a fast paced stage adaptation of the classic tale that features updated dialogue and new arrangements of such classic Disney songs as I'm Late, The Un-Birthday Song and Zip-A-Dee-Doo-Dah. Presented by Catchment Players, it's held at Heidelberg's Banyule Theatre.
When:
Friday August 14 to Sunday August 16
Dora & Diego at Hoyts
- Dora and Diego will be appearing on the big screen as you've never seen them before with special sessions at Hoyts Cinemas during August held at Chadstone, Melbourne Central and Eastland. Sessions are held every Saturday and Sunday with all tickets costing just $7.
When: Saturdays & Sundays | Throughout August
The Goal Kick Program
, held by East Bentleigh Soccer Club, is a great development program to introduce young boys and girls aged 5 to 7 to the game of soccer in a non-competitive and fun environment. With weekly sessions of skill drills and game play, kids can learn the sport while having fun and making new friends.
When:
Saturday Mornings - 10am to 11.15am
Star Wars: Where Science Meets Imagination
is a special exhibit at Scienceworks where you can discover the science behind the Star Wars films. The exhibition features authentic costumes and props from the entire Star Wars saga, including the iconic Darth Vader's menacing attire.
When:
Open Daily Until November 3
Circus Shows

Silvers Grand Magic Circus
will be holding performances at Sandown Park Hotel in Noble Park. Established in 1976, Silvers Grand Magic Circus offers a great show for the whole family, with everything from jugglers and clowns to acrobats, international performers and more.
When:
Runs Until August 16 - Various Days in Noble Park
Puzzles & Competitions
Spot The Difference
There are 5 Differences between these two pictures of
Southern Cross Station
, formerly known as Spencer Street Station... See if you can spot them! Sign up for answers revealed in
Next Week's Newsletter
Last week's answers are further down with Melbourne Trivia
More on Southern Cross Station
|
Learn More about Melbourne!
Competitions & Special Offers
The Leader Awards - Melbourne's Favourites
is the Leader Community Newspapers' new small business awards program, celebrating small business right across Melbourne. By simply voting for a favourite local businesses in various categories, you can go into the draw to win one of five $500 Gift Cards.
When:
Voting Open Until August 31
WIN $1,000 Shopping Spree at Sydney Airport
- Don't miss the chance to win a $1,000 shopping spree at Sydney Airport with a Visa Pre-Paid Gift Card, offering the chance to spend big at one of the 120 stores that include Virgin, Syd Duty Free, Ralph Lauren and more. With a winner each month, entering is easy!
Closes December 31 | WIN $1,000 Shopping Spree!
Only Mobile Phones
, Australia's one-stop shop for mobile phones, provides all you could want for your mobile phone needs, whether it be a new mobile phone, a used mobile phone, mobile phone accessories and charge cards, you'll find everything you need while comparing prices for a
Cheaper Deal
!
Find Great Deals For Your Mobile | More Details Here
Community
African Drumming Classes
- Ray Pereira, one of Australia's best performers and teachers in African Drumming, offers classes that teach great hand technique and how to hear and play inspiring West African rhythms on a variety of drums and percussion instruments that include djembe, bells and shakers.
When:
Monday, Wednesday, Thursday - Various Locations
Dynamic Drawing Classes
, held by Ron Curran, help you discover your creative identity and find your power through drawing. Classes are held weekly in Fitzroy and Brunswick. Classes cost $18, with no need to book, and each class includes a model, music and facilitation provided on the day.
Fitzroy: Saturdays & Tuesdays | Brunswick: Thursdays
Speakers Forum | Soapbox Oratory
- Soapbox orators (that means you if you've something to say) can take turns speaking on various topics and viewpoints on the State Library Lawns. Questions, comments, heckling and interjections are welcome from all, simply turn up on the day to participate or listen.
When:
Each Sunday Afternoon - 3pm to 6pm
You Can Help
There are many social causes that are relevant to people from all walks of life, many of which rely on public support to better the community or assist those who are less fortunate or to benefit others. This week we ask you to consider the following..
The Smith Family Winter Appeal
is a chance to help change the story for disadvantaged Aussie kids by helping The Smith Family raise money for their Winter Appeal. By making a donation you can support The Smith Family in offering disadvantaged kids educational support to break the poverty cycle.
Markets, Fetes and Fairs
View MARKETS on any day of the week
to make the most of the rare sunny days (it's a coin toss lately, isn't it!) and head to one of Melbourne's many excellent markets, fetes and fairs for a bargain!

A growing number of food, produce and even wine markets are always popping up around the suburbs. And don't forget garage sales!
Dining & Drink
Wining

Cleanskins.com
sell premium Australian wines direct to the public at up to 50% off retail prices, offering Free Home Delivery and a 100% Money Back Guarantee. Perfect for all lovers of wine, their impressive range of wines and service were recommended on Channel 7's
Today Tonight
and Channel 9's
A Current Affair
.
Special Dining Offers

Dining Specials - Save Up To 20% on Your Bill
Menulog
is the easiest way to book a restaurant online with over 4000 restaurant listings! By booking online through Menulog you can enjoy fine food and save money with special deals offering discounts on total food bills, complimentary wine and drinks, discount group bookings and much, much more!
Mezza Lebanese Grill
in East Brunswick offer fresh Lebanese cuisine & traditional entertainment with belly dancers and music.
SPECIAL DINING OFFER!!
Book Through
Menulog
and receive
20%
off your total bill for 2 people or more when you dine at Mezza - Monday to Thursday.
Visit here for BOOKING DETAILS @ Menulog
Offer Ends September 25 | Make a Booking Today!
Dining in Melbourne
offers a splendid range of food styles to enjoy. Here are just a few classic food styles to choose from..

Modern Australian Cuisine

Chinese Restaurants

Italian Restaurants

Seafood Restaurants

French Restaurants

Dining In
Menulog Home Delivery
is a great chance to eat fine cuisine at home! With over 300 of the best restaurants on offer, you're sure to find something to suit any taste or occasion.
To find fast and easy delivery in your area, Visit Here
OnlyMelbourne Welcomes..
Each week we highlight some of the latest additions to OnlyMelbourne's ever growing guide to services, businesses and information sites for your community.
Boatnut
is a boating service directory that provides an online presence for the boating community. The home of Australian Boating, BoatNut features a Service Directory offering details for everything from Transport Services and Sales to Q & A for boating enthusiasts, boating videos and much more.
This week we suggest the following:
View More of the Latest Listings at OnlyMelbourne!
Advertising
your Business or Event at OnlyMelbourne is not only easy, but best of all it's
FREE!!
-
Get Listed..
- don't forget to tell your friends!
Sporting Events
Fun Runs & Marathons
The Villa & Hut Sandy Point Half
, held in Sandringham, is Melbourne's most scenic half marathon. With a 5km push, 10km run or half marathon on a course boasting sweeping views of Port Phillip Bay, entrants are encouraged to run, cycle or carpool there this year to minimise its carbon footprint.
When:
Sunday August 16
Soccer | Hyundai A-League
Hyundai A League | Round 2
Melbourne Victory Home Game
Melbourne Victory vs Brisbane Roar
Saturday August 15 - 7:30pm
Marvel Stadium, Docklands
AFL Premiership
AFL Premiership - Round 20 - August 14th to August 16th
Hawthorn vs Adelaide - Friday 7:40pm, MCG
Richmond vs Collingwood - Saturday 2:10pm, MCG
Melbourne vs Fremantle - Sunday 1:10pm, MCG
Essendon vs St Kilda - Sunday 4:40pm, Marvel Stadium
OnlyMelbourne Marketplace
OnlyMelbourne Marketplace & Classifieds
- OnlyMelbourne has just introduced our very own Classifieds Pages where you can buy and sell a wide range of goods, services and more including your very own sweet self with a Friends & Relationship section. Registration and advertising in the OnlyMelbourne Market is free providing you are a resident of Victoria.
Melbourne Tours
Smartvisit Card
is the best way to see the sights of Melbourne, whether you're visiting Melbourne for business, a vacation, or even if you're a local wanting to find Melbourne's hidden treasures!
The Smartvisit Card includes entry to attractions such as Melbourne Zoo, Melbourne Aquarium, Old Melbourne Gaol, Telstra Dome, Cook's Cottage, Melbourne River Cruises, and many more of Melbourne's TOP venues!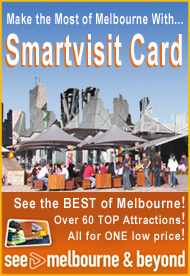 Free entry to over 60 top attractions..
Visit great venues like Zoos, museums & more across Melbourne & Victoria!
Over $800 of entry fees for ONE low price..
Plus special offers & discounts!
Visit just 2 Attractions a day & you'll save!
FREE 128 page guidebook..
Tailored to local knowledge on what to see & do!
Cash free entry..
Show your card & you're in, no need for cash!
All year-round Attractions..
Whatever time of year you visit - rain or shine!
Learn more about Smartvisit Card
Last Week's Puzzle Answers
Spot The Difference
Here are the 5 Differences in last week's picture of
The Edge
at Eureka Skydeck...
Newsletter | #135 | What's On this Week [Last Week]
Melbourne Trivia
Lions and Tourists and Bridges.. Oh My!
The world's very first 'walk through' enclosure at a zoo was created at
Melbourne Zoo
in 1967.
With lions enclosed in a large landscaped pit, bridges are erected high above, allowing visitors to the zoo a 'walk' through the enclosure, gaining a more up-close and personal view of the lions for the first time ever.
More about Melbourne Firsts..
|
Read Melbourne Trivia...
WHAT'S ON CALENDAR
Speaking of what's on, our
new calendar
allows you to select any day of the year to view everything (everything!!!) on that day in an easy to read, printable display.
-:- View
What's On Calendar
-:- View
Markets Only Calendar
Melbourne On The Phone

OnlyMelbourne
is now
mobile phone
compatible. Yes, our pages are formatted to be viewed on the small screen. To view our mobile phone website, go directly to our
home page
with your web compatible mobile phone and you will automatically be redirected to the
mobile compatib


❊ Address & Contact ❊

⊜ Newsletter | #136 | What's On this Week Melbourne | Map


❊ Web Links ❊

→ Newsletter | #136 | What's On this Week

→ Subscribe to OnlyMelbourne - Get your copy of What's On this Week!

→ List Your Business or Event - It's FREE!

→ Events Calendar - Find out What's On any day of the week!

→ Mobile OnlyMelbourne - View Our Website On Your Phone

→ OnlyMelbourne Marketplace - FREE Classifieds - Buy & Sell!

→ Melbourne for Children | Kids

→ Dining Specials - Save Up To 20% on Your Bill

→ Competitions & Special Offers - WIN Cash & More!

→ Melbourne Guide | Accommodation, Travel & Tours

→ OnlyMelbourne Newsletters Archive

→ Newsletter | #135 | What's On this Week [Last Week]




→ Disclaimer: Check with the venue before making plans...



Trending HOT

Drive-In Movie Club
Drive-In Immersive Cinema Nights Are Coming to Melbourne Put together by our friends at Hot Tub Cinema, a string of family-friendly, social distancing-safe, drive-in ..

Things to see, hear & do this weekend
Make the most of your weekend in Melbourne with these fabulous events. No city does it better than Melbourne, so get out and discover the very best shows, festivals, ..
---
Update Page