Newsletter | #061 | What's On this Week

Welcome to this week's Melbourne events, exhibitions, sports and community guide for March 3 - March 9, 2008.
This week, it's time to get wet and wild with Melbourne's Moomba Waterfest! The Long Weekend also has much more to see and do with Flemington's Festival of Racing, the Melbourne Queer Film Festival, L'Oreal Fashion Festival, and if you have the weekend free there's also the Jazz Festival at Inverloch! Brunswick Music Festival continues also, and be sure to get your fill in the last week of Melbourne's Food and Wine Festival!
There are sport details, special dining offers and info on upcoming events and highlights in beautiful Melbourne, so read on and enjoy!
Not receiving our newsletter?
Get your copy
of What's On this Week!
Major Events Guide
Melbourne Moomba Waterfest
, the heart of Melbourne's event calendar, enters its 6th decade when it begins on Thursday and runs until Monday over the long weekend. With all the favourite events that Moomba's known for, it features the Moomba Parade, the Birdman Rally, free entertainment, food, music and much more with new additions that include a live performance of the hit SBS show,
RocKwiz!
Melbourne Queer Film Festival
, held from March 5th to 16th, is the largest and longest-running queer film festival in Australia, and also the second largest film festival in Victoria! Screening the best films from the gay and lesbian community both in Australia and around the world, the festival is held at ACMI Cinemas and ACMI Screen Pit, with several gala events taking place at other venues in Melbourne.
L'Oreal Melbourne Fashion Festival
, held this week, is Australia's largest and most successful consumer fashion event. Running until Sunday, the Fashion Festival showcases this year's autumn and winter collections of Australia's leading designers and brands. A pivotal event for Australia's fashion industry, it's one of few fashion festivals that feature many events that are available to the general public.
Brunswick Music Festival
begins on Wednesday, celebrating its 20th year with three weeks of music and entertainment featuring some of the finest performers from around the world. One of Victoria's most celebrated multicultural events, the Brunswick Music Festival highlights the diversity of the City of Moreland, one of the most culturally rich communities in Australia with 35% of its residents born overseas.
The Melbourne International Motor Show
begins on Friday, showcasing the latest in design and technology, futuristic prototypes, concept vehicles and more auto attractions than you could shake a dipstick at! Held at the Melbourne Exhibition Centre, the Motor Show will run until March 10th with exciting demonstrations, entertainment for the whole family, and even a vintage and classic vehicles auction.
Melbourne Food & Wine Festival
- Loosen your belt because one of Melbourne's best loved festival returns for it 16th year! Running until March 8th, this year's festival is bigger than ever before with over 200 events to tempt your tastebuds, celebrating Victoria's diversity in both food and culture. With everything from special dinners and wine tastings to kids' events, cooking classes and more!
Typically Topical Melbourne
Bikes Ban On Trains - Truly Folded!
If you've ever frowned curiously after seeing someone with what essentially looked like 'half-a-bike' that had also been stomped like a soup-tin, then you've more than likely encountered a folding bike. That or it was Greg Evans with the mashed remains of Dexter from
Perfect Match
. It's a sight (the bikes, not Dexter!) that should soon prove more common in Melbourne.
Find Out Why...
Exhibitions - Art | Festival | Show
ChillOut Festival
, the largest gay and lesbian festival in regional and rural Australia, begins on Friday, bringing fours days of fun, music and entertainment to the town of Daylesford. With art, sports, shows and exhibitions the festival has something for everyone!
Ballarat Begonia Festival
offers an incredible range of attractions for all, held across the long weekend. With the begonia exhibition as a highlight, the festival also features free kids' activities, music and art in Ballarat 's Botanical Gardens and Lake Wendouree's foreshore.
The Festival of Spirit
, held at Abbotsford Convent this weekend, is designed to suit everyone from the seasoned healing enthusiast to those who are new to alternative therapies and people of all ages simply looking for fun and entertainment that's different!
Justice & Hope
is a photographic exhibition of Jenn Dobson's visual documentation of children throughout India and South East Asia. Profits from photograph sales will go to
Jacob's Well
, providing fresh water wells and other assistance for impoverished villages.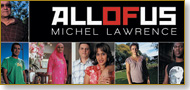 All of Us
is Australia's largest ever photographic portrait show, displayed across the outer walls of Federation Square's Crossbar Building. The photos by Michel Lawrence, celebrate Australia's diverse culture with over 200 residents from different backgrounds.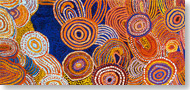 Power and Beauty - Indigenous Art Now
, is showing at the Heide Museum of Modern Art. With works from contemporary Aboriginal and Torres Strait Islander artists in all areas of Australia, the exhibits attest to the artists' resilience in holding on to their culture.
Arts & Theatre
Me, Ray Charles & Sammy Davis Jr
-
'Movin'
Melvin Brown, a performer from Austin, Texas, will be performing this week at Chapel Off Chapel. One of few
true
song & dance men, Melvin impersonates the greats such as Ray Charles, Otis Redding and more!
Katie Noonan
, known for her captivating voice, will be performing with the Australian Chamber Orchestra on both Sunday and Labour Day at the Arts Centre. The performance explores English song, including work by Lennon and McCartney.
Emerging Playwright Forums
allows writers to showcase work yet to be shown with rehearsed readings, and also gain audience feedback on the plays. With a reading this week of Tom Conyers' work
Magpies
, entry is by donation with food and drink later.
Bazaar & Rummage
, performed at Heidelberg theatre Company, is a play written by
Sue Townsend
, author of the infamous 'Adrian Mole' books. Set in a London church hall, the poignant, funny play tells of an agoraphobic group's efforts to rejoin society.
Keating!
- 'the musical we had to have' - will be playing at the Melbourne's Comedy Theatre for a strictly limited season. One of the most talked about Australian musicals in years, the play cheekily follows the rise and fall of its namesake with hilarious lyrics!
Entertainment & Nightlife
Inverloch Jazz Festival
celebrates its 15th year with a weekend of top class jazz from as many as 80 bands! Set in the beauty of South Gippsland, the festival includes free events such as the Saturday morning street parade, and Labour Day's
'Picnic in the Park'
.
Emaar
merges the song writing and production talents of Melbourne's
Upacci
(Robert Upward and Matteo) and the soaring vocals of Ellie Henderson. Crossing electro-pop, dance and many other genres, they will be performing on Sunday at Eurotrash Bar.
Future Music Festival
serves up cutting edge electronic music on Sunday with a huge line-up of electronic musicians and bands from across the globe. Featuring stellar performers like
The Chemical Brothers
, it takes place at Sidney Myer Music Bowl.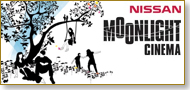 Nissan Moonlight Cinema
is Australia's favourite summer outdoor cinema screening recent, classic and contemporary films in the Royal Botanic Gardens' stunning parklands! This Wednesday, the Australian hit,
Romulus, My Father
is screening.
For Moonlight Cinema's Full Program
Visit Here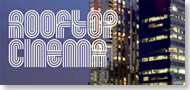 The Rooftop Cinema
at Curtin House flickers into action all Summer, with films screening Tuesday to Sunday. Enjoy the night lights, classic cinema and the rooftop bar! This Thursday... Classic Elvis with
Jailhouse Rock
. Than'yew'veramuch!
For Rooftop Cinema's Full Program
Visit Here
Live Music Guide Melbourne Venues and Gig guide.
Competitions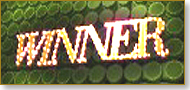 $12,000 Cash Bonanza!
Here's your chance to share in a $12,000 CASH BONANZA, courtesy of Financial Services Online! Apply free online for any comparative quote & you automatically qualify for free entry into their monthly prize draw of $1,000!
For More Competitions Visit Here
Dining & Drink
A Taste of Slow
, traditionally held in winter, will this year be held to coincide with Melbourne's Food & Wine Festival. With a philosophical slant on the food we eat, the festival features spoken word, film and of course lots of delicious food! The festival runs until March 8.
Wining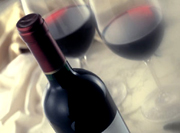 Cleanskins.com
sell premium Australian wines direct to the public at up to 50% off retail prices, offering Free Home Delivery and a 100% Money Back Guarantee.
Perfect for all lovers of wine, their impressive range of wines and service were recommended on Channel 7's
Today Tonight
and Channel 9's
A Current Affair
.
Dining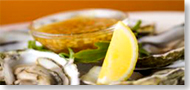 Bistro 1
is one of Melbourne's most desirable dining destinations. With superb French and Italian cuisine and a national award winning wine list, the warm lamp lighting and attentive service create a special feeling for couples in the mood for romance.
Special Dining Offer
Melbourne offers a splendid range of food styles to enjoy. Here are just a few classic food styles to choose from..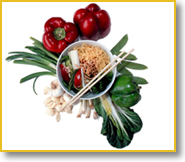 For more restaurants...
Check out
onlyMelbourne's Restaurant Directory
Or you can
View & Book a Table @ MenuLog
Dining In
Menulog Home Delivery
is a great chance to eat fine cuisine at home! With over 300 of the best restaurants on offer, you're sure to find something to suit any taste or occasion. To find fast and easy delivery in your area,
Visit Here
.
Sporting Events
Horse Racing
Flemington Festival of Racing
returns in 2008, with and added boost this year, incorporating official events in both the L'Oreal Melbourne Fashion Festival and the Melbourne Food and Wine Festival.
Held at Flemington Racecourse between March 5th and 15th, the festival's highlights include group racing, a family day, and special dinner events with guest chefs.
Motor Sport
GazzaNationals
, Australia's hugely successful customized car festival, heads to Calder Park raceway this weekend with a fuel-packed program for Melbourne's motoring fans! Special guests include burnout champions Gary Myers and Clint Ogilvie.
Cricket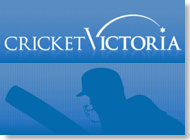 Pura Cup Match: VIC v QLD
Fri March 7 - MCG
Session Times:
11am to 1pm - 1:40pm to 3:40pm - 4pm to 6pm
Ticket Prices: $5.00 Adult; $2.00 Child U16 & Consession; $10.00 Family (x4)
Tickets available at the gate on match day.
Markets, Fetes and Fairs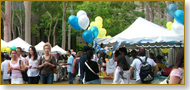 Avenel Produce & Craft Market
is held on the 2nd Sunday of each month. Only an hour's drive from Melbourne, the market offers fresh produce and wine, plants, jewellery, crafts and much more. While there you can even squeeze in a shiatsu massage!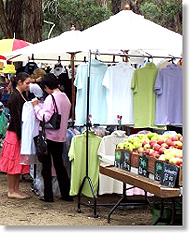 Melbourne Market Guide
1st Week & 2nd Weekend of Month
(Confused yet?)
Make the most of the sunny days and head to one of Melbourne's many excellent markets, fetes and fairs for a bargain! An increasing number of food and produce markets including wine are always popping up around the suburbs. And don't forget garage sales!
Melbourne For Kids
Cadbury Easter Egg Hunt & Family Picnic
- With the Easter weekend fast approaching, annual Cadbury Easter Egg hunt will take place at Werribee Park on Good Friday, March 21st. With the Cadbury Great Bunny leading the hunt, the day is enormous fun for the whole family! All ticket profits and proceeds from the day are donated to Melbourne's Royal Children's Hospital Good Friday Appeal.
For Tickets phone 132 849, or
Visit Ticketek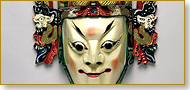 Masks of China
at the Immigration Museum features handmade masks from China, some which are over 200 years old. With free entry for children the exhibition includes fun kids activity trail with the chance to sketch and colour-in their own mask!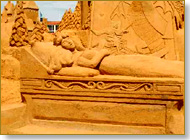 Sand Sculpting Australia
- In 2008, after seven years on the Rye foreshore, Sand Sculpting Australia will be relocating to an exciting new venue - the 'Frankston Waterfront'! The area will be transformed as 3,500 tonnes of sand are meticulously carved into scenes from your favourite childhood 'Fairytales and Fables'. Integrated with the sand sculptures will be regular activities to keep the whole family entertained!
Melbourne Tours
Smartvisit Card
is the best way to see the sights of Melbourne, whether you're visiting Melbourne for business, a vacation, or even if you're a local wanting to find Melbourne's hidden treasures!
The Smartvisit Card includes entry to attractions such as Melbourne Zoo, Melbourne Aquarium, Old Melbourne Gaol, Telstra Dome, Cook's Cottage, Melbourne River Cruises, and many more of Melbourne's TOP venues!
Free entry to over 60 top attractions..
Visit great venues like Zoos, museums & more across Melbourne & Victoria!
Over $800 of entry fees for ONE low price..
Plus special offers & discounts!
Visit just 2 Attractions a day & you'll save!
FREE 128 page guidebook..
Tailored to local knowledge on what to see & do!
Cash free entry..
Show your card & you're in, no need for cash!
All year-round Attractions..
Whatever time of year you visit - rain or shine!
Learn more about Smartvisit Card
Puffing Billy Tour
- take a tour the whole family can enjoy with a ride on Puffing Billy, Australia's best-loved steam train! Winding its way through lush ferns and towering timbers, this fantastic tour offers may treats, including wine tasting for the adults and also a trip to Healesville Sanctuary that kids will love!
What's On for March
Community
International Women's Day | Stories of Strength
Marking International Women's Day in 2008, there will be an evening of celebration on Thursday with guest speakers and entertainment throughout the night. The event is FREE, but must be booked by Tuesday.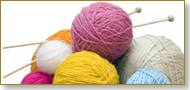 Learn to Knit at Prahran Library
- Every Wednesday at Prahran Library there is a free one-hour knitting class for people of all ages and experience. A great way to make friends and be creative, the classes begin at 1:30pm - needles and wool can be provided.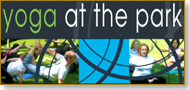 Yoga at the Park
is an initiative of The Health and Yoga Council of Australia, presenting Yoga classes in some of Victoria's most beautiful parks and gardens. Set in a relaxed environment, classes are designed to suit many age groups and levels of experience.
You Can Help
There are many social causes that are relevant to people from all walks of life, many of which rely on public support to better the community or assist those who are less fortunate. This week we ask you to consider the following..
World's Greatest Shave - Be Brave and Shave!
The Leukaemia Foundation's World's Greatest Shave takes place between March 13th and 15th, raising much-needed funds for the many Australians living with leukaemias, lymphomas, myeloma and related blood disorders. Go it alone or get together with friends, workmates or club members to form a group with public shave events soon to be held across Australia!
OnlyMelbourne Welcomes..
Advertising
your Business or Event at OnlyMelbourne is not only easy, but best of all it's
FREE!!
-
Get Listed..
- don't forget to tell your friends!
Each week we highlight five of the latest additions to OnlyMelbourne's ever growing guide to services, businesses and information sites for your community.
This week we suggest the following:
View More of the Latest Listings at OnlyMelbourne!
To find out how
you
can join Melbourne's largest online community
Visit Here!
Puzzles
Anagram-orama!
We've rearranged the letters of three of the attractions featured in this week's newsletter.. See if you can figure them out!
Mates Mourn Free Below A Tomb


Emu Fights A Wrong Girly Perm


Coffin Nail Elves Tag Mint Frog
Answers in
Next Week's Newsletter...
Spot The Difference
There are 5 Differences between these two pictures of the Heide Museum of Modern Art... See if you can spot them!
Read More about the Heide Museum
|
Learn More about Melbourne!
Answers in
Next Week's Newsletter
Last Week's Answers
Anagram-orama!
It Laid Wary Breath - Daryl Braithwaite
A Dag's Soccer Vandal Ditty - St David's Day Gala Concert
Clean Beet Beer Hat - Celebrate the Bean
Spot The Difference
Here are the 5 Differences in last week's picture of the
Phillip Island Penguins
...
Newsletter | #060 | What's On this Week [Last Week]
Melbourne Trivia
The Name's Theatre... Sun Theatre..
The Sun Theatre in Melbourne's west first opened in 1938. After many changes that included a stint as a Greek cinema in the 60s, and closure during the 70s, still stands today as one of Melbourne's numerous theatres that honours its original art deco architecture.
The owner, Michael Smith, is such an avid film lover that he even drives a James Bond-style
Aston Martin
with the plates OHMSS -
'On Her Majesty's Secret Service.'
More about The Sun Theatre..
|
Read Melbourne Trivia...
World FIRSTS for Melbourne
The world's first
National Jug Orchestra
performed in Melbourne at the
Much More
ballroom in 1972. Jug players from all around Australia attended. I'm assuming it was a performance that was
meant
to blow!
Hardly surprising, as Melbourne has
more
than its fair-share of
World Firsts...
❊ Address & Contact ❊
⊜ Newsletter | #061 | What's On this Week Melbourne |
Map
❊ Web Links ❊
→
Newsletter | #061 | What's On this Week
→
Subscribe to OnlyMelbourne - Get your copy of What's On this Week!
→
List Your Business or Event - It's FREE!
→
What's On In Melbourne in March
→
Melbourne Guide | Accommodation, Travel & Tours
→
Melbourne for Children | Kids
→
Competitions | Fun & Games
→
onlyMelbourne Newsletters Archive
→
Newsletter | #060 | What's On this Week
→
Disclaimer
: Check with the venue before making plans
...
Trending HOT

Drive-In Movie Club
Drive-In Immersive Cinema Nights Are Coming to Melbourne Put together by our friends at Hot Tub Cinema, a string of family-friendly, social distancing-safe, drive-in ..

Things to see, hear & do this weekend
Make the most of your weekend in Melbourne with these fabulous events. No city does it better than Melbourne, so get out and discover the very best shows, festivals, ..
---
Update Page