Newsletter | #059 | What's On this Week

Welcome to this week's Melbourne events, exhibitions, sports and community guide for February 18 - February 24, 2008.
This week, make sure to re-new your gym membership as Melbourne fattens you up with a
huge
menu of food events with the Melbourne Food & Wine Festival, A Taste of Slow, Harvest Picnic at Hanging Rock, and the Heathdale BBQ Festival, to name but a few! For desert there's also My Friend the Chocolate Cake (the band, that is) performing a free concert on Sunday. There's also the Super Living Expo, the Sydney Road Street Party, the Laneway Festival and the biggest Swap Meet in the Southern Hemisphere!
There are sport details, special dining offers and info on upcoming events and highlights in beautiful Melbourne, so read on and enjoy!
Not receiving our newsletter?
Get your copy
of What's On this Week!
Major Events Guide
Melbourne Summer Cycle for MS
takes place on Sunday raising funds for MS Australia's vital programs and services. Beginning in Alexandra Gardens, Australia's greatest one day bike ride will finish at Carlton's Argyle Square where the end of the day will include live music and all the entertainment that Lygon Street's famous for!
Online Entries Now Extended to Tuesday 19th
Melbourne Food & Wine Festival
- Loosen your belt because one of Melbourne's best loved festival returns for it 16th year! Beginning Friday, this year's festival is bigger than ever before with over 200 events to tempt your tastebuds, celebrating Victoria's diversity in both food and culture. With everything from special dinners and wine tastings to kids' events and cooking classes, the festival runs until March 8th.
Sydney Road Street Party
, held this Sunday, is a festival that highlights the cultural diversity of one of Melbourne's most well known roads and cafe strips.
One of Melbourne's biggest multicultural gatherings, the festive day has something for people of all ages with live music, kids' shows, street theatre, market stalls and food from around the globe!
St Jerome's Laneway Festival
, taking place Sunday, began from humble grassroots as a small festival confined to just one laneway three years ago. It has since gone on to become an iconic celebration of the laneways Melbourne is famous for with this year's festival extended to Lonsdale Street and boasting four entertainment stages including a DJ area in a bunker underneath the Myer building!
Heathdale BBQ Festival
celebrates Australia's love of the BBQ with a amazing food and fun, held on Sunday at Heathdale's Glen Orden Wetlands. With a Chinese theme this year, the festival includes an open BBQ competition - judged by celebrity chef,
Elizabeth Chong
, a treasure walk through the wetlands, and there will also be children's rides and free workshops such as face painting, woodwork and Chinese arts and crafts.
Exhibitions - Art | Festival | Show
The Super Living Expo
showcases vegan and organic food, eco-friendly household products and ethically made cosmetics. It takes place at Northcote Townhall on Sunday, with free workshops and talks, live music, massages, a raffle and more! Children admitted free.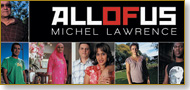 All of Us
is Australia's largest ever photographic portrait show, displayed across the outer walls of Federation Square's Crossbar Building. The photos by Michel Lawrence, celebrate Australia's diverse culture with over 200 residents from different backgrounds.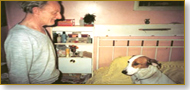 People, Places, Animals
is a major survey of work by acclaimed British artist
, whose real-life photos of his family became a notorious part of the 1997 Saatchi exhibition Sensation. The exhibition is currently at the Australian Centre for Contemporary Art.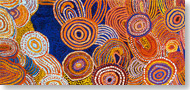 Power and Beauty - Indigenous Art Now, is showing at the Heide Museum of Modern Art. With works from contemporary Aboriginal and Torres Strait Islander artists in all areas of Australia, the exhibits attest to the artists' resilience in holding on to their culture.




Arts & Theatre
The Australian Youth Orchestra will be performing for one night only at Melbourne Town Hall this Tuesday. Featuring Australia's finest 100 young musicians, the concert celebrates 50 years since the Youth Orchestra's first performance in this historic venue.



Bazaar & Rummage, performed at Heidelberg theatre Company, is a play written by Sue Townsend, author of the infamous 'Adrian Mole' books. Set in a London church hall, the poignant, funny play tells of an agoraphobic group's efforts to rejoin society.



Keating! - 'the musical we had to have' - will be playing at the Melbourne's Comedy Theatre for a strictly limited season. One of the most talked about Australian musicals in years, the play cheekily follows the rise and fall of its namesake with hilarious lyrics!



Fairfield Amphitheatre presents a series of concerts preformed by some of Melbourne's renowned World Music artists and performers. Held every Sunday evening, the concerts are family-friendly, free outdoor shows. They run until February 24.




Entertainment & Nightlife
My Friend The Chocolate Cake will be performing this Sunday at Footscray Community Arts Centre. The event is free however gold coin donations will be appreciated. Bookings are advised for this performance by one of Australia's finest bands.



FloorPlay, is the latest production of Burn the Floor, an award-winning troupe of twenty international dancers. Performing at The Palms at Crown, the stunning show features breathtaking dance styles that range from the Samba and Salsa to the Foxtrot and Tango!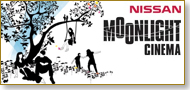 Nissan Moonlight Cinema is Australia's favourite summer outdoor cinema screening recent, classic and contemporary films in the Royal Botanic Gardens' stunning parklands! This Friday, the horror film, I Am Legend is screening.


For Moonlight Cinema's Full Program Visit Here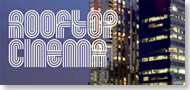 The Rooftop Cinema at Curtin House flickers into action all Summer, with films screening Tuesday to Sunday. Enjoy the night lights, classic cinema and the rooftop bar! On Tuesday, A Scanner Darkly, based on the work of Philip K. Dick, who inspired 'Blade Runner'.


For Rooftop Cinema's Full Program Visit Here



Live Music Guide Melbourne Venues and Gig guide.





Competitions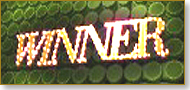 $12,000 Cash Bonanza! Here's your chance to share in a $12,000 CASH BONANZA, courtesy of Financial Services Online! Apply free online for any comparative quote & you automatically qualify for free entry into their monthly prize draw of $1,000!


For More Competitions Visit Here





Dining & Drink
A Taste of Slow, traditionally held in winter, will this year be held to coincide with Melbourne's Food & Wine Festival. With a philosophical slant on the food we eat, the festival features spoken word, film and of course lots of delicious food! The festival begins Friday.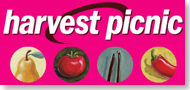 Harvest Picnic at Hanging Rock, presented by The Age, celebrates Victoria's love of food and wine with over 100 small food and wine producers showcasing their delicious array of goods. Held at Hanging Rock Reserve this Sunday, all you'll need is a basket!



The Bright 'n' Sandy Food & Wine Festival, now in its 4th year, will be held on Sunday at Brighton's beautiful Green Point, located across from Brighton Beach Station. The festival includes cooking sessions for adults and kids, live music and more!



Wining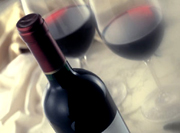 Cleanskins.com sell premium Australian wines direct to the public at up to 50% off retail prices, offering Free Home Delivery and a 100% Money Back Guarantee.

Perfect for all lovers of wine, their impressive range of wines and service were recommended on Channel 7's Today Tonight and Channel 9's A Current Affair.




Dining
Saganaki Greek Cuisine & Grill offer sensational cuisine, and a perfect atmosphere set amidst quality design with floor to ceiling windows displaying the Docklands' water views. The Modern Greek cuisine is prepared using only the very best local produce.


Special Dining Offer

Melbourne offers a splendid range of food styles to enjoy. Here are just a few classic food styles to choose from..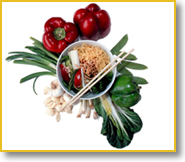 For more restaurants...
Check out onlyMelbourne's Restaurant Directory
Or you can View & Book a Table @ MenuLog
Dining In

Menulog Home Delivery is a great chance to eat fine cuisine at home! With over 300 of the best restaurants on offer, you're sure to find something to suit any taste or occasion. To find fast and easy delivery in your area, Visit Here.



Sporting Events
Cricket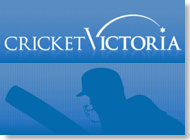 Commonwealth Bank One Day Series:
Australia v Sri Lanka
Fri February 22 - MCG
2:15pm
Bookings through Ticketmaster






Markets, Fetes and Fairs
The Annual Super Southern Swap Meet, taking place Friday and Saturday, is the largest Swap Meet in Australia with over 2,300 sites and unlimited free parking across two big car parks at Ballarat Airport. The enormous swap meet even has cars for sale!



Australasian Quilt Convention & Expo - Open to the public over four days, Australia's largest Expo dedicated to quilting begins Thursday at the Melbourne Exhibition & Convention Centre. The expo features international quilts on show and free seminars.



Baby & Kids Market, the biggest market of preloved and recycled children's goods, will be held this Sunday at Malvern Town Hall. The market provides quality pre-loved at bargain prices with everything from prams and cots to toys, books, kids' shoes and more!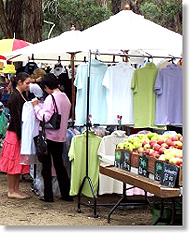 Melbourne Market Guide - 4th Week of this Month
Make the most of the sunny days and hop along to one of Melbourne's many excellent markets, fetes and fairs this weekend for a bargain! An increasing number of food and produce markets including wine are always popping up around the suburbs. And don't forget garage sales!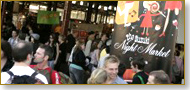 The Suzuki Night Market has returned for summer at Queen Victoria Market, running Wednesday nights weekly through to February 27. Now a summer tradition, the Suzuki Night Market offers a great mix of unusual products, great food and atmosphere!



Melbourne For Kids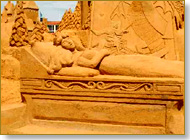 Sand Sculpting Australia - In 2008, after seven years on the Rye foreshore, Sand Sculpting Australia will be relocating to an exciting new venue - the 'Frankston Waterfront'! The area will be transformed as 3,500 tonnes of sand are meticulously carved into scenes from your favourite childhood 'Fairytales and Fables'. Integrated with the sand sculptures will be regular activities to keep the whole family entertained!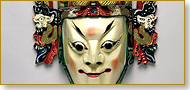 Masks of China at the Immigration Museum features handmade masks from China, some which are over 200 years old. With free entry for children the exhibition includes fun kids activity trail with the chance to sketch and colour-in their own mask!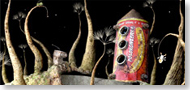 The Independent Games Festival Exhibition is an interactive showcase of selected winners and nominees of the Independent Games Festival. The exhibition features a stunning selection of work such as Samarost 2 (pictured).





Melbourne Tours

Smartvisit Card is the best way to see the sights of Melbourne, whether you're visiting Melbourne for business, a vacation, or even if you're a local wanting to find Melbourne's hidden treasures!

The Smartvisit Card includes entry to attractions such as Melbourne Zoo, Melbourne Aquarium, Old Melbourne Gaol, Telstra Dome, Cook's Cottage, Melbourne River Cruises, and many more of Melbourne's TOP venues!


Free entry to over 60 top attractions..
Visit great venues like Zoos, museums & more across Melbourne & Victoria!
Over $800 of entry fees for ONE low price..
Plus special offers & discounts!
Visit just 2 Attractions a day & you'll save!
FREE 128 page guidebook..
Tailored to local knowledge on what to see & do!
Cash free entry..
Show your card & you're in, no need for cash!
All year-round Attractions..
Whatever time of year you visit - rain or shine!
Learn more about Smartvisit Card
Puffing Billy Tour - take a tour the whole family can enjoy with a ride on Puffing Billy, Australia's best-loved steam train! Winding its way through lush ferns and towering timbers, this fantastic tour offers may treats, including wine tasting for the adults and also a trip to Healesville Sanctuary that kids will love!

What's On for February




Community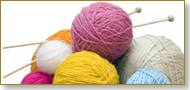 Learn to Knit at Prahran Library - Every Wednesday at Prahran Library there is a free one-hour knitting class for people of all ages and experience. A great way to make friends and be creative, the classes begin at 1:30pm - needles and wool can be provided.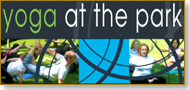 Yoga at the Park is an initiative of The Health and Yoga Council of Australia, presenting Yoga classes in some of Victoria's most beautiful parks and gardens. Set in a relaxed environment, classes are designed to suit many age groups and levels of experience.



You Can Help

There are many social causes that are relevant to people from all walks of life, many of which rely on public support to better the community or assist those who are less fortunate. This week we ask you to consider the following..



Angel Day, held in support of Oz Child, features two special events this weekend at Southbank's World Restaurant Bar. On Saturday there will be a cocktail reception with a silent and public auction, while Sunday offers a Kids Party Carnival with rides and much more!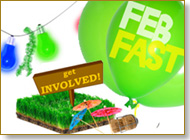 FebFast is a community education and awareness campaign that invites you to help others and also yourself by sacrificing alcohol intake during the month of February. Participants, sponsored by friends and family, can help raise funds to assist organisations that support young people struggling with substance use. You can even purchase a Time Out Certificate allowing you to drink on special occasions and raise more funds!


To Learn More - Visit Here




OnlyMelbourne Welcomes..

Advertising your Business or Event at OnlyMelbourne is not only easy, but best of all it's FREE!! - Get Listed.. - don't forget to tell your friends!

Each week we highlight five of the latest additions to OnlyMelbourne's ever growing guide to services, businesses and information sites for your community.

This week we suggest the following:
View More of the Latest Listings at OnlyMelbourne!

To find out how you can join Melbourne's largest online community Visit Here!


Puzzles
Anagram-orama!

We've rearranged the letters of three of the attractions featured in this week's newsletter.. See if you can figure them out!
Fowls Eat Oats


Coated Chrome Yet Chin Flake


Plush Poet Vexing Ire
Answers in Next Week's Newsletter...


Spot The Difference
There are 5 Differences between these two pictures of Stevenson Lane, one of Melbourne's many colourful laneways... See if you can spot them!

Read More about Melbourne's Laneways | Learn More about Melbourne!

Answers in Next Week's Newsletter


Last Week's Answers
Anagram-orama!
Uncut Pair - Curtain Up
Stoic Over Cart Hair - Orchestra Victoria
Trite Newt Charts Oven - Writers At The Convent

Spot The Difference
Here are the 5 Differences in last week's picture of the Dandenong Ranges' National Rhododendron Gardens...



Newsletter | #058 | What's On this Week [Last Week]
Melbourne Trivia
She Wasn't Such A Diva..

Dame Nellie Melba, born in 1861 at "Doonside"in Richmond Victoria, was originally named Helen Porter Mitchell. Although she found success overseas, she still carried a deep love and admiration for her homeland and also Melbourne.

The name of Melba, which is now synonymous with opera the world over, was chosen as a condensed version of Melbourne.

More about Dame Nellie Melba.. | Read Melbourne Trivia...


Australian FIRSTS for Melbourne

The first Australian manufactured tractor was produced in 1909 in Melbourne called The McDonald Imperial.

Hardly surprising, as Melbourne has more than its fair-share of Australian firsts...


❊ Address & Contact ❊

⊜ Newsletter | #059 | What's On this Week Melbourne | Map


❊ Web Links ❊

→ Newsletter | #059 | What's On this Week

→ Subscribe to OnlyMelbourne - Get your copy of What's On this Week!

→ List Your Business or Event - It's FREE!

→ What's On In Melbourne in February

→ Melbourne Guide | Accommodation, Travel & Tours

→ Melbourne for Children | Kids

→ Competitions | Fun & Games

→ onlyMelbourne Newsletters Archive

→ Newsletter | #058 | What's On this Week





❊ COVID-19 Notice ❊
Many locations have gone into lockdown as the state takes action to stop the spread of the deadly coronavirus (COVID-19).

→ Disclaimer: Check with the operator before making plans...





Trending HOT

Drive-In Movie Club
Drive-In Immersive Cinema Nights Are Coming to Melbourne Put together by our friends at Hot Tub Cinema, a string of family-friendly, social distancing-safe, drive-in ..

Things to see, hear & do this weekend
Make the most of your weekend in Melbourne with these fabulous events. No city does it better than Melbourne, so get out and discover the very best shows, festivals, ..
---
Update Page